Feb 2, 2022 05:08 PM Central
Andrea & Brian Johanson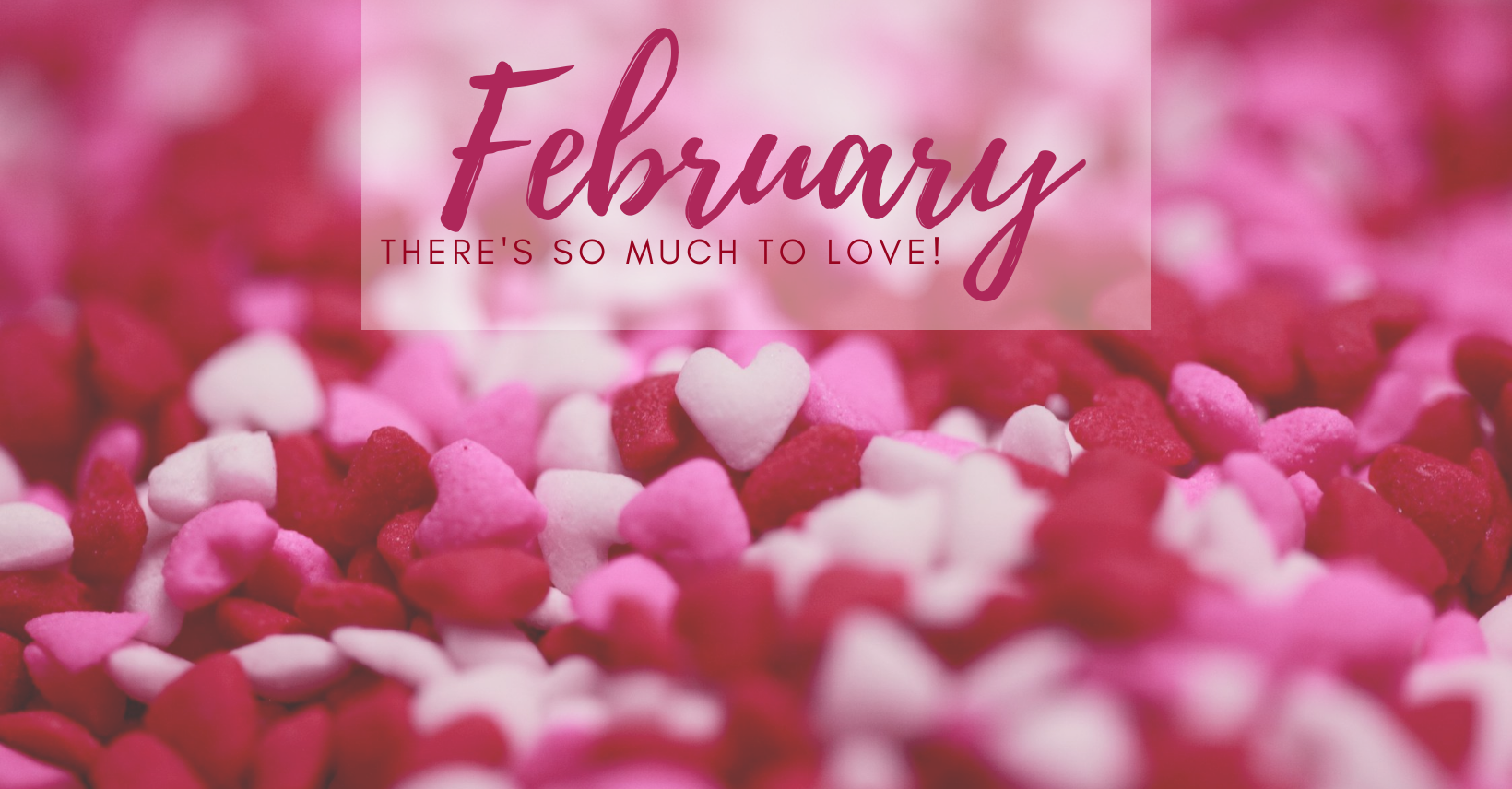 FEBRUARY: THERE'S SO MUCH TO LOVE!
Young Living has given us SO many things to love about this month! Wait until you hear all the news!
Gifts with Purchase

10% off Enrollment Coupon

HUGE Gift Opportunities

Self-Care Tips

Recipes

Diffusing Calendar

Upcoming Events
Check out all there is to LOVE!
---
FEBRUARY'S GIFTS WITH PURCHASE:
When your order hits one of these PV levels you will receive the corresponding products for FREE! Look at everything you get for free when you hit 300 PV!
*Receive the Subscription Exclusives when your order is placed through the monthly subscription program, which is the best way to save money and support your health. If you need more details on this, let me know!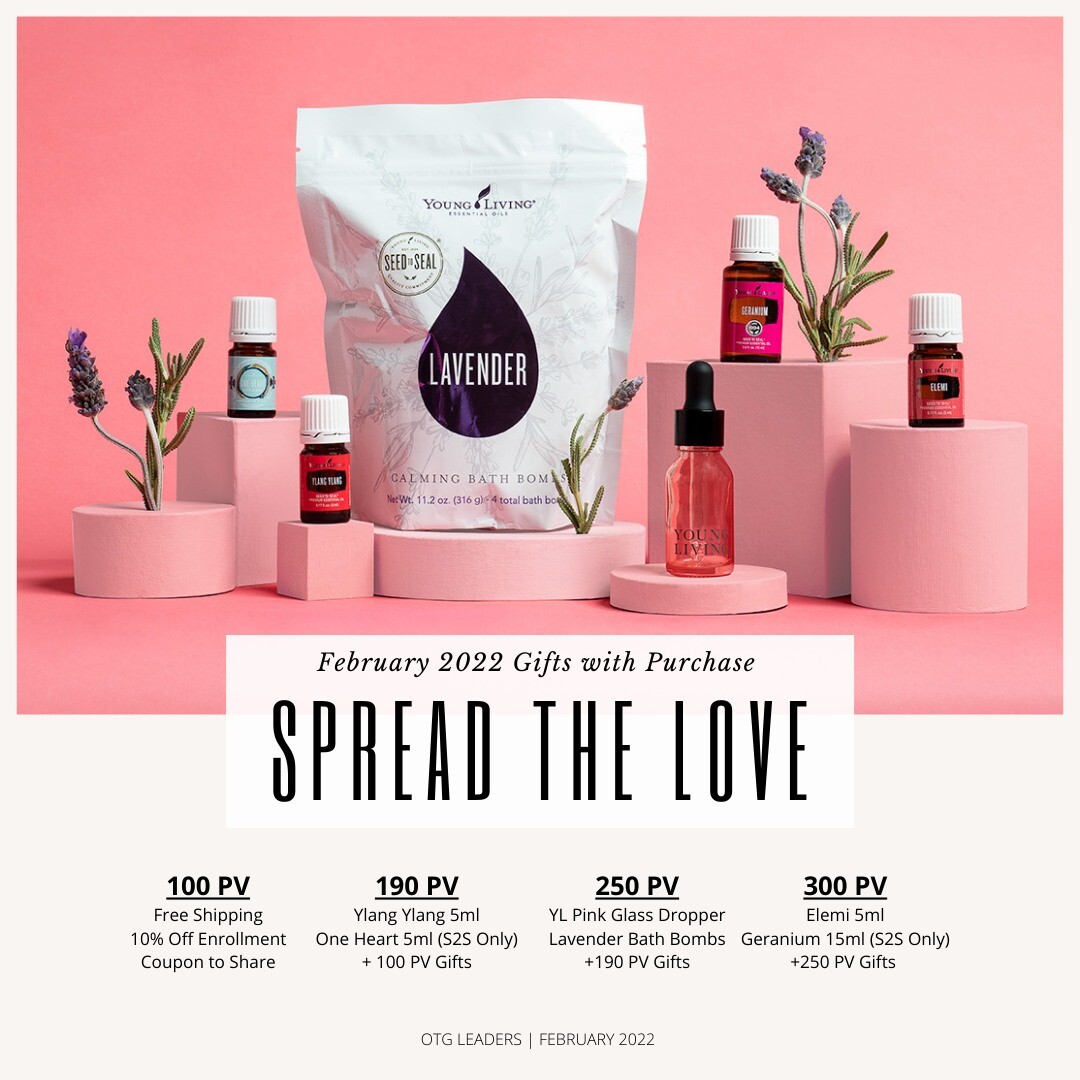 Want to learn more about the benefits of each gift with purchase? Click below!
Want to place your first Young Living Order?
Click here
and reach out for help with accessing wholesale pricing! And, ask me if I have a 10% off coupon! (See below!)
---
SHARE THE LOVE THIS MONTH!
Whether you're a Customer or a Brand Partner, you'll be earning these 10% off enrollment coupons with your 100 PV orders this month! As you share about your love of Young Living with others, you can make a difference in someone else's life and earn a commission if you're a Brand Partner.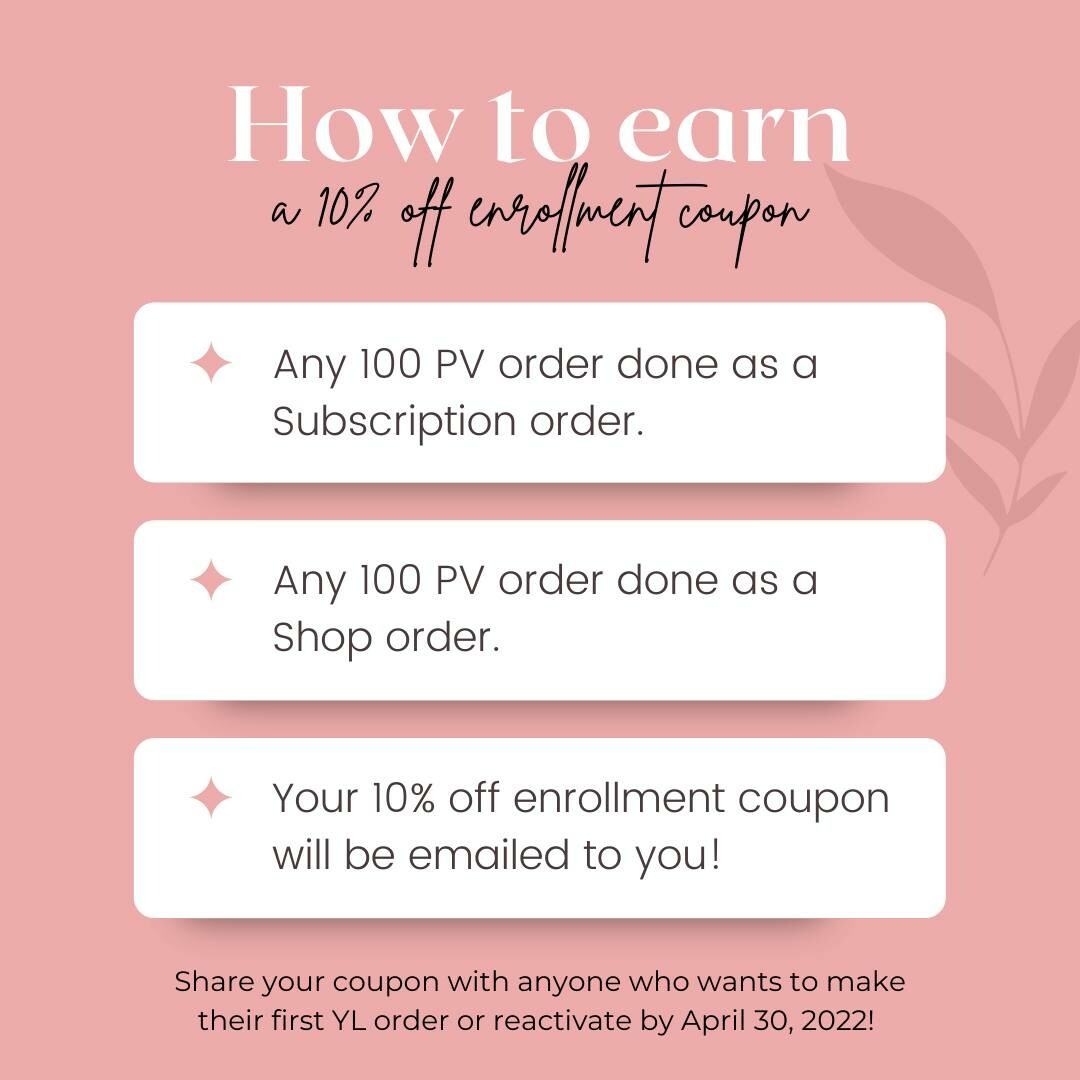 Not a Brand Partner yet? Whether you want to grow a thriving business or share occasionally, it's easy to make the transition and you could at least get your Young Living products paid for if you choose to do that. Check out Young Living's
Income Disclosure Statement
for more information regarding earnings. Reach out to chat more about sharing the products you love with those you love.
Get more details by clicking below.
---
DID SOMEONE SAY PRIZES???
Have you heard the buzz of excitement over these great gift opportunities?!?!?!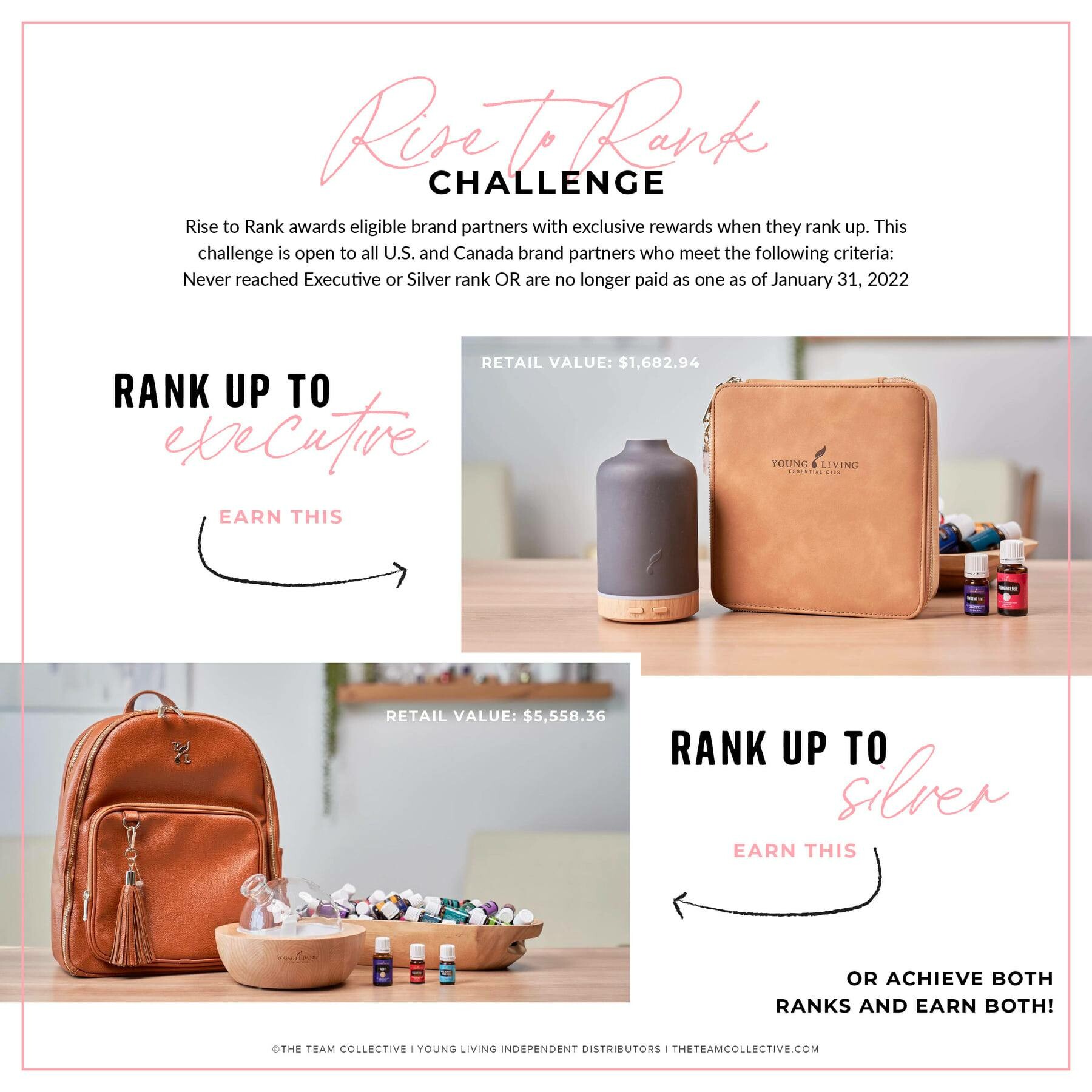 Catch all the details by clicking the link below.
---
February is often looked at as the month of love, with a major focus on Valentine's Day. While it can be fun to celebrate this romanticized day, it's also a great opportunity to practice some self-care!
Here are some ways you can love on yourself this month . . .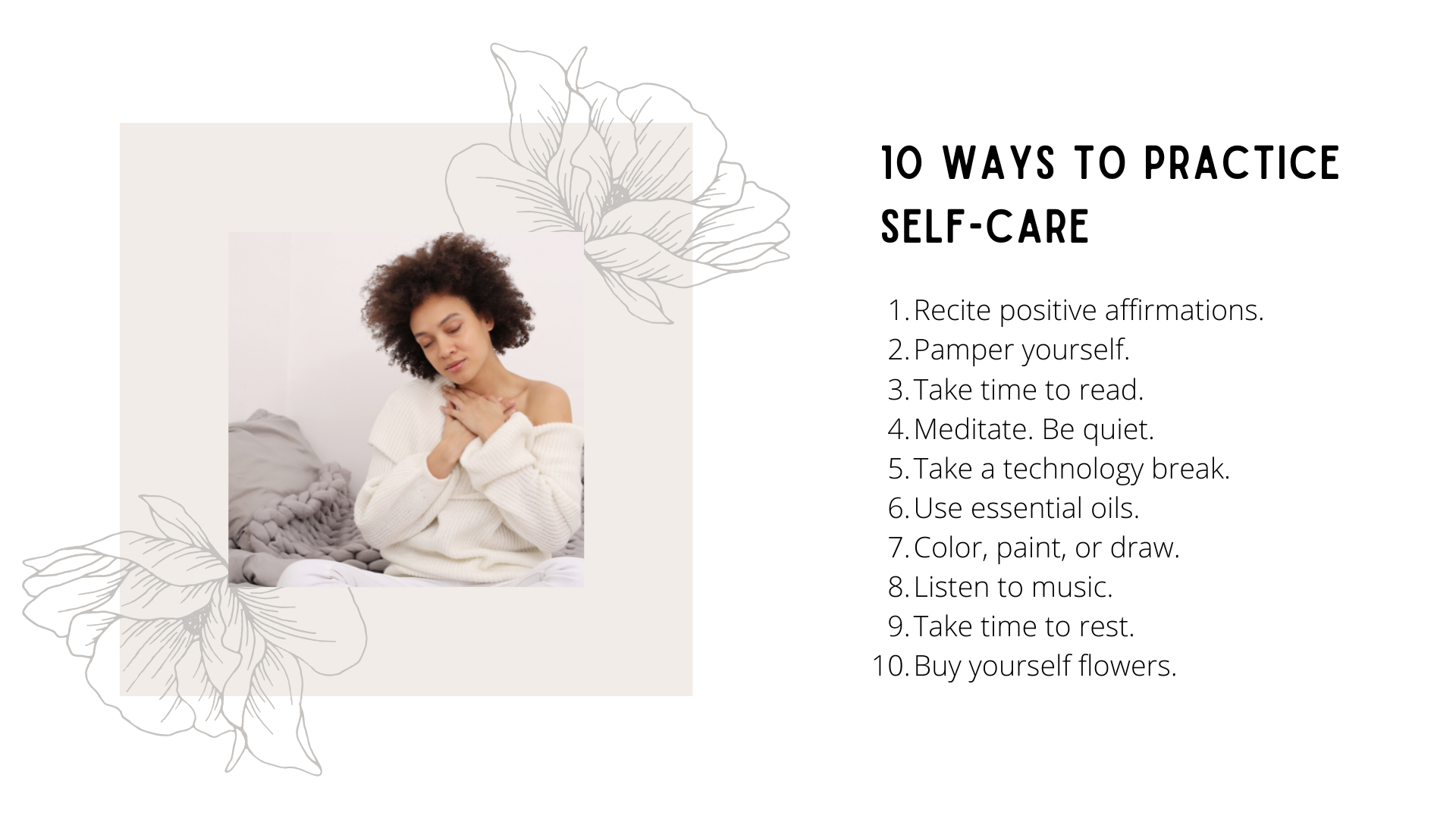 ---
RECIPES OF THE MONTH: USING FEBRUARY'S GIFTS WITH PURCHASE
What good is it to get free gifts if you don't know how to put them to good use? Besides reading more about them using the link above, here are some great recipes you can try out.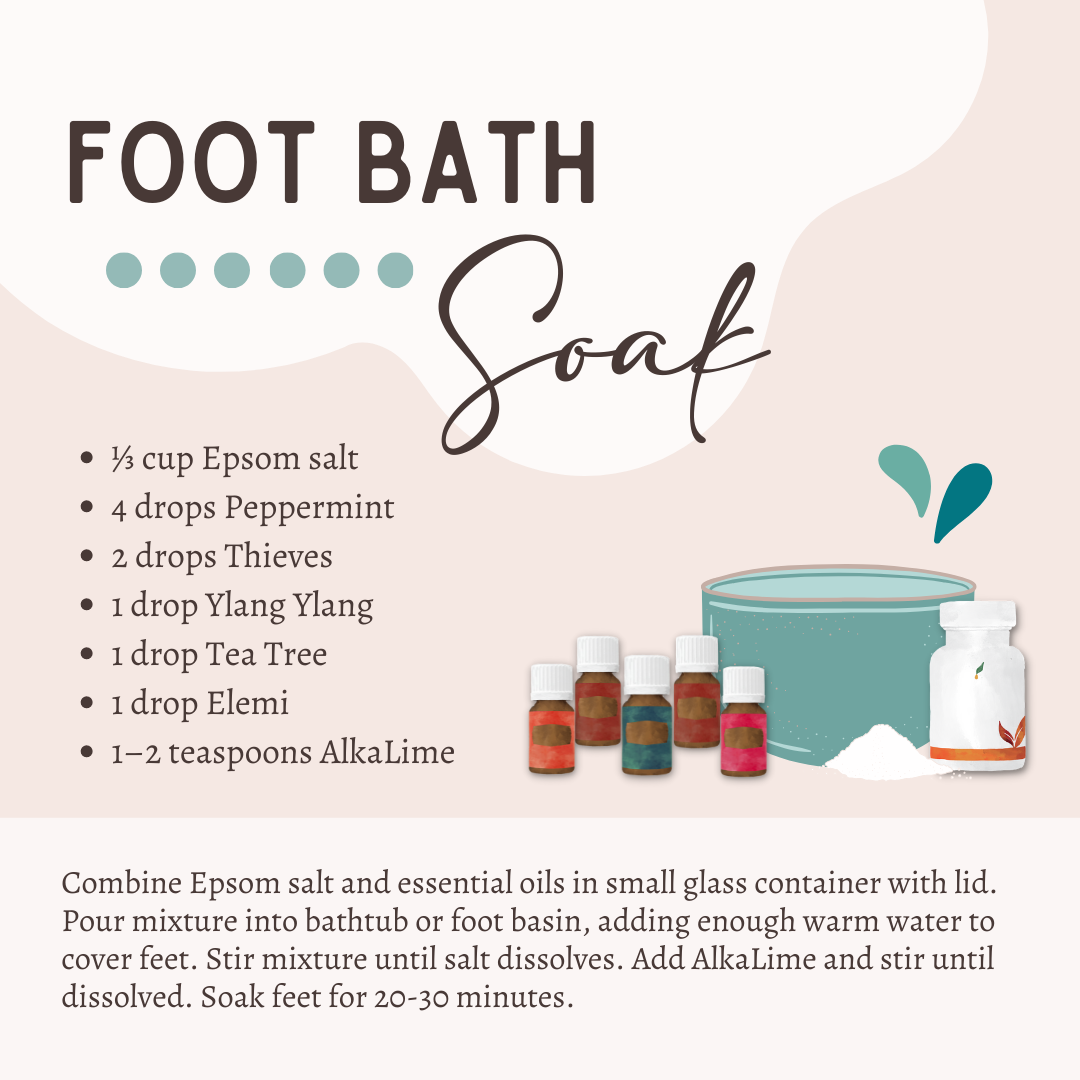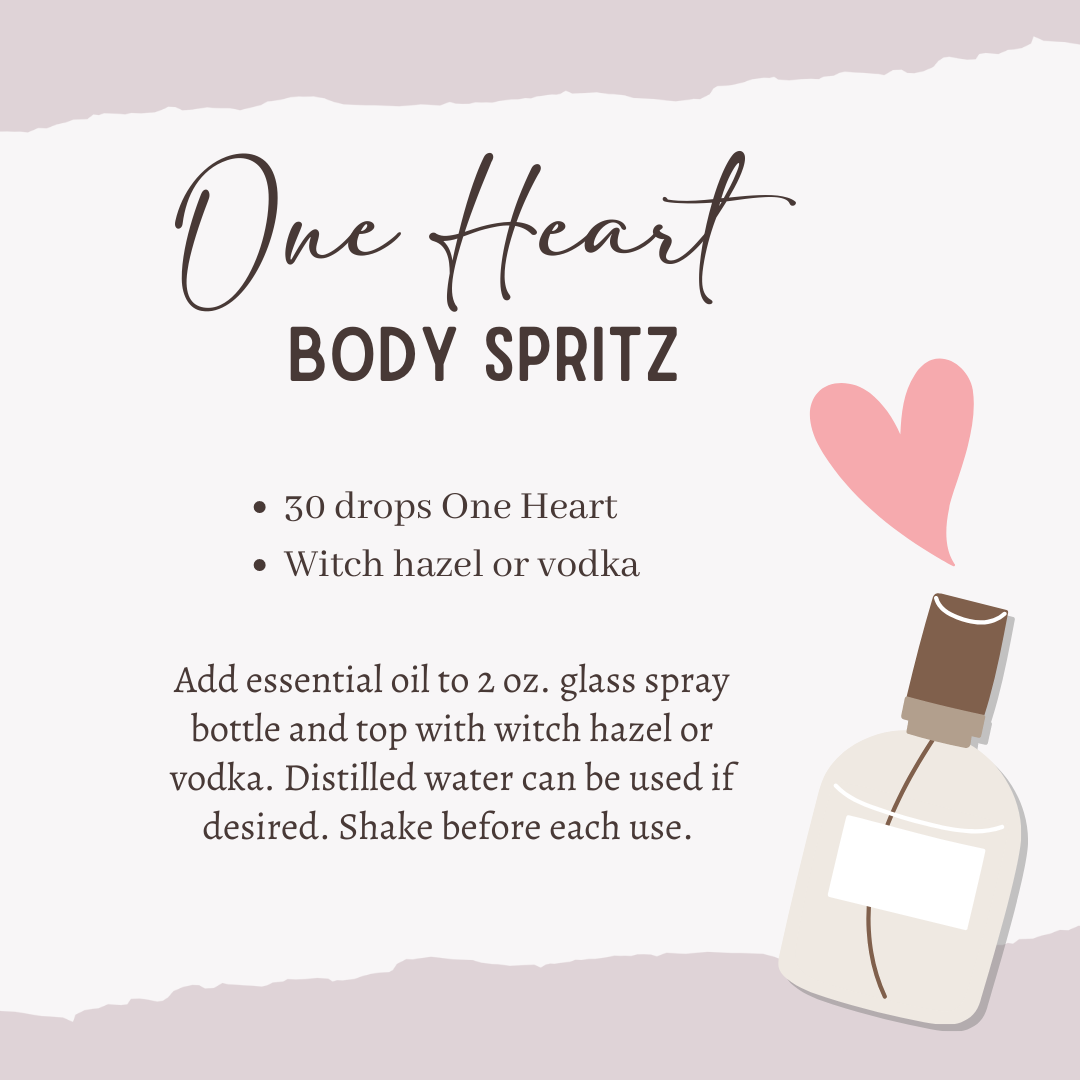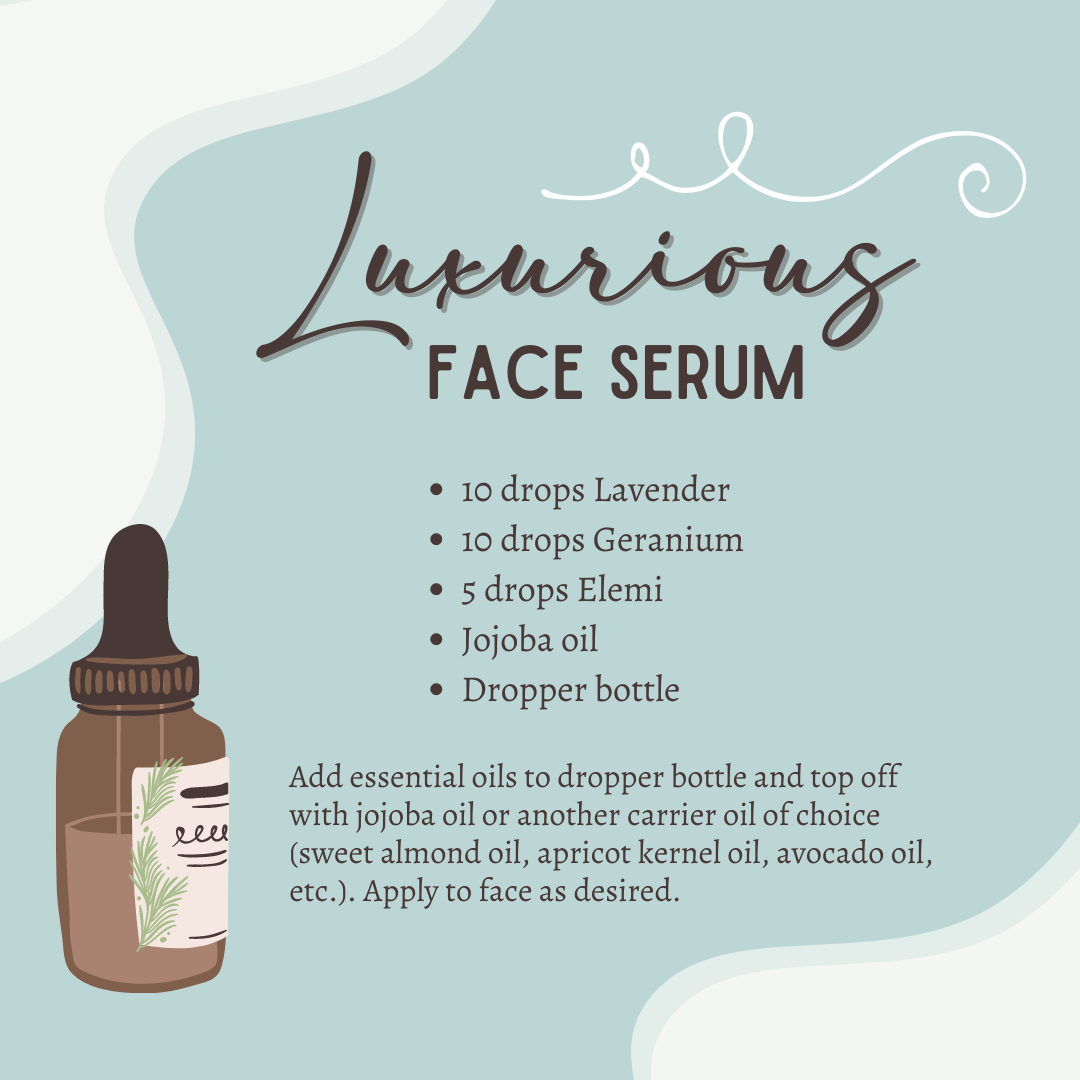 Speaking of diffusing . . .
---
FEBRUARY'S DIFFUSING CALENDAR
Download this calendar, print it off, and place it near your oily stash for daily diffusing ideas!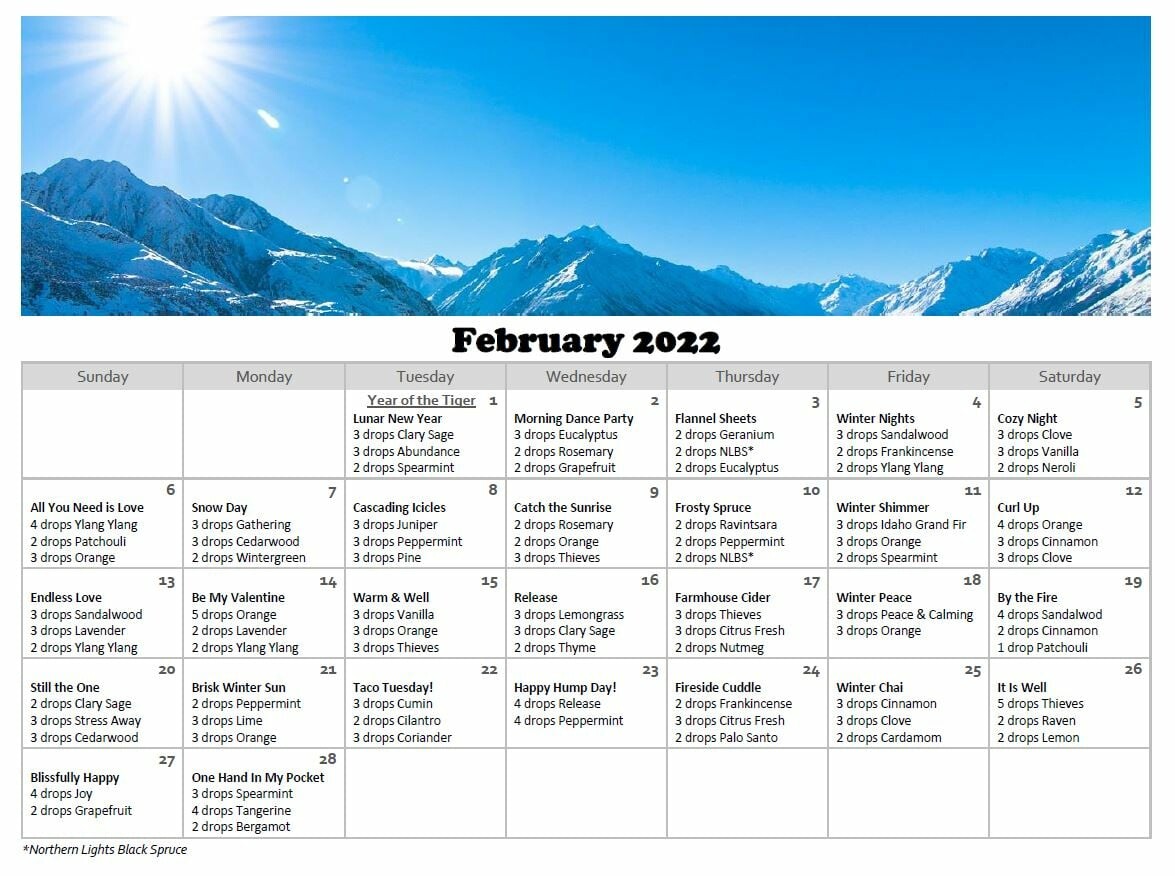 ---
UPCOMING EVENTS: CONVENTION TICKETS ARE LIVE!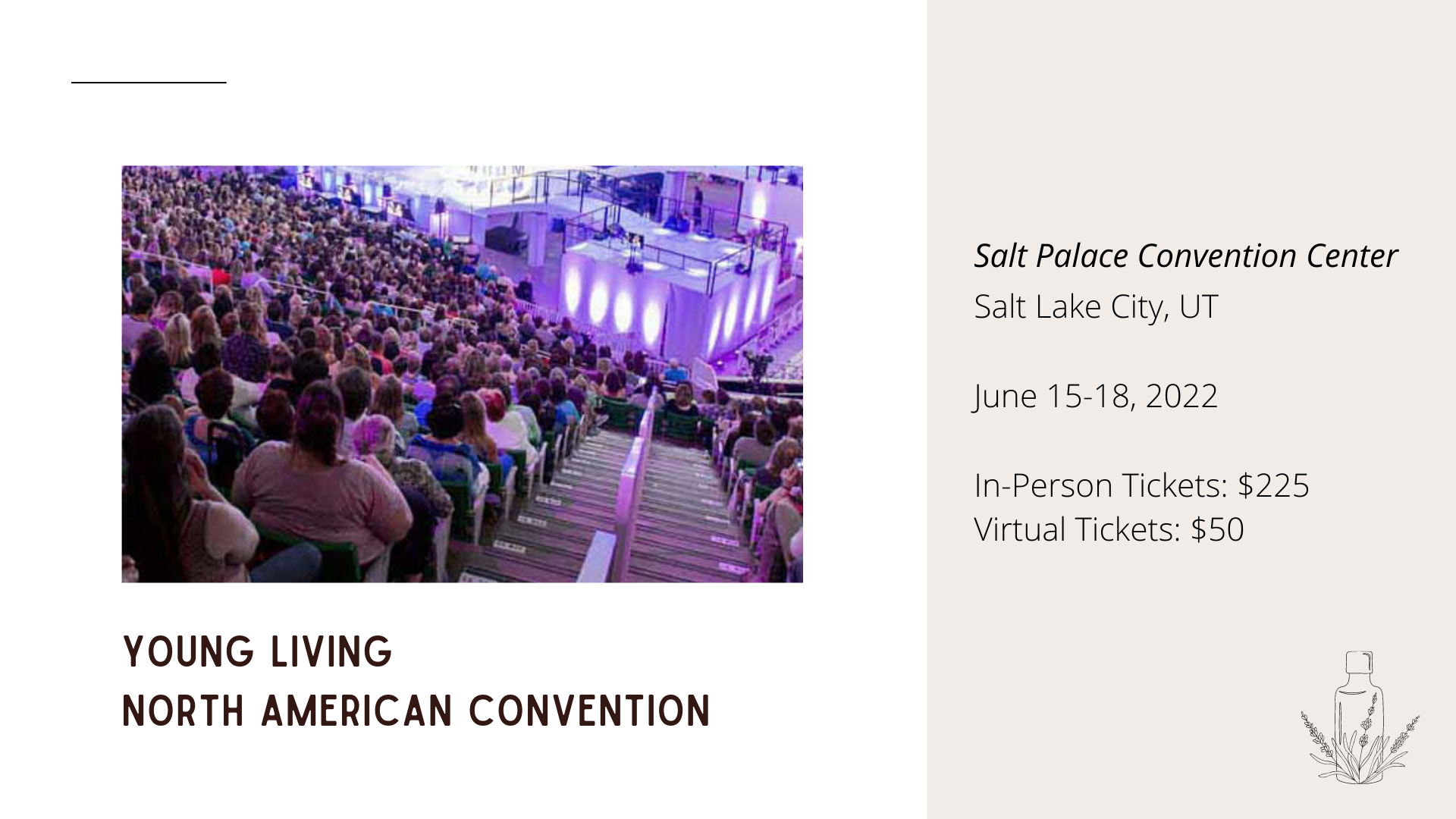 Young Living convention is back - in-person and virtually! Welcome to the first-ever Young Living North American Convention! Just like our Asia Pacific, European, and Latin American regions have their own conventions, the annual convention held in Salt Lake City will now be utilized by our North America region to host their own convention - geared to the North American audience.
Registration is open and will remain open until April 30, 2022, for in-person tickets, or while availability lasts. There is no capacity limit for virtual tickets, and they will remain available through June 10.
Join us in Salt Lake City, UT at the Salt Palace Convention Center, or virtually, June 15-18, 2022!
Pricing for in-person tickets is $225.
Pricing for virtual tickets is $50.
---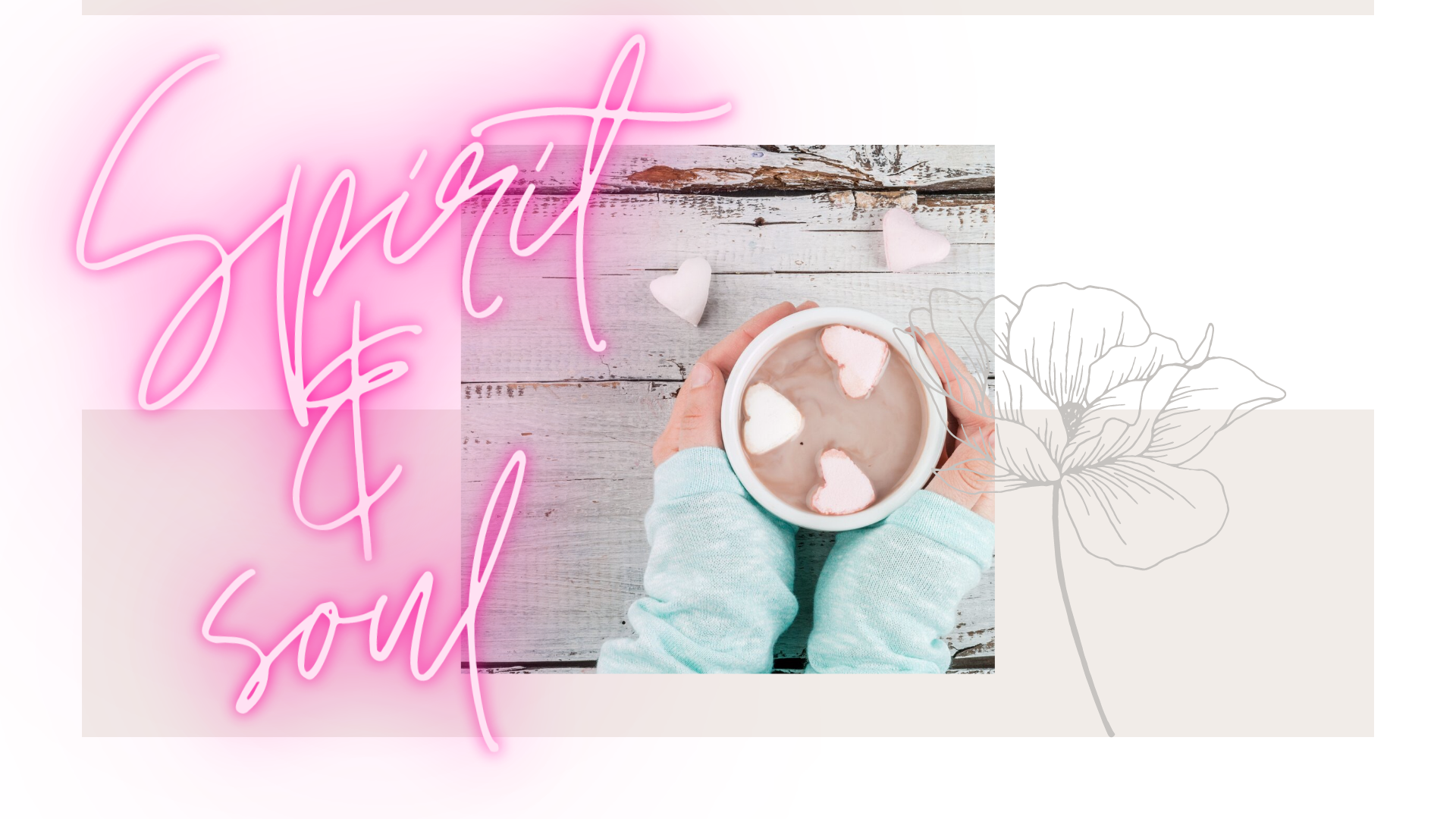 As The Renovated Life,
we focus on spirit, soul, and body.
Young Living undergirds our focus on overall health & wellness for our bodies. But . . . that's not our only focus because we want to help meet the needs of the
WHOLE person
, which includes spirit and soul well-being, too!
We'll be getting back to our monthly worship gatherings in March. Please keep your eye out on our
event page
for the latest information.
In the meantime, check out our regular blog posts for encouragement and monthly, prophetic words. Here's a recent post of Andrea's.
A prophetic word for February will be posted this week.
---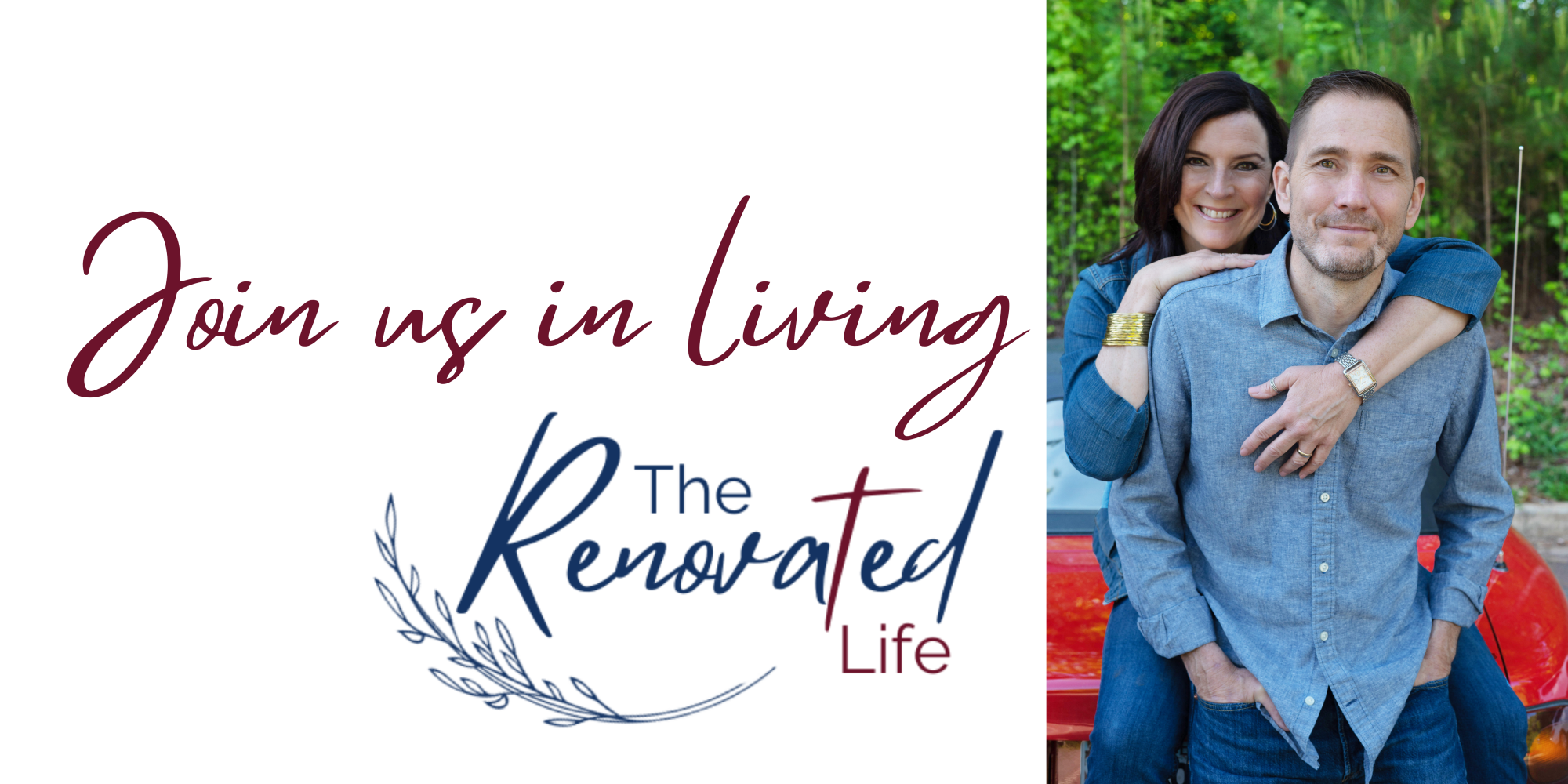 That's it for this month! Please reach out if we can help you on your wellness journey!
Our Mission: Love Others Well & Empower Them to Do the Same