Oct 25, 2021 03:38 PM Central
Andrea & Brian Johanson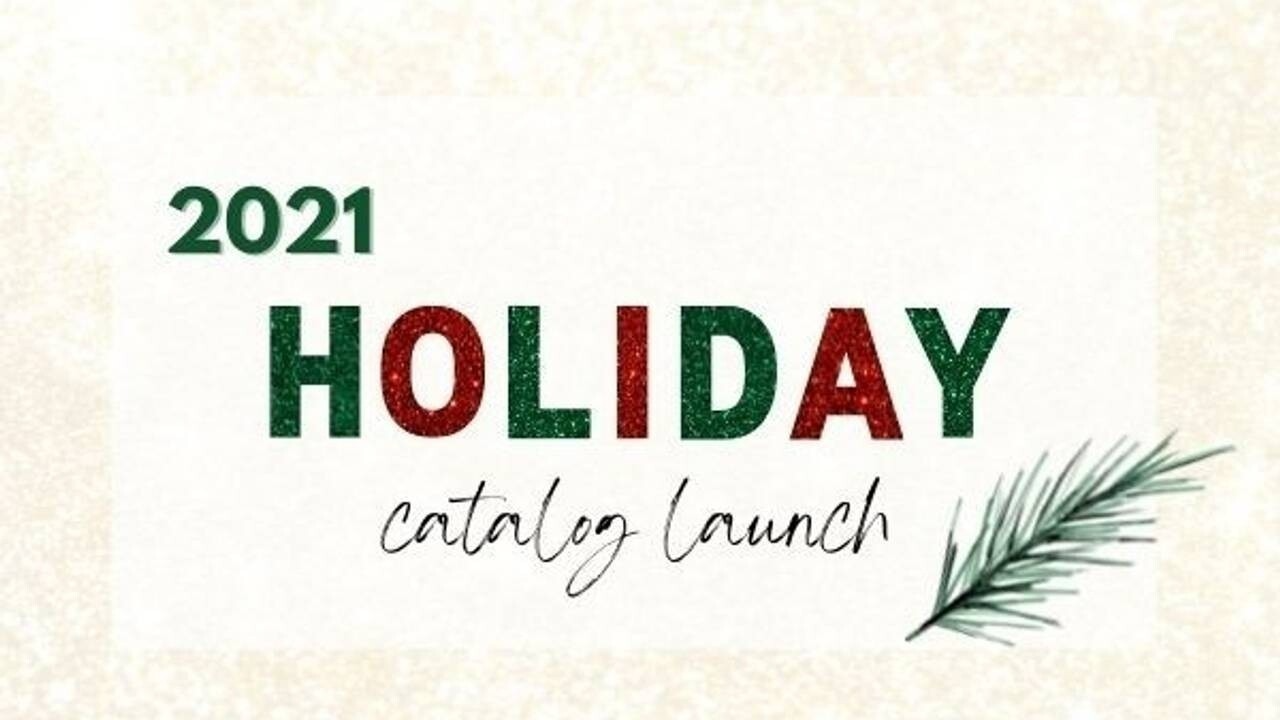 ALL PRODUCTS ARE LIVE!!!

Grab your holiday shopping list and let's go!

Looking for a shoppable, digital catalog??? Click below! There's some great, added content in it, too!
DIGITAL HOLIDAY CATALOG

Not a Young Living Wholesale Customer yet?
Place an order for 100PV and enjoy wholesale pricing for a full year!
Have questions or need help? Please reach out!
---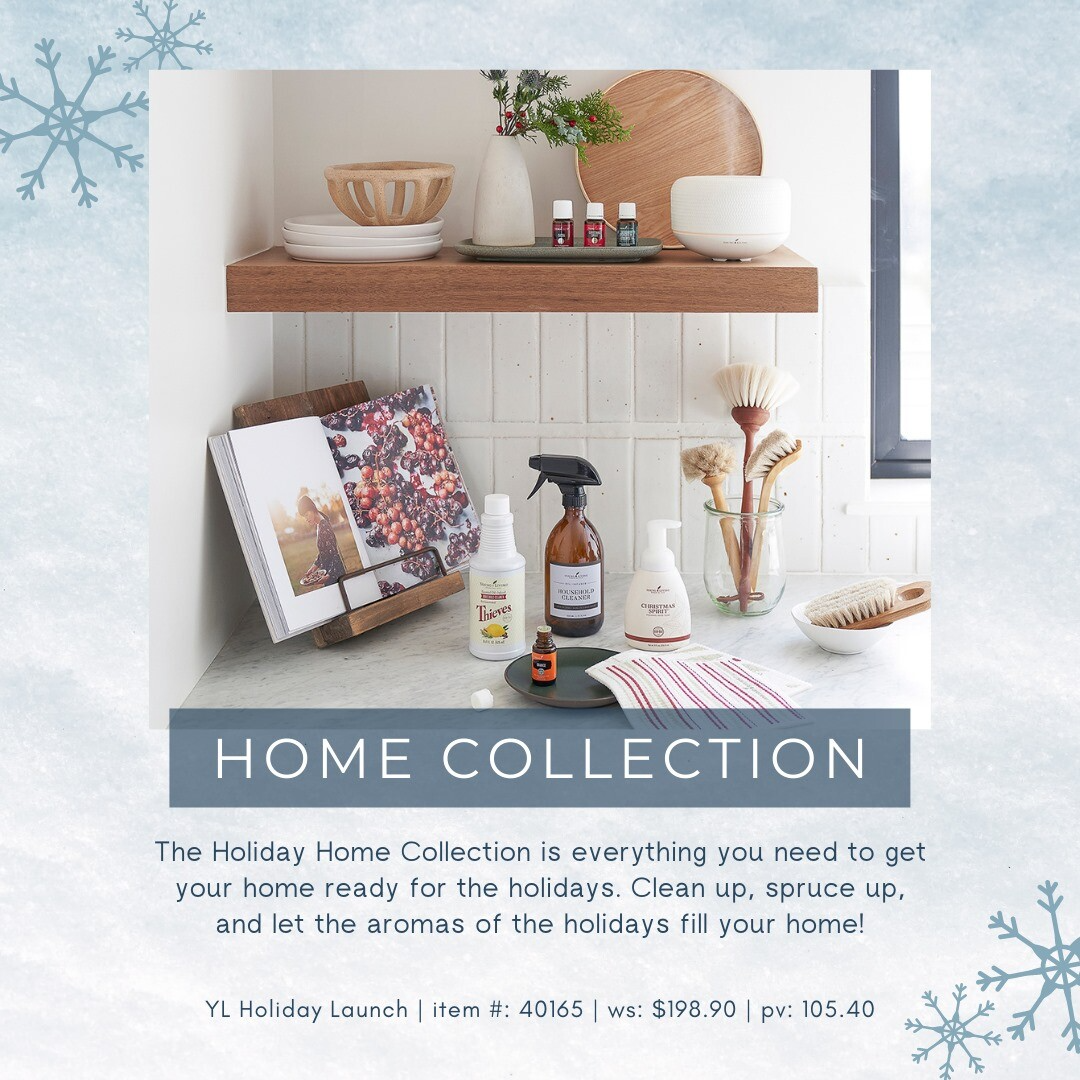 HOLIDAY HOME COLLECTION
// (bundled at 15% off!)
Includes Macaron Collection (Macron Diffuser, Evergreen Essence (NEW FORMULA with added oils for this time we are in!!), Orange, Cassia), Holiday Home Cleaning Kit (Thieves Household Cleaner, Spray Bottle, Reusable dishcloth, Christmas Spirit oil), Christmas Spirit Foaming Hand Soap

Item #: 40165
Price: $198.90
PV: 105.40
FREE SHIPPING!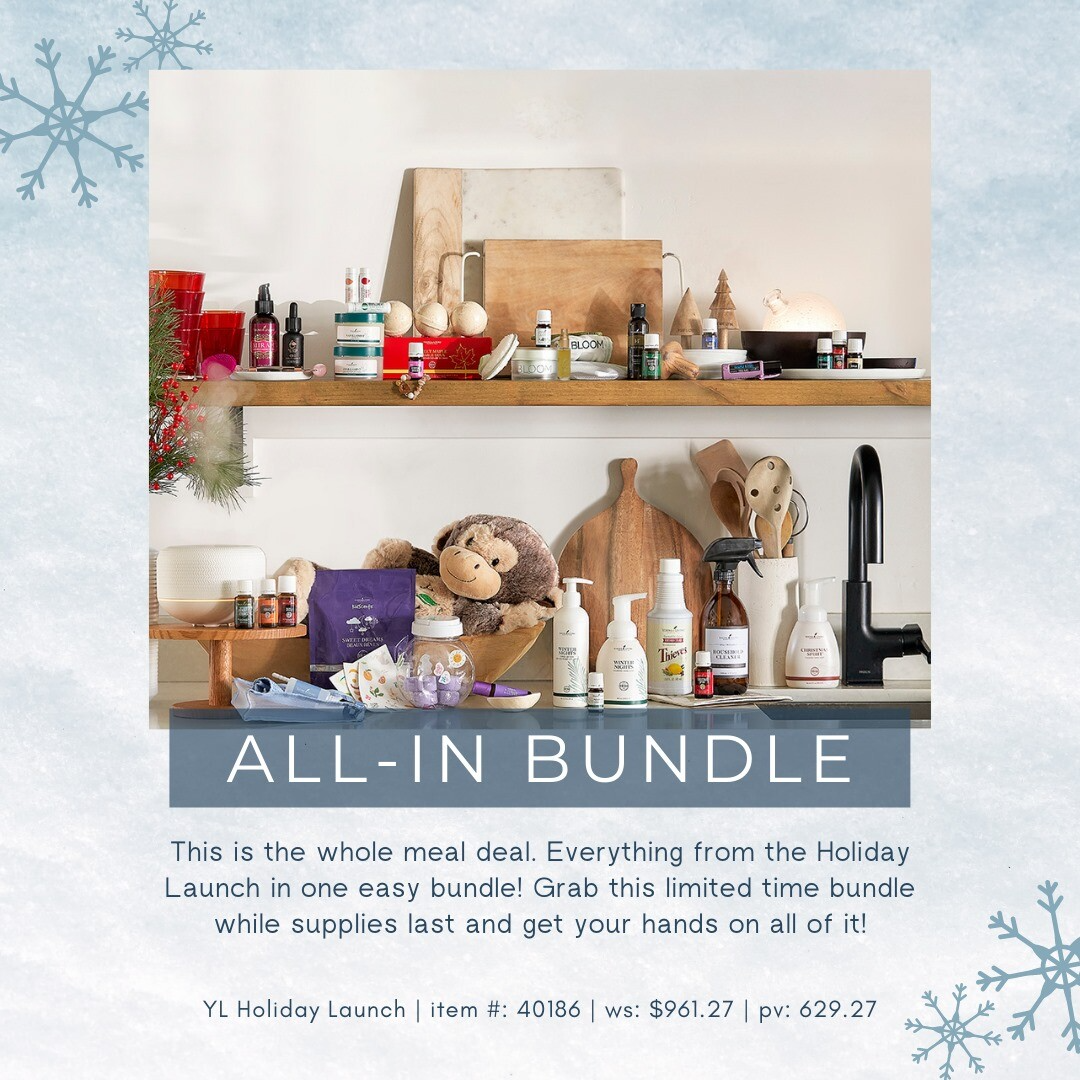 ALL-IN BUNDLE

// (bundled at 20% off!!!!!)
The whole holiday catalogue, straight to your door!
Includes: Mini Aria Collection, Macaron Collection, Holiday Home Cleaning Kit, Kidscents Bath Bomb Collection, Monkey Stuffie Collection, Bloom Collection, Mirah Kit, Bloom essential oil blend and spritzer, Soothe C🐝D 300mg Roll-On and roller holder, Maple Bath bombs, Holiday Foaming Hand Soap Collection, Under The Mistletoe Lip Balm Set, Winter Nights Wonderland Collection, Very Merry Vanillamint Collection, Olive Wood Massage Kit, Wooden Tree Collection, Diffuser Bracelet + Geranium Bourbon, Diffuser Cleaning Kit, Hanging Clay Diffuser ornament, Mittens, Beanie

Item #: 40186
Price: $961.27
PV: 629.27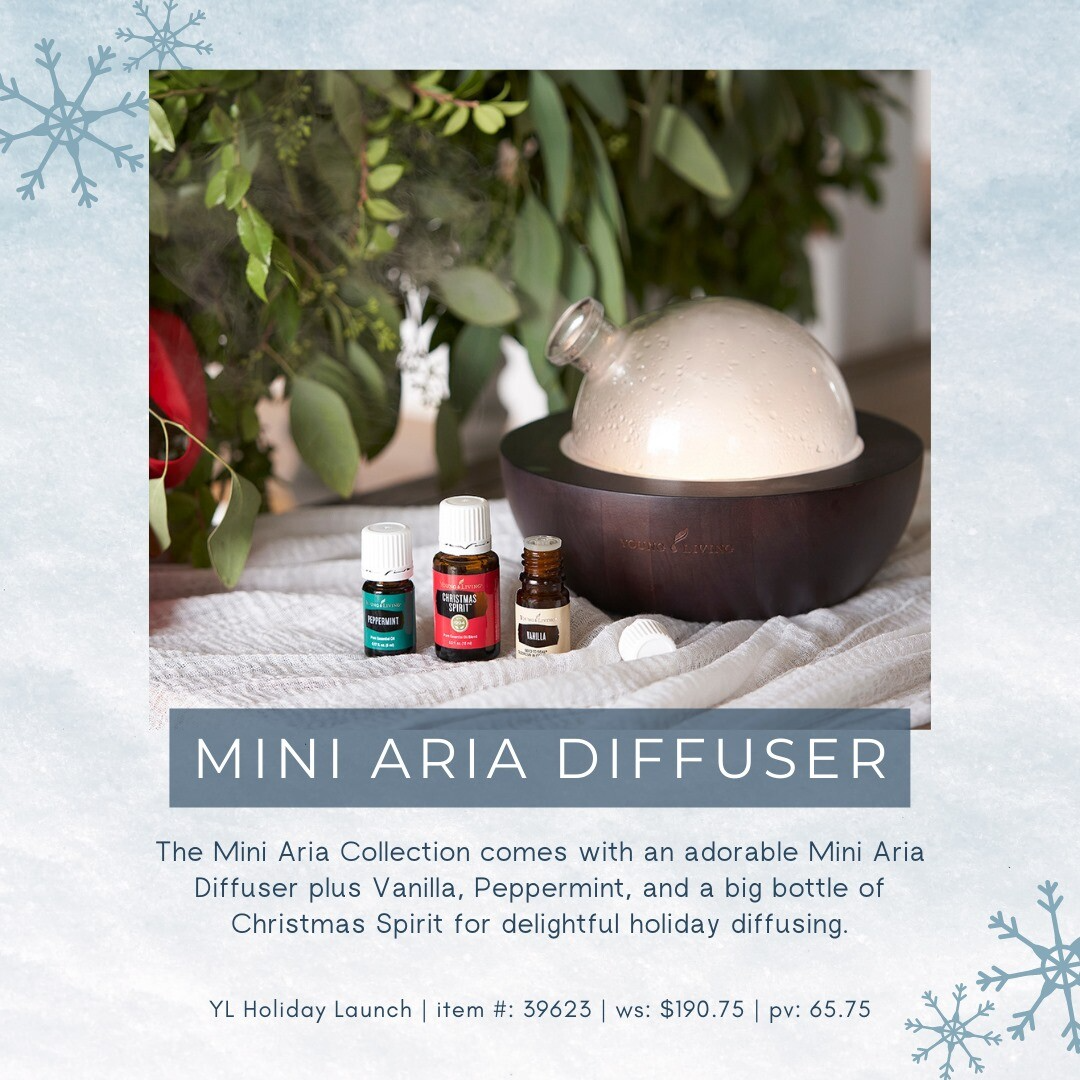 MINI ARIA COLLECTION

//
I
ncludes the Mini Aria, 15ml Christmas Spirit, 5ml Vanilla, and 5ml Peppermint
This is our most fave diffuser - in a mini! This is LIMITED-EDITION, in a beautiful stained walnut finish! It comes with built-in Bluetooth speakers for your smartphone, features a warm white light, and runs 1-hour, 4-hours, or 8-hours (with an intermittent one-minute on, one-minute off mode!)

Christmas Spirit - it is a MUST HAVE. So, it's cinnamon bark, spruce, and orange. AND IT SMELLS AMAZING!!!!!!!!!!!!!!!!!!!!!! Cinnamon Bark - purifying, enhances the effects of other oils, and supports the immune system…spruce is grounding, creates balance, uplifting, and soothing, and orange encourages a positive outlook on life, brings peace and happiness to the mind and body.
What does it smell like? The sweet, sweet breath of little baby Jesus. Yes, it does.

Vanilla - make sure you add a few extra Vanilla oils to your cart bc you will be obsessed. Young Living's exclusive Vanilla oleoresin has a pure, amazing, scent. Made from the beans grown in the northwestern region of Madagascar, it is uniquely extracted in a way to blend with other essential oils, unlike traditional vanilla extracts. Not only does it smell amazing, you can apply it to your skin & hair to help condition and moisturize.

Peppermint - So fresh and uplifting in the diffuser - perfect for any blend! Great for occasional head tension and cools you right down!

Item #: 39623
Price: $190.75
PV: 65.75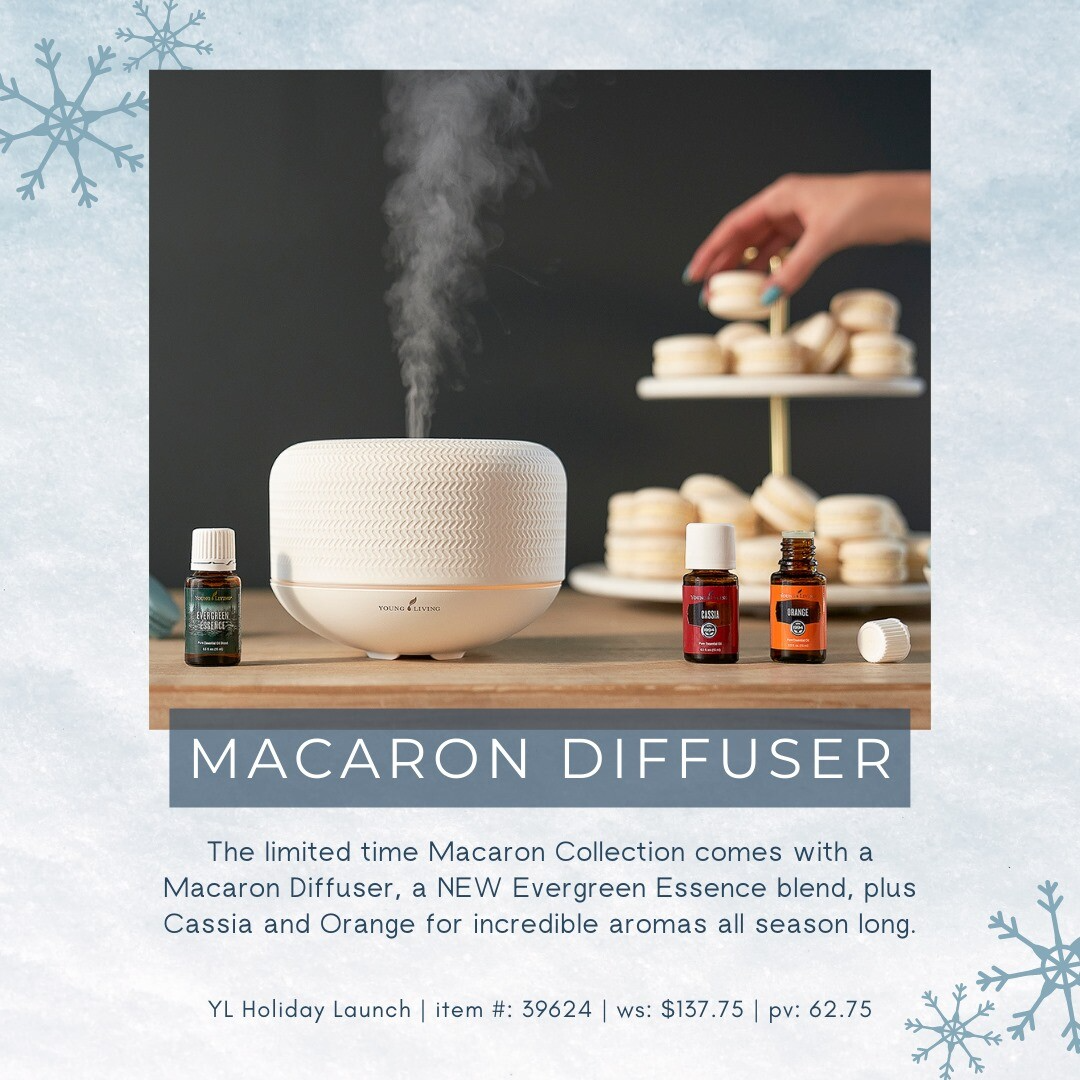 M

ACARON DIFFUSER COLLECTION

//
Includes the Macron Diffuser, 15ml Evergreen Essence, 15ml Orange, 15ml Cassia

We have another gorgeous limited-edition diffuser - it runs continuously for 2-hours or 8-hours, and 16-hours intermittently! Plus, the BRAND NEW FORMULA of Evergreen Essence!!! (We all know Evergreen Essence is already a super hard to snag seasonal unicorn but it just got a whole lot more unicorny (yup that's a word!)

You see, Pine oil has been getting lots of attention lately…kinda like lemon and geranium are…iykyk. Well, they've been looking deeper into pine and a bunch of other conifers we that we grow and distill at our Highland Flats farm as well and wouldn't ya know, lots of them have the "protective" and powerful properties too!

They looked at our current Evergreen Essence blend and it has many of those conifers already in it but it was missing some powerful hitters….so they re-blended it and added in the missing ones! So how do you use it? Well I'm just gonna recommend applying generously when going in public, at gatherings, when you're around a lot of people, when you're going to be hugging lots of people…basically it's for when you have to people. You pickin up what I'm layin down friends????)

We covered how important Evergreen Essence is - now make sure to diffuse Cassia's warm, uplifting scent with Vanilla (grab the Mini Aria collection too and you'll be set!) and you can thank me later!!! Or pair it with Thieves Household Cleaner as you tackle dirt and grime. To invite spirituality and clarity, inhale it as you create a sense of peace and serenity. Go put "benefits of cassia" in your search engine. Really, go. Orange? One of the happiest, most uplifting oils. Add a few drops to your toothbrush for a whiter smile and fresh breath. Citrus oils are made from the rind, not the acidic juice, so there's no need to worry about your enamel!

Item #: 39624
Price: $137.75
PV: 62.75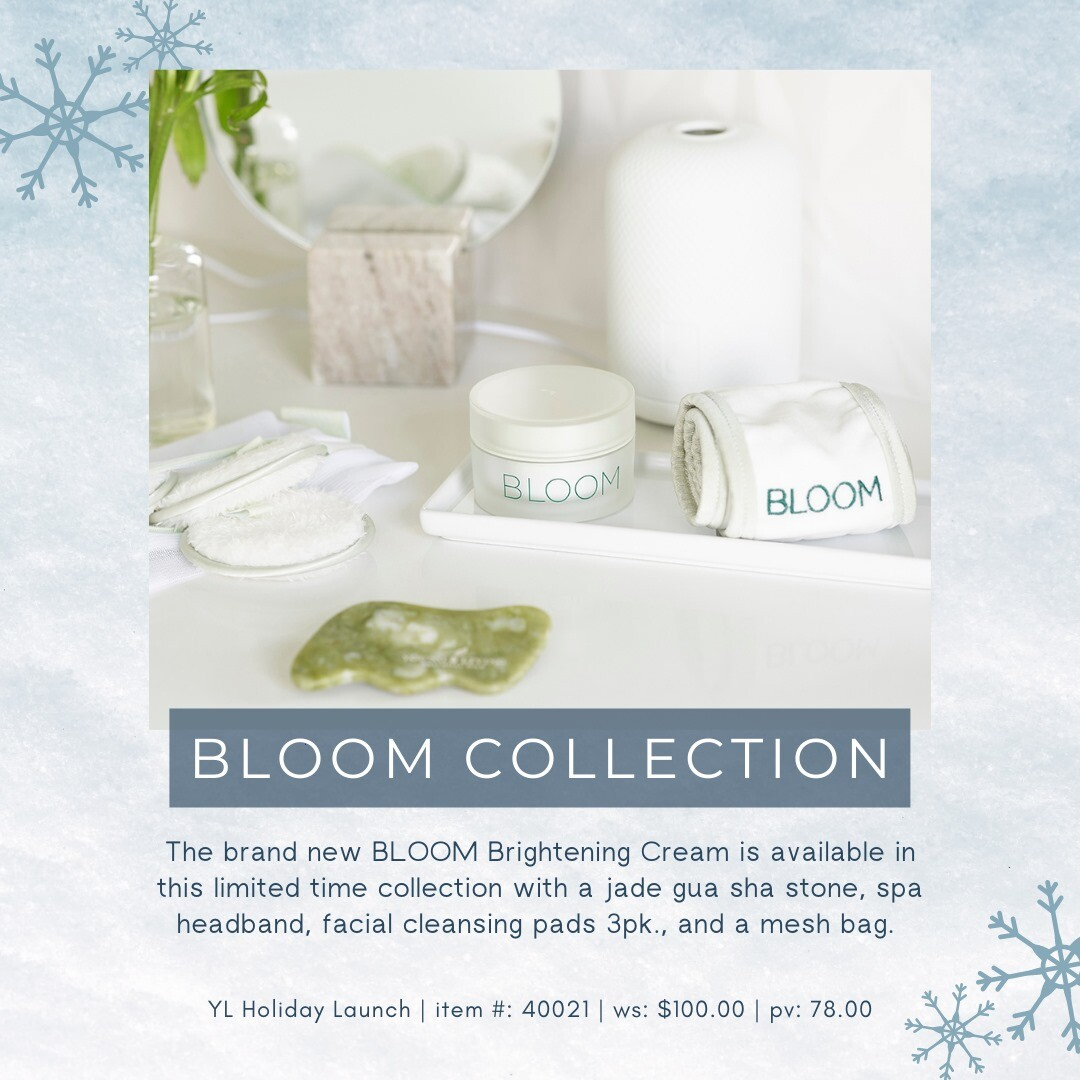 B
LOOM COLLECTION

Bloom Brightening Cream, a spa headband to keep hair secure, three facial cleansing pads for removing makeup and residue (in a mesh pouch to easily throw in the wash!), and a jade gua sha stone for massaging tired facial muscles.

Bloom Brightening Cream features the powerful ingredients seaweed extract,ginger root extract, pili pulp oil, red algae, and hyaluronic acid, plus the exquisite aroma of the Sheerlumé essential oil blend (Vetiver, Blue Cypress, Davana, Royal Hawaiian Sandalwood, Clove, Jasmine, Carrot Seed, Spearmint, Geranium and Frankincense), created by Young Living's pioneering founder, D. Gary Young.

+ Pili pulp oil: From our Happy Pili Tree Farm and Distillery
in the Philippines, we chose this oil for it's talents as a
glow-making moisturizer.

+ Alpinia officinarum: Also known as ginger root extract,
this is a powerful skin-brightening agent that can be used
to balance skin tone.

+ Palmaria palmata: Derived from seaweed, this ingredient
is effective against the visible signs of aging and can
brighten skin, as well as enhance a radiant complexion.

+ Limnanthes alba seed oil: Also known as meadowfoam
seed oil, this ingredient helps to prevent skin's moisture
loss.

+ Terminalia ferdinandiana (Kakadu plum) fruit extract:
This exotic superfood contains antioxidants and
moisturizing properties. With a high vitamin C content, it
protects the skin from environmental damage.

Item #: 40021
Price: $100
PV 78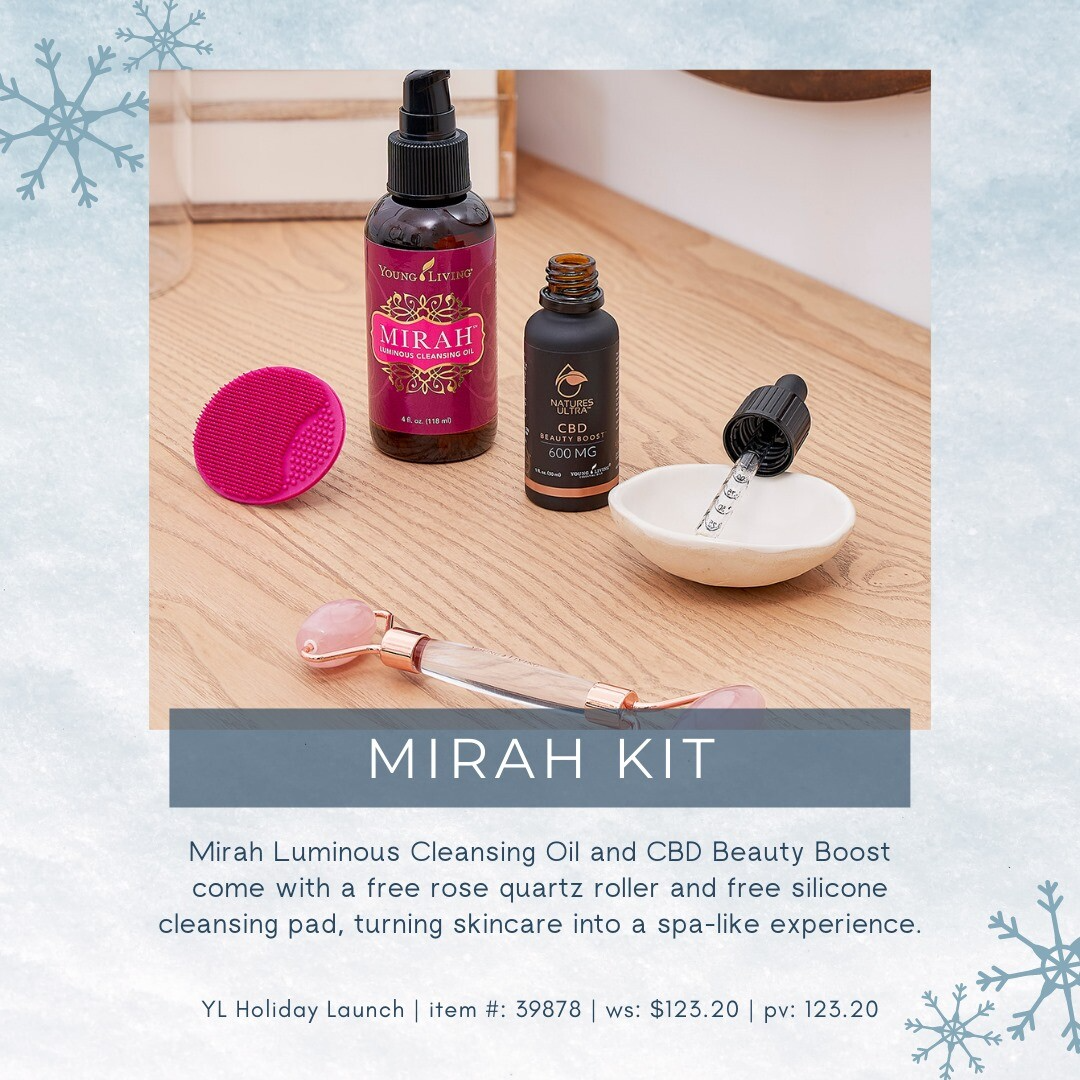 MIRAH KIT

//
Mirah Cleansing Oil, a dry silicone cleansing pad, rose quartz roller, and CBD Beauty Boost

Mirah Cleansing Oil is formulated with ten essential oils, including Rose and Ylang Ylang, as well as ten moisturizing carrier oils, like jojoba and argan, this facial cleanser removes pore-clogging impurities without stripping away the natural oils your skin needs. Simply massage into skin to dissolve makeup and other impurities. Rinse with warm water and you'll be left with nothing but fresh, moisturized, glowing skin — no need to worry about parabens, sulfates, phthalates, petrochemicals, animal-derived ingredients, synthetic preservatives, synthetic fragrances, or synthetic dyes/colorants.

CBD Beauty Boost combines CBD, rose essential oil, tamanu oil, and grapeseed oil to make your skin glow by reducing the appearance of fine lines & wrinkles. All you need is one daily dropper to moisturize your skin & make it feel amazing. Each full dropper contains one Damask rose! Um yes, please. Luxury in a bottle!

Item #: 39878
Price: $123.20
PV 123.20
FREE SHIPPING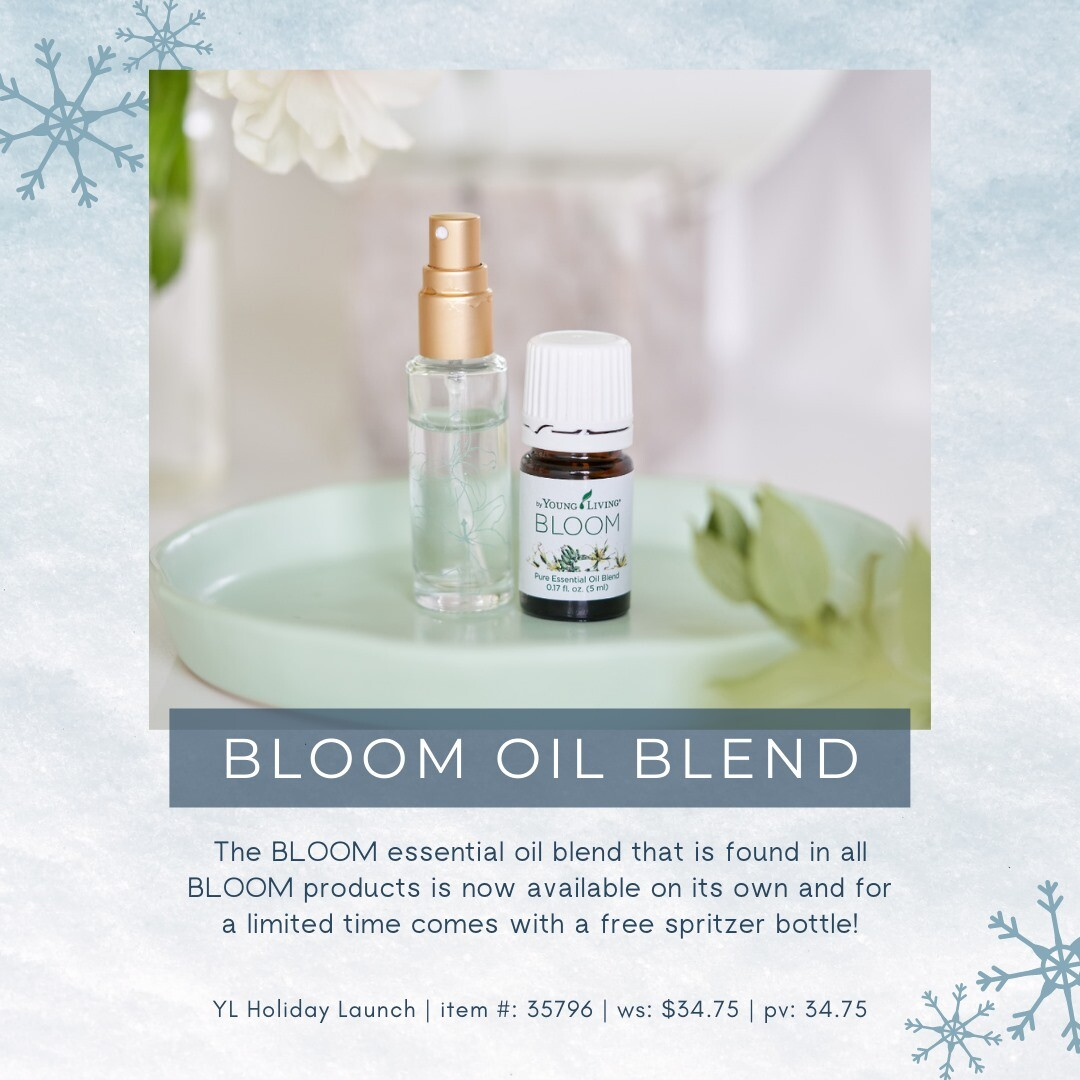 BLOOM ESSENTIAL OIL + SPRITZER BOTTLE

The Bloom signature scent is now available to pop in your diffuser, create a hydrating facial mist, or DIY perfume! Comes with the 5ml Bloom Essential Oil Blend and a spritzer bottle!

Item #: 35796
Price: $34.75
PV 34.75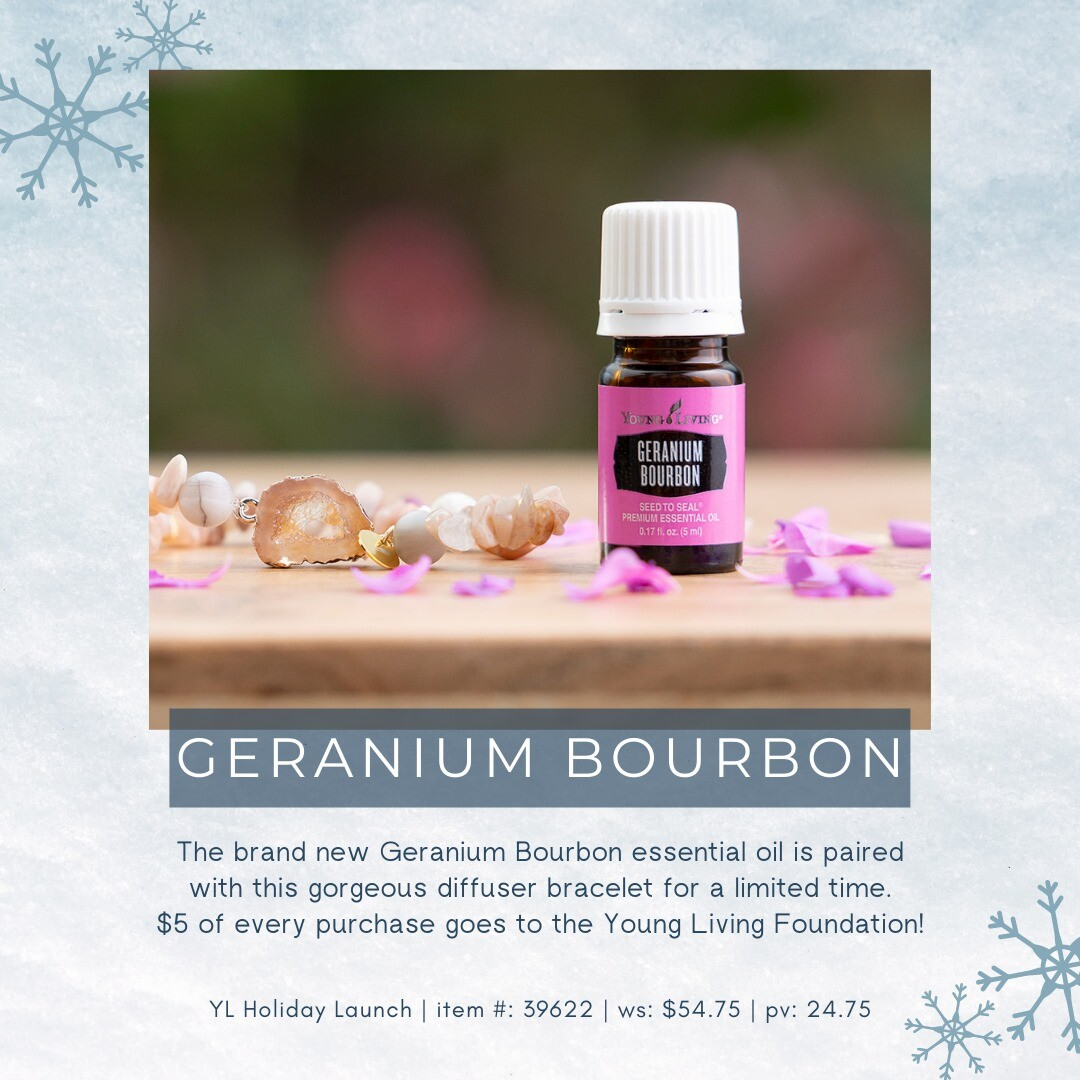 GERANIUM BOURBON + DIFFUSER BRACELET COLLECTION

Includes the brand-new Geranium Bourbon (5ml) and a gorgeous sustainably sourced sunstone, agate, and lava rock diffuser bracelet. $5 from each purchase is donated to the Young Living Foundation!

Geranium Bourbon essential oil has a lush, floral aroma that promotes shiny hair and a natural glow to the skin and makes a great addition to any do-it-yourself perfume or bath and body recipes. Located in the Southern Indian Ocean off the coast of Madagascar, Réunion Island has been recognized by the world's perfume houses as the source of the finest Geranium essential oil for more than a century. Known as Geranium Bourbon—a nod to the island's former name, île Bourbon—this variety of Geranium essential oil has a distinctly complex, fresh, green floral aroma with delicate rosy undertones. Up to 900 pounds of geranium bourbon flowers, leaves, and stems are distilled to produce 1 liter of essential oil. Geranium Bourbon essential oil can be enjoyed as a personal fragrance, home aroma, or topically as part of your skin care routine.

Item #: 39622
Price: $54.75
PV: 24.75


KIDSCENTS BATH BOMB COLLECTION

These adorable, cloud-shaped bath bombs come in either purple or white (random!) and will knock your little angels right out with the calming and sleeeeeepytime aroma of SleeyIze! Lavender, geranium, roman chamomile, bergamot, and more. Also included is the cutest jar for the bath bombs and the sweetest stickers for the kiddos to decorate!

Item #: 38446
Price: $24.75
PV: 24.75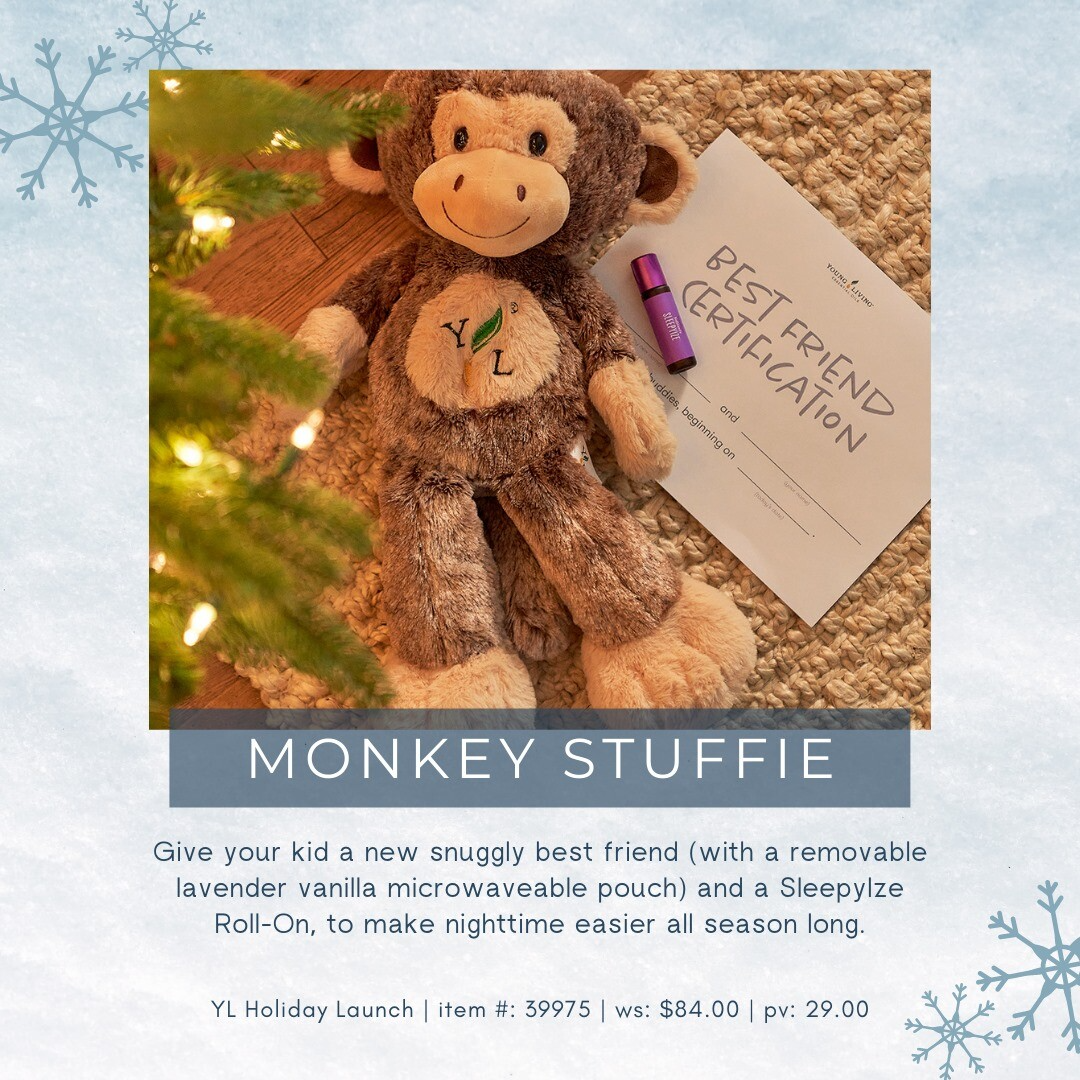 MONKEY STUFFIE COLLECTION

SleepyIze Roll-On (10ml), the softest, cuddliest stuffed money with a removable lavender vanilla pouch to heat up for warmth + coziness!

Why is SleepyIze a fave? Parents with children who don't sleep, have trouble winding down before bed, and staying in their beds during the night - you better STOCK UP. This blend is one of my absolute favorites, and has helped Grey tremendously when we were dealing with early morning wake-ups. (Mama doesn't function before 7 am, mmm k?) If you haven't tried it, do it. If you don't have kids, order it anyways because adults love it too! Bonus - it's pre diluted for ages 2+!!! When Grey was younger than 2, I just added a little extra carrier oil when I rubbed it on his feet at night and I always use it in the diffuser too. Mila gets it on her feet nightly, too!

All the oils in SleepyIze are used for their calming and relaxing properties. Encourages restful sleep, and helps calm and quiet busy minds. Contains lavender, geranium, Roman chamomile, tangerine, bergamot, sacred frankincense, valarian, and ruta graveolens.

Item #: 39975
Price: $84
PV: 29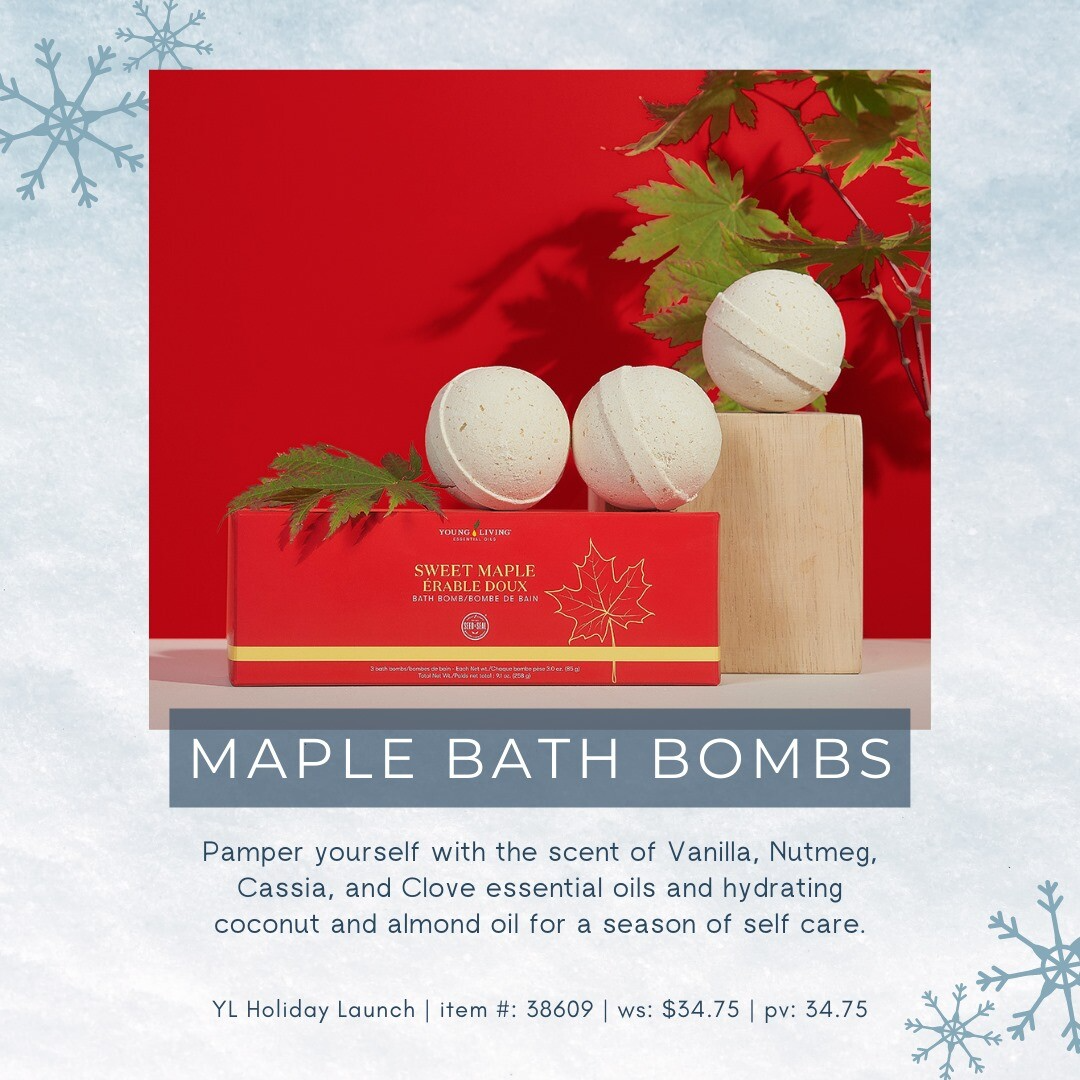 SWEET MAPLE BATH BOMBS

Oh my gosh, the coziest warmest scent for these limited-edition bath bombs!!! Vanilla, cassia, nutmeg, and clove - plus these bath bombs are infused with hydrating coconut and almond oil!

Item #: 38609
Price: $34.75
PV: 34.75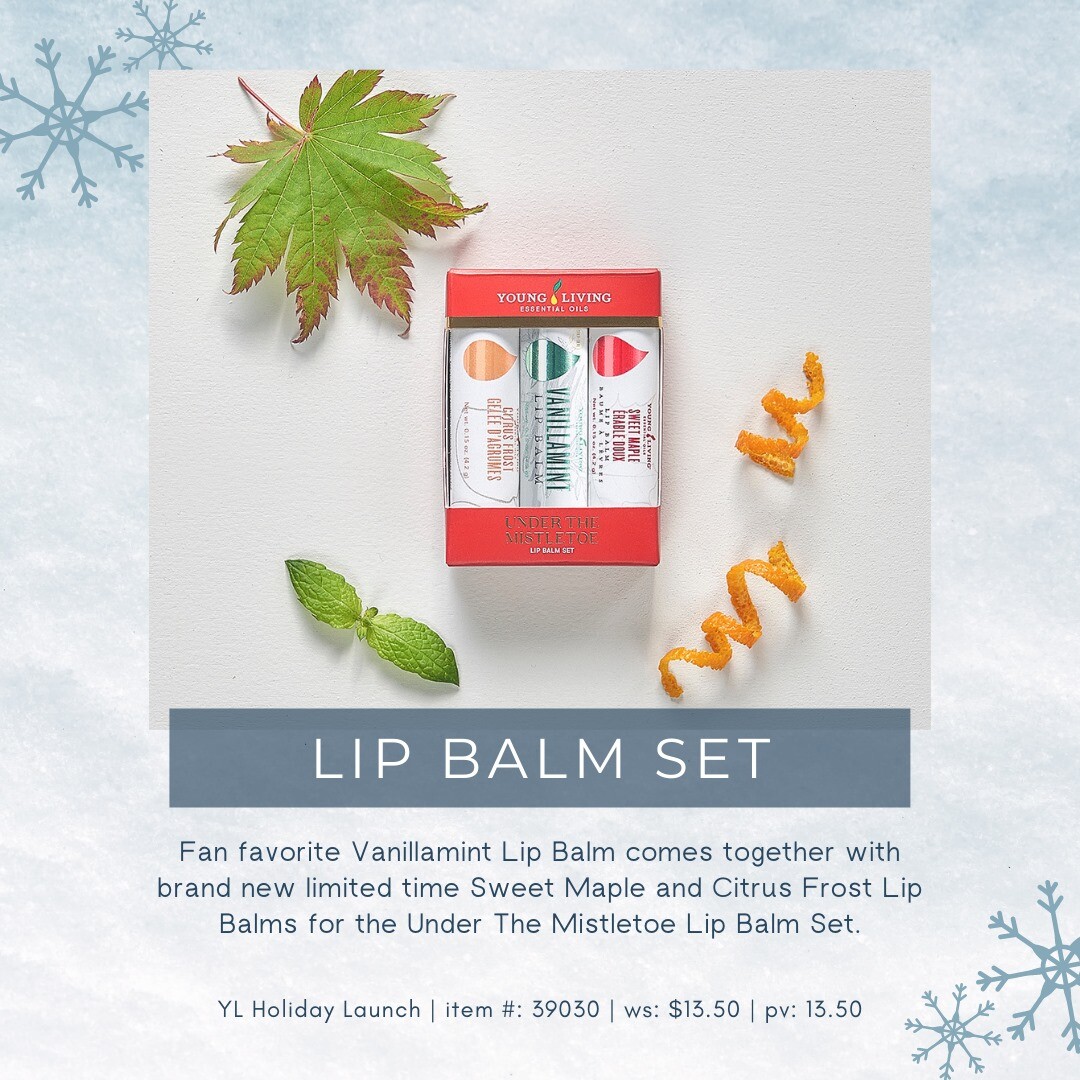 UNDER THE MISTLETOE LIP BALM SET
This set has two, brand new, limited-edition lip balms, Sweet Maple (lemon, cinnamon bark, and clove) and Citrus Frost (nutmeg and orange), plus the fan-fave is back - VanillaMint!

Item #: 39030
Price: $13.50
PV: 13.50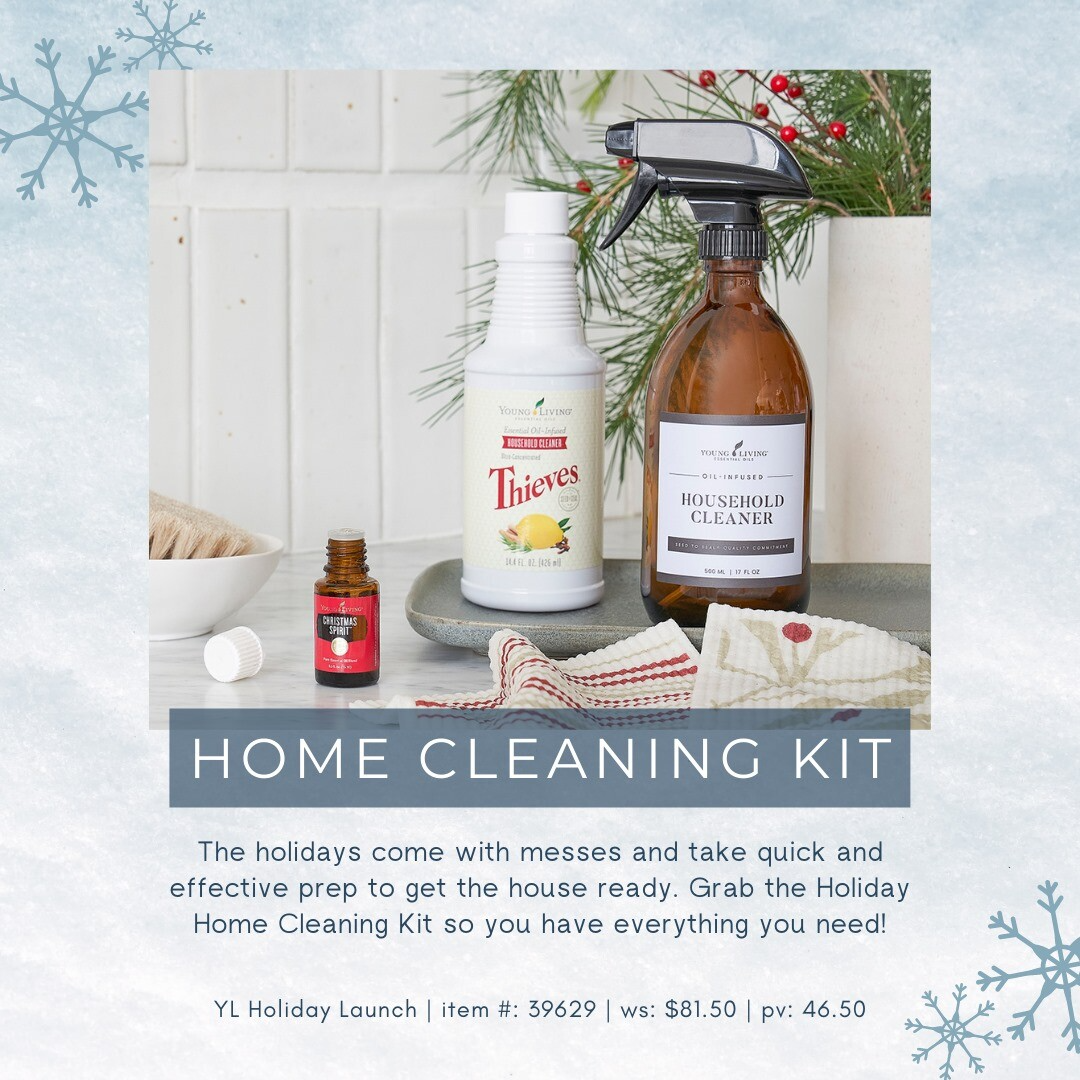 HOLIDAY HOME CLEANING KIT

Thieves Household Cleaner, Spray Bottle, Reusable dishcloth, Christmas Spirit oil (15ml)

Item #: 39629
Price: $81.50
PV: 46.50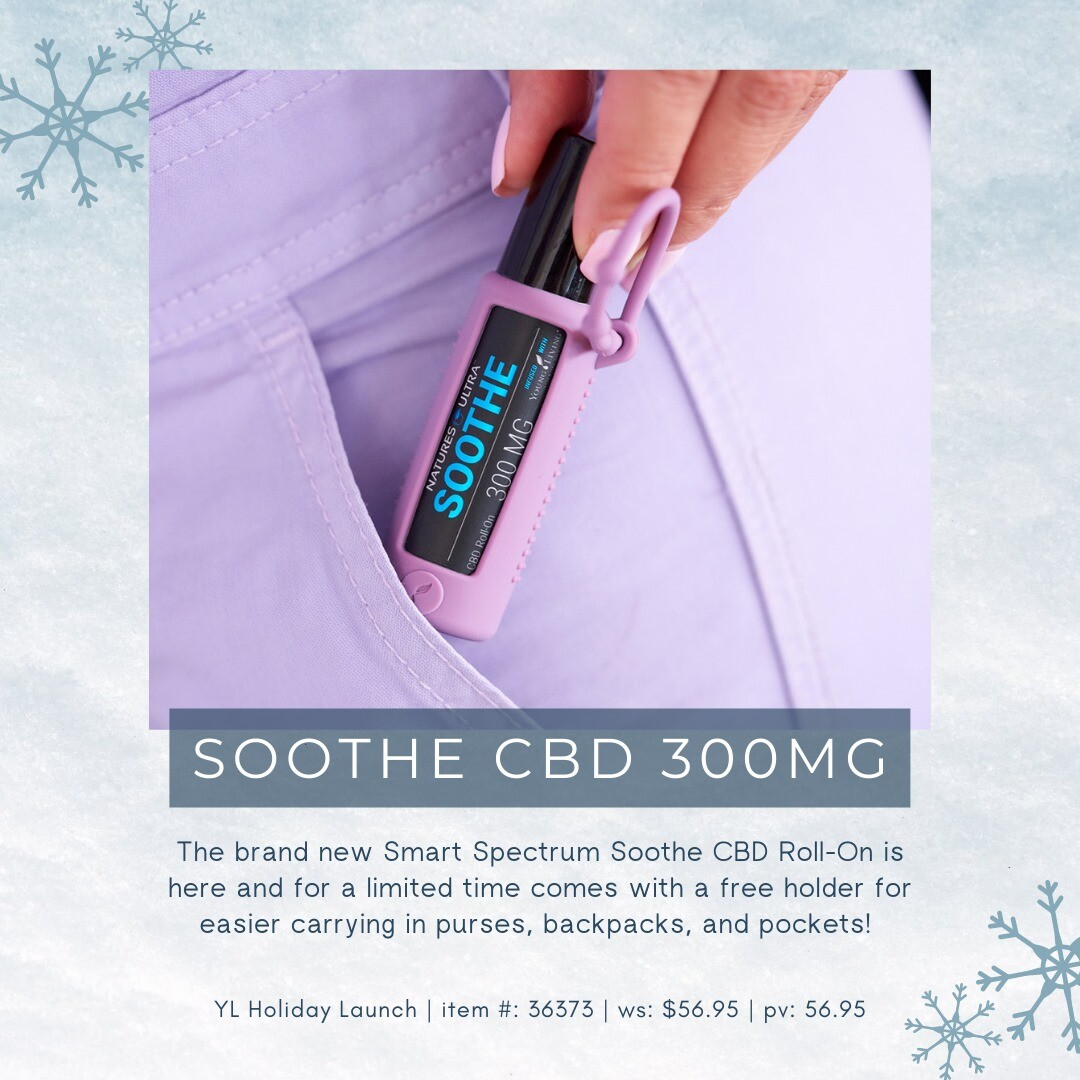 SOOTHE CBD ROLL-ON, 300mg with free holder

A new roll-on!!! It's our Smart Spectrum CBD with peppermint, copaiba, and four eucalyptus oils! This is perfect for soothing tired muscles, and invigorating your breathing!

Item #: 36373
Price: $56.95
PV: 56.95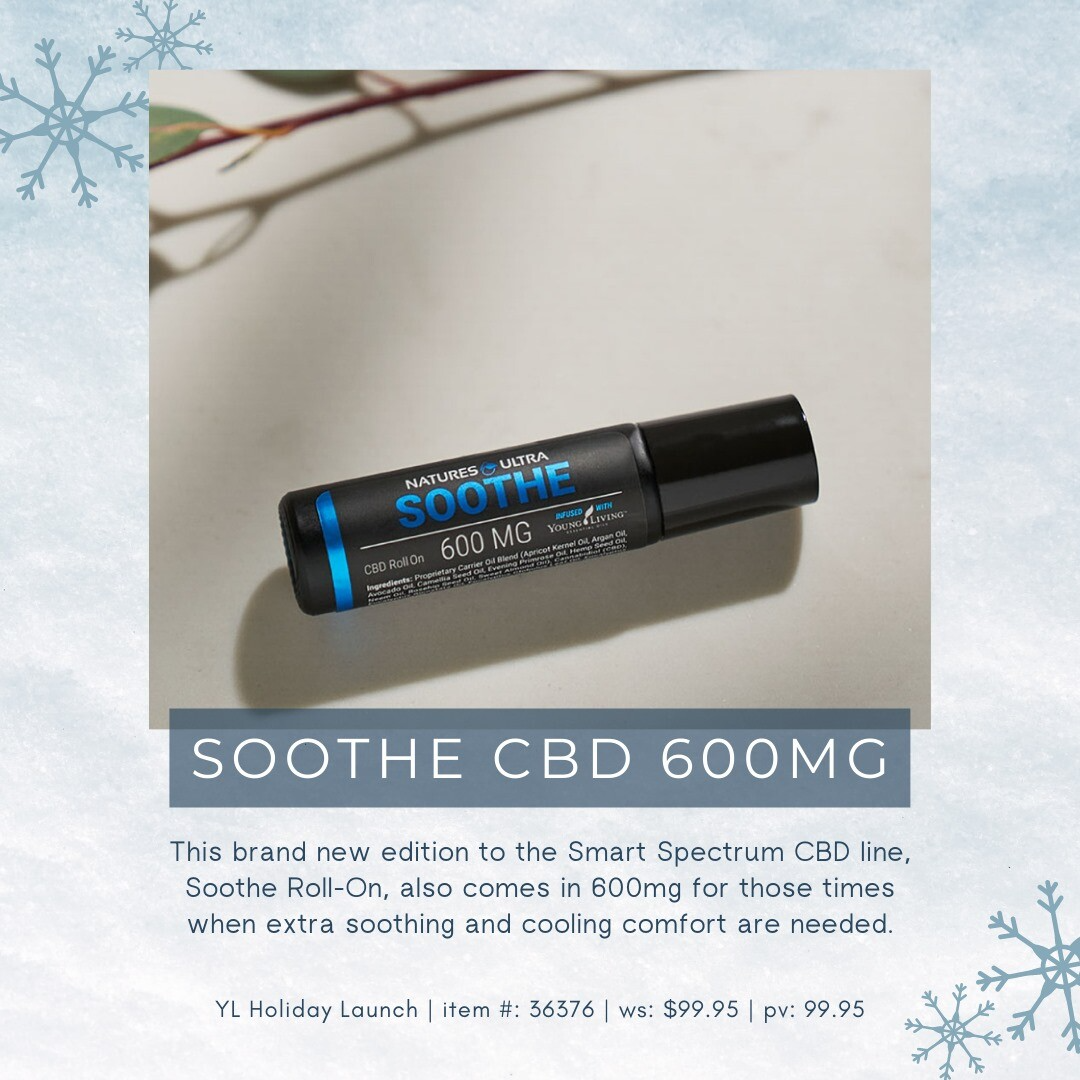 SOOTHE CBD ROLL-ON, 600 mg

Item #: 36376
Price: $99.95
PV: 99.95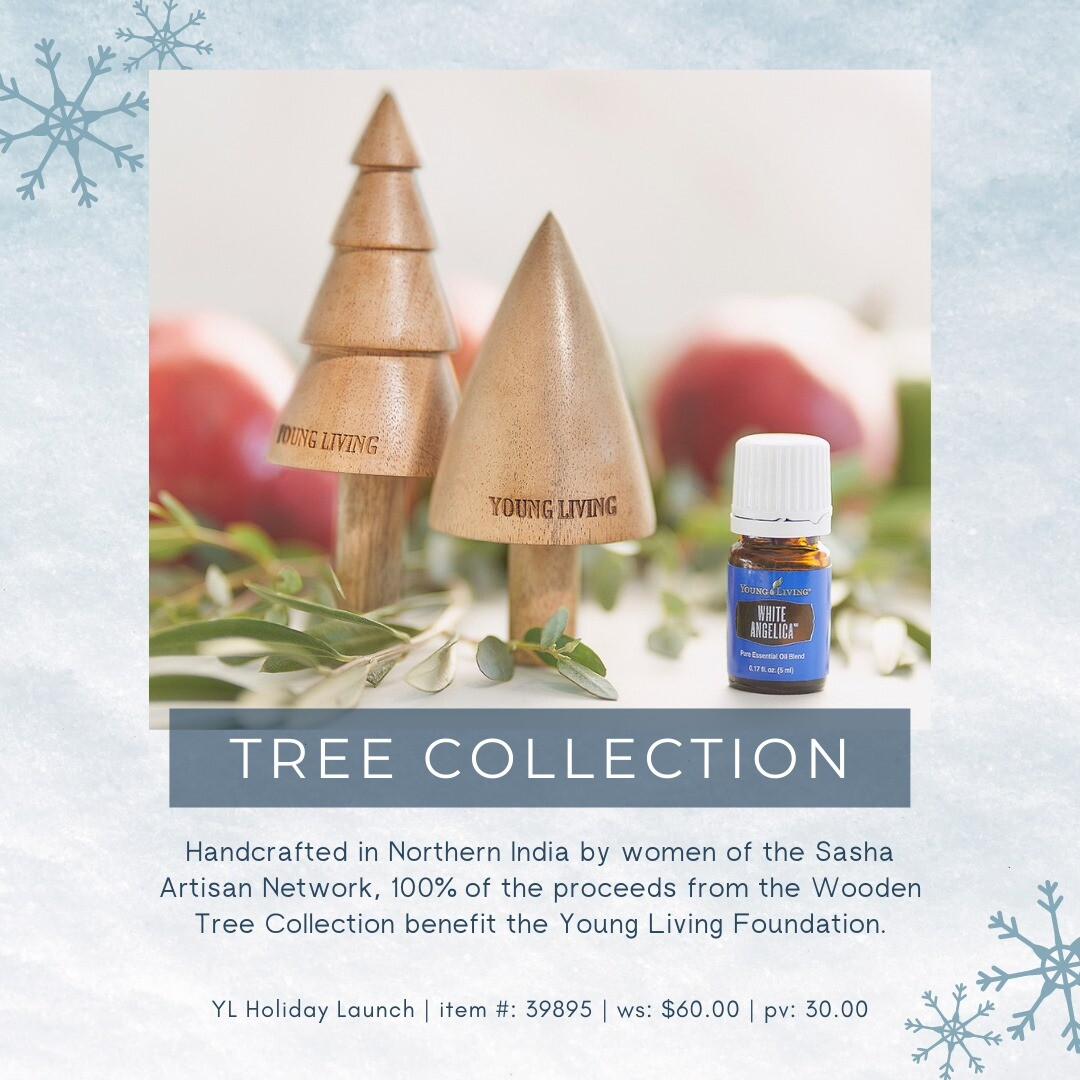 WOODEN TREE COLLECTION

Includes White Angelica (5ml) and two beautiful handcrafted trees. These were made in northern India by the women of the Sasha Artisan Network and 100% of the proceeds benefit the Young Living Foundation.

Item #39895
Price: $60
PV: 30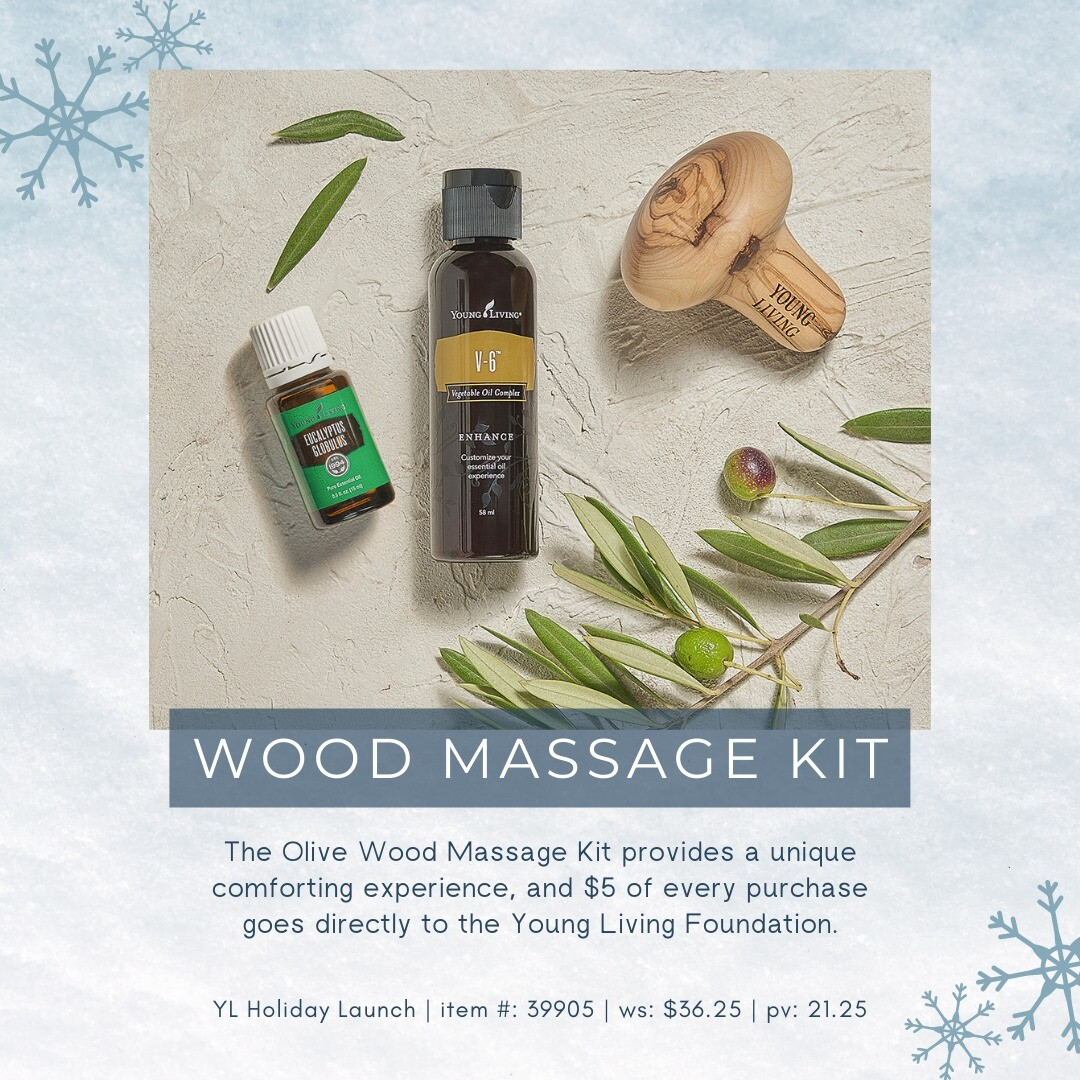 OLIVEWOOD MASSAGE TOOL COLLECTION

Includes Eucalyptus Radiata (15ml), V-6 Carrier Oil (2oz), Wooden Massage Tool
The olive wood massaging tool was sustainably crafted from olive tree branches in Bethlehem. $5 from every purchase will go to the Young Living Foundation!

Item #: 399905
Price: $36.25
PV: 21.25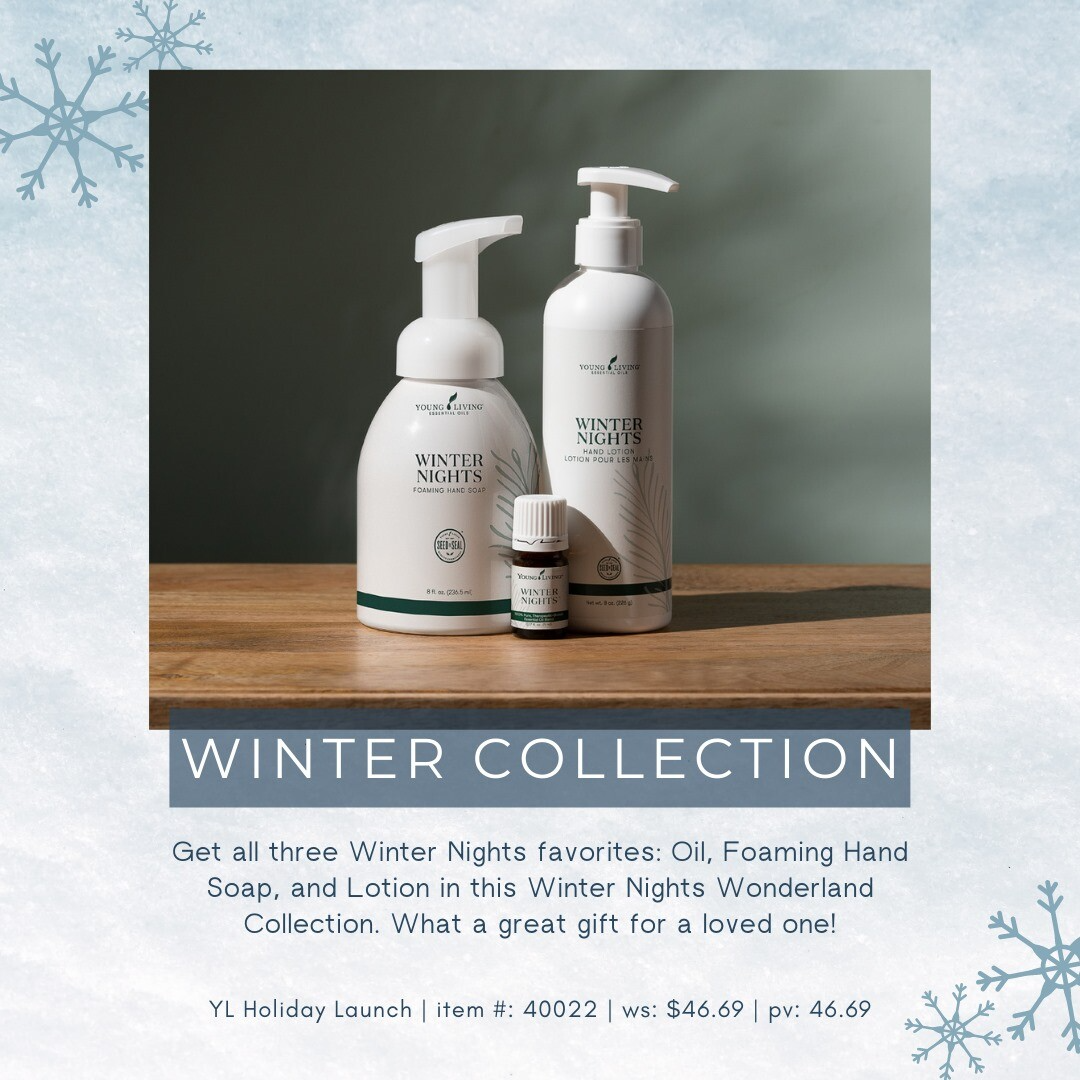 WINTER NIGHTS WONDERLAND COLLECTION

(bundled at 25% off!!)
// This collection features a 5ml Winter Nights oil, foaming hand soap & hand lotion.

This blend is a combo of Northern Lights Black Spruce, Peppermint, Cedarwood, and Orange - a.k.a. heaven. This is the perfect oil to diffuse to get you through those long winter nights with this cozy, warm aroma that smells amazing.

Item #: 40022
Price: $46.69
PV: 46.69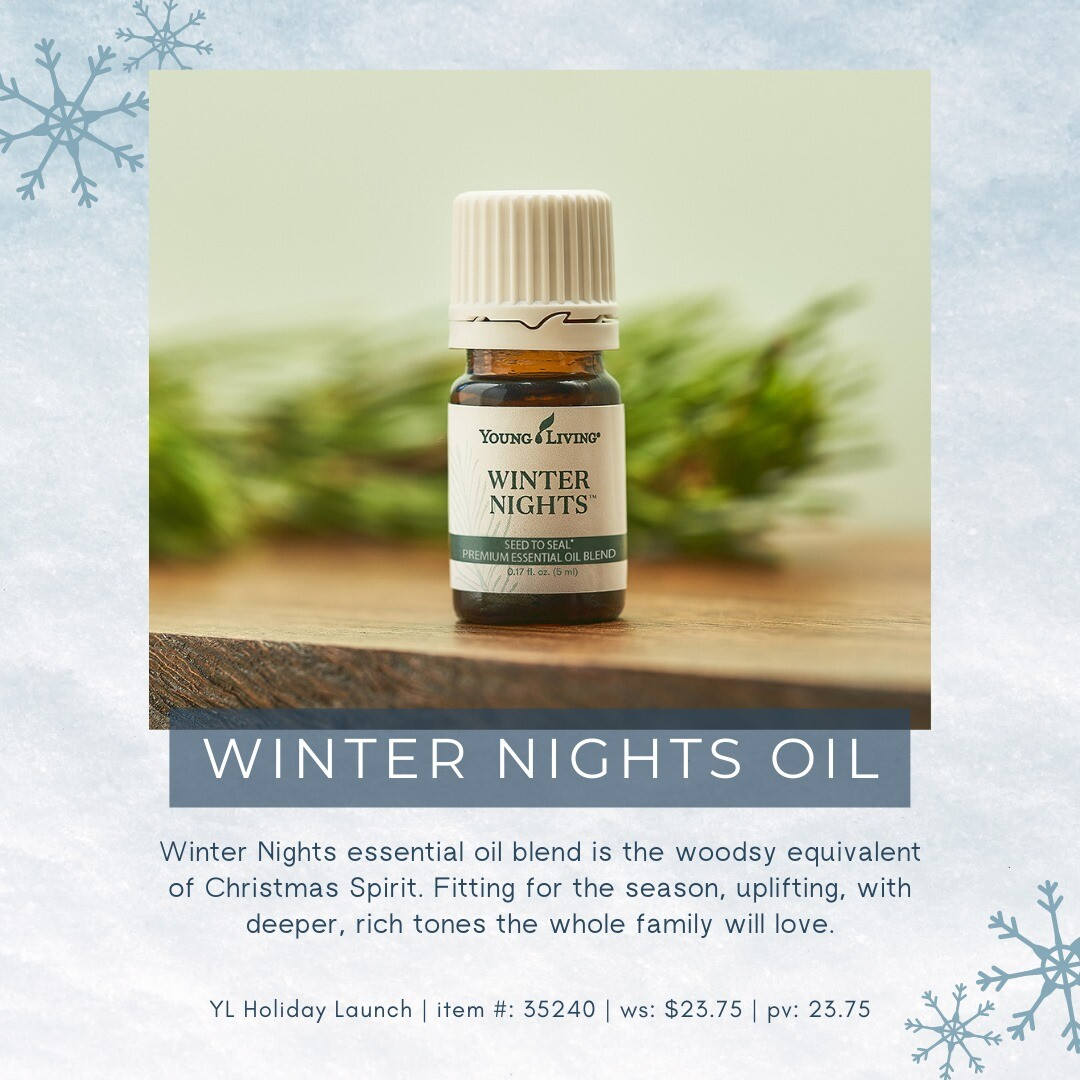 WINTER NIGHTS ESSENTIAL OIL
, 5ml
This blend is a combo of Northern Lights Black Spruce, Peppermint, Cedarwood, and Orange - a.k.a. heaven. This is the perfect oil to diffuse to get you through those long winter nights with this cozy, warm aroma that smells amazing.

Item #: 35240
Price: $23.75
PV: 23.75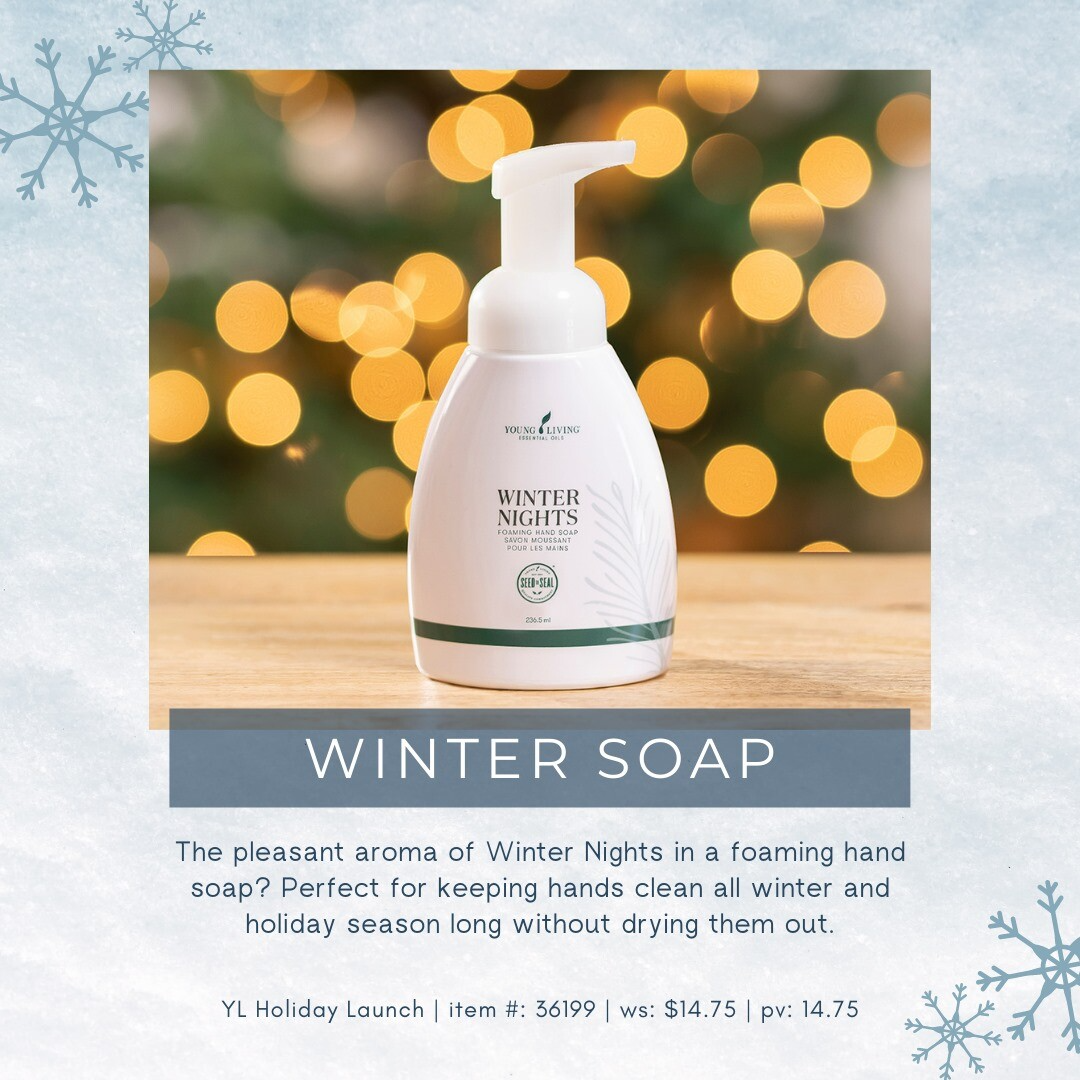 WINTER NIGHTS HAND SOAP, SINGLE

Item # 36199
Price: $14.75
PV: 14.75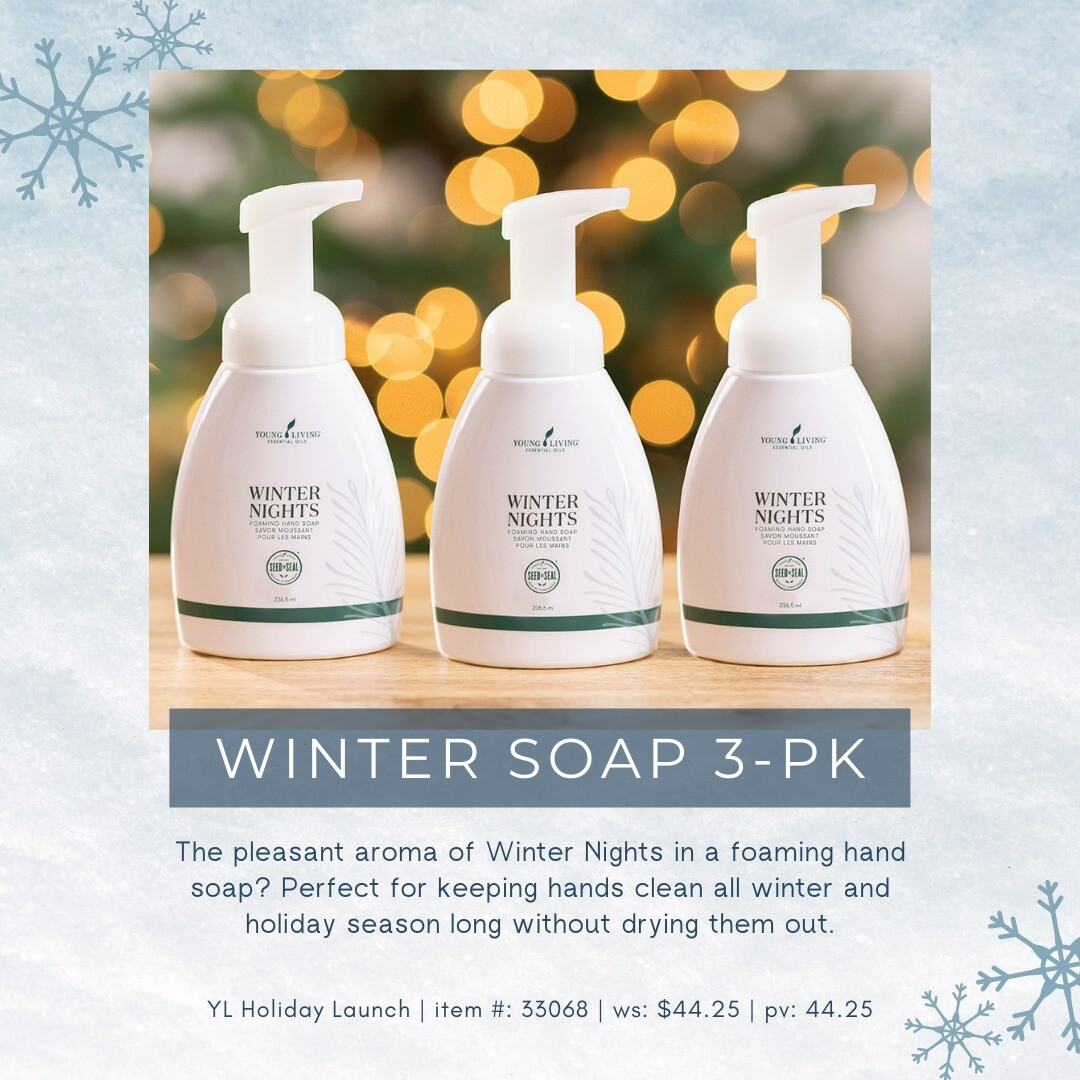 WINTER NIGHTS HAND SOAP, 3 PACK

Item # 33068
Price: $44.25
PV 44.25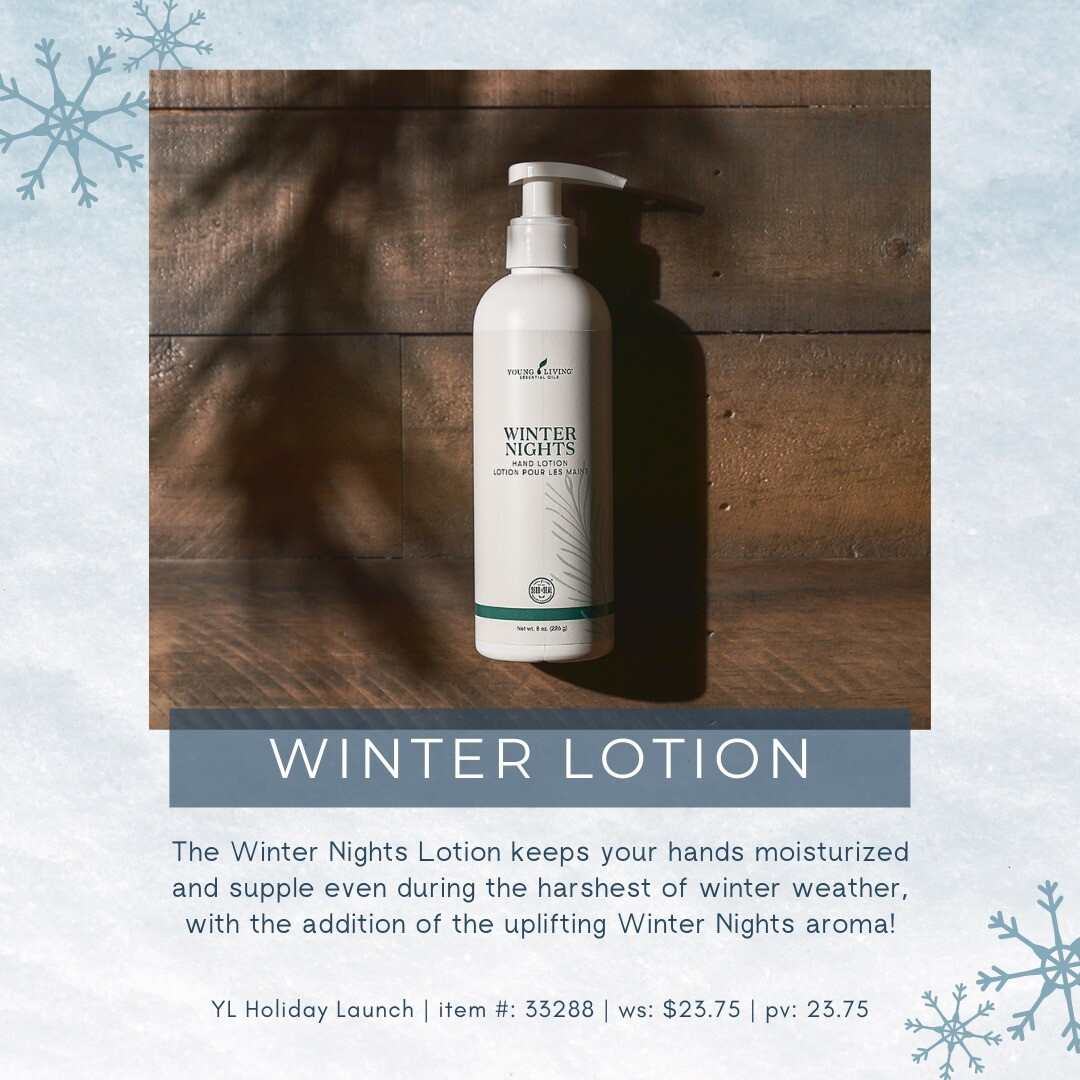 WINTER NIGHTS HAND LOTION

Item # 33288
Price: 23.75
PV: 23.75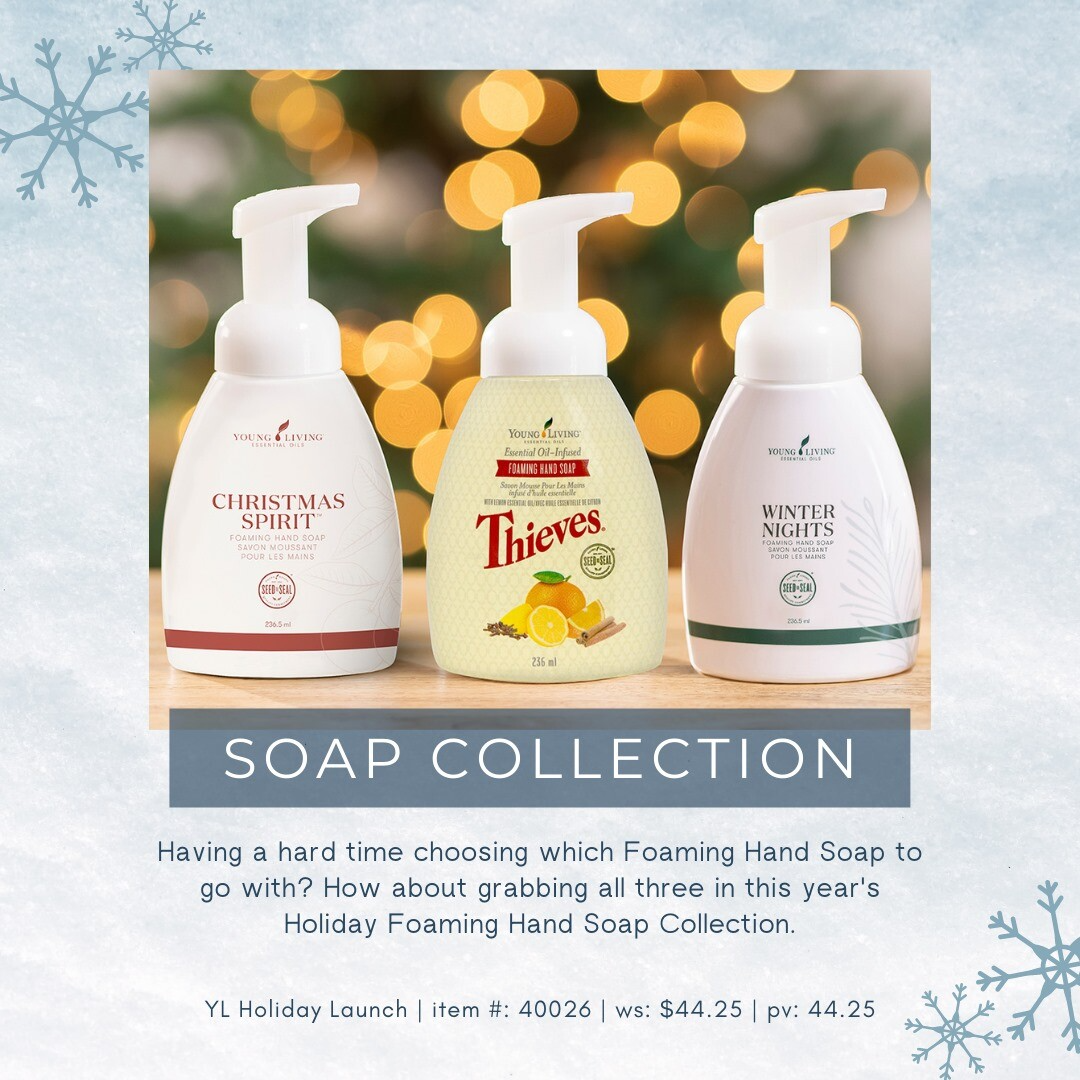 HOLIDAY FOAMING HAND SOAP COLLECTION

All the faves bundled up for you! Christmas Spirit Hand Soap, Thieves Hand Soap, and Winter Nights Hand soap!
Item #: 40026
Price: $44.25
PV: 44.25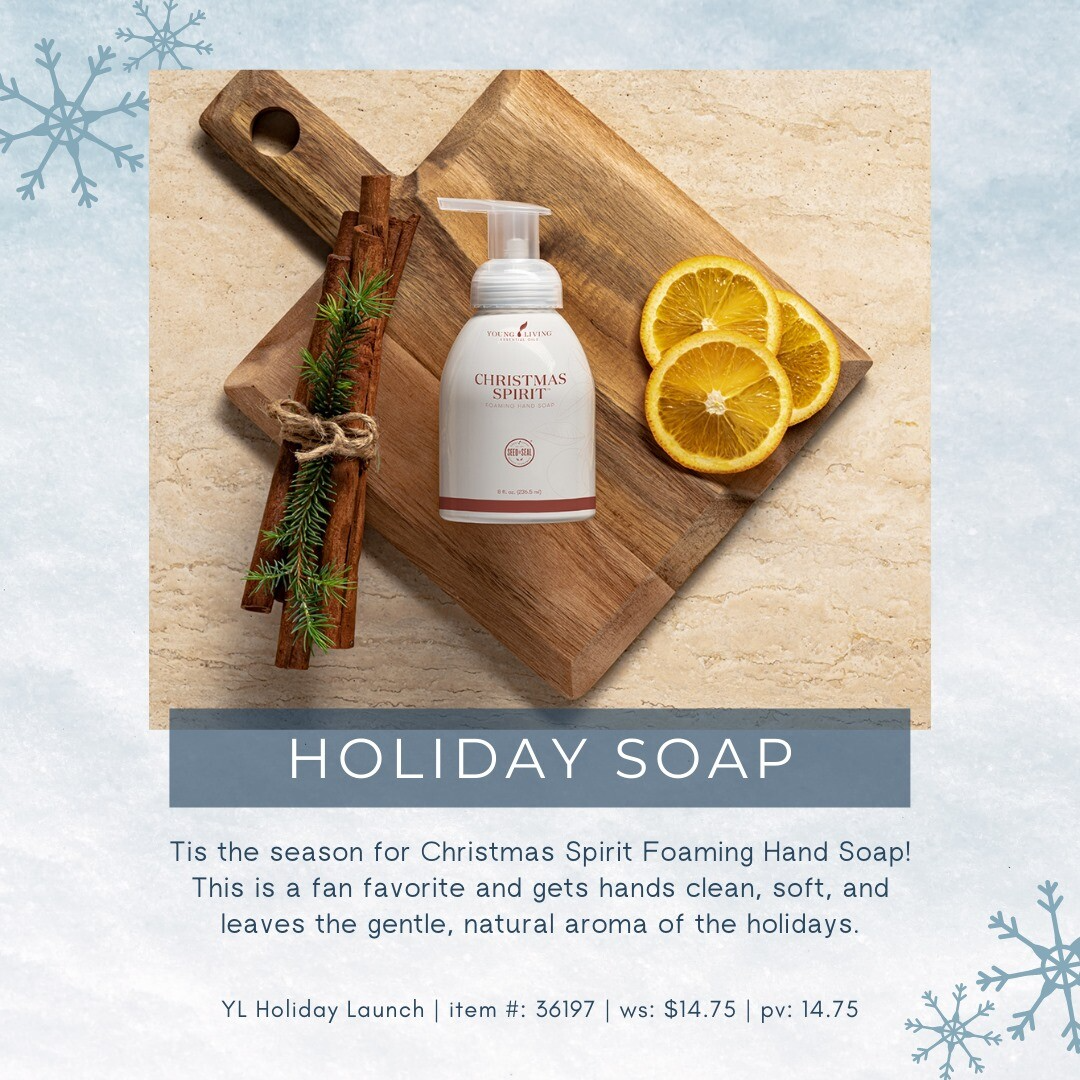 CHRISTMAS SPIRIT FOAMING HAND SOAP, SINGLE

Item #: 36197
Price: $14.75
PV: 14.75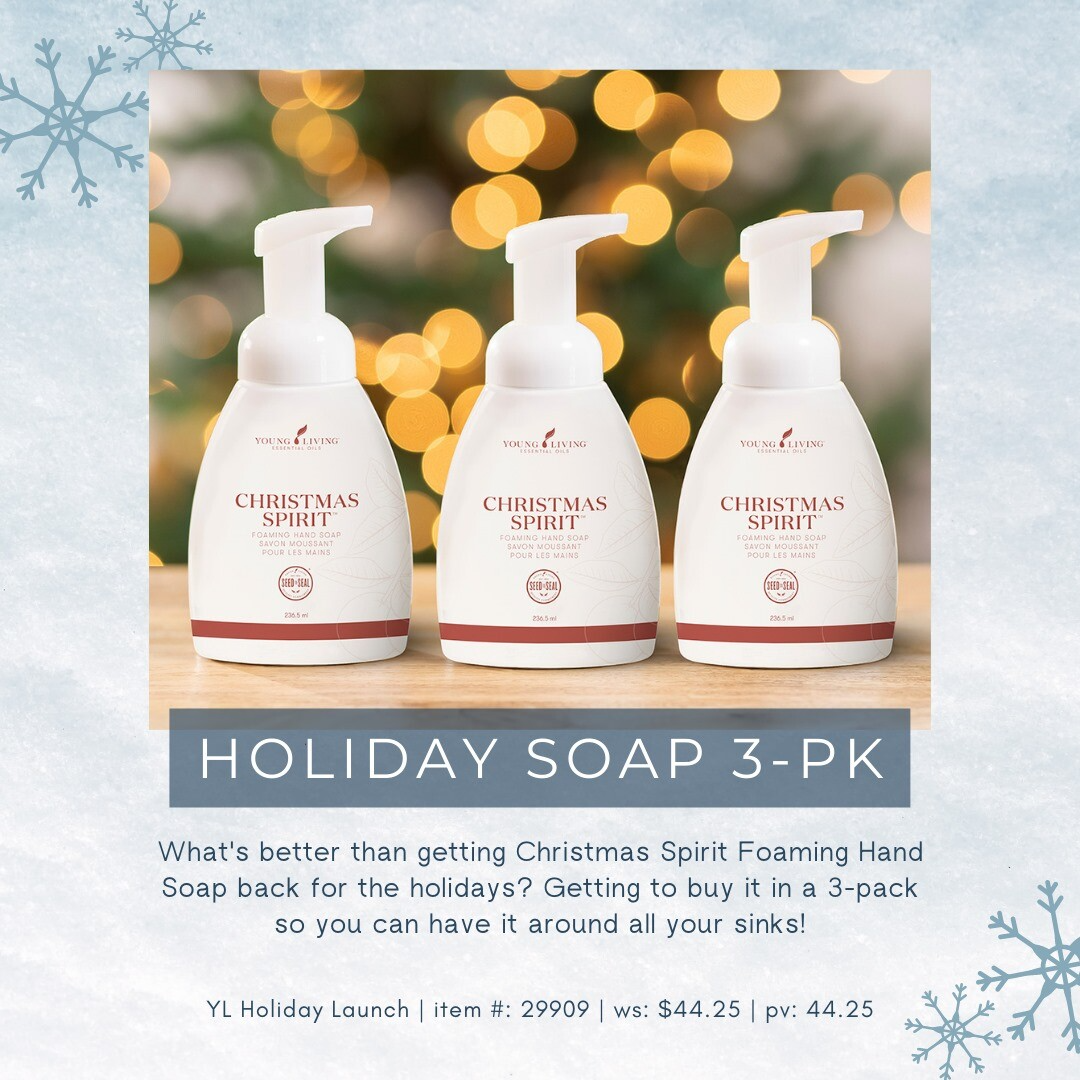 CHRISTMAS SPIRIT FOAMING HAND SOAP, 3 PACK

Item #: 29909
Price: $44.25
PV: 44.25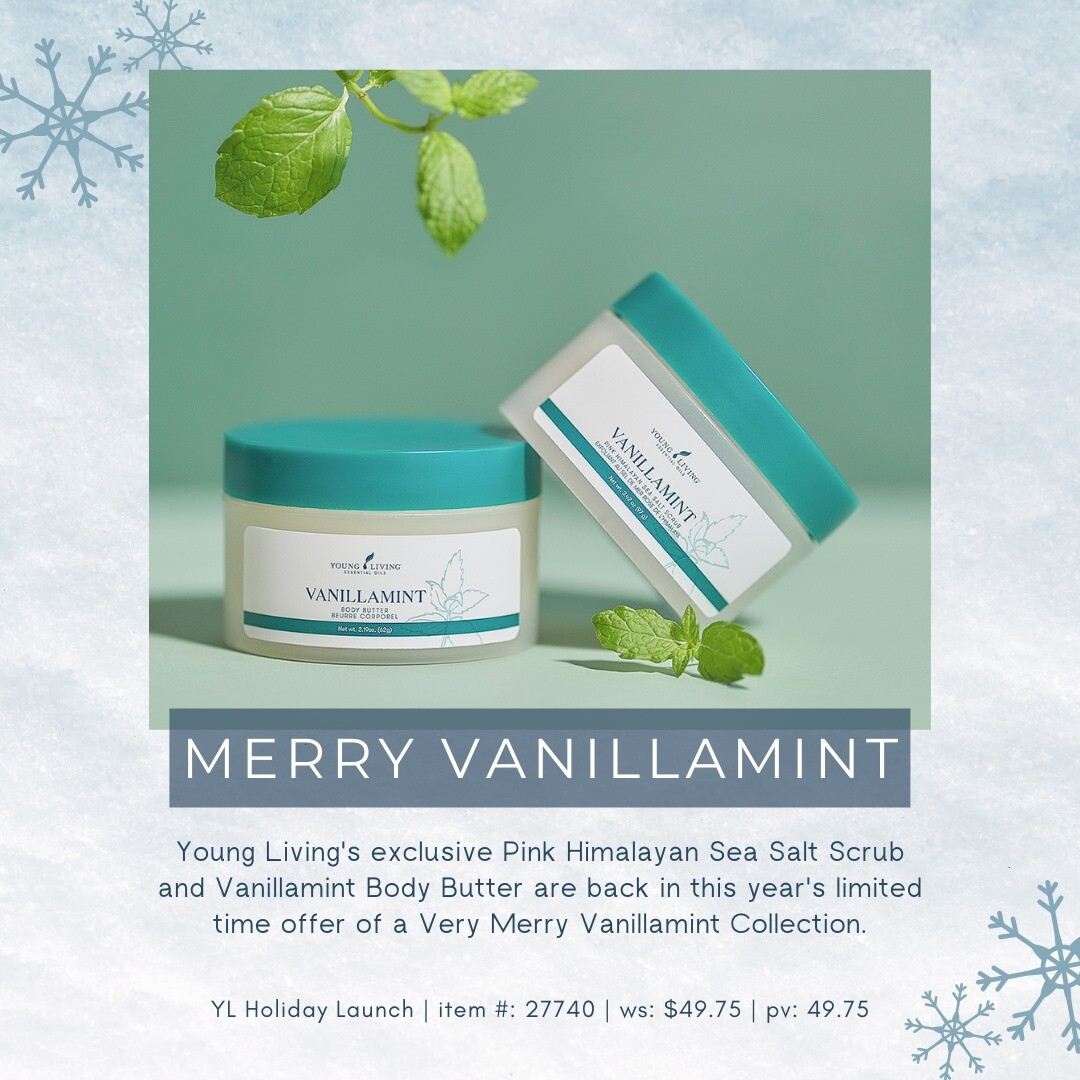 VERY MERRY VANILLAMINT COLLECTION

It's back! The warm, cozy scent of vanilla and the tingling sensation of peppermint! This collection features the exclusive Pink Himalayan Sea Salt Scrub and the richly hydrating Vanillamint Body Butter!

Item #: 27740
Price: $49.75
PV 49.75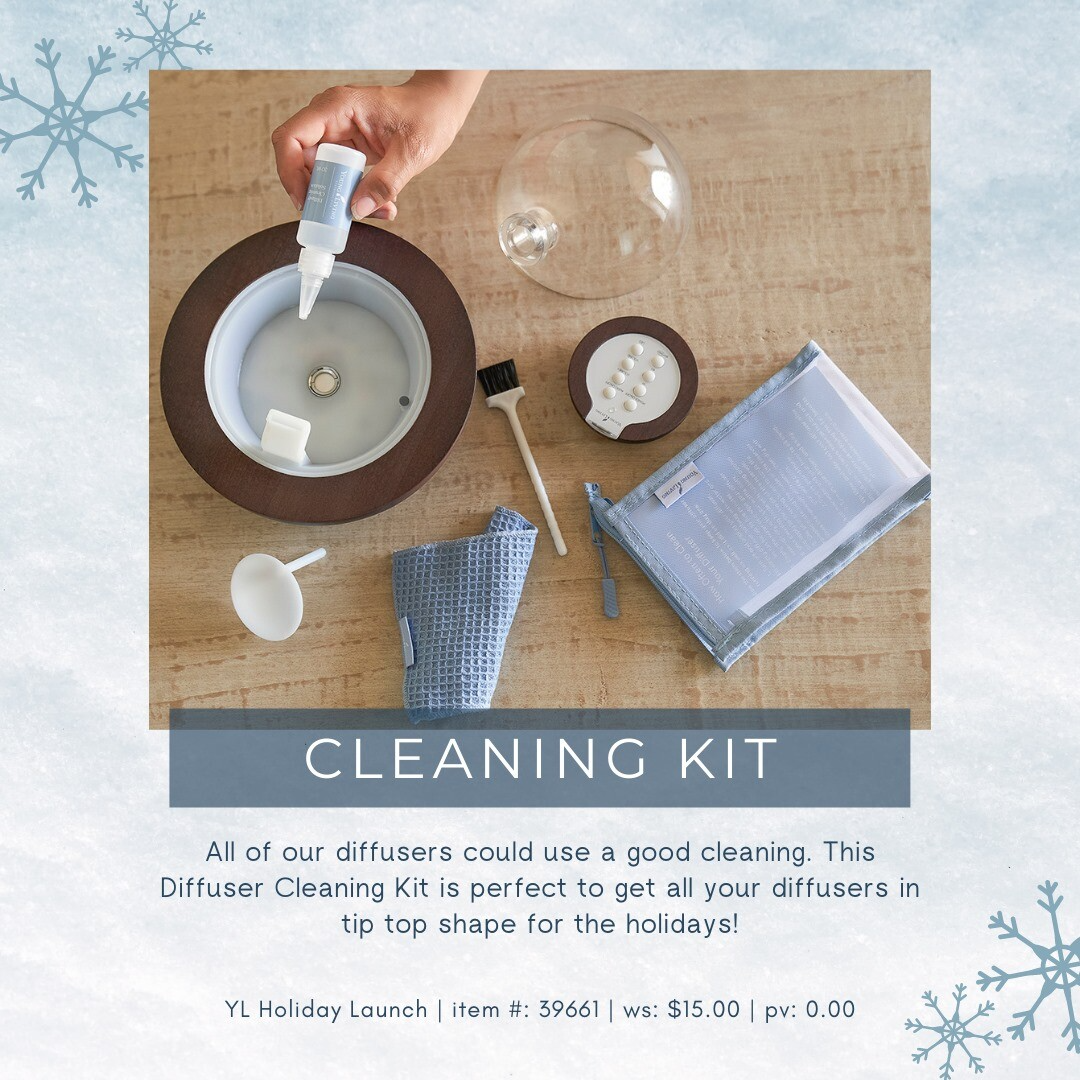 DIFFUSER CLEANING KIT

Includes a cleaning brush, squeeze bottle, waffle cloth, mesh bag, and instruction card
Item #: 39661
Price: $15
0pv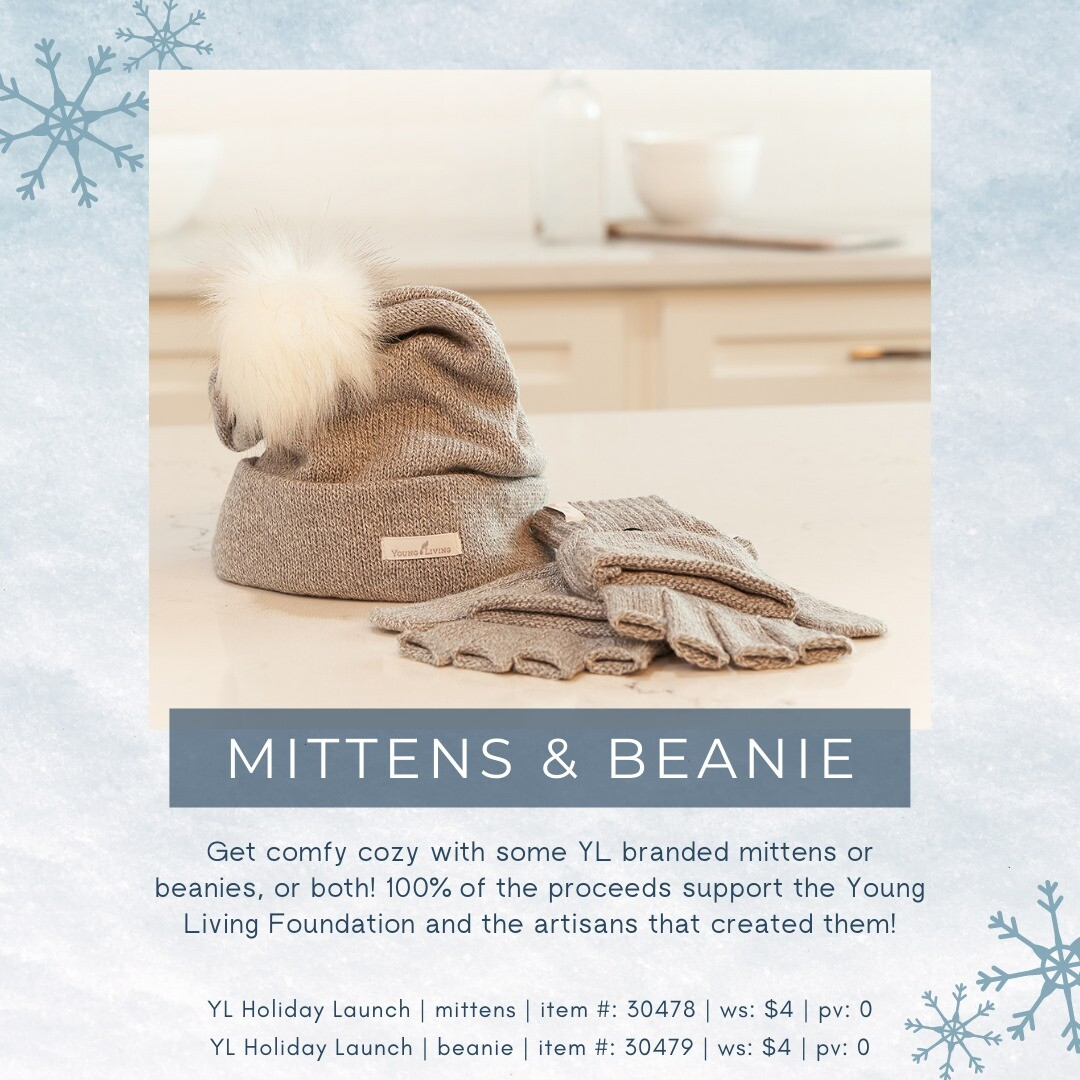 BEANIE

Item #: 30479
Price: $4
0pv


MITTENS

Item #: 30478
Price: $4
0pv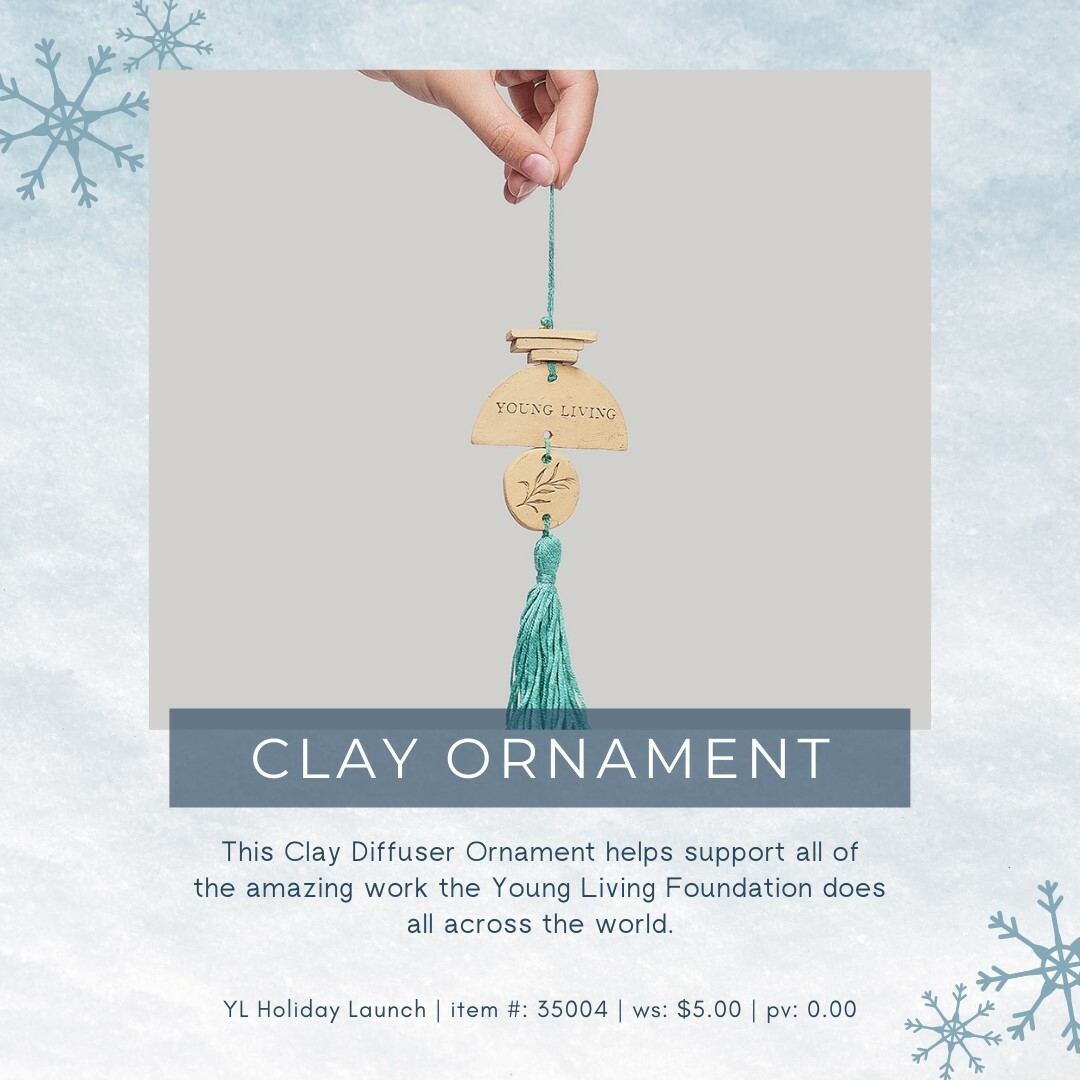 HANGING CLAY DIFFUSER ORNAMENT

Item #: 35004
Price: $5
0pv



+ NO LIMITS
+ While Supplies Last!
+ Permanent Items will be available individually after the collections are sold out
+ Shop Only
+ Cannot use points
Permanent items:
+ BLOOM essential oil
+ BLOOM Brightening Cream
+ Geranium Bourbon essential oil
+ Soothe CBD Roll-On, 300mg, and 600mg
Want to catch the Holiday Launch DIYs? Click below!
Again, if you have questions or need help placing your order, please reach out!
Our Mission: Love Others Well & Empower Them to Do the Same
Dec 10, 2018 06:23 PM Central
Andrea & Brian Johanson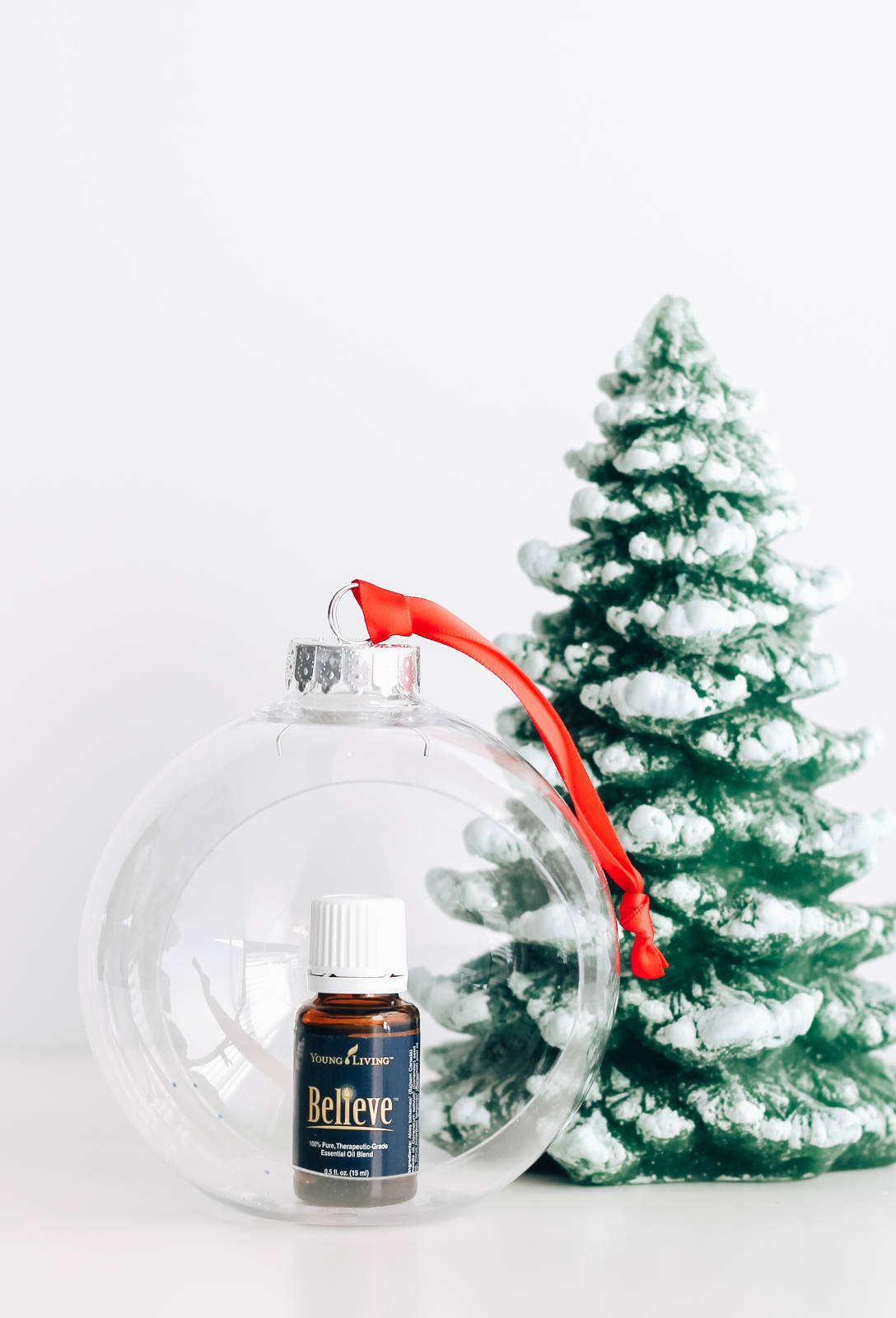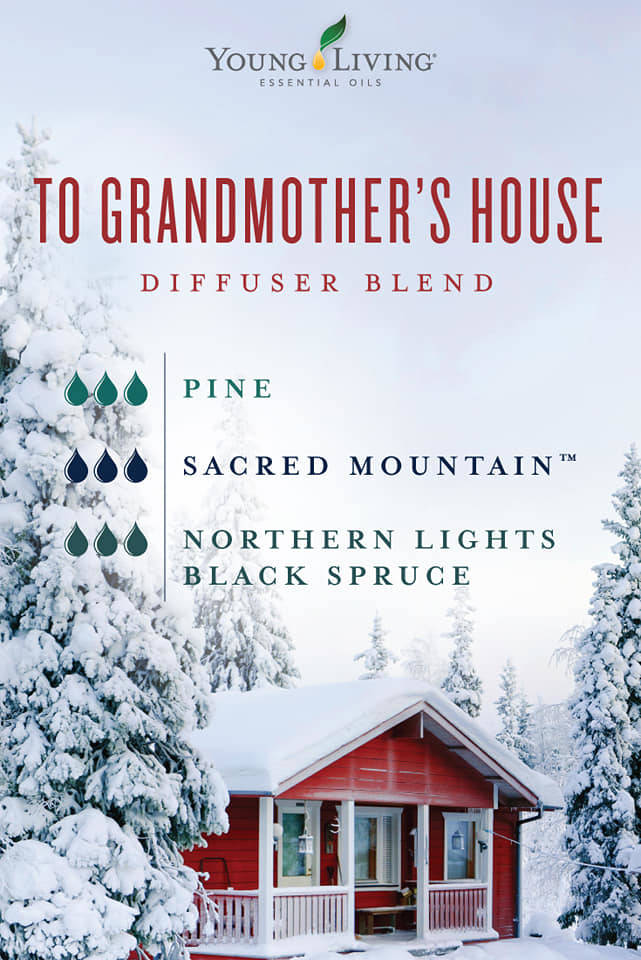 Day 1: To Grandmother's House

"Over the river and through the woods" to diffusing bliss you go! This essential oil blend smells like a frost-covered pine forest. Mittens and down coats are optional.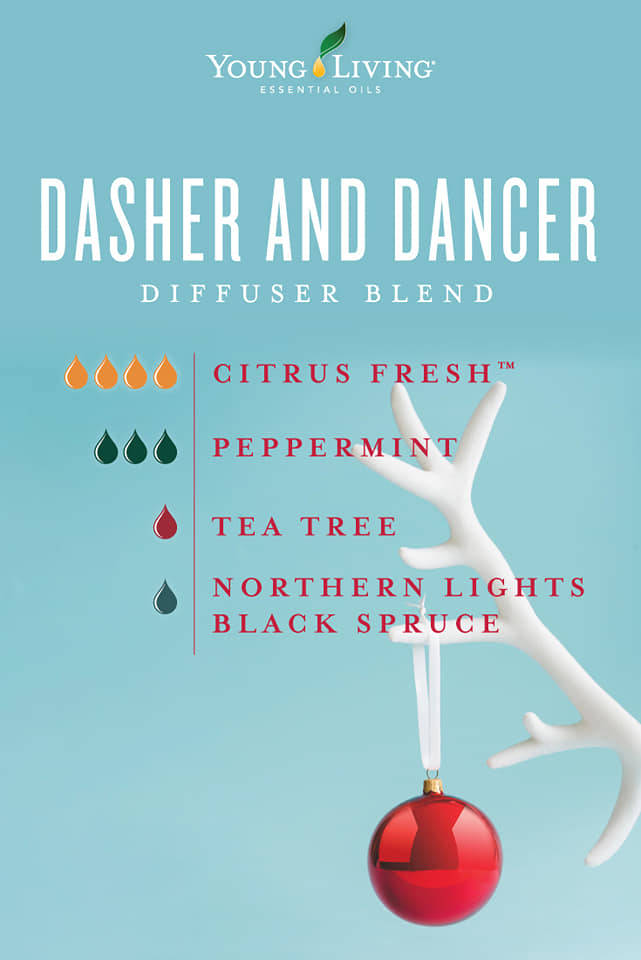 Day 2: Dasher and Dancer

If a sleigh ride with Santa is on your bucket list, you'll love this seasonal diffuser recipe. The smells of citrus, tea tree, and spruce with a dash of peppermint will have you feeling like Kris Kringle's co-pilot on Christmas Eve.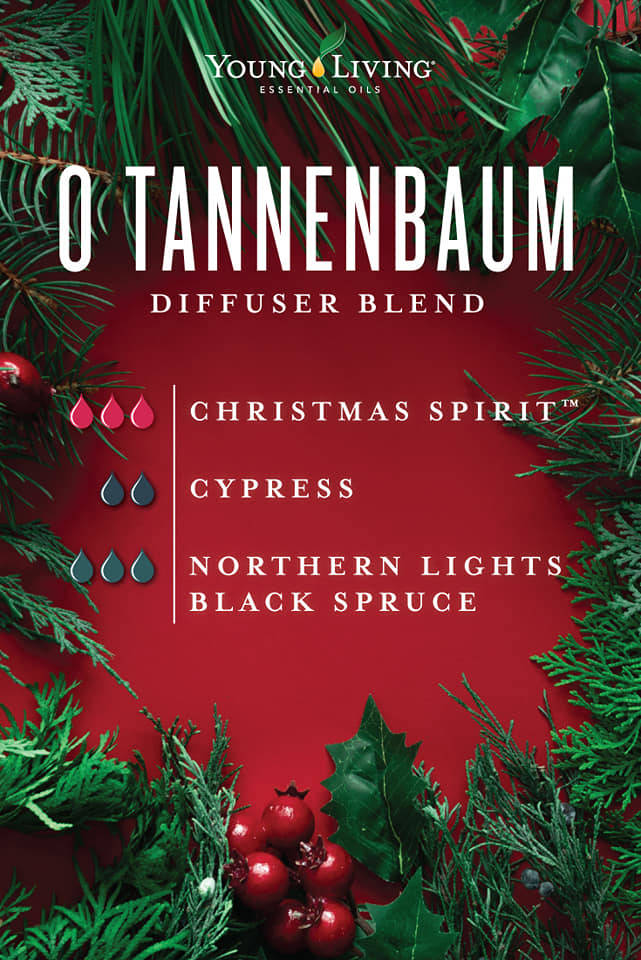 Day 3: O, Tannenbaum

While decorating your tree can take hours, filling your home with that fresh evergreen scent takes mere seconds. Try this blend for that amazing Christmas tree scent without all the work!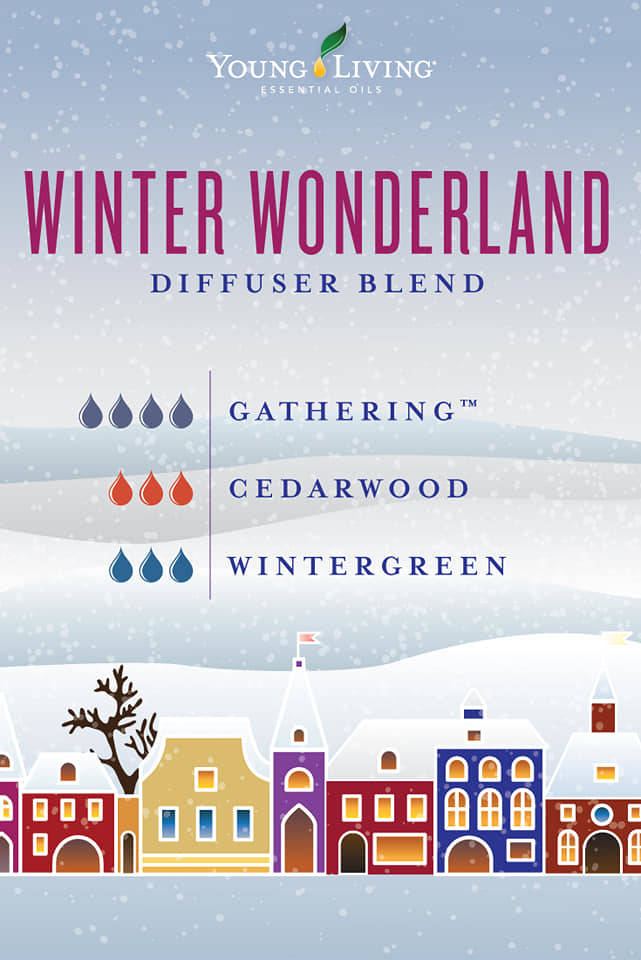 Day 4: Winter Wonderland

You don't have to live where it snows to feel like you're walking in a winter wonderland. A Christmas essential oil diffuser recipe like this one will have you and your loved ones dreaming by the fire in no time!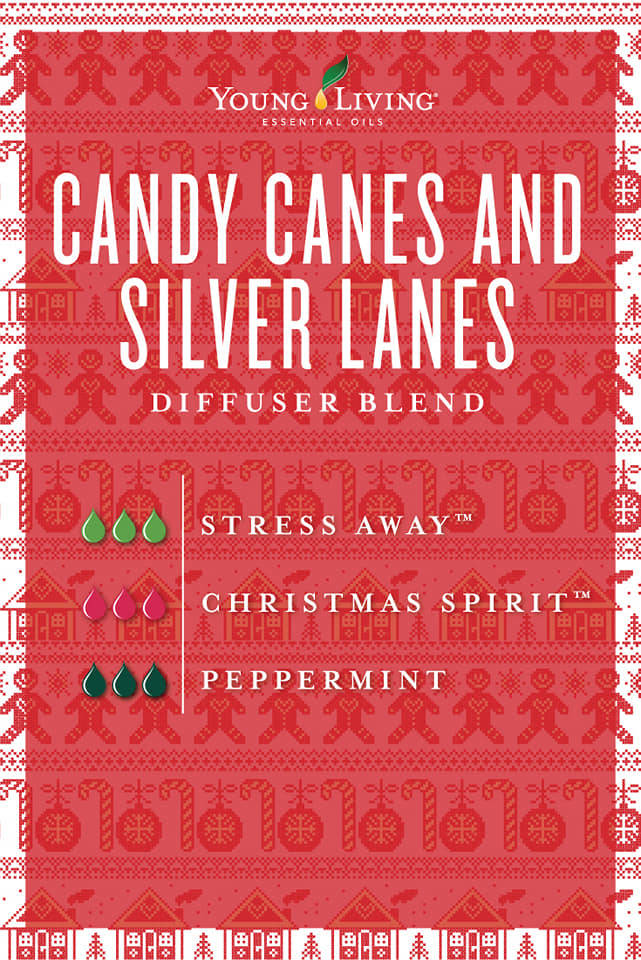 Day 5: Candy Canes and Silver Lanes

It wouldn't be Christmas without the classic candy cane! We love its festive red and white stripes that burst with delightful peppermint flavor. Try this diffuser blend for a calorie-free way to enjoy the nostalgia of this favorite holiday candy!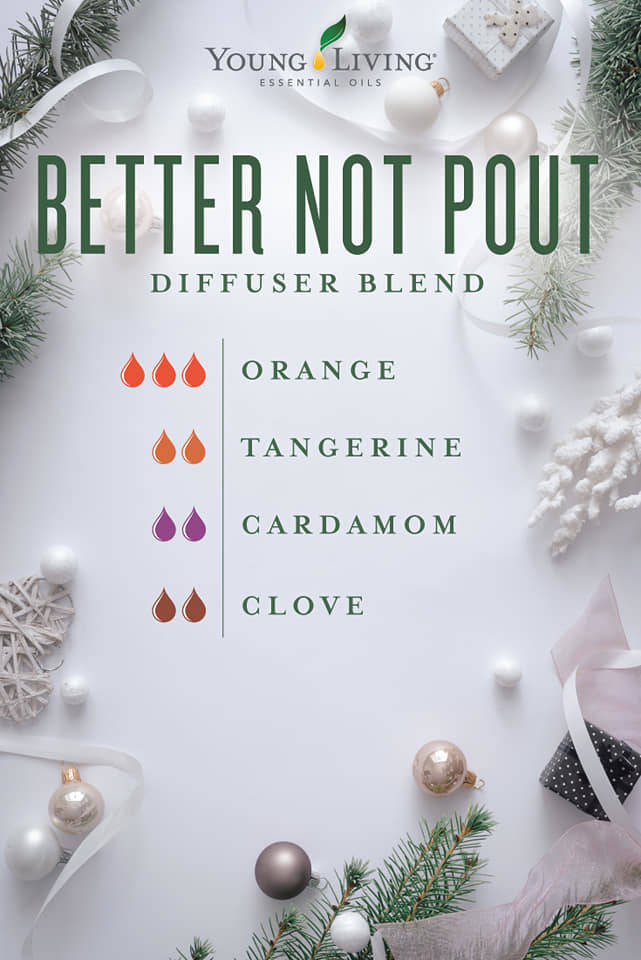 Day 6: Better Not Pout

This delicious essential oil diffuser blend brings the comforting scent of holiday goodies to the air! Sweet citruses and warm spices will make your home smell like your favorite bakery; whether you decide to actually bake is entirely up to you.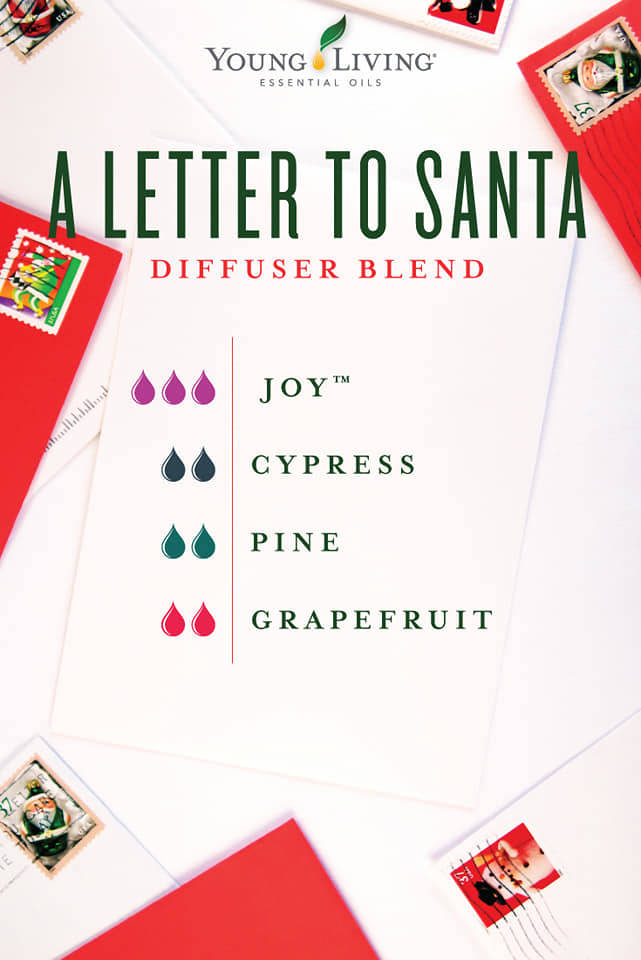 Day 7: A Letter to Santa

There's nothing like the Christmas joy in a child's letter to Santa. Bring that happiness into your home with a diffuser blend that combines the brightness of citrus, the fresh scent of a forest, and a warm floral aroma to keep things cozy.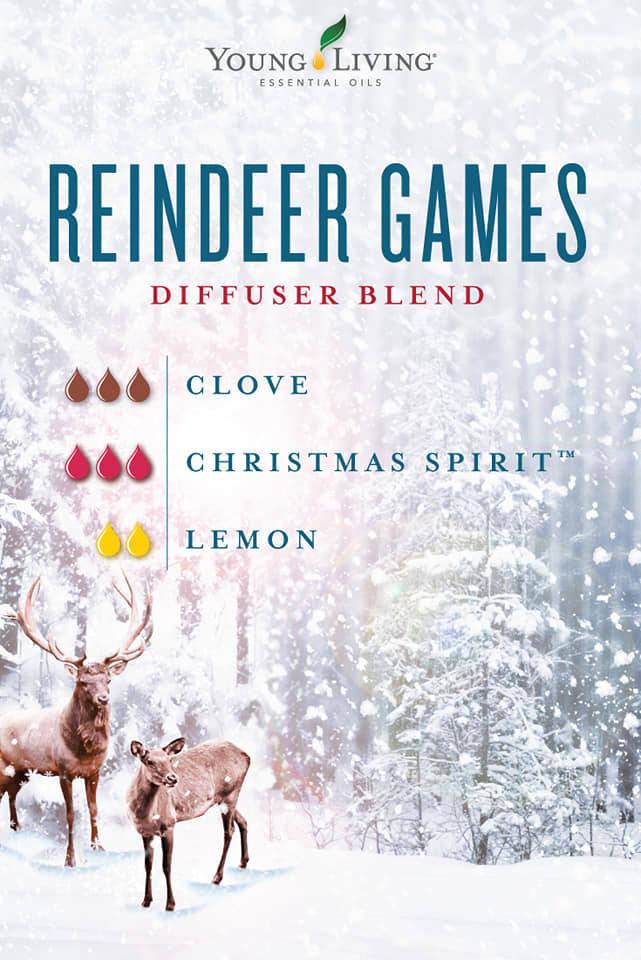 Day 8: Reindeer Games

You'll be shouting out with glee once you try this diffuser blend! Diffuse this blend of Christmas essential oils, and you might become as famous as the red-nosed reindeer himself!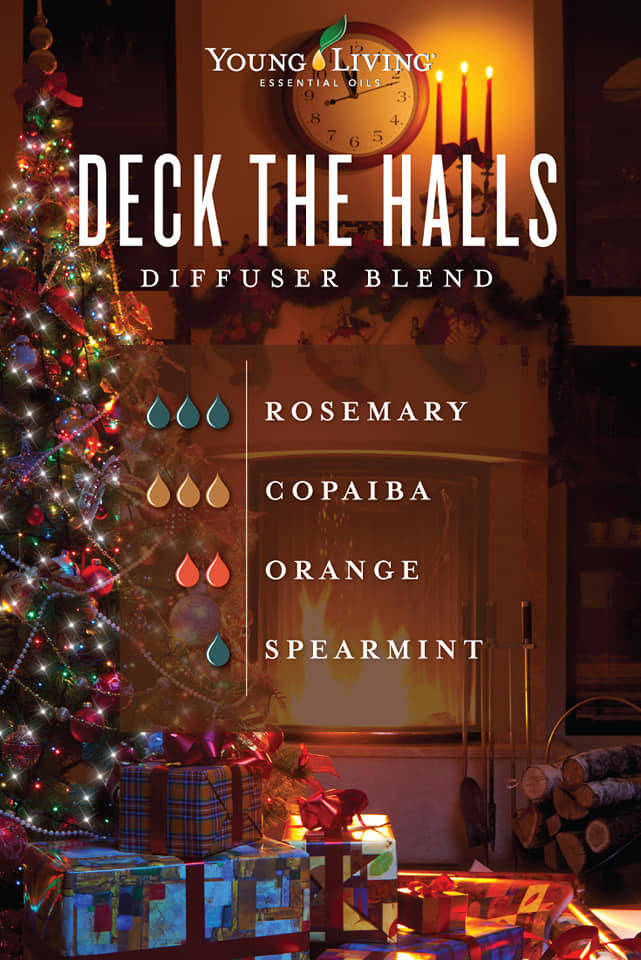 Day 9: Deck the Halls
Haul out the holly—because we need a little Christmas! As you deck your halls, don't forget to deck your home with the scents of the holiday season!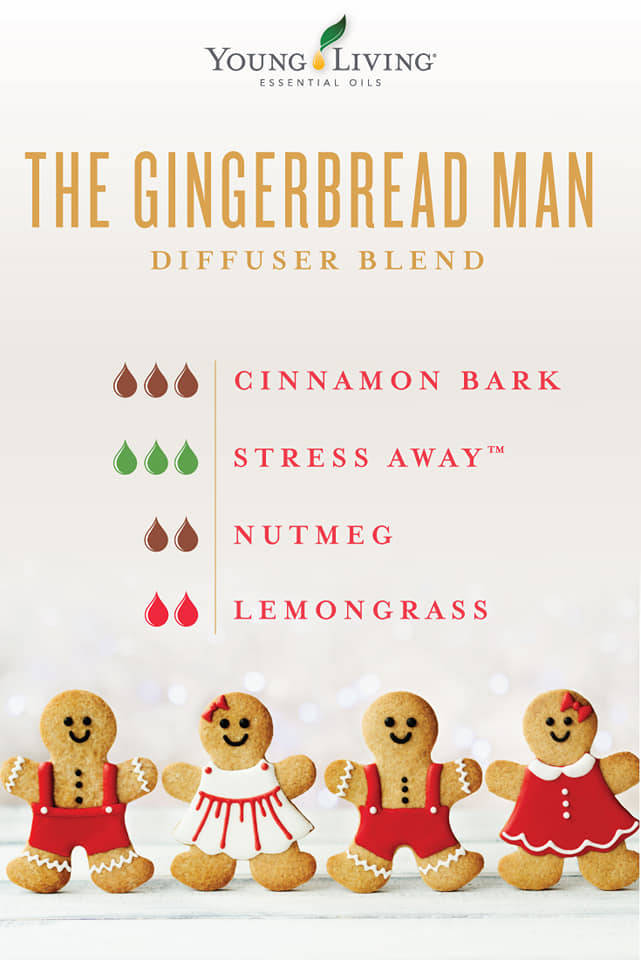 Day 10: The Gingerbread Man

That gingerbread man is mighty quick! And while you may not be able to catch the cookie, you can catch that fantastic gingerbread scent with this holiday spice-filled diffuser recipe.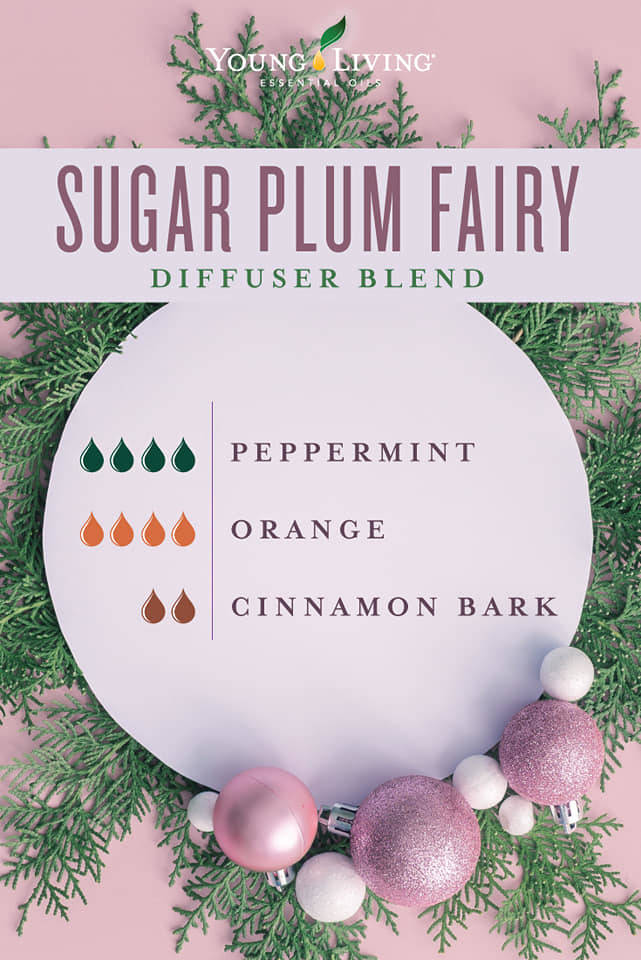 Day 11: Sugar Plum Fairy

Let those sugarplums keep dancing as you diffuse this sweet-smelling holiday essential oil blend. We promise we won't judge you for diffusing it every day from now until next Christmas—it's that good!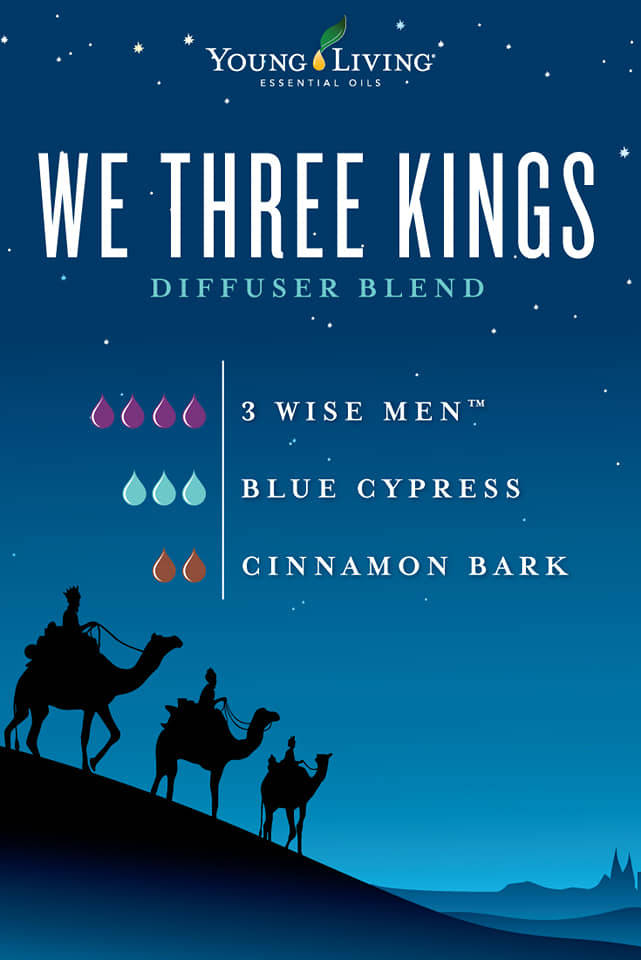 Day 12: We Three Kings

Make sure to remember the most important gift of Christmas. Keep the reason for the season at the center of your thoughts by filling your home with the cozy scents of Frankincense, Myrrh, and warm spices.
We hope you enjoy diffusing the season!


Our Mission: Love Others Well & Empower Them to Do the Same