Sep 2, 2021 05:09 PM Central
Andrea & Brian Johanson

Fall is just around the corner and with the cooler temperatures and changing leaf colors often comes a greater need for wellness support. Are you ready?

This month's Gifts with Purchase help us hold onto the waning days of summer and prep us with supporting our health in a number of ways. Check those out below, along with some great recipes & fall wellness tips for putting those freebies to good use! Be sure to grab your September diffusing calendar, too!

Have you seen the Facebook, "How Much Have You Changed Challenge?" I posted my first and most recent profile pictures and was SHOCKED at the difference. I had to share it with you to show you the HUGE difference Young Living has made in my life! Pictures speak 1,000 words!
As "The Renovated Life," Brian and I are all about Spirit, Soul, & Body well-being. SCROLL DOWN
to catch our upcoming,
6-week course on "Developing Intimacy With God,"
as well as our
local worship gathering dates
.


---

SEPTEMBER GIFTS WITH PURCHASE!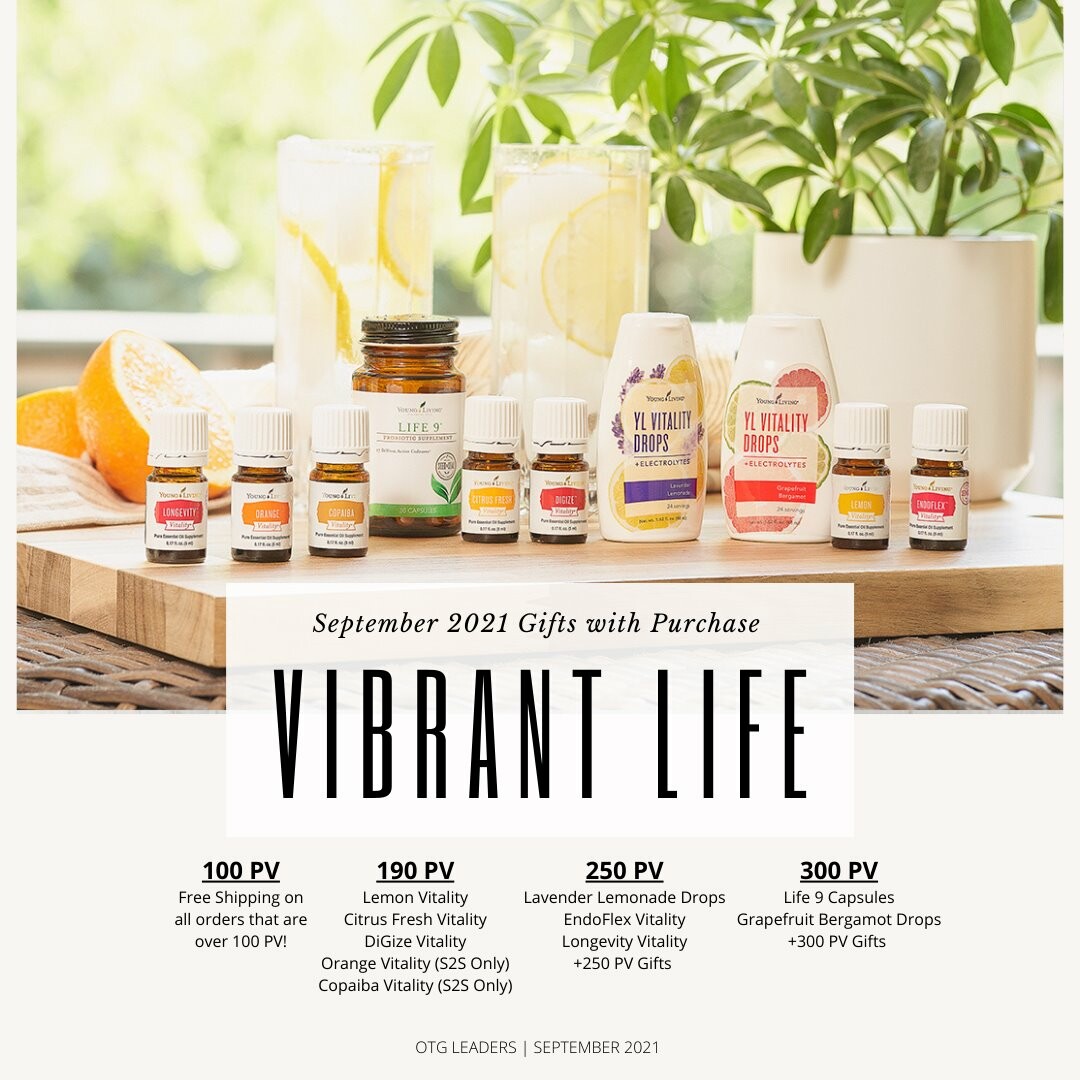 Look at all those oils! What a great way to hang onto the vibrant life of summer as we head into the fall season. Take a look and by the end, I bet you'll be as excited as I am! The full breakdown of the US September 2021 Gift With Purchase can be seen in the graphic above. Keep in mind that with each new promo level, you also receive the gifts in the previous promo levels.

*Pro Tip: Keep in mind that these Vitality Oils are the same oils found in their darker labeled counterparts, which extends the uses you know these oils have. The white labels indicate they're safe for dietary use.

*Remember, in order to get the Subscribe to Save Exclusive Orange Vitality and Copaiba Vitality, you have to be enrolled in the Loyalty Rewards program (formerly known as Essential Rewards) and/or have a Subscription order that meets the PV requirements for those items. The extra bonus of meeting all these PV amounts with your S2S order is that you get even more Loyalty Points to spend later!


Let's chat about each of their benefits!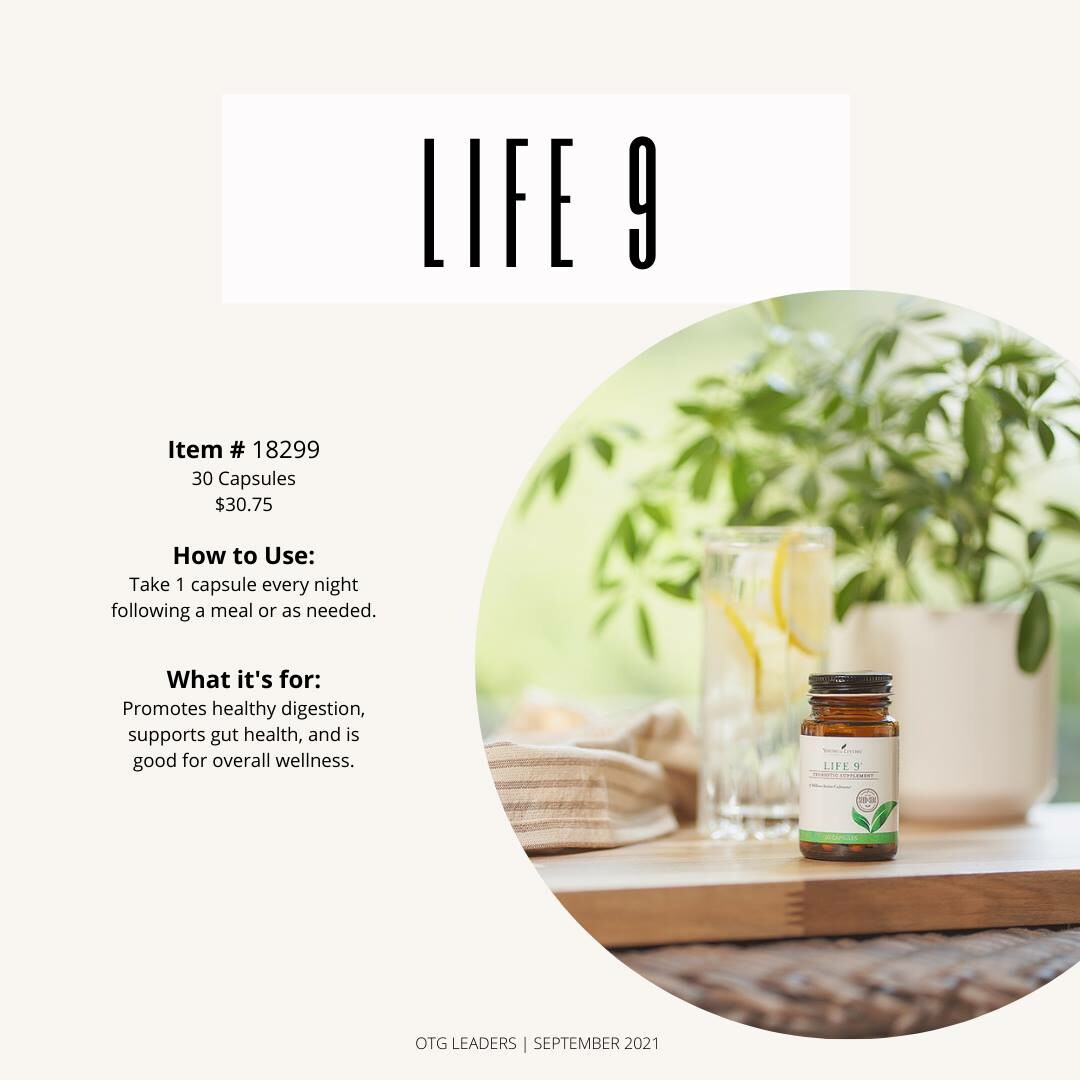 Life 9 (300 PV tier)

17 billion live cultures from nine beneficial bacteria strains in Life 9 help support gut health, while also being good for healthy immune function and metabolism. So, as we say goodbye to summery dishes and prepare for the richer foods of fall and winter, Life 9 will have our digestive system prepared and in tip-top shape.

• Go pro with probiotics. Support your healthy lifestyle by moving your body, eating a balanced diet, and taking Life 9 to promote healthy digestion.*
• Support your systems. Add taking a Life 9 pill to your daily multivitamins and supplements for an extra boost of probiotics.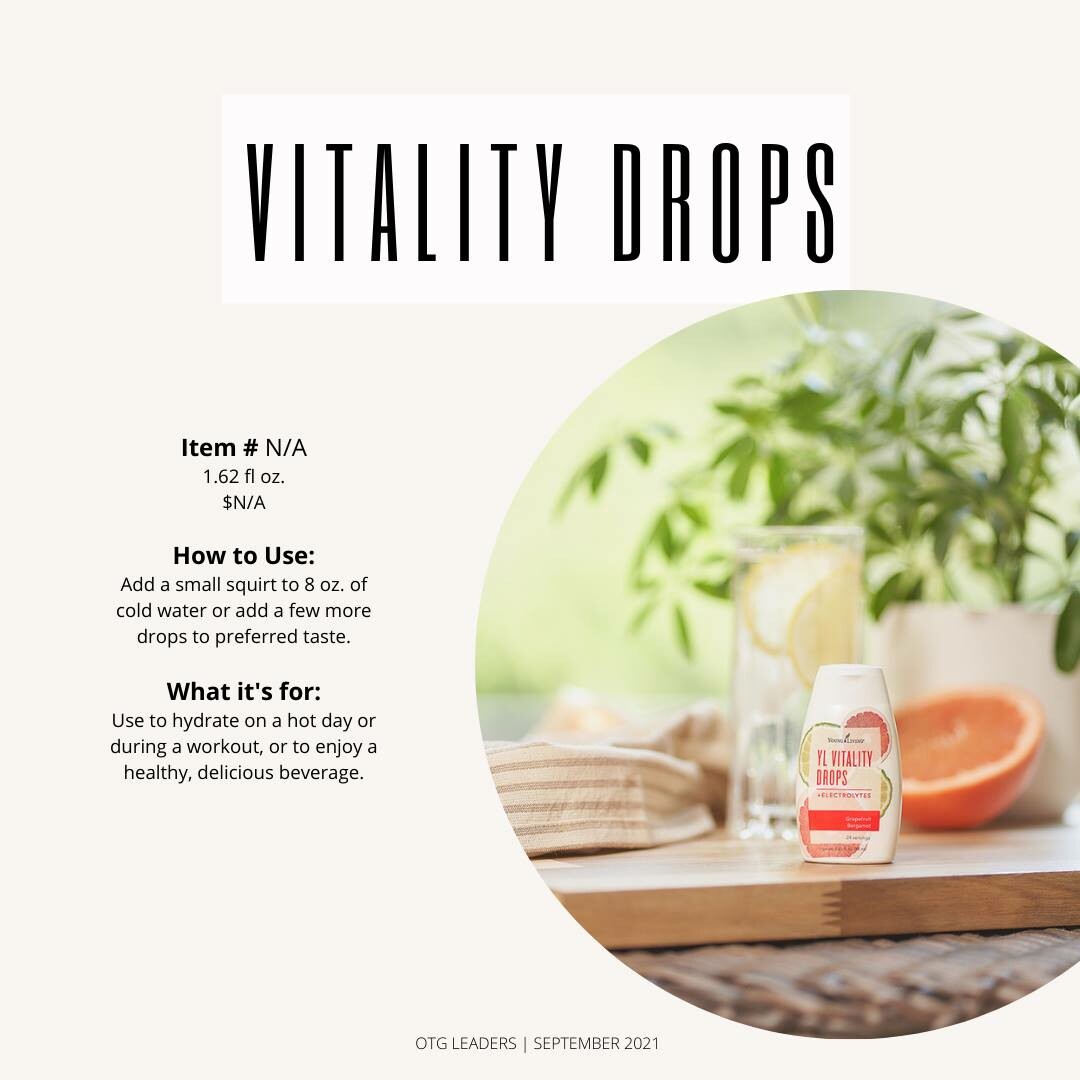 Grapefruit Bergamot Vitality Drops (300 PV tier)

To keep up with staying active as we head into fall, YL's Vitality Drops have electrolytes and Vitality oils to help flavor your water, keep your body hydrated, and make it easier to recover and keep going. The Grapefruit Bergamot has a bright, crisp taste that will remind you of summer and brighten your mood.

• Up your hydration game. Add a few drops of YL Vitality Drops to your water bottle for a yummy taste that will encourage you to keep sipping throughout the day.
• Boost your body. After a hard workout, add some YL Vitality Drops to your green smoothie for a kick of flavor and extra electrolytes.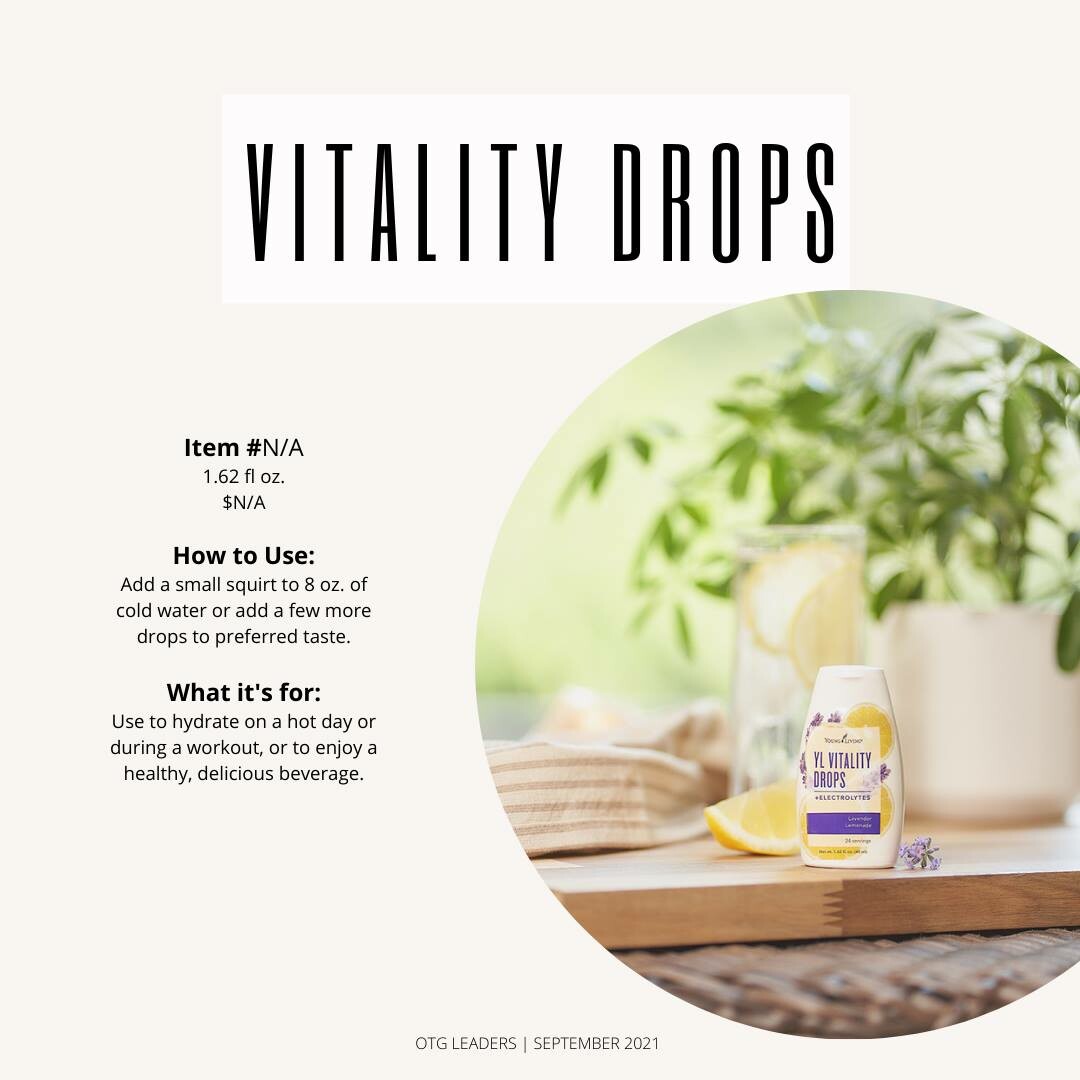 Lavender Lemonade Vitality Drops (250 PV tier)

A mixture of refreshment and calming, Lavender Lemonade Vitality Drops also keep you hydrated and help your body recover after an active day or workout. I have a feeling once you try both flavors you'll be stocking up on the 3-packs YL has of them both!

• Add some delish. After setting a personal record at the gym, cool down with a drink infused with flavorful Lavender Lemonade YL Vitality Drops.
• Sweeten the deal. Add a great taste to an ordinary glass of water, plus get an extra boost of trace minerals when you add YL Vitality Drops to your daily hydration routine.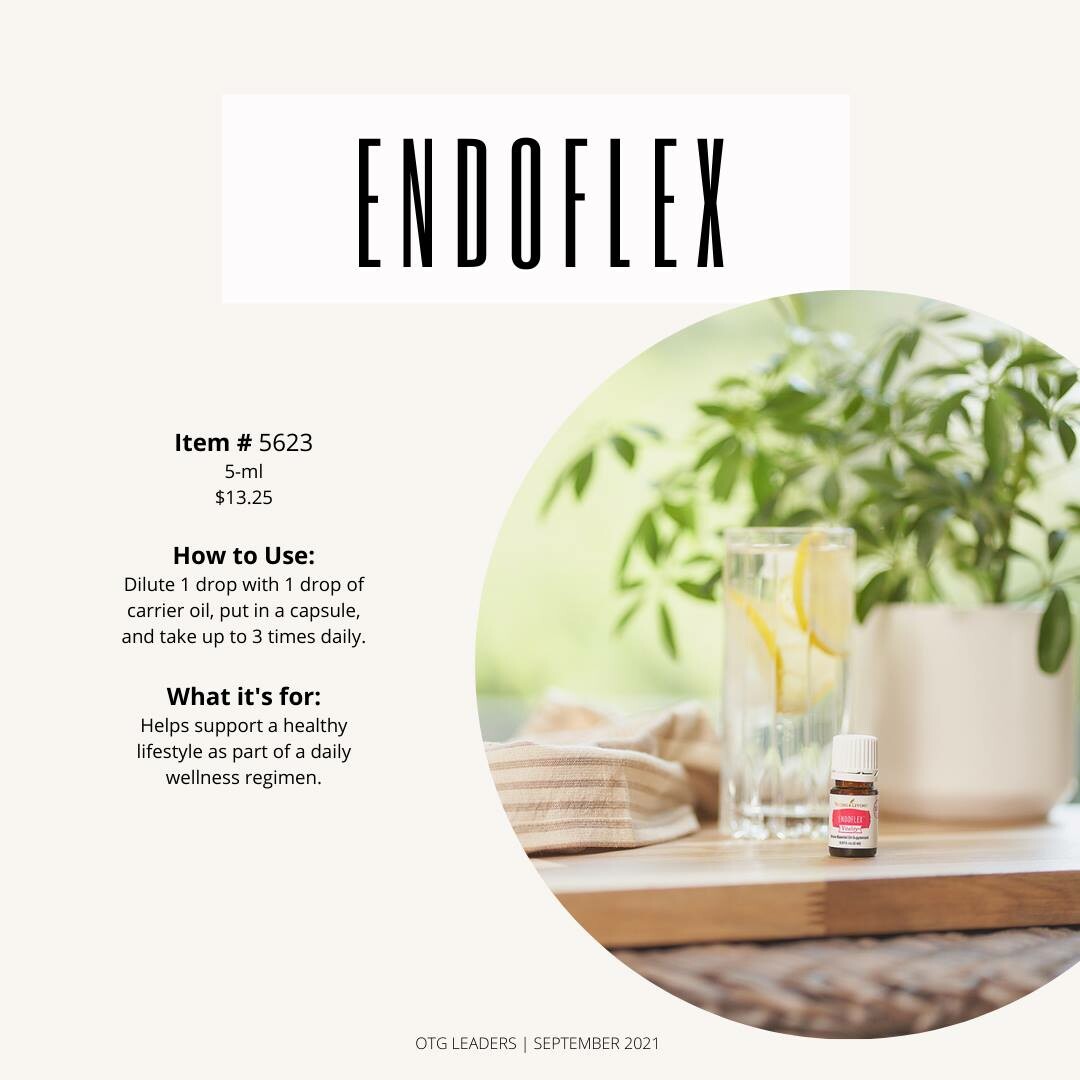 EndoFlex Vitality 5-ml (250 PV tier)
Whole-body health. That's the goal with all of Young Living's supplements and oils, and EndoFlex Vitality is a key ingredient to that lifestyle. Spearmint, Nutmeg, and more make up this blend that is perfect for adding a few drops daily to a capsule and putting it down the hatch. I love how it supports my thyroid and hormonal health. It's a favorite of mine!

• Build healthy habits. Keep up your overall wellness by building a daily checklist of things like stretching for 15 minutes, meditating, and adding EndoFlex Vitality to a relaxing cup of tea.
• Juice it up. Spice up a well-balanced breakfast with a delicious fruit smoothie that has a few drops of EndoFlex Vitality for a refreshing boost.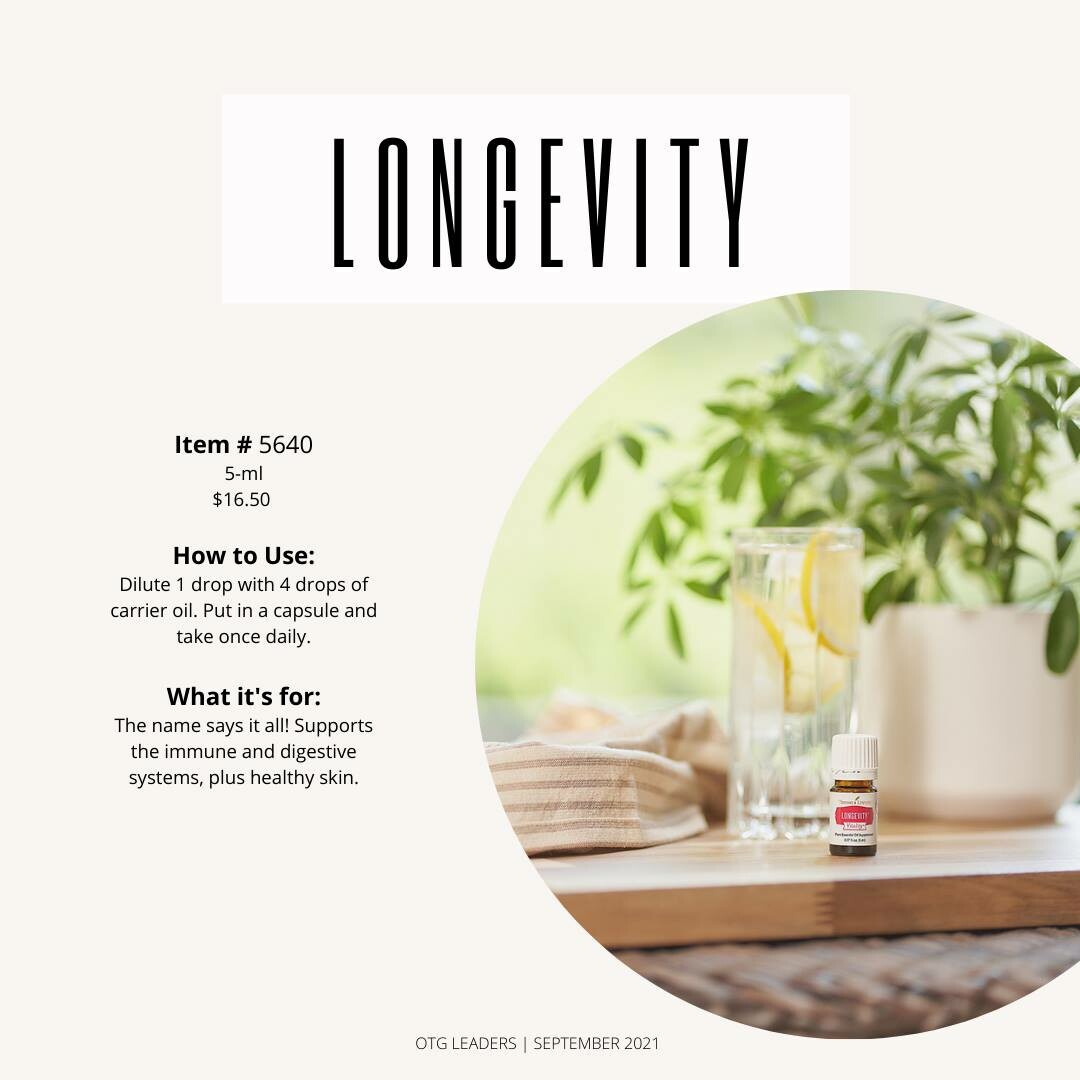 Longevity Vitality 5-ml (250 PV tier)
The purpose is in the name. Supporting multiple systems in our body, Longevity Vitality is particularly good for supporting our immune systems, as well as promoting healthy-looking skin! Take this daily and use the CBD Beauty Boost and you will see smoother, healthier-looking skin, which is very important as seasons change. Less having our skin dry out, more looking flawless and feeling great!

• Keep grooving. Add a little movement to your day by dancing around to a few favorite tunes, then hydrate by adding Longevity Vitality to a cool glass of water.
• Treat yourself. After a hard day burning calories, take time for a breather and pour yourself a cup of tea with a few drops of Longevity Vitality.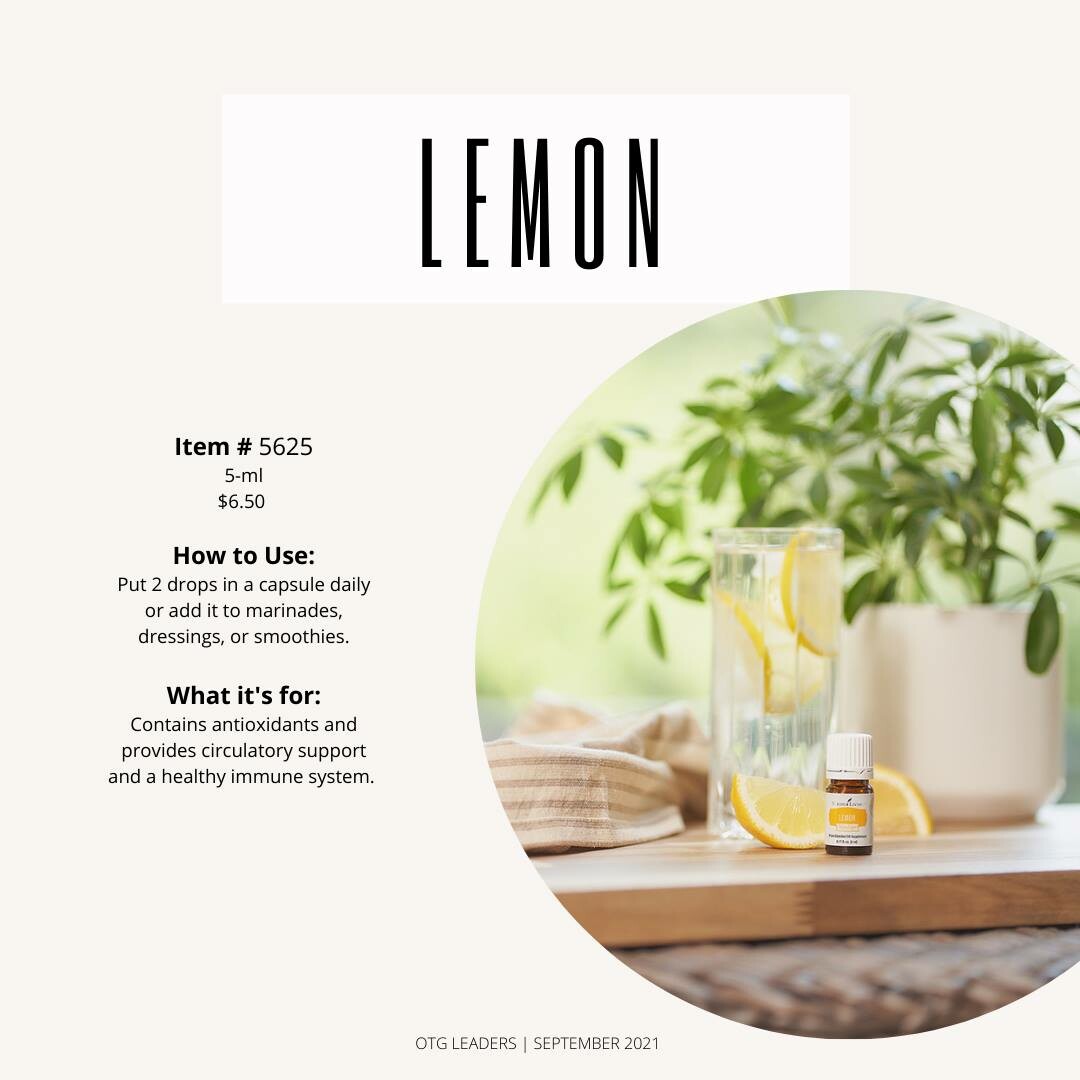 Lemon Vitality 5-ml (190 PV tier)
Lemon Vitality is bright and fresh and sunshine in a bottle. Adding a drop or two to your morning NingXia not only tastes great, but it also helps cut through brain fog, supports your immune system, and will have you upbeat and ready for the day.

• Zest it up! And some sparkle to your daily routine by putting 1–2 drops of Lemon Vitality in a vegetarian gel capsule and taking with a meal.
• Make breakfast fun. Blend a drop in pancake or waffle batter and top your breakfast with fresh fruit for a healthy meal that tastes like lemon-poppyseed cake.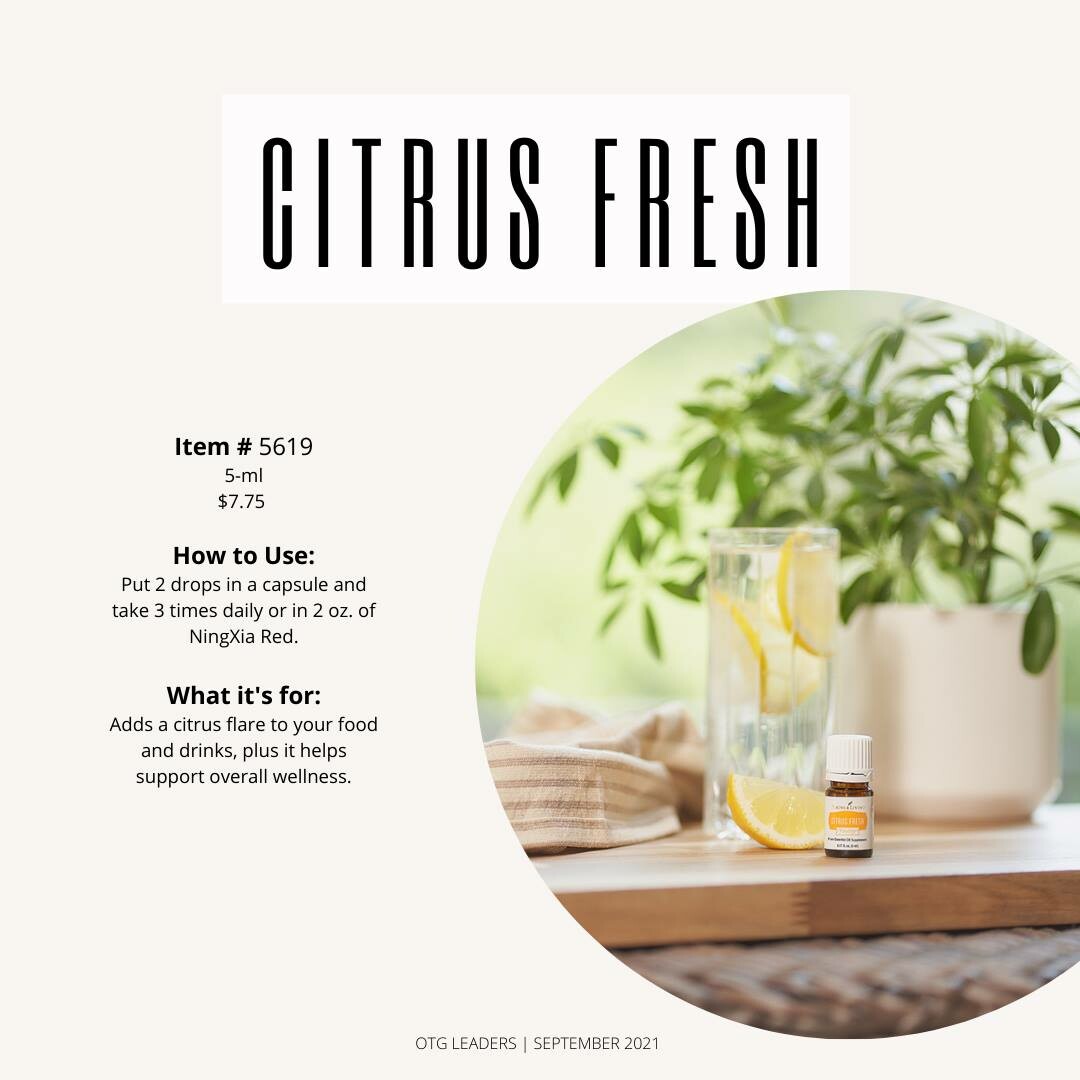 Citrus Fresh Vitality 5-ml (190 PV tier)
Citrus Fresh Vitality is Lemon and other citrus oils with a bit of Spearmint that all come together for a bright, citrusy melody in your drinks, recipes, and helps turn that frown upside down. Supporting general wellness and packing in all the benefits of the citrus oils, a few drops of Citrus Fresh Vitality in a capsule every day is a welcome part of a daily wellness regimen.

• Season like a boss. Use Citrus Fresh Vitality in recipes such as fruit salads, salad dressings, and marinades to enhance the flavor.
• Personalize your beverages. Add 1–2 drops of Citrus Fresh Vitality to every 2 ounces of your favorite fruit and vegetable juices and smoothies.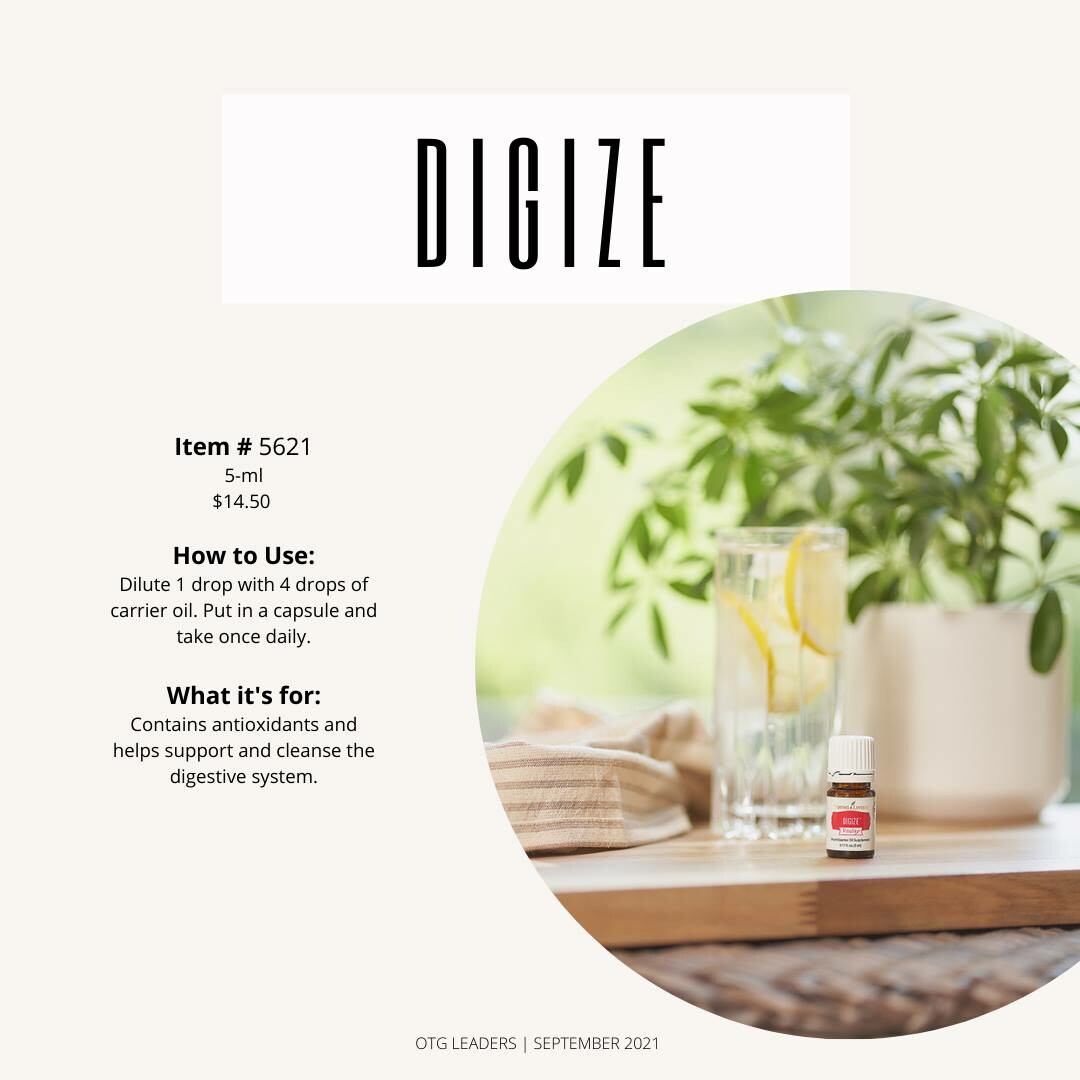 DiGize Vitality 5-ml (190 PV tier)
To go along with the Life 9 to prepare your digestive system for the shock of going from light summery dishes to richer fall dishes, DiGize Vitality is also good in a pinch when you need some relief. Make a warm tea with it or add a few drops to a veggie capsule and take it with some water to help with digestive discomfort. This is a "never-run-out-of-oil" in our house!

• On the go. When road tripping, enhance your traveling experience by adding a few drops of DiGize Vitality to your water bottle.
• Time for tea! Make a soothing tea with antioxidant properties by adding honey and DiGize Vitality.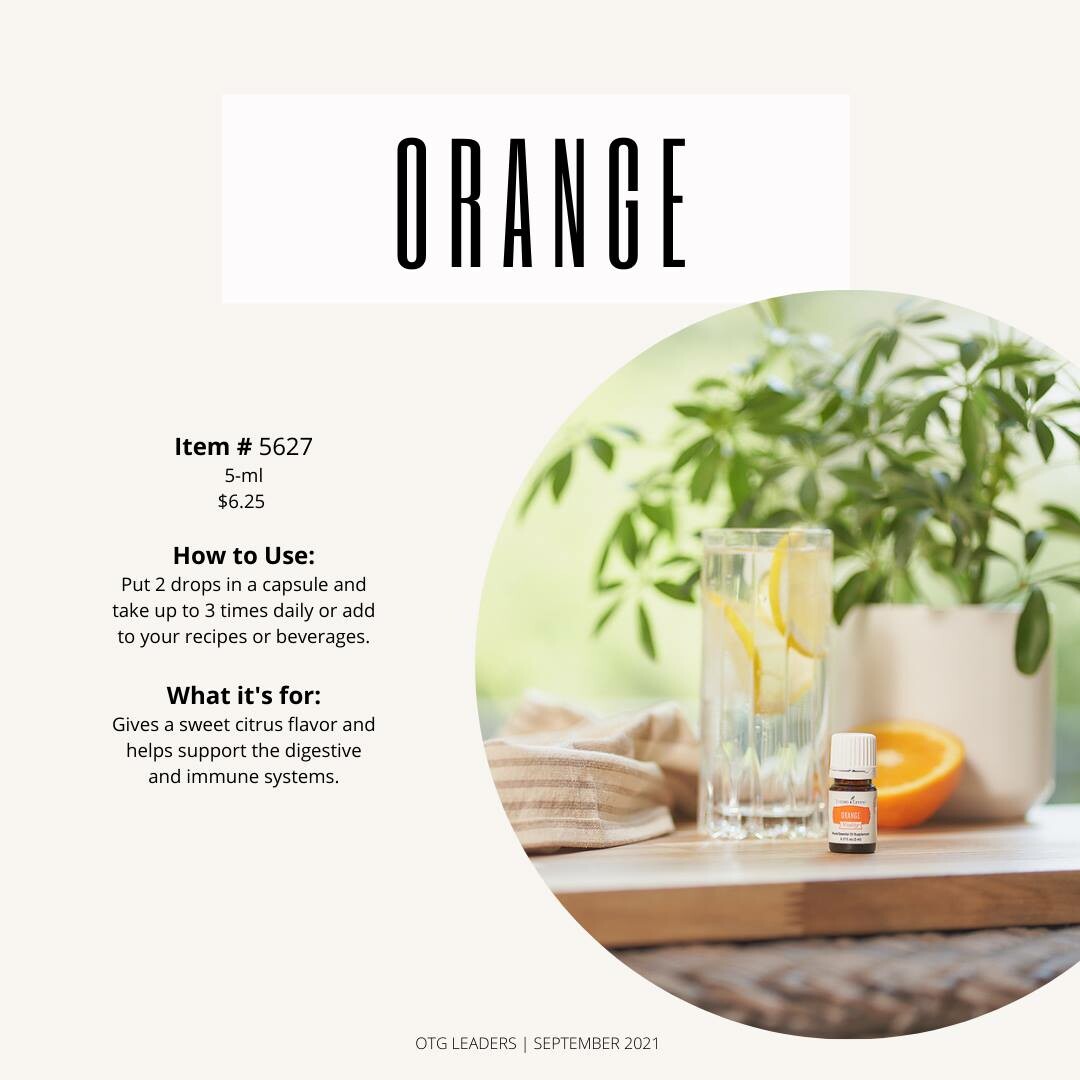 Orange Vitality 5-ml (Bonus Subscribe to Save 190 PV tier)
Ease into fall with the sweet taste of citrus but the calming vibes of fall. Orange Vitality helps support your immune system and is a great addition to all kinds of dishes, smoothies, deserts, and more! Remember, this is the same oil that's in regular Orange, which you'll find is a staple in a lot of fall diffuser blends. Orange is a fall favorite for so many reasons!

• Boost your cooking. Use Orange Vitality in sweet or savory dishes for added flavor and zest in a healthy life.
• Hydrate like royalty. Add Orange Vitality to your drinking water after a run to give it a burst of flavor.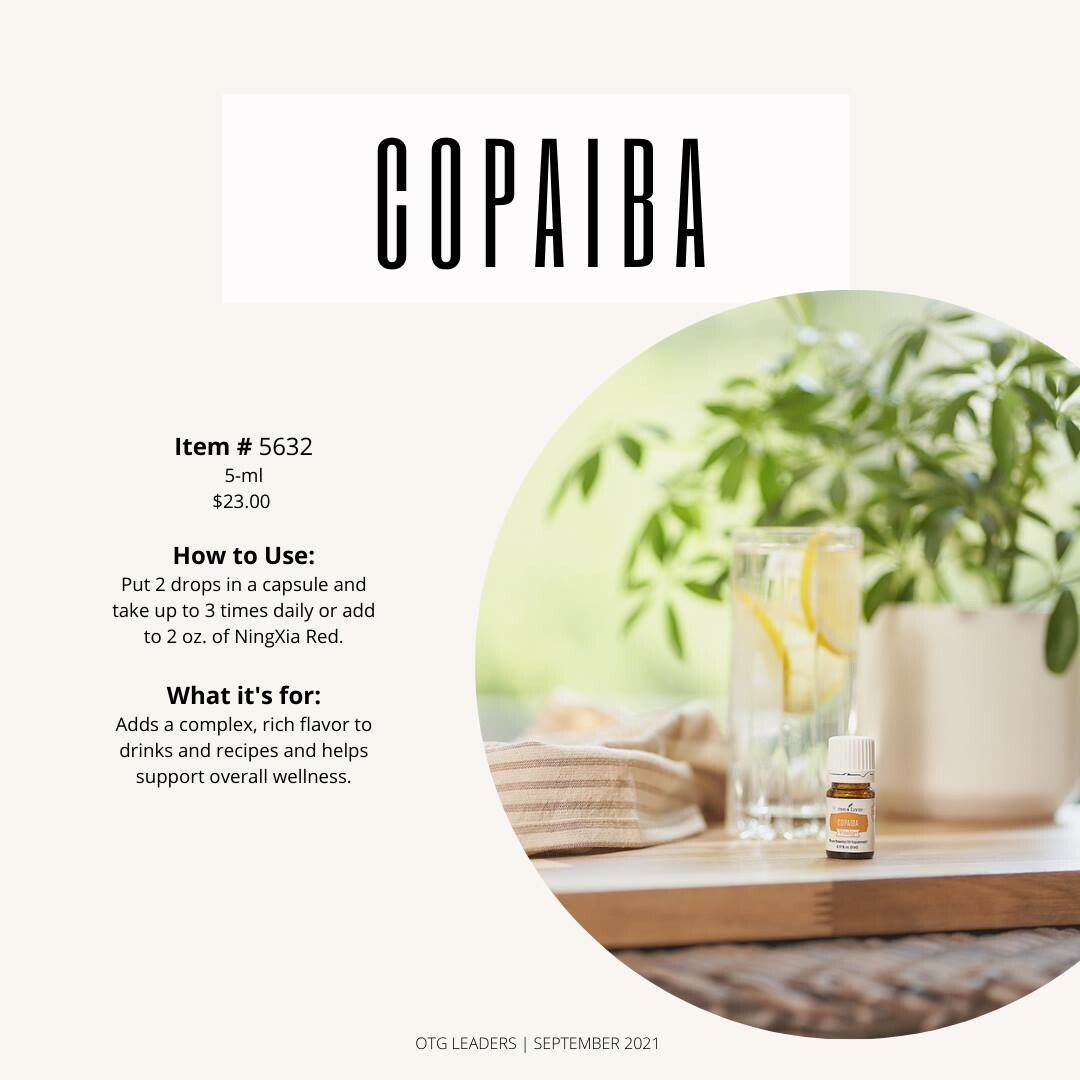 Copaiba Vitality 5-ml (Bonus Subscribe to Save 190 PV tier)
Copaiba Vitality has one of the most unique flavors of all of the Vitality oils. A bit of spice and somewhat richer, this is a great one to add to your meats and savory dishes. Help your body as it recovers from a workout by adding 3-4 drops to a veggie capsule and drinking plenty of water - with some of those Vitality Drops for a little extra hydration! This oil is an unsung hero in my book as it's amazing for supporting the body's natural response to inflammation. I use it daily!

• Post-workout routine. Add Copaiba Vitality to Pure Protein Complete or your favorite protein drink.
• Flavor it up! Add Copaiba Vitality to your favorite smoked salmon or smoked meat recipes.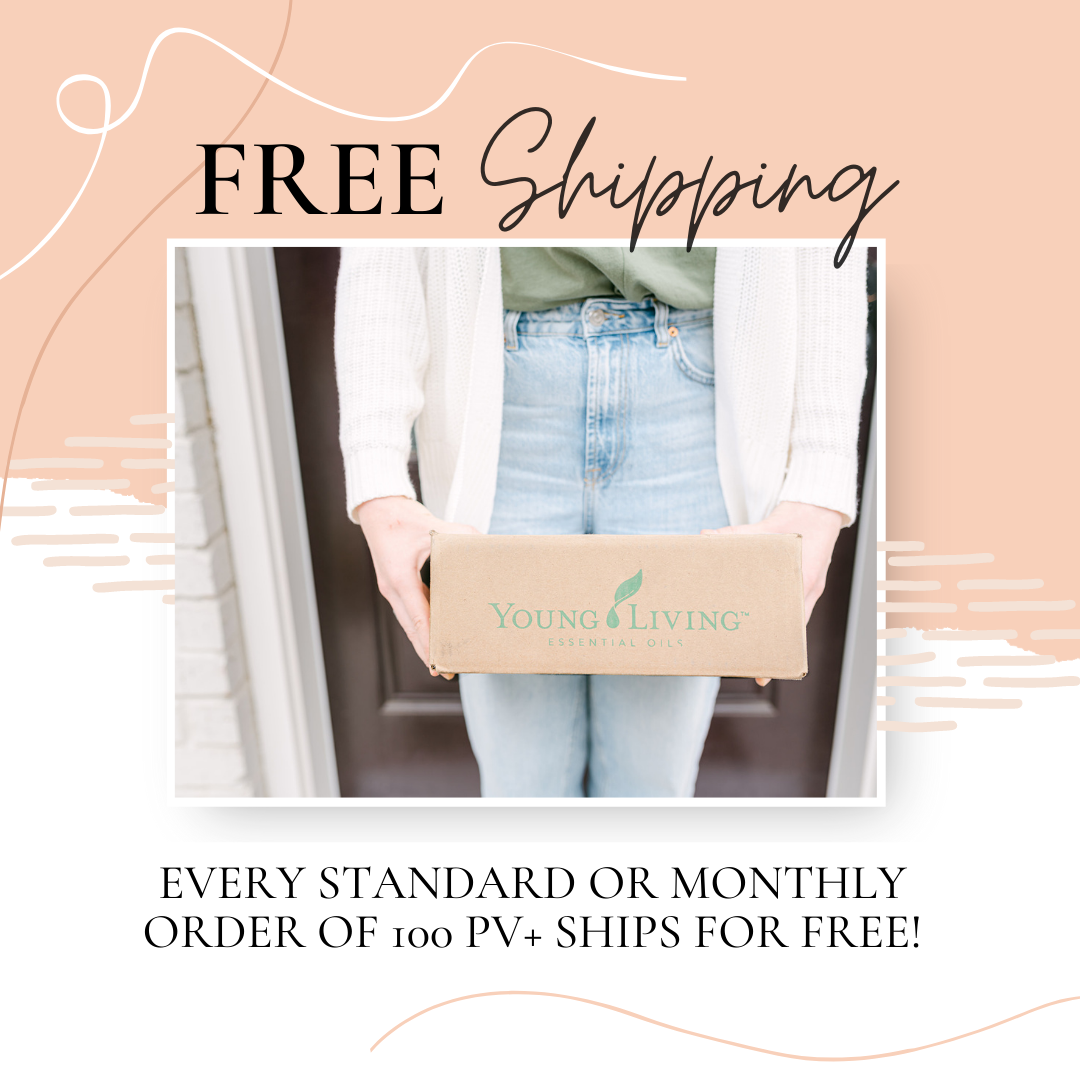 Free Shipping (100 PV tier)
Raise your hand if you like free!
• Treat yourself. Stock up on gym-ready favorites and let us cover the cost of your deliveries.
• Get easy savings. Reach our 100 PV tier and we'll ship your order for free!

---
SEPTEMBER'S RECIPES & FALL WELLNESS TIPS
Which of these will you try first? Bright, fresh flavors to drink, a phenomenal daily capsule . . . each supports our health & well-being in SO many ways!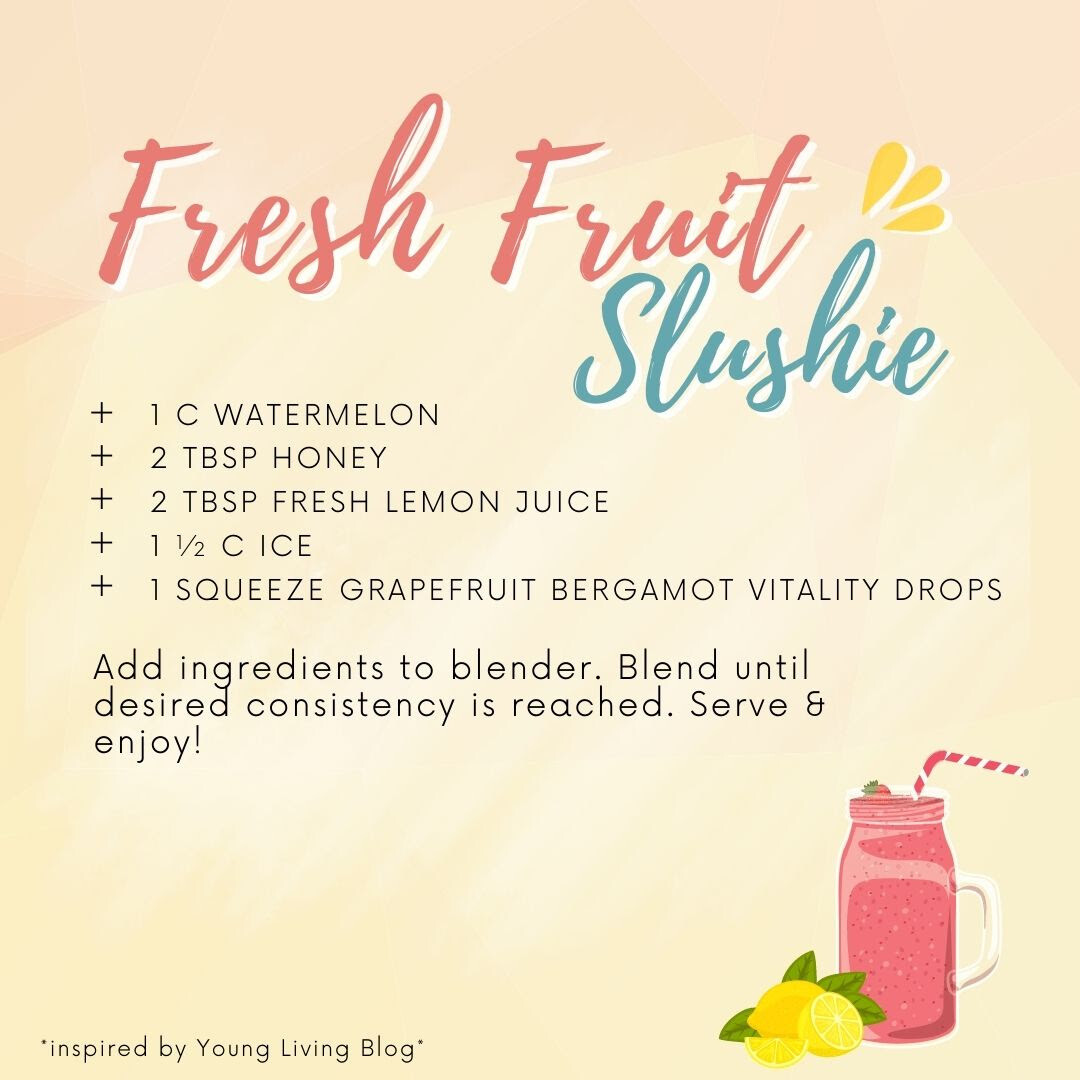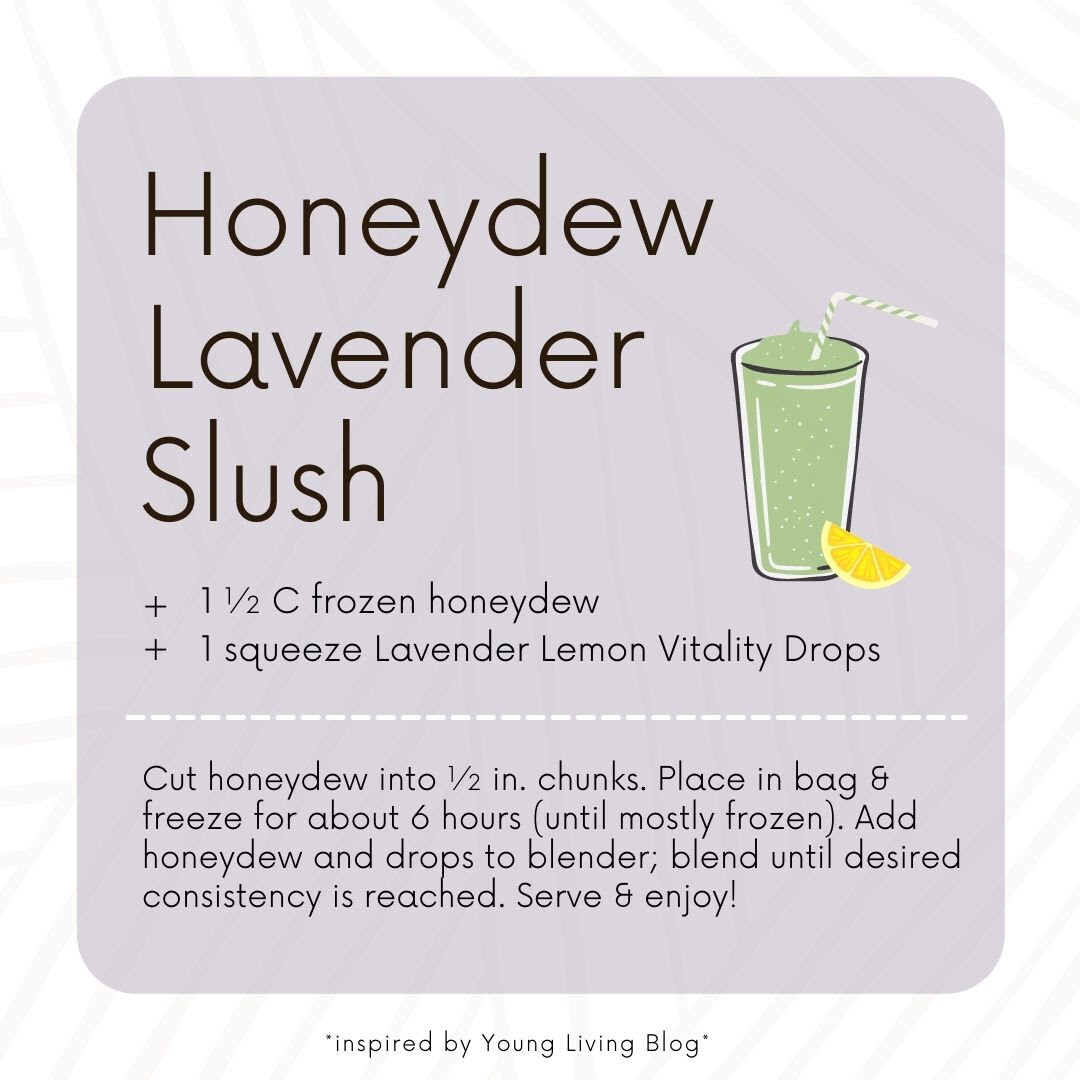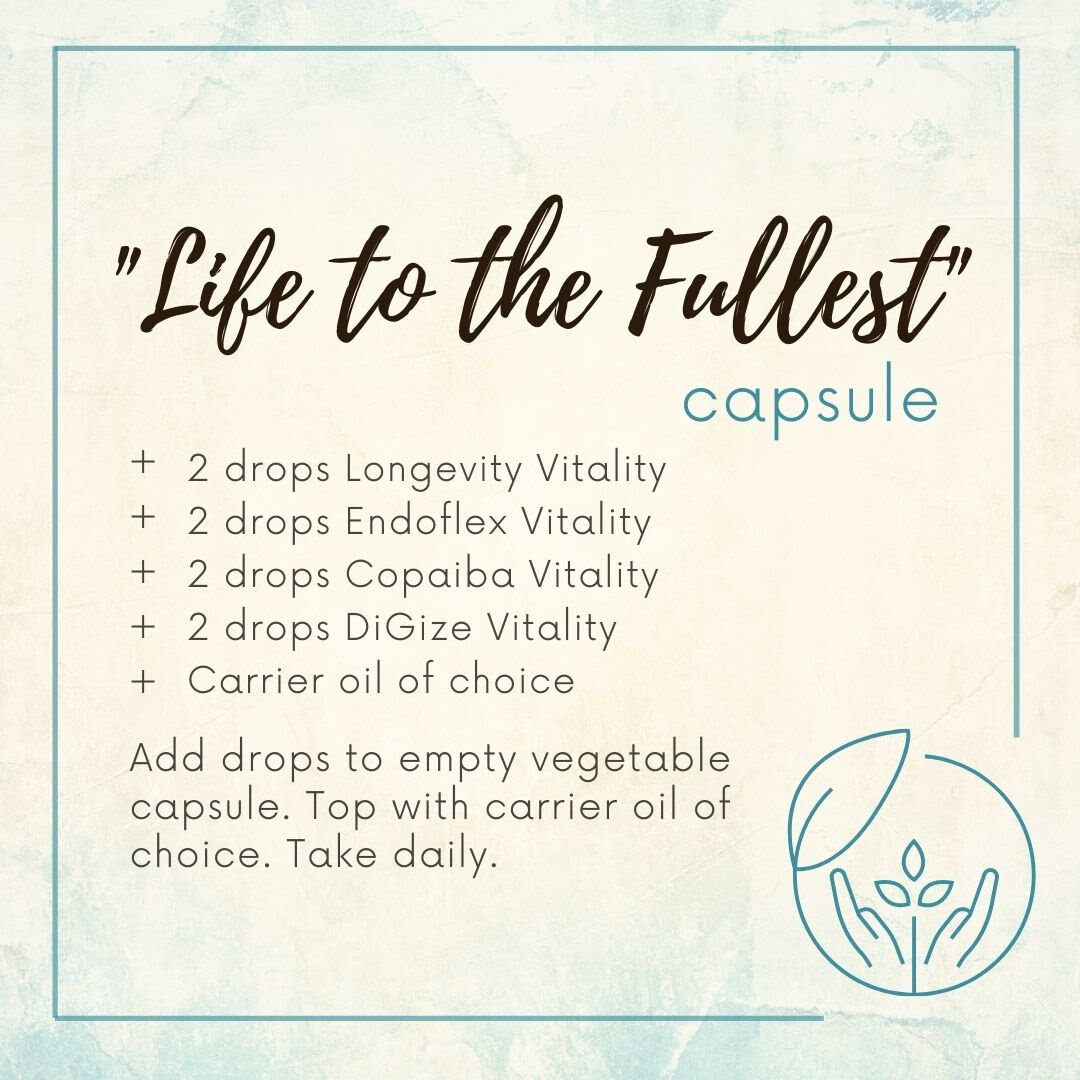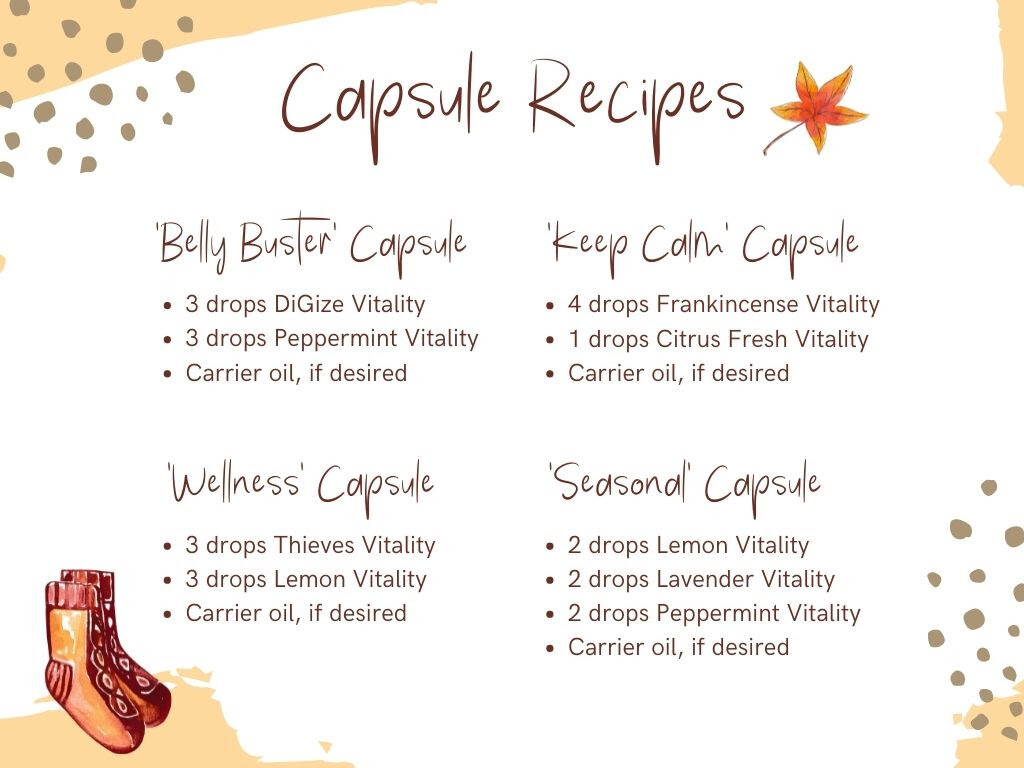 ---
As we finish out the summer and head toward fall, let's make sure our bodies are well-equipped to handle that transition. It's oftentimes during these cooler months that our bodies fall below the wellness line. Here are a few healthy habits you can adopt to help boost your immune system naturally.
- Eat more raw fruits and green vegetables.
- Get outside and enjoy some fresh air and sun.
- Get adequate amounts of sleep. Limit processed sugars.
- Increase water intake. Get quality vitamins, minerals, and pre- and probiotics daily.
Speaking of good-quality supplements, be proactive & stock up on these fall must-haves…
---
THEN & NOW . . . WHAT A DIFFERENCE!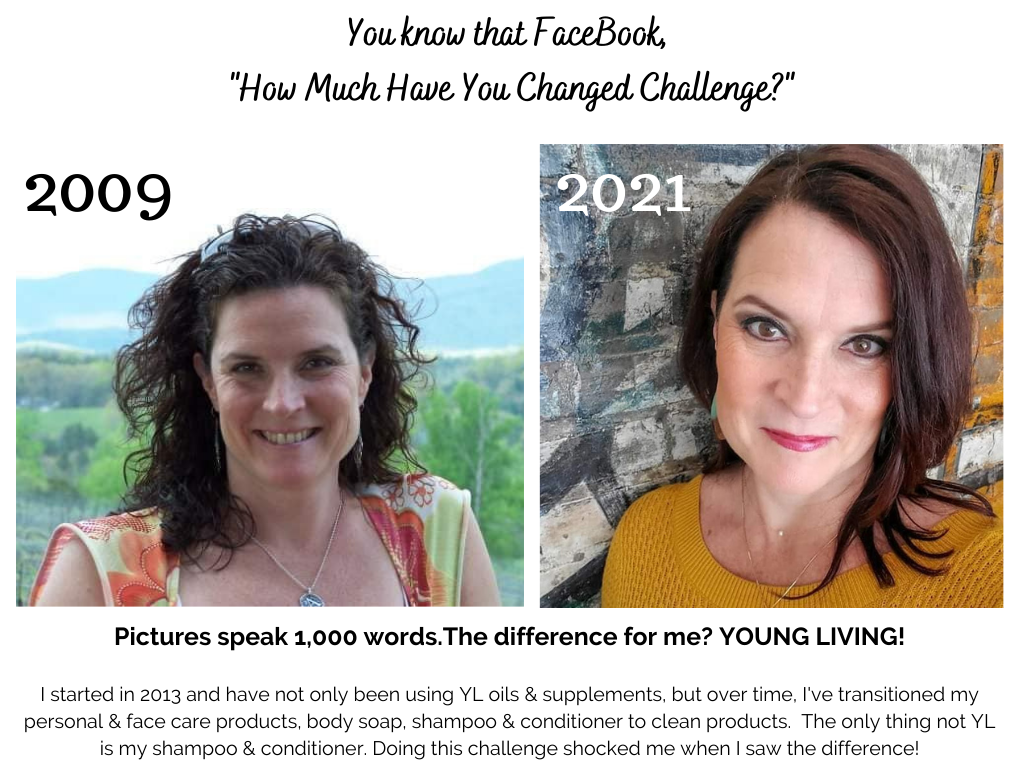 I had to share this side-by-side with you because not only was I shocked to see the difference in myself, I realized the main change has been the fact that I've been living a Young Living lifestyle since 2013. As I have, I've progressively gotten rid of more and more toxins from my environment and products as I've proactively supported my health and well-being.
If you haven't started your own Young Living journey yet,
isn't it time
?

If you're already a Young Living member, don't keep this good news to yourself! You can share what you've discovered with others and if you're not already a Brand Partner, let's chat about how you can get your YL oils & products paid for as you help those you love to live well!
---
SEPTEMBER'S DIFFUSING CALENDAR
Enjoy these daily diffusing recipes and discover some new, favorite combos! Save the graphic to your phone or calendar for easy reference and enlarge for easier reading.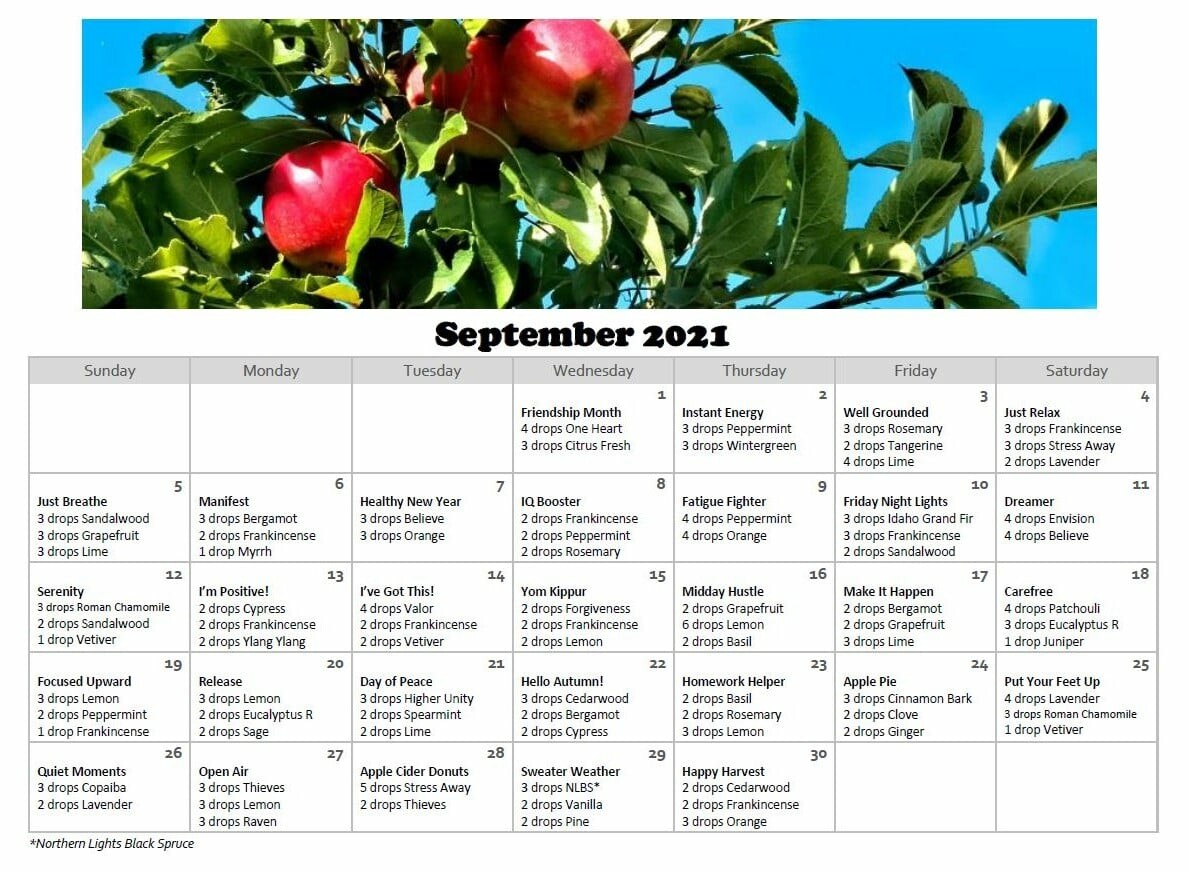 ---
SPIRIT & SOUL LOCAL EVENTS, ONLINE CLASS + BLOG POSTS
As The Renovated Life, we focus on spirit, soul, and body.
Young Living undergirds our focus on overall health & wellness for our bodies. But . . . that's not our only focus because we want to help meet the needs of the WHOLE person, which includes spirit and soul well-being, too!


If you live in the Atlanta area, Brian and I would love for you to join us at any of our upcoming worship gatherings in our home, plus keep an eye out for our weekly, faith-related blog posts that I post on Tuesdays.
Our worship gatherings are happening on

September 11th & 25th
this month. We have a potluck dinner first, then follow with worship. Check out our
Events Page
for more information and to register for individual events.
--> Plus, keep your eyes open for the September prophetic word being posted soon!
---
DEVELOPING INTIMACY WITH GOD: 6-WEEK COURSE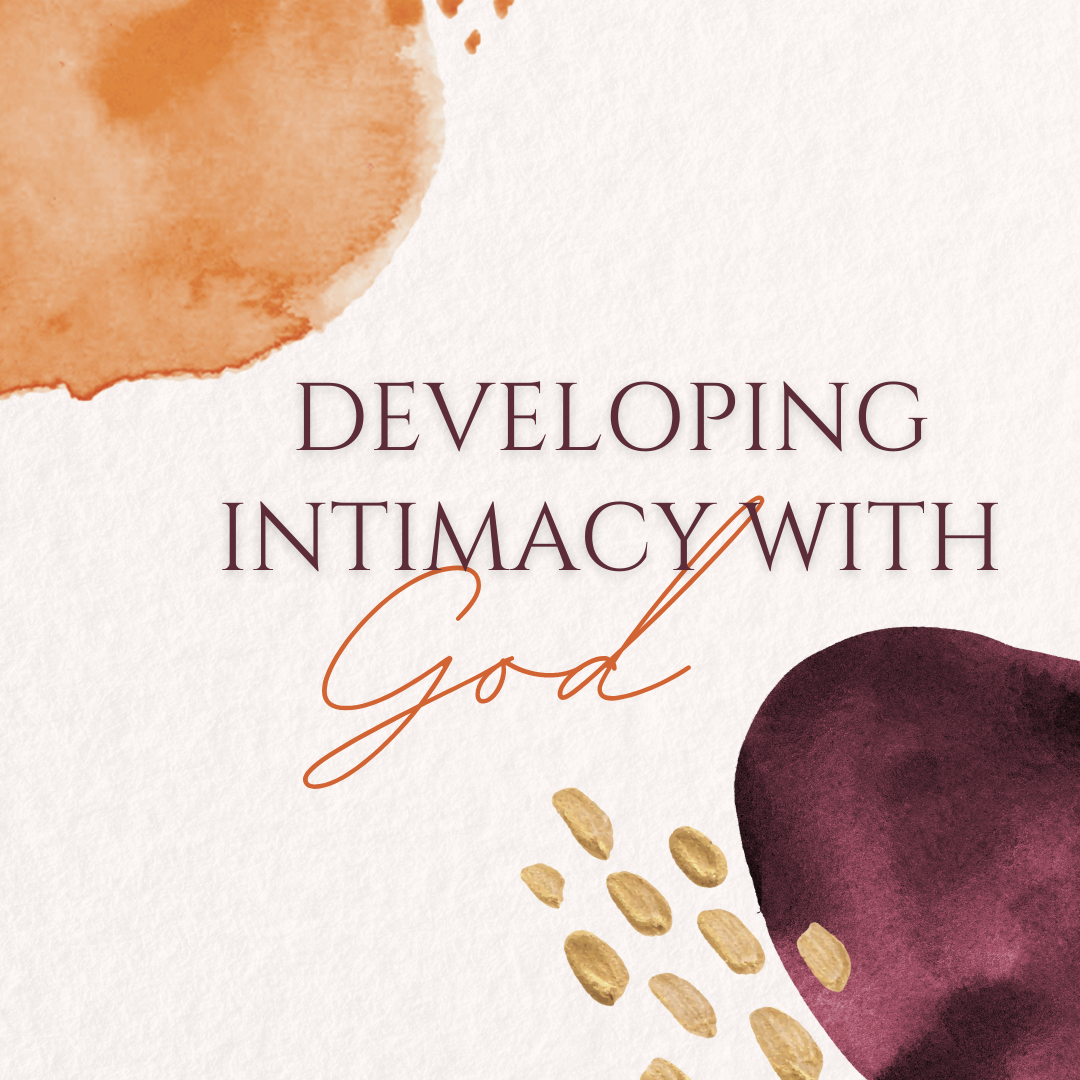 There's a place you can go in your relationship with Jesus that's so intimate you experience His breath, His heart, His thoughts . . . And, when you're not in His presence, there's a tugging within you that longs to connect again.


Have you
had a longing in your heart for a more intimate friendship with God? One in which you hear His voice, begin to know His thoughts, and move more in sync with the beating of His heart?
We were designed for this kind of intimate connection with God. His invitation is always, "Come be with Me," but so often, we either don't know what to do in our times with Him that will develop and nurture that kind of deep friendship or we've gotten busy, distracted, and drawn away from our connection with Him. We want to help!
Join us starting Thursday, September 23rd, at 8:00 p.m. EST for a weekly, 6-week course that will help you develop a more intimate relationship with the Lover of Your Soul.
Click below for more details and to register for the upcoming course.
---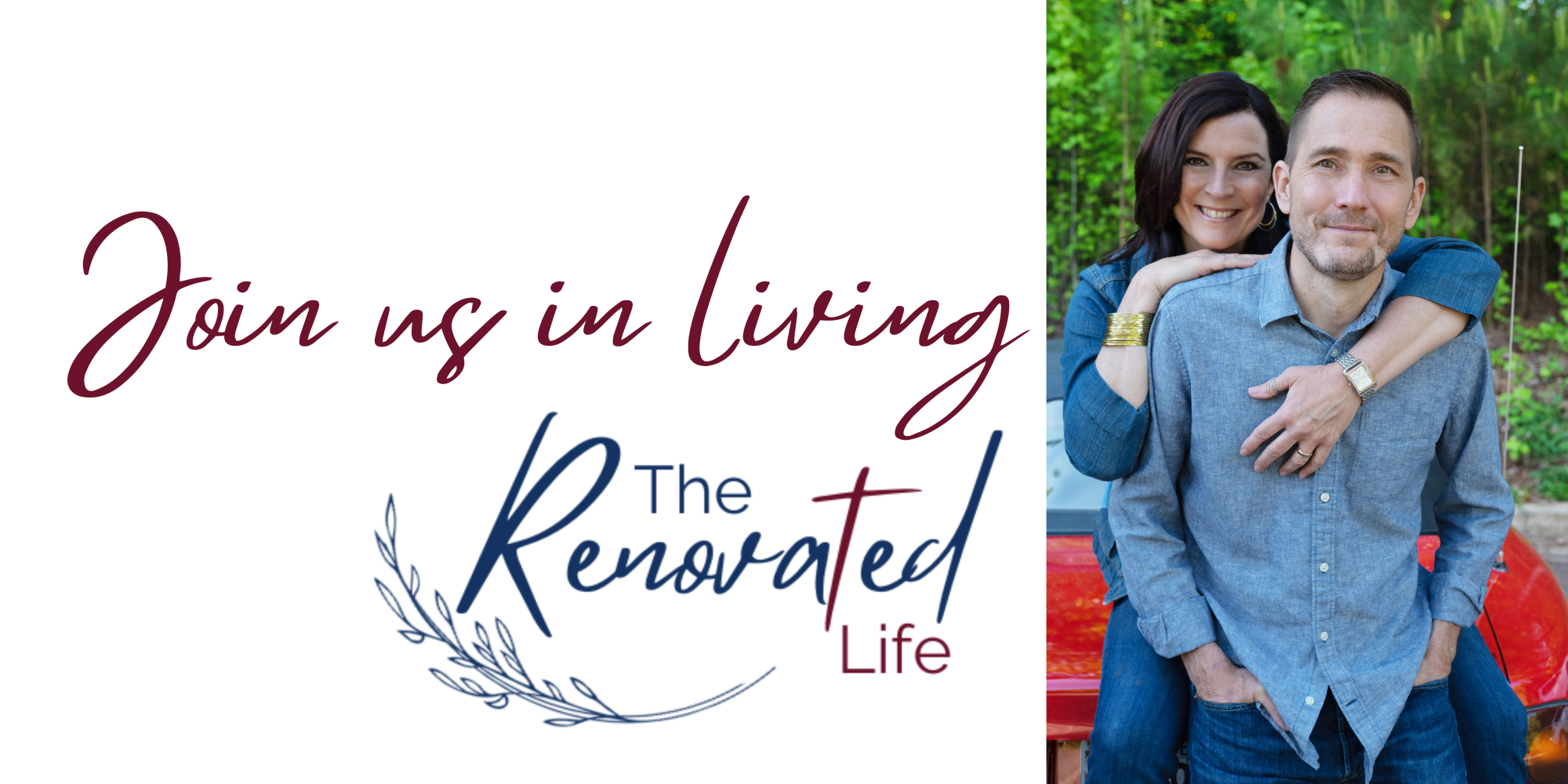 That's it for this month! Please reach out if we can help you on your wellness journey!
Our Mission: Love Others Well & Empower Them to Do the Same
Sep 1, 2018 01:29 PM Central
Andrea & Brian Johanson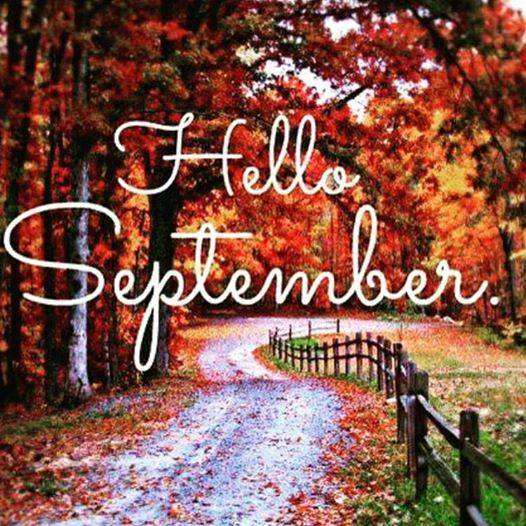 Hello Fall!!
September promos are
OFF THE HOOK
- a family wellness kit for FREE!! (Why do you need a wellness kit? It seems to me that
we just talked about this
!) Truly, there is something in these promos for everyone! (Scroll down to learn more about each!)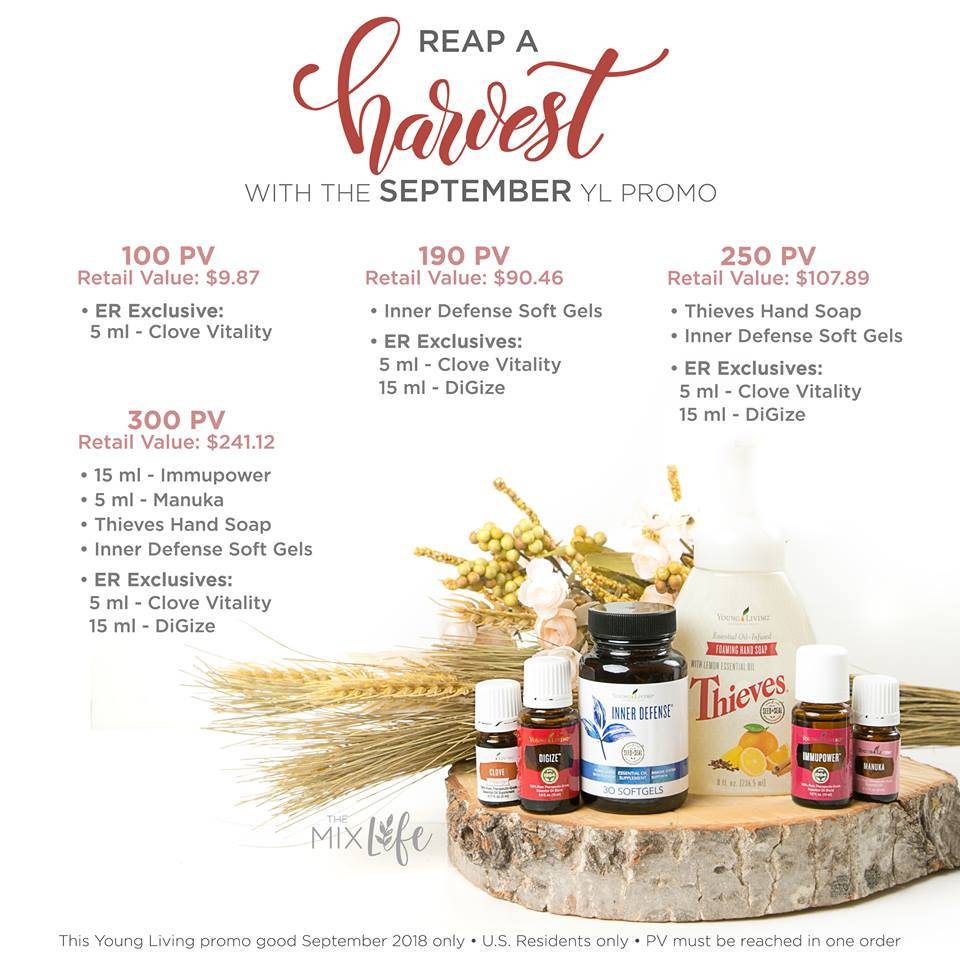 Now, with YL GO (Young Living's version of Amazon Prime's shipping subscription, but better!!!), there's seriously no reason to not hop onto Essential Rewards today! Check this out!
What's YL GO?! FREE SHIPPING!!!!!
Available to members on Essential Rewards
YL GO: 13 orders per year free shipping! 2-4 day shipping on 13 orders per year!! Cost: $59
YL GO+: 36 orders per year with free shipping! 2-4 day shipping on 36 orders per year!! Cost: $129
AND you can upgrade any YL GO order to overnight shipping for just $10!!!
You can get yearly savings of $122.64 (YL Go+) or more!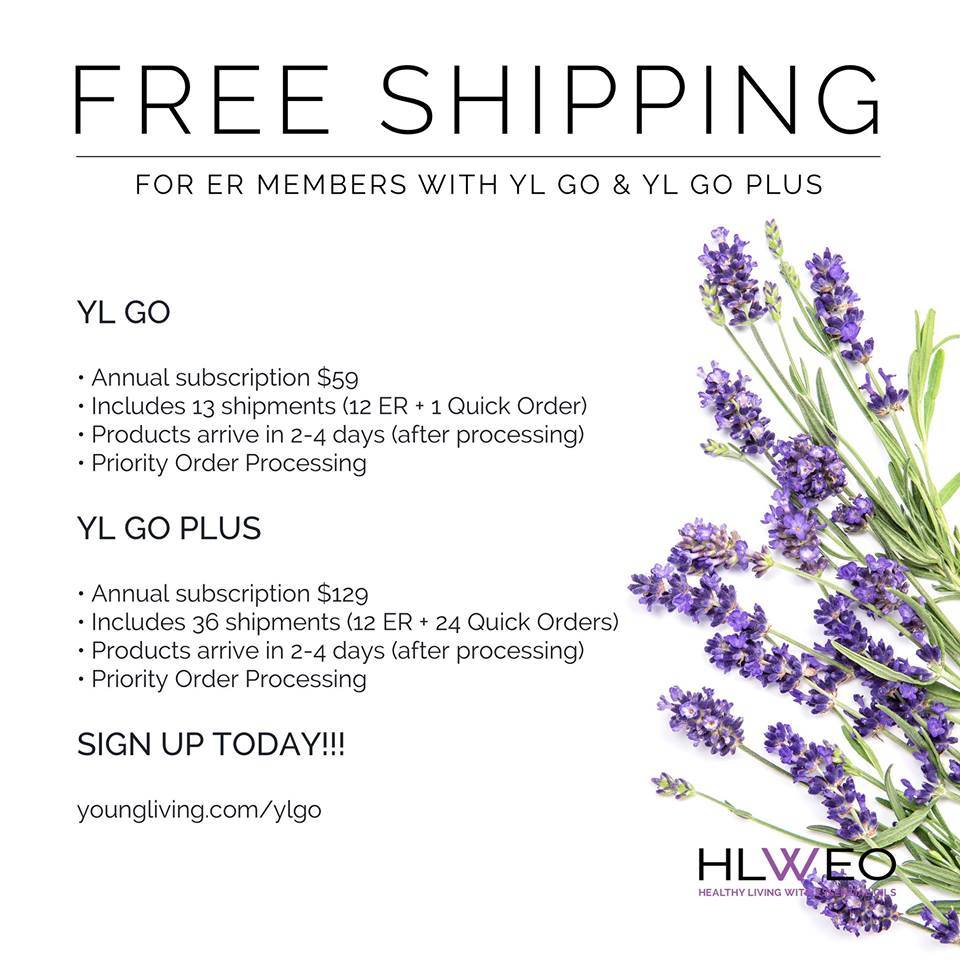 Here's a little bit about ways to use this month's awesome promos:
Clove Vitality 5ml (ER exclusive): Clove oil is the most concentrated antioxidant known with an ORAC (Oxygen Radical Absorbance Capacity) value of over 1,000,000. By comparison the ORAC score for blueberries is only 2,400, so we're talking awesome immune system support! It's also wonderful to dilute and rub on the gums for oral health. Any bakers? Just go google Clove Oil and fall recipes and you will come up with lots of fun ways to use Clove Vitality. Aromatically, Clove encourages sleep, stimulates dreams, and creates a sense of protection and courage.
Digize 15 ml (ER exclusive): As the name states, this oil is fantastic for supporting healthy digestion. If your digestion system is in need of support, apply a drop or two to your abdomen and gently massage in. This oil also comes in Vitality. DiGize Vitality can be directly dropped under their tongue or taken in a capsule. We like to take 2-4 drops in a capsule with Lemon and Peppermint Vitality oils. Did you know many of Young Living's farms actually use DiGize on the soil to encourage good bacterial balance in our farms' dirt!? Cool, right?!
Inner Defense: Think of this supplement as a first responder. When someone needs some immune support and whenever we travel, we take Inner Defense. This supplement contains Oregano, Clove, Thyme, Lemon, Lemongrass, Eucalyptus Radiata, Rosemary and Cinnamon. It's like Thieves, but with Oregano and Lemongrass added in. I also suggest taking it with food because there are lots of hot oils in this blend. Additionally, it's a good idea to take Life 9 probiotic to keep your gut flora in balance and healthy.
Thieves Hand Soap: Plant based, gentle and power packed with Thieves, lemon and orange essential oils, Thieves Foaming Hand Soap contains no sulfates, dyes, synthetic fragrances or harsh chemicals. If you haven't started replacing everyday household items in your home yet, now is the time to do it for free! Young Living is so much more than oils and supplements. So much of our ER order includes life style products! Once you fall in love with your first bottle, you can order the hand soap refill and keep using it!
Manuka 5 ml: Gorgeous skin is never out of season! I love this oil for my skin. It has very similar properties to tea tree oil, but the aroma is completely different - woodsy and thicker to the touch. It's also wonderful for a healthy scalp - add several drops to your shampoo!
ImmuPower 15 ml: Do you know what this oil does?!! The name pretty much gives it away, but let's break it down. This blends includes Hyssop, Mountain Savory, Cistus, Camphor, Frankincense, Oregano, Clove, Cumin, and Dorado Azul. That's about half the oils in the Oils of Ancient Scripture Collection, plus some power houses like Dorado Azul, Oregano and Cumin Seed oil! Use this daily, particularly through the fall and winter months. Your cells and DNA will thank you! It's hugely beneficial to overall health and wellness! You can add it to your wellness roller blend or just apply this to the bottoms of your feet or big toes daily.
All of these promos added up at your wholesale member price is $181.75 AND if you're at the 20 % earning level on ER you get $60 in YL cash (ER points) back or $75 in YL cash for those at the 25% earning level!!!
In case you haven't seen this before, here's a quick breakdown of the cost savings between ER and Quick Orders: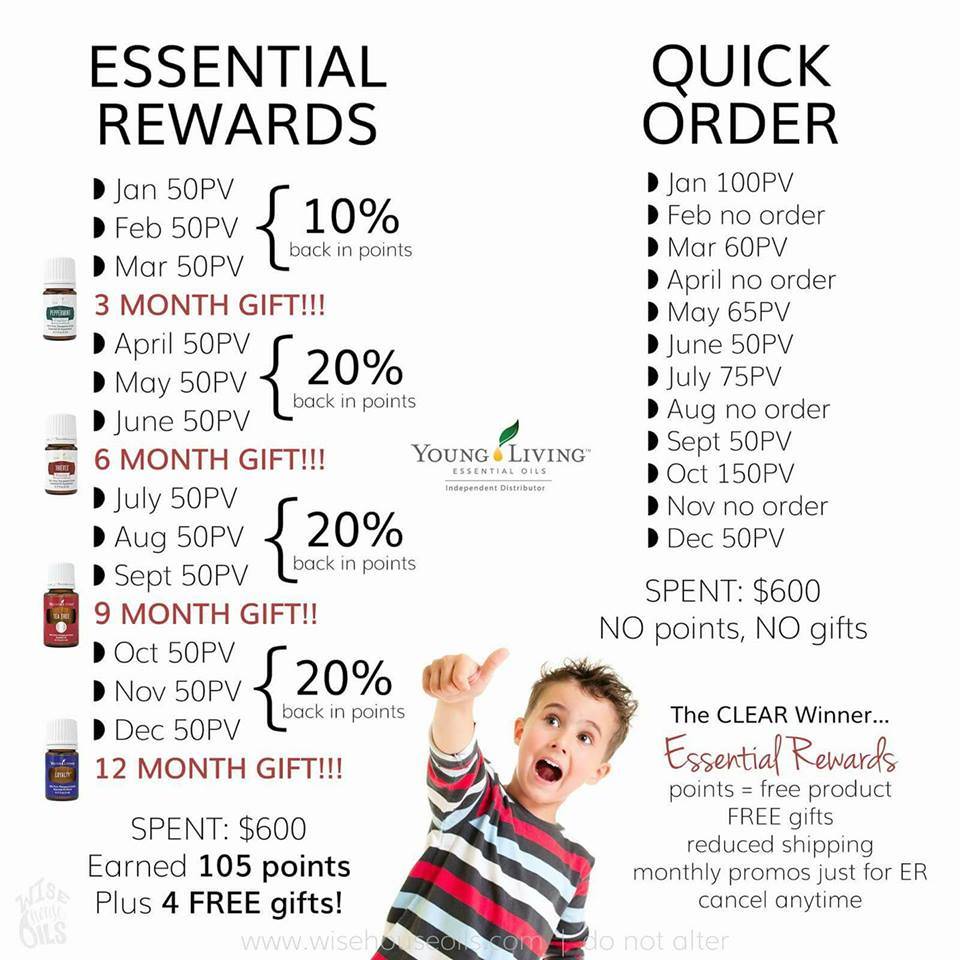 You're never locked into Essential Rewards with a contract or penalized in any way if you cancel, plus now you can get FREE SHIPPING, so there's no reason not to jump in! Got questions? Please ask us!
Not a member yet?
You can get started
here
. We would love to help you make the most out of each bottle of oily goodness and support you in reaching your individual goals. Trust us - you don't have to be "crunchy" to jump into the oily world!
Here's to a happy, healthy fall and all of the wonderful things it brings!
Our Mission: Love Others Well & Empower Them to Do the Same