Oct 29, 2018 04:08 PM Central
Andrea & Brian Johanson
Our family has a unique way of "celebrating" Halloween. We give out candy, like so many others, but we also have a cocoa and cookie stand set up. We offer everyone who comes a cup of cocoa and ask if they mind if we say a quick prayer for them while we fill their cup. It's rare that anyone ever says no and oftentimes the parents will share a specific request for prayer. It's another way that we can love others well.
A Few of My Favorite Things: Halloween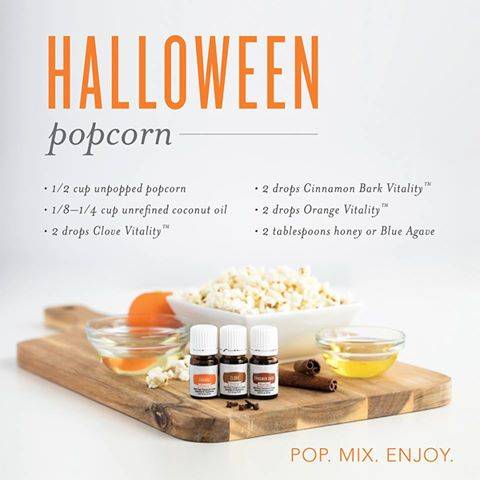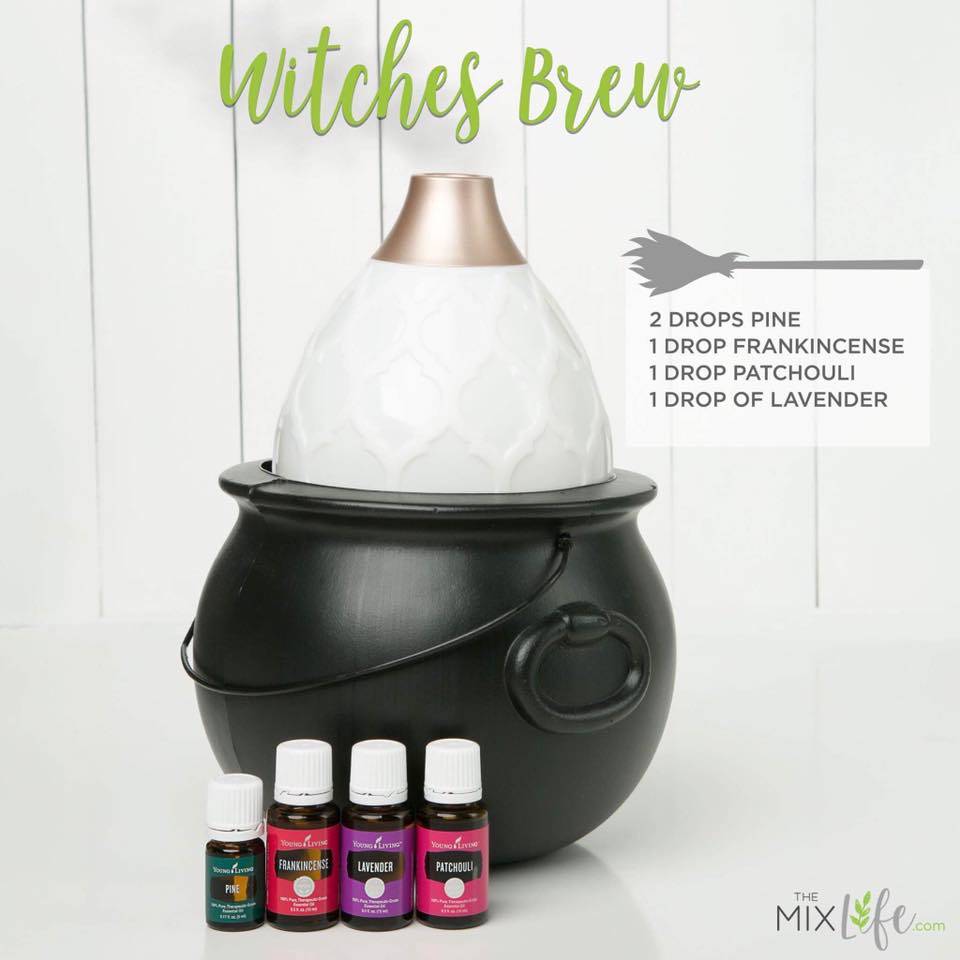 2 quarts fresh apple cider
1 orange, unpeeled and cut into slices
3 drops Lemon Vitality™ essential oil
1 drop Cinnamon Bark Vitality™ essential oil
1 drop Clove Vitality™ essential oil
1 drop Nutmeg Vitality™ essential oil
Cinnamon sticks, for serving
Directions:
1. Combine apple cider, orange slices, and essential oils in a large pot and simmer over low heat for 10 minutes or more.
2. Discard orange slices.
3. Serve warm. Add 1–2 cinnamon sticks to individual cups when serving.
And...just for fun, click on the picture below to read YL's hilarious blog post on how to survive a Zombie Apocalypse (just in case it happens this Halloween).

Don't miss our blog post FILLED with my favorite
pumpkin recipes
including
a room spray, a diffuser blend, a few cooking recipes, a nourishing face mask and so much more
. You can check it out at:
A Few of My Favorite Things: It's Pumpkin Season!
Our Mission: Love Others Well & Empower Them to Do the Same
Oct 29, 2018 02:07 PM Central
Andrea & Brian Johanson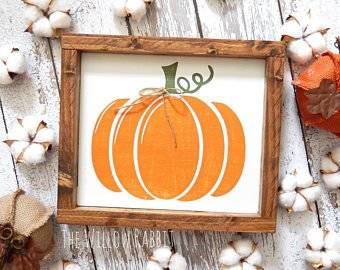 'Tis the season for pumpkin EVERYTHING! Here are some favorite, pumpkin-themed, essential oil recipes perfect for the season!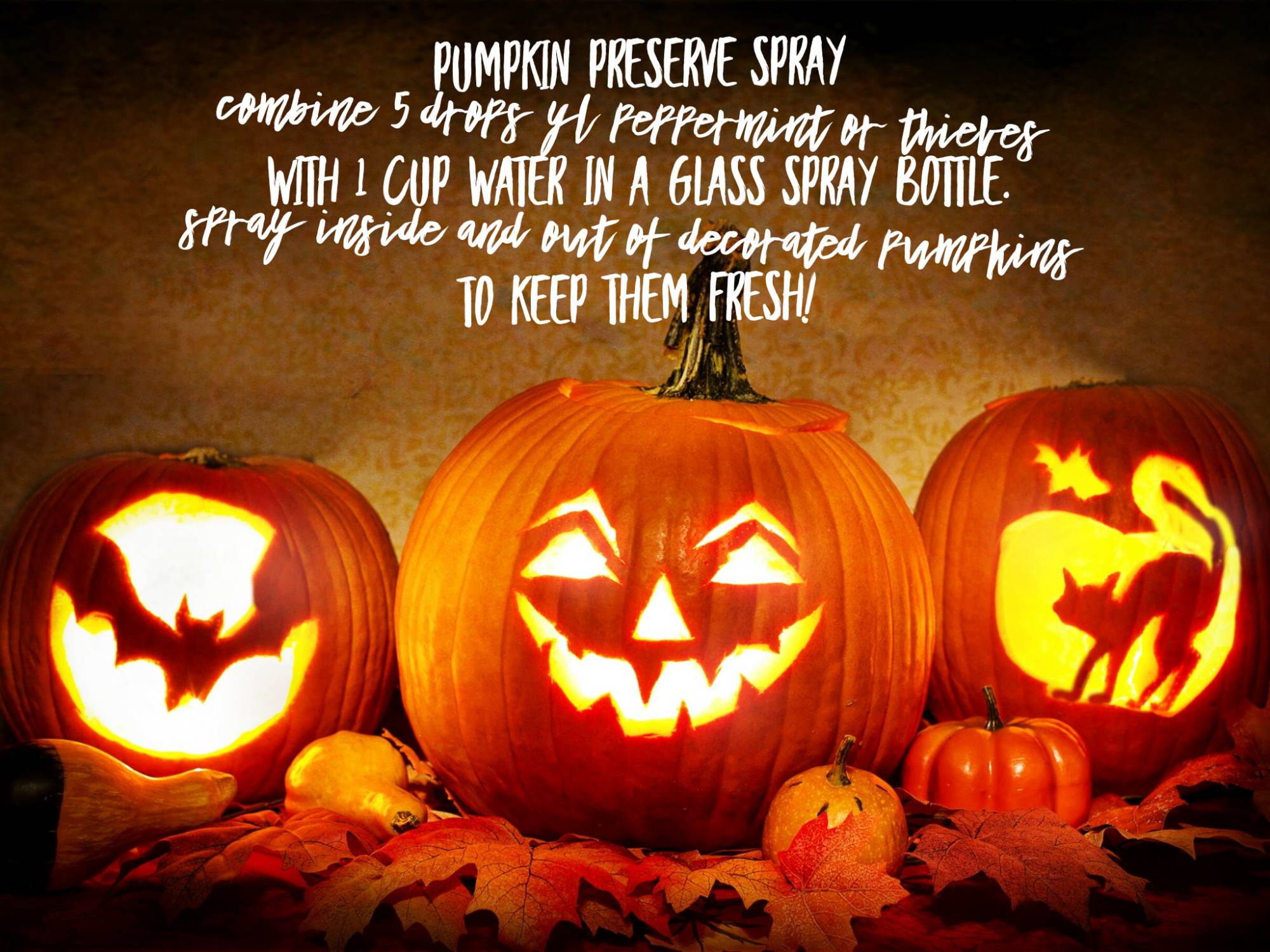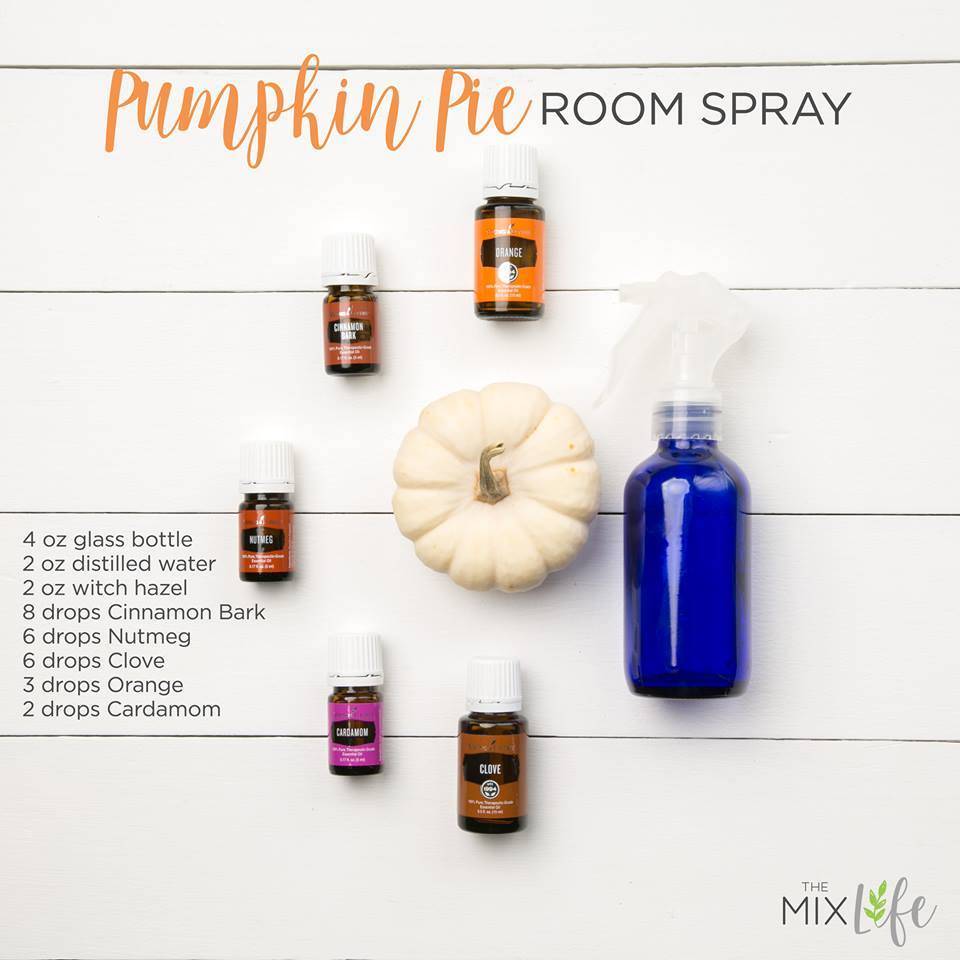 (Shaundra Tinney)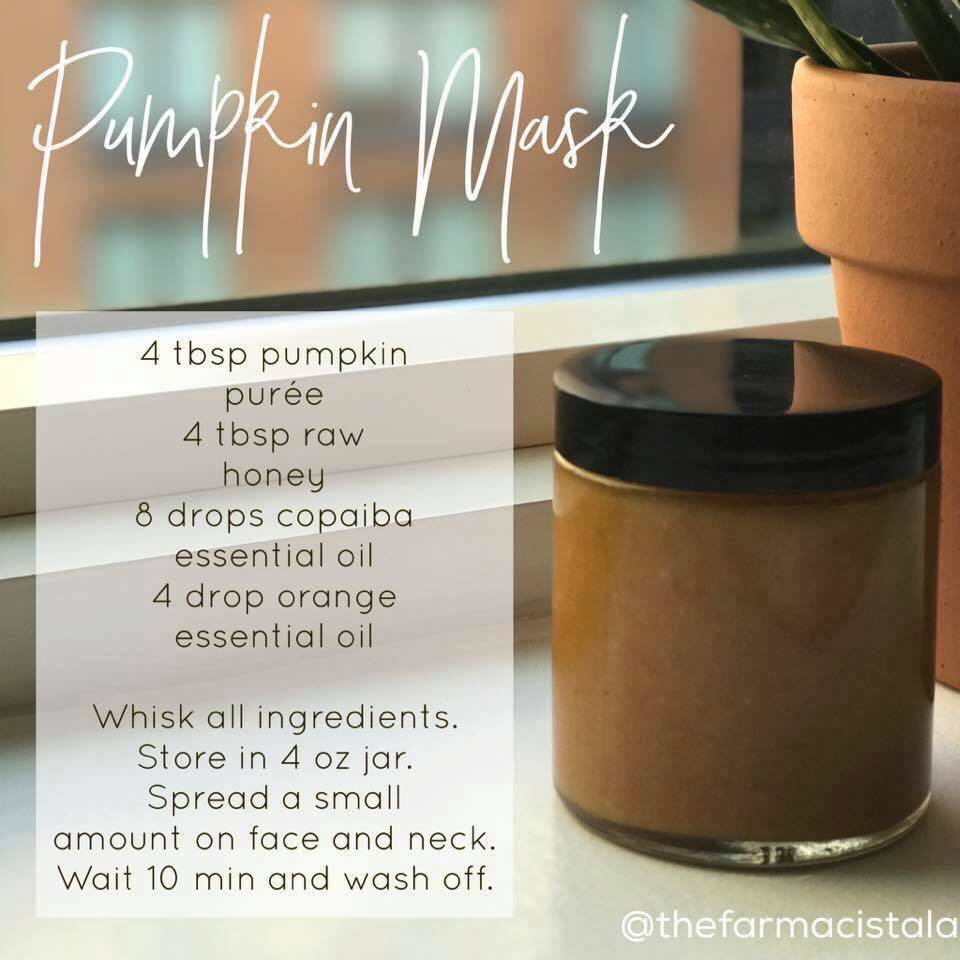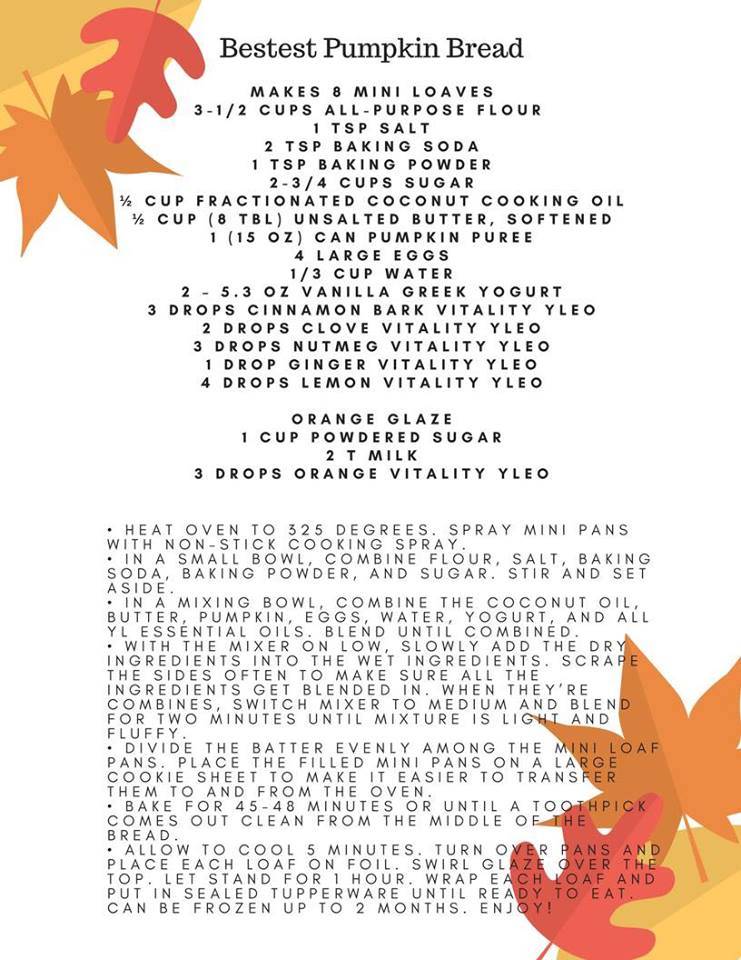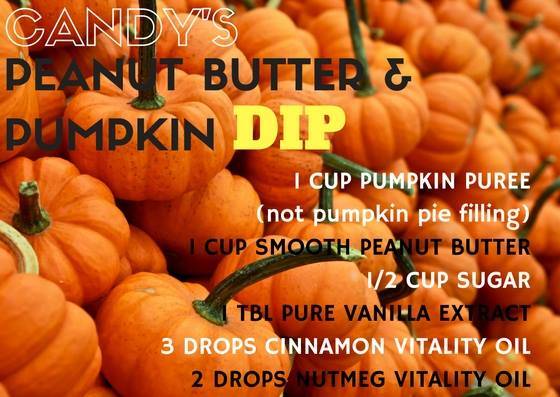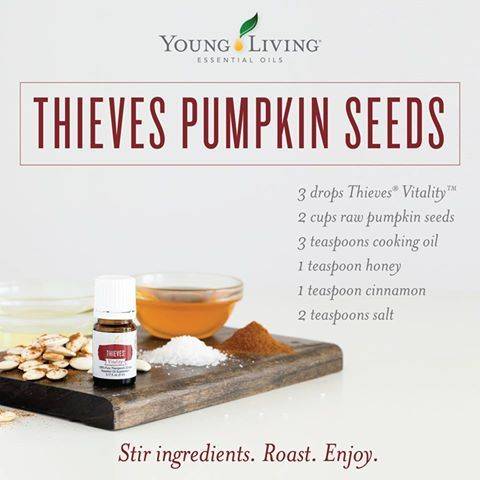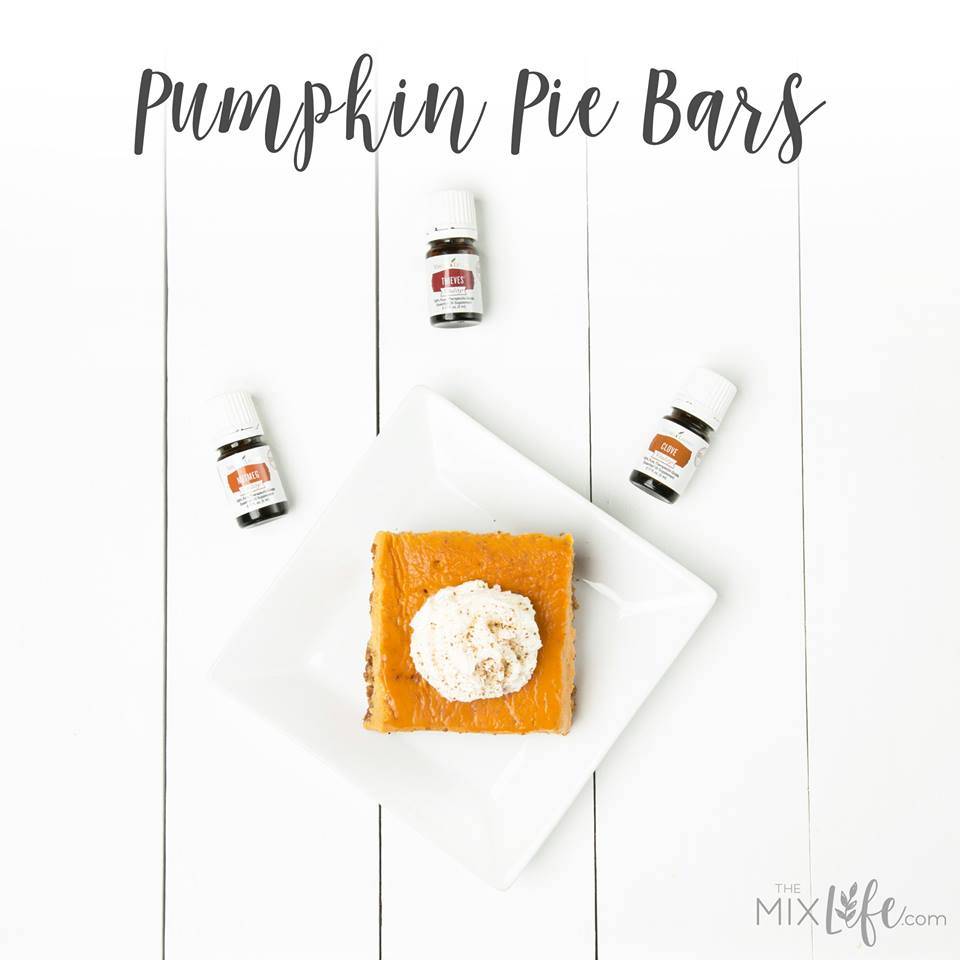 PUMPKIN PIE BARS (Elizabeth Bailey)
CRUST
1 cup Einkorn Granola
1 cup Einkorn flour (or white flour)
1/2 cup butter, melted
1/2 tsp salt
1/2 tsp baking soda
1/4 cup brown sugar
1 tsp vanilla
3 drops Thieves Vitality
FILLING
1 can pumpkin puree
1 can evaporated milk
1/4 cup brown sugar
2 eggs
1 tsp vanilla
1/4 tsp salt
3 drops Clove Vitality
5 drops Nutmeg Vitality
5 drops Thieves Vitality
DIRECTIONS
Preheat over to 350. Crush Einkorn Granola in a blender to finely chop pieces. In a mixing bowl, stir together crushed granola, flour, salt, baking soda, and sugar. Mix in butter, vanilla, and drops of Thieves Vitality until mixture binds together. Press into the bottom of an 8x8 square baking dish. Bake in preheated oven for 15 minutes.
Meanwhile in a mixing bowl, blend together pumpkin puree, evaporated milk, brown sugar, and eggs. Add vanilla, salt, and drops of Clove, Nutmeg, and Thieves Vitality. Pour mixture over the baked crust. Bake in oven for 40 minutes until golden on top and middle of pie just slightly jiggles. Remove from oven and all to cool for 1 hour. Refrigerate at least an hour to allow the pie to finish firming up. Cut into squares and serve with whip topping if desired. ENJOY!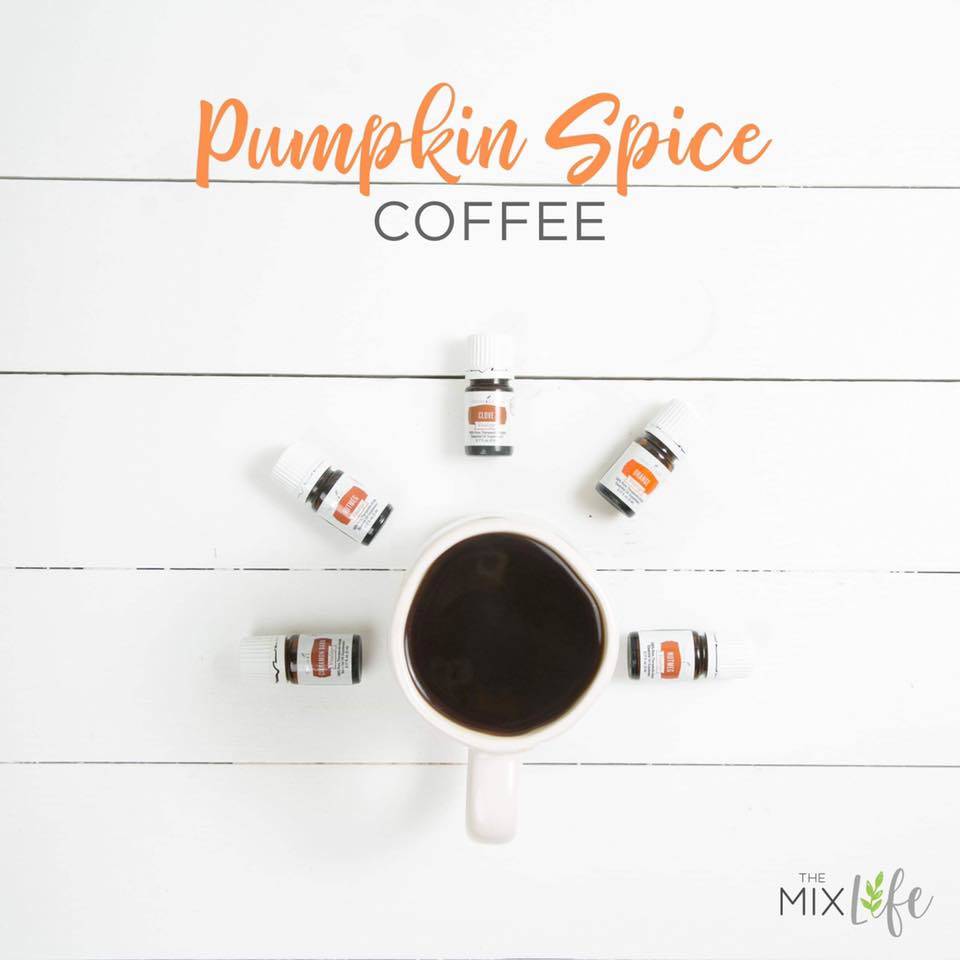 Pumpkin Spice Coffee (Stephanie Ours)
Pumpkin Spice is back, baby!! But let's be honest, those coffee store drinks aren't exactly the best for you.
Here's how you can use your Vitality oils to create your own:

Mix together in an empty (and clean) 15ml bottle
-20 drops Nutmeg Vitality
-10 drops Ginger Vitality
-30 drops Clove Vitality
-20 drops Orange Vitality
-30 drops Cinnamon Bark Vitality
Swirl it all together. Now for the fun part. Infusing your coffee!!!
1. Open a new bag of your favorite Fair-trade organic coffee.
Stick your nose in the bag and inhale deeply (Ok, you can skip that part, but seriously, not much smells better ).
2. Drop in 30-50 drops of the Pumpkin Spice Blend.
3. Reseal the bag and give it a good shake. Now let it sit for 24 hours.***
4. Brew coffee as normal.
Want more Pumpkin Spice Flavor? Add a drop right to your coffee!
Bonus: This perfect Pumpkin Spice Vitality blend can be used to infuse into all your favorite fall recipes!!
***Note from Andrea: I recommend storing the beans in a GLASS container, rather than the coffee bag.
Citrus oils can break down plastic, transferring those compounds to your coffee.
No Bake Pumpkin Peanut Butter Dog Treats (Danyelle Ho)
Ingredients:
1/2 Cup Organic Peanut Butter
1 Cup Organic Canned Pumpkin (not pie filling)
1 Tbsp Honey
2 1/2 Cups Organic Oats
Mix all of the ingredients together. Roll spoonfuls of the mixture into balls.
These treats should be stored in the refrigerator or freezer.
Pro Tips:
* Add a Ningxia Wolfberry to every ball for an extra health boost.
* Add a few drops of your pup's favorite oil to the mix. Copaiba is a favorite for my senior pup and has a mild flavor.
* Einkorn Berries would be a great addition too!
Our Mission: Love Others Well & Empower Them to Do the Same
Oct 1, 2018 01:03 PM Central
Andrea & Brian Johanson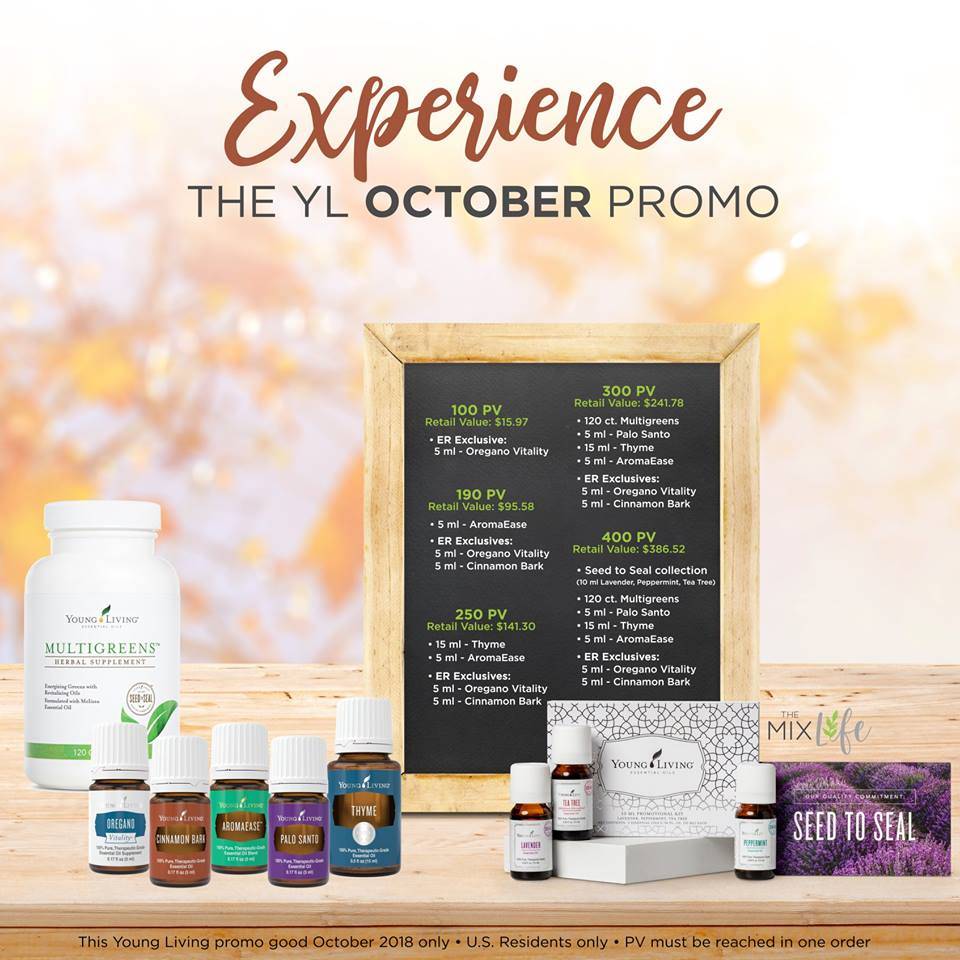 This month, the Young Living promos will have us ready to eat, drink, and be merry! They're all about food, gathering together with friends and family, and making sure our bodies and emotions are supported while we do it! Be sure to scroll down to see the full breakdown and learn some of our favorite uses for each!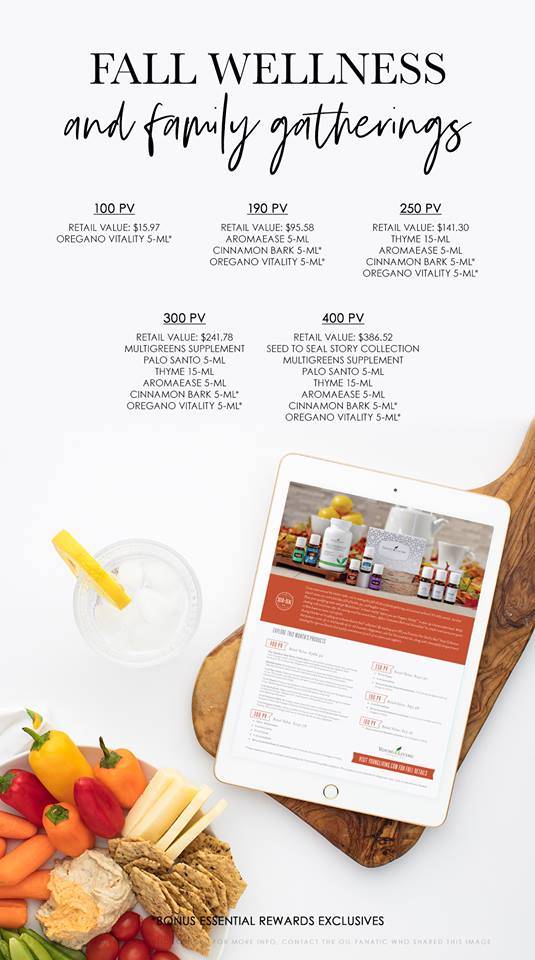 Let's learn a little more about some ways we can use each of this month's incredible freebies!
Oregano has been cultivated for its wonderful flavor for over 3000 years and with its spicy, bold flavor, it is a tasty addition to many savory dishes when you are cooking for friends and family. Oregano Vitality is perfect to spice up a recipe or taken in a capsule with a carrier oil as an immune support.
Cinnamon Bark is a favorite for diffusing during the Fall season: add it to your diffuser along with Nutmeg and Christmas Spirit and you've got yourself quite the party.
Designed to be a comforting aroma during travel, AromaEase can help any road trip, boat ride, or air travel feel much more soothing and relaxing when diffused or used with V-6 oil and applied to your neck, shoulders or chest as you are on your way to visit your loved ones. It's also great to use when you feel like you have butterflies in your stomach prior to these family gatherings!
Thyme is a wonderful oil with many uses, including immune system support, and is believed to bring a sense of purpose when diffused, as well as being great for muscle support when applied topically after a strenuous game of flag football.
Palo Santo is a soothing addition to any massage after activity, as well as providing a cleansing and refreshing atmosphere when diffused.
We all know that this month will mean many, many trips to the bowl of treats sitting on our counter, so we need to keep our nutrition game on point to make up for all of that candy corn consumption! Multigreens is the perfect nutritional supplement for such an occasion. Made with spirulina, alfalfa sprouts, barley grass, bee pollen, eleuthero, Pacific kelp, and therapeutic-grade essential oils, its designed to boost vitality and support our glandular, nervous, and circulatory systems. Although, who says that candy doesn't do that? I certainly don't.
To round out these amazing promos, is the promotion-only, Seed to Seal Story Collection. This promo-exclusive oil collection includes 10-ml bottles of Lavender, Tea Tree, and Peppermint oils, with beautifully designed labels and an insert explaining the Seed to Seal process. Great to enjoy with Epsom salts and a diffuser for a perfect spa experience or to gift to a lucky friend!
Here is the full breakdown of the US October PV promos:
100 PV:
Oregano Vitality 5-ml*
190 PV:
AromaEase 5-ml
Cinnamon Bark 5-ml*
Oregano Vitality 5-ml*
250 PV
Thyme 15-ml
AromaEase 5-ml
Cinnamon Bark 5-ml*
Oregano Vitality 5-ml*
300 PV
MultiGreens 120ct
Palo Santo 5-ml
Thyme 15-ml
AromaEase 5-ml
Cinnamon Bark 5-ml*
Oregano Vitality 5-ml*
400 PV (Added tier this month!)
Seed to Seal Story Collection
MultiGreens 120ct
Palo Santo 5-ml
Thyme 15-ml
AromaEase 5-ml
Cinnamon Bark 5-ml*
Oregano Vitality 5-ml*
*Remember, in order to get the Essential Rewards Exclusive Oregano Vitality 5-ml and the Essential Rewards Exclusive Cinnamon Bark 5-ml, you have to be enrolled in Essential Rewards (ER) and have an order that meets the PV requirements for those items. The extra bonus of meeting these PV amounts with your ER order is that you get even more ER points to spend later!
Our Mission: Love Others Well & Empower Them to Do the Same