Jul 2, 2018 04:29 PM Central
Andrea & Brian Johanson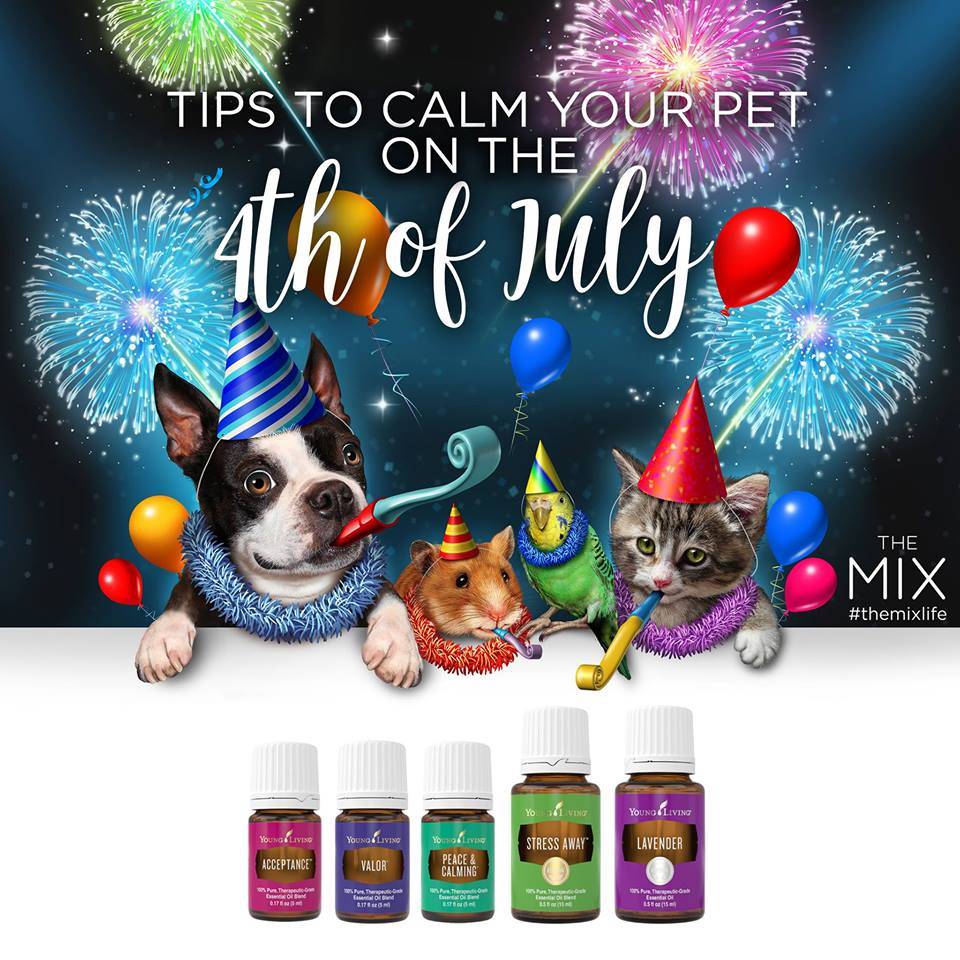 Our family has done a lot of volunteer work with our local animal shelter and loved sharing that experience together. Did you know that July 5th is one of the busiest days of the year for animal shelters all over the country because the most number of pets get lost on the 4th?
The reason is because pet owners sometimes underestimate how their pets will react to the loud fireworks going off around them and for those pets that are afraid, their instinct is to run and try to get away from the loud noises. If they are not restrained or on a leash, they could end up lost and may even get hurt while on the run.
Regardless of whether or not your pet has shown any sign of fear toward fireworks before, you just never know how they will react. Not only that, there are other hazards that can harm pets during the festivities.
Here are a few practical tips from PetFinder to help you keep your furbabies safe on the 4th: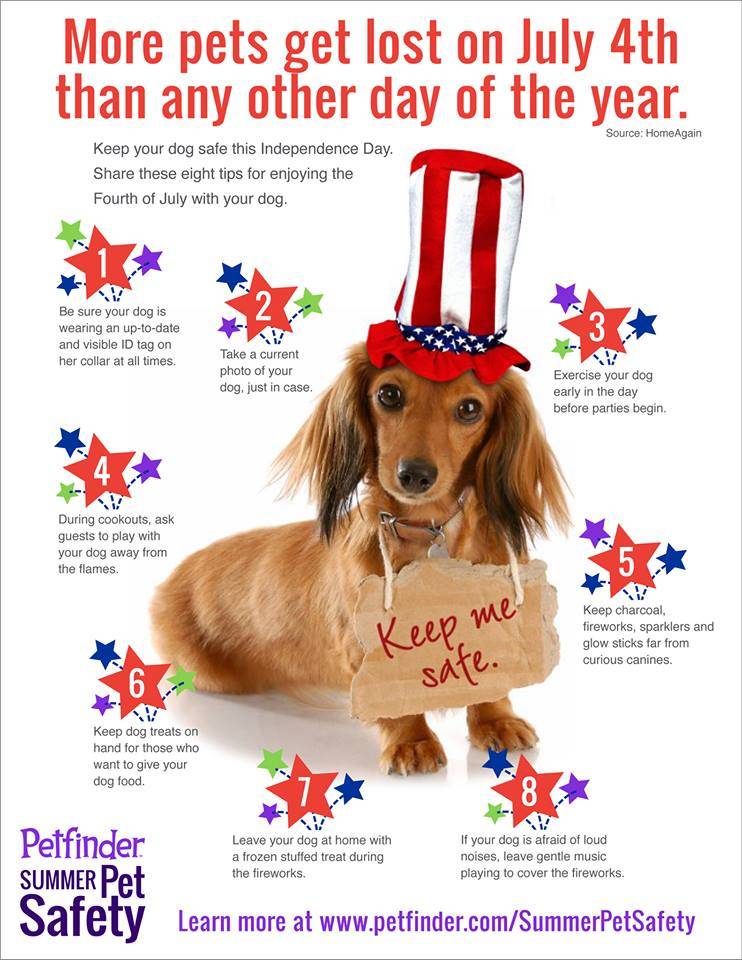 From an oily standpoint, there are a few different ways that we help keep our furkids happy and calm during 4th of July week. First, we make sure that we have our diffusers going in the evening to help keep our dogs relaxed and calm during the festivities that happen on multiple nights. We also put a drop or two of our chosen oil (usually Peace & Calming or Lavender) onto our palms, rub them together, then stroke their fur. We may instead rub a bit on their paws or the outsides of their ears. We also do this during thunderstorms to help calm our furbabies during a time that could otherwise be stressful to them.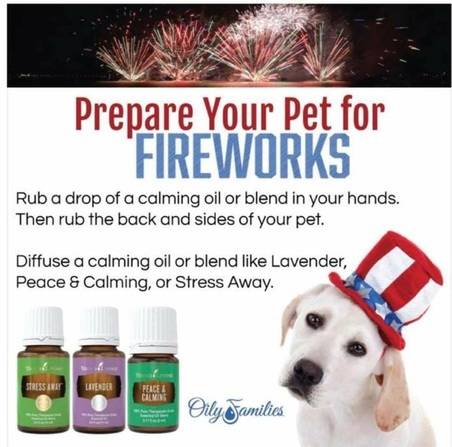 Here are a few other essential oils that your furry friends may enjoy:
Stress Away
Acceptance
Valor

Try some different combos and see what works for you and your pets. If applying topically, do your research on dilution ratios, especially for smaller dogs. And if your furbabies don't have to be outside on the 4th, please let them stay inside!
Happy 4th of July, one and ALL!!!
(Thank you to Danyelle Ho for sharing some of this information in The Mix, FB group.)
Our Mission: Love Others Well & Empower Them to Do the Same
Jul 2, 2018 03:59 PM Central
Andrea & Brian Johanson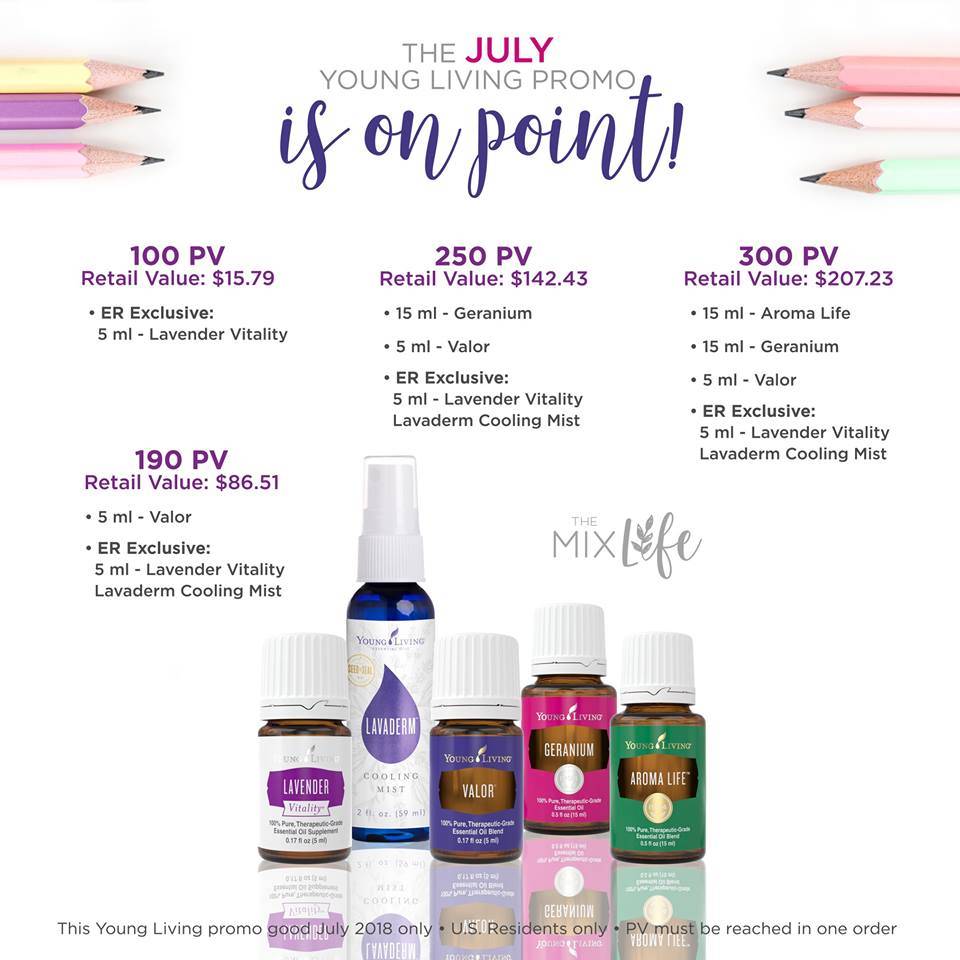 HAPPY July, friends!
Temps are soaring, the air conditioning is on full blast, the kids are running around, and vacations are in full swing. Must be summer...
Like clockwork, Young Living has another set of awesome promos that will help us thrive during these hot, busy months! Here are a few ways you can put these incredible freebies to good use!

Lavender is always my go-to at betime. I rub a drop or two between my palms, then rub my hands over my pillowcase for an aromatic experience that helps quiet my thoughts. This July, for a fresh, delicious twist on lemonade, try adding a few drops of Lavender Vitality. Here's the recipe used at Young Living's Mona, UT farm: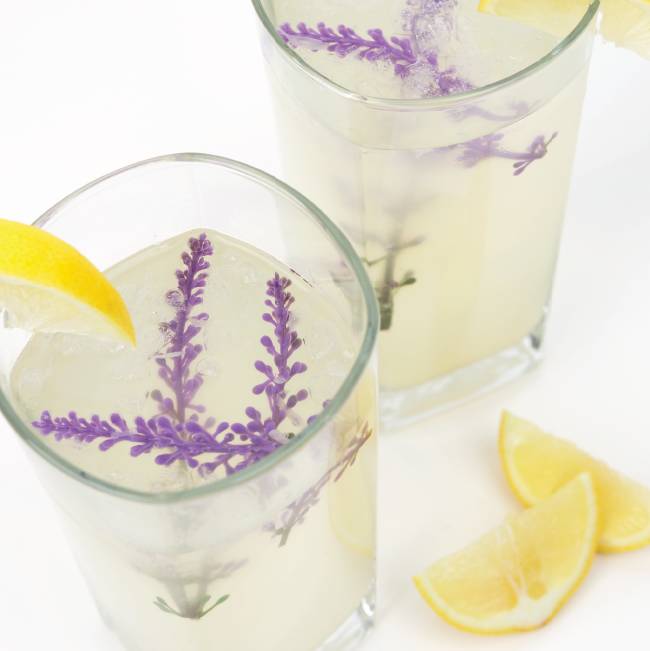 Honey-Lavender Lemonade Recipe
Prep Time: 10 minutes
Total Time: 10 minutes
Yield: About 10 cups
Ingredients
6 lemons, juiced
1 lime, juiced
½ cup honey
2 drops Lavender Vitality essential oil
Ice water, about 10 cups
Lavender sprigs, optional
Instructions
Combine lemon juice, lime juice, honey, and Lavender Vitalityin a large glass pitcher.
Add water to taste.
Stir until well mixed.
Garnish with sprigs of lavender.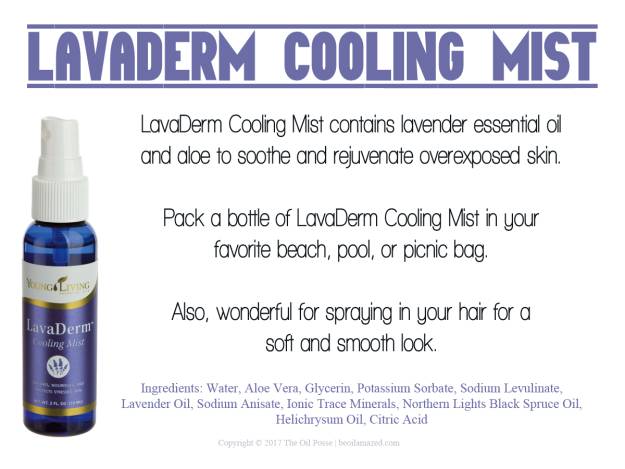 LavaDerm Cooling Mist? The best. Whether you forgot your YL mineral sunscreen and were out in the sun too long, or the heat is just getting to you, LavaDerm helps cool your skin down and gives a feeling like a nice breeze of relief. So. Good. We keep it in the cooler at the beach or in the frig at home. It's great to use during those occasional cooking mishaps when you get too close to the heat!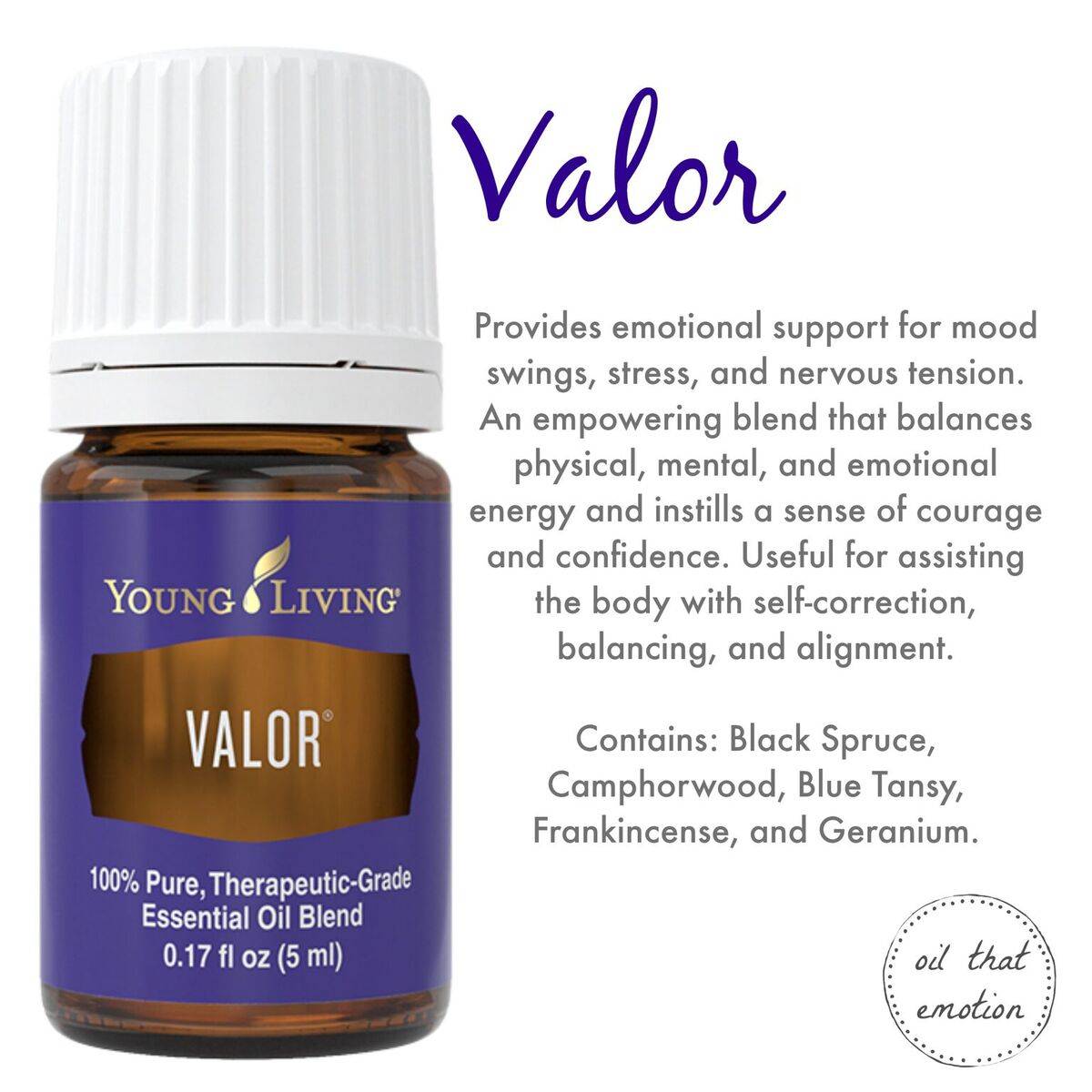 Valor, how do I love thee? Let me count the ways. Confidence, soothing a tired back or neck, and all around relaxation comes in that tiny bottle of goodness, and to have it at the 190 PV level is a dream come true! Valor was our gateway oil and is what I affectionately call my "desert island oil" because if I was stranded and could only have ONE oil, Valor would be it!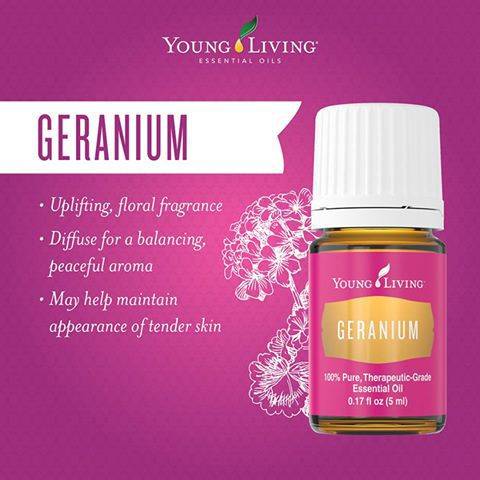 As you hit all of your scheduled events this summer,
Geranium is a must for that flawless looking skin. It's pretty awesome for setting the mood for summer lovin', too! Add a drop or two to your favorite, romantic diffuser blend. Worn as a perfume, it can be quite alluring...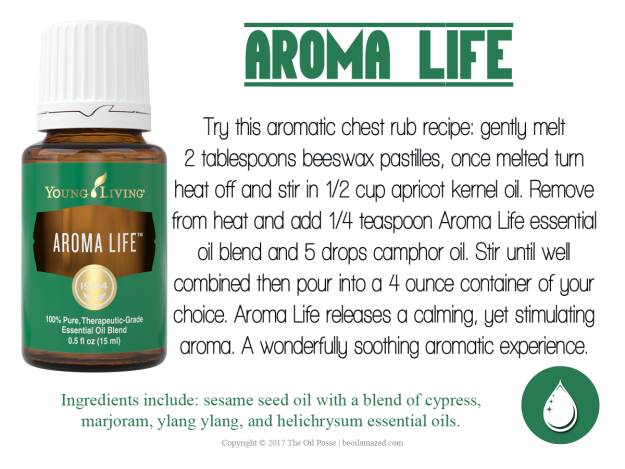 If you're not familiar with Aroma Life, it's not just a great aroma to help energize your spirit and encourage connection, it's also a good one for skin care and helps to support a healthy circulatory system. Aroma Life is a blend of Cypress, Marjoram, Ylang Ylang, Helichrysum (all the yes), and sesame seed oil. Add it to your nighttime skin care routine or treat yourself to a shoulder and back massage with it after summer has drained your energy and you need to be recharged. You can also put a drop or two over your heart, diffuse or inhale it or add 2-4 drops to your bath.


Here's the full breakdown of the US July PV promos:
100 PV:
Lavender Vitality 5-ml*

190 PV:
Valor 5-ml
LavaDerm Cooling Mist*
Lavender Vitality 5-ml*

250 PV:
Geranium 15-ml
Valor 5-ml
LavaDerm Cooling Mist*
Lavender Vitality 5-ml*

300 PV:
Aroma Life 15-ml
Geranium 15-ml
Valor 5-ml
LavaDerm Cooling Mist*
Lavender Vitality 5-ml*

*Remember, in order to get the Essential Rewards Exclusive Lavender Vitality 5-ml and the Essential Rewards Exclusive LavaDerm Cooling Mist, you have to be enrolled in Essential Rewards (ER) and have an order that meets the PV requirements for those items. The extra bonus of meeting these PV amounts with your ER order is that you get even more ER points to spend later!

These are such awesome promos! If you've never tried any one of these, or even if you use them every day, you're in for a treat!
Our Mission: Love Others Well & Empower Them to Do the Same