May 3, 2018 08:53 AM Central
Andrea & Brian Johanson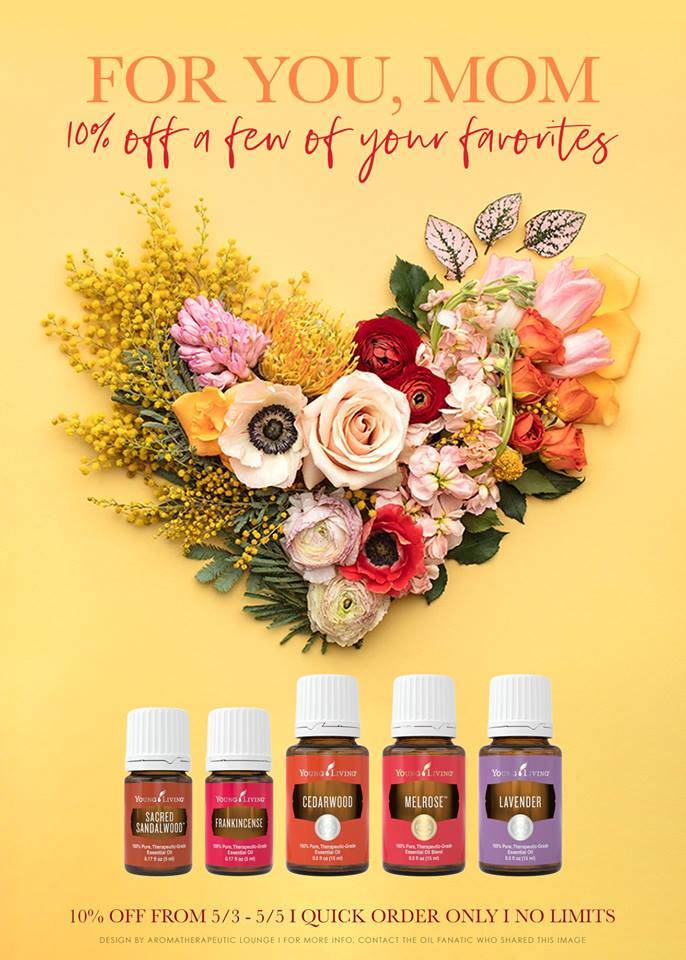 What a GREAT way to celebrate Mom!!!
Starting today, May 3rd, at 8:30 AM (MT), and going through the end of Saturday, May 5th at 11:59 PM (MT), Young Living is giving us 10% off some incredible oils that any mom will love!! Even better...there are NO LIMITS, so get some for Mom AND some for YOU!!!!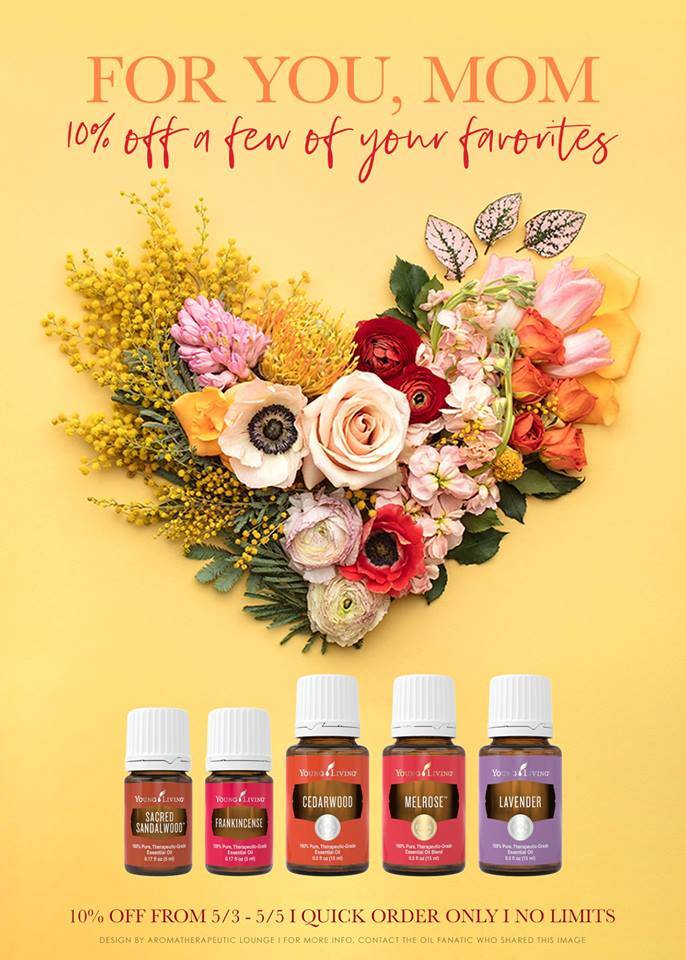 Here are the oils that are part of this promo:

Frankincense 5-ml (3549D)
Sacred Sandalwood 5-ml (19651D)
Cedarwood 15-ml (3509D)
Lavender 15-ml (3575D)
Melrose 15-ml (3378D)

Here are the details:
5/3 through 5/5
US only (no NFR)
Quick Order only
Cannot be purchased with ER points
NO LIMITS
These oils are amazing for skin care, sleep, emotional support, and so much MORE! Frankincense and Sacred Sandalwood are two highly prized Young Living Essential Oils. I love them both for the ways they support healthy, youthful skin, as well as the ways Frankincense supports my immune system. Many friends also love the ways that Frankincense and Sacred Sandalwood are calming, grounding and stabilizing. Cedarwood and Lavender are also calming and are my bedtime oils. I rub a drop of Lavender between my palms, then over my pillowcase, then I put a bit of Cedarwood on the bottoms of my big toes. I find myself drifting off peacefully and having a restful night's sleep. These two oils, along with Melrose, are others that are fantastic for supporting healthy skin. You'll find countless ways to use these 5 oils if you haven't already fallen in love with them!

As if it wasn't special enough, this promo is a direct message of appreciation from Young Living Founder, Gary Young, for all the women of Young Living:

To the women of Young Living, thank you for supporting our mission and vision and for making the world a better place.

With much love and appreciation,
Gary
Our Mission: Love Others Well & Empower Them to Do the Same