Feb 5, 2018 04:13 PM Central
Andrea & Brian Johanson
Young Living loves their members and is saying thank you with an incredible, 5 Day Sale! Some of our very favorite products are 10%-15% off, including the Rainstone and the Aria diffusers! These are while supplies last. I KNOW how we oilers react to sales like this. A word to the wise...DON'T WAIT!
HERE ARE THE DETAILS:
• Starts Feb 5 at 8 am MST
• Ends Feb 9 at 11:59 pm MST
• While supplies last
• Quick order only
• ER points cannot be used
• Look for products that end with the D to get the sale price
So, what's on sale? Look at both the 10% and the 15% off graphics below to find out more!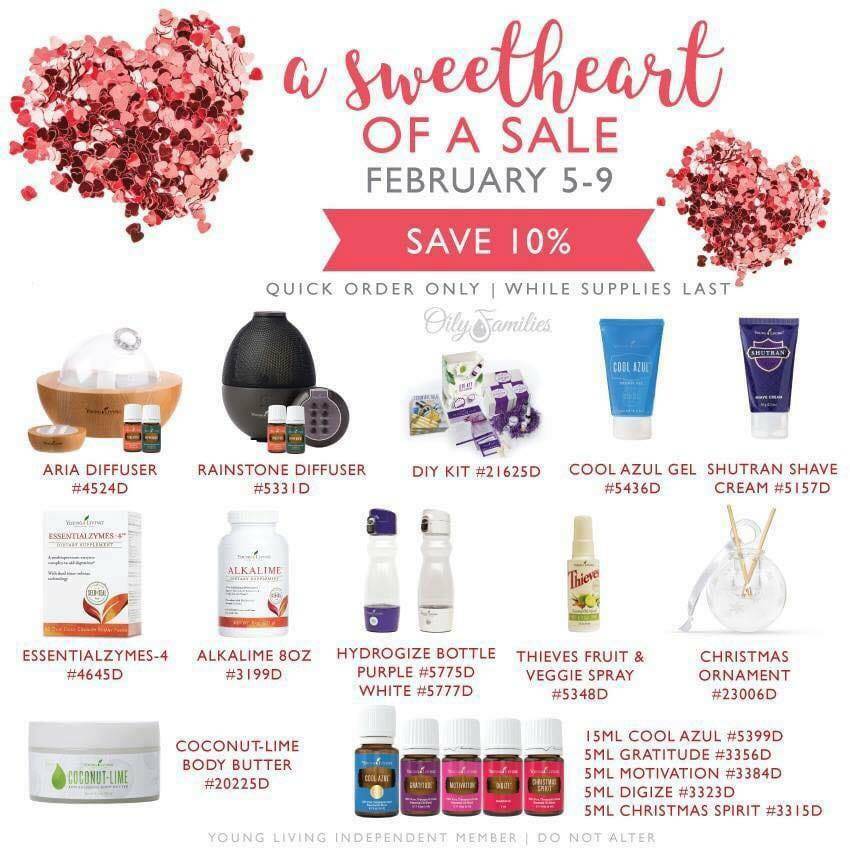 10% OFF ITEMS
• Aria Ultrasonic Diffuser (
#4524D
)
• Rainstone Ultrasonic Diffuser (
#5331D
)
• Gratitude 5 ml (
#3346D
)
• Motivation 5 ml (
#3384D
)
• DiGize 5 ml (
#3323D
)
• HydroGize Water Bottle—Purple (
#5775D
)
• HydroGize Water Bottle—White (
#5777D
)
• Essentialzymes-4 (
#4645D
)
• Cool Azul Sport Gel (
#5436D
)
• Cool Azul essential oil blend (
#5399D
)
• Christmas Spirit essential oil blend (
#3315D
)
• DIY Kit (
#21625D
)
• Shutran Shave Cream (
#5157D
)
• AlkaLime 8 oz. (
#3199D
)
• Thieves Fruit & Veggie Spray 2 oz. (
#5348D
)
• Coconut Lime Body Butter (
#20225D
)
• Christmas Ornament (
#23006D
) No PV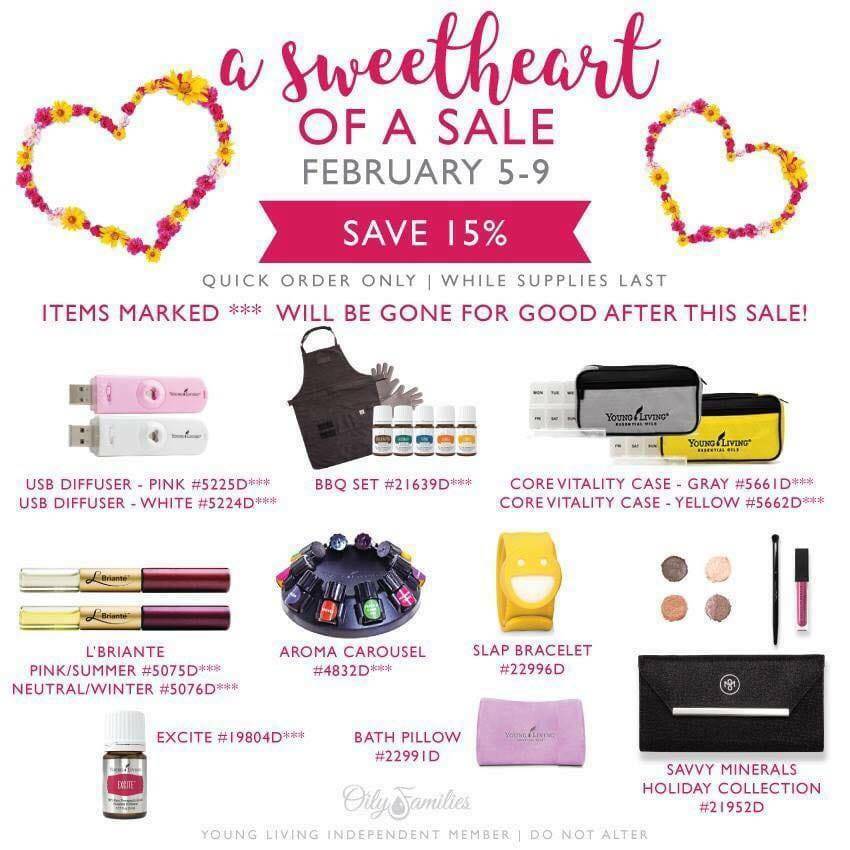 15% OFF ITEMS
• BBQ Set* (
#21639D
) (Apron, Silicone gloves, Rosemary Vitality, Thyme Vitality, Black Pepper • Vitality, Lemon Vitality, and Orange Vitality)
• USB Diffuser—White* (
#5224D
)
• USB Diffuser—Pink* (
#5225D
)
• Excite essential oil blend* (
#19804D
)
• Core Vitality Case—Gray* (
#5661D
)
• Core Vitality Case—Yellow* (
#5662D
)
• Aroma Carousel* (
#4832D
)
• ART L'Brianté—Pink/Summer Scent* (
#5075D
)
• ART L'Brianté—Neutral/Winter Scent* (
#5076D
)
• Bath Pillow (
#22991D
)
• Slap Bracelet (
#22996D
)
• Savvy Minerals Holiday Collection (
#21952D
)
Our Mission: Love Others Well & Empower Them to Do the Same