Aug 22, 2017 03:47 PM Central
Andrea & Brian Johanson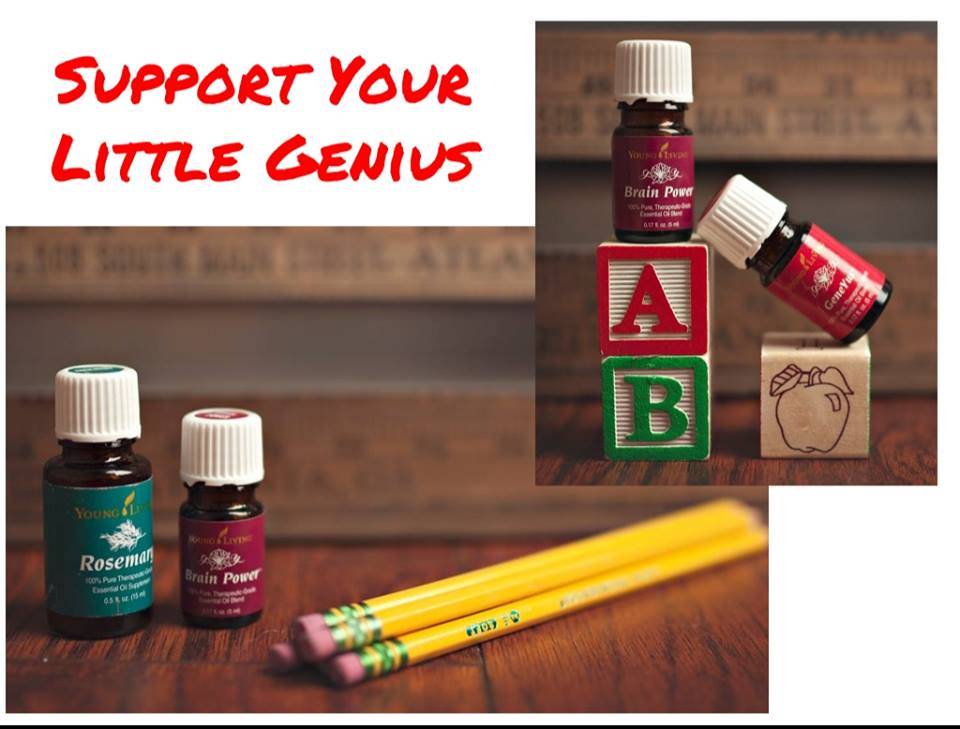 There are so many things that we can do to help support our students in their learning efforts by using Young Living's essential oils and supplements! In this post, I want to focus on supporting students of any age, helping them to learn optimally. There are a number of ways to do that, so let me break it down into a two subcategories: supporting healthy brain function / optimal learning and supporting memory, alertness and focus.
Supporting Healthy Brain Function & Optimal Learning:
Here are some great oil options that you can use to help support your little genius in his or her learning efforts!
Rosemary - known to support a healthy memory and concentration, it's uplifting, soothing and calming, and also supports the health of the muscles, liver, blood, mental, emotional and immune systems. This is a great oil to diffuse during study time!
GeneYus - for young minds that are concentrating and focusing on projects; apply to the crown of the head or the brain stem or diffuse while studying / working on projects. It can also be applied before school or worn in a diffuser necklace during the school day.
Brain Power (dilute for children) - helps support mental clarity and focus. Apply a drop to the crown of the head or to the brain stem while studying or before school or at bedtime.
Clarity - diffuse or have older students apply Clarity to their temples, behind their ears, and/or the center of their forehead to help support clear thinking. (This is a personal favorite of mine! I love to diffuse it with Motivation whenever I'm working on a project!)
Supporting Memory, Alertness and Focus:
We love to begin our school mornings diffusing Lemon & Peppermint. We've found that combo helps us wake up and feel more energetic and mentally alert, ready to get our day off to a great start! Lemon and Peppermint are both supportive of one's memory, mental alertness and accuracy. This dynamic duo is fantastic to diffuse when learning and when applying what one has learned!
Many families, including ours, have also found a combination of Lavender, Cedarwood, and Vetiver to be very helpful in supporting our students' learning efforts. This combination is one that we apply to the feet before bed and again before school. It can also be diffused during homework time and/or worn in a diffuser necklace or on a diffuser bracelet during the school day. This combination of oils is emotionally grounding, stabilizing, calming and relaxing, supporting students in staying focused on the tasks before them and is supportive of their academic performance and efforts.
Sometimes students are full of energy and have a need for additional support that's calming and relaxing. It's hard to sit at a desk all day! Many find that using Peace & Calming, Grounding or Tranquil are helpful for staying on task.
No matter their age, from pre-K through college, school is rigorous and our kids need as much support as they can get in their learning efforts. Thankfully, we have some great, oily tools to help them out! We'd love to hear your success stories! Please send us a message and tell us all about it at
therenovatedlife@gmail.com.
Our Mission: Love Others Well & Empower Them to Do the Same