May 18, 2018 02:07 PM Central
Andrea & Brian Johanson
Did you know that the USDA recommends that you should be getting in 4-6 cups of dark green vegetables that are high in chlorophyll daily? Raise your hand if you eat that many greens daily. ANYONE??? Yah, me either.
Young Living's MultiGreens™ is a high-protein, high-energy chlorophyll formula designed to help the body maintain a high energy level by working with the glandular, nervous, and circulatory systems.* MultiGreens is made with spirulina, alfalfa sprouts, barley grass, bee pollen, eleuthero, Pacific kelp, and therapeutic-grade essential oils.

Barley grass and spirulina have been reported to help maintain healthy blood sugar levels, which keeps that tired-run down feeling away. Because this formula is high in chlorophyll, it may help support the thyroid, the digestive system, and healthy muscle development. Essential oils in MultiGreens also support healthy immune function and it's a natural antioxidant!

Talk about getting your VEGGIES AND CALCIUM! MultiGreens is one of YL's best kept SECRETS! How is this for EASY? Some people dump 2-3 of these capsules in their morning smoothie. Looking for a great non-dairy calcium source or ANY Calcium source for that matter? Young Living's MultiGreens capsules contain barley grass, which offers 11 times more calcium than an 8-oz. glass of milk!

Multi-greens will have you covered daily. The best part is that not only will MultiGreens flood your body with vital nutrients, it also contains many ingredients which help the body detox things like heavy metals and contains a special kelp which protects your thyroid!

Please note this product does contain gluten (the barley grass).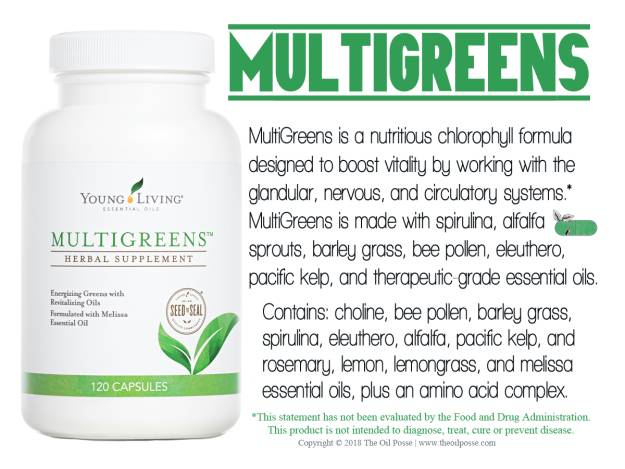 Multigreens contains:
Choline Bitartrate – used primarily to support healthy liver function
Bee Pollen Powder - benefits may include being an excellent source of enzymes, amino acids and Vitamin C
Barley Grass – an antioxidant rich in vitamins and minerals
Spirulina – a fantastic source of chlorophyll, which is rich in magnesium
Eleuthero Root extract or Siberian Ginseng – may support healthy endocrine and immune systems
Alfalfa Leaf and Stem Concentrate - source of enzyme, amylase, and high in chlorophyll
Pacific Kelp Whole Thallus - a natural ingredient whose main component is iodine
L-arginine - an amino acid that may support healthy heart function
L-cysteine – an amino acid that promotes glutathione production
L-tyrosine - an amino acid that supports a healthy brain and heart
Essential Oils included: Lemon, Rosemary, Lemongrass, Melissa, all of which have a number of health benefits, including supporting the digestive system.
* These statements have not been evaluated by the Food and Drug Administration. Young Living products are not intended to diagnose, treat, cure, or prevent any disease.
Our Mission: Love Others Well & Empower Them to Do the Same