Apr 2, 2018 03:32 PM Central
Andrea & Brian Johanson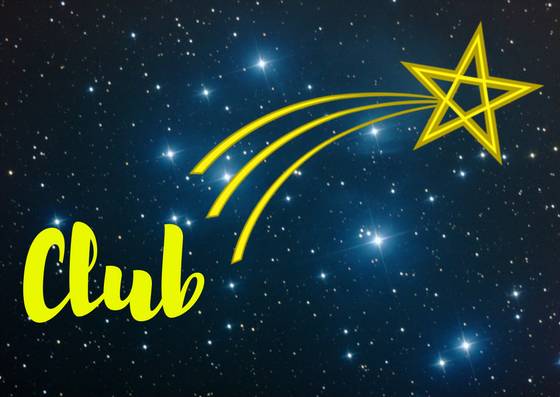 Reach for the STARS in April, choose from some great gifts, and join in on 3 EXCLUSIVE opportunities!
Since childhood, I've loved to look up at the starry night, so often reciting "Star light, star bright...", as taught to me by my daddy. When I first met Brian, we'd go on long walks at night and I would point out to him Orion and the Seven Sisters; when we'd catch sight of the Milky Way, it was a particularly special night. Bri would often quote Highlander, asking, "... Are the stars just pin holes in the curtain of night?" One of the things I like best about stars is that each star is part of an even grander picture; one lone star in the sky is nice, but together they are magnificent. Club Star is an invitation to our YL members become part of the grander picture, part of a community of those who are shining stars, bringing light to the lives of others!
So, how do you become a Club Star member and what happens when you do???
Young Living Stars are those who reach 500 OGV - Organizational Group Volume. Becoming a Star is open to ANY member - whether you're building a business or not, so don't think this isn't for YOU!!! The great thing? When you share the difference these oils can make, you shine light on others, bringing them hope for a healthier, happier life through these little bottles! What are some EASY ways you can reach 500 (and even earn ER points and a thank you check in the process)? SO glad you asked! Here are just a few: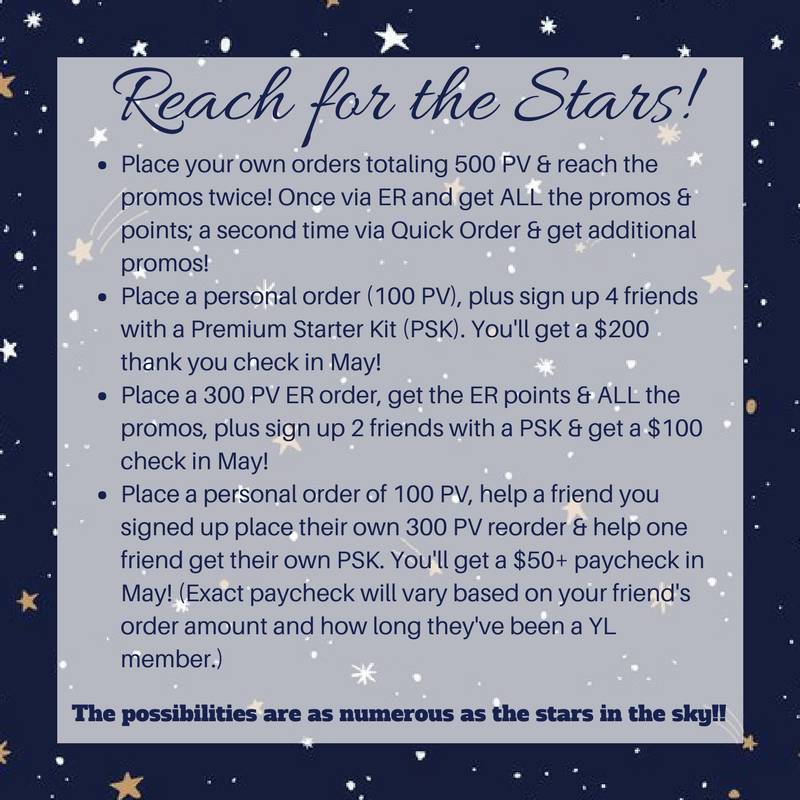 If you'd like to have a few friends over this month to learn about using oils, I would be happy to teach a class for you. Your friends and family could enroll through you, even if I teach the class. Let's talk more about it and strategize the best way for you to become a Star Club member!
As one of our members, when you reach Star for the first time or the first time in 6 or more months, you'll get to choose from 6 different prize options, PLUS qualify for 3 Exclusive Opportunities! First, choose one of these FAVORITES of ours! If we were giving away gifts, we wanted to give things that we KNEW you'd LOVE!!!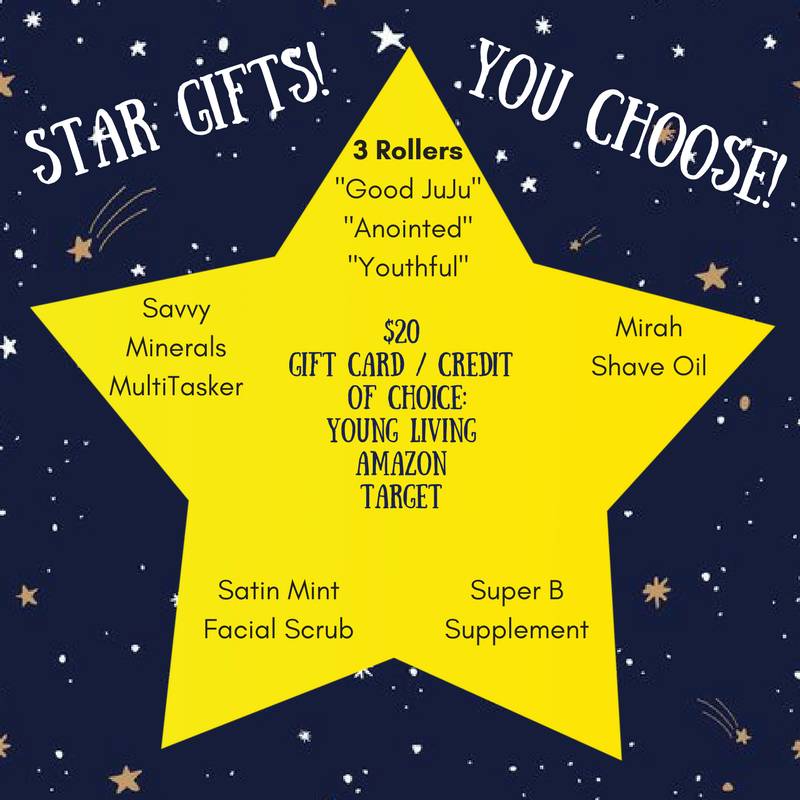 What comes in those rollers??? "Good JuJu" is a combo of Valor, Oola Grow, Abundance, and Bergamot. "Anointed" is a combo that you won't be able to get again because it contains YL's Spikenard, which is no longer available, along with Myrhh, Hyssop, and Sacred Frankincense. "Youthful" is a combo of Jasmine and YL's original Sandalwood (which is also no longer available). See why these rollers are SO amazing???
If you'd rather, you can choose Savvy's MultiTasker, Satin Mint Facial Scrub, Super B (Energy and emotional balance, anyone?), Mirah Shave Oil, or a $20 gift card or credit from the list. Once a gift is claimed, it's gone, so the sooner you qualify, the more choices you'll have!
Plus, as our members, you'll get STAR CLUB ACCESS to these three exclusive opportunities with other YL Stars! Some of our best friends have been found through this oily community!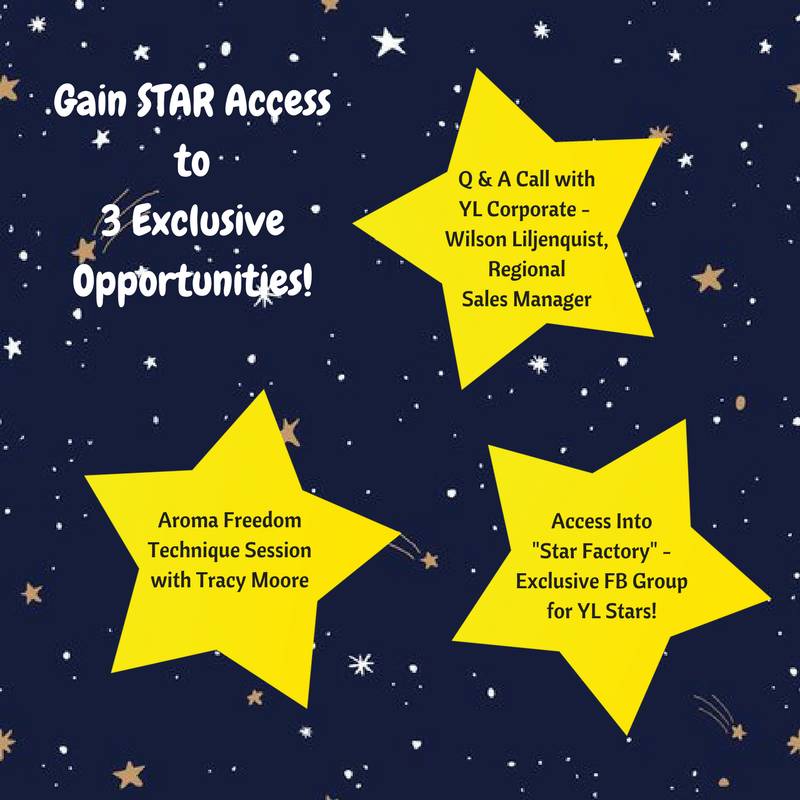 Aroma Freedom Technique Zoom Call with Tracy Moore (Oils & Emotions Expert / The Mix Contributor) on Wednesday, May 2nd, 8 pm EST – walk through AFT with a fabulous facilitator, using the power of YL essential oils (Stress Away, Peppermint, and Frankincense, plus a few others if you have them) to instantly and irresistibly shift your mental state, mood, and ability to take positive action. Through this process you'll learn how to identify what you really want in life, what's blocking you, how to release these blocks in a matter of minutes and how to incorporate a simple, daily practice to keep you on track. Wait until you experience this life-changing tool! A recording will be made available for a week following the call for any unable to make it live.
Exclusive online meeting with Wilson Liljenquist, Regional Sales Manager at Young Living, on Monday, May 7th, at 8 pm EST. Wilson has agreed to fill us in on some of the inner workings of the Young Living company and answer our questions live! Wilson is fun, engaging and inspiring. You'll love spending time with him!
Access to an exclusive "Star Factory" FaceBook group, which is a fun, active community of other YL Stars who share all kinds of great ideas!
So, this April, REACH FOR THE STARS!!!
***Club Star is being independently offered and is not a Young Living sponsored promotion. This is open to members who have enrolled through us or through a member of our team.
Our Mission: Love Others Well & Empower Them to Do the Same