Oct 2, 2017 04:34 PM Central
Andrea & Brian Johanson
HAPPY October! Mmm…fall…the leaves are showing signs of changing, crisp mornings and cooler weather are rolling in. YL certainly had the season in mind when they decided on this month's awesome promos since they're geared toward keeping us all well and happy during this cozy season. Let's take a closer look at what we can get for free this month!
Cinnamon Bark Vitality 5-ml* (100 PV): Aside from pumpkin spice, is there anything more fall than cinnamon? That's why this Cinnamon Bark Vitality is the perfect promo for this month. Add a drop to your oatmeal or incorporate it in your baked goods to enjoy its spicy, delicious flavor, or add it a vegetarian capsule and take it as part of a daily health regimen. As an important part of Thieves and Inner Defense, you probably knew that it supports a healthy immune system, but did you also know that it helps support healthy digestion? That's a fun, fall fact!
Raven 15-ml* (190 PV): It's inevitable - as the cooler weather comes in, our respiratory systems take a hit. So for those times when you're in need of support in that area, or you just want to enjoy its refreshing aroma, put Raven in your diffuser and breathe freely. A blend of Ravintsara, Lemon, Wintergreen, Peppermint, and Eucalyptus Radiata, it's also great when applied topically to your chest or throat, where it will provide a cooling, comforting sensation.
DiGize 15-ml (190 PV): Remember when I mentioned baked goods when I was talking about Cinnamon Bark Vitality? Well, sometimes the richness of the food we eat during Fall can be a bit taxing on our digestive systems. DiGize to the rescue! Rub a few drops of DiGize on your stomach to help ease digestive discomfort or do it right after a meal to support healthy digestion. In our house, we like to take 4 drops each of DiGize, Lemon and Peppermint in a vegetarian capsule for digestive support. DiGize is second to none for digestive system support!
Breathe Again Roll-On (250 PV): Ahh…Breathe Again. This roll-on is a must have for fall (and as we roll on into Winter - pun slightly intended). With the shift in seasons and our immune and respiratory systems working overtime, the invigorating and refreshing aroma of Breathe Again will help you be at ease in cooler weather. Not only that, it's great to apply on your chest before a workout or any other strenuous physical activity. I always keep a bottle of this in my purse during fall and winter, so I'm super excited that it's part of the promos this month!
Super C Chewable Tablets (300 PV): Our immune system needs all the support it can get, and even though we're diffusing Thieves and doing our normal wellness routines, we still need a little extra help sometimes (especially as it gets colder). That's where Super C Chewable Tablets in. Let's take a look at the technical description from Young Living: "Super C combines pure Orange essential oil with a proprietary blend of camu camu, acerola, cherry, and rose hips fruit powder to create a powerful immune-supporting supplement. Together, these premium ingredients deliver desirable polyphenols, carotenoids, and optimal amounts of vitamin C in a convenient chewable tablet." Basically, it's really, really good for you and will give your immune system that extra boost it desperately needs this time of year!
Here's the full breakdown of October's PV promos:
100 PV:
Cinnamon Bark Vitality 5-ml*
190 PV:
DiGize 15-ml
Raven 15-ml*
Cinnamon Bark Vitality 5-ml*
250 PV:
Breathe Again Roll-On
DiGize 15-ml
Raven 15-ml*
Cinnamon Bark Vitality 5-ml*
300 PV:
Super C Chewable Tablets
Breathe Again Roll-On
DiGize 15-ml
Raven 15-ml*
Cinnamon Bark Vitality 5-ml*
*Remember, in order to get the Essential Rewards Exclusive 5-ml Cinnamon Bark Vitality and/or the Essential Rewards Exclusive 15-ml Raven, you have to be enrolled in Essential Rewards (ER) and have an order that meets the PV requirements for those items. The extra bonus of meeting these PV amounts with your ER order is that you get even more ER points to spend later.
Not on ER yet? You're in luck! We're doing a special giveaway for our new ER members! Place your first ER order by October 15th and be entered to win a Desert Mist diffuser! We'd love to help you with personalized suggestions for your cart if you need help! Please let us know!
So, there they are, the fabulous fall promos for October. There's SO much to fall in love with and you get to do it for FREE!!!!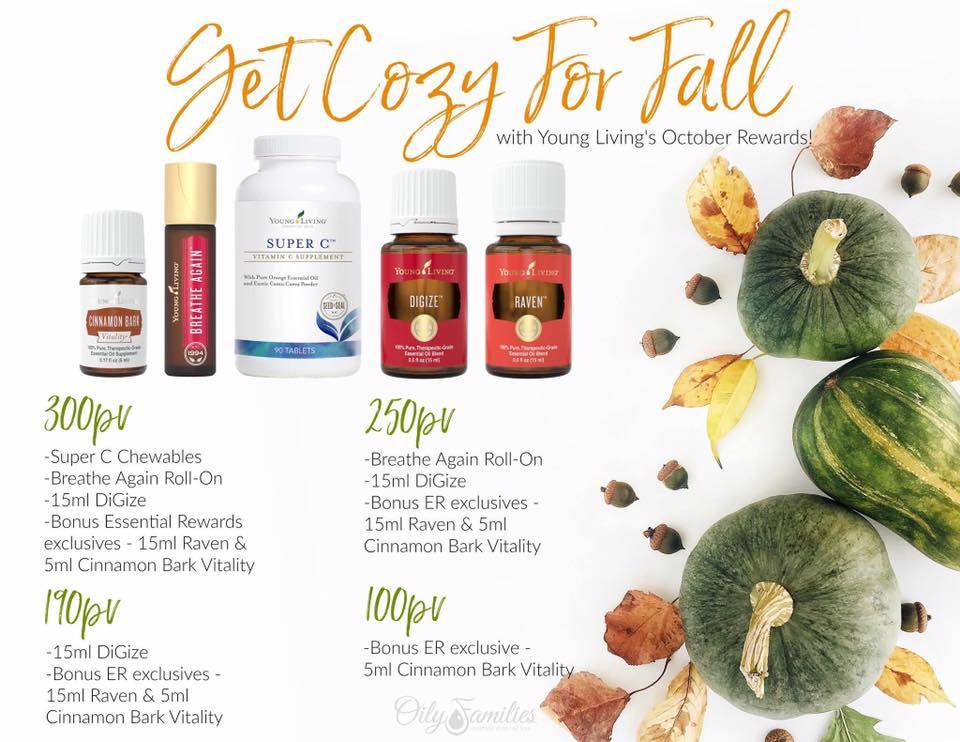 Our Mission: Love Others Well & Empower Them to Do the Same