Jan 11, 2019 01:26 PM Central
Andrea & Brian Johanson
Don't mind me doing my little happy dance over here! Feel free to join me!
DESERT MIST PREMIUM STARTER KITS ARE 10% OFF THROUGH MONDAY!!!!
Already a member? This is your time to grab another diffuser (Because we all need another diffuser in our lives!) and restock your oils in the process. Maybe you need one for the office or your college kid or just another room in the house!
It's also the perfect time to sign up your spouse with his or her own kit! When you do, YL will send you a thank you check! That's like getting additional money off on an already incredible value (even without the discount!)
Not a YL Preferred Member yet??? How long have you been waiting??? NOW is your time!!! You can get started at 10% off using this link!
Share with your friends and family (#itswhatwedo) and you'll get a thank you check for each person who gets their own starter kit! All you need to do is give them your member number when they sign up!
Local friends, I'm holding 3 classes next week, any of which will help you have a solid foundation for making the most out of each of your new oils! Grab your kit now at a discount, then come to one of the classes so you're ready when your kit arrives! (All of the class information is on the events page!)
Here are ALL of the details that you'll want to know!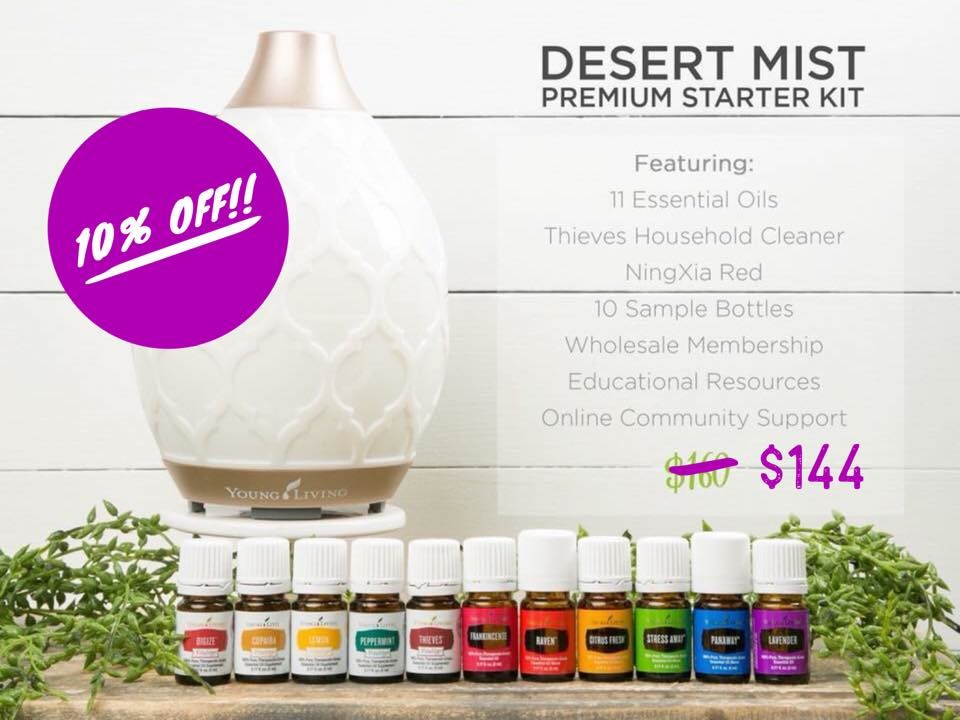 For a limited time, members can receive 10% off the cost of our Premium Starter Kit (PSK) with a Desert Mist Diffuser (English and Spanish versions)!

Along with this beautiful diffuser, the Premium Starter Kit includes "TEN" 5 ml bottles of premium essential oils, plus a 5 ml bottle of Stress Away, an AromaGlide roller fitment, and samples of Thieves Household Cleaner and NingXia Red.
This offer starts today, Friday, January 11, at 8 a.m., MT, and runs through Monday, January 14, at 11:59 p.m., MT, and is Quick Order only, while supplies last.
Limit one PSK with Desert Mist Diffuser per existing member or new enrollee.
PSK with Desert Mist Diffuser (English)
Item No.: SKU 22397
Size: N/A
Wholesale Value: $160
Promotion Price: $144
PV: 90

PSK with Desert Mist Diffuser (Spanish)
Item No.: SKU 22442
Size: N/A
Wholesale Value: $160
Promotion Price: $144
PV: 90
Our Mission: Love Others Well & Empower Them to Do the Same