May 1, 2018 03:34 PM Central
Andrea & Brian Johanson
May has blossomed, meeting us with celebrations and writing new chapters on this journey we call Life!

Young Living's May Promo freebies can support us though all the festivities and end of the school year excitement that fill our May calendar!
Lime Vitality and Cinco de Mayo go hand in hand like peanut butter and jelly. Add Lime Vitality to your marinades for fajita meats and veggies. A drop or two of Lime Vitality will enhance the flavor of your homemade salsas and guacamole. Check out our
blog post on Lime
for additional recipes and tips for usage!
Celebrate Mom mid-month with a spa day. Diffusing Eucalyptus Radiata will create a relaxing spa like environment any day of the year!
Help your young scholars and graduates finish the school year strong with a dab of Clarity in the mornings. Personally, I LOVE to diffuse Clarity and Motivation when I'm working at my desk, but often apply Clarity on my temples and behind my ears for those times when I just need some CLARITY!
You can diffuse Juniper and Thieves to cleanse and freshen your home for any out of town guests that may visit throughout the month. Not only that, Juniper is supportive of the circulatory system and healthy skin, has detoxing properties and is also supportive of emotions, evoking feelings of love and peace. When we're super busy, our bodies often pay the price for it, so busy seasons are an especially good time to support our immune systems with Thieves. Take good care of YOU!
After a month of excitement you'll welcome the rest and relaxation that Peace and Calming can provide. Diffuse it at bedtime or wear it like perfume any time you need a bit of peace & calming in your day!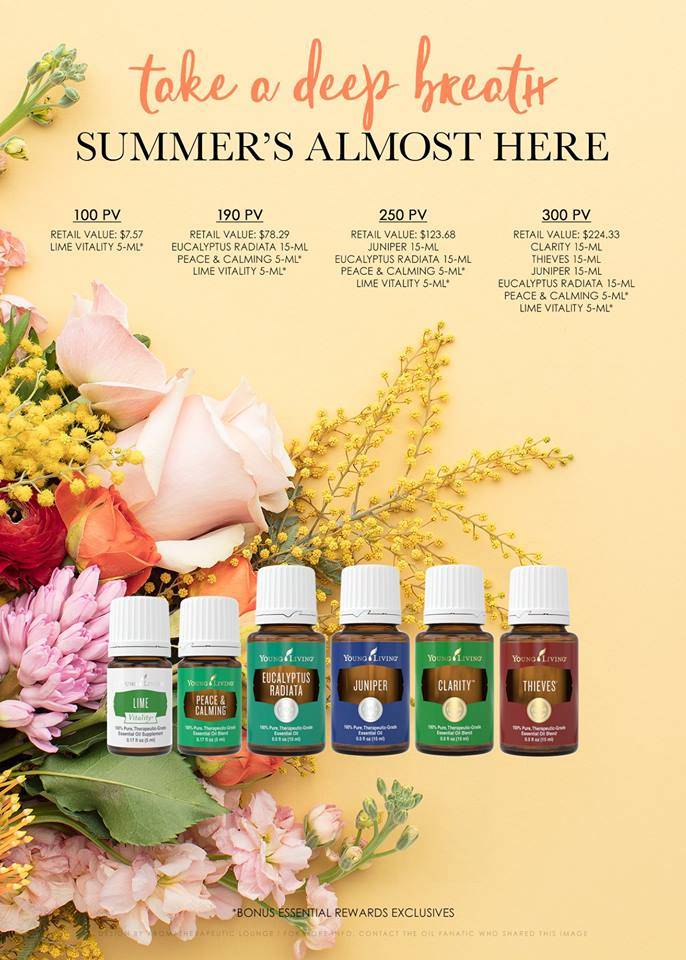 Here's the full breakdown of the May PV promos:
100 PV:
Lime Vitality 5-ml*
190 PV:
Eucalyptus Radiata 15-ml
Peace & Calming 5-ml*
Lime Vitality 5-ml*
250 PV:
Juniper 15-ml
Eucalyptus Radiata 15-ml
Peace & Calming 5-ml*
Lime Vitality 5-ml*
300 PV:
Clarity 15-ml
Thieves 15-ml
Juniper 15-ml
Eucalyptus Radiata 15-ml
Peace & Calming 5-ml*
Lime Vitality 5-ml*
*Remember, in order to get the Essential Rewards Exclusive Lime Vitality 5-ml and the Essential Rewards Exclusive Peace & Calming 5-ml, you have to be enrolled in Essential Rewards (ER) and have an order that meets the PV requirements for those items. The extra bonus of meeting these PV amounts with your ER order is that you get even more ER points to spend later!
Our Mission: Love Others Well & Empower Them to Do the Same