Apr 2, 2018 11:36 AM Central
Andrea & Brian Johanson
If you got my weekly email two weeks ago, you read my rave reviews about this product and my lament over not trying it sooner. Now, YL has released a reformulated version of this product that only makes it better than what it was, including the fact that this reformulation is gluten free!!! YEA!!!! Keep in mind that this new formulation has a different item number, so be sure to use the one listed below when you put it in this month's order.
By the way, those who attend the Girls' Night Out DIY Skincare event on the 27th will be going home with a sample of this favorite product of mine AND you can get one for free if you become a Club Star member this month! Don't know what Club Star is??? Message us for details on how YOU could become a member of this exclusive club and get some great gifts and rewards in the process!
Here are all of YL's details on the reformulated Satin Facial Scrub: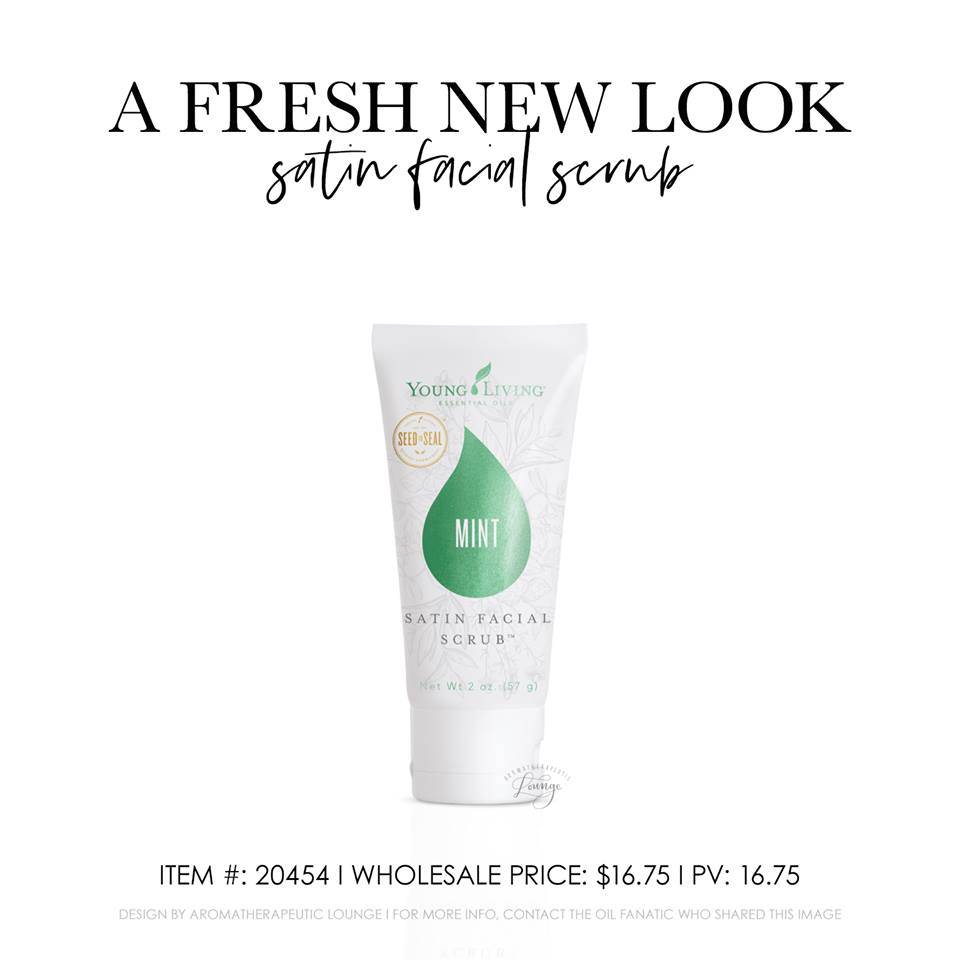 We're ready for a clean slate! Our Satin Facial Scrub™, Mint has a new, 100 percent naturally derived formula that's designed to gently polish skin to reveal a glowing, radiant look. This reformulated scrub now features exfoliating apricot seed, raspberry fruit extract and mango seed butter, and the fresh scent and invigorating feel of Peppermint essential oil.
Item #:20454
Size: 2 oz.
Wholesale Price: $16.75
Retail Price: $22.04
PV: 16.75
Why was Satin Facial Scrub, Mint reformulated?
Young Living is always looking for ways to improve our products. We saw an opportunity to make this product 100 percent naturally derived, and the new formula better fits our vision and the needs of our members.
What are the differences between the two formulas?
Satin Facial Scrub is now a 100 percent naturally-derived formula. We have removed wheat and soy proteins from the formula and have also added raspberry fruit extract (to act as an antioxidant), and apricot seed (as a natural exfoliant). These additions have also changed the texture and consistency of the product for a more gentle and moisturizing experience.
What are reasons to use the new formula?
Removes dead skin cells on the surface of the skin
Evens the appearance of skin tone
Smooths and softens skin texture
Improves the appearance of dull skin
Reveals brighter, healthier-looking skin
Promotes glowing, radiant skin
Exfoliates to help products applied afterward (toner, lotions, etc.) absorb more easily
Doesn't strip or dry out skin
Is formulated with naturally derived exfoliants
Provides noticeable improvement after just one use
Has an invigorating and cooling effect from Peppermint essential oil
Is formulated without sulfates or parabens
Is appropriate for oily to dry skin
Want more information? Check out
this video
that YL's Product Training & Education team did on FaceBook!
This is the next YL product that you're going to fall in love with!
Our Mission: Love Others Well & Empower Them to Do the Same