Mar 10, 2022 04:18 PM Central
Andrea & Brian Johanson

God has been speaking to me over and over recently through the story of the paralyzed man at the Pool of Bethesda. Reading the account in The Passion Translation has helped me to see and hear things I'd never noticed before.
You can find the story in John 5: 1-16. You'll read how Jesus traveled to Jerusalem for one of the Jewish feasts and while there, He went to an area in the city near the Sheep Gate, which is where the sacrificial animals were brought into the temple. The note on this verse makes an observation that "the sick gathered there like bruised, wounded sheep, needing healing" (note, vs.2). I was struck by the recognition that hundreds were lying under the covered porches . . . "all of them waiting for their healing" (vs. 3). The Lord pierced my heart when I read that because I sensed His longing for ALL to be well – then and now. So many are still waiting on God for healing – physically, emotionally, mentally, and spiritually . . .
The man at the pool had been waiting for 38 years. Time after time, he had tried to scramble into the pool when the angel stirred the waters, hoping to be the first in and be healed, yet he was unable to get healed from the source he had relied on for so long.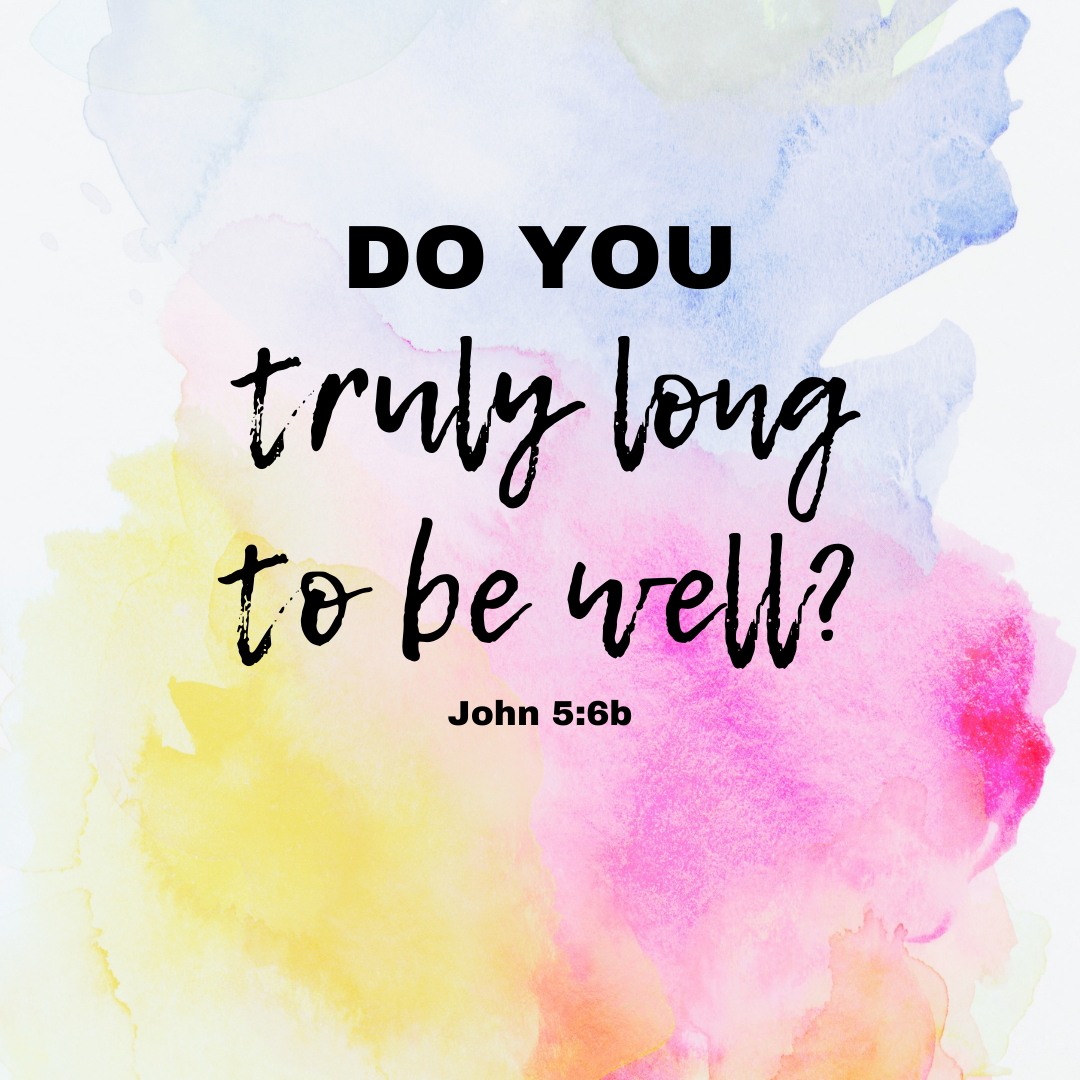 When Jesus saw him, His first question to the man was, "Do you truly long to be well?" (v. 6b) That may seem like an odd question to ask, but this man had created an identity as "the paralyzed man" and to be able to walk again meant letting go of who he was known as and who he identified himself as being. Life and his approach to it would look very different and feel unfamiliar if he were able to walk again. That was likely a little scary. Did he prefer to remain as he was, or was he willing to let go of how he saw himself?
The man never answered Jesus' direct question. Instead, he made excuses and blamed others for getting there first, "stealing" the healing he was longing for himself, yet he didn't recognize the Healer who stood before him. How often do we do that ourselves? We blame others when we don't get what we feel should be ours, we make excuses why we can't obtain it, and we may even miss the solution being right before us.
Interestingly, in turn, Jesus didn't respond to what the man said, neither did He pray for him to be healed. Jesus simply said, "Stand up! Pick up your sleeping mat and you will walk!" (v.8) The man had to act in obedience and do what he hadn't been able to do in 38 years.
In picking up his mat, he also had to break the Jewish Sabbath law that he had lived by all his life and choose to literally step into the new covenant Jesus was making available to him. The law he lived under couldn't heal, but Jesus was the fulfillment of the law (Matt. 5:17) and healing was found in Him.
The man never questioned Jesus' command to him. He acted immediately and when he took that step – I think more out of obedience than faith, he was healed, no longer paralyzed but taking steps forward into his destiny. The man didn't even know Jesus' name, let alone that He was the Messiah. Yet, he experienced the fullness of Jesus in that encounter – His love, miraculous healing, and also His passionate pursuit of the man's total freedom in every way, as we'll soon see.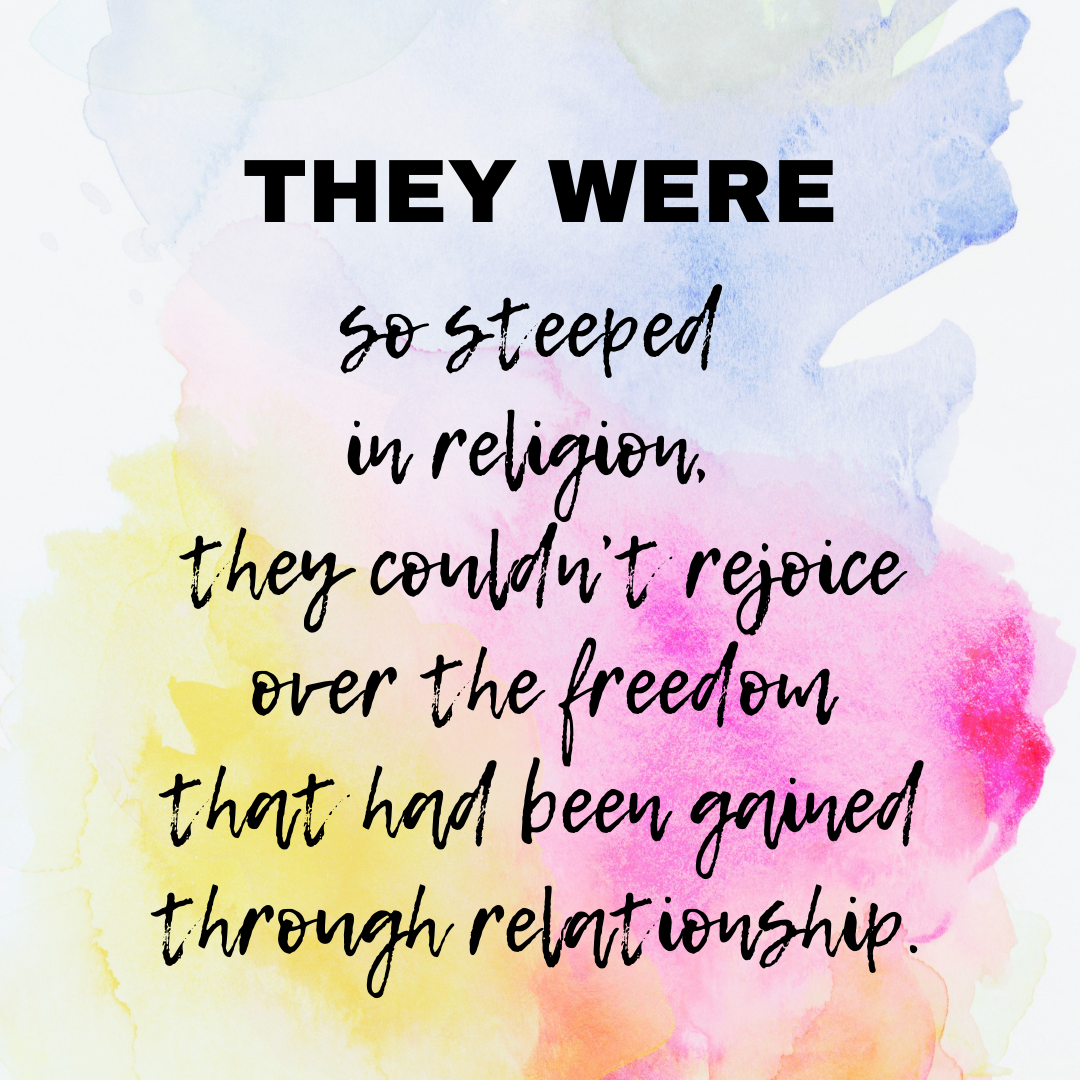 The crazy thing? The Jewish leaders didn't rejoice over the miracle of this man's healing but focused instead on the man breaking the Sabbath law. They were so steeped in religion, they couldn't rejoice over the freedom that had been gained through relationship. Unfortunately, we still see that in churches and Christian circles today. When Jesus doesn't fit within religious confines, many find it offensive.
As the story continues, Jesus found the man a second time. In this encounter, Jesus affirmed the man's healing, then told him to "Walk away from your sin so that nothing worse will happen to you" (v.14) Jesus' words to the man left me confused. What sin had the man committed?
As I spent time in God's presence asking Him about it, I asked if the man's sin had been not living life and engaging with his destiny and calling even though paralyzed? Maybe it was that he hadn't "walked" forward, despite his physical limitations, but instead wasted his life in self-pity? Maybe Jesus was telling him to act and take steps forward in his life because if he didn't, he would remain "paralyzed" and would end up in an even worse state of hopelessness that would steal life from him in even greater measure. If the man continued to believe he was useless, powerless, too many years had been wasted, and he was too old to make a difference now, he would remain just as paralyzed as he had been when he couldn't walk and that would be a sin. How often do we do and think similarly?
I believe Jesus was telling the man that he still had life to live and purpose to embrace. He was to walk forward, leave the past behind, and not allow what he had known previously in his life to keep him paralyzed from moving into all that still lay ahead of him. If he wasn't willing to do that, he would continue sinning by remaining paralyzed by his past mindset and perspective of his life.
The story doesn't record how the man discovered Jesus' identity, but he went back to the Jewish leaders and told them who had healed him. It ignited the Jewish leaders' persecution of Jesus – all because of what Jesus did on the Sabbath and how it broke their religious laws (v. 16).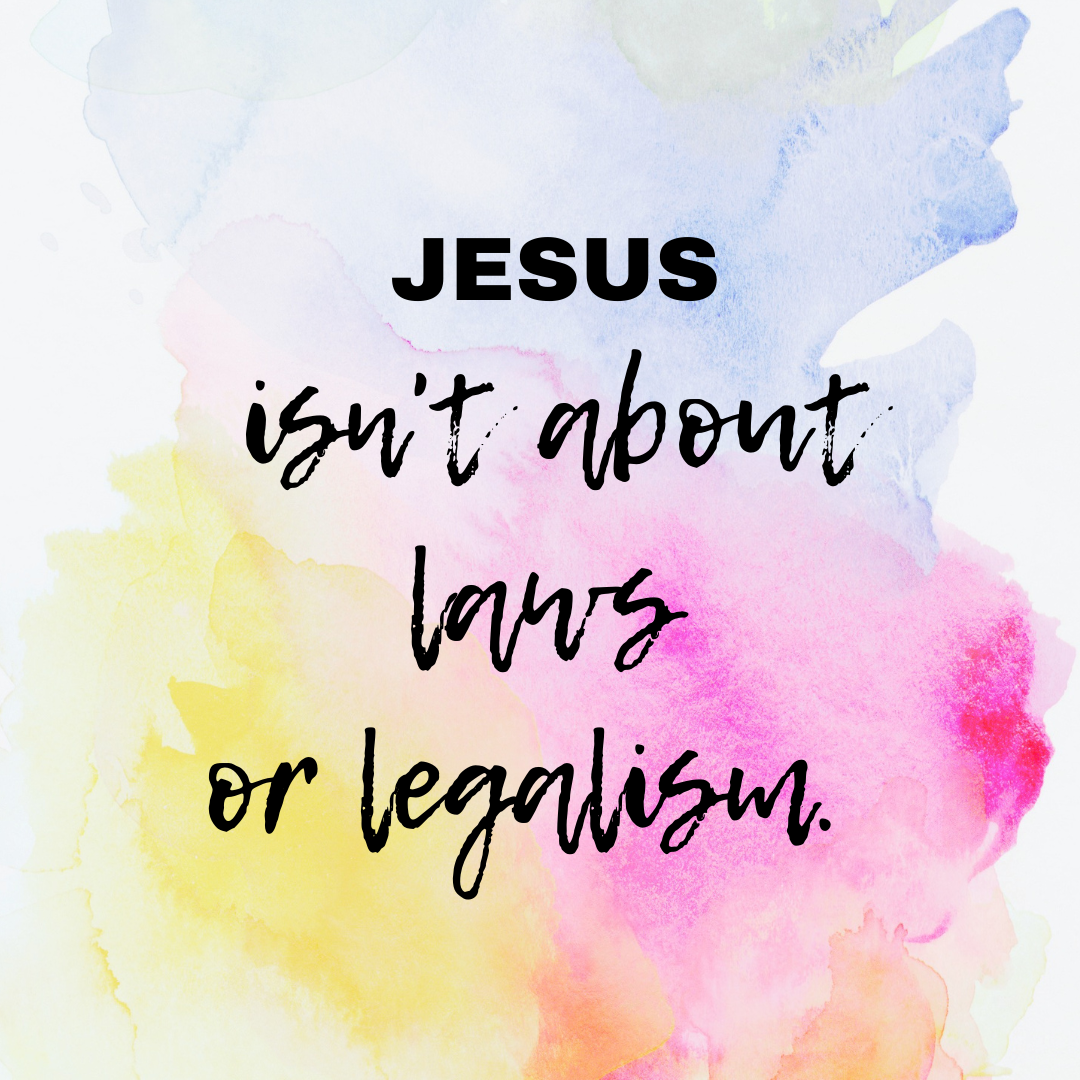 Jesus isn't about laws or legalism. He came to set us free from the law. The law only brings death. Jesus came to give us life.
So many of us remain in a paralyzed state each day. We allow mindsets, beliefs we have about ourselves and perceived limitations, as well as any number of accepted obstacles to prevent us from taking steps forward into our destinies and callings. We don't engage in the things God is telling us to do because we don't believe we're able, worthy, or young or old enough to accomplish the dreams God has placed in our hearts. We're afraid we'll stumble and fall, so we stay put, never venturing to stand up, pick up our mats, and walk.
I believe many have been paralyzed for a long time – even decades. God is able to make you walk. He's inviting you to stand up and take the first step into all He has waiting for you. Your future doesn't have to look like your past or your present.
Will you stand up? Will you let go of the identity you've embraced as your own and be willing to walk forward in the truth of who you've been created to be? Will you allow God to redeem "wasted" time and make something beautiful out of your testimony?
If your answer is yes, paralysis ends now.
If we can pray for you on your healing journey, please reach out to us!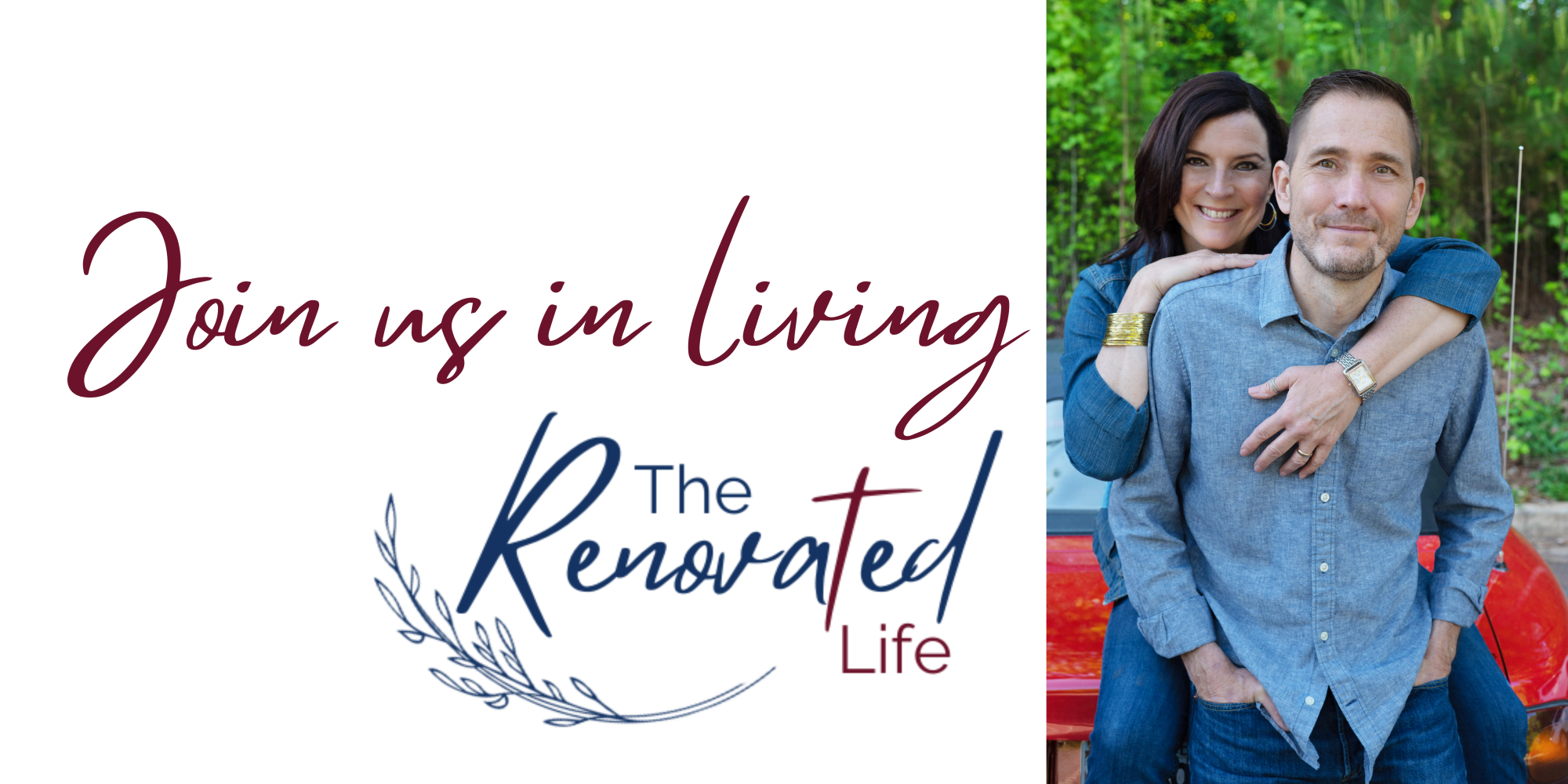 Our Mission: Love Others Well & Empower Them to Do the Same