Jan 3, 2022 02:55 PM Central
Andrea & Brian Johanson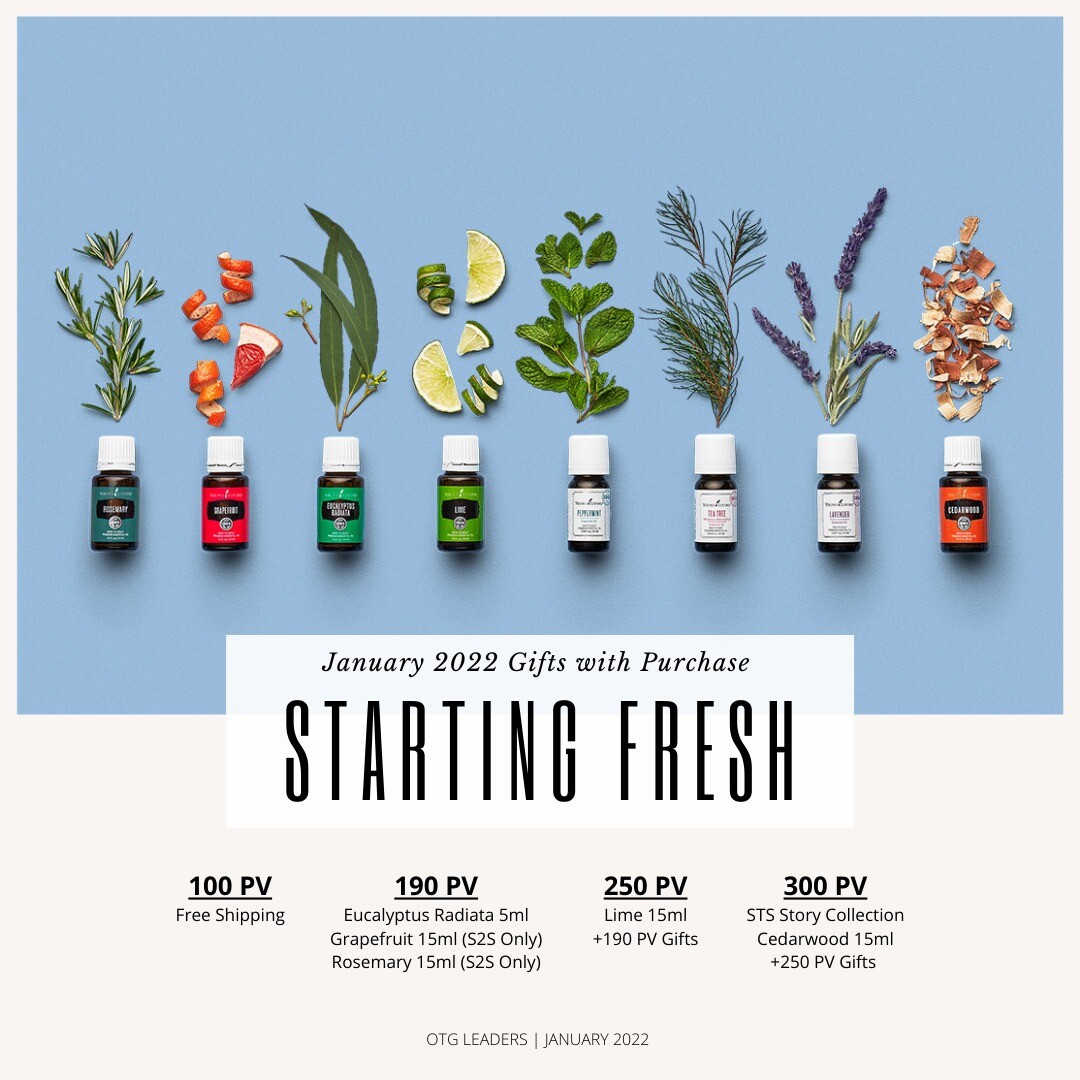 Young Living's January 2022 Gifts with Purchase
I absolutely adore these Gifts With Purchase! "Fresh" is the word that describes them and as we all start fresh with a new year, I'm ready for all the benefits these gifts have to offer! Check them out...
Here is the full breakdown of the US January 2022 Gifts With Purchase:
100 PV
190 PV
250 PV
300 PV
Seed to Seal Story Collection
*Remember, in order to get the Subscribe to Save Rosemary 15-ml and Grapefruit 15-ml, you have to be enrolled in the Loyalty Rewards program and/or have a Subscription order that meets the PV requirements for those items. The extra bonus of meeting all these PV amounts with your S2S order is that you get even more Loyalty Points to spend later!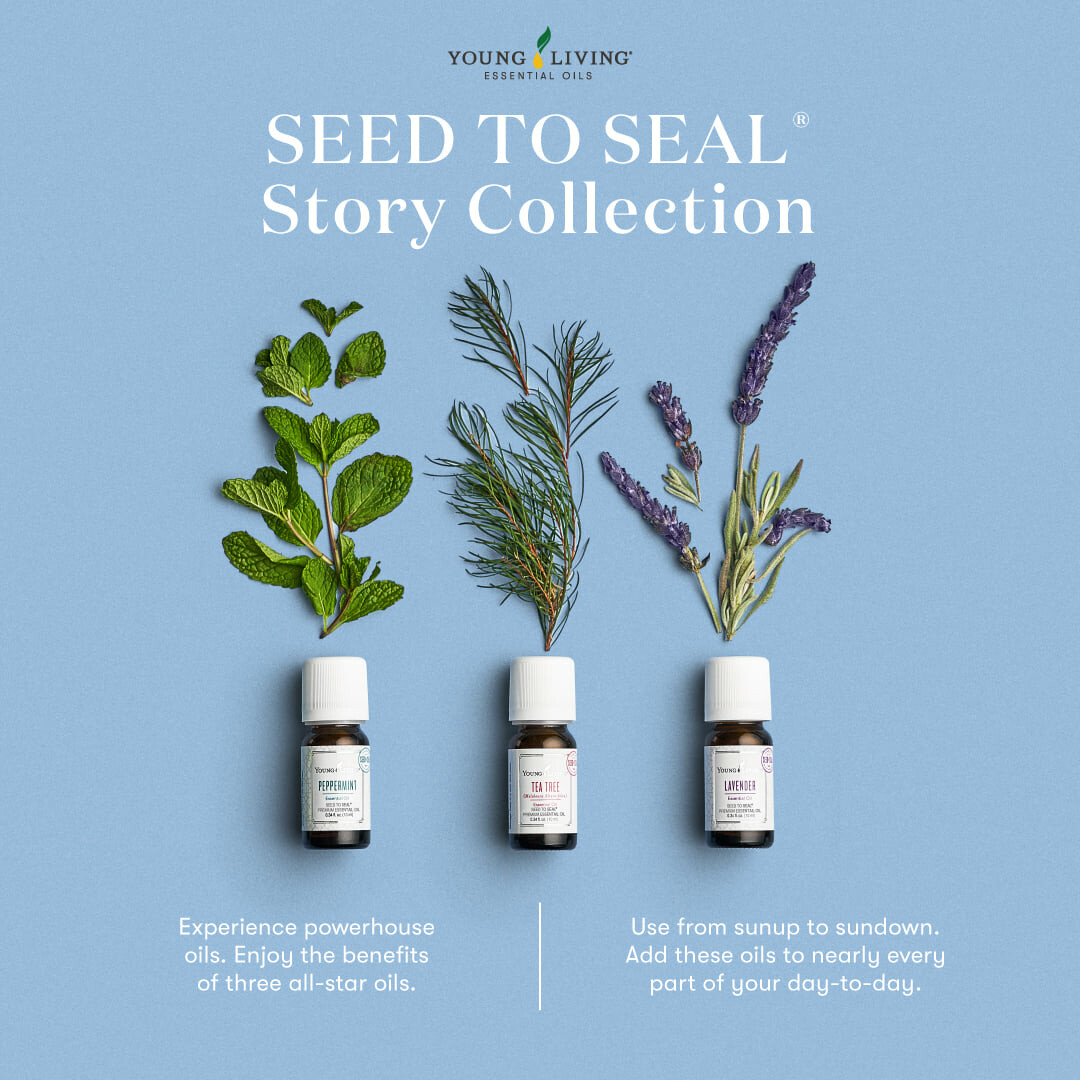 Seed to Seal Story Collection (300 PV tier)
This collection is 10-ml bottles of Lavender, Peppermint, and Tea Tree. They are cleansing, invigorating, calming, and so many things in between! Need help with a little muscle or head tension? Peppermint helps with a minty, soothing refreshment. Tea Tree and Lavender are great for winter skin. So many uses in just these three oils that you will find yourself going back to them every day!
• Experience three powerhouse oils. Drift to sleep with dreamy Lavender, bash the appearance of blemishes with herbaceous Tea Tree, and cool down those tired legs after a run with cooling Peppermint.
• Use from sunup to sundown. These essential oil favorites are easy to add to nearly every part of your day-to-day, from soothing skin care to homemade cleaners.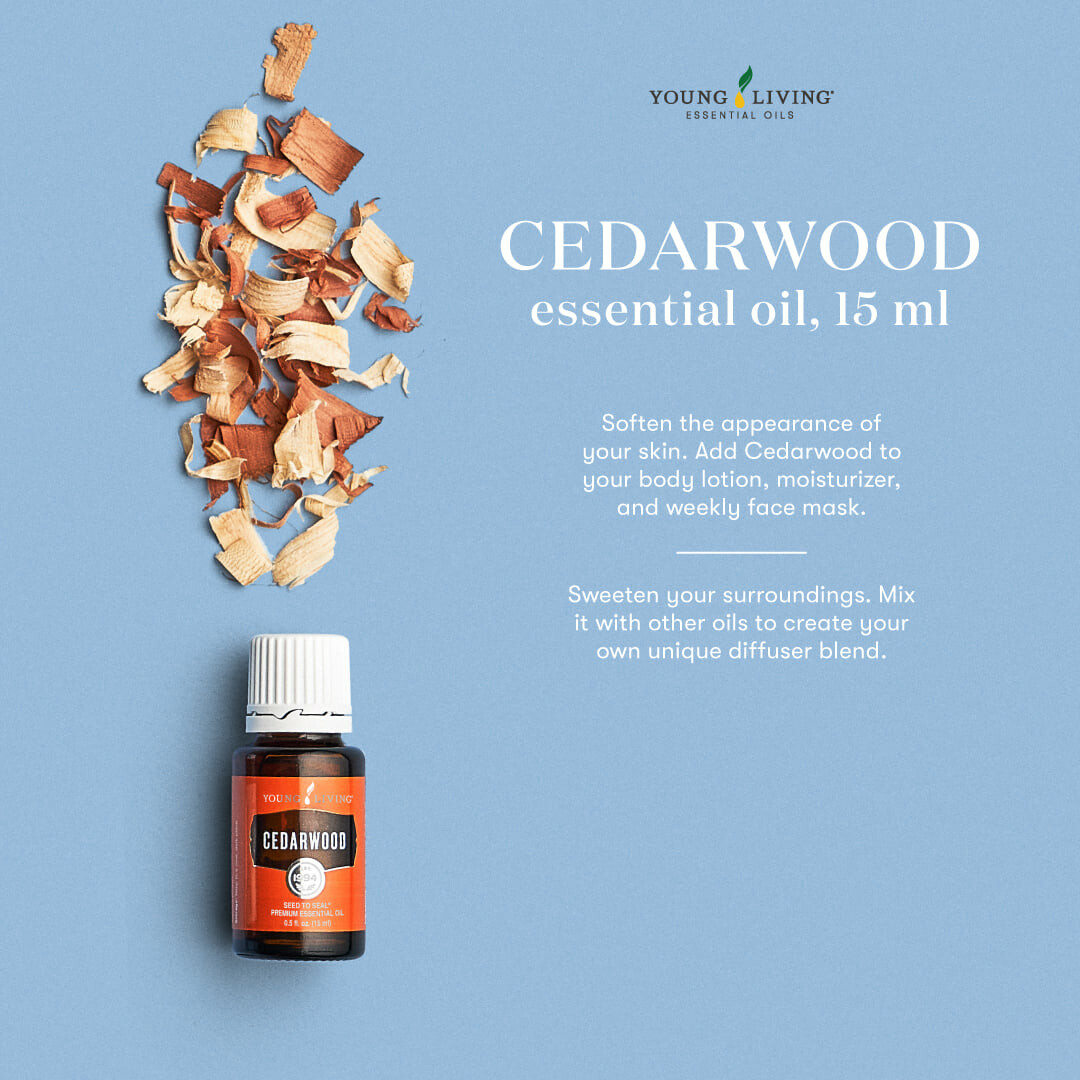 Cedarwood 15-ml (300 PV tier)
For most people, Cedarwood is just for sleep. Which it's very good for, by the way. But there's so. much. more. It's great for skin care, confidence, envisioning the future, and surprisingly good with certain oils in the diffuser! Check out the uses below and start exploring others when you get this bottle. It's so good.
• Treat those tresses. You have to wear your hair every day, so let Cedarwood make it your best-looking feature! Warm a few drops on your hands and fingers and gently rub it into your scalp for healthy-looking hair.
• Soften the appearance of your skin. Add Cedarwood to your nightly body lotion, daily face moisturizer, and weekly face mask and marvel at how it cleanses, moisturizes, and conditions your skin.
• Sweeten your surroundings. Share Cedarwood's calm, complementary scent by adding it to your diffuser blends. Mix it with citrus notes, floral accents, or earthy tones to create your own unique combination.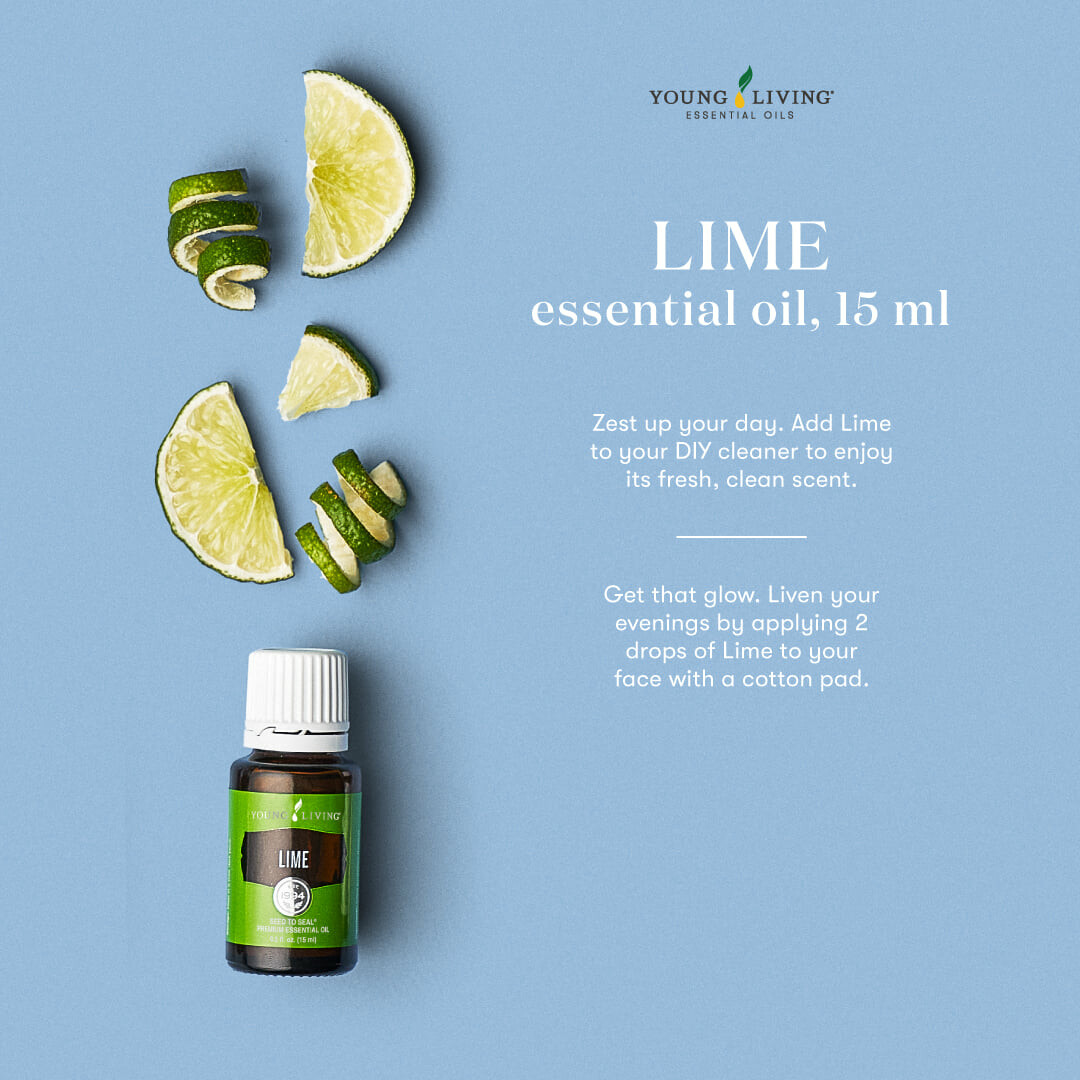 Lime 15-ml (250 PV tier)
Freshen up your diffuser blends with a little citrus twist! Lime adds a unique twist to some winter favorites. Combine it with Thieves or Purification and enjoy a little extra freshness with the comfort. You can even add a drop to your nighttime moisturizer!
• Add some zest to your day and take a mini tropical staycation in a bottle! Invite Lime's sunny, citrusy notes into your favorite spaces by diffusing it or add it to your DIY cleaner to enjoy its fresh, clean scent.
• Get that glow. What's a vacation without some spa time? Give your skin some glow by applying 2 drops of Lime to your face with a cotton pad or ball as you wind down for bed.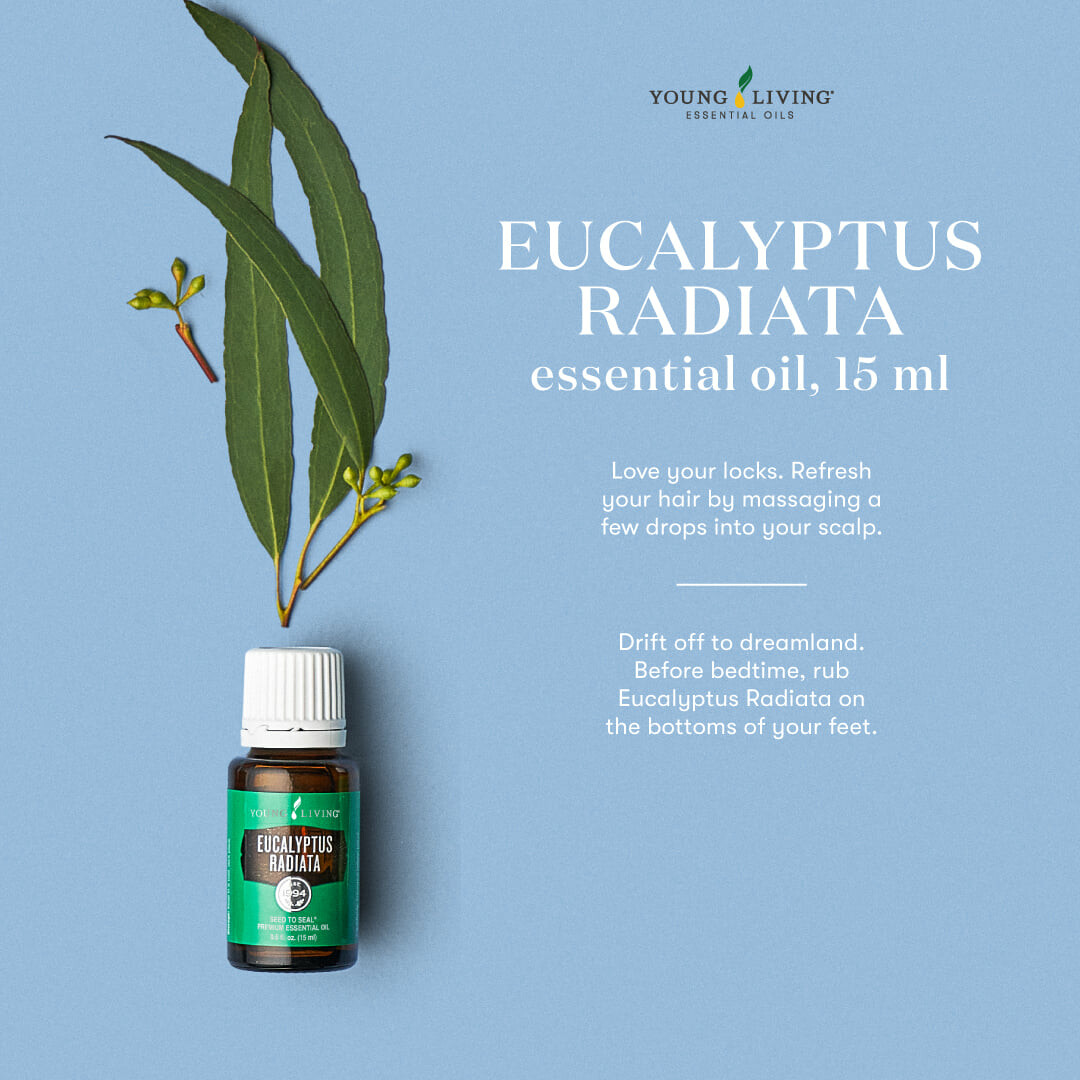 Eucalyptus Radiata 15-ml (190 PV tier)
Eucalyptus Radiata is one of the key oils in the Thieves blend, which brings a comforting familiarity when it's in the diffuser or used in a DIY chest rub with a carrier oil. Comfort, relaxation, and a fresh clean scent is what you get in this wonderful 15ml bottle!
• Love your locks. Give those tresses the royal treatment! Massage a few drops of Eucalyptus Radiata into your scalp so the rejuvenating scent can refresh your hair.
• Drift off to dreamland. Rub a little Eucalyptus Radiata on the bottoms of your feet and inhale the comforting aroma as you settle down for a long winter's nap.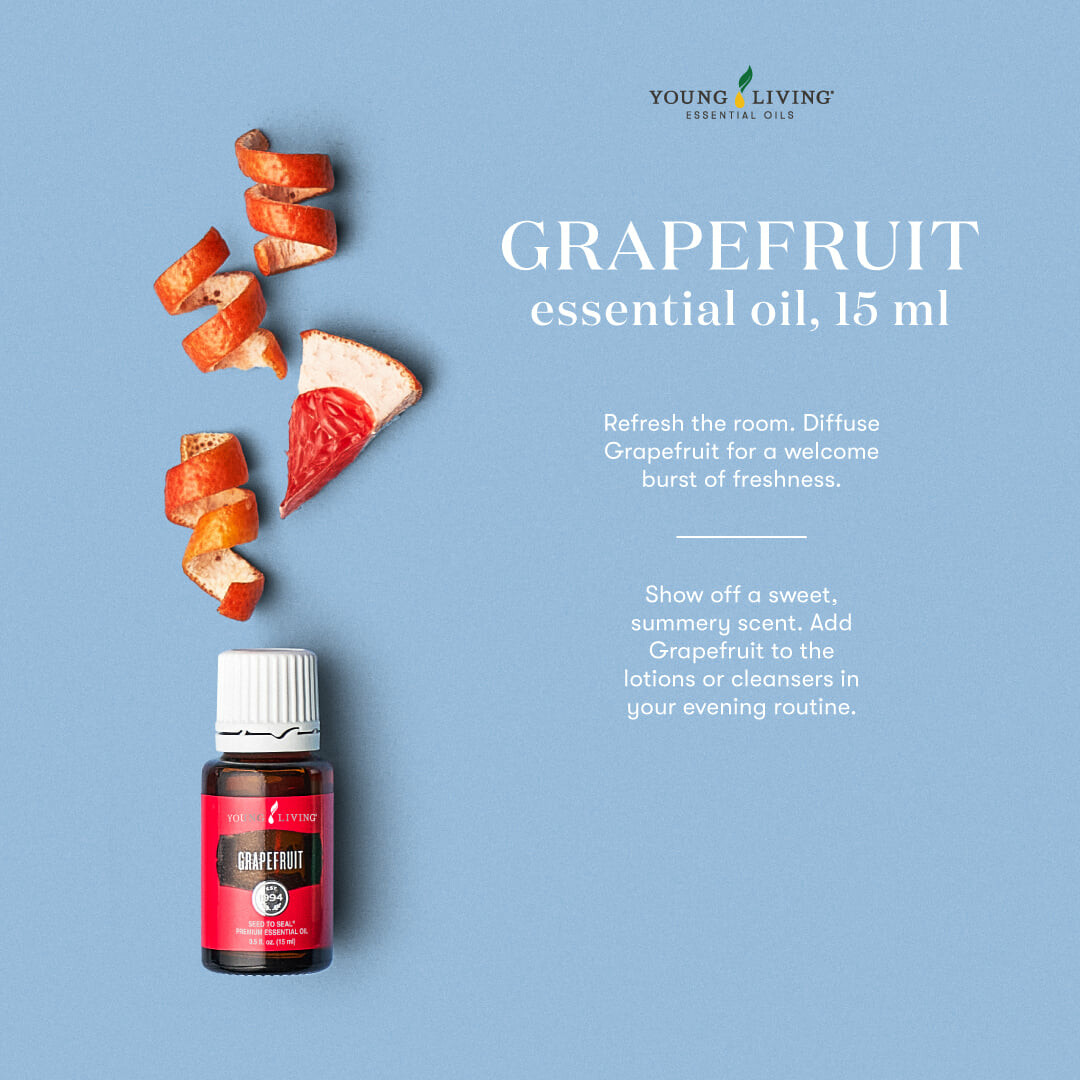 Grapefruit 15-ml (Bonus Subscribe to Save 190 PV tier)
Grapefruit is near the pinnacle of freshness! With a bit of sweetness along with the burst of citrus, Grapefruit will brighten up your home. In the diffuser, in your cleaner, or any way you choose to use it!
• Refresh the room. Want your room to feel like a sunny beach house? Grapefruit brings a welcome burst of freshness, whether you're diffusing it or using it to zest up your household cleaners.
• Show off a sweet, summery scent. Grapefruit's sweet, invigorating aroma can brighten any day. Just dab a little on your wrists and neck to sport a fresh personal scent.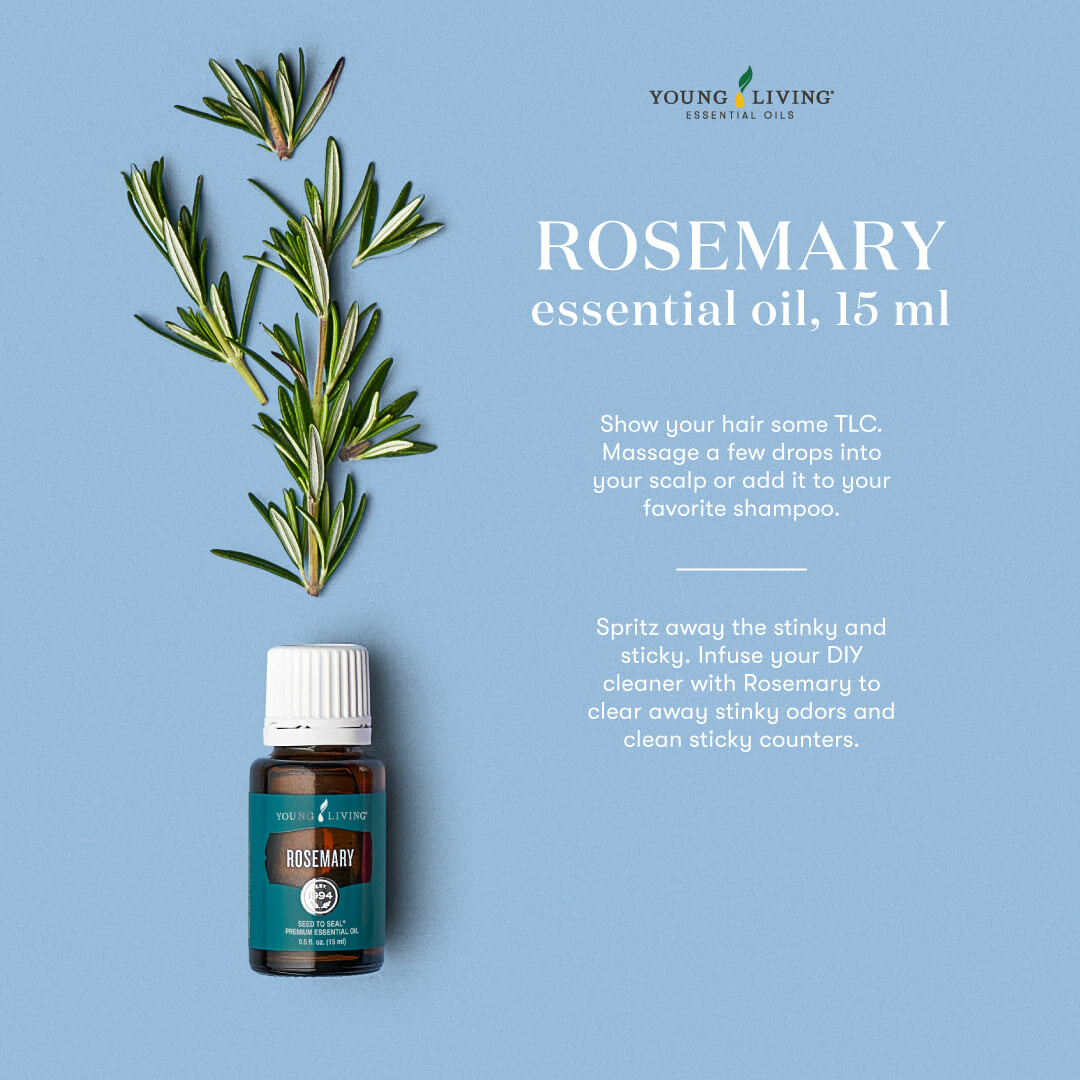 Rosemary 15-ml (Bonus Subscribe to Save 190 PV tier)
The herbaceous, fresh scent of Rosemary pairs well in the diffuser with citrus oils or can help bring out the notes in blends that it's already in like Thieves! On top of that, it's great for those days when you need to focus up and get things done! Psst! Some really helpful tips below too.
• Show your scalp some TLC. Massage a few drops of this fresh, woodsy essential oil into your scalp by adding it to your favorite shampoo. Mix it with Cedarwood, the 300 PV-tier gift with purchase, for a refreshing scalp mask.
• Spritz away the stinky and sticky. Clean to your heart's content, spritzing away stinky odors and sticky counters with a Rosemary-infused DIY cleaner.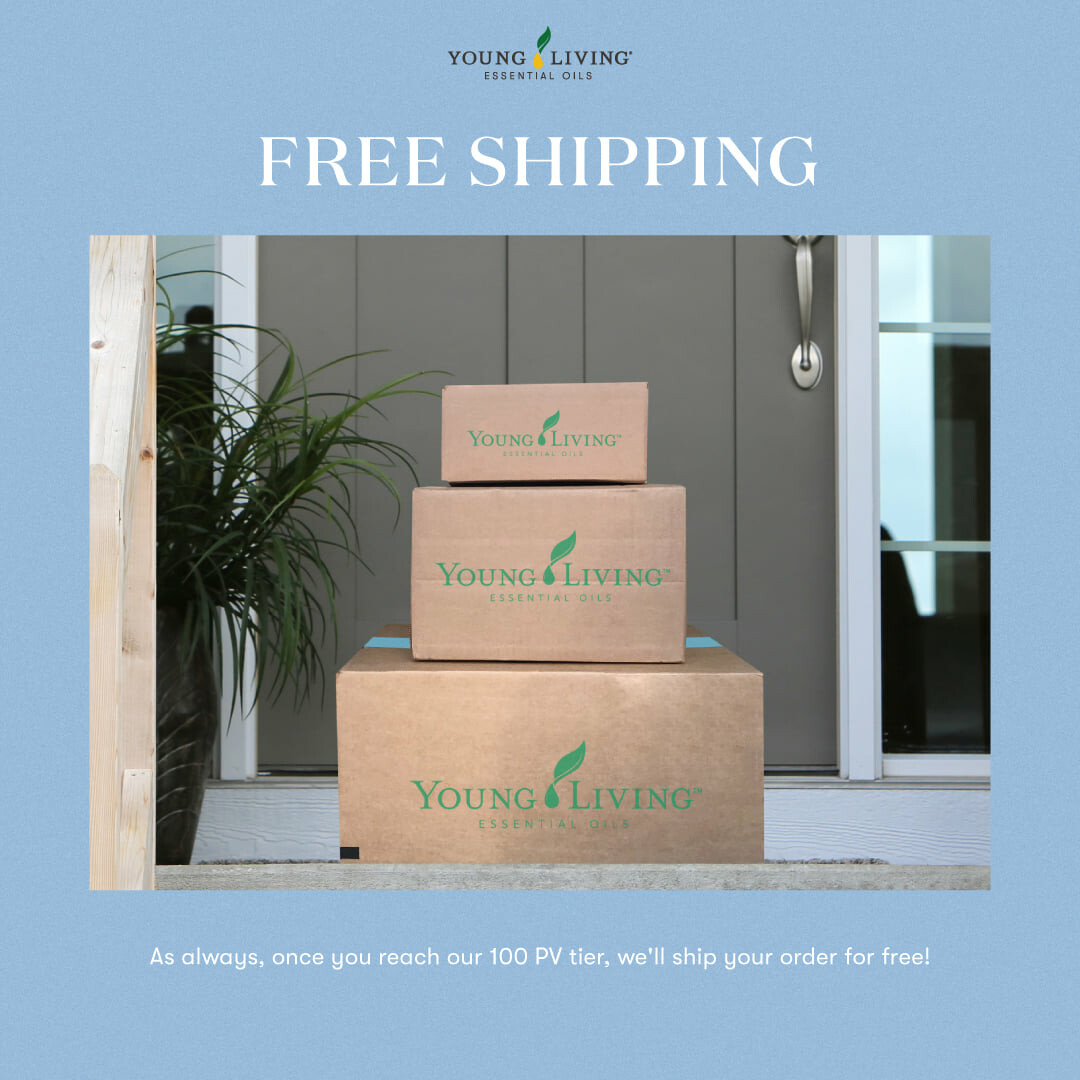 Free Shipping (100 PV tier)
Even in the new year, shipping on orders over 100 PV are free. Free as free can be.
• Save on shipping. As always, once your reach our 100 PV tier, we'll ship your order for free!
Don't have a Young Living account yet? I'd love to help support you on your wellness journey! Click the link below to access wholesale pricing.
Our Mission: Love Others Well & Empower Them to Do the Same