Oct 1, 2021 01:55 PM Central
Andrea & Brian Johanson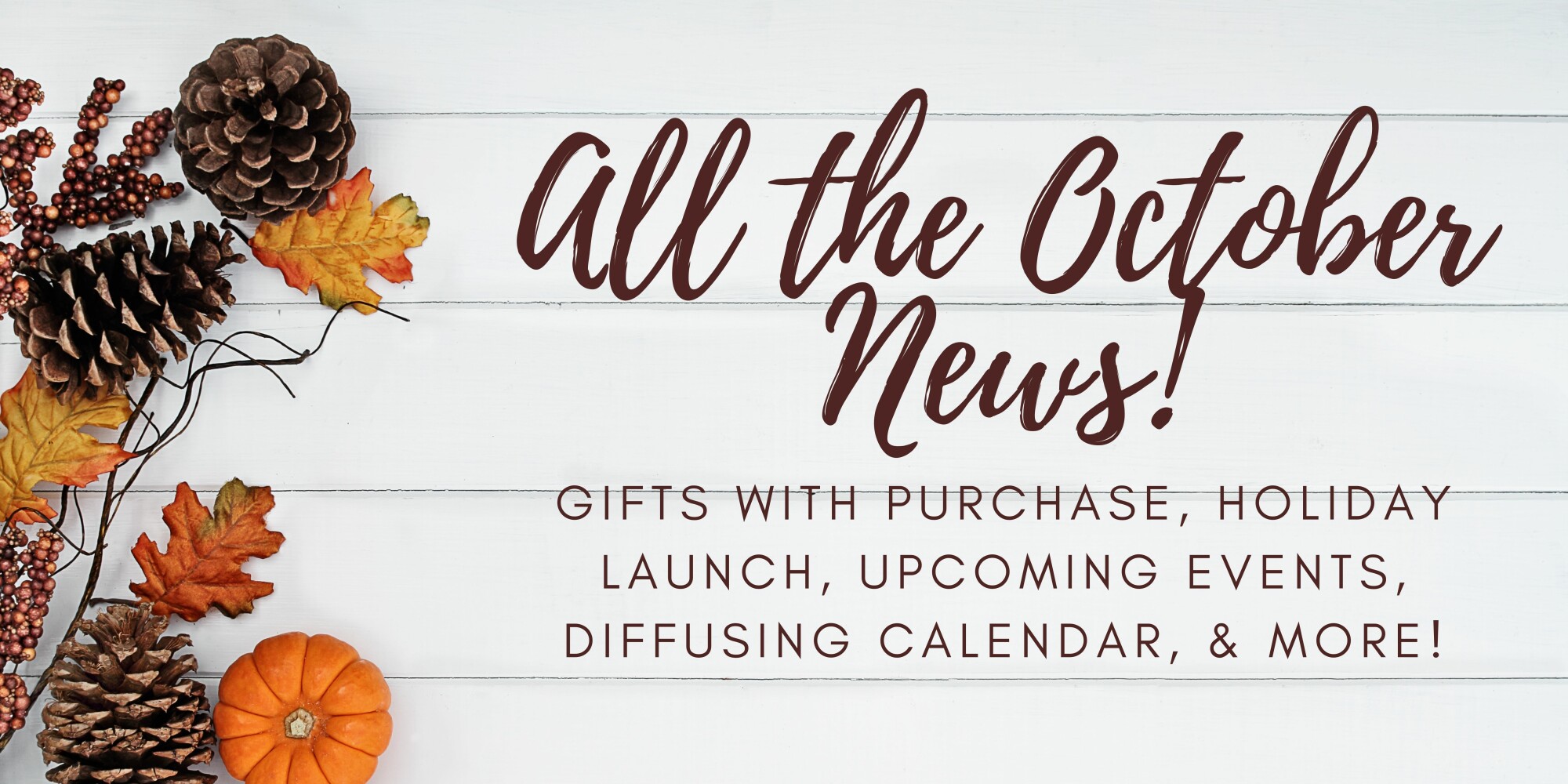 OCTOBER . . . THERE'S NOTHING QUITE LIKE IT!
For most of us, a chill is finally in the air, even if it's only at night. Leaves are changing color, fall decorations are out, and you can smell AUTUMN . . . Young Living is helping us live our healthiest fall AND enjoy our favorite fall scents with all the benefits!

I promise as I educated on the benefits of Cinnamon Bark and Clove over the last two weeks in my newsletters, I had no idea they'd be gifts given to us this month! If you missed catching those and would like me to resend them, please let me know. There's a ton of great information on uses and recipes for each of those oils!
Below, you'll learn more about the October Gifts with Purchase, hear more about the upcoming Holiday Launch, discover this month's events (online & in-person), plus get a great diffusing calendar to enjoy all month long. Let's get started!
---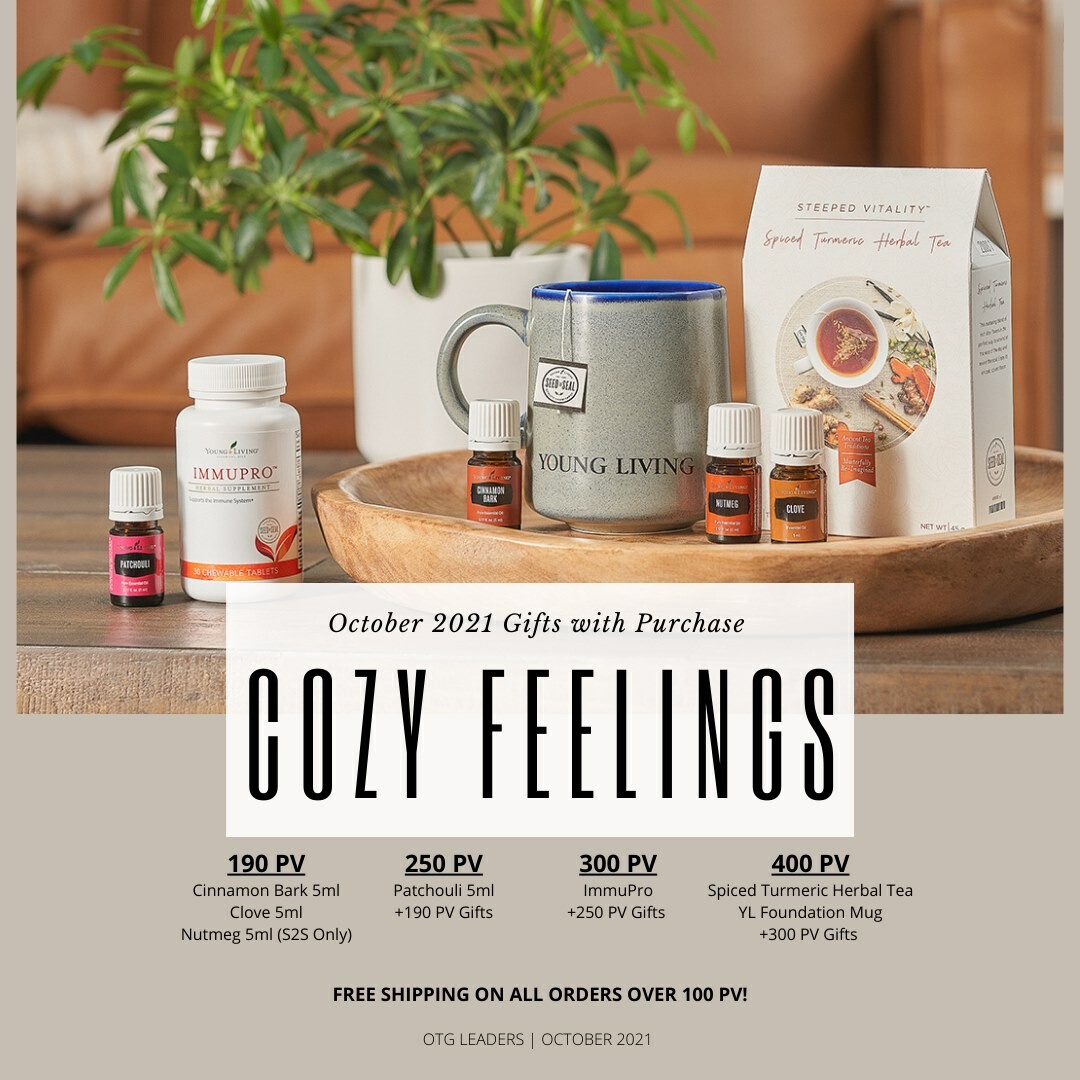 I'm in love with the fall diffuser blend possibilities with this month's Gift With Purchase! Plus, any time we get ImmuPro for free?! Yes, please and THANK YOU! I know you'll love each of these too!

Here's the full breakdown of the US October 2021 Gifts With Purchase:
100 PV
Free Shipping

190 PV
Cinnamon Bark 5-ml
Clove 5-ml
Nutmeg 5-ml*
Free shipping

250 PV
Patchouli 5-ml
Cinnamon Bark 5-ml
Clove 5-ml
Nutmeg 5-ml*
Free shipping

300 PV
ImmuPro
Patchouli 5-ml
Cinnamon Bark 5-ml
Clove 5-ml
Nutmeg 5-ml*
Free shipping

400 PV
Spiced Turmeric Herbal Tea*
YL Foundation Mug*
ImmuPro
Patchouli 5-ml
Cinnamon Bark 5-ml
Clove 5-ml
Nutmeg 5-ml*
Free shipping

*Remember, in order to get the Subscribe to Save Exclusive Spiced Turmeric Herbal Tea, YL Foundation Mug, and Nutmeg Vitality, you have to be enrolled in the Loyalty Rewards program (formerly known as Essential Rewards) and/or have a Subscription order that meets the PV requirements for those items. The extra bonus of meeting all these PV amounts with your S2S order is that you get even more Loyalty Points to spend later!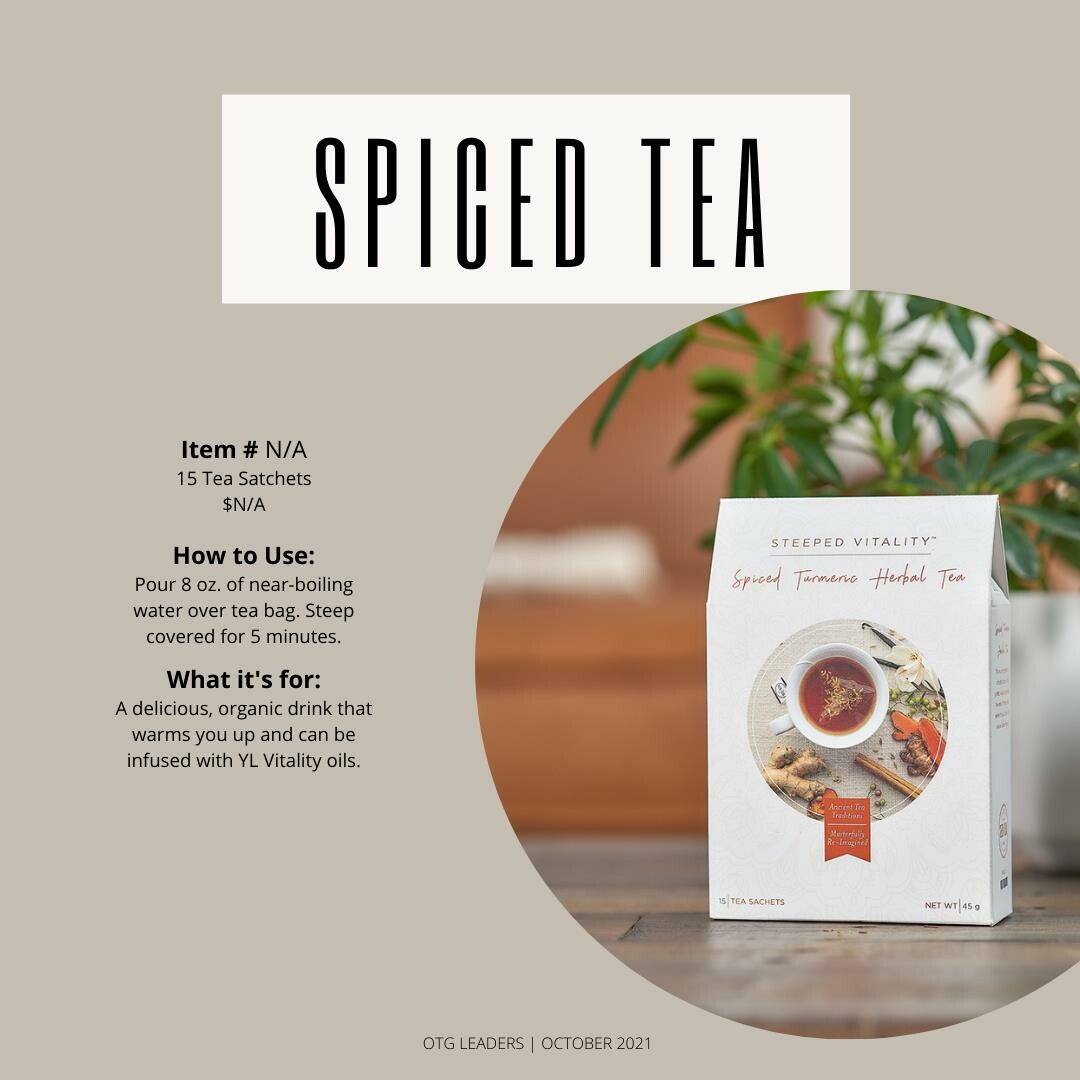 Spiced Turmeric Herbal Tea (Bonus Subscribe to Save 400 PV tier)
Hey tea lovers, check. this. out! This is such a treat! Snuggle up with a warm cup and relax by the fire this fall with a good book or watching your favorite, fall movie. Spiced Turmeric Herbal Tea is so good on its own (and it might even taste a little better in that Young Living Foundation Mug)! Some people like adding a little splash of their favorite creamer, along with a little honey or maple syrup to make a warm and cozy chai! Plus, look up the benefits of Turmeric and you'll love this tea even more! The awesome thing? YL is donating $1 to the Foundation for every 400 PV+ order!

• Brighten your morning. Pour yourself a cup of cozy first thing in the morning and enjoy the benefits of warm, comforting Spiced Turmeric.
• Kick back and relax. After a long day of overcast weather, settle into the evening with a dash of delish by pouring a mug of this spiced wonder.

YL Foundation Mug (Bonus Subscribe to Save 400 PV tier)
• Make something memorable. Mix up some low-sugar hot chocolate with some Cinnamon Bark Vitality oil for a healthy treat. Pour your delightful blend into your new Young Living Foundation mug. Feel good about what you're drinking—and what you're drinking it from!
• Celebrate your community. Sip and smile knowing you are supporting the Young Living Foundation and the good it does in your community and communities around the world as you sip!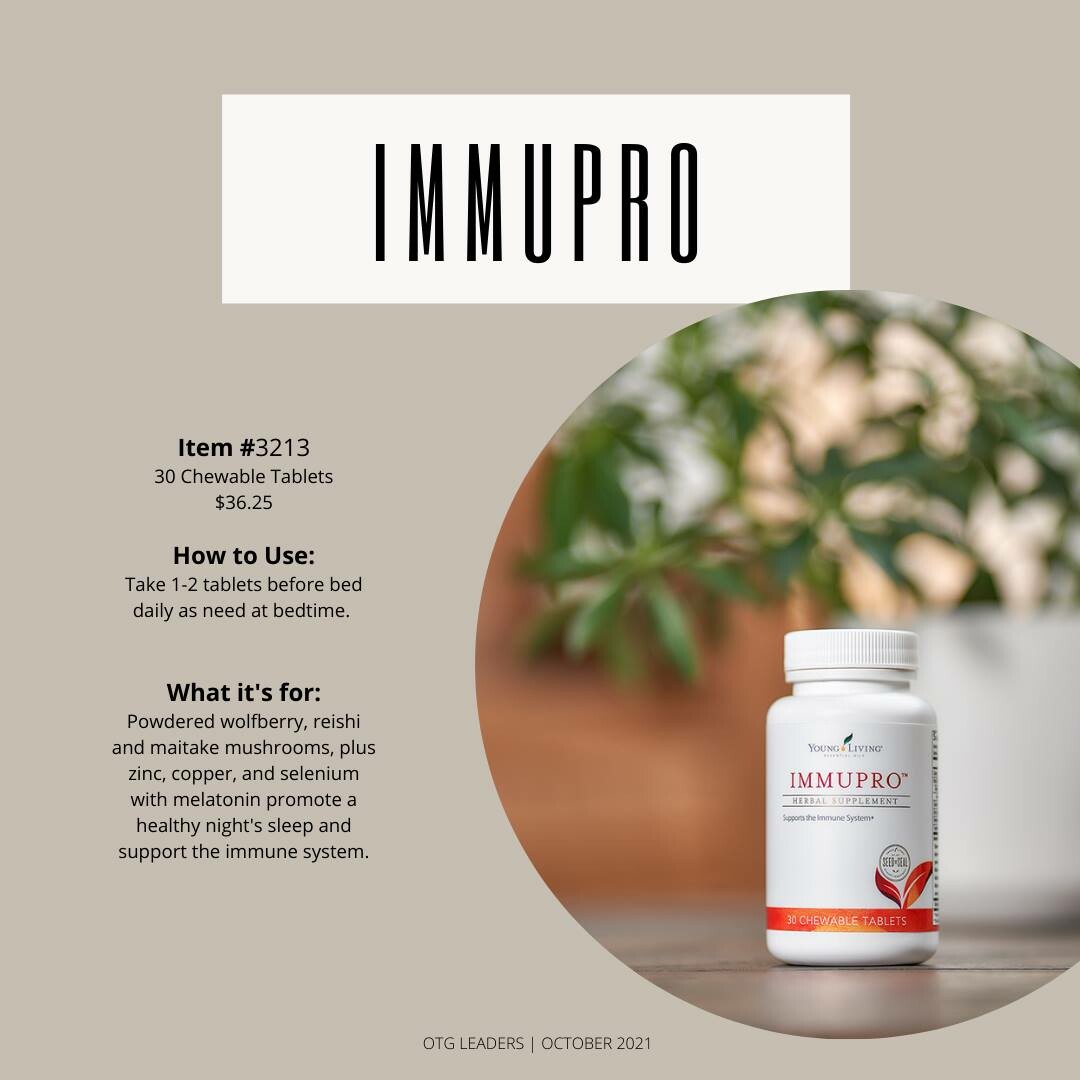 ImmuPro (300 PV tier)
While staying well during the change of season and cooler weather, our bodies need time to recover - especially if stress is high, because stress is already giving your immune system a beating. ImmuPro during seasons of stress and lack of sleep is a one-two punch supporting the body in fighting the bad and letting the good happen. With powdered wolfberry, reishi mushroom, maitake (hen of the woods) mushroom, and minerals like zinc copper, and selenium - this is a powerhouse of a chewable. You can also split it into halves or quarters and give it to your kiddos! Melatonin is highly recommended during times when sleep is hard to come by and stress is high. If you're working through that, take Immupro before bed and let your body do what it does naturally as you rest - heal!

Pro Tip: I love taking this when I travel because of the added immune support and how it promotes restful sleep - even in an unfamiliar bed!

• Amp up antioxidants. Support your body with an extra boost of antioxidants with this chewable, healthy tablet.
• Update evening routines. Take 1–2 ImmuPro chewable tablets in the evening as you prep for a healthy night's sleep.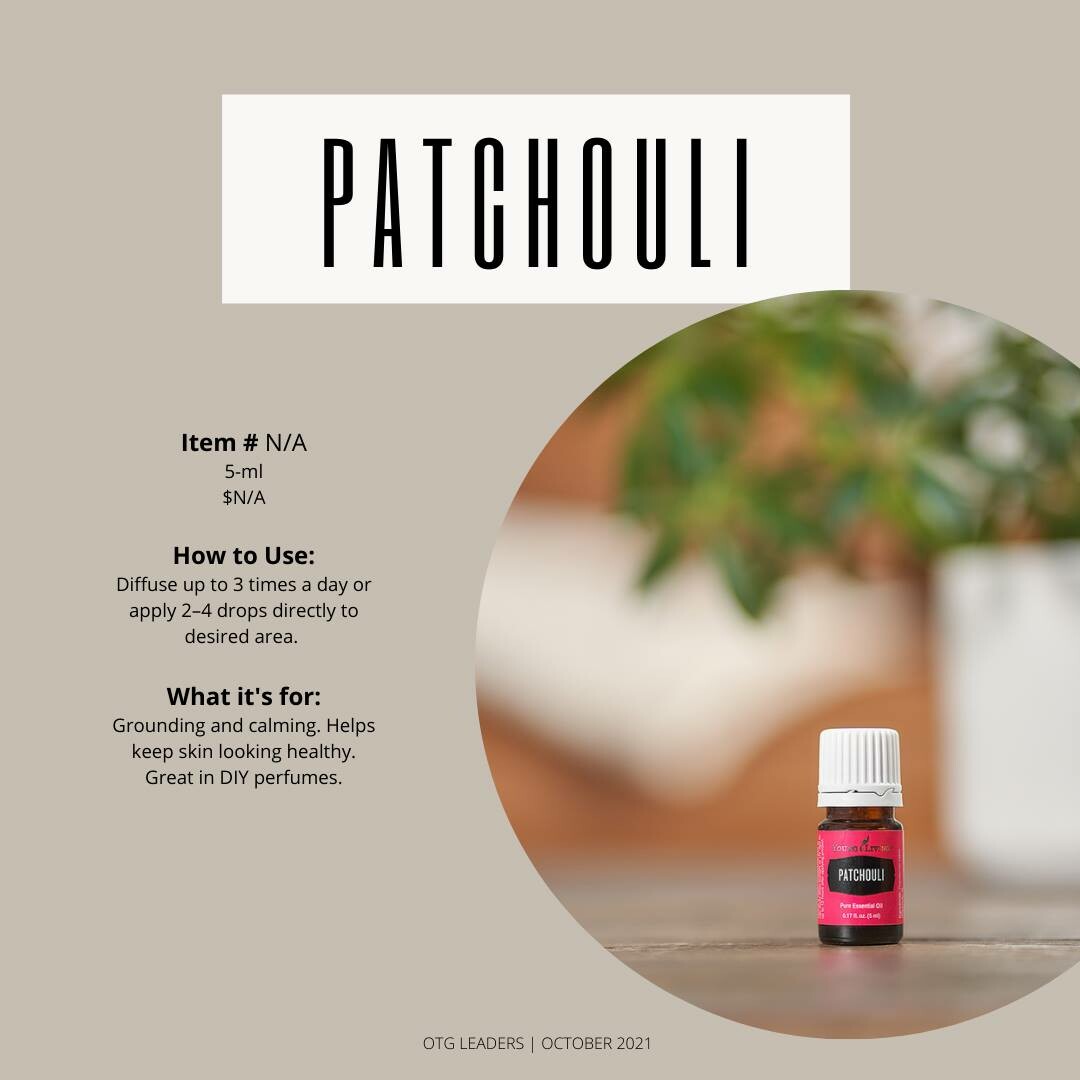 Patchouli 5-ml (250 PV tier)
You may not know this, but Patchouli is incredible for your skin, as well as being good for relaxation and sleep. Add a drop to your favorite YL moisturizer at night and it's going to work wonders with maintaining youthful looking skin. When it's bedtime, a drop on the back of the neck will promote relaxation and a sense of calm. It's also great diffused with Orange and Frankincense! Patchouli isn't just your distant aunt's favorite aroma anymore! Where Patchouli is really underrated is for emotions. Having some feelings of jealousy? Obsession? Insecurities? You need some Patchouli in your life! It allows for these feelings to cycle through and go away, while at the same time promoting clarity in the mind. Try it. You're going to love it!

• Warm up indoor workouts. Cold weather got you indoors? Diffuse Patchouli oil to add a comforting atmosphere to a calming yoga session or as you stretch before bed.
• Moisturize, moisturize, moisturize. With cold weather coming in, skin can get drier and drier. Add a drop or two of Patchouli oil to your favorite face lotion for extra moisture your skin will love.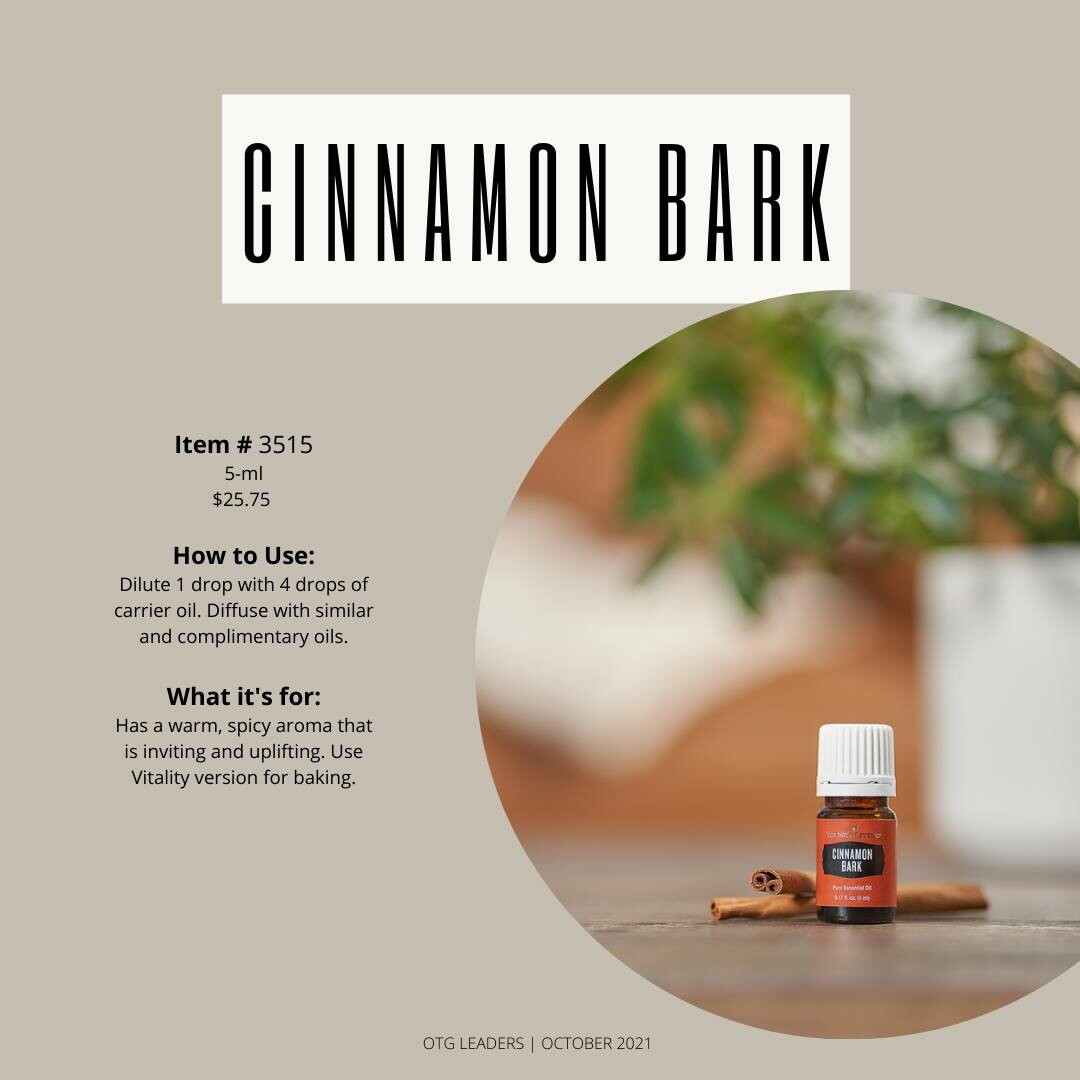 Cinnamon Bark 5-ml (190 PV tier)
Cinnamon Bark is one of the growing number of oils from YL that has both a regular and a Vitality version (remember both are the same oil). It helps support our circulatory, cardiovascular, and digestive systems, as well as helps our bodies maintain healthy blood sugar levels. Not only that, the sweet, spicy aroma is like a fall treat in the air, and when you add the Vitality oil to some of your fall baking!! This is a fan favorite for many reasons!

• Unwind and relax. Mix 3 drops of Cinnamon Bark oil with some V-6 Vegetable Oil Complex and use it for a warming foot massage. Then put on a pair of warm socks to keep your feet cozy and moisturized!
• Spice it up. Make a room spray by filling a spray bottle with 3 ounces of water and 4 drops each of Cinnamon & Orange essential oils.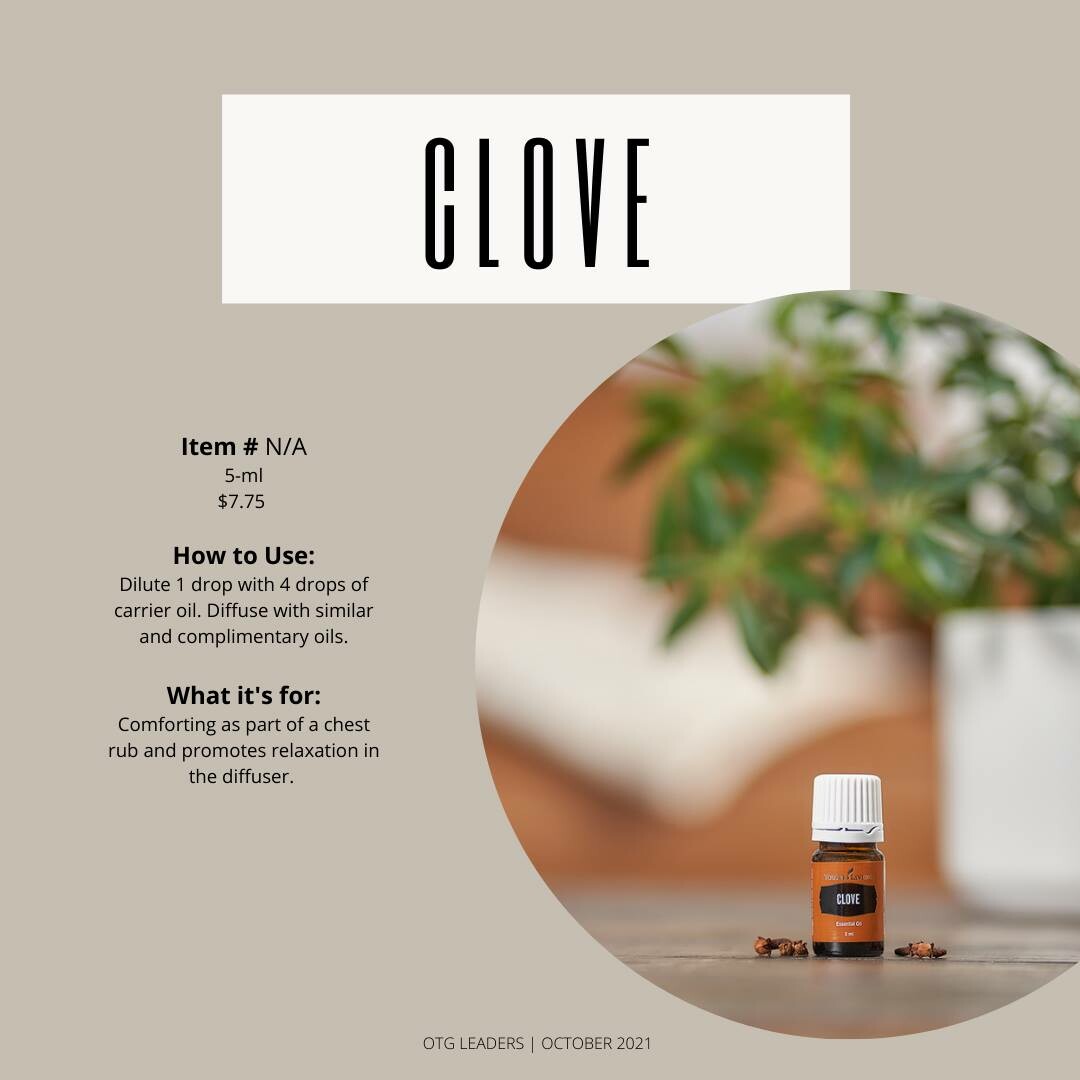 Clove 5-ml (190 PV tier)
When you think of Clove, I bet antioxidants aren't the first thing that comes to mind, but as I mentioned earlier this week, it's the most concentrated antioxidant for oils! Antioxidants help our immune system and help our bodies stay well. It comes in a Vitality oil, too, so we know the internal benefits are amazing! Did you see in my Happy Monday Mail that it's been used for a very long time in dentistry as a numbing agent, plus lots of mommas have diluted it and used it over the years for teething babies (1 tsp of olive oil + 1 drop of Clove, and you can add in a couple of drops of Copaiba)? It's fascinating seeing how these oils have been used for centuries! On top of that, it's wonderful to diffuse or it can be used as part of a chest and neck rub (dilute it if using it topically - Clove is a "hot" oil). Clove also helps encourage sleep and stimulates dreams while adding feelings of comfort and protection. Perfect for a good night's sleep in the fall!

• Spice up a soak. After a day of outdoor adventure, draw up a warm bath, dilute drops of Clove oil in the tub, and allow yourself to sit back and soak up all the Clove essential oil benefits.
• Feel forest fresh. Add 3–4 drops of Clove to a glass spray bottle to bring in a warm, woodsy scent that simply sings of the outdoors.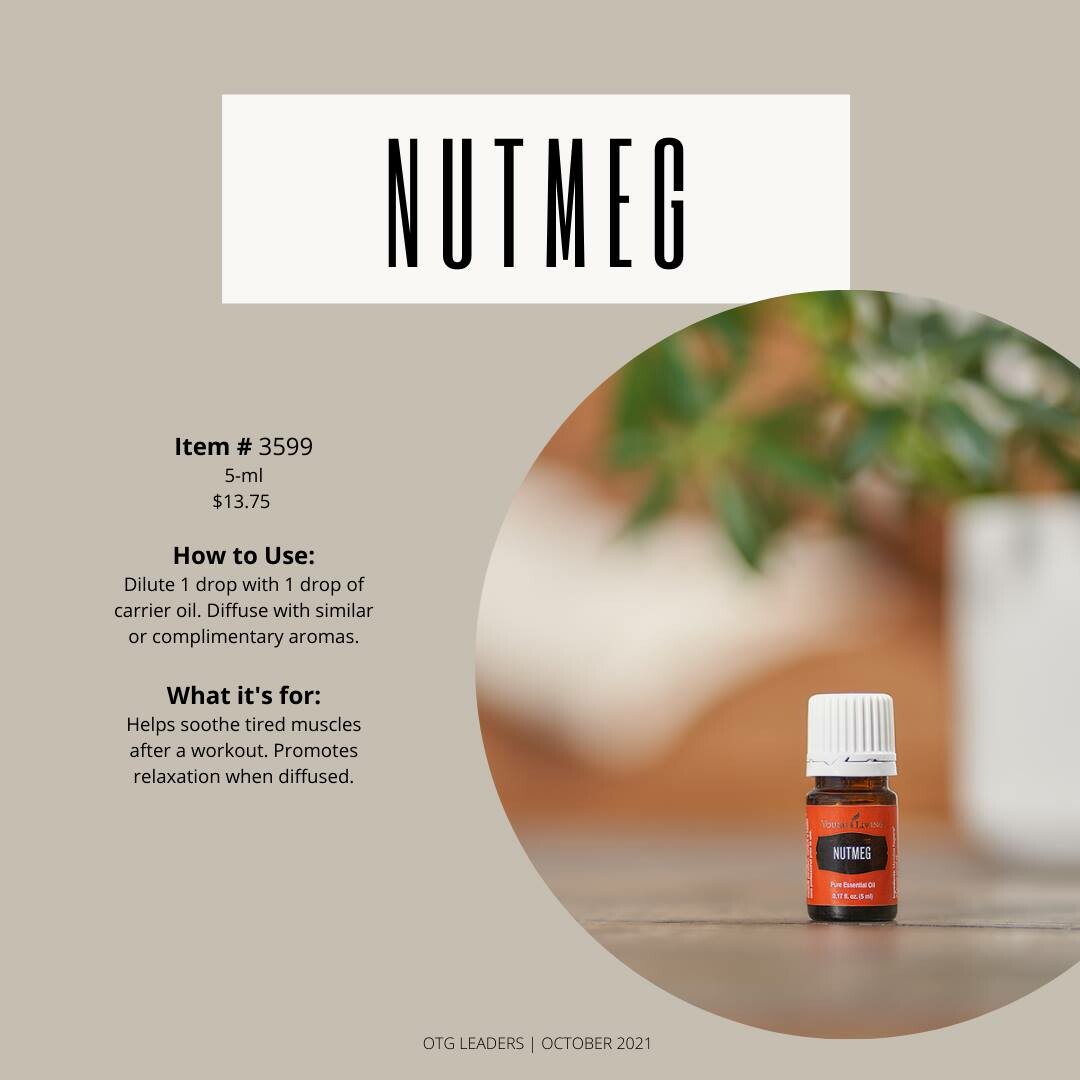 Nutmeg 5-ml (Bonus Subscribe to Save 190 PV tier)
Nutmeg, as a vitality oil, is an adrenal support powerhouse! (Look in the September 20th email for a great adrenal roller recipe.) Around the holidays our adrenals can get taxed with later evenings, more sugar in the diet, and added stress. If you place a drop under your tongue or swab a drop in the inside of your cheek, you will definitely appreciate the effects. It helps give you added energy during the day and it supports the production of melatonin - the sleep hormone! Good sleep = a well-supported immune system! On top of that, just a drop or two of Nutmeg in your fall diffuser blends will make them even cozier and more relaxing.

• Freshen up fall. Make a homey linen spray by combining a few drops of Nutmeg, Clove, and Bergamot in a spray bottle filled with 2 cups of water. This cozy scent will make guests feel right at home!
• Work in bliss. Refresh your home office with a diffuser blend of Nutmeg and Eucalyptus Radiata for a spicy-fresh scent that will help your upcoming meeting be a little brighter.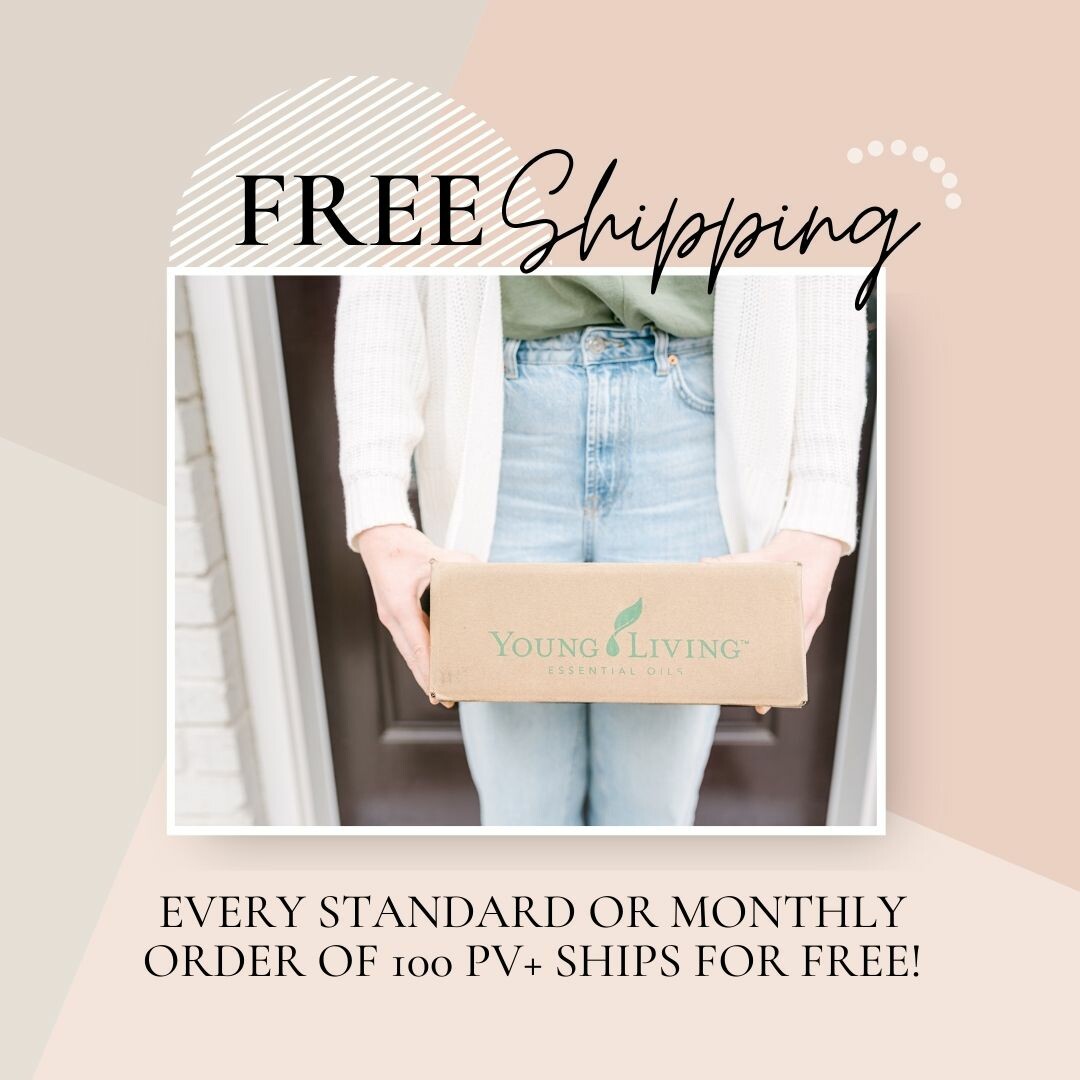 Free Shipping (100 PV tier)
As free as free can be.
• Treat yourself! Stock up on fall-time favorites and let us cover the cost of your deliveries.
• Get fall-tastic savings. Reach our 100 PV tier and we'll ship your order for free!

Here are some great, fall diffuser blends shared by Annie Hauser . . .

Give me all the yummy fall diffuser blends with this oil! No scented candles are needed for fall when you have your diffuser and some oils! Here are some fall diffuser blend ideas using some of this month's gift with purchase:

FALL HARVEST
- 1 drop Clove
- 3 drops Cinnamon Bark
- 4 drops Tangerine

SNICKERDOODLE
- 5 drops Stress Away
- 3 drops Cinnamon Bark

PUMPKIN PIE
- 5 drops Cinnamon Bark
- 1 drop Clove
- 1 drop Nutmeg

What are you most excited about in this month's gifts with purchase?


---
Speaking of Diffusing . . .
Here's Your October Diffusing Calendar!
Many thanks to Beth Jensen for creating it! Enlarge it on your screen to see each blend more clearly.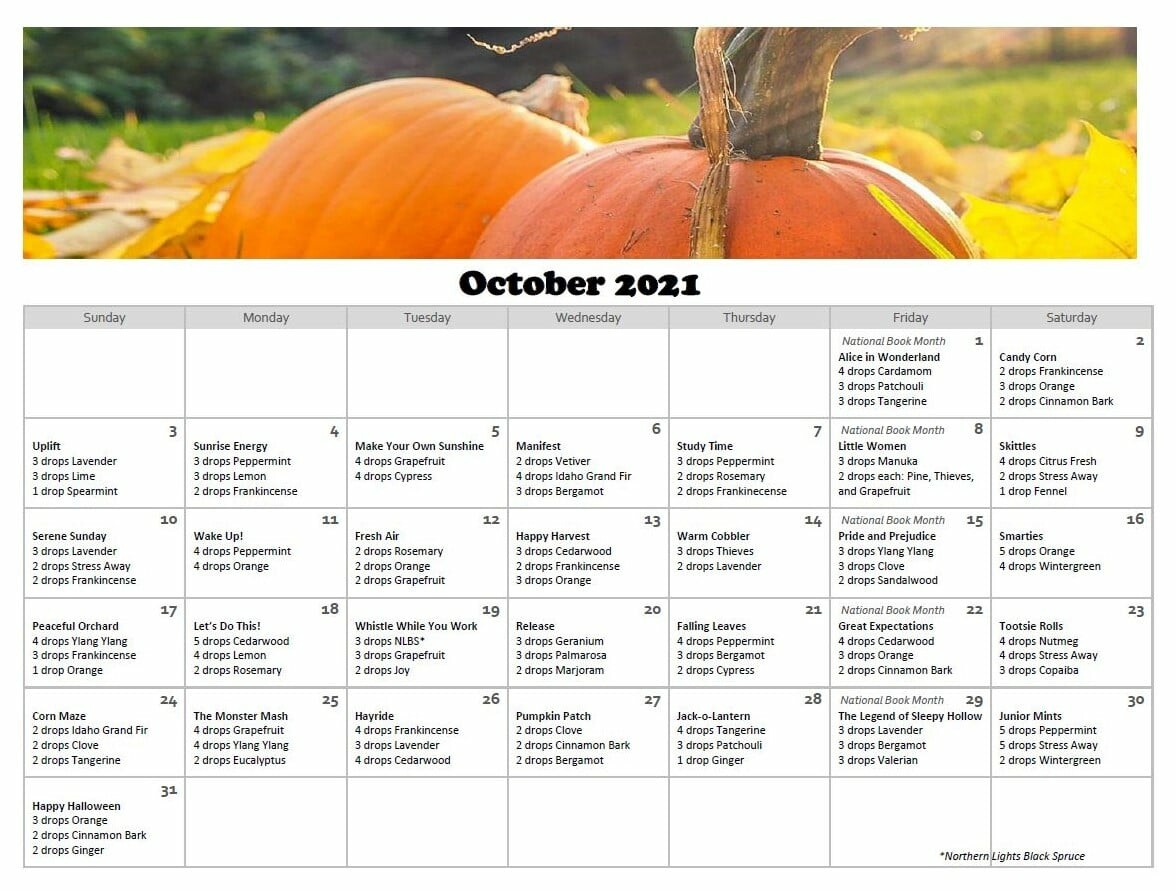 ---
OCTOBER EVENTS: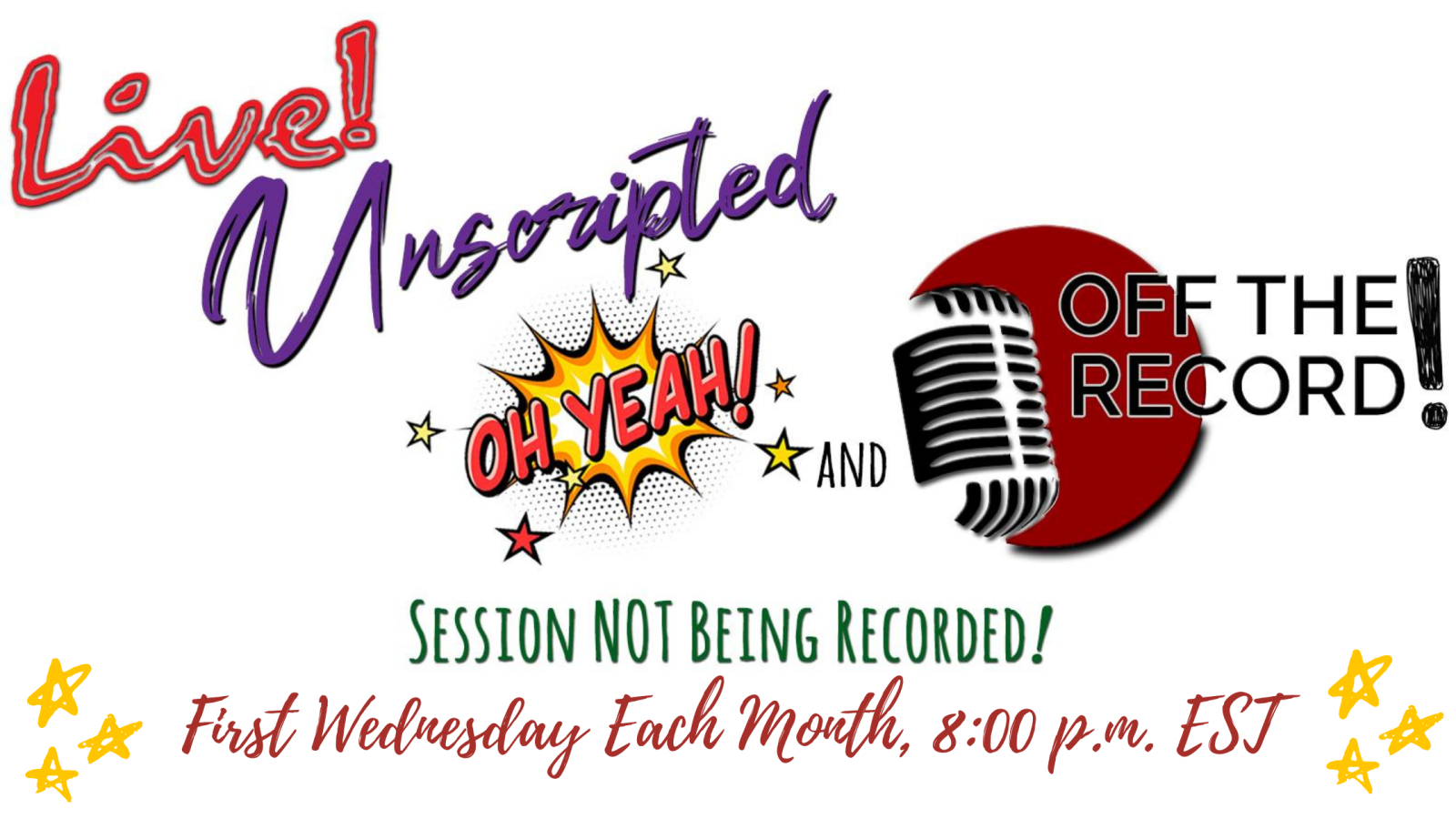 Are you an essential oil lover? Got a penchant for living life WELL?
Join us the f
irst Wednesday of each month at 8:00 p.m. EST
for our wildly popular Live & Unscripted event!
This isn't your average boring Zoom call! You have the freedom to talk with us about what's important to YOU and we get to answer your questions as if we're sitting together having a favorite cuppa whatever we choose!
We laugh, sometimes we even cry, as we help each other through all sorts of . . . well . . . life. And we always, always learn something new!
Take a chance and join us for the first time - we regulars would love to see your face!
Register to receive the Zoom link and password.
---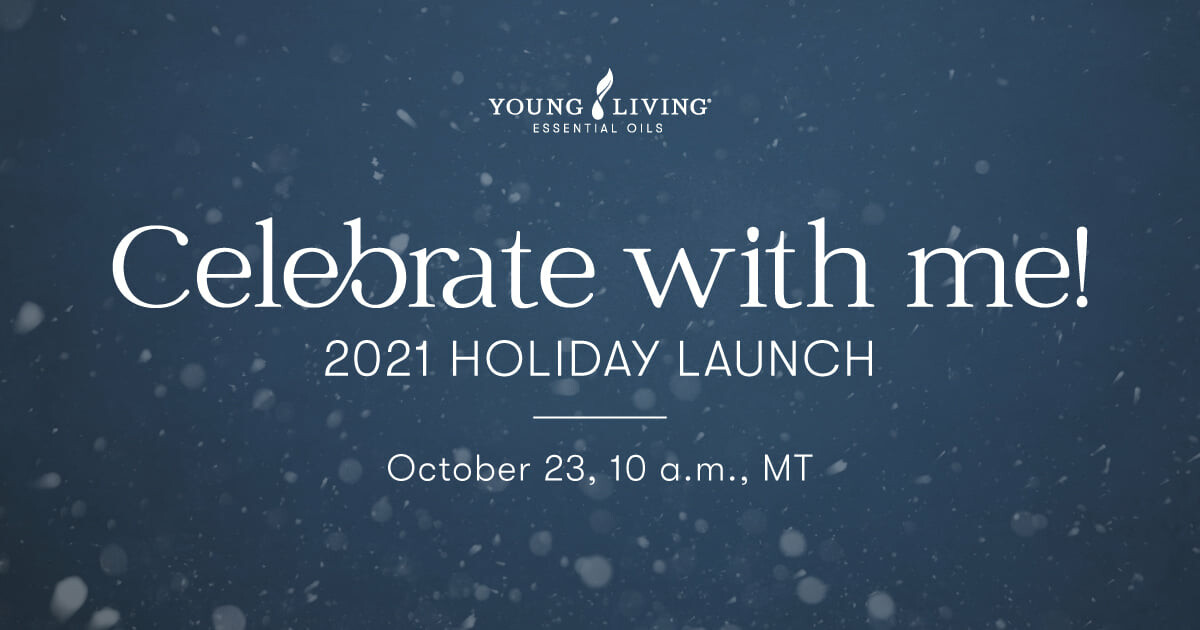 Celebrate the Season | Join Us October 23
Tune in to our virtual 2021 Holiday Launch event on October 23 at 10 a.m., MT, as we celebrate the season. During this virtual event, you'll get the first look at the handcrafted treasures and winter wish list items from our gorgeous Holiday Gift Guide. After you catch the holiday must-haves, we'll share DIYs, recipes, product tips and tricks, and the inspiring vision behind all we do. Mark this event on your calendar, then check it twice!
Registration is now open for the virtual 2021 Holiday Launch event on October 23 at 10 a.m., MT!

Registration Benefits:
- A free reflexology ring for registrants who place a qualifying order from October 23 through the end of November**
- Event reminders via email and text
- Extra clues about the products we're launching
- An opportunity to win Holiday Gift Guide products
- Fun resources to get ready for the big day


*A qualifying order is any one-time purchase or subscription order placed October 23 through the end of November. Must be at least 1 PV. This offer is for U.S. Holiday Launch registrants who are brand partners or customers only. Not for individual sale.
Why You Should Attend
AS AN ATTENDEE, YOU'LL HAVE THE EXCLUSIVE OPPORTUNITY TO:


- Dig deep into our Seed to Seal® story
- Get the first look at new premium products
- Enrich your life with essential oil education
- Unearth the Young Living difference
- Participate in giveaways for the opportunity to win free products
Can't wait to see you on October 23!
---
SPIRIT & SOUL LOCAL EVENTS

As The Renovated Life, we focus on spirit, soul, and body. Young Living undergirds our focus on overall health & wellness for our bodies. But . . . that's not our only focus because we want to help meet the needs of the WHOLE person, which includes spirit and soul well-being, too!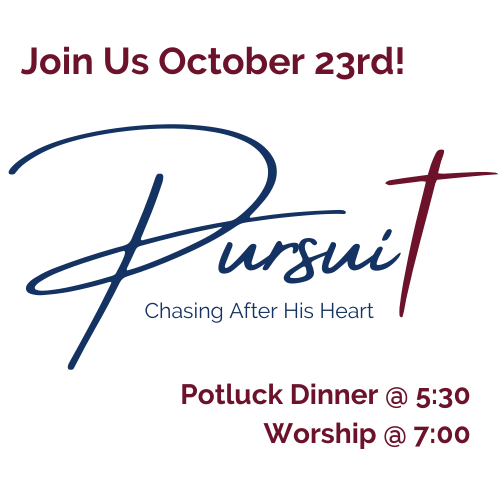 Join us as we pursue God in community and enter into His presence through worship, prayer, prophetic activations, communion, and declarations over our families, communities, nation, and world. We kick the night off with a potluck dinner at 5:30. It's a great way to connect with friends before we enter into God's presence together. Please bring your favorite dish to share! Feel free to invite friends! Let us know you're coming, and we'll send you our address. SPACE IS LIMITED, so don't wait to register and reserve your spot!
Chase after His heart with us!
---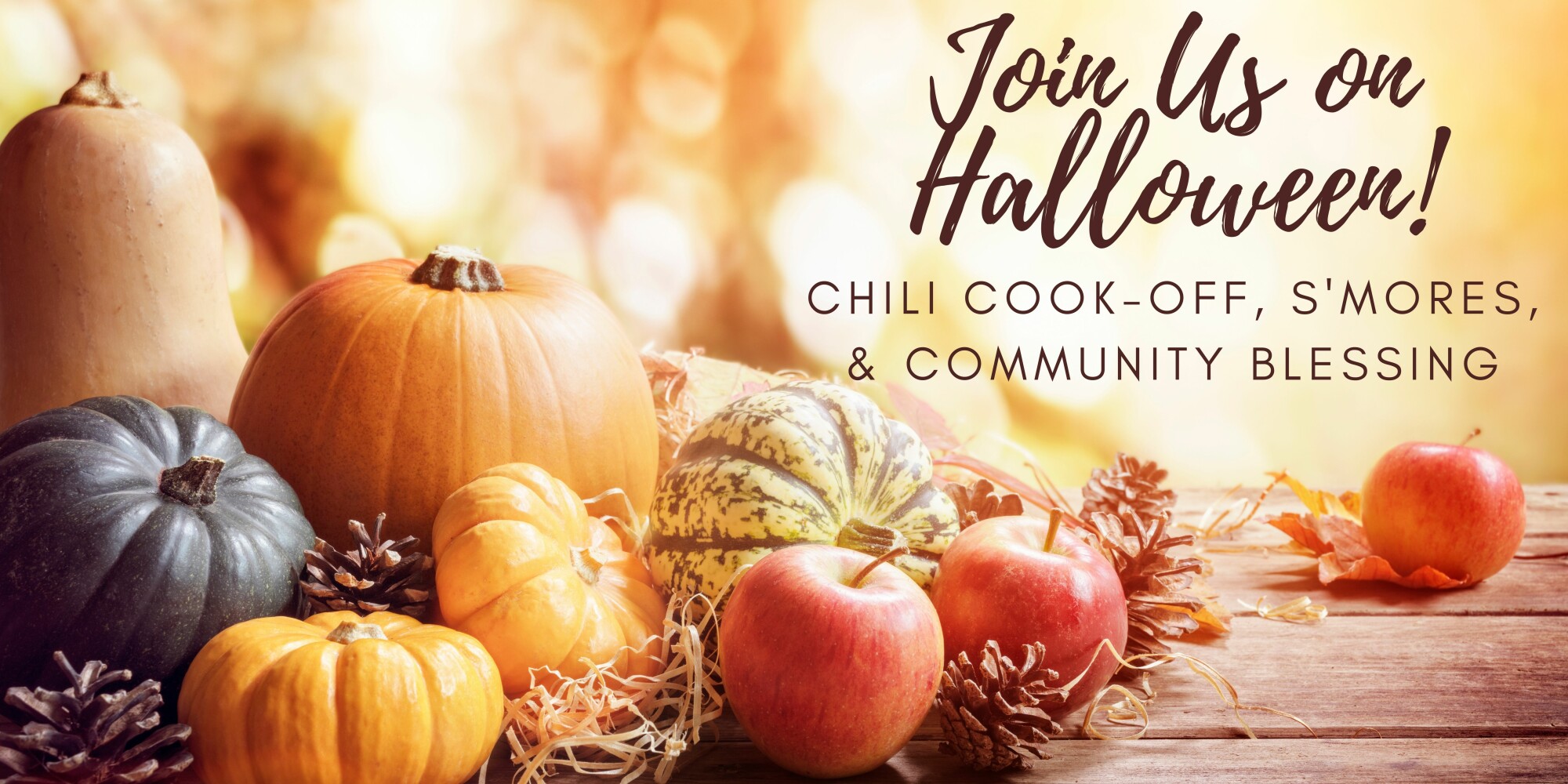 Halloween was never a favorite holiday of mine, BUT . . . years ago, I was complaining to the Lord about it and clearly heard Him ask me, "What are you going to do about it?" I humbly asked in return, "What would you like me to do, Lord?"
In the days that followed, He downloaded a plan for loving our neighbors on Halloween. It's since become one of my favorite days of the year and this year, we're making it even bigger and want YOU to join us!!!
We're hosting a chili cook-off beginning at 4:30 p.m. on the 31st. We'll have our firepit going and s'mores fixings available. Bring a pot of your favorite chili recipe and you may just win our first annual chili cook-off bragging rights!!! (There will be some other fun prizes, too!)
When trick-or-treating starts, we'll have cocoa, marshmallows, and candy to hand out, along with an offer to pray over anyone who stops by. We'd love for you to help us pour love out on everyone!
Chili
Additions to the chili (i.e. sourcream, cheese, onions, Fritos, etc.)
Candy to hand out (We have a TON of kids who come by, so this would be SUPER helpful!!!)
Drinks (we'll have water & seltzer)
Desserts to share
Please R.S.V.P. for our address, event reminders, and to help us get a headcount. We're so excited to have you join us this year!
---
LET'S WRAP UP THE OCTOBER NEWS . . .
WITH A COUPLE OF GREAT RECIPES TO ENJOY!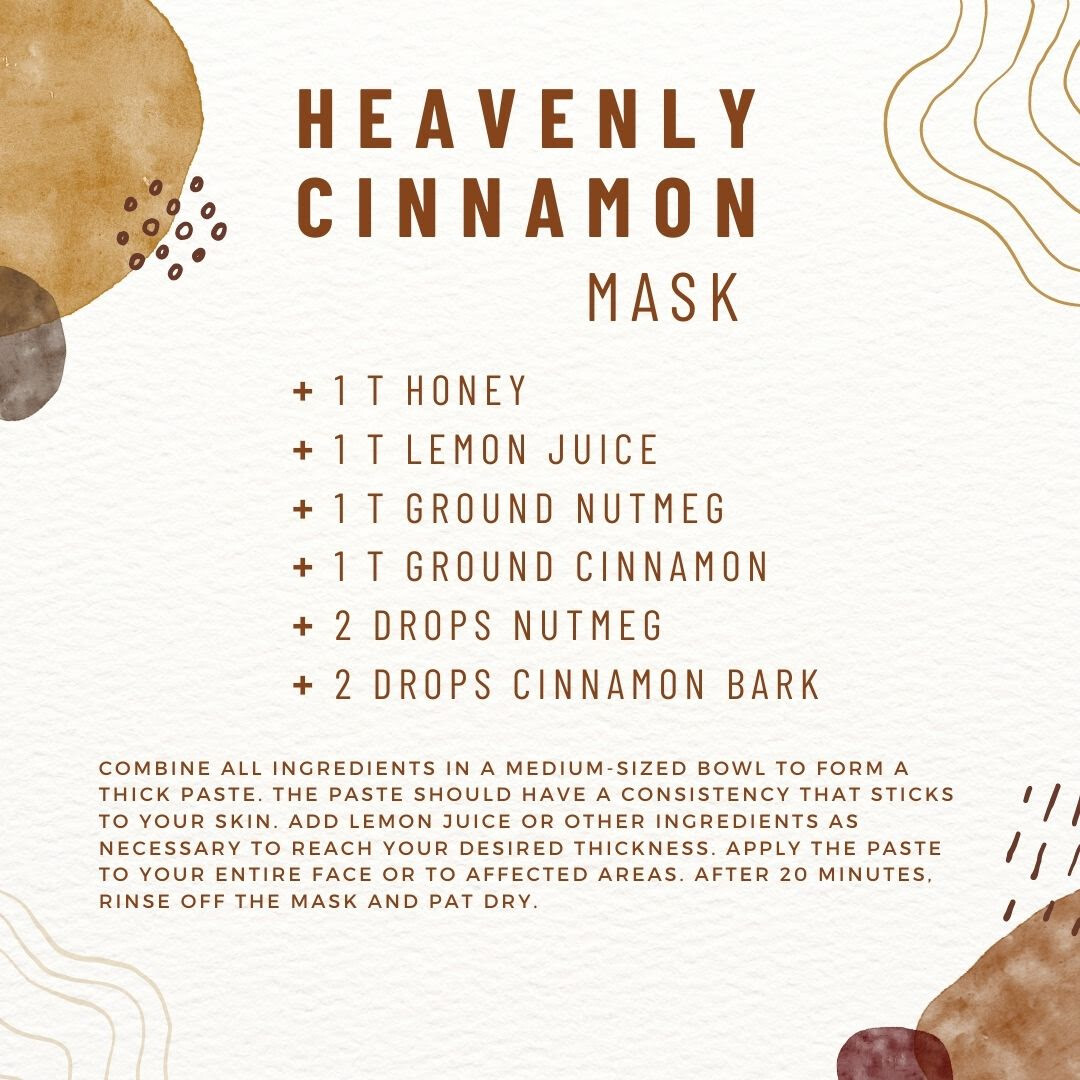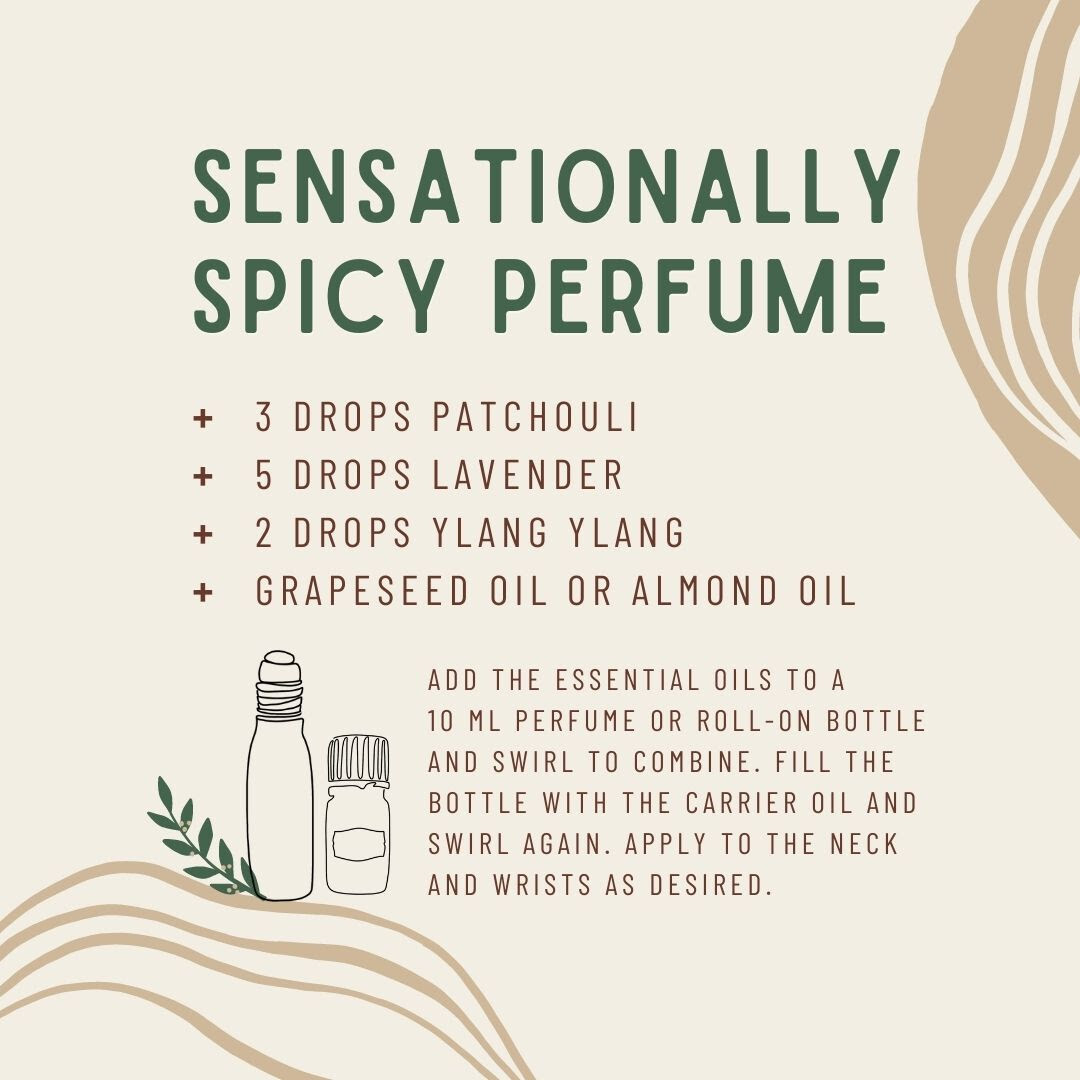 ---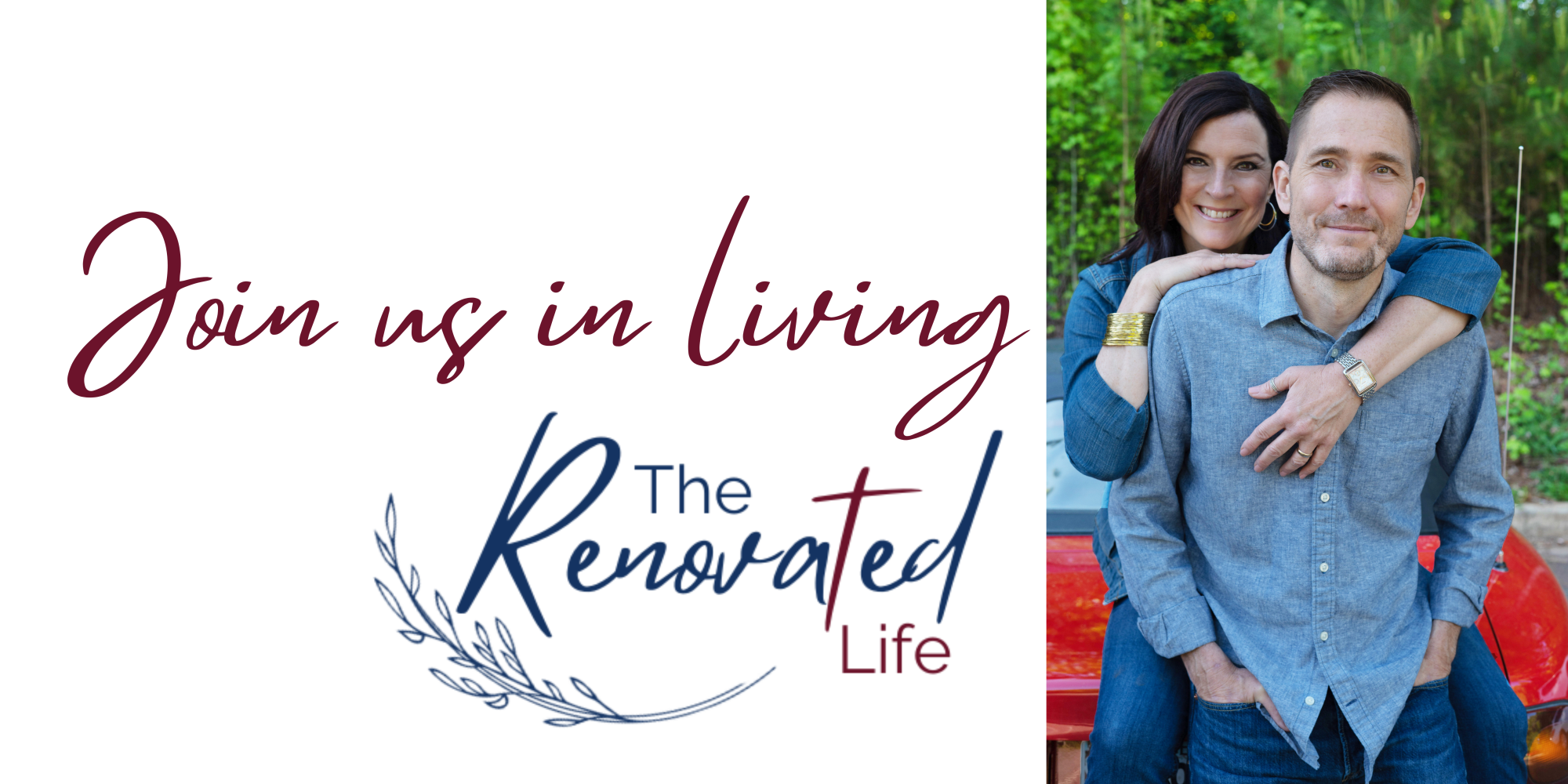 That's it for this month! Please reach out if we can help you on your wellness journey!
Our Mission: Love Others Well & Empower Them to Do the Same