Jan 2, 2018 03:30 PM Central
Andrea & Brian Johanson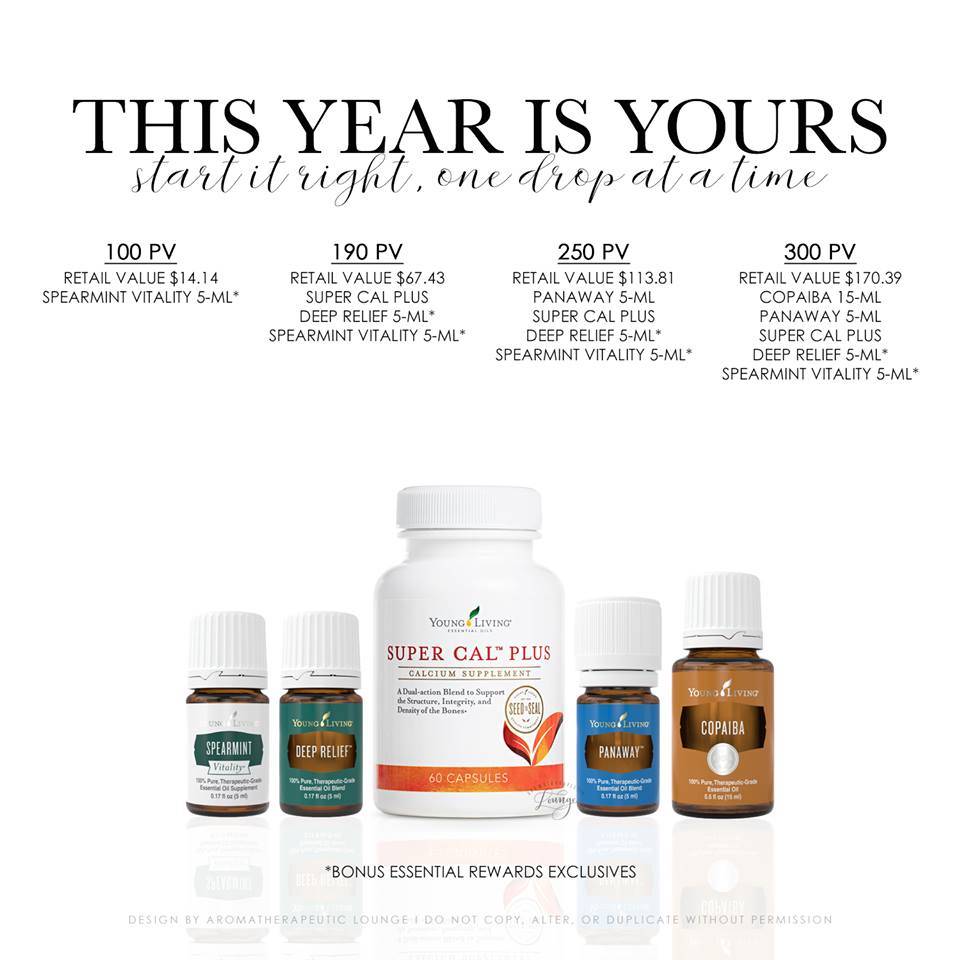 Ready to jump start January and make strides to reaching your 2018 health and wellness goals? YL has you covered!
What's so great about these promos is that they work on so many levels. If you're wanting to start living a healthier lifestyle, these are for you. If you already do, these are still for you!
Maybe you just want a little "me time" in your life this year or you've started a new workout regimen and your muscles are recovering. Guess what? A relaxing massage with Deep Relief or PanAway followed up with a nice bath with Copaiba infused bath salts will give you that "me time" and your muscles will thank you for it!
No matter what your goals for 2018 are, these oils and the Super Cal Plus (we all need this in our lives) can help you along the way. What ways can you incorporate these into your plan for 2018? Here are some ideas for use:
Spearmint Vitality - supportive of a healthy metabolism, as well as the digestive, immune and nervous systems. You can take Spearmint Vitality in a capsule or in your favorite beverage.
Deep Relief - keep this in your gym bag or anywhere close at hand to provide refreshing, cooling relief to muscles following exercise; supportive of muscles, joints, and the circulatory system.
Super Cal - a calcium and magnesium supplement that supports muscle, dental and bone health

PanAway - a blend of Wintergreen, Helichrysum, Clove and Peppermint, this oil is a favorite for relief from aches and pains due to exercise or occasional headaches
Copaiba - This oil is actually supportive of every system in the body, especially since it's supporting of the body's natural, healthy response to inflammation. A favorite use for this oil is for muscle and joint support, but it has a wide range of uses!
Here's the full breakdown of January's PV promos: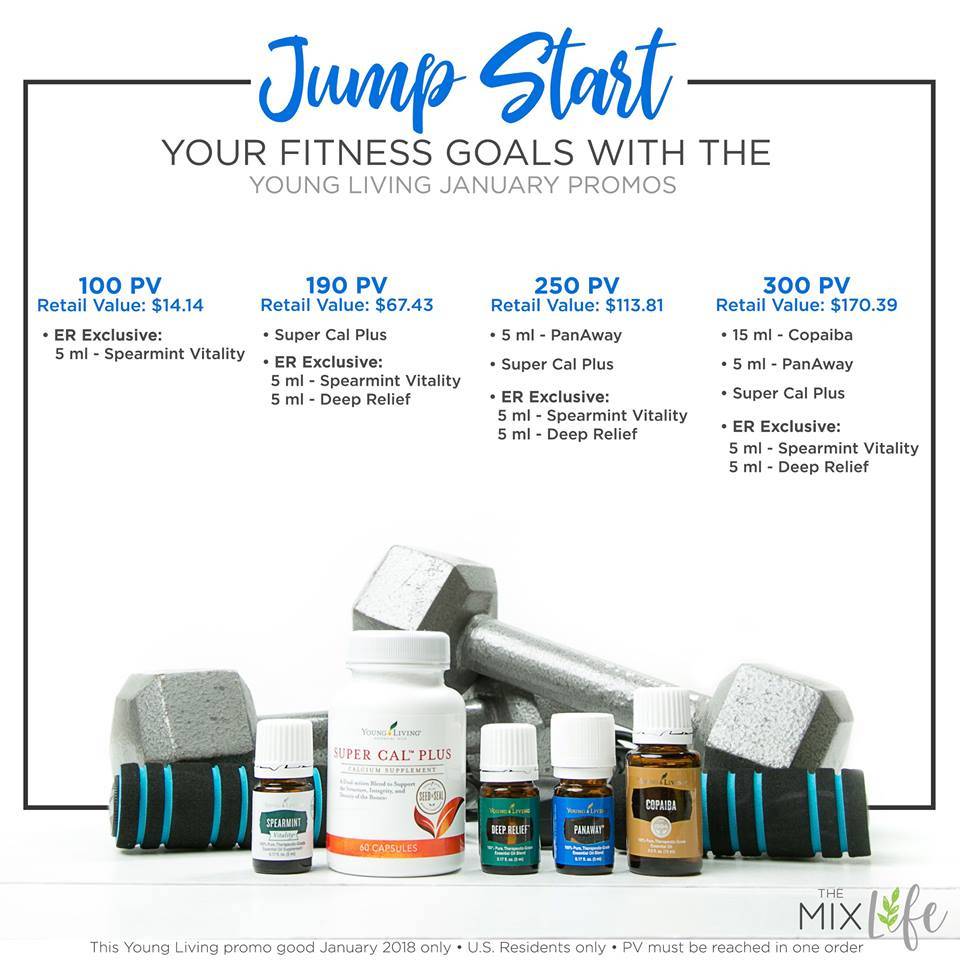 100 PV:
Spearmint Vitality 5-ml*
190 PV:
Super Cal Plus
Deep Relief 5-ml*
Spearmint Vitality 5-ml*
250 PV:
PanAway 5-ml
Super Cal Plus
Deep Relief 5-ml*
Spearmint Vitality 5-ml*
300 PV:
Copaiba 15-ml
PanAway 5-ml
Super Cal Plus
Deep Relief 5-ml*
Spearmint Vitality 5-ml*
*Remember, in order to get the Essential Rewards Exclusive Spearmint Vitality 5-ml and the Essential Rewards Exclusive Deep Relief 5-ml, you have to be enrolled in Essential Rewards (ER) and have an order that meets the PV requirements for those items.
The extra bonus of meeting these PV amounts with your ER order is that you get even more ER points to spend later!
There you go - a great way to help you make this year yours and get a fantastic jump start on the New Year! We hope you had a wonderful 2017, and here's to an INCREDIBLE 2018!!!
Our Mission: Love Others Well & Empower Them to Do the Same