Jun 1, 2021 03:21 PM Central
Andrea & Brian Johanson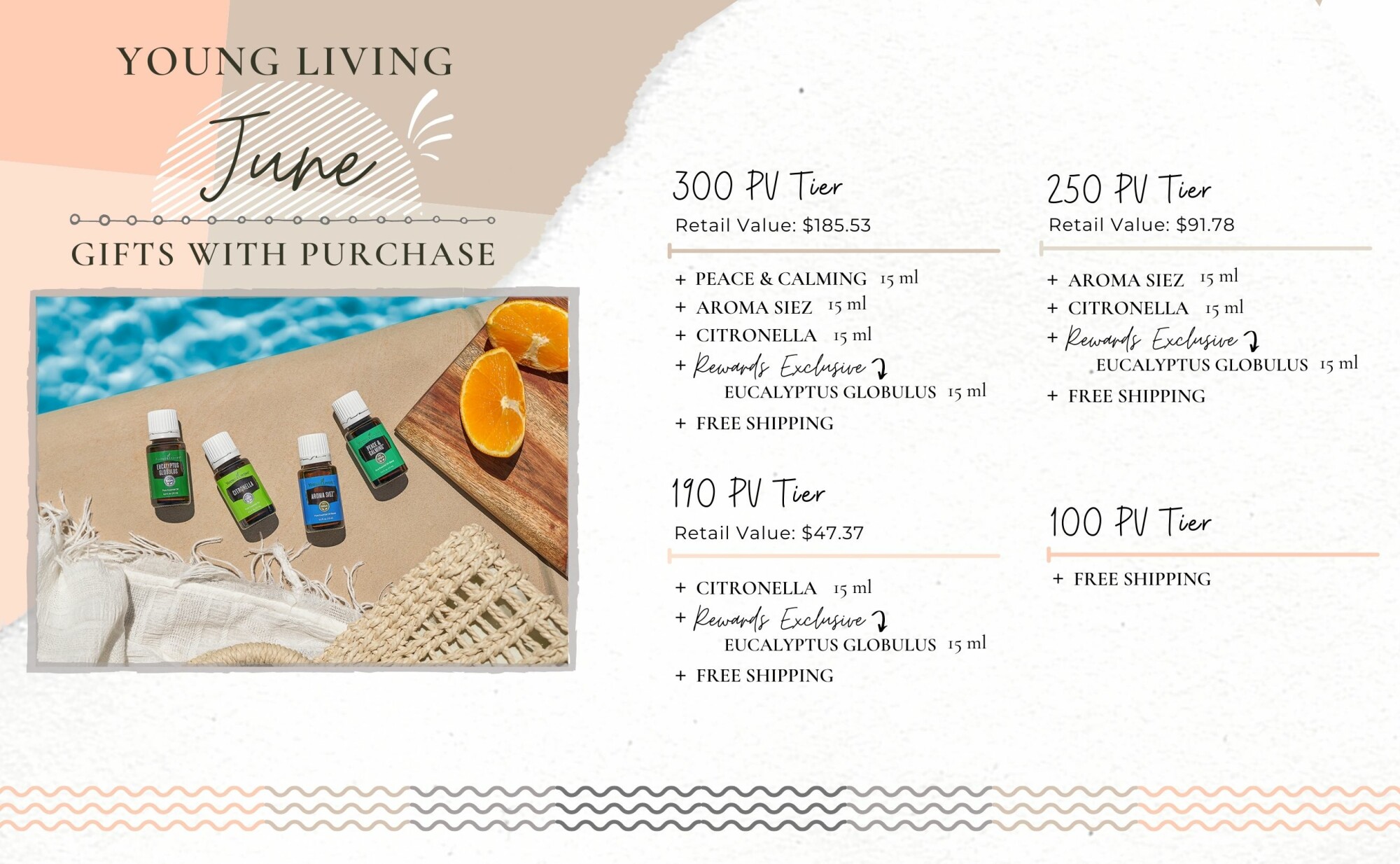 JUNE'S GIFTS WITH PURCHASE
Summer is filled with fun and we all want to enjoy it to its fullest! Check out this month's gifts with purchase and if you'd like more ideas and recipes, click on the "Read More" button below to access a fantastic Sway!
*Remember, in order to get the Essential Rewards Exclusive Eucalyptus Globulus 15-ml, you have to be enrolled in Essential Rewards (ER) and have an order that meets the PV requirements for that item. The extra bonus of meeting all these PV amounts with your ER order is that you get even more ER points to spend later!
Peace & Calming 15-ml (300 PV tier):
This member's favorite is a bedtime (or nap time) must-have! There's also the added benefit of adding a drop or two to your nighttime skincare routine! It helps keep your skin looking and feeling great, while also helps you find your calm at the end of a day, even if there's been excitement all around. Plus, it's a 15-ml bottle! Jackpot!

• Up your skin game. Add a drop of Peace & Calming to your nightly lotion to pamper your skin after a day in the sun.
• Treat your pores. Make a soothing skin spray with 2 ounces of water and 10 drops of Peace & Calming. Spritz on skin at night to refresh and moisturize.
My favorite use for Peace & Calming is placing a drop between my palms, rubbing my hands together, then stroking our pups' fur on nights that go boom - whether from thunder or fireworks.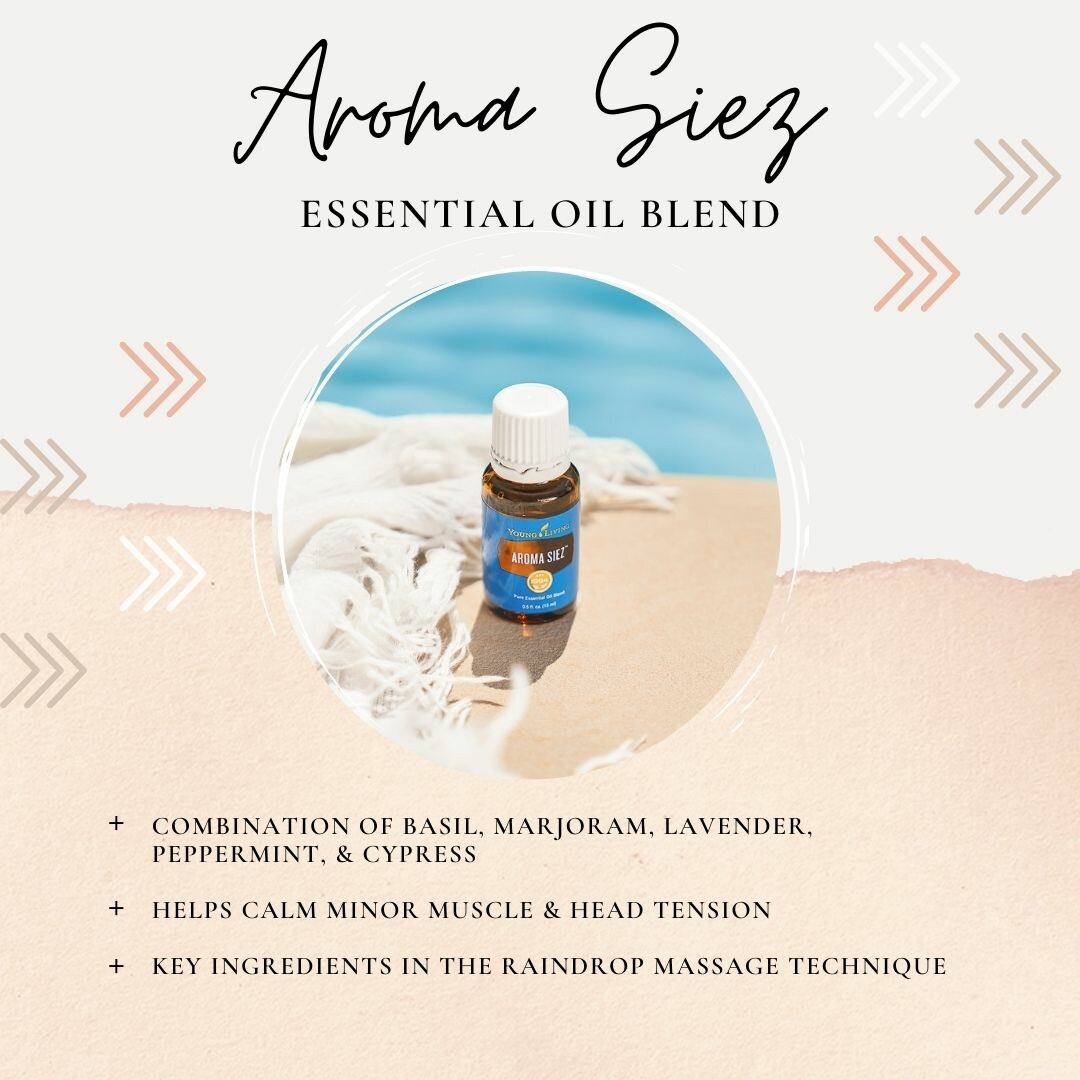 Aroma Siez 15-ml (250 PV tier)
Hikes, swimming all day, sports, gardening, house projects . . . All of it can get your muscles feeling some discomfort by the end of the day. Aroma Siez is a great blend for bringing a bit of soothing relief and helping you relax after a busy day.

• Enjoy some post-adventure aromatherapy. Combine a few drops of Aroma Siez with V-6 to boost an after-hike massage. Massage therapy + aromatherapy = relaxation time!
• Take a sensory journey on the go. Add a few drops of Aroma Siez to a car diffuser for a summer-ready scent between visits to the farmers market and running errands.
My favorite use for this oil is helping my muscles unwind. It's also the oil Brian will grab in the middle of the night when his legs remind him of the active day he'd had. This is an oil we're always sure to have in our stash. There's nothing like it for easing muscles and alleviating discomfort. Apply where needed. Use a carrier oil if it feels "hot" to you or if you want to create a massage oil. Unwind and enjoy!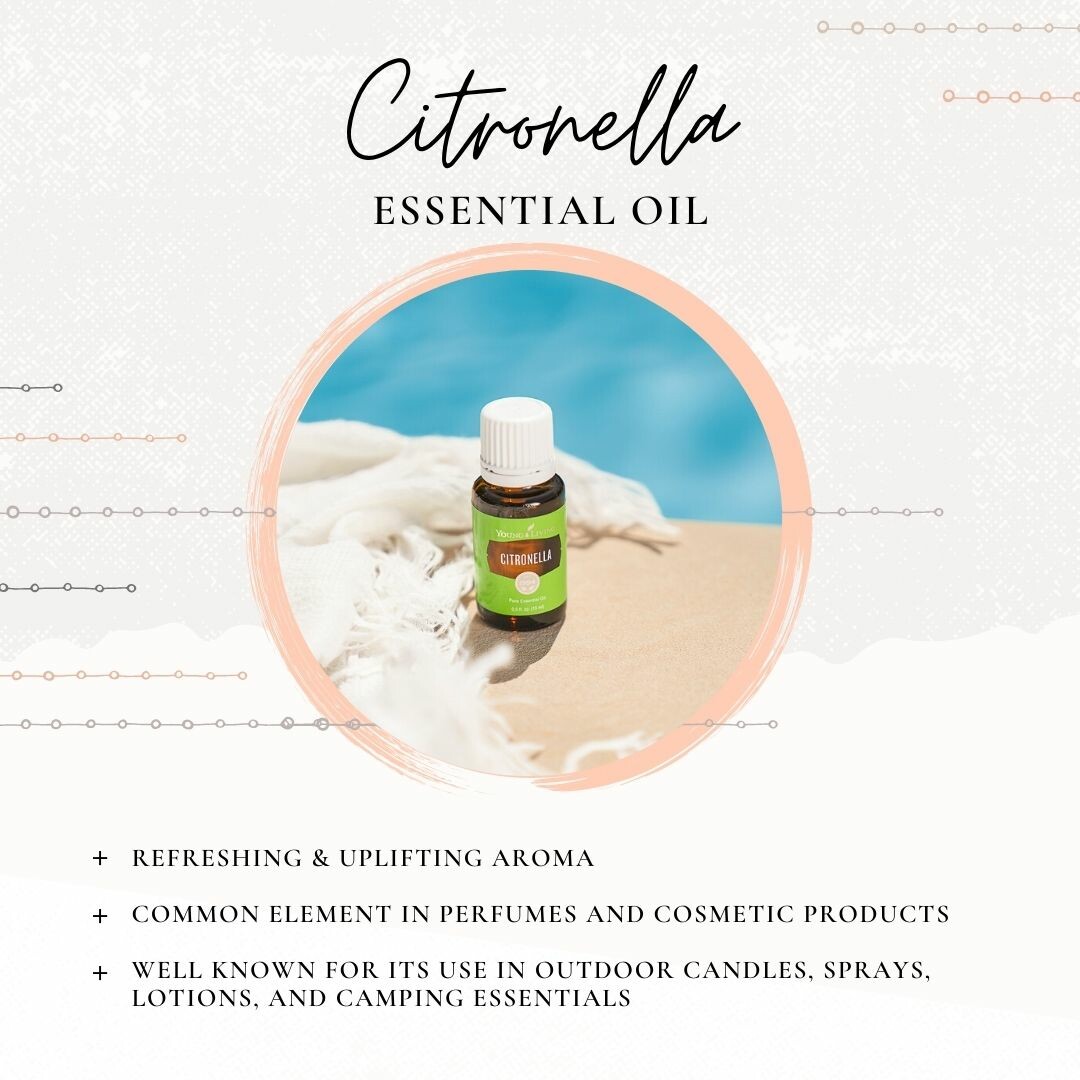 Citronella 15-ml
(190 PV tier)
We all know the wonders of Citronella, so getting a big bottle for summer never hurts. DIY outdoor sprays, crisp, refreshing diffuser blends. You'll get your money's worth out of this bottle all summer long. Diffuse it with citrus oils for a bright, fresh scent in your home!
• Dive into summertime adventure! Make a DIY outdoor spray blend of Citronella with oils like Rosemary, Tea Tree, Myrtle, Clove, or Lemongrass and spritz it at sporting events or while camping.
• Add a twist to skin care. Combine Citronella with sunscreen for a light, bright aroma that will make you even more ready to embrace the warm sunshine!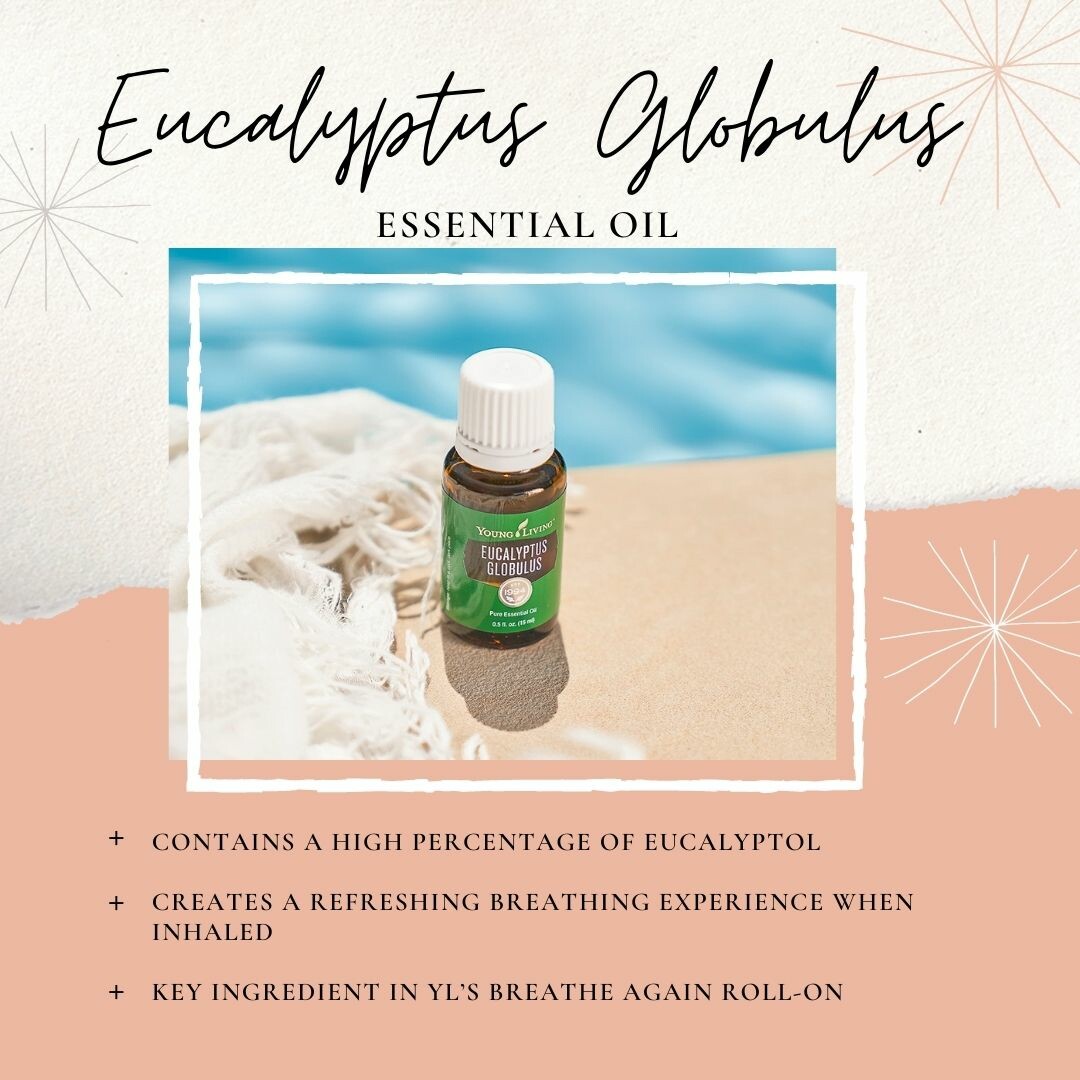 Eucalyptus Globulus 15-ml (Bonus Essential Rewards 190 PV tier)
Speaking of freshness, Eucalyptus Globulus can help brighten any day - whether used in your diffuser or while cleaning the house. It's also comforting when applied to your chest.

• Invite the outdoors in. Diffuse this oil for a scent that will remind you of a summer day in the garden, even if you're just doing the laundry.
• Freshen up your space. For a sunshine scent in the kitchen or bathroom, place a few drops on a cotton ball and put it in the bottom of the trash can before replacing the liner.

My favorite use
for this oil is for supporting easy breathing and creating a spa-like atmosphere. I love diffusing Eucalyptus Globulus! It's also super refreshing to apply it on your neck and chest before working out.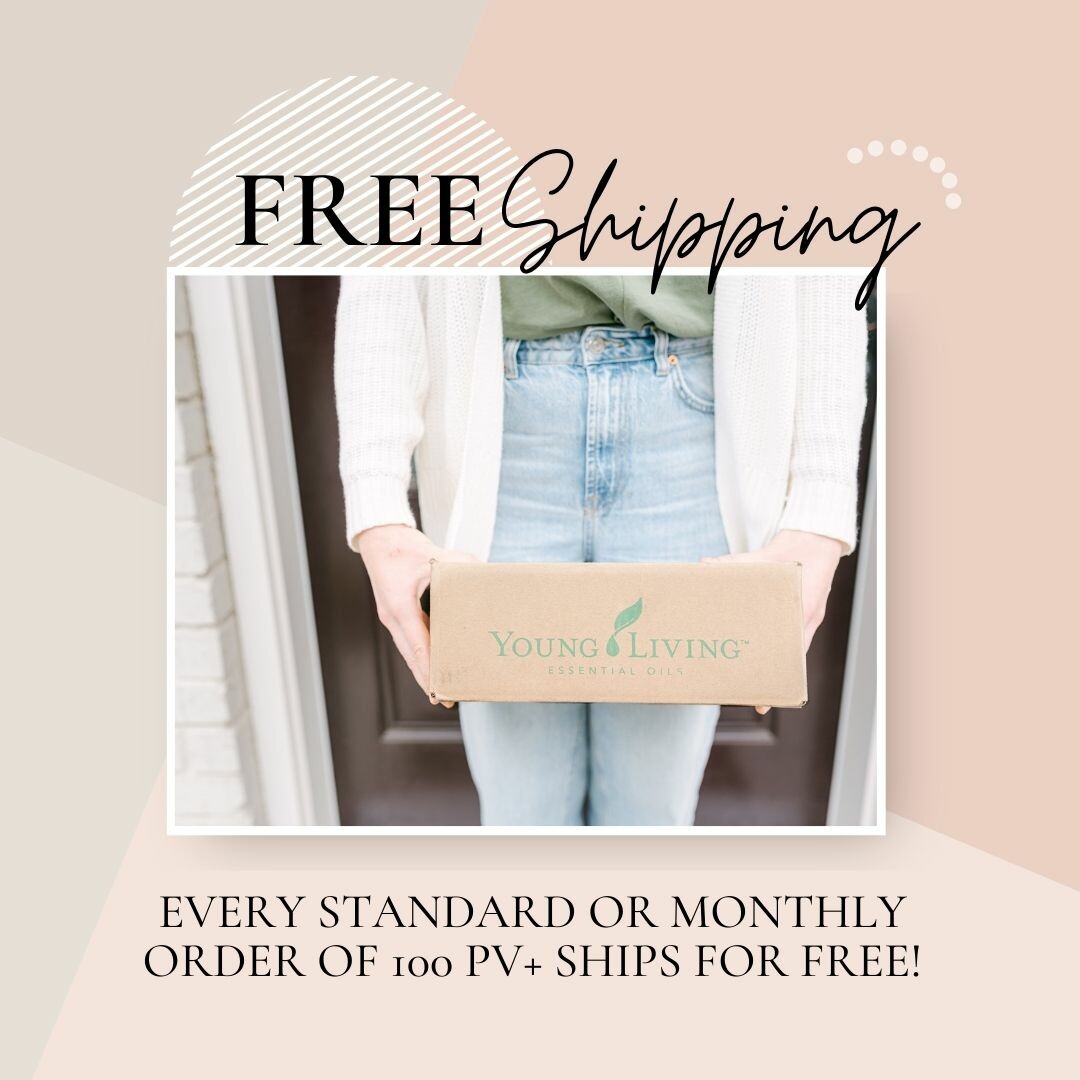 FREE Shipping just got better!
Young Living is making some exciting changes to significantly improve delivery times. These include switching to UPS SurePost, improving communication and accountability, and developing more robust email alerts. Check your email for more information about the measures they're taking. Also, look forward to updates about some awesome new tools Young Living has implemented to increase the speed and efficiency in fulfilling your orders.
Vacations, picnics, day trips . . . why not spend your summer cash on those things and save a little money on shipping? Any 100PV order, ER or Shop, will give you this option.
• Treat yourself. Stock up on summertime favorites and let YL cover the cost of your deliveries.
• Get easy, peasy, summer-breezy savings. Reach our 100 PV tier and YL will ship your order for free.
Our Mission: Love Others Well & Empower Them to Do the Same