Dec 9, 2017 01:25 PM Central
Andrea & Brian Johanson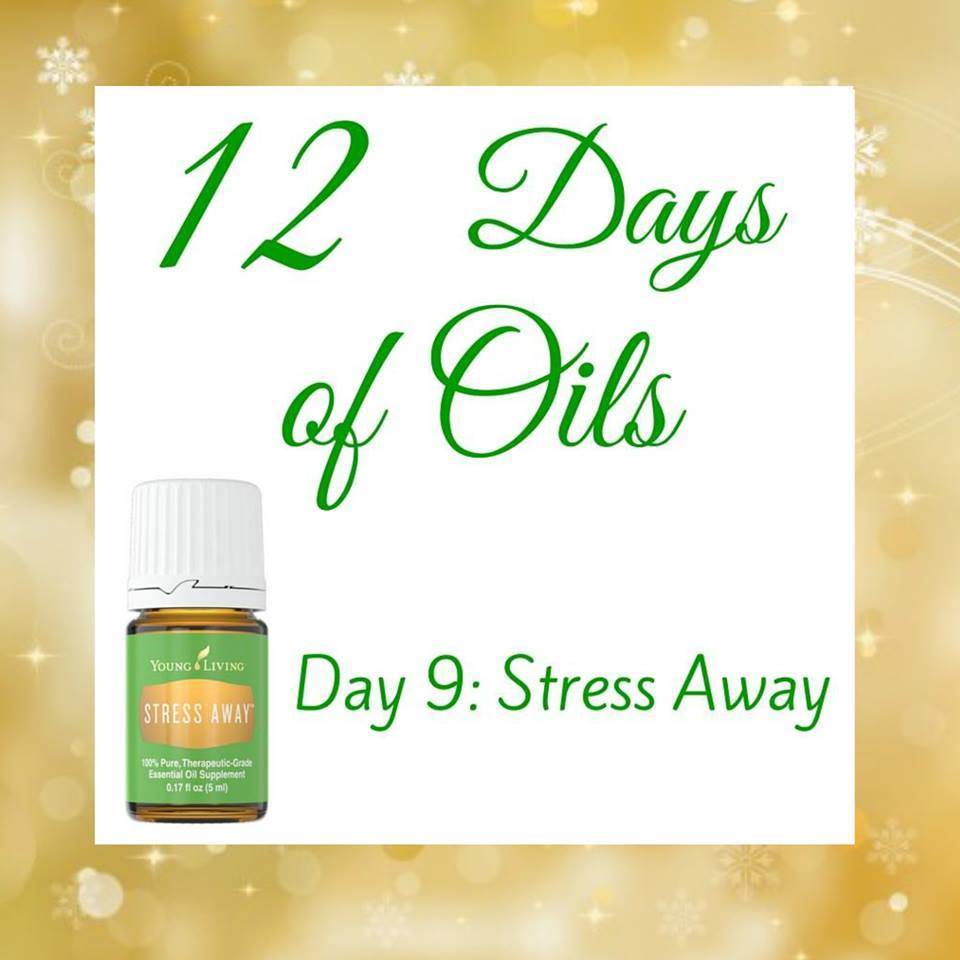 On the 9th day of oils, my true love gave to me….a bottle of Stress Away… (Otherwise known as LIQUID GOLD in our house!)
I'll never forget Brian's reaction to me one night early on in our oil journey. It had been A WEEK and on top of that, it had been A DAY. I was maxed beyond belief and my sweet husband came home needing to download about HIS difficult day. I sat at the kitchen table, head resting on my hand as he filled me in. I was just trying to hold it together.
Out of the corner of my eye, I saw my purse – and I remembered that my bottle of Stress Away was inside….As I sat there, I reached into my purse, grabbed the bottle of Stress Away, applied it to my wrists, nape of the neck and behind my ears. I put it to the side and continued to listen to Bri. NO JOKE – within 30 seconds, Bri stopped talking, pointed to the bottle and rather insistently said, "What IS that? Seriously – WHAT IS IT? Because whatever THAT is, there's a TOTAL change in you. I don't know what you just used, but you're DIFFERENT!"
Yep….Stress AWAY!
Nothing brings a sense of total calm over me like this oil does. It was designed to address the natural stress response in our bodies and that's exactly what it does. It smells like vanilla and lime and a bit of coconut (fractionated and included as a carrier oil). It's beach bliss in a bottle!
My favorite way to use this oil is always topically. I happen to absorb oils really quickly, so it has almost an instantaneous effect on me, but it may take 5-20 minutes for others to notice a difference. I've heard so many people talk about how they were totally stressed out, applied it, then a short time later, they simply noticed that they felt a whole lot "better" - as in calmer, more relaxed and uplifted.
Other ways to use this oil are by diffusing it, adding it to bath salts and enjoying a relaxing soak, or even rubbing a bit between your palms and taking in a deep breath of it. When I apply it to my wrists, I usually take a few deep breaths of from what's been applied.
I think my "funniest" story about this oil is the way it was passed around the bleachers during a couple of the final Jr. Hornets football games during our 7th grade season. It was MUCH needed and I wouldn't be surprised if we have a repeat of that in the seasons ahead!
As a momma of four, all I know is that there are so many times where I'm glad I can say, "Please pass the Stress Away!!!"
Our Mission: Love Others Well & Empower Them to Do the Same