Dec 7, 2017 05:03 PM Central
Andrea & Brian Johanson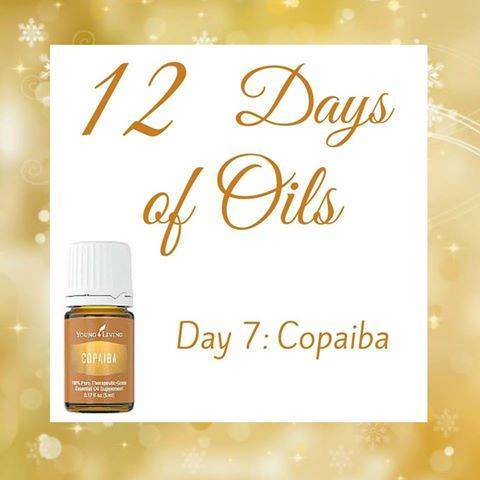 On the 7th day of oils, my true love gave to me, a bottle of Copaiba!
One of the great things about Copaiba is that supports the body's healthy response to inflammation, which is a reason why it's often used in conjunction with other oils.
Copaiba is fantastic for healthy muscle and bone support and it's one that we really rely on for supporting joint health in our family. In our house, any one of us can be found rubbing it on knees, ankles and the rotator cuff area, sometimes on its own, but often layering it on top of PanAway, Deep Relief or Aroma Siez. We also like to combine Copaiba, Idaho Balsam Fir and Frankincense and apply it topically with a bit of coconut oil to areas needing relief from occasional pain.
Not only that, it's also great for upper respiratory health. When we're needing some support in that regard, we layer it on top of RC or Breathe Again applied topically over our sinuses and lungs.
Other uses include providing emotional balance / mood lifting / calming and also supporting the skin, the cardiovascular and the nervous systems.
Copaiba wasn't one that was part of our oil collection early on, but now I can't see being without it and I even have it on my bedside at this point so I can apply it to my knee before I go to sleep. I'm so glad it's now part of the starter kit because it really is an oil that's so versatile and compliments the other oils so well!
Our Mission: Love Others Well & Empower Them to Do the Same