Apr 17, 2021 02:48 PM Central
Andrea & Brian Johanson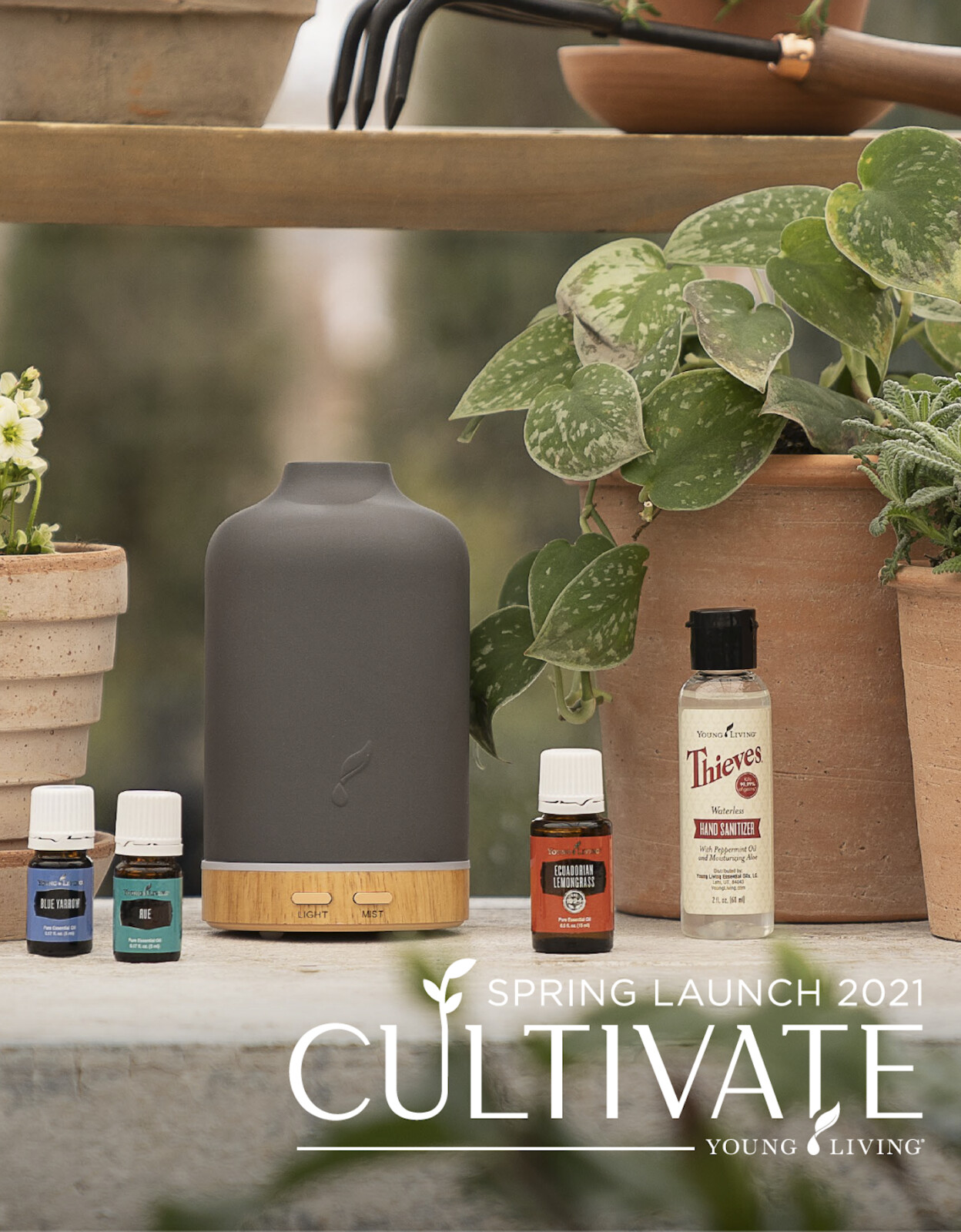 Who else is SUPER EXCITED about all this Spring Launch goodness?! Check it out!
First, here are two fantastic resources: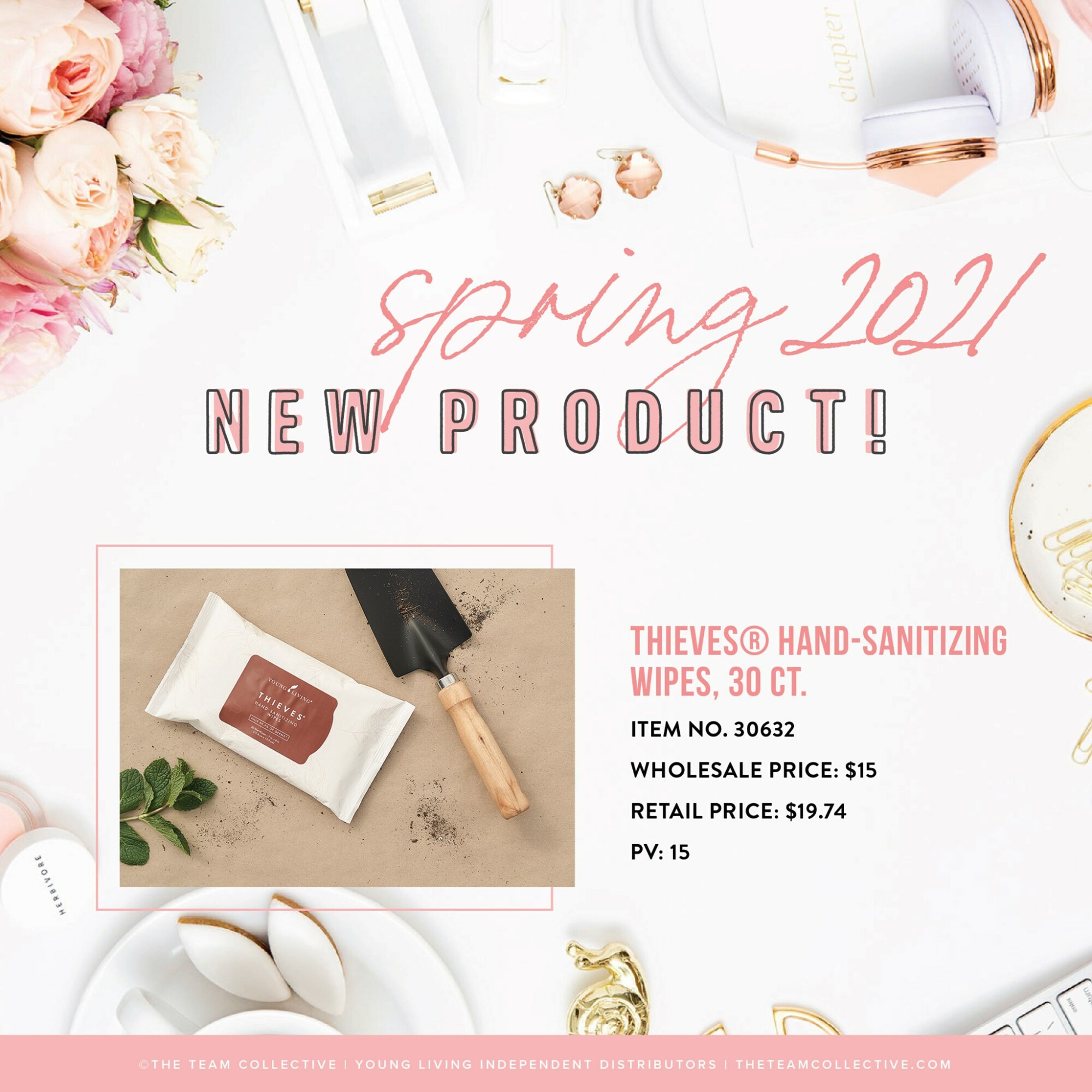 **THIEVES HAND SANITIZING WIPES**
Finally! Plant-based, sanitizing wipes infused with the power of Thieves and Peppermint and they're safe for the whole family! This is timely and so easy to keep on you all the time.
• kills 99.99 percent of germs and bacteria
• plant-based formula with antioxidants, green tea and gingko is safe for all ages
• 100 percent biodegradable wipe material is chlorine-free and made with 100 percent natural fibers derived from sustainably sourced wood
• infused with Young Living's Thieves signature essential oil blend and Peppermint essential oil for a sweet, spicy aroma
• formulated free of petrochemicals, mineral oil, parabens, sulfates, phthalates, synthetic fragrances, dyes, preservatives, or toxic ingredients
Shop Only, available on Loyalty Rewards May 1st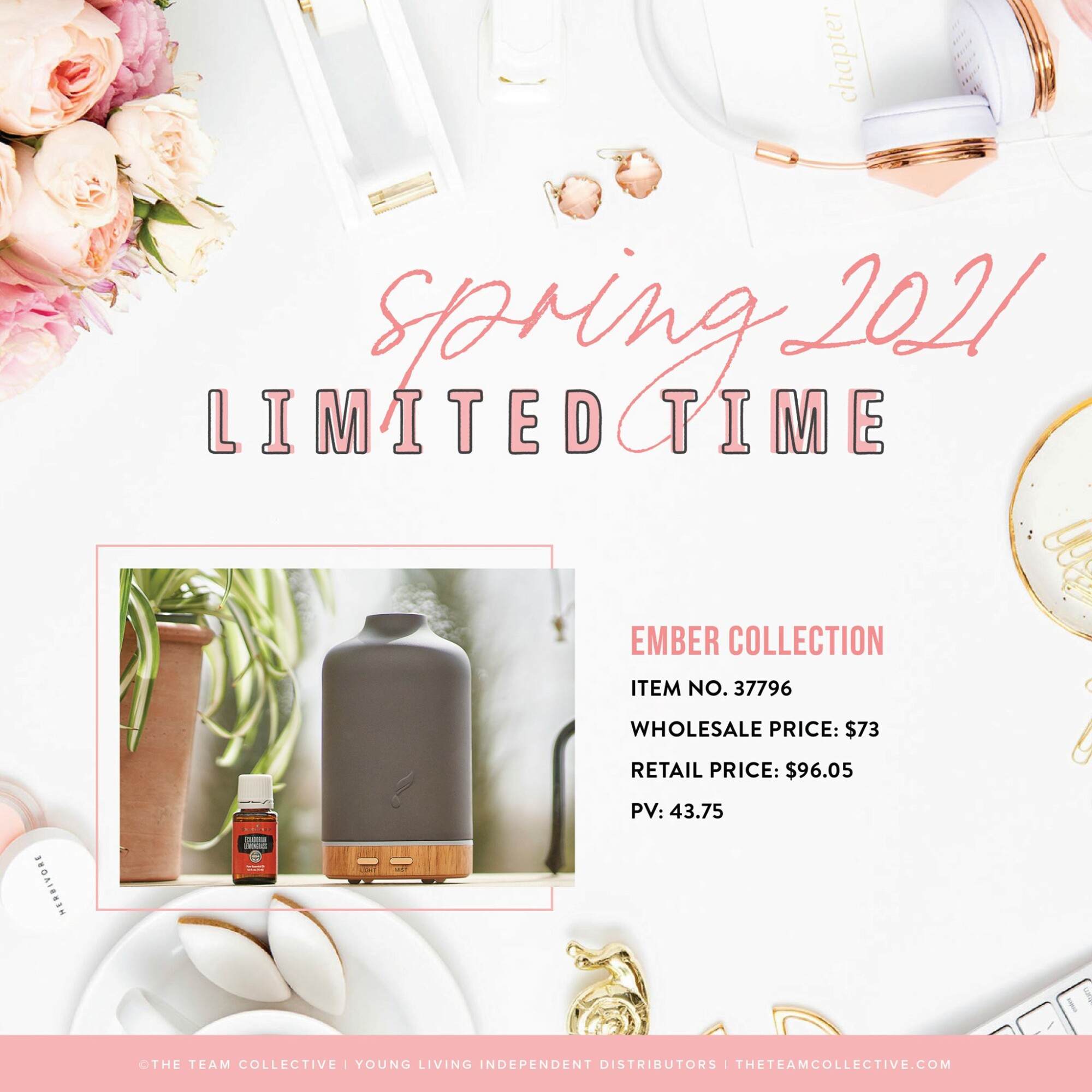 **EMBER DIFFUSER COLLECTION**
I want it. I want it right now! The Ember diffuser is a dark terracotta charcoal with a rubberwood base, and comes with the brand new Ecuadorian Lemongrass!
• Runs for 3.5 hours continuously or 7 hours intermittent!
• The Ember Diffuser offers eight individual light settings with multiple colors. The lights can also run independently from diffuser modes or be turned off while diffusing.
• Created with sustainability in mind, the rubberwood base is cultivated in Thailand from Pará rubber trees. Part of what makes these particular trees so sustainable is that they are harvested only after being tapped for rubber production for 20-25 years. Once the trees have fully matured and the rubber is dried up, they are then used to create high-quality hardwood products—most commonly furniture and home goods like the Ember Diffuser. Once the trees are harvested, new rubber trees are planted in their place, continuing the cycle.
Ecuadorian Lemongrass 15-ml
You already love Lemongrass, but this one is from Young Living's Finca Botanica Farm and Distillery in Guayaquil, Ecuador! It has a very cleansing aroma and is great in so many diffuser blends. Got some stinky boots or shoes laying around or some damp areas in your home that need freshening? A couple drops of Ecuadorian Lemongrass will freshen it right up. It's also really nice for a post-workout massage with a little carrier oil!
"CBD, short for cannabidiol, is a chemical compound from the cannabis plant. It's a naturally occurring substance that's used in products like oils, to impart a feeling of relaxation and calm."
We could go on and on talking about what CBD is, how it works, and so on, but we've talked about this before. However, if you want to learn more, the Nature's Ultra website is so good for that! Check it out and explore all the content:

https://naturesultra.com/pages/what-is-cbd
Add this PLAIN CBD OIL BASE to the already amazing Nature's Ultra CBD lineup we have and enjoy!! CBD and essential oils work so well together and having this option to create your own Smart Spectrum blend is going to be invaluable for so many people.
• CBD Oil Base contains cannabidiol (CBD) and MCT coconut oil - that's it!
• Contains 0.0 percent THC
• Comes with either a lavender or peppermint oil!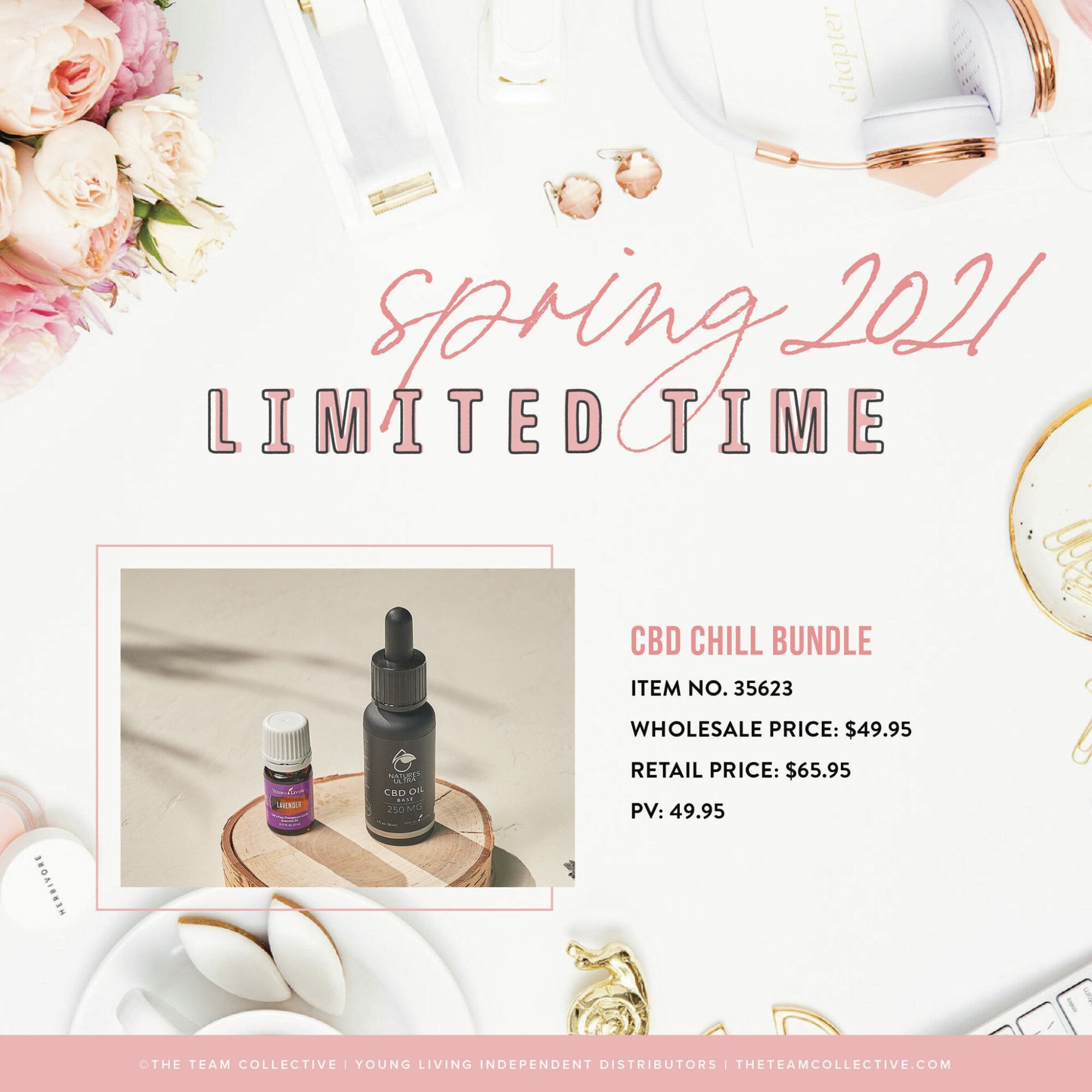 CBD Chill Bundle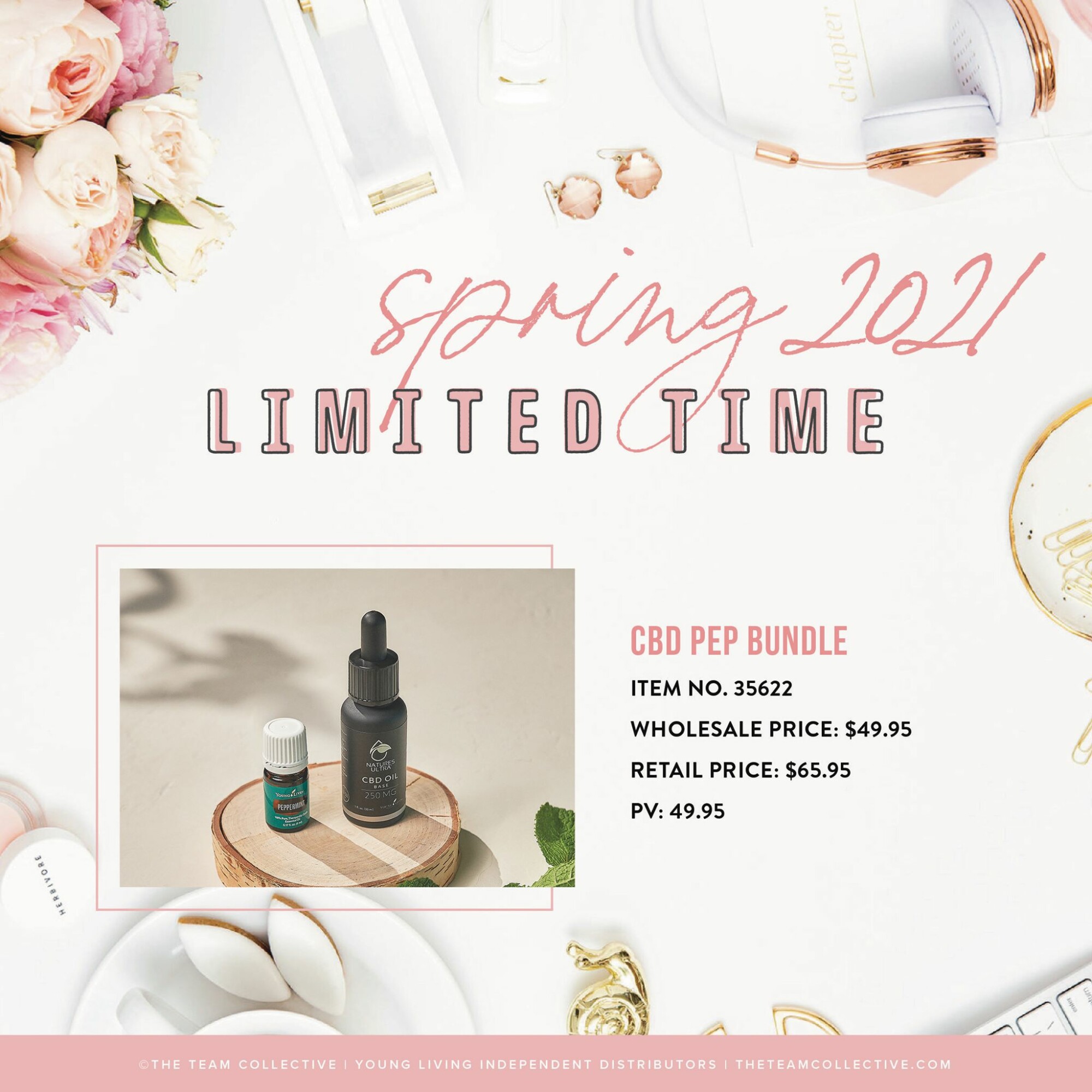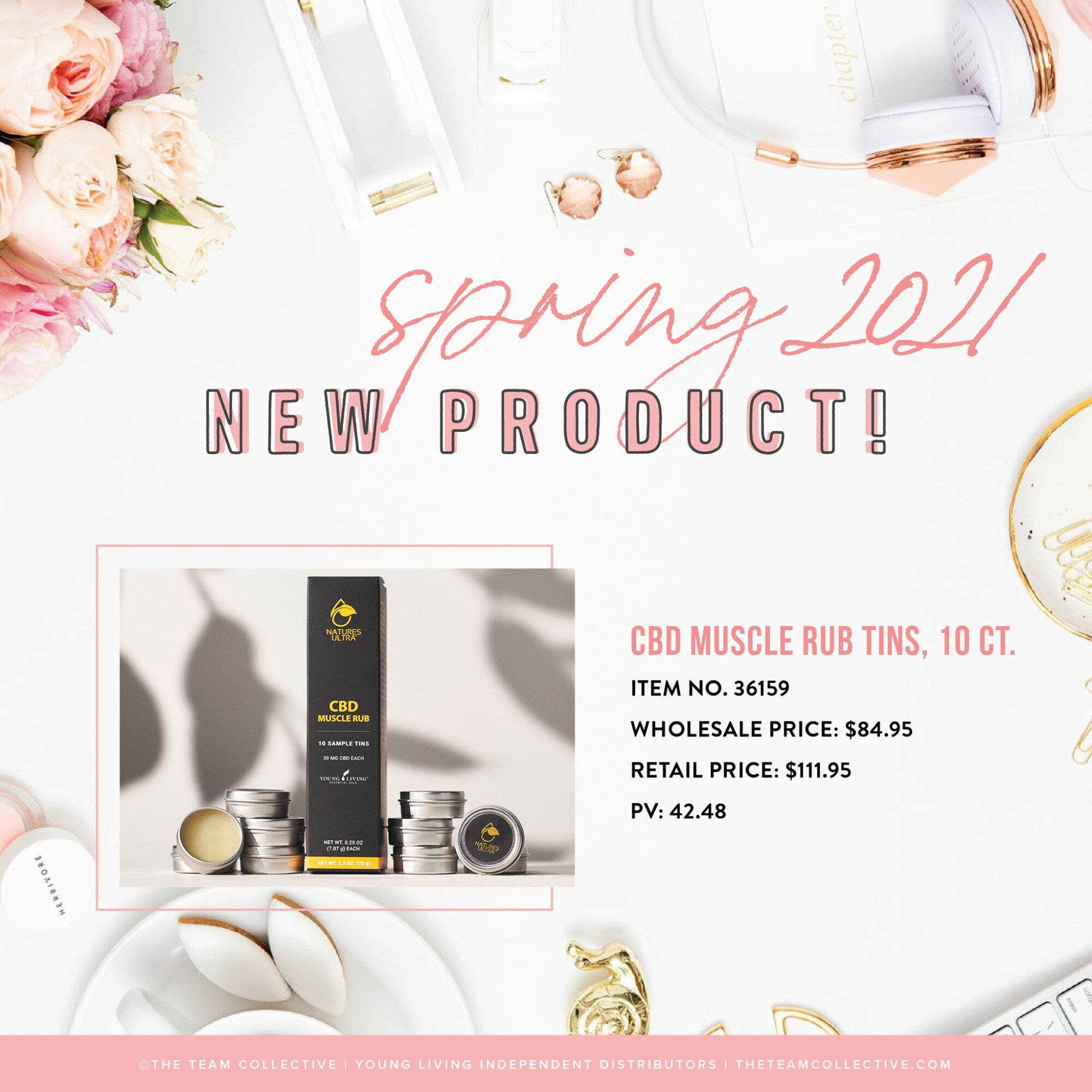 The wildly popular CBD Muscle Rub tins, great for on the go, or giving as samples, are back and now a permanent product! These are ahh-mazing!
Shop only, available on Loyalty Rewards May 1st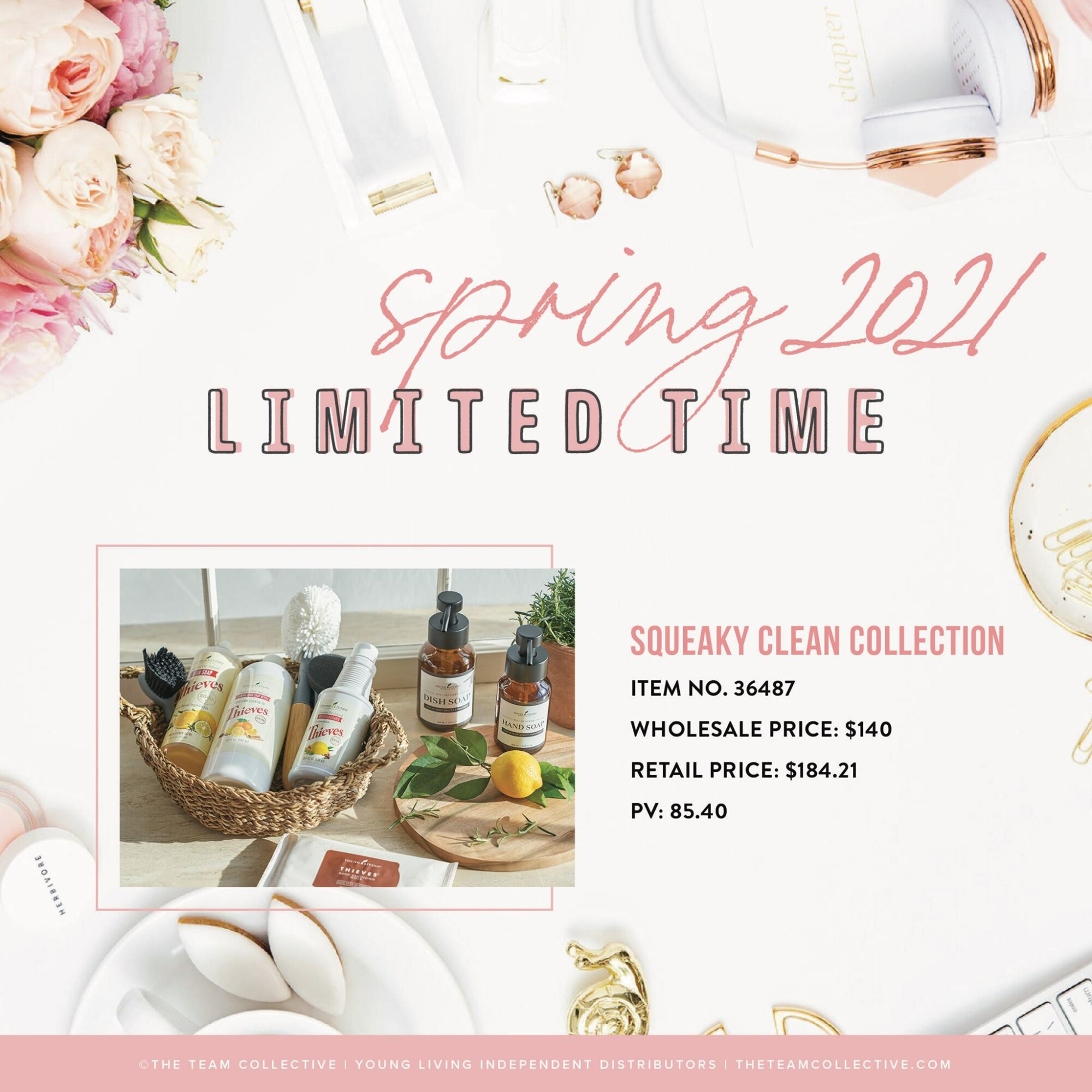 **SQUEAKY CLEAN COLLECTION**
This set has all your fave Thieves products, plus the new Hand Sanitizing Wipes, and some gorgeous matte dispensers and cleaning brushes!
The Squeaky Clean Collection includes:
• Thieves Dish Soap, 16 oz
• Thieves Foaming Hand Soap refill, 32 oz
• Thieves Hand-Sanitizing Wipes, 30 ct.
• Thieves Household Cleaner, 14 oz
• Cleaning brushes (one handle with three interchangeable brush heads)
• Thieves Foaming Hand Soap Dispenser
• Thieves Dish Soap Dispenser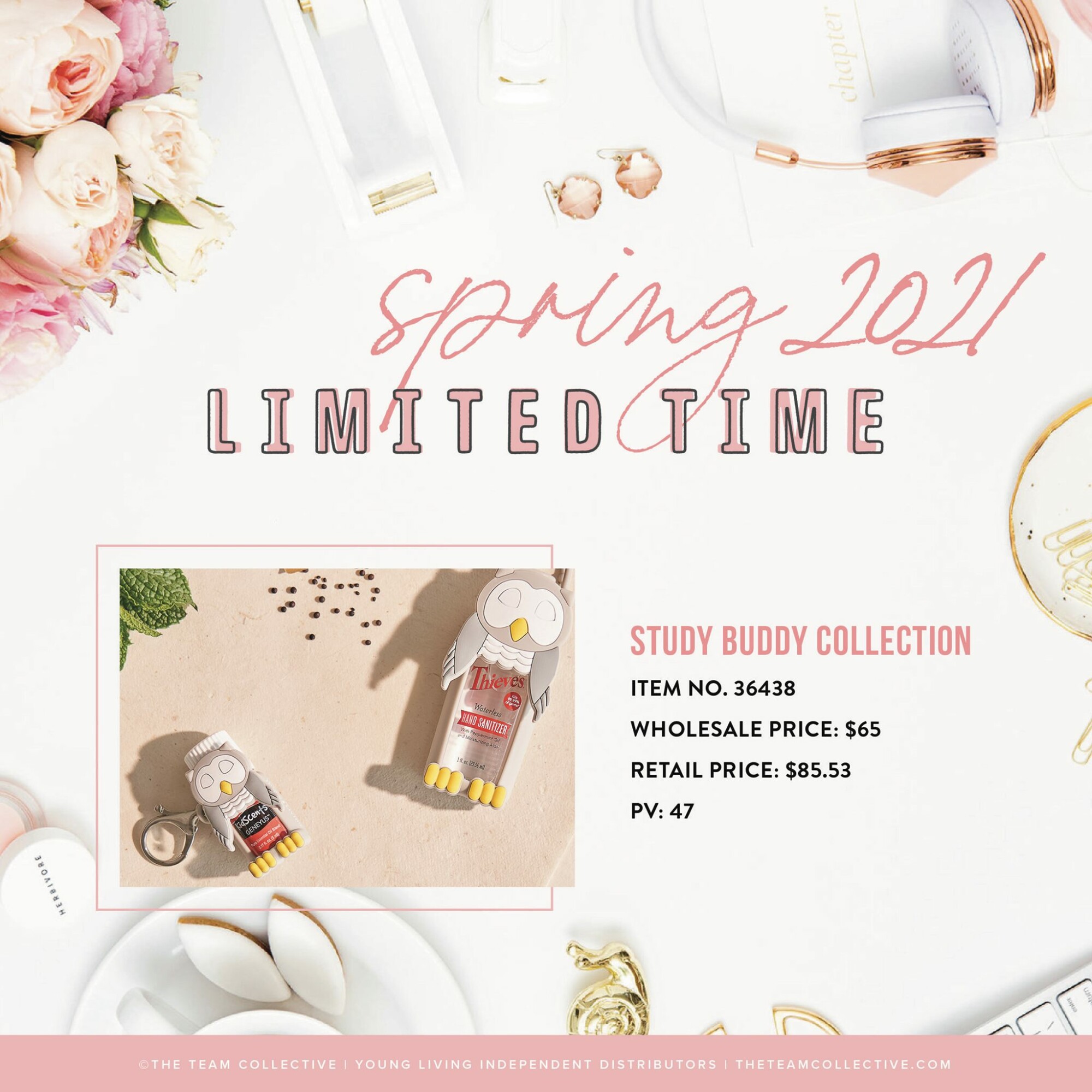 **STUDY BUDDY COLLECTION**
The perfect companions for your little one to have in their backpacks as they head to school. A 5-ml bottle of KidScents GeneYus and a 1 oz. Thieves Hand Sanitizer with adorable silicone owl sleeves for both. Put a roller ball on the GeneYus or show them how to use a diffuser necklace or bracelet to get the most out of this brain boosting focus oil!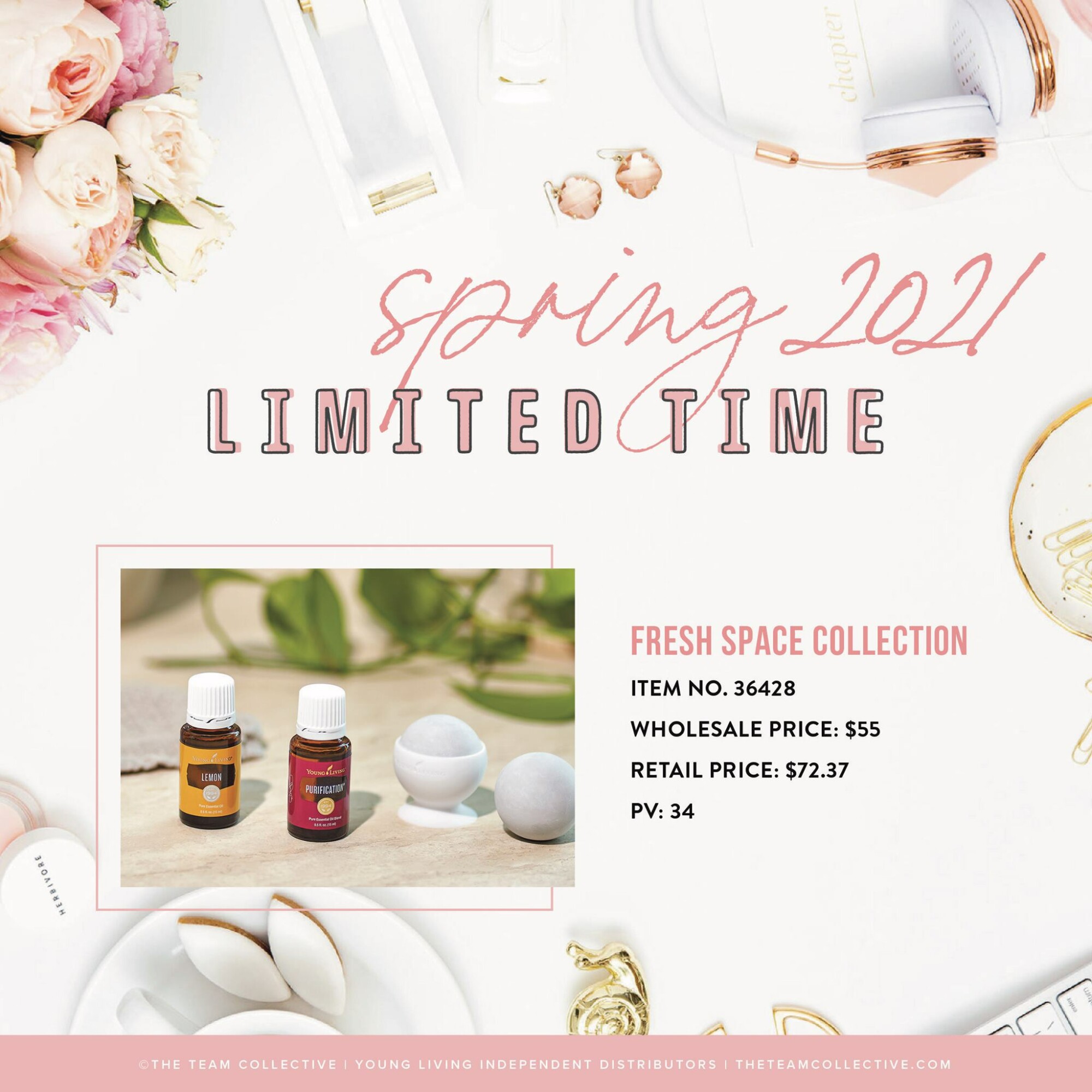 **FRESH SPACE COLLECTION**
Spring cleaning plus musty, damp messes from all the spring rain will have you reaching for this Fresh Space Collection every single day. It comes with two charcoal balls and one silicon sleeve to let you drop your oils onto them and have any space smelling and feeling so fresh and so clean! I love what Annie Hauser had to write about Purification and Lemon. Such good reminders!
"What else can you use Purification for? This blend is made up of six essential oils for the ultimate weapon against odors. Citronella, Lavandin, Lemongrass, Rosemary, Myrtle, and Tea Tree work together to create a refreshing, bright scent!
• Dilute a bit with lavender and rub around (never in) your ears to help keep them healthy, and around your eyes (follow the bones, like you are wearing glasses) if you need some non-pink support there too!
• Add a few drops to laundry to give your wash a great-smelling boost.
• Place a few drops on cotton balls and stash them wherever necessary: the car, closets and drawers, air vents, or shoes.
• Use in the car with a USB Diffuser to eliminate lingering scents of fast food trips or the soccer carpool.
• Refresh linens with a spritz of Purification, diluted with distilled water.
• Create an on-the-go air freshener with a spray bottle, distilled water, and Purification. Keep it in your bag to freshen up offices, public restrooms, hotel rooms, and cars.
• Emotional Uses: Anger, being alone, fear of rejection, fear of seeing, negative thoughts, recognition, violence.
How about Lemon? It contains the naturally occurring constituent, Limonene. Google it!
Clarity | We love to diffuse lemon - it's so uplifting.
Sip | A few drops of Lemon Vitality are delicious in a glass of water, and naturally detoxifying.
Laundry | Try a few drops in your washing machine to brighten and refresh your clothes
Cleaning | use 1 drop to remove crayons, gum, stickers, or grease from surfaces!"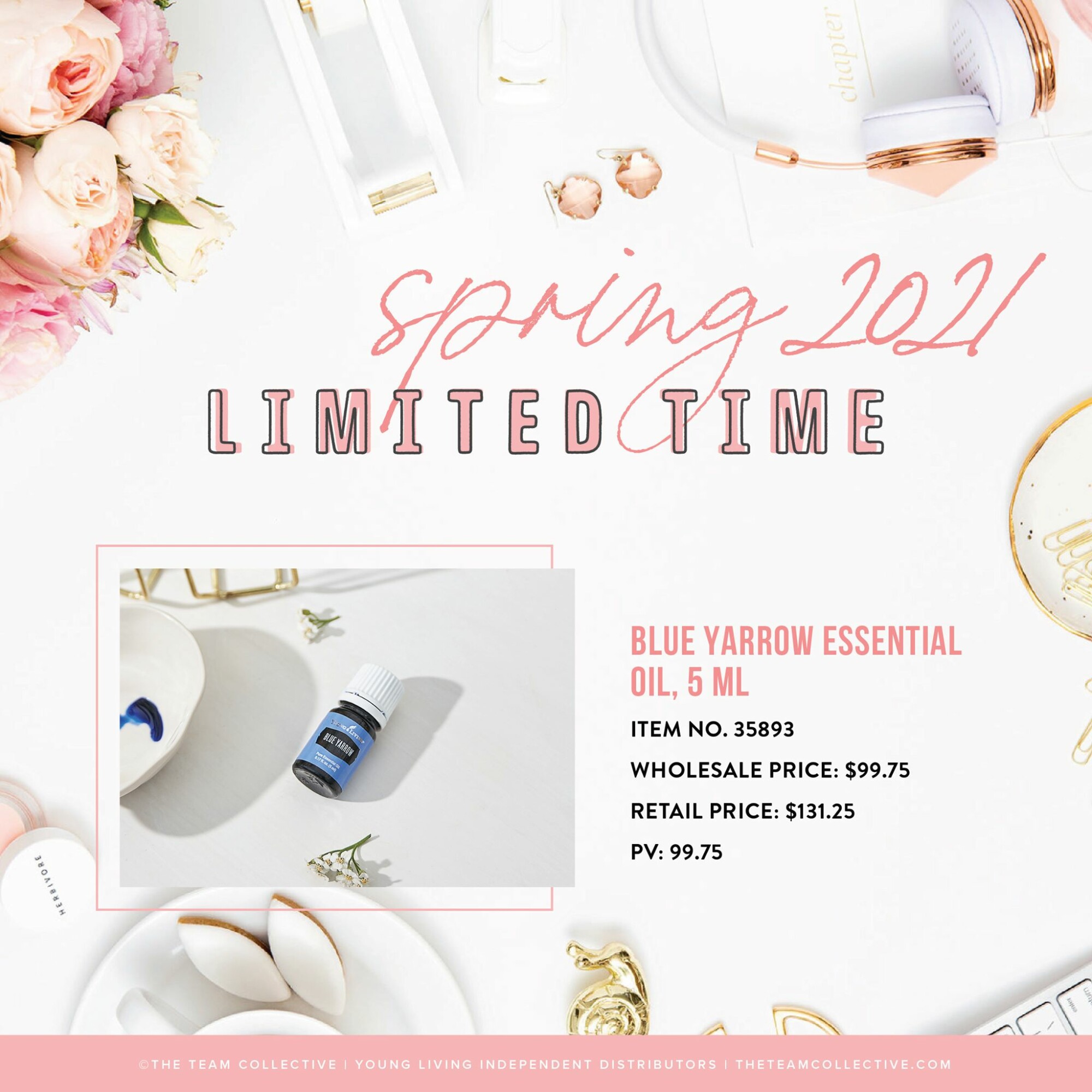 Blue Yarrow is calming and balancing and amazing for those quiet moments, meditation, and yoga. It's slightly sweet and earthy and will help you calm right down. If you look up the benefits of blue yarrow you'll find a lot of great things, but Blue Yarrow is one of the oils used in Dragon Time and Mister, so you know it's going to be good for emotional balance while dealing with hormonal issues and also for comfort for small cramps! This is limited time so you're going to want to get your hands on this and all the limited time oils that are part of the Spring Launch!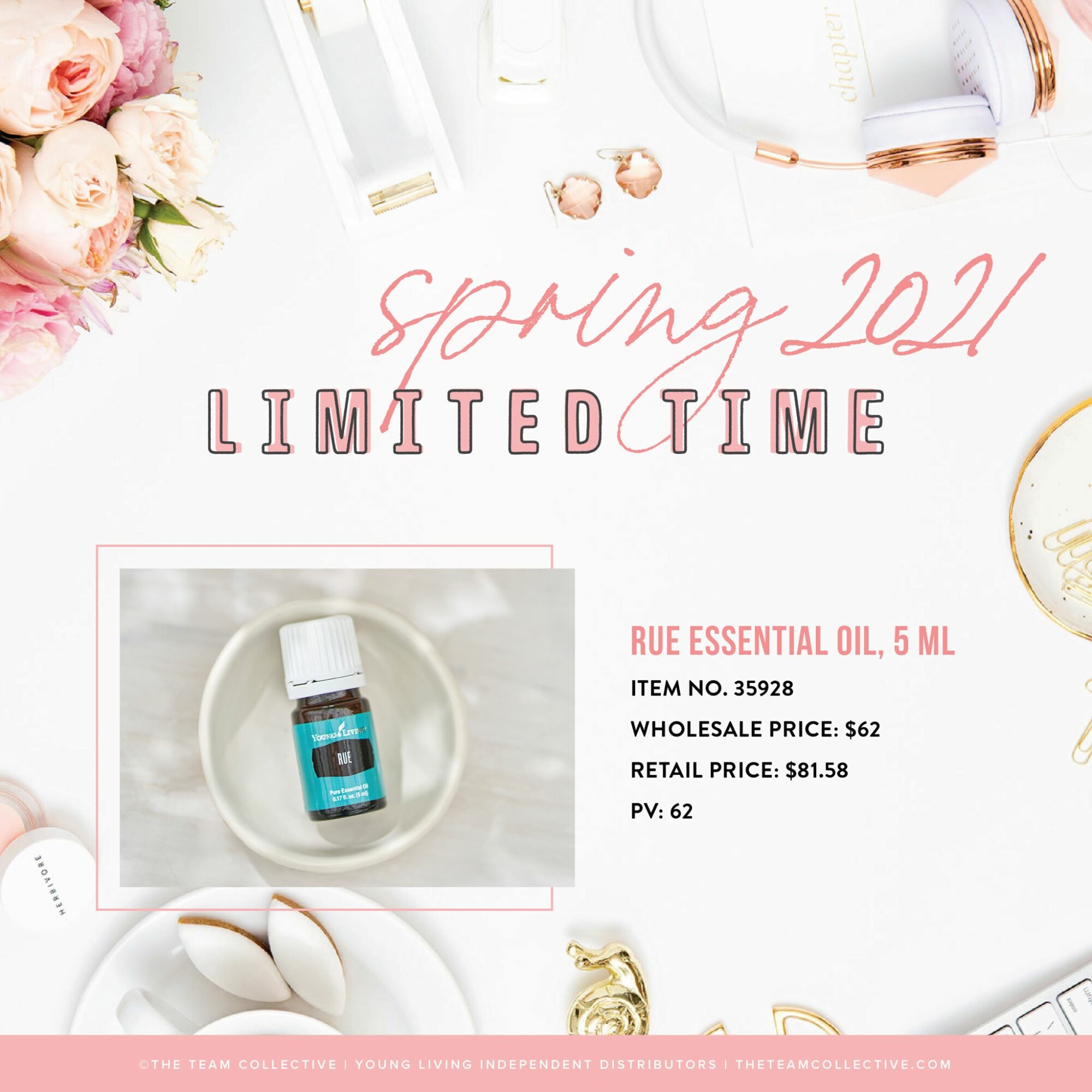 Rue is a very special and powerful oil. It's only found in a few of Young Living's blends, but seeing which ones they are gives you an idea of just a few of the things you can use it for:
AromaSleep, Freedom, and T.R. Care (from the Freedom Sleep and Release Collections Bundle)
To say the least, it's calming. A relaxing, comforting massage might be in order, and I've heard it pairs well with Lemon and Tangerine in the diffuser! Do yourself a favor and search up what this one can do for you! Again, this is only here for a limited time, so snag it while you can!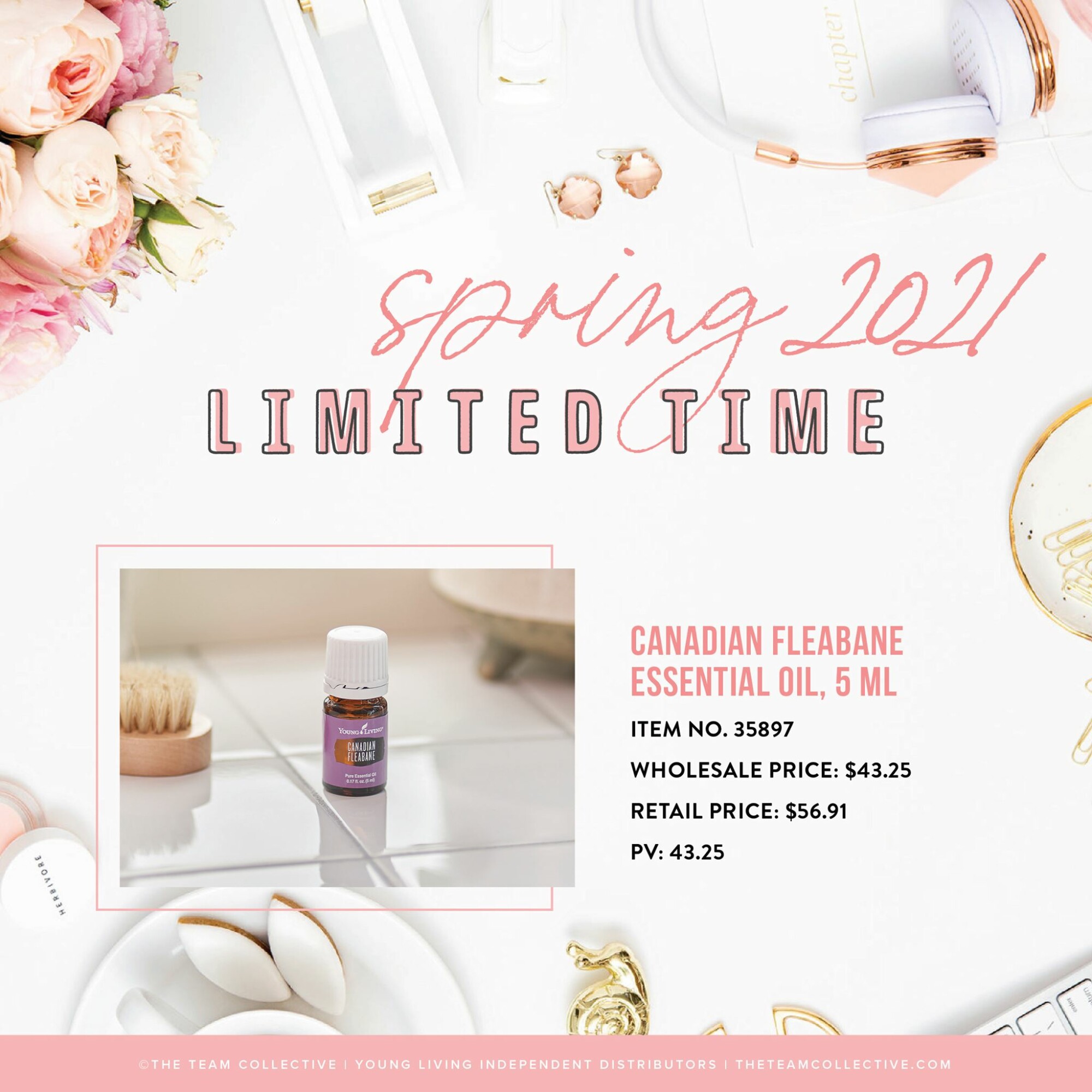 **CANADIAN FLEABANE 5-ml**
Have you been trying to recreate Light The Fire blend but have been missing this one ingredient? Now's your time to get it while it's here! IT's good for positive energy, healthy-looking skin, cleaning around the house, and keeping muscles happy and soothed when combined with a carrier oil!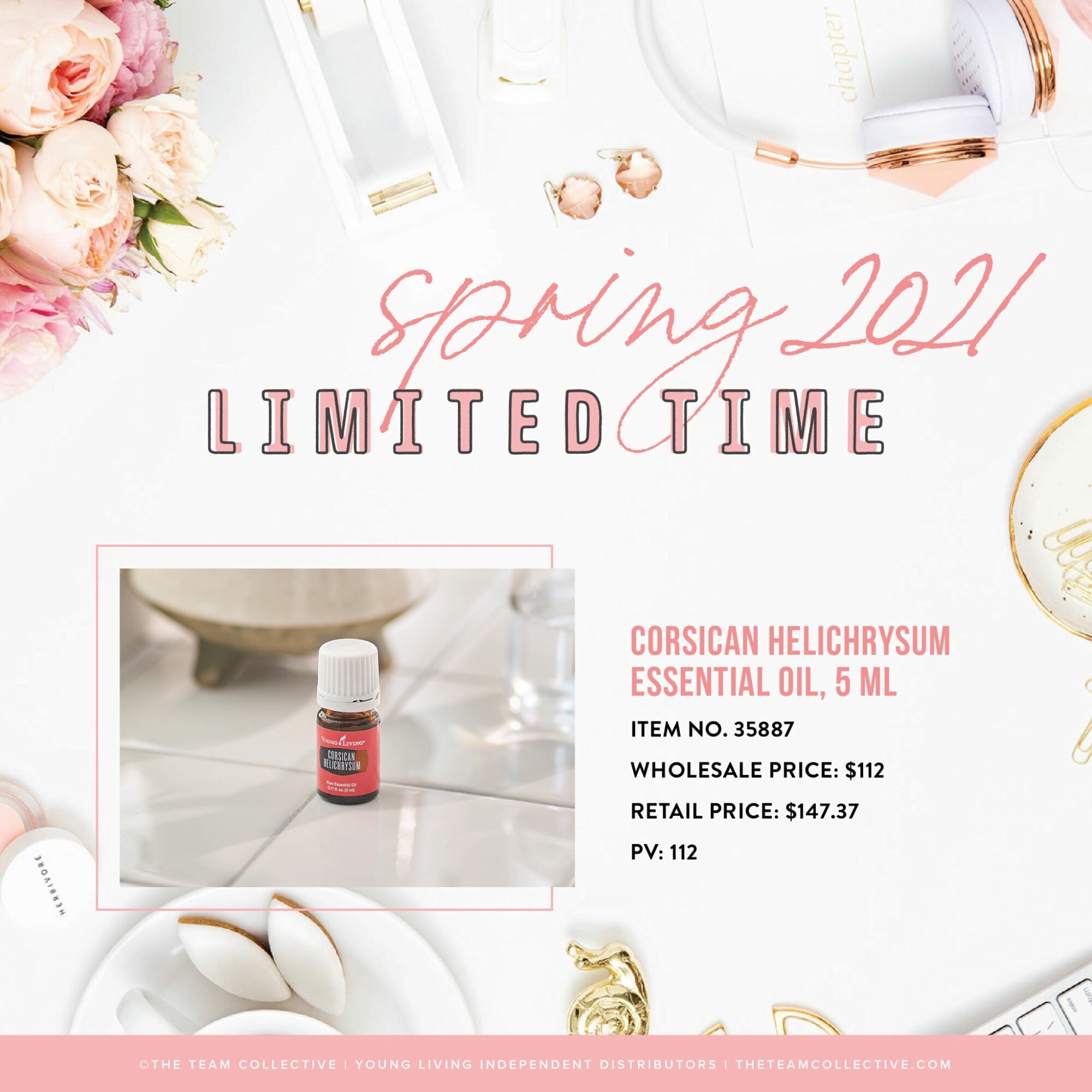 **CORSICIAN HELICHRYSUM 5-ml**
The perfect companions for your little one to have in their backpacks as they head to school. A 5-ml bottle of KidScents GeneYus and a 1 oz. Thieves Hand Sanitizer with adorable silicone owl sleeves for both. Put a roller ball on the GeneYus or show them how to use a diffuser necklace or bracelet to get the most out of this brain-boosting focus oil!
"Show off gorgeous, glowing skin with a no-makeup makeup look courtesy of Corsican Helichrysum. Extracted from a rare Mediterranean variety of helichrysum, this unique oil contains the powerful constituents nerylacetate and italicene to help you put your best face forward—naturally. Add 1–2 drops to your facial cleanser to naturally cleanse skin or combine it with Frankincense or Royal Hawaiian Sandalwood to pack in more skincare power."
Cassia was available recently and we all loved it so much they just had to bring it back! It's only here for a little while so grab it while you can and put it in the diffuser with some of that Vanilla you recently got! Cassia is such a great cleansing oil that you would be doing yourself a favor to add a drop or two to your Thieves Household Cleaner!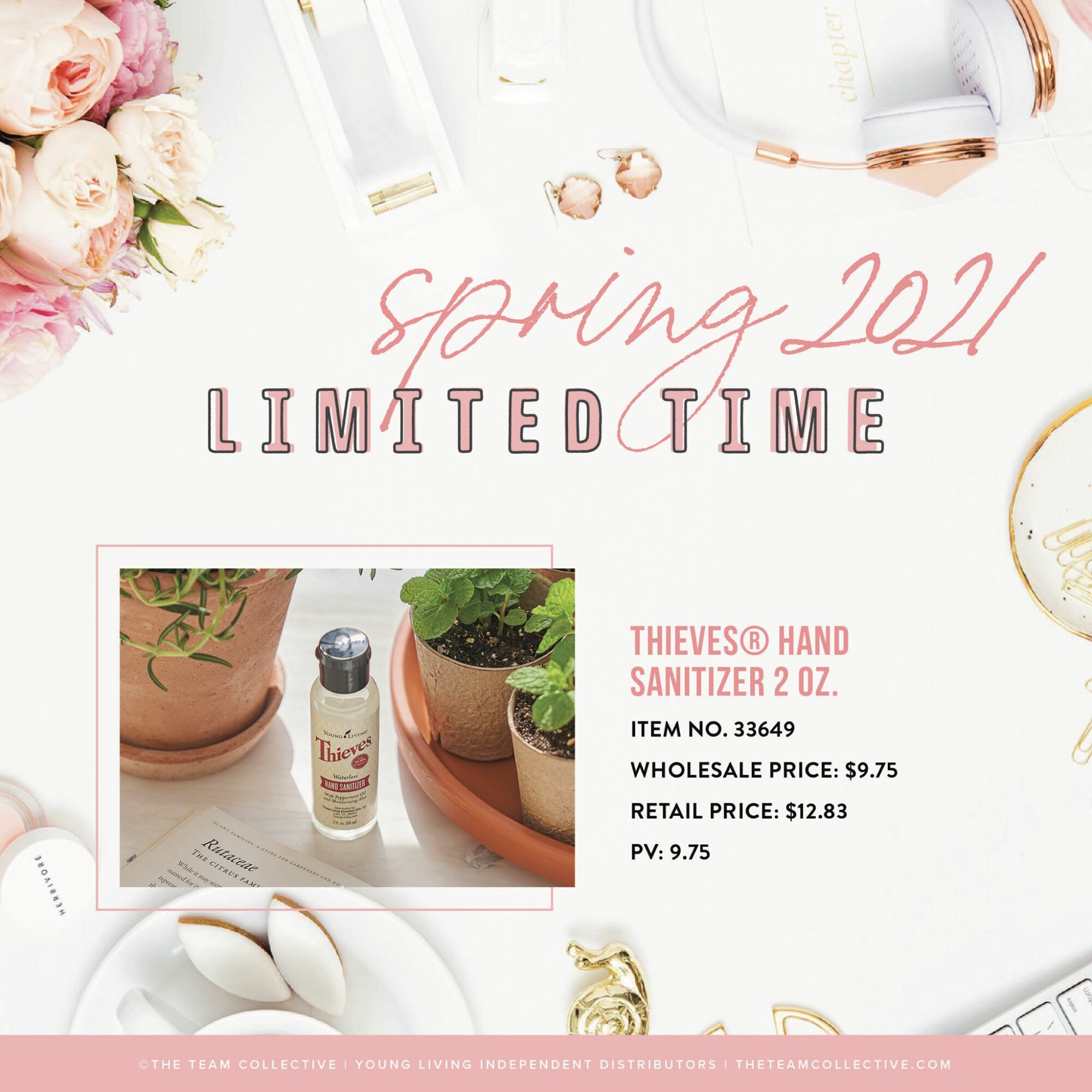 **Thieves Hand Sanitizer 2oz - NEW size!!**
The same Thieves Hand Sanitizer we already know and love in a brand new size! Perfect for the car, your purse, or anywhere you want to have the sanitizing power of Thieves nearby! Grab it while you can!
Shop only, available on Loyalty Rewards May 1st
What are you most excited about and getting in your order? A new diffuser? New CBD? Oils we haven't seen in a long time...Thieves Sanitizing Wipes...Amazing bundles? What are you grabbing? (
Don't be surprised if you wait in a queue when you log into your Virtual Office to place your order. Totally normal!)
If you have any questions or need help in any way, please reach out!
Happy Oiling and Happy Shopping!
Our Mission: Love Others Well & Empower Them to Do the Same