Aug 1, 2018 12:27 PM Central
Andrea & Brian Johanson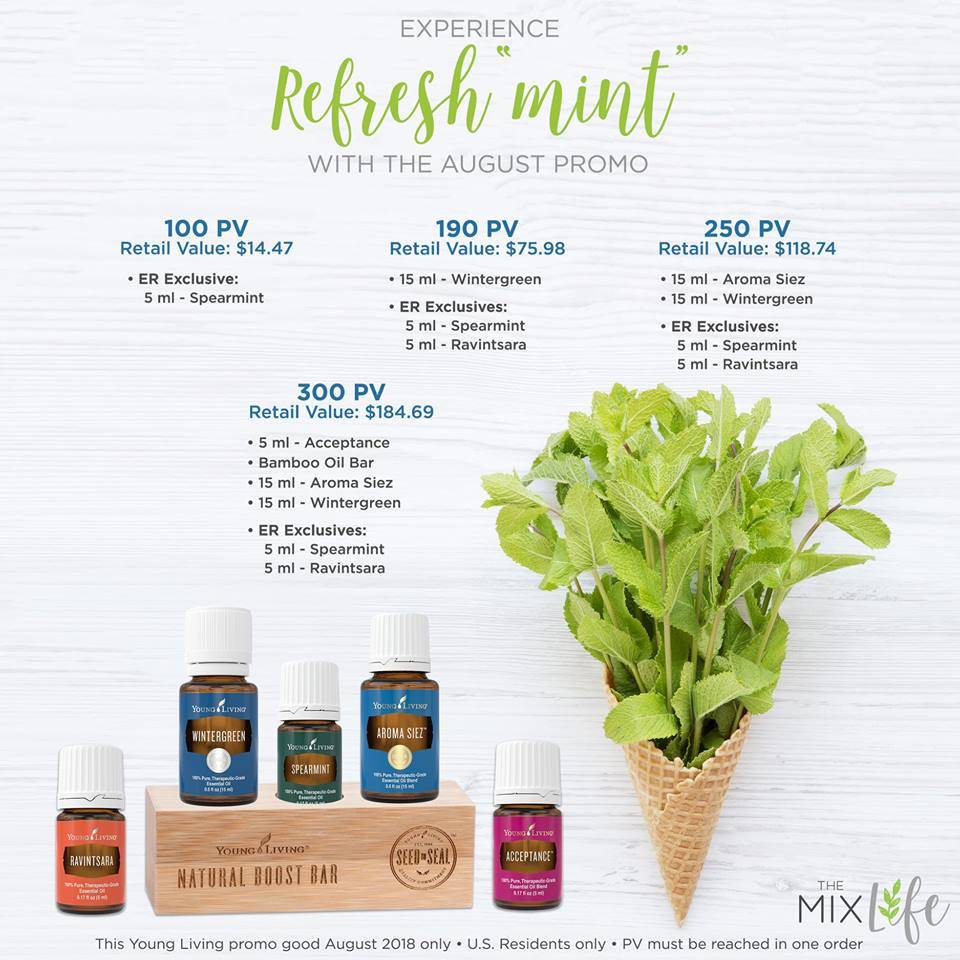 Happy August!
Summer is winding down and both life and the seasons are about to shift. Even though it happens every year, it still sneaks up on us, and by the time back to school is here (our son started today) and summer is ending, we feel completely unprepared. Thankfully, now that we have oils in our lives, we're more prepared for whatever life throws at us. It's important, before or even during the craziness, to take a little time and recharge the batteries. The oils in August's PV promos are all about that!
Both Spearmint and Ravintsara, the Essential Rewards exclusives this month, have refreshing qualities. Spearmint supports a healthy metabolism, as well as the digestives system. and is so energizing when diffused! Ravintsara can be used to help focus your meditation or get the mind centered ,and is supportive of the upper respiratory system.
Aroma Siez is a unique blend that helps soothe tired muscles and provides a similarly unique aromatic experience that can provide a calming feeling. Add Wintergreen with the Aroma Siez and a carrier oil to help alleviate discomfort following exercise, as well as invigorate and provide a cooling sensation when used in a massage after a long day.
Plus, did you see that Bamboo Oil Bar? Keep it by your bed or on your desk to have a few of your favorite go-to oils near you all the time!
Topping it off, we get a 5-ml bottle of Acceptance, offering extra feelings of confidence and self-worth to know that whatever is before us, we've got this. Because, we do. We've all got this.
Here's the full breakdown of the US August PV promos:
100 PV:
Spearmint 5-ml*
190 PV:
Wintergreen 15-ml
Ravintsara 5-ml*
Spearmint 5-ml*
250 PV:
Aroma Siez 15-ml
Wintergreen 15-ml
Ravintsara 5-ml*
Spearmint 5-ml*
300 PV:
Acceptance 5-ml
Bamboo Oil Bar
Aroma Siez 15-ml
Wintergreen 15-ml
Ravintsara 5-ml*
Spearmint 5-ml*
*Remember, in order to get the Essential Rewards Exclusive Spearmint 5-ml and the Essential Rewards Exclusive Ravintsara 5-ml, you have to be enrolled in Essential Rewards (ER) and have an order that meets the PV requirements for those items. The extra bonus of meeting these PV amounts with your ER order is that you get even more ER points to spend later!
With these promos, we'll have everything we need to take a moment to recharge and refresh and tackle the change of seasons and everything that comes with it. Some of these oils might be new to you, but I have a feeling you'll find some new favorites with them!
Happy August!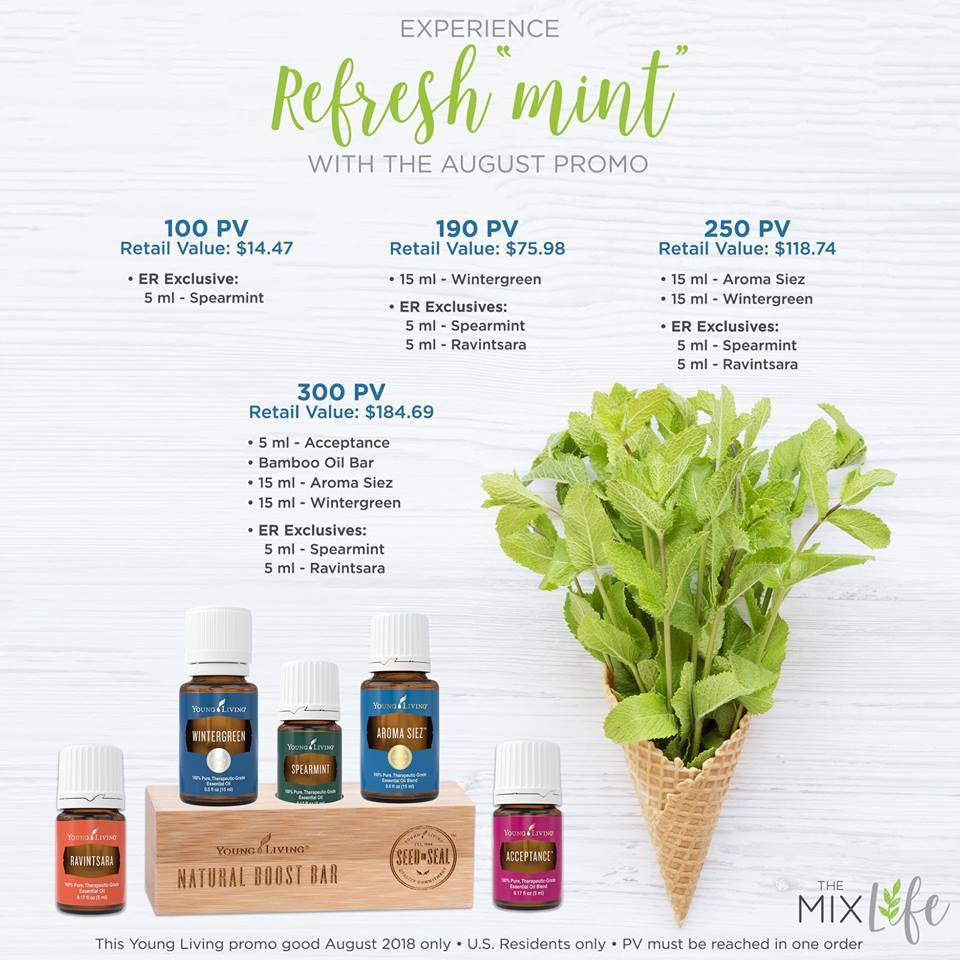 Our Mission: Love Others Well & Empower Them to Do the Same