Apr 9, 2018 02:54 PM Central
Andrea & Brian Johanson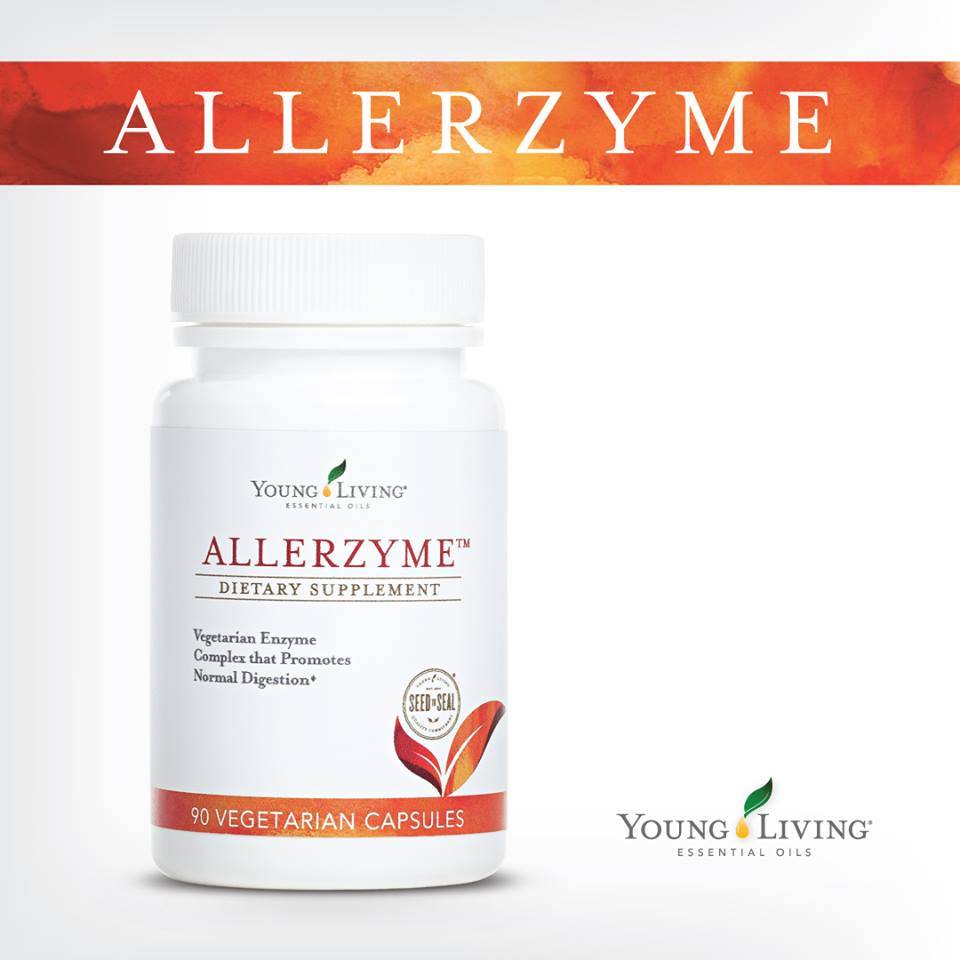 I'm so thankful for Young Living's Training and Education FaceBook page! It's such a wealth of information! They did a fantastic post on
Allerzyme
, which is one of this month's freebies and it's a supplement that not many people know about. I wanted to share it here so that you could get the same great information and discover just WHY this is such a fantastic product to get for free! Here's the
SOURCE LINK
and be sure to check out the
Young Living Training and Education page
!
This month at the 300 PV level, you can get Allerzyme™ for free! Have you heard of Allerzyme? Allerzyme is a vegetarian enzyme complex that promotes normal digestion.* This powerful supplement is also infused with some of our favorite essential oils: Tarragon, Ginger, Peppermint, Juniper, Fennel, Lemongrass, Anise, and Patchouli.
Why is it important to supplement with digestive enzymes? Enzymes help to break down our food into usable energy sources for our body. Specific enzymes break down different types of food into fats, carbs, or proteins. Since every person has different enzyme needs, it is key to find the enzyme product that works best for you!
Want to learn more about the essential oils in Allerzyme?
Ginger Vitality
• Supports a healthy lifestyle*
• Supports normal digestion*
• Is an important ingredient in DiGize Vitality, Digest & Cleanse™, EndoGize™, ICP™, and Essentialzymes-4™
Peppermint Vitality
• Supports gastrointestinal system comfort*
• Promotes healthy bowel function*
• Enhances healthy gut function*
• Maintains efficiency of the digestive tract*
• Supports normal digestion*
• Reduces feelings of discomfort after large meals*
Fennel Vitality
• Supports the digestive system*
• Helps maintain overall well-being*
Lemongrass Vitality
• May support the digestive system*
• Supports overall wellness*
• Cleansing *
• Maintains a healthy circulatory system*
Take 1 Allerzyme capsule 3 times daily before your meals or as needed. This is a great time of year to try this supplement; get it for free this month by placing a 300 PV order!
*These statements have not been evaluated by the Food and Drug Administration. This product is not intended to diagnose, treat, cure, or prevent any disease.
Our Mission: Love Others Well & Empower Them to Do the Same