Dec 3, 2017 07:13 PM Central
Andrea & Brian Johanson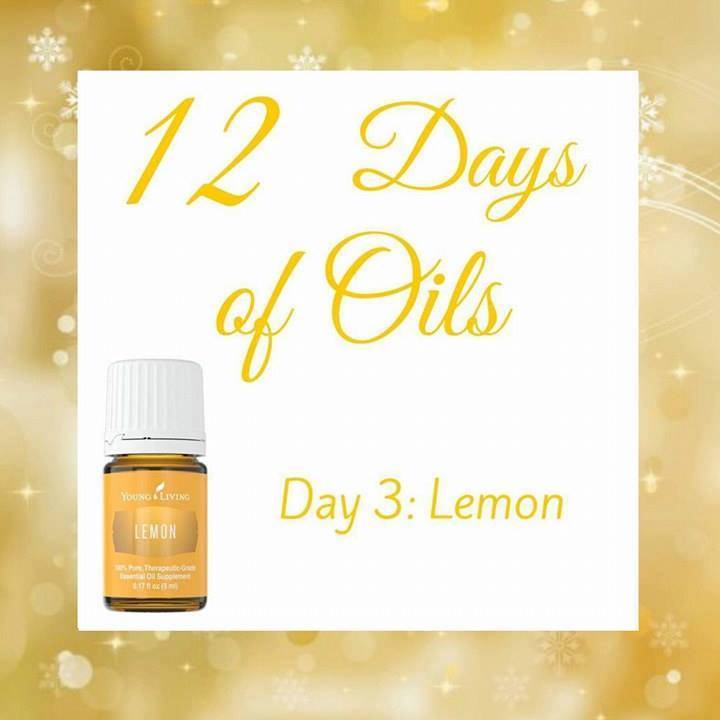 On the third day of oils, my true love gave to me....a bottle of Lemon!
This oil is crazy versatile and is such a great way to get started with using oils in everyday life. We go through about a bottle a month in our house because we use it so much!
Bri and I love to add Lemon Vitality (and other citrus oil favorites) to morning smoothies. I also love putting it in my water because of all the wonderful detoxing benefits lemon provides for the body, including how it helps alleviate occasional bloating.
Two tips with citrus oils:
If you're putting them in drinks, be sure to use glass, not plastic, because citrus oils can cause petrochemicals can be drawn out of the plastic. You don't want that in your body!
They can cause photo sensitivity, so if you're applying them topically, those areas should stay out of the sun for 12-48 hours, depending on the oil.
Other favorite ways we use Lemon and Lemon Vitality....
Diffused with Peppermint for a great perk me up and help with staying focused and alert
Diffused or taken in a capsule with Lavender and Peppermint Vitality oils for seasonal respiratory system support
Taken in a capsule with Peppermint Vitality to help support normal weight loss
Applied to the tummy and lower sternum to help alleviate occasional heartburn (SO needed during the holiday season!)
Included in our DIY moisturizers to support healthy skin
It's CRAZY GOOD at taking off sticky residue, crayon and the like and for other cleaning purposes
Diffusing it seems to "bring the sunshine inside" and it's wonderfully uplifting
Use Lemon Vitality in baking such yummy treats as lemon bars or in homemade salad dressings or in marinades and sauces. We love chicken prepared in a lemon-based marinade, then grilled or we cook chicken in the oven with lemon YLEO, butter & garlic and serve it, sauce and all, over pasta. SO good!!!!
Our Mission: Love Others Well & Empower Them to Do the Same