Nov 19, 2022 11:41 AM Central
Andrea & Brian Johanson

NOVEMBER PROPHETIC WORD: STAND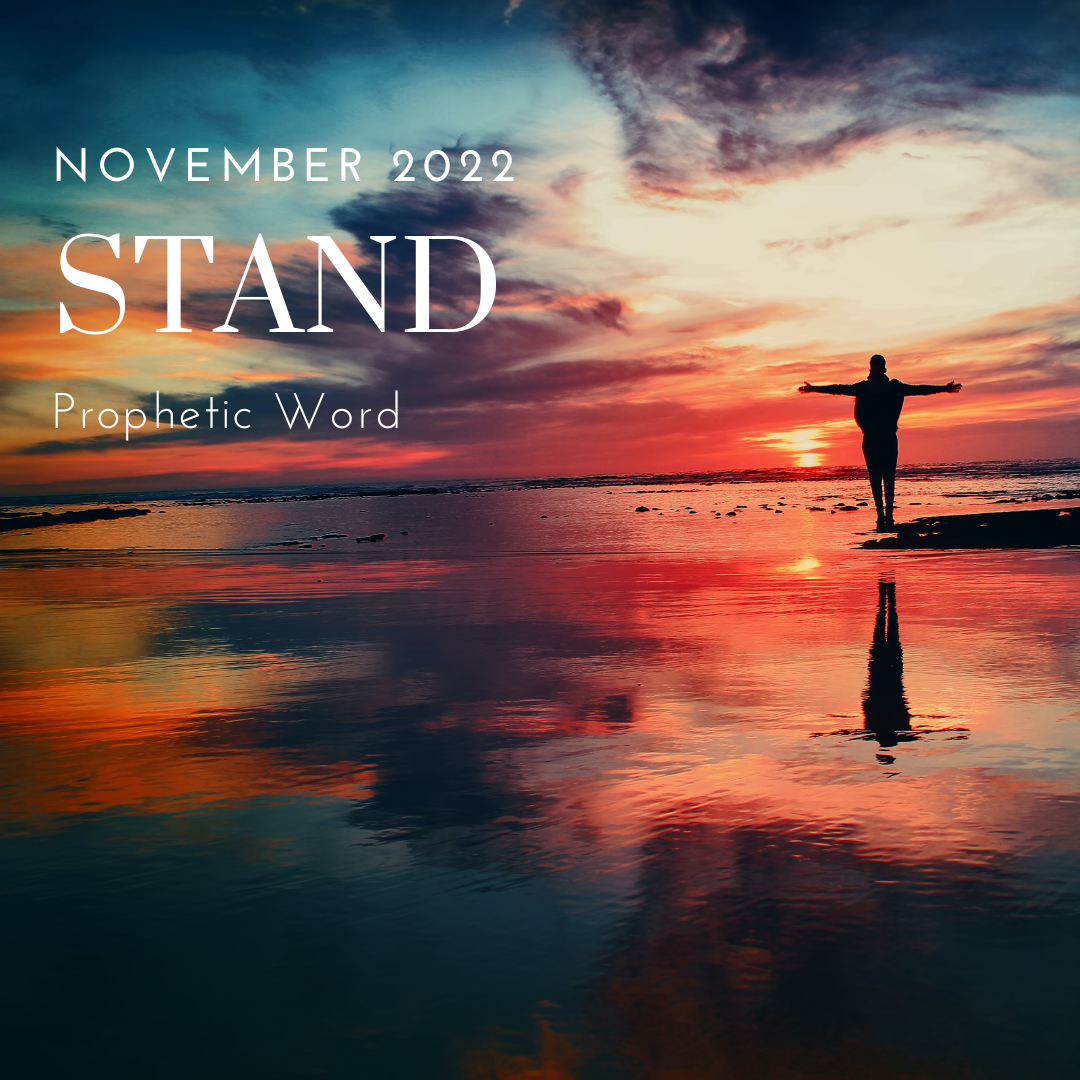 As I played instrumental worship music and entered into His presence this morning, I had a powerful encounter with the Lord.
I was dancing the waltz with God in the midst of a stunning ballroom decorated in creams and gold, illuminated by glorious light. We were both dressed in white. I held my long, flowing gown out to the side as we spun in circles around the dance floor that was reserved only for us as others stood along the perimeter. I was flooded with joy and as I watched the scene unfold in my mind, I wept, releasing all I'd been holding within.
After a while of dancing on the ballroom floor, we began to ascend into the heavenlies, and we were dancing in and on the clouds. Small, delicate stars began to fall all around us, some landing on me and soaking into me, infusing me with their heat and light. I wept even more. It's hard to even describe it.
The scene changed as Papa offered me His hand and we walked together in the most beautiful, English garden. He pointed out the smallest of flowers, not wanting me to miss seeing their delicate beauty amidst the rest of the splendor.
We eventually came through the garden and were standing on the edge of a cliff overlooking the sea – like one seen on the coasts of Cornwall. It was dawn and I heard Him say to me, "STAND, and watch the Son rise." It was the most incredible sunrise I'd ever seen. The light of His presence rising shone on me and warmed me to the core of my spirit and soul, strengthening me with its power.
Then, we were at the edge of a river, and I was now clothed in battle gear. The Lord spoke again, saying, "Drink, and wash your face, daughter. You carry the marks of war." I drank deeply and felt the refreshing of the water within. I washed off the dirt and the blood of the war-filled season I'd been in and when I finished, I stood once again, face set like flint, looking across the river, facing the risen sun / son. I heard just a snippet of the Elton John song, "I'm still standin' better than I ever did!" and the vision ended.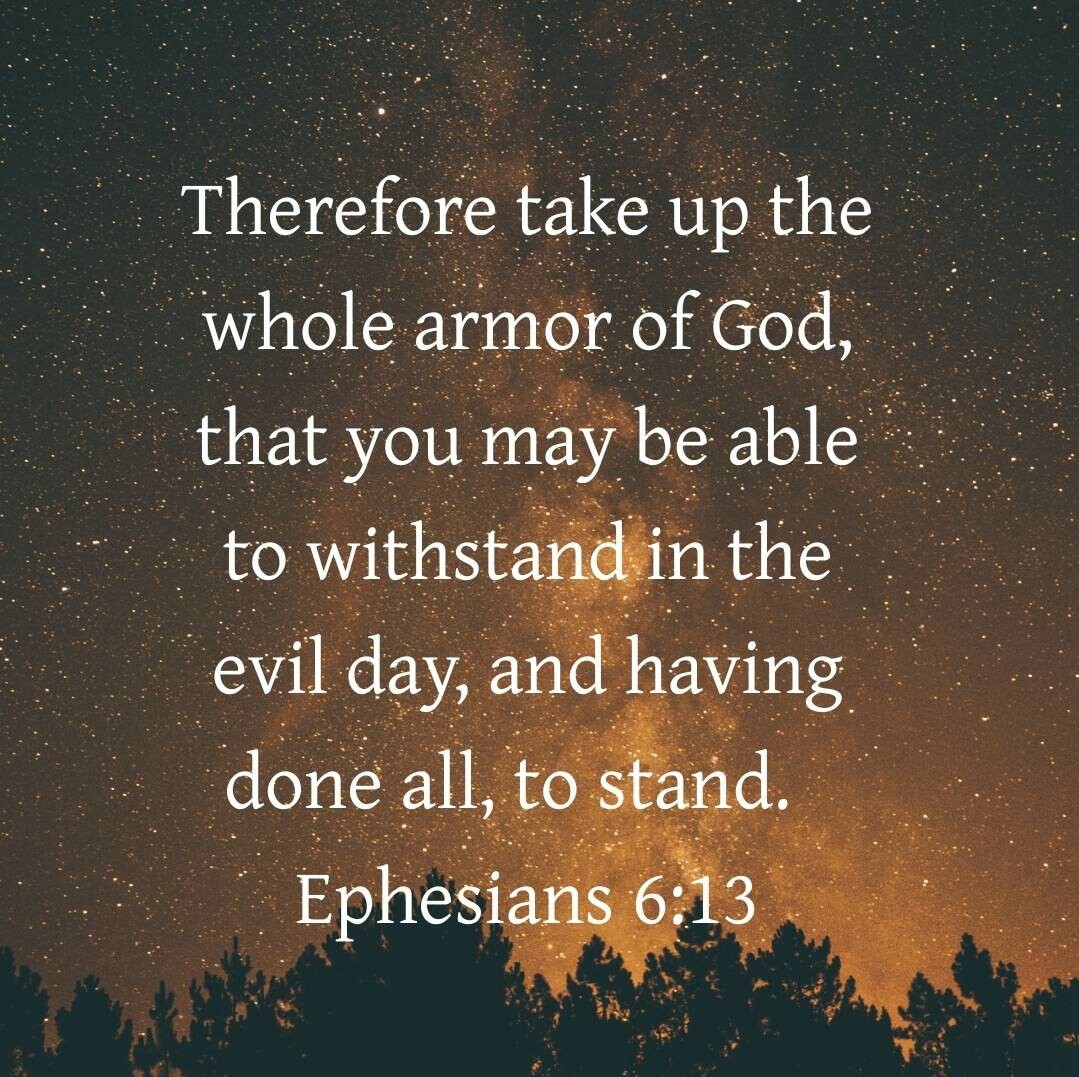 "So take up every piece of war equipment God provides; so that when the evil day comes, you will be able to resist; and when the battle is won, you will still be standing." (Ephesians 6:13, CJB)
This has been the most intense season of war for so many, yet God's word to us is to STAND.
I was reminded of the final fight scene in "Wonder Woman" when she fights against Ares. I saw her stand firm against the onslaught of his attacks, and as she did, she discovered even greater power in the weapons she'd possessed all along as she took what the enemy used against her and turned it on him.
God has equipped us with every weapon needed as we come face to face with the enemy.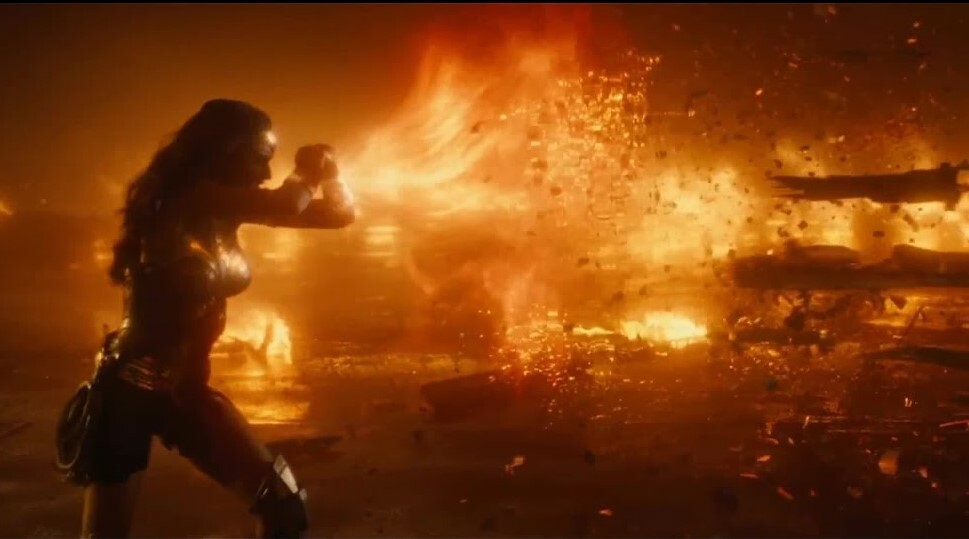 "Now my beloved ones, I have saved these most important truths for last: Be supernaturally infused with strength through your life-union with the Lord Jesus. Stand victorious with the force of his explosive power flowing in and through you.
Put on God's complete set of armor provided for us, so that you will be protected as you fight against the evil strategies of the accuser! Your hand-to-hand combat is not with human beings, but with the highest principalities and authorities operating in rebellion under the heavenly realms. For they are a powerful class of demon-gods and evil spirits that hold this dark world in bondage. 13Because of this, you must wear all the armor that God provides so you're protected as you confront the slanderer, for you are destined for all things and will rise victorious.
Put on truth as a belt to strengthen you to stand in triumph. Put on holiness as the protective armor that covers your heart. Stand on your feet alert, then you'll always be ready to share the blessings of peace.
In every battle, take faith as your wrap-around shield, for it is able to extinguish the blazing arrows coming at you from the evil one! Embrace the power of salvation's full deliverance, like a helmet to protect your thoughts from lies. And take the mighty razor-sharp Spirit-sword of the spoken word of God.
Pray passionately in the Spirit, as you constantly intercede with every form of prayer at all times."
Dance with Him and have your joy restored.
Let His stars fall on you, infusing you with light and direction (Star of Bethlehem / Jesus, our Morningstar).
Notice the beauty all around you and be intentional in seeing it.
Let the Son rise on you, strengthening and empowering you.
Drink of His living streams of water to refresh your spirit and soul.
Be dressed for battle, keep your eyes on the Son and . . . STAND!
This is the music I worshipped to this morning when I had the encounter. So thankful for Upper Room! I'd love to hear of any encounters you have with the Lord as you listen!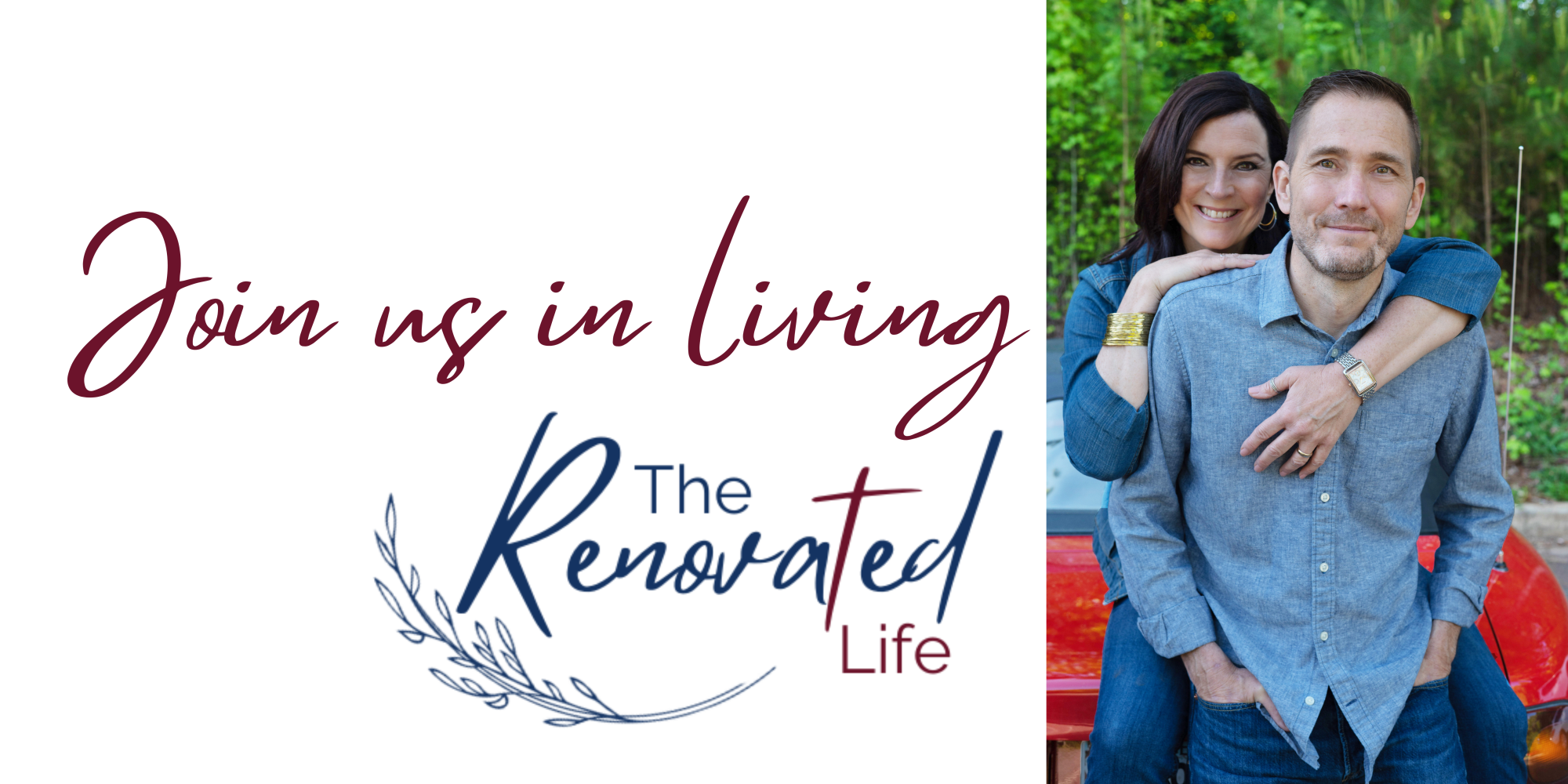 P.S. As always, if we can pray for you, please reach out!
Our Mission: Love Others Well & Empower Them to Do the Same
Oct 31, 2022 11:57 PM Central
Andrea & Brian Johanson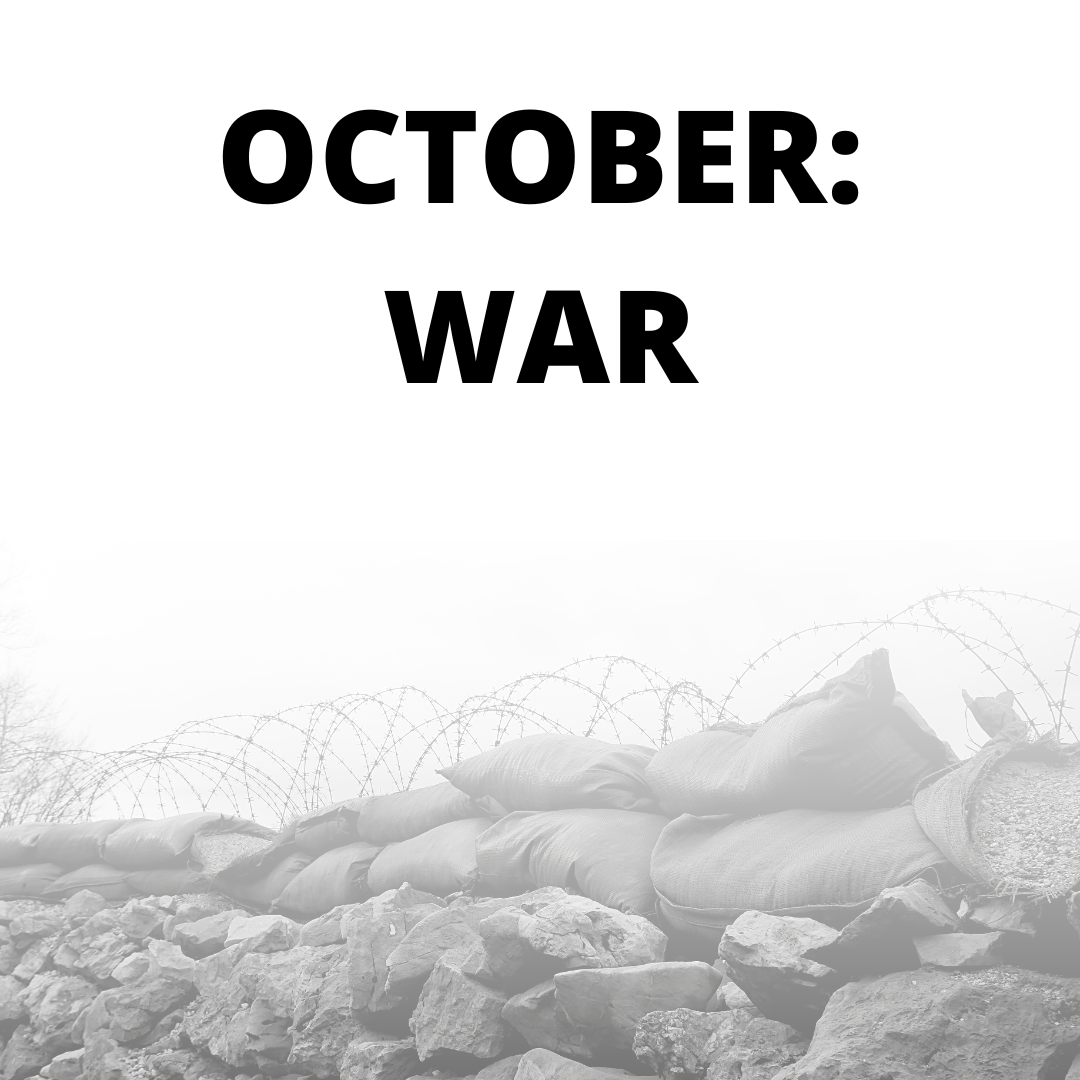 In these waning moments of October, I want to capture the word the Lord had given me for this month: WAR.
October was marked by incredible intensity. Forces were unleashed that created what seemed like a tornadic whirlwind in the personal worlds of many with subsequent quaking, shifting, and breaking apart of countless things as massive transition took place. Some of the transition was good, but it's really changed the landscape.
In a war, each side employs weapons. Our enemy's includes panic, fear, discouragement, depression, paralysis, confusion, uncertainty, stress, and attacks on health and finances - just to name a few.
Our weapons look entirely different – worship, gratitude, prayer, joy, surrender, waiting, peace, kindness, love, and so many other things that stand in contrast to the weapons used against us. They're also often totally contrary to the weapons we would choose to use.
I had a dream this month. In it, I was climbing into a bush to trim it. Each time I trimmed a piece off, I got down to throw it off to the side. As I walked back to the bush, I dragged my flip-flop-clad feet through the crunchy leaves on the ground. When I was back up in the bush, I heard a faint noise behind me in the leaves – a rustle and a quiet rattle, then a huge rattlesnake revealed itself, lifting itself up to strike. One of our dogs and a white bunny were on the other side of the bush, leaving me between them and the snake. The snake had its eyes on them and shot past me toward the bunny but missed. I stayed very still and asked God what I should do as it turned its head toward me. Oddly, I slowly reached behind me, grabbed a pillow, threw it at the snake, jumped down, ran around the house, through the garage, and then safely inside, never looking behind me to see if the snake was in pursuit.
What I want to highlight in this dream is that the weapon I reached for was soft – and it was enough. It wasn't a gun or a machete or even a stick. I didn't kill the snake, but the snake also didn't harm me. As I asked the Lord about that, He told me, "Some of the most powerful weapons are soft - and they're enough."
When we wage war against something, we want to pull out the big guns. We operate in our own strength to fight through things, create solutions, and "do" things to "overcome the enemy."
Sometimes in the most intense moments, our greatest weapons aren't ones that annihilate, but they're still "enough."
What if in the face of panic, you chose quiet peace? You exchanged discouragement for worship? You walked in His grace, rather than your failing strength? And . . . instead of figuring it out and being the solution, you partnered with Wisdom, waited on God in surrender, let Him work on your behalf, and trusted Him for divine downloads, strategies, and blueprints to follow?
Sometimes the noise of the enemy's bombshells makes it hard to think clearly, which easily leads to us becoming reactionary. We're also not a patient people and we translate waiting on God as Him not hearing us or not answering our prayers.
We storm the gates of heaven in intercession when what God is really asking of us is to simply spend time in His presence experiencing His love and goodness. It turns out it's in that space where we learn His art of war and how to wield a pillow instead of a stick.
Psalm 91 speaks so powerfully of God's protection of us; however, it doesn't say we won't fall into the enemy's traps or not live in times of destruction. Instead, it speaks of how we can feel safe and secure in the knowledge that He WILL rescue and protect us in the midst of it.
The war has already been won through the cross and we've been declared the victor, but we rarely remember that truth in the midst of the battles we face.
I was reading Proverbs 31 in The Passion Translation this morning. Brian Simmons explains in his note on verse 10 that the Hebrew word, "khayil" used to describe the virtuous wife needs multiple English words to capture the meaning of it, including it being related to military prowess and the Bride being a warring wife, "mighty like an army." Verse 11 goes on to say, "Her husband has entrusted His heart to her, for she brings Him the rich spoils of victory."
We can't avoid war. We must engage it, use the right weapons, and present our Bridegroom with the spoils of victory. Our choices disarm or empower the enemy. What weapons will we choose?
November's word is a continuation of this conversation. It's time to STAND. More on that soon . . .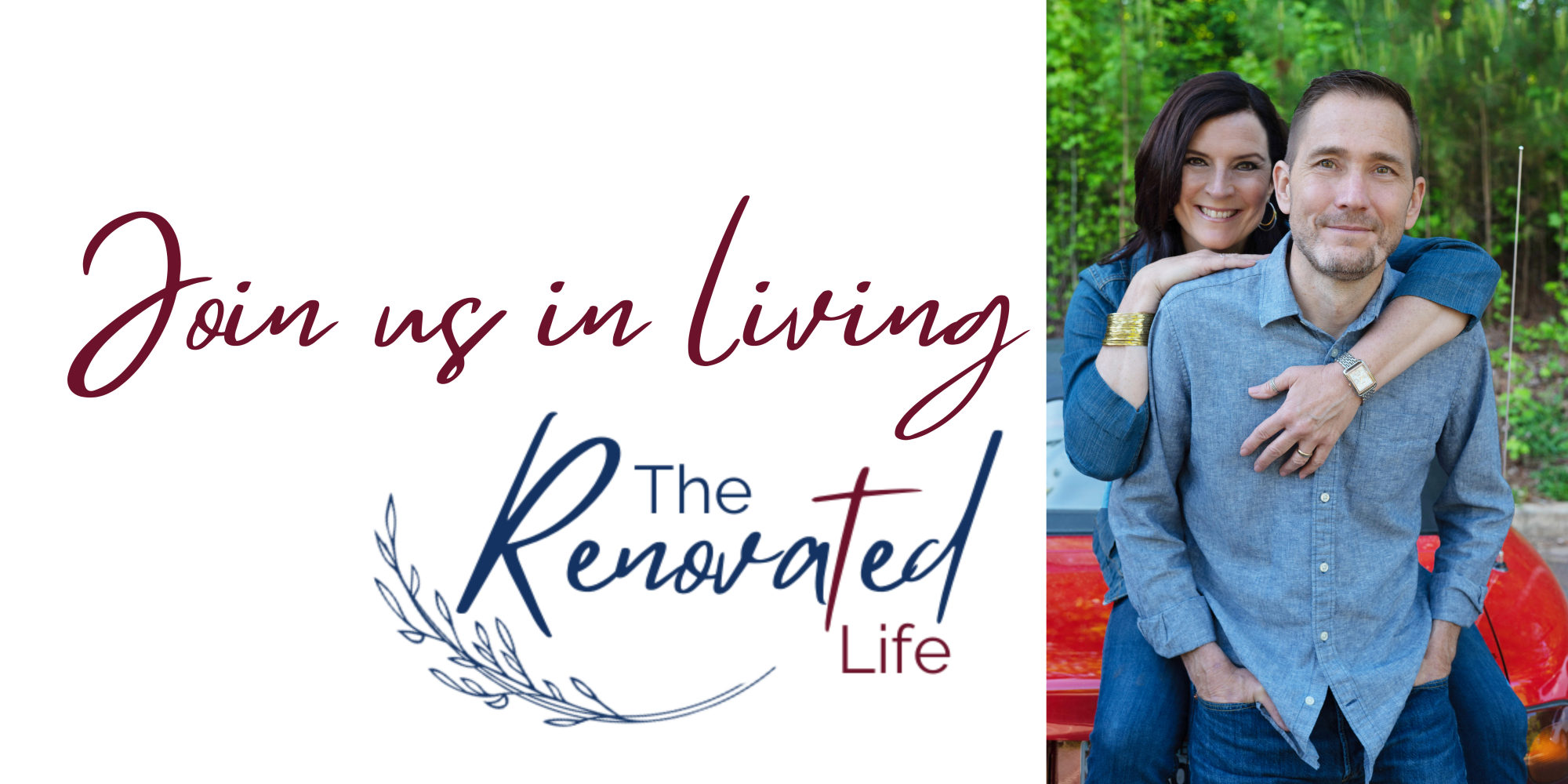 P.S. As always, if we can pray for you, please reach out!
Our Mission: Love Others Well & Empower Them to Do the Same