Oct 17, 2020 02:31 PM Central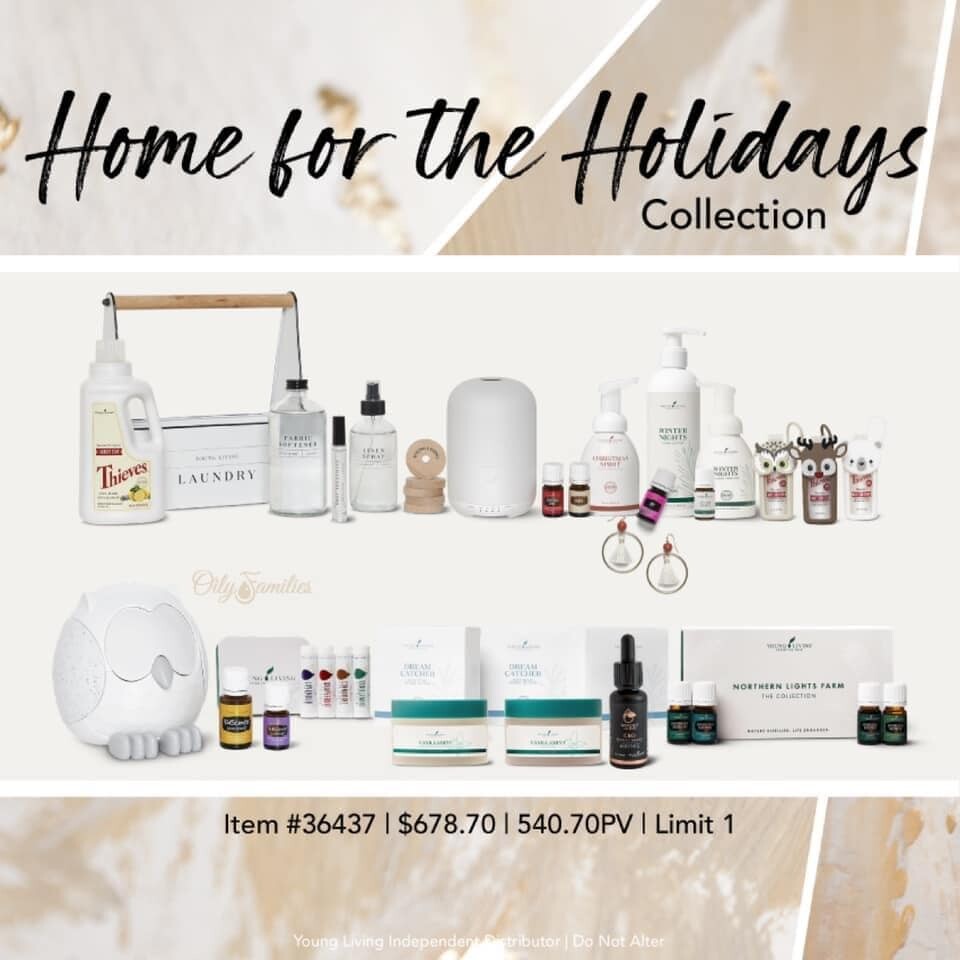 What a festive, celebration it's been as the 2020 Holiday Catalog launched! I do believe this is my favorite launch to date! I can't wait to share all of the products with you!

Whether you're browsing for family, friends, neighbors, or even yourself, you can feel confident that you're gifting the very best nature has to offer by shopping YL this holiday season!!!
You can check out the entire PDF catalog using

this link.
1) Sign in to your YL account
2) Click on Shop in the left hand column
4) Under New & Featured click on 2020 YL Holiday Launch
Holiday Launch products are available for a limited time, while supplies last. They are available via Shop only and are not eligible via ER point redemption. (SERIOUSLY - when the limited time offers are gone, they're REALLY gone!)
***4 PRODUCTS WILL BE AVAILABLE AT A LATER DATE. PLEASE SEE THE LIST AT THE END.
Be patient with the Virtual Office. We always "break the internet" on big days like this. Also, expect shipping to take longer than usual, particularly with pandemic restrictions still in place.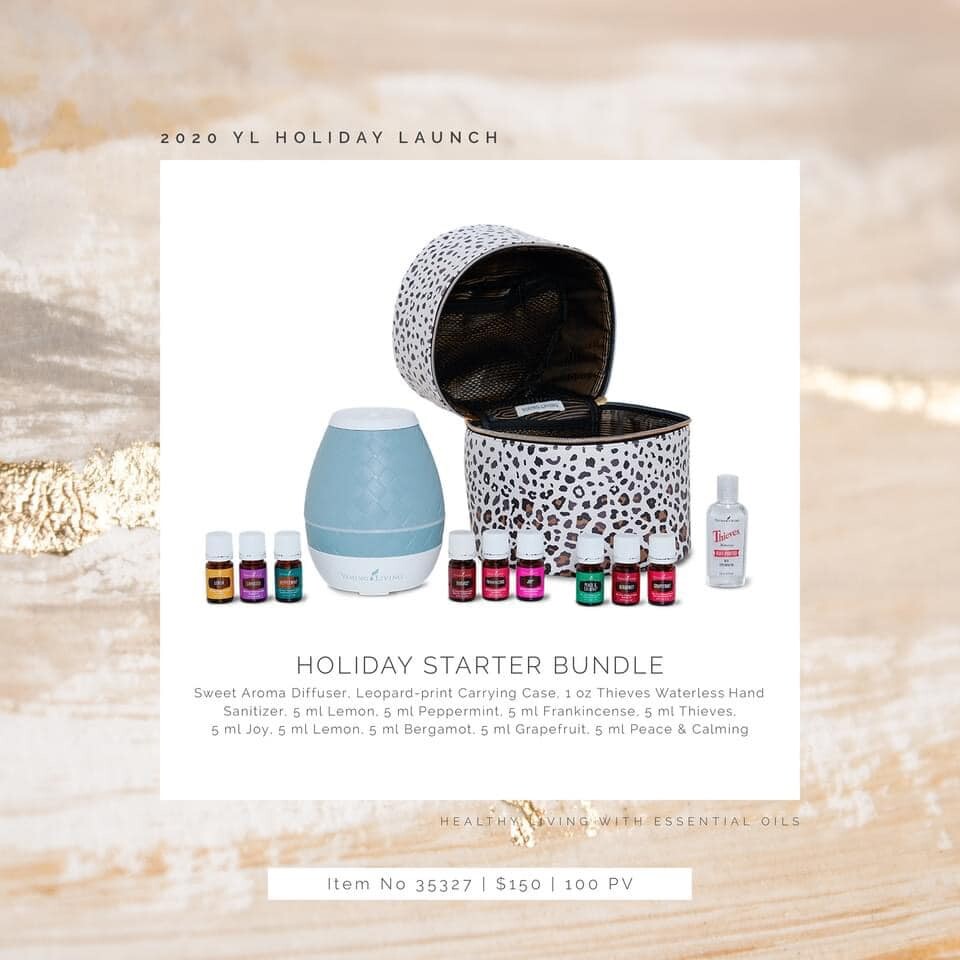 HOLIDAY STARTER BUNDLE - FOR NEW, CURRENT, & REACTIVATING MEMBERS WHILE SUPPLIES LAST
Item No 35327 | $150 | 100 PV
The Holiday Starter Bundle contains all the wintry essentials your new members need: the Sweet Aroma Diffuser, nine top-selling oils, Thieves Waterless Hand Sanitizer, all conveniently packaged in a leopard print zippered carrying case. Available to new and reactivating enrollees while supplies last.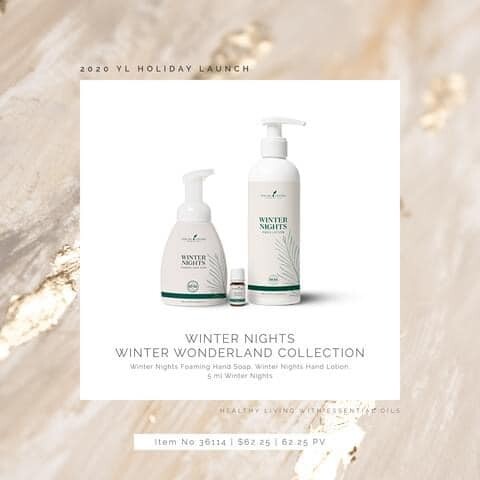 WINTER NIGHTS WINTER WONDERLAND COLLECTION
Item No 36114 | $62.25 | 62.25 PV
Make the brisk winter air come alive with our Winter Nights collection. This set includes Foaming Hand Soap, Hand Lotion, and 5 ml Winter Nights.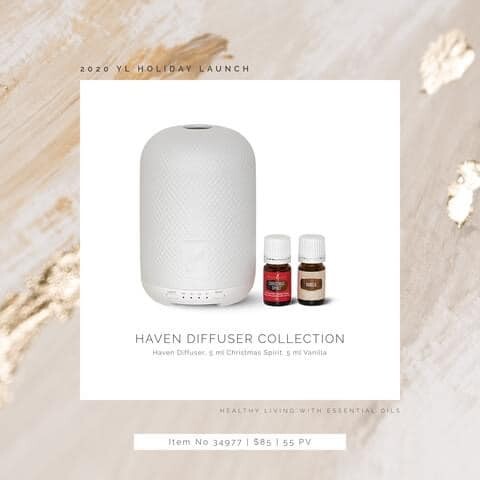 HAVEN DIFFUSER COLLECTION
Item No 34977 | $85 | 55 PV
Add a fresh pop of natural fragrance and a warm, natural glow to your home with the Haven Ceramic Diffuser. Included in this collection is a 5 ml bottle of Christmas Spirit and the all-new 5 ml Vanilla.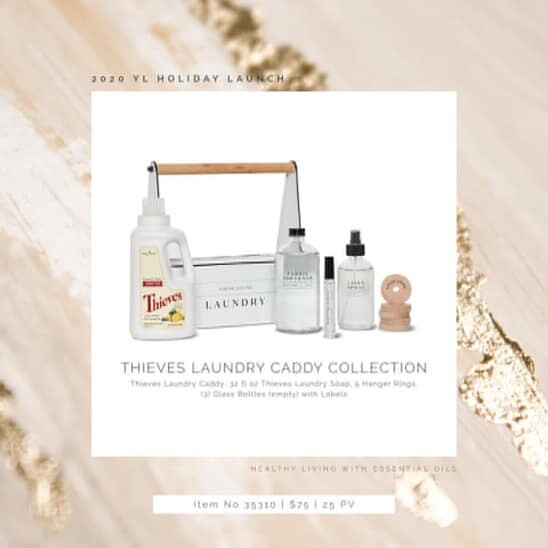 THIEVES LAUNDRY CADDY COLLECTION
Item No 35310 | $75 | 25 PV
Keep your holiday sweaters fresh and festive with plant-based Thieves Laundry Soap in this cute caddy. Follow the enclosed essential oil infused recipes and fill the bottles with Fabric Softener, Linen Spray, and Spot Treatment.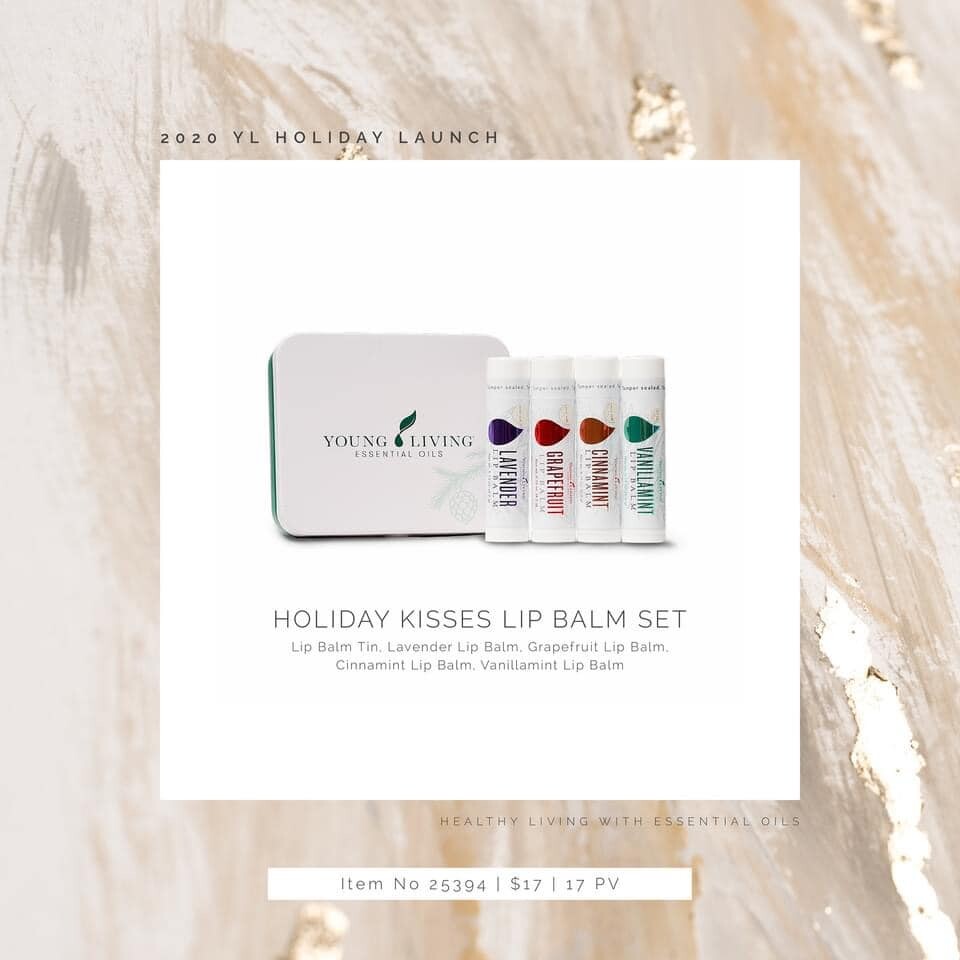 HOLIDAY KISSES LIP BALM SET (This goes in my kids' stockings EVERY year! They love it!)
Item No 25394 | $17 | 17 PV
Each lip balm features hydrating botanical blends to lock in moisture, so you'll always be mistletoe ready.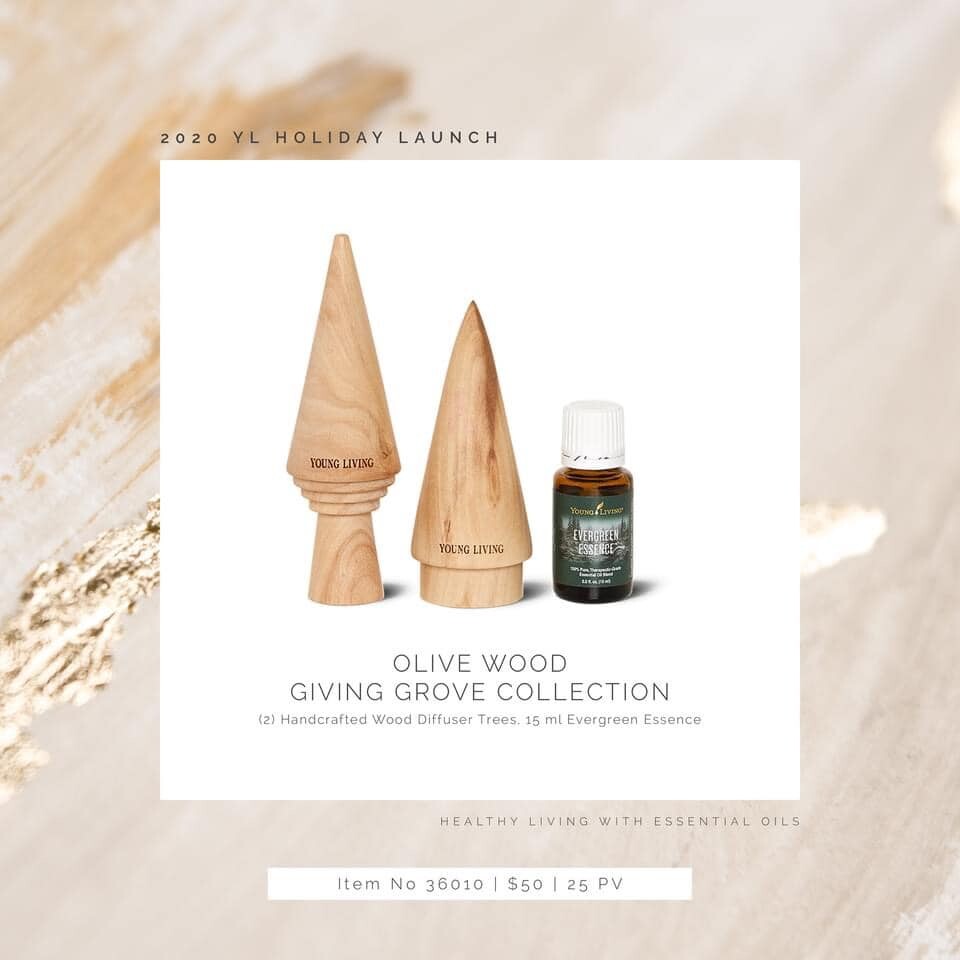 OLIVE WOOD GIVING GROVE COLLECTION
Item No 36010 | $50 | 25 PV
Share these handcrafted sustainably sourced olive wood trees with everyone you know or collect a set for yourself. Add a drop of the included 15 ml Evergreen Essence to make these artisan trees smell like the real thing.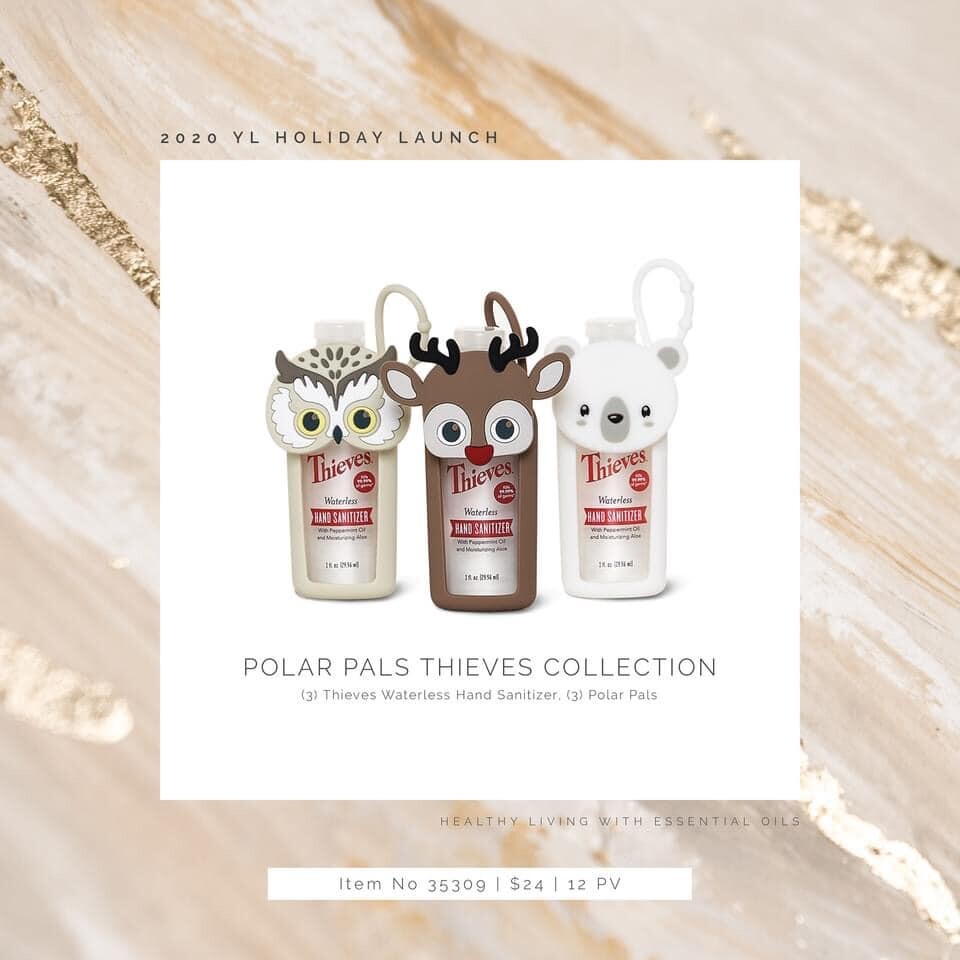 POLAR PALS THIEVES COLLECTION
Item No 35309 | $24 | 12 PV
Help Santa's little helpers stay clean all season long with our set of three Thieves Waterless Hand Sanitizers. The ultimate stocking surprise, these portable bottles are fitted in Polar Pals silicone sleeves that easily hook onto bags and backpacks.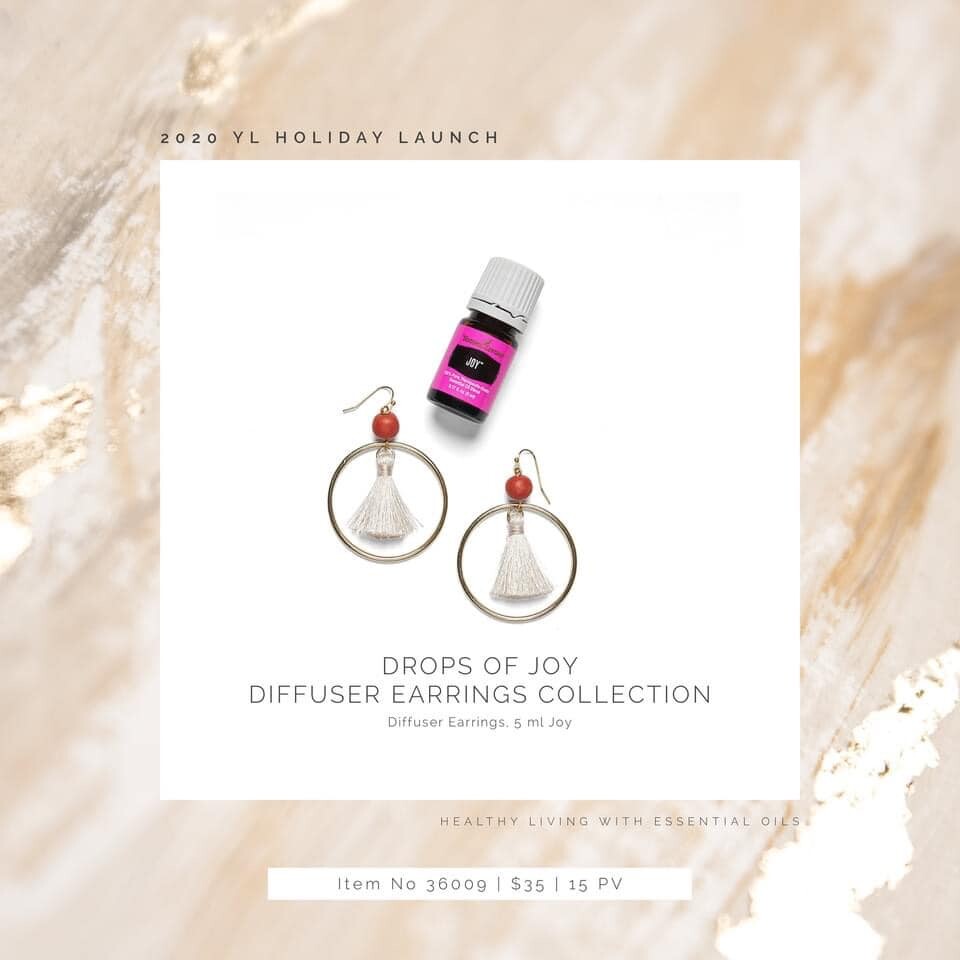 DROPS OF JOY DIFFUSER EARRINGS COLLECTION
Item No 36009 | $35 | 15 PV
These enchanting diffuser earrings are handmade by jewelry makers in Old Delhi, India, who combine their profits to sponsor the education of girls in their community.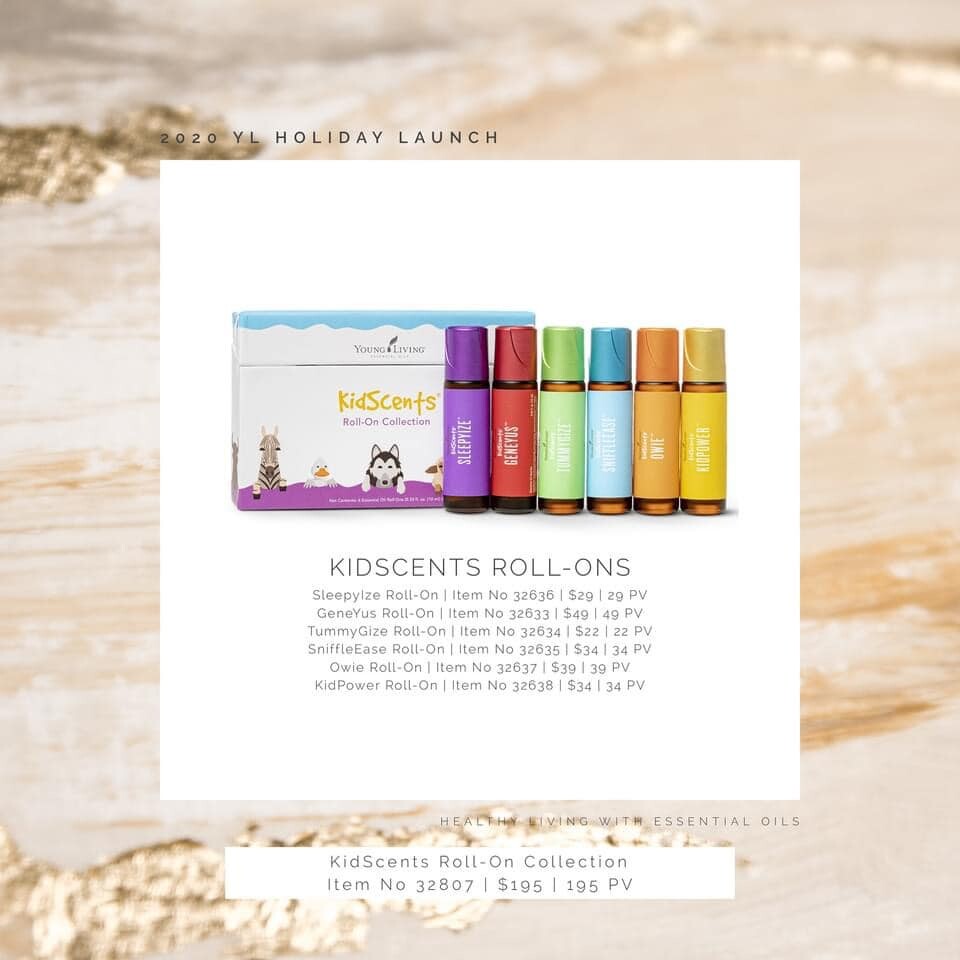 KIDSCENTS ROLL-ON COLLECTION
Item No 32807 | $195 | 195 PV
Let your child's light shine bright this season with KidsScents Roll-Ons. Collect all six magical blends so you can care for your little ones no matter what the holiday brings.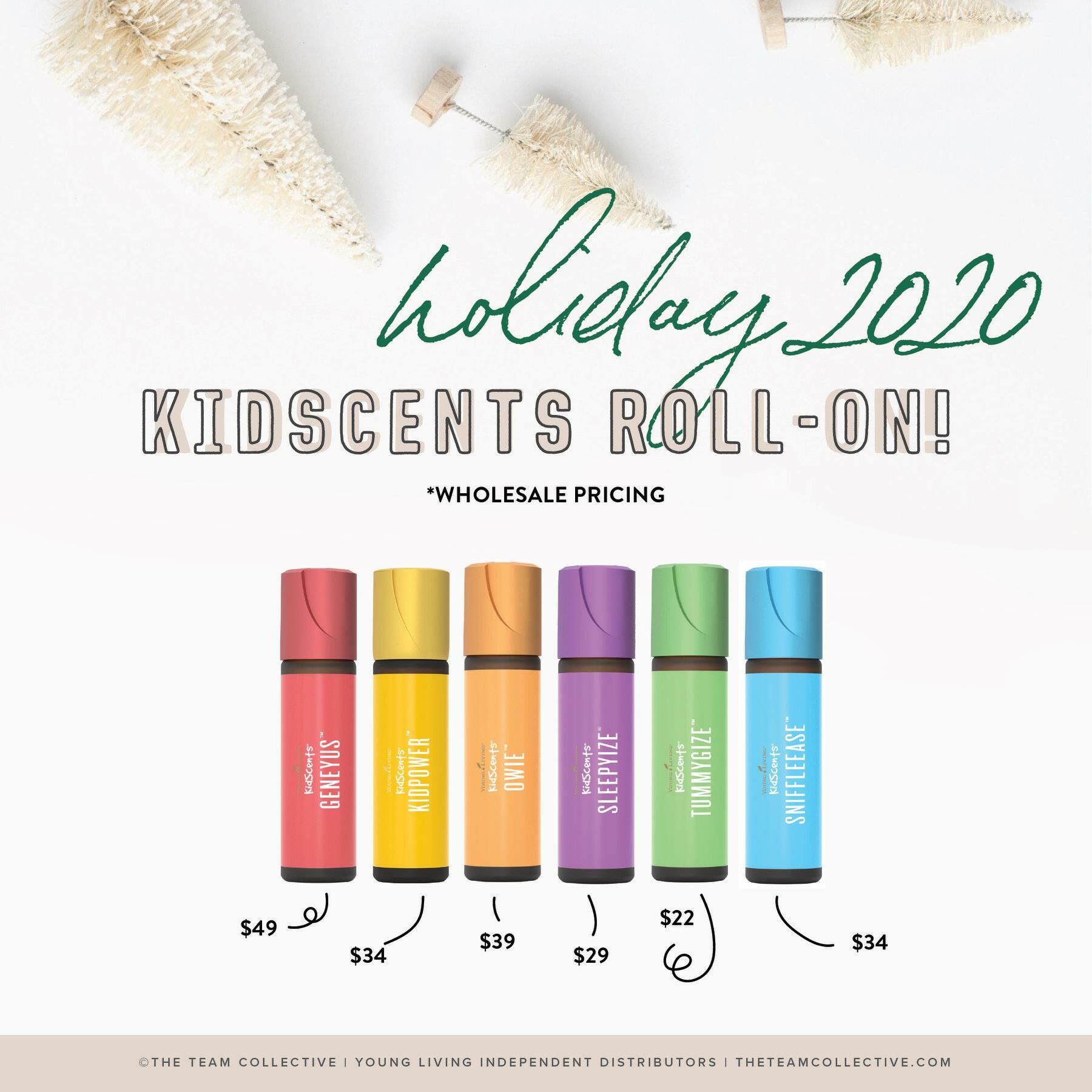 SleepyIze Roll-On | Item No 32636 | $29 | 29 PV
GeneYus Roll-On | Item No 32633 | $49 | 49 PV
TummyGize Roll-On | Item No 32634 | $22 | 22 PV
SniffleEase Roll-On | Item No 32635 | $34 | 34 PV
Owie Roll-On | Item No 32637 | $39 | 39 PV
KidPower Roll-On | Item No 32638 | $34 | 34 PV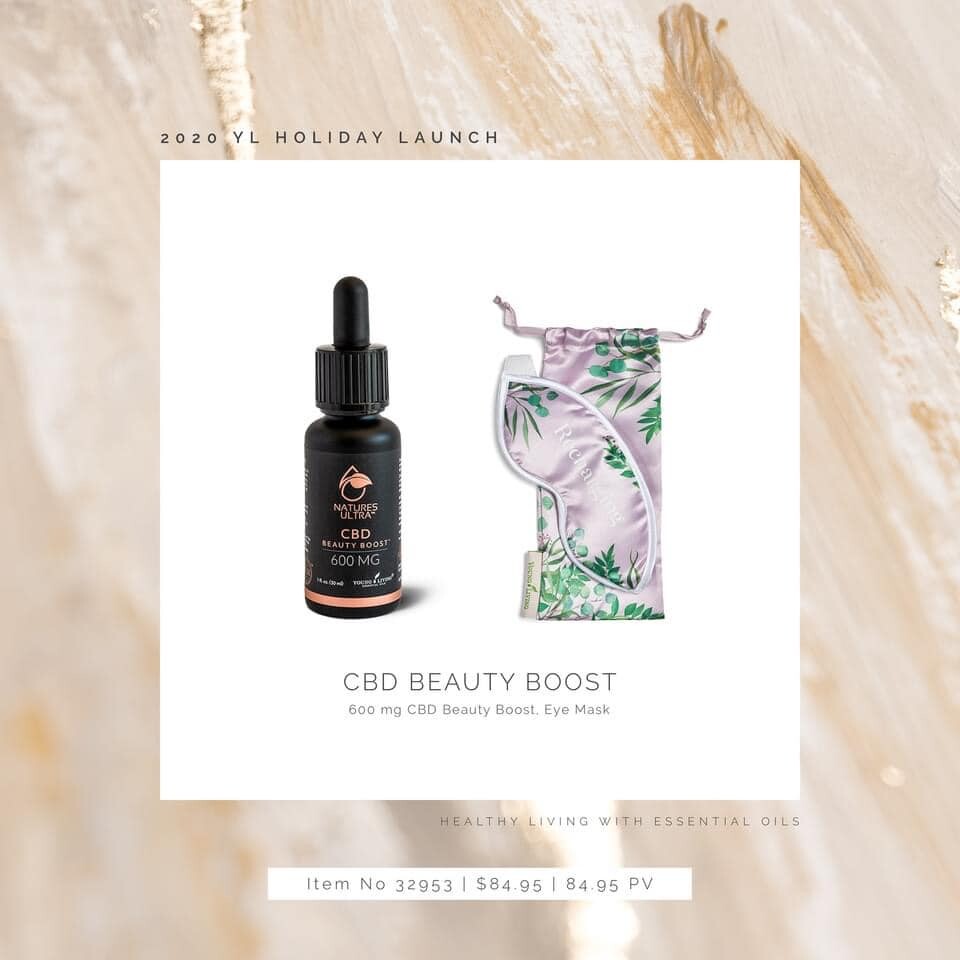 Item No 32953 | $84.95 | 84.95 PV
A luxurious blend of CBD and Rose essential oil, CBD Beauty Boost helps to moisturize your skin and reduce the appearance of redness, fine lines, and wrinkles.
*Eye mask is while supplies last.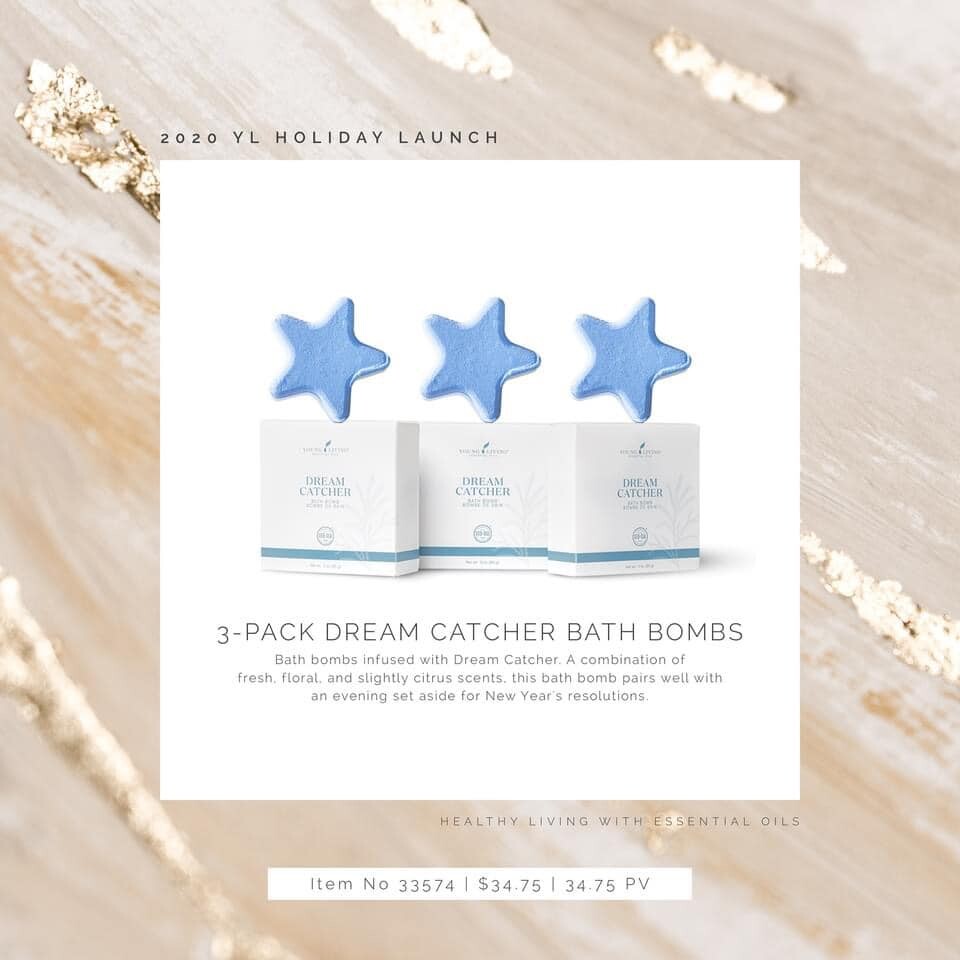 3-PACK DREAM CATCHER BATH BOMBS
Item No 33574 | $34.75 | 34.75 PV
Got your tinsel in a tangle? Unwind with a luxurious soak boosted with a Dream Catcher infused bath bomb.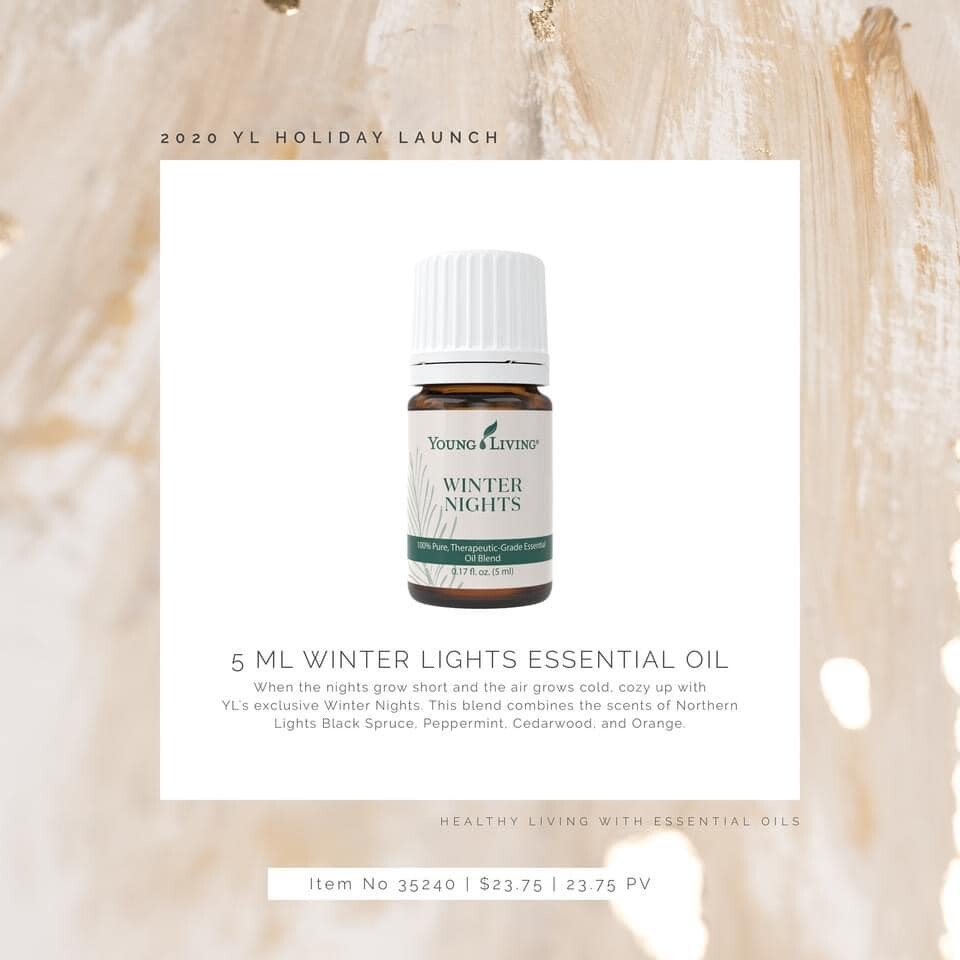 5 ML WINTER NIGHTS ESSENTIAL OIL
Item No 35240 | $23.75 | 23.75 PV
When the nights grow long and the air grows cold, cozy up your home with Winter Nights essential oil blend. This YL signature scents is a combination of Northern Lights Black Spruce, Peppermint, Cedarwood, and Orange essential oils.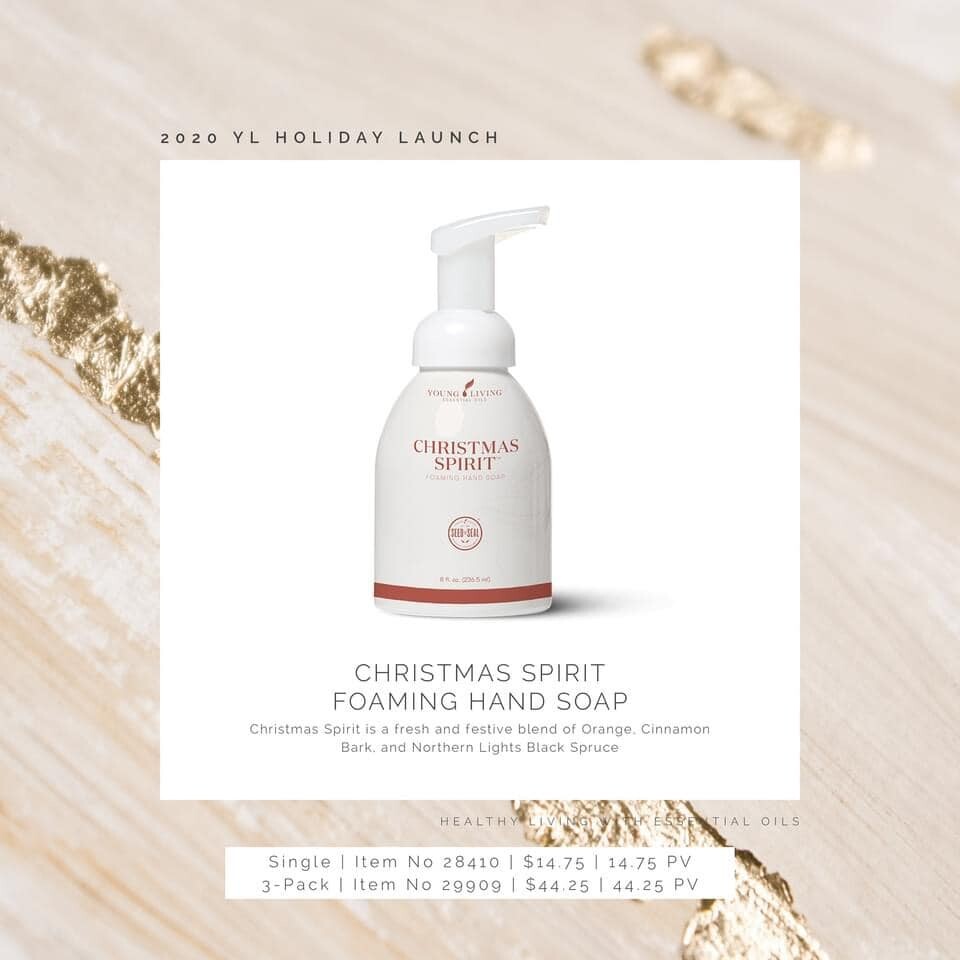 CHRISTMAS SPIRIT FOAMING HAND SOAP
Single | Item No 28410 | $14.75 | 14.75 PV
3-Pack | Item No 29909 | $44.25 | 44.25 PV
Deck the halls and ring in the holiday season with this fresh and festive essential oil infused foaming hand soap. Christmas Spirit is a festive blend of Orange, Cinnamon Bark, and Black Spruce essential oils.
MINDFULNESS MUG COLLECTION
Item No 36021 | $35 | 25 PV
You've made your holiday to-do list and checked it twice, now it's time to settle down with a warm cup of turmeric tea with a drop of tangerine in a mindfulness mug.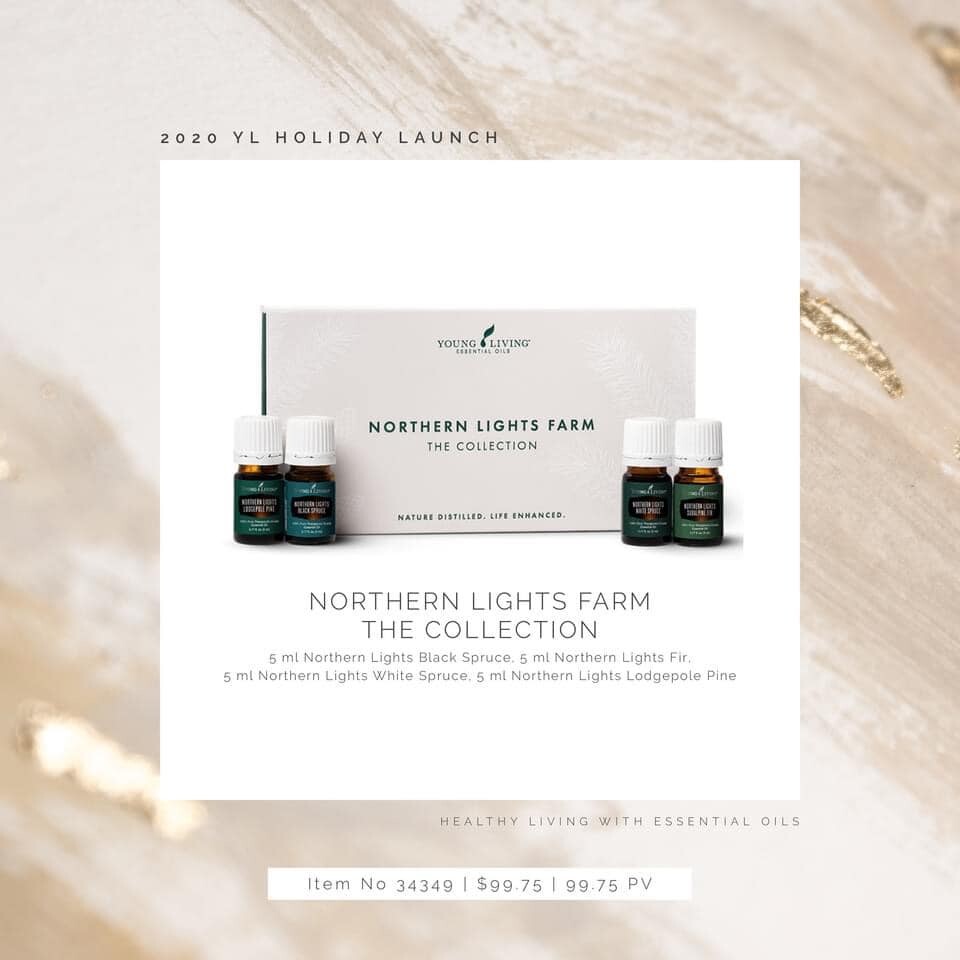 NORTHERN LIGHTS FARM: THE COLLECTION
Item No 34349 | $99.75 | 99.75 PV
Immerse yourself in the grandeur and fresh evergreen scents of the Canadian wilderness. This exclusive collection includes: 5 ml bottles of Black Spruce, Fir, White Spruce, and Lodgepole Pine all from our Northern Lights Farm.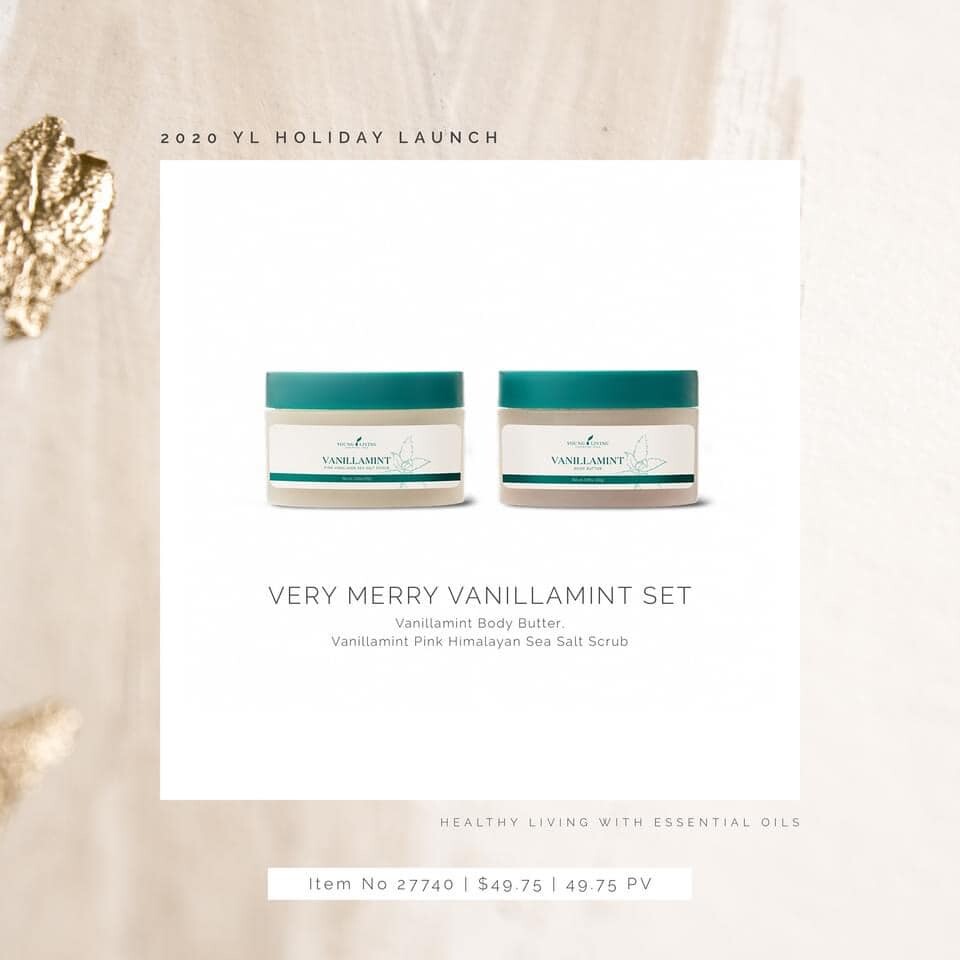 VERY MERRY VANILLAMINT SET
Item No 27740 | $49.75 | 49.75 PV
Treat a loved one (or yourself) to the warm, cozy scent of Vanilla and the cool, tingling sensation of Peppermint. This collection is our secret to glowing skin all winter long.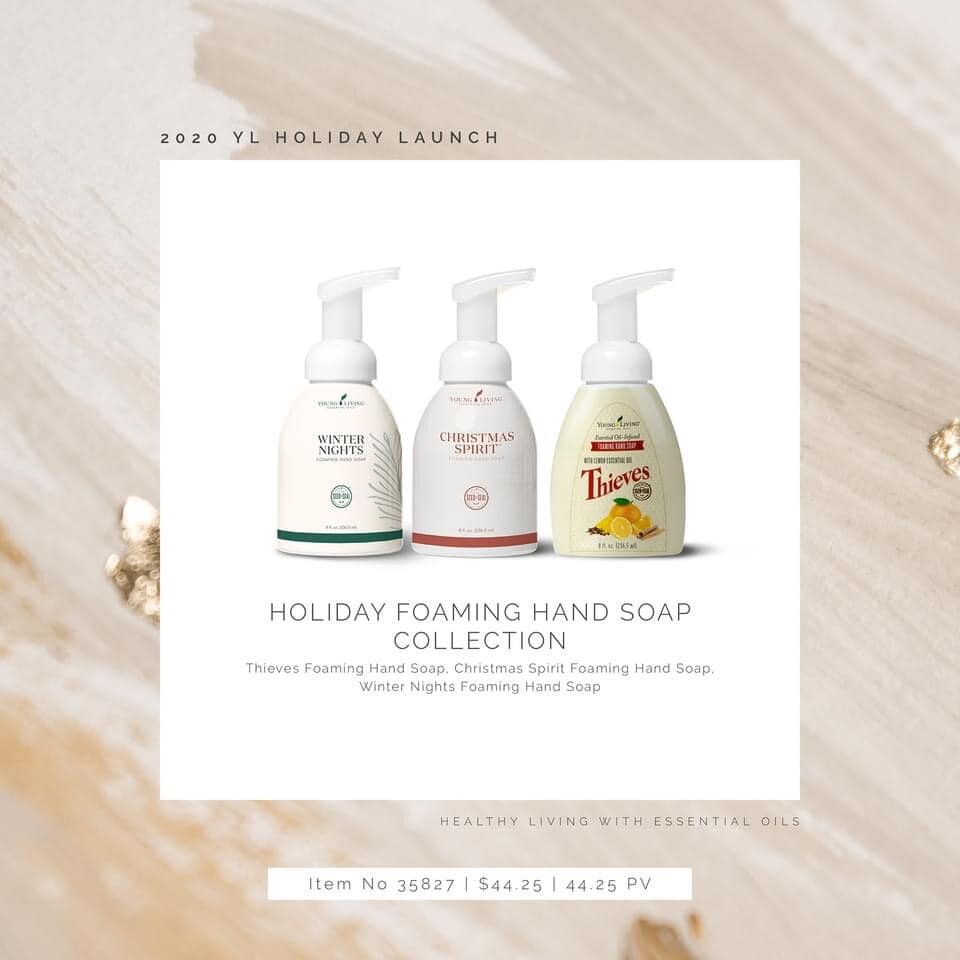 HOLIDAY FOAMING HAND SOAP COLLECTION
Item No 35827 | $44.25 | 44.25 PV
This collection includes Thieves, Christmas Spirit, and Winter Nights Foaming Hand Soaps.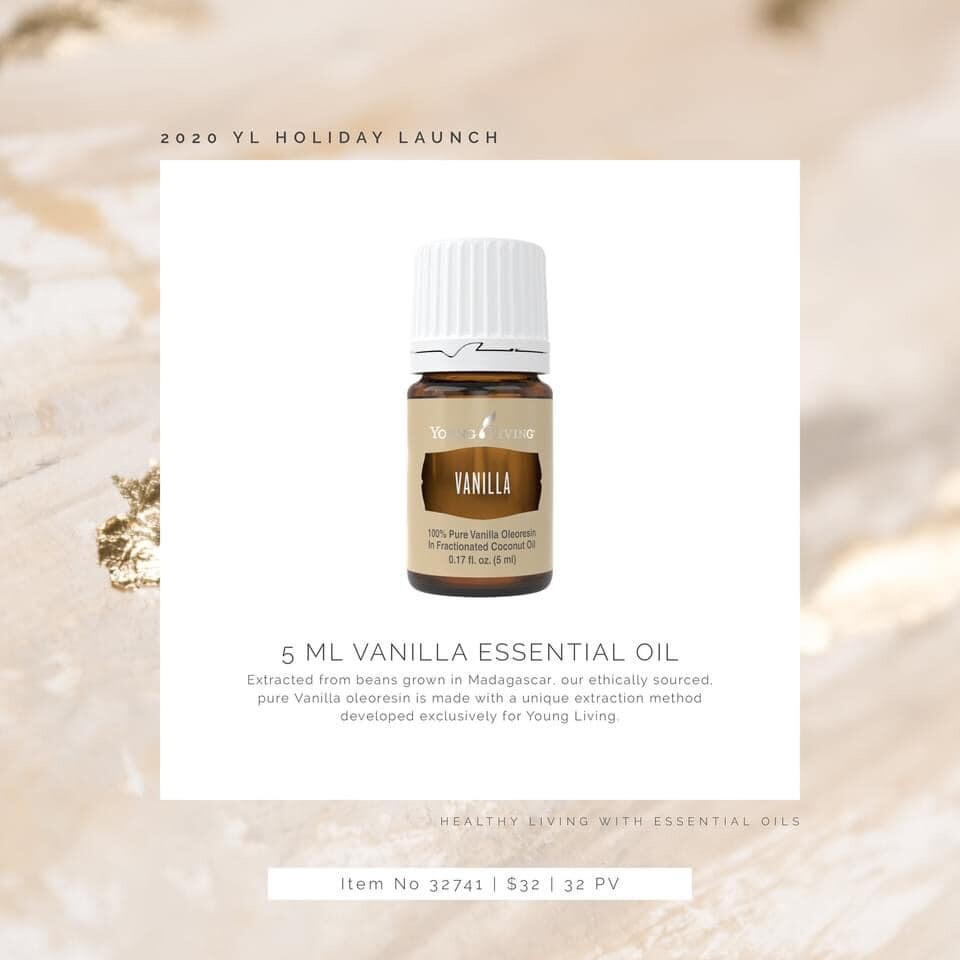 5 ML VANILLA ESSENTIAL OIL
Item No 32741 | $32 | 32 PV
Extracted from beans grown in Madagascar, our ethically sourced, pure Vanilla oleoresin is made with a unique and exclusive extracted method developed for Young Living.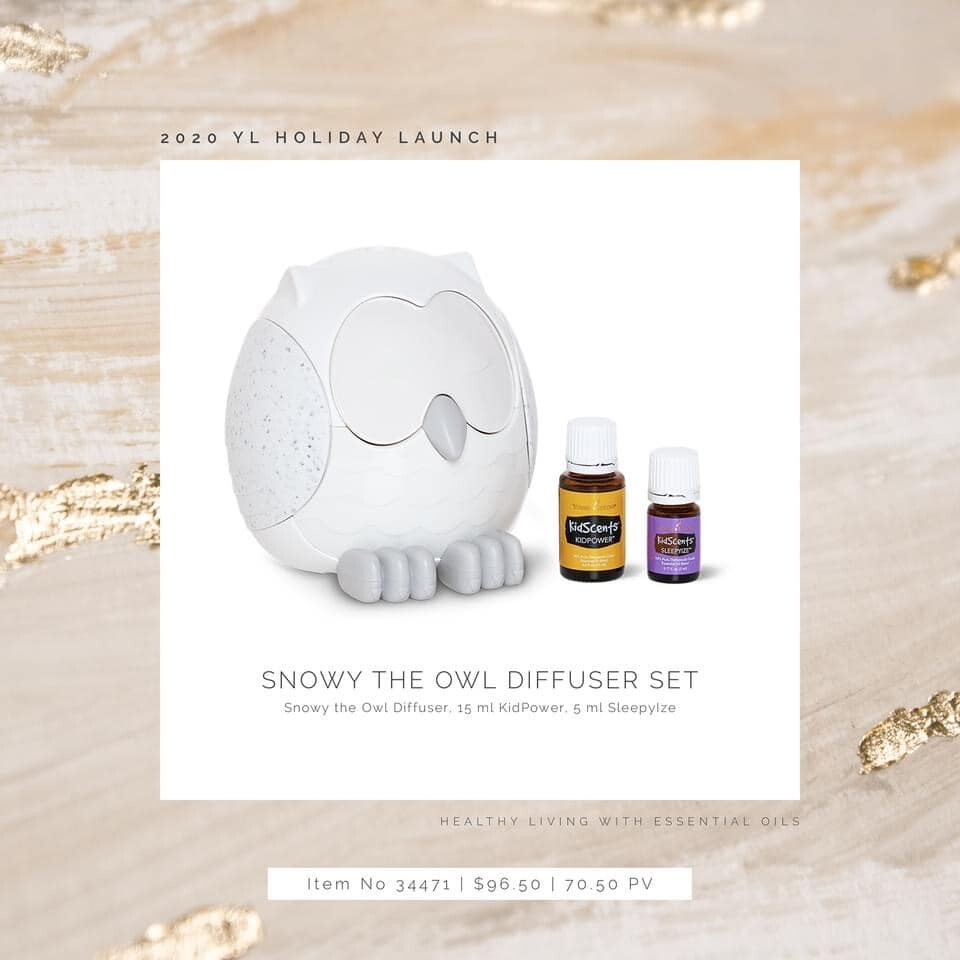 SNOWY THE OWL DIFFUSER SET
Item No 34471 | $96.50 | 70.50 PV
An all-in-one humidifier, night-light, and white-noise machine, this limited-edition Snowy the Owl diffuser can help soothe your sweet angels on those long winter nights.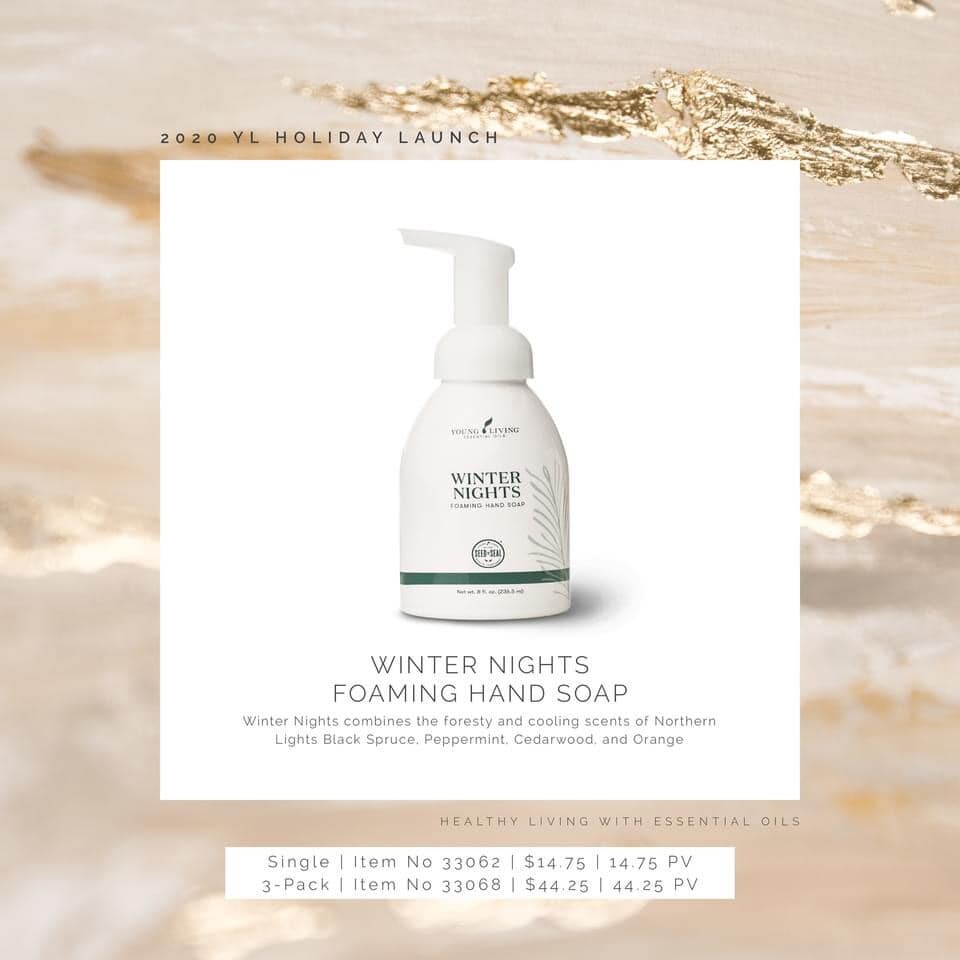 WINTER NIGHTS FOAMING HAND SOAP
Single | Item No 33062 | $14.75 | 14.75 PV
3-Pack | Item No 33068 | $44.25 | 44.25 PV
Richly foaming, Winter Nights Foaming Hand Soap cleanses and invigorates, reminding you of soft snow. Winter Nights is Young Living's newest signature scent featuring Northern Lights Black Spruce, Peppermint, Cedarwood, and Orange essential oils.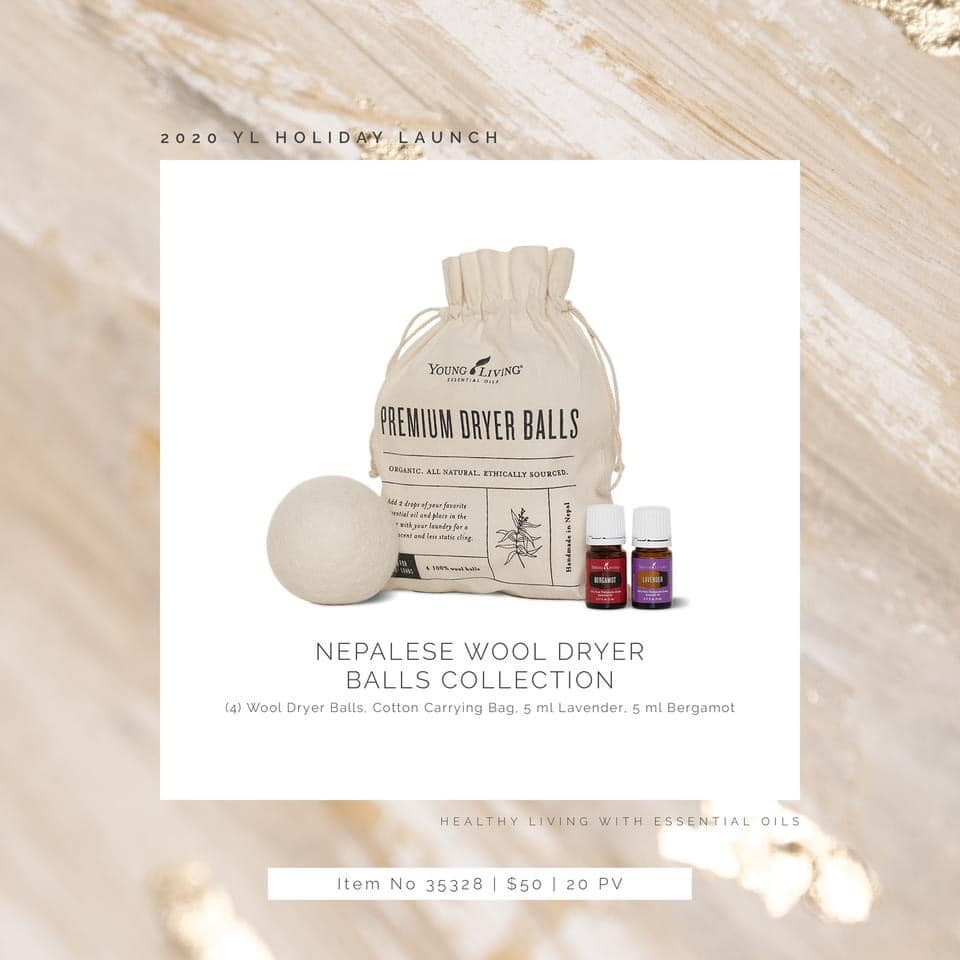 NEPALESE WOOL DRYER BALLS COLLECTION
Item No 35328 | $50 | 20 PV
Give the gift of organic, dye-free wool dryer balls in a 100% cotton carrying bag. These reusable dryer balls, cut drying time and can be repurposed as fabric refreshers in your drawers and closets.
WINTER NIGHTS HAND LOTION
Item No 33288 | $23.75 | 23.75 PV
Warm your heart and soothe dry skin with the crisp and refreshingly peaceful aroma of Winter Nights Hand Lotion.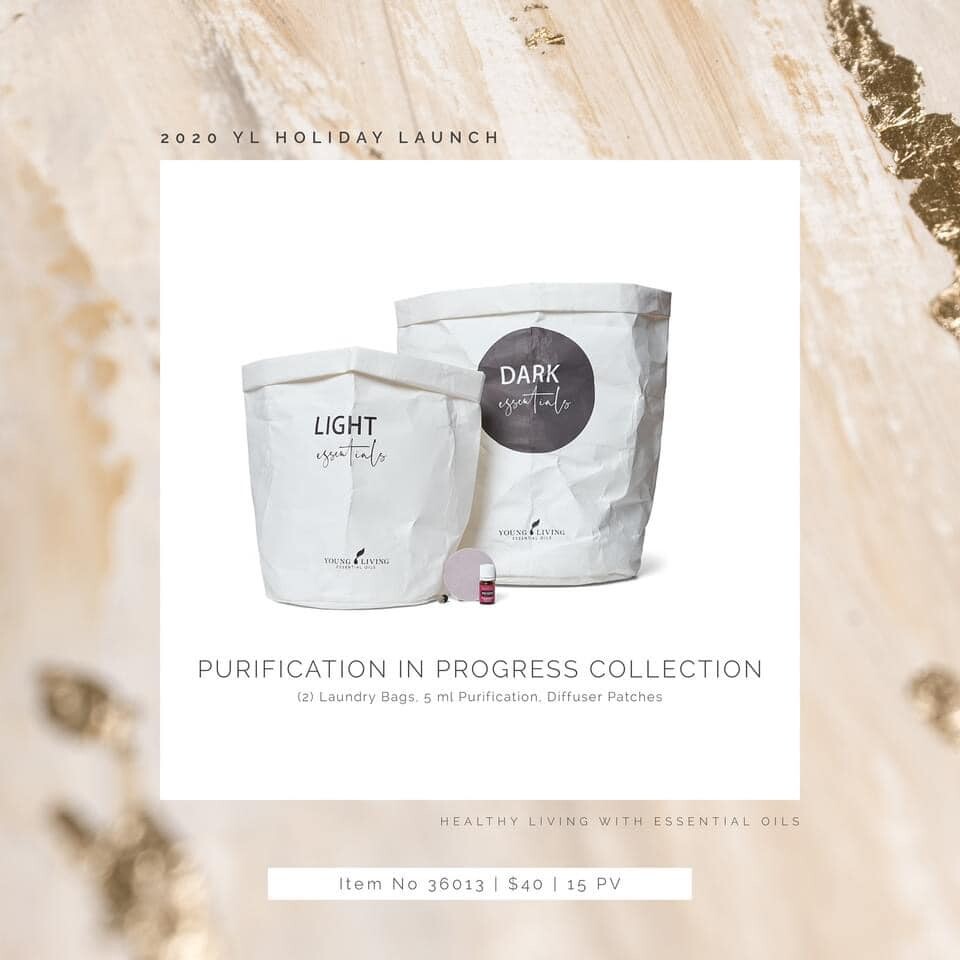 PURIFICATION IN PROGRESS COLLECTION
Item No 36013 | $40 | 15 PV
Made of naturally derived linens, these laundry bags are entirely washable and recyclable.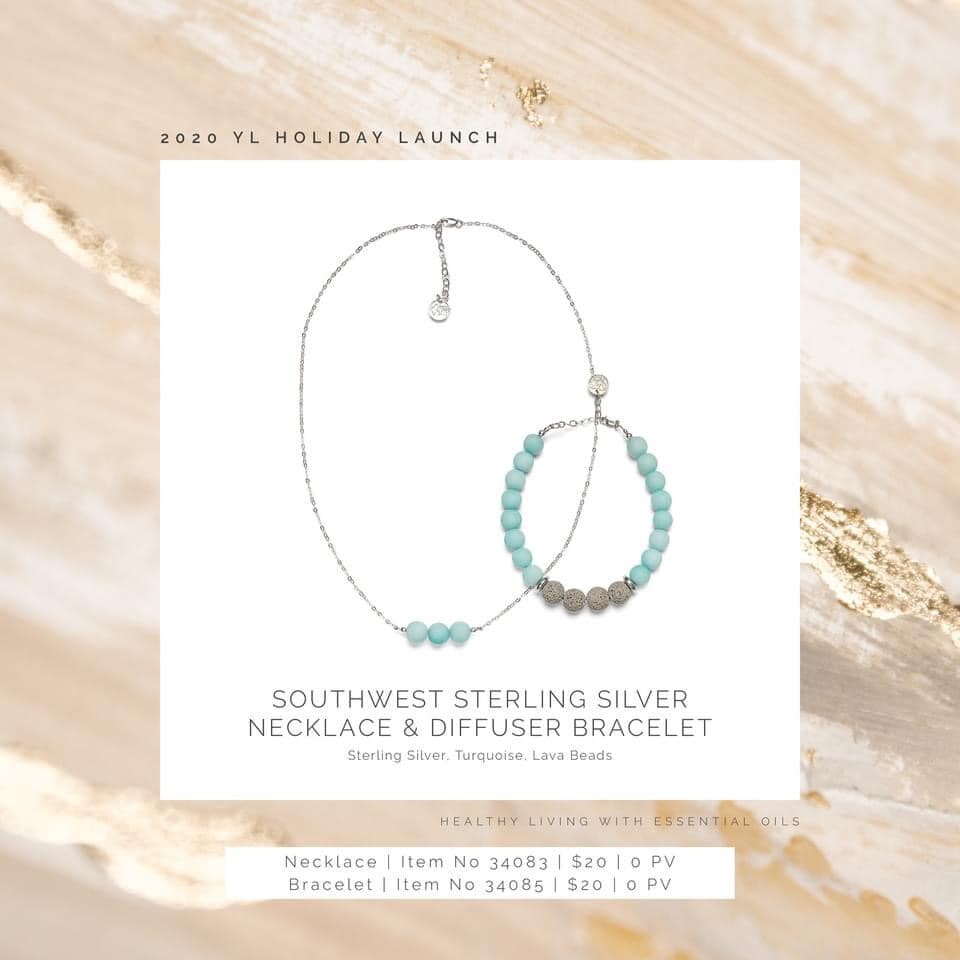 SOUTHWEST STERLING SILVER JEWELRY
Necklace | Item No 34083 | $20 | 0 PV
Bracelet | Item No 34085 | $20 | 0 PV
Handmade by women of the Navajo Nation, this jewelry features turquoise frosted amazonite stones, lava beads, and sterling silver. 100% of the proceeds benefit the YL Foundation.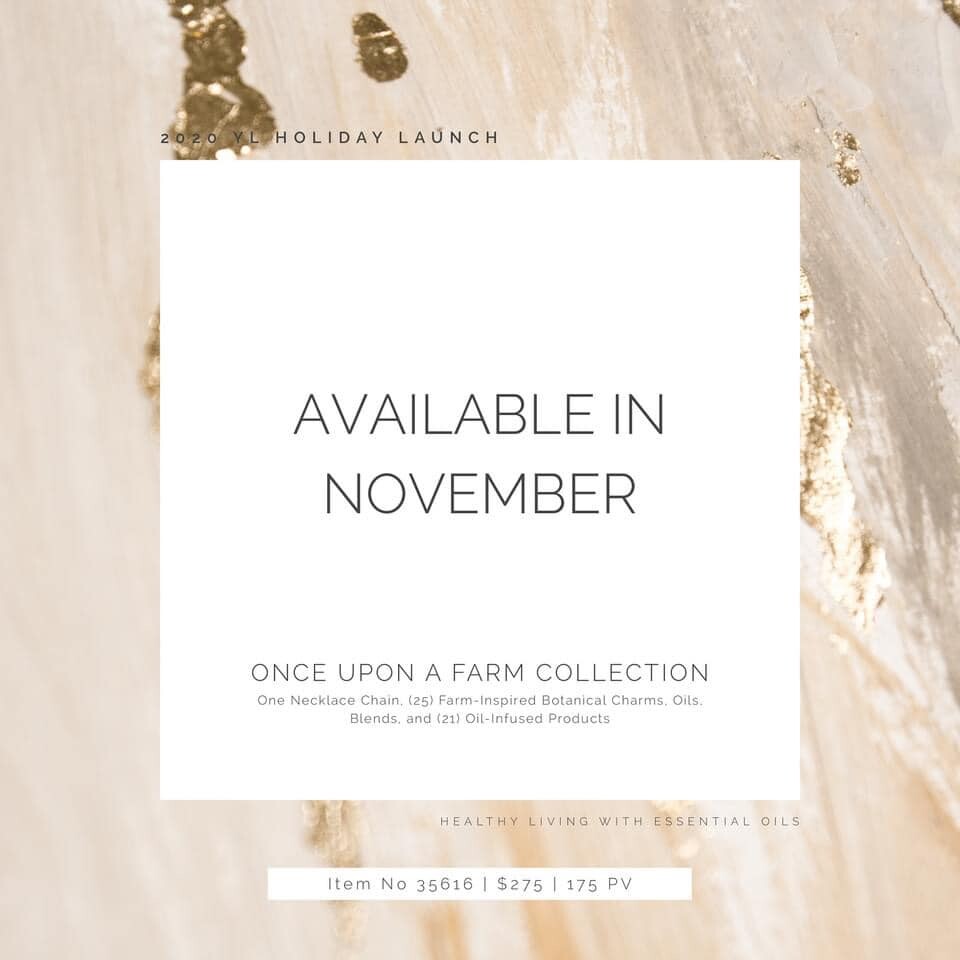 ONCE UPON A FARM COLLECTION
Item No 35616 | $275 | 175 PV
Count down to the holidays as you journey through Young Living's global farms. Each day you'll unwrap exclusive keepsakes. Not available until November.
YL FOUNDATION DONATION POSTCARDS
Entrepreneur | Item No 35177 | $25 | 0 PV
Exploitation | Item No 35179 | $25 | 0 PV
Education | Item No 35176 | $25 | 0 PV
This season help end exploitation, support female entrepreneurs, and give the gift of education with your donation to the YL Foundation. With your donation, you'll receive two holiday cards one to keep for yourself and one to give to someone you love.
Here's an at-a-glance guide that also shows products that will be available at a later date: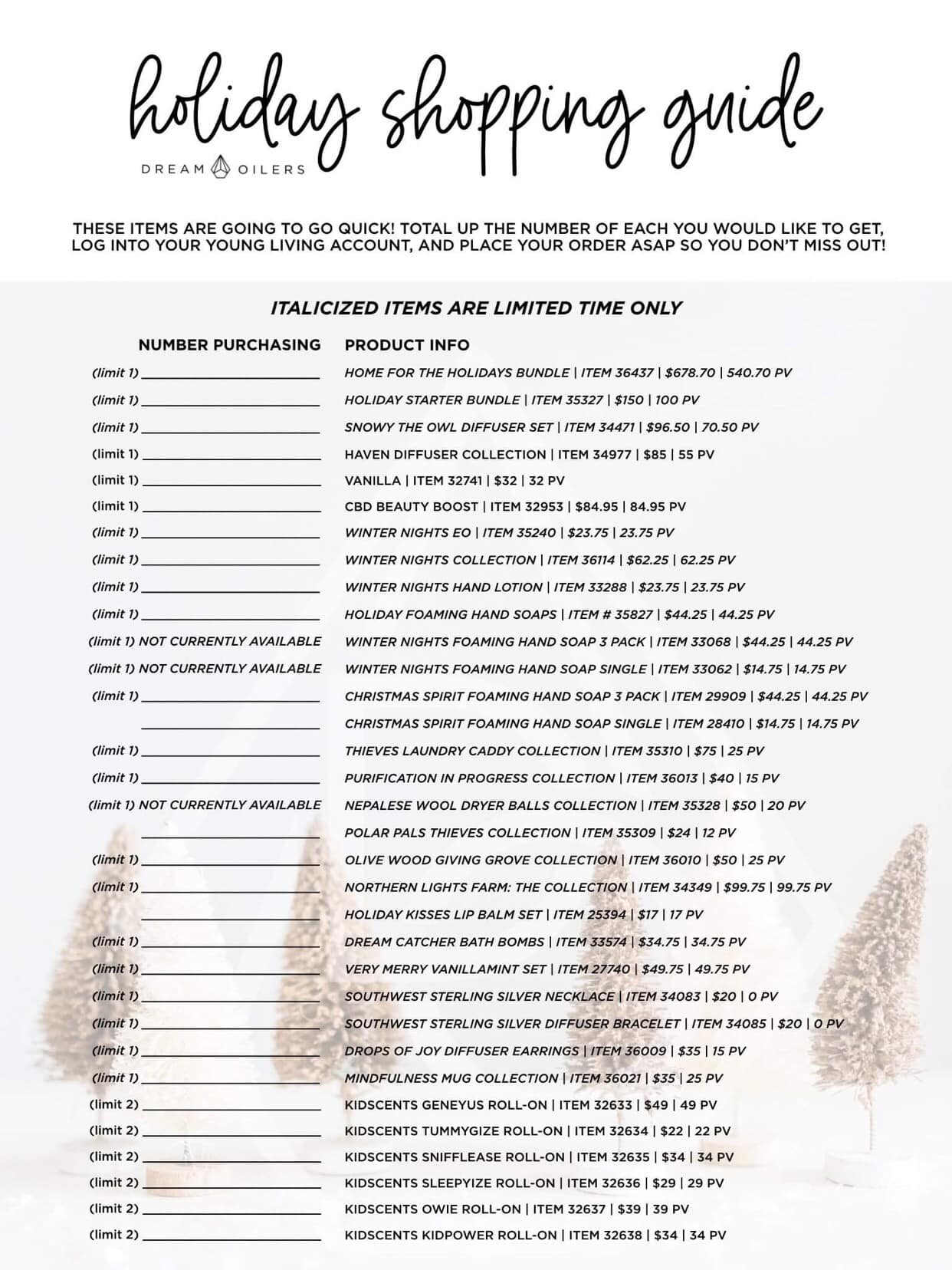 Last, but not least, here's a list to help make sure you remember everyone on your gift giving list this year!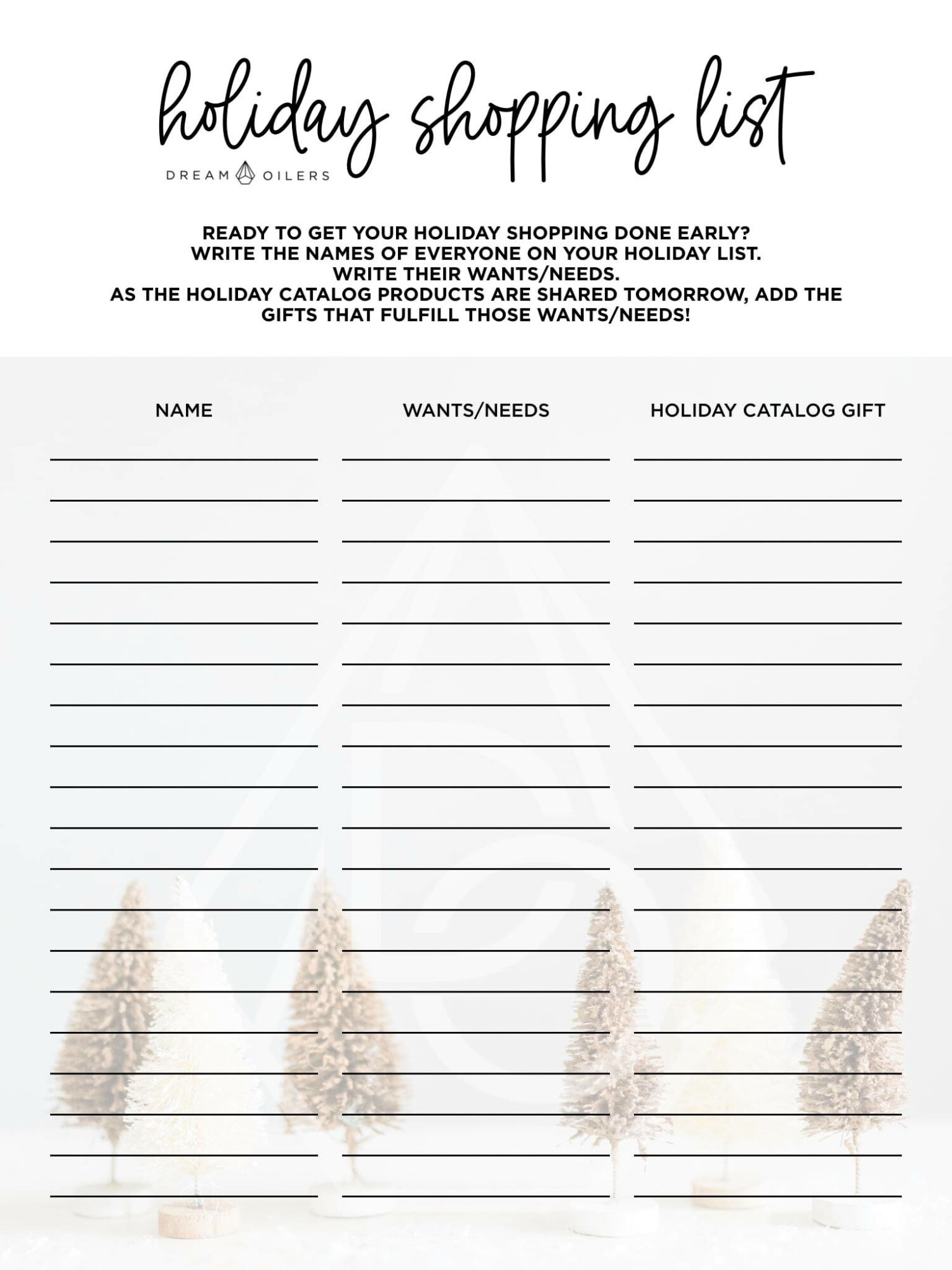 Got questions? Need help? Please reach out!
Happy Holiday Launch!
Andrea & Brian