Jul 1, 2020 06:43 PM Central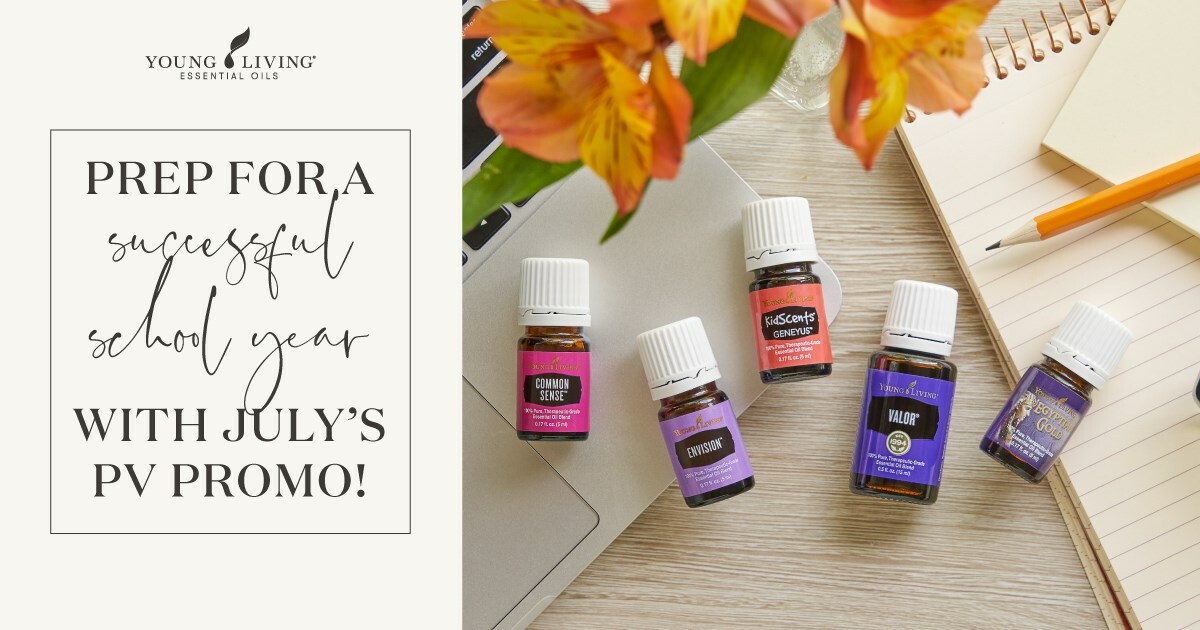 The July promos are here and not only do they have Back to School in mind...they'll also help us be in the best mindset to make the second half of this year amazing! Check out that last oil! (#myfave)
Here's a promo overview, along with details on each product. Plus,
keep scrolling for a list of all the new Convention releases - the permanent Convention products can now be added to your Essential Rewards orders!!!
(A few of them are out of stock or held back from ER until YL has enough stock available.
T
here's an asterisk on the products that will be available on ER once they're well-stocked.)
Some of the limited time offers are still available in the Shop section of your Virtual Office! Look in the "What's New" section and explore all the amazing new options!
Last, but not least,
three product favorites came back in stock today
! You can find those at the end.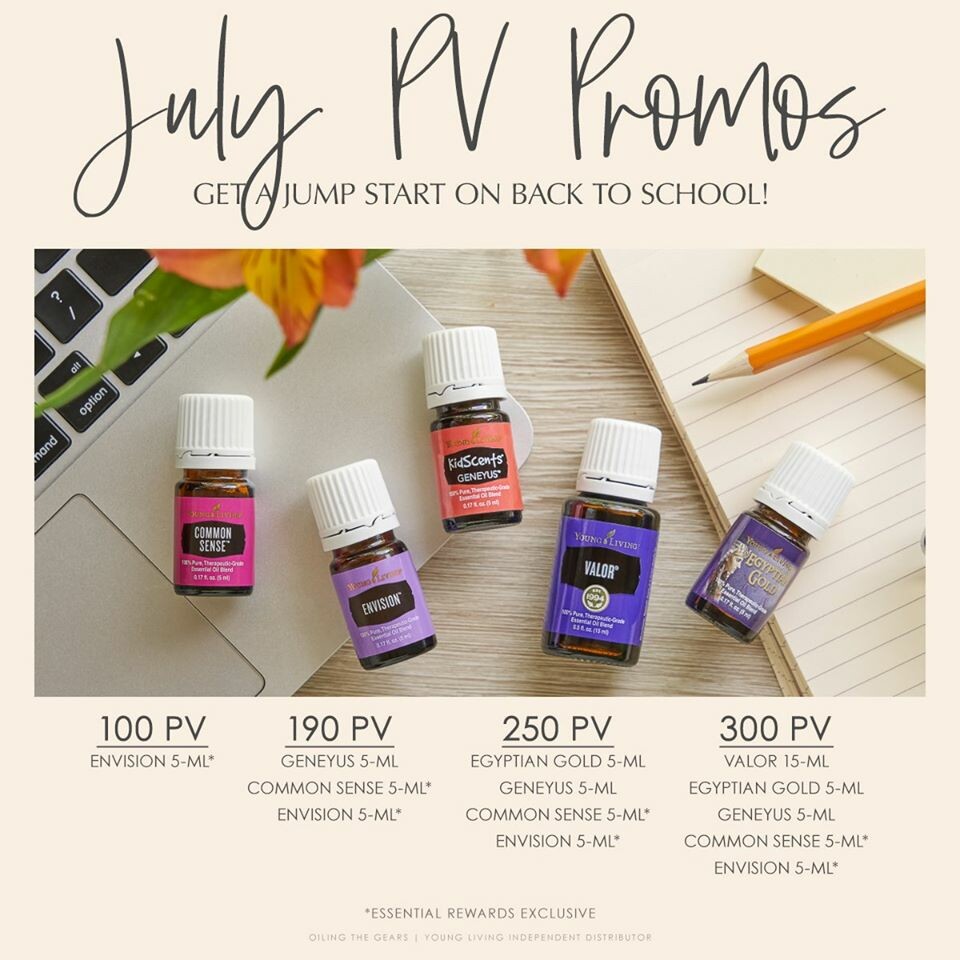 Envision, 5ml - 100PV Essential Rewards exclusive

This is such a valuable blend for getting your mindset in the perfect place to plan for the future. Diffuse it with Lavender or your favorite uplifting citrus oil for a pleasant, calming aroma and get out your planner and dream board. Make a plan for the rest of this year and know you can do whatever you set your mind to!
Common Sense, 5ml - 190PV Essential Rewards exclusive

No, this is not the cure for anyone who happens to lack common sense. Although, wouldn't that be nice? Instead, this is more of a deep focus blend. When you need to set aside the worries of the day and focus on what matters in the here and now, this is the blend you should diffuse or apply to your temples and wrists. You're going to fall in love with what this one does for you!
KidScents Geneyus, 5ml - 190PV

This is going to help you as much as it does the kids when it comes time for schooling and homework. Get a roller bottle and put some of this in it so your kids can apply it themselves (it's pre-diluted) when they go to study or need to focus on a project. Diffuse it so you can all get the benefits when you're trying to help with their studies or diffuse it for yourself when you're at work. (We won't tell!)
Egyptian Gold, 5ml - 250PV

This is an invaluable blend that isn't always available, so getting it in the promos is a nice surprise! Deeper spiritual connection, intense focus during meditation and prayer, and a feeling of harmony in your spirit and life is what this blend is all about. Diffuse it by itself or with a drop or two of extra Frankincense for a very personal spiritual experience.
Valor oil blend 15ml - 300PV

I'm sure that by now, you KNOW this is my FAVORITE oil and I don't need to sing the praises of Valor, but a 15ml bottle is absolutely amazing because it's not available for purchase!!!!!! Use Valor every day for confidence to face anything the days ahead have for you and use it to calm your mind and emotions. Try diffusing 4 drops of Valor, 3 drops of Orange, and 2 drops of Frankincense. You'll love it! You deserve to feel confident, calm, and happy. This will help you get there!
Get Even More for Free When You Help Others Start Their Wellness Journey!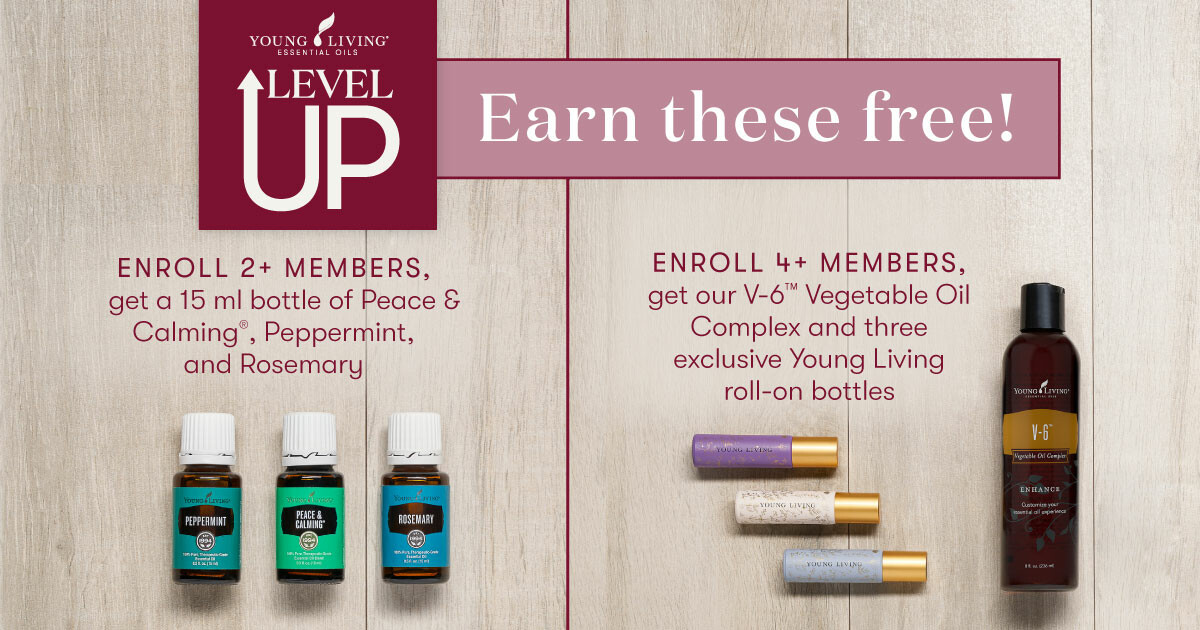 CONVENTION PRODUCT LIST
(The last column lets you know if it's available in ER starting this month.)
***I'm waiting for my foundation color matching tool to arrive, but it will be here SOON! Let me know if you'd like to color match!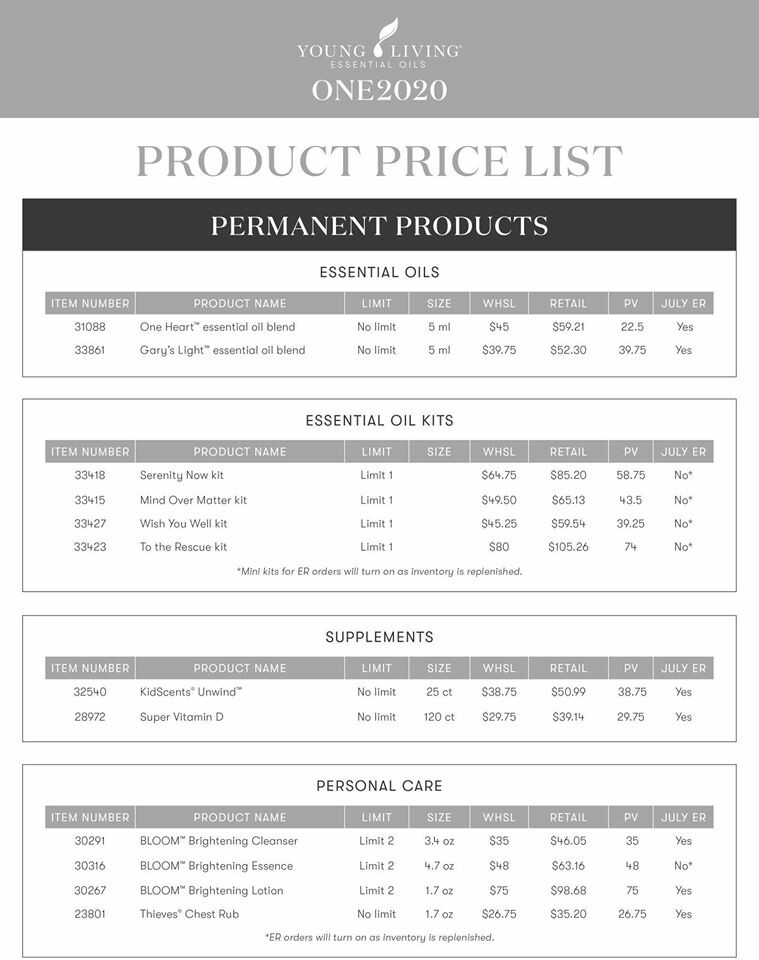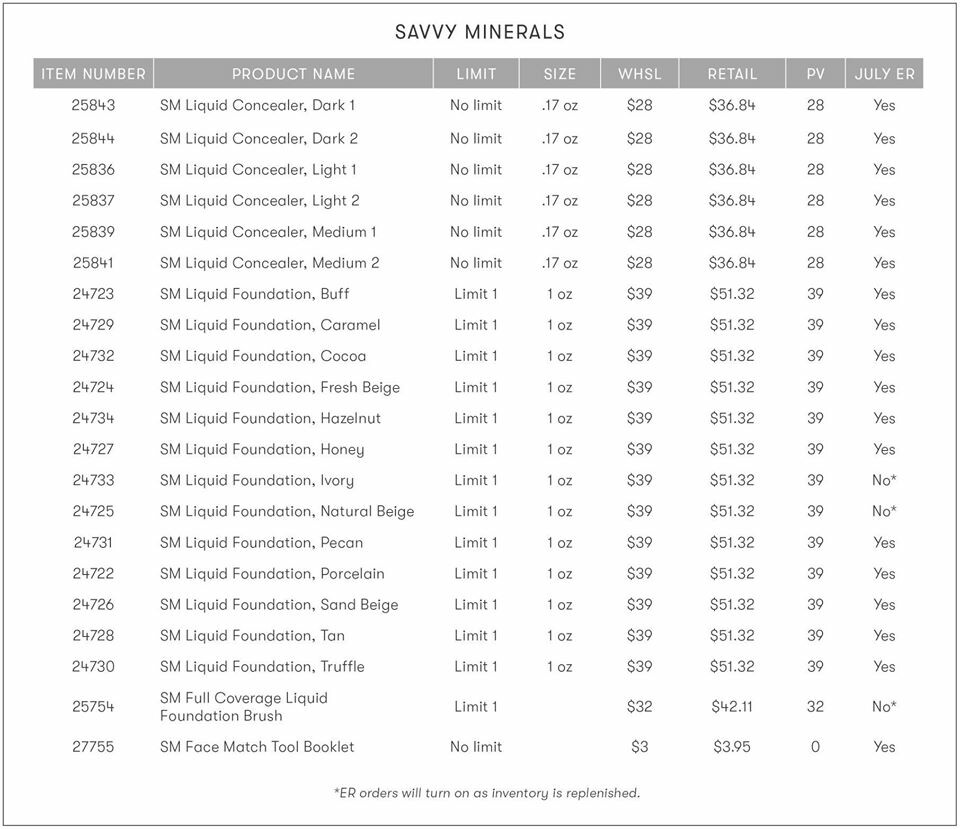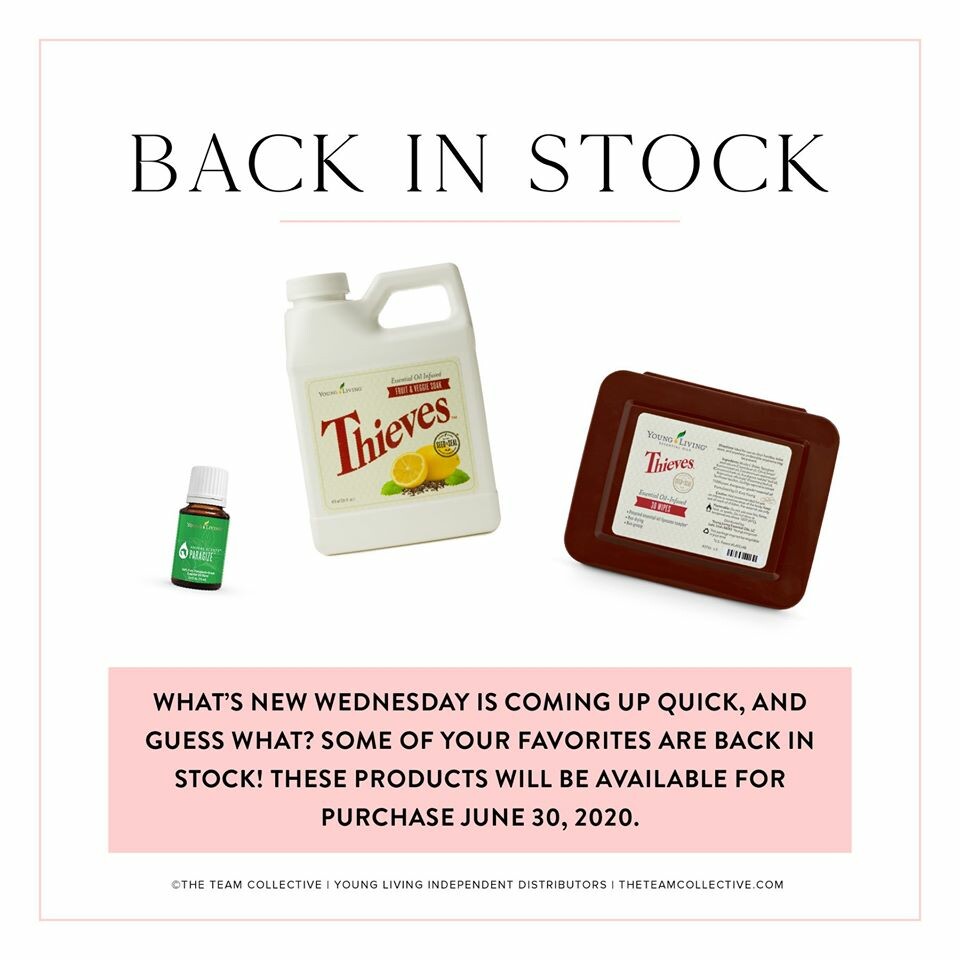 Animal Scents ParaGize, 15 ml
• Item No.: 5720
• Retail Price: $14.47
• Wholesale Price: $11
• PV: 8.25
• No limit; Shop and Essential Rewards
Thieves Fruit and Veggie Soak, 16 oz.
• Item No.: 5352
• Retail Price: $25.99
• Wholesale Price: $19.75
• PV: 19.75
• No limit; Shop only
• Item No.: 3756
• Retail Price: $17.76
• Wholesale Price: $13.50
• PV: 13.5
• No limit; Shop and Essential Rewards
If you have questions, need help or suggestions, or would like to color match for your foundation, please reach out. I'm here if you need me!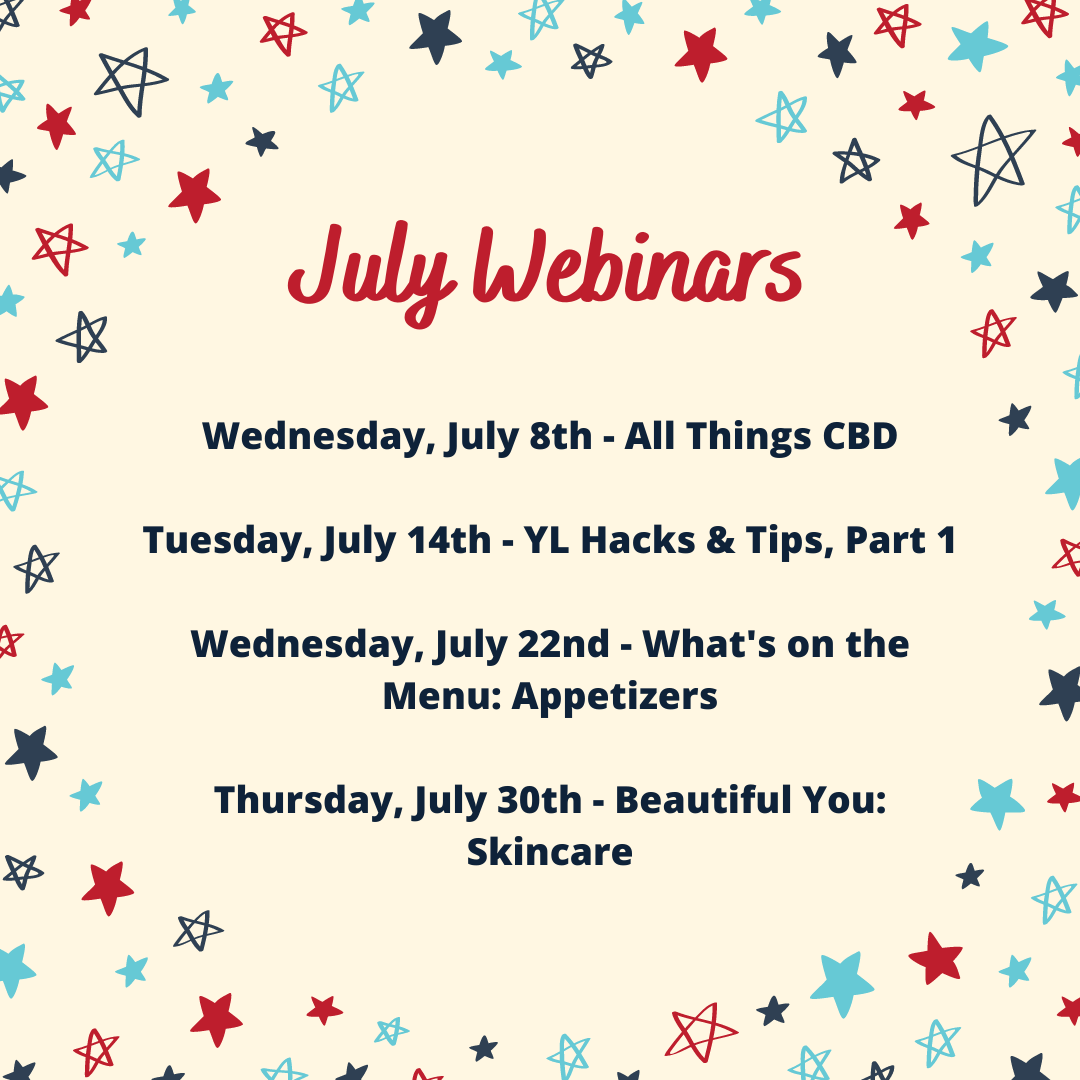 Apr 29, 2020 10:30 AM Central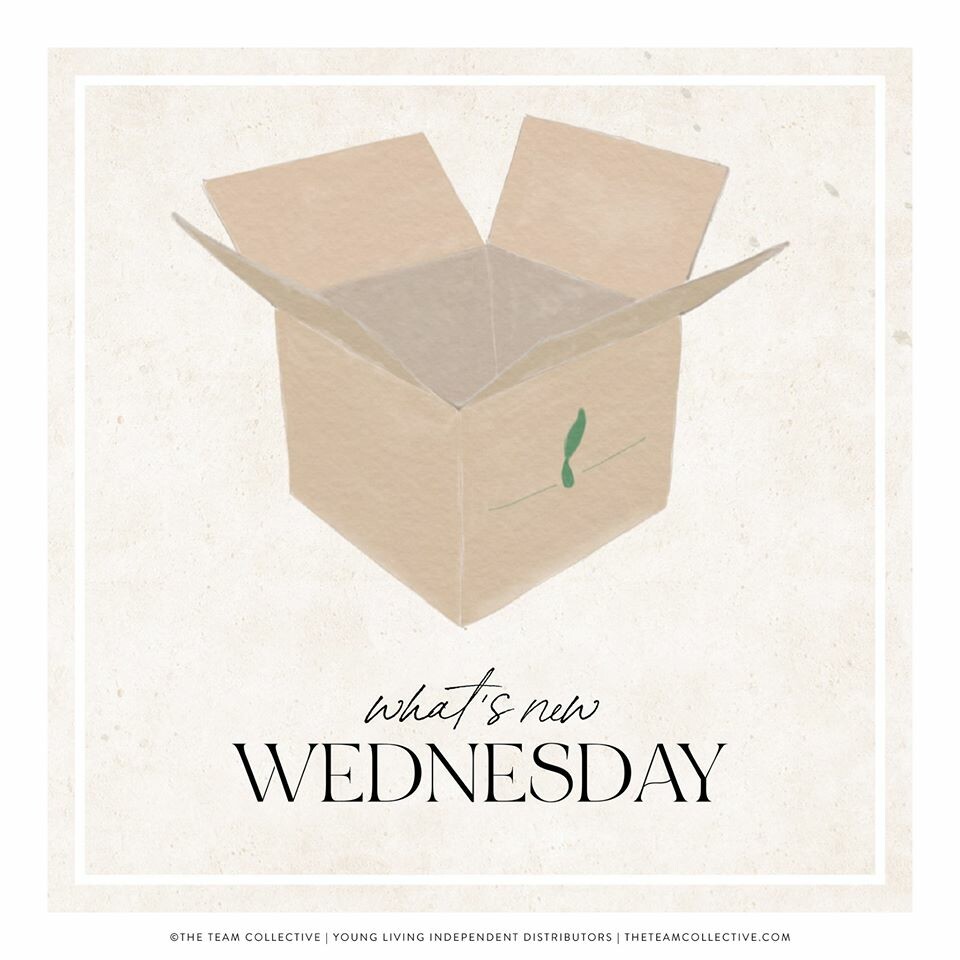 This is SO good that I had to share the news! Make sure you read the WHOLE message to be sure you catch everything!
The following items will be available for purchase at (or around) 12:00pm MT / 2:00 EST today, April 29
. All products will be live by 1:00pm MT, so keep refreshing your Virtual Office screen for your favorites and must-haves!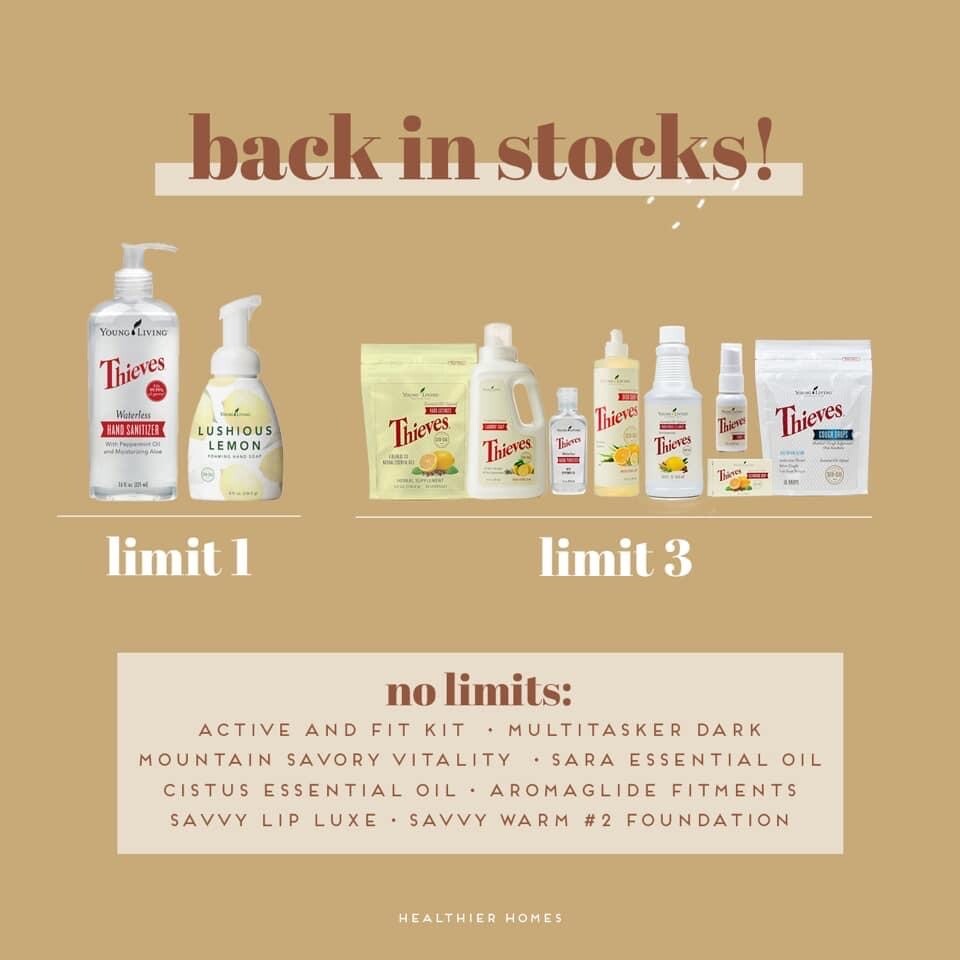 7.6oz Sanitizer - limited quantity*

Lushious Lemon Foaming Hand Soap Single - 30948

Retail: $19.41
Wholesale: $14.75
PV: $14.75
Limit 1 per account
*Delays in raw material limited the amount of 7.6oz Purifier YL could turn on this week. Next week there should be a larger volume available, but they are doing their best to walk the line in holding product and releasing it so those who need it can purchase it.
Thieves Limit Change from 2 to 3 per account per month (Shop Only)**:
1oz Sanitizer
Dish Soap
Household Cleaner 14.4oz
Laundry Soap
Thieves Spray Singles
Thieves Bar Soap
Thieves Cough Drops
Thieves Lozenges
**YL expressed that they wish they could offer higher limits for this, but to ensure the Thieves PSK is turned on *hopefully* May 6th, they are only making available what they can without risking the Thieves PSK staying out of stock. They considered not increasing limits but felt this was a good time to allow for combining shipping costs to cover one additional Thieves product that members are wanting. Please note this limit is not set for May and could change based on inventory by May 1st.
Additional Products Back in Stock (Available Via BOTH Shop & ER Orders):
Active and Fit Kit

Multitasker Dark

Mountain Savory Vitality

SARA Essential Oil

Cistus Essential Oil

Aromaglide Fitments

Lip Luxe

Foundation Powder - Warm #2
Welcome Home Starter Kit

Through May 31 or while supplies last
New members only
Just in time for Mother's Day gifting!!!
This week,
additional products, at 20% off,
are also available for a limited time!
This Mother's Day promotion will run through May 6 or while supplies last.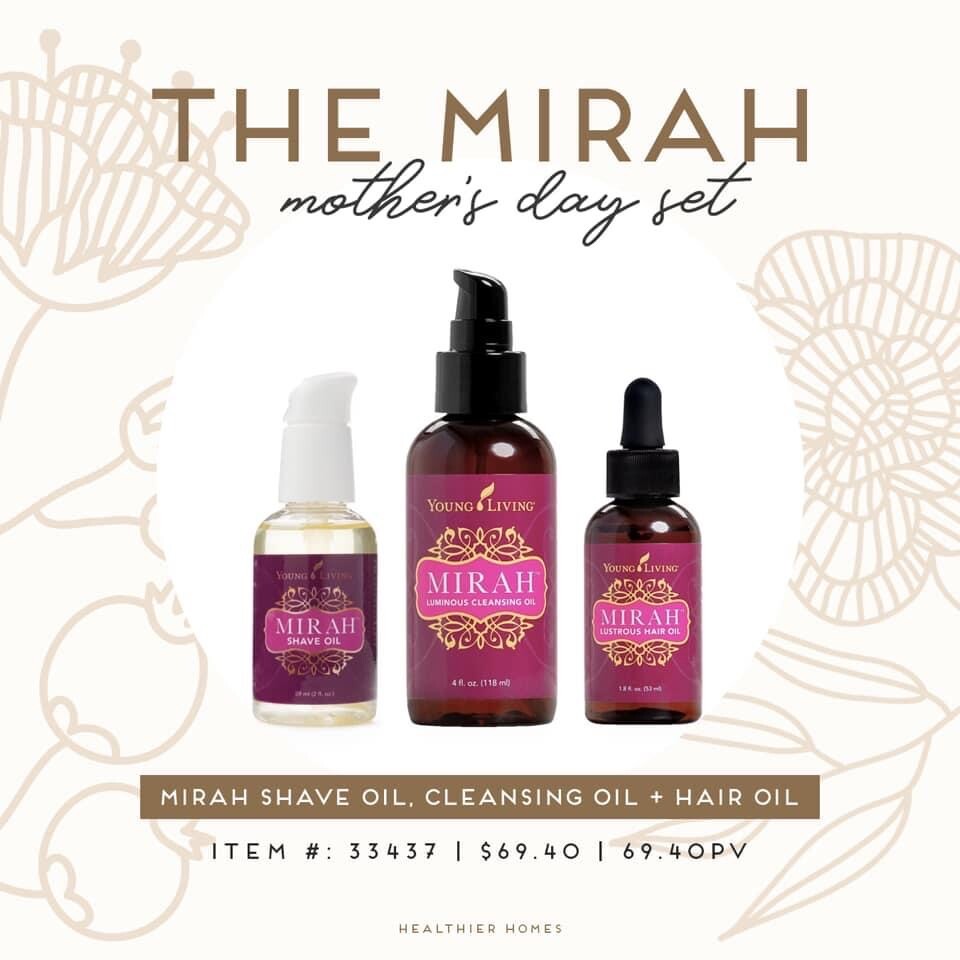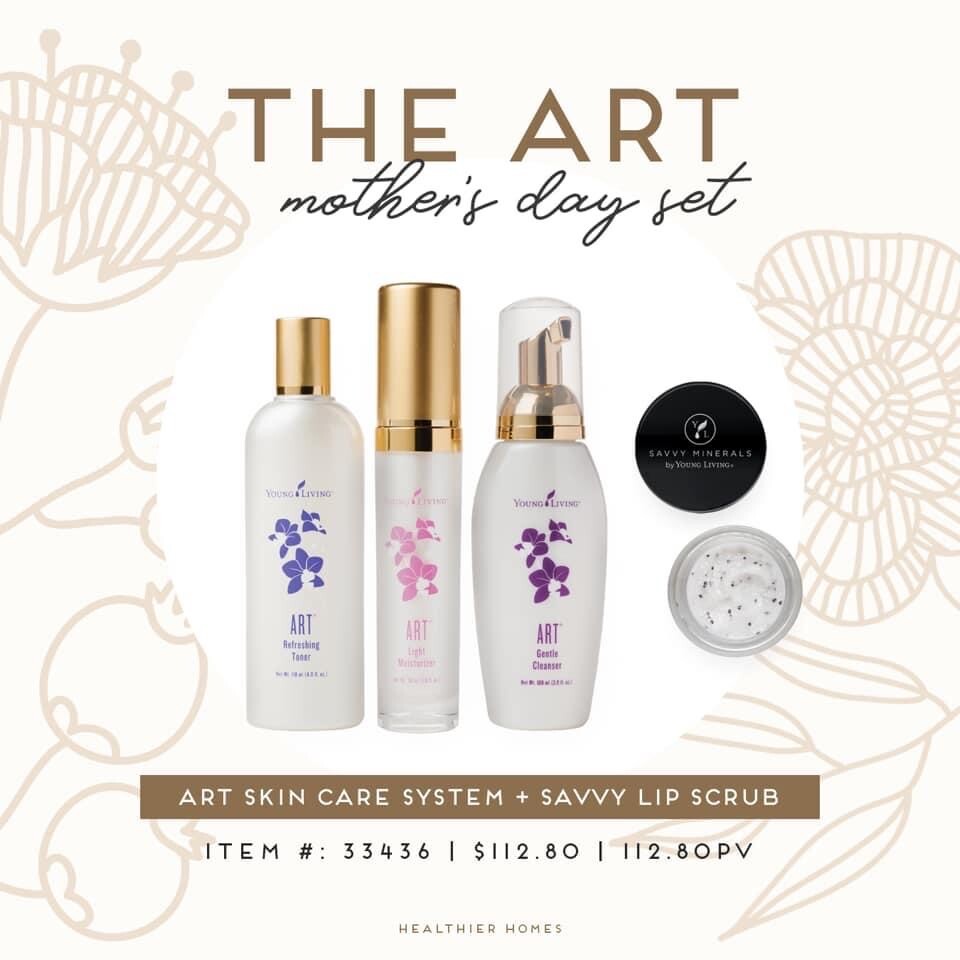 4 Essential Oils That Are ALL Great for Skincare + SO Much More!
Elemi 15ml
Blue Tansy 5ml
Roman Chamomile 5ml
Manuka 5ml
That's all the news! Please reach out if you have questions, need help placing an order, or need help reactivating your account.
Happy Oiling!
Jun 26, 2019 07:08 PM Central
Do you hear the sound of dancing feet?! There's a ton of celebration going on because some beloved oils that have been out of stock for quite some time will become available FOR A LIMITED TIME starting THURSDAY, JUNE 27TH at 10 am MST / 12 pm EST.
Scroll down to read why our family loves each of these oils...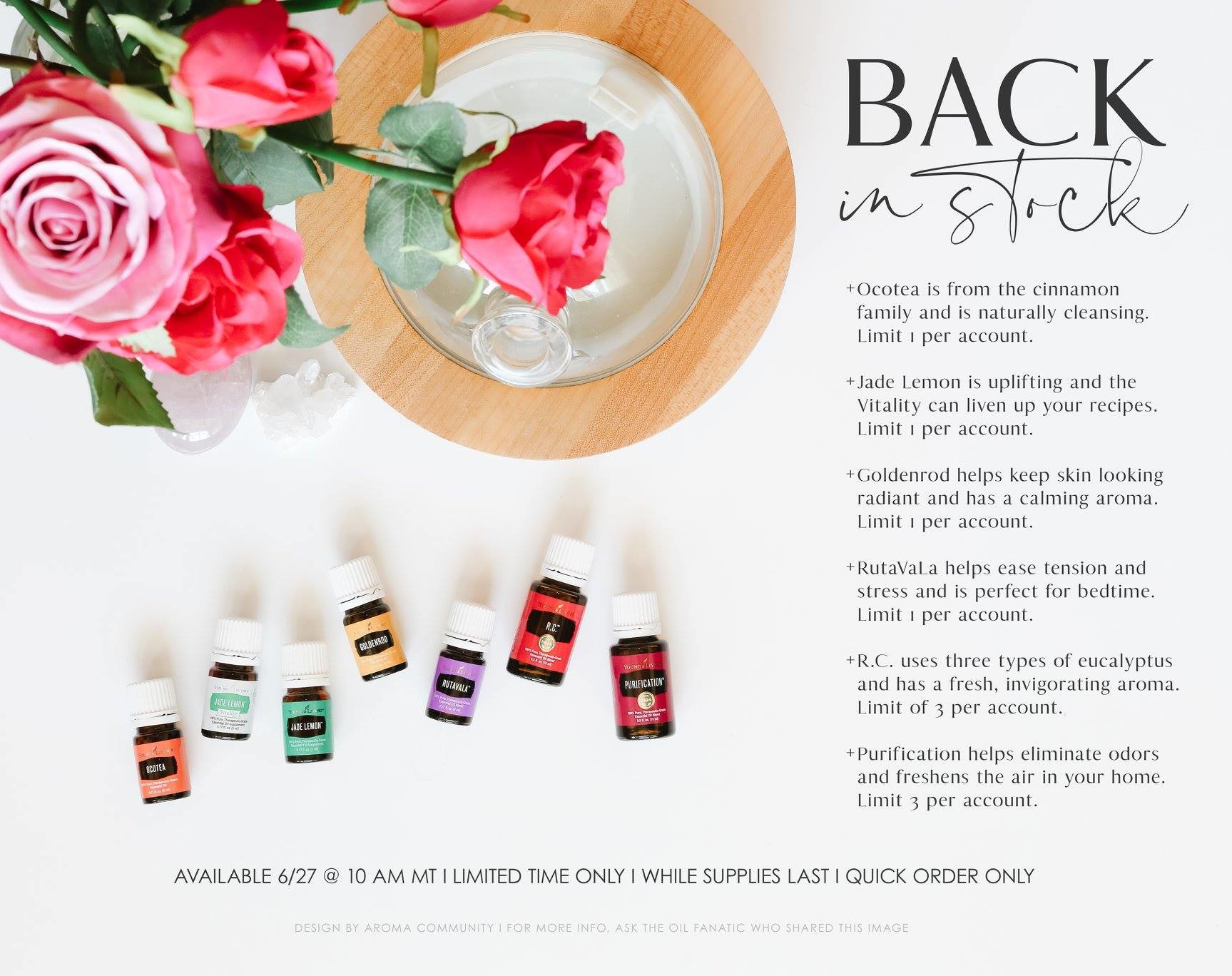 This is QUICK ORDER ONLY and will be WHILE SUPPLIES LAST.
Here are some additional details:
15 ml bottles of Purification and R.C. can be ordered on Quick Order only during June, with a limit of three per account. You can get these 15 ml bottles on Essential Rewards starting July 1, with a limit of three per account per month. (These are both FANTASTIC oils to stock up on for the winter months!)
5 ml bottles of Ocotea, Goldenrod, RutaVaLa, Jade Lemon, and Jade Lemon Vitality have a limit of one per account and are available on Quick Order only.
U.S., APO, and NFR markets and Professional Accounts can order these favorites.
Need more than the limited number of bottles? Let me know A.S.A.P. so I can try to help you get additional bottles through others who may not be purchasing bottles of their own. (GASP!!!)
WHY do WE love these oils??? Let me fill you in!
Ocotea - this oil is most often used to support healthy blood sugar levels in normal range. Those who know the benefits of Ocotea are going to be CLAMORING to get this oil! Do a Google search on it - you'll be glad you did!
Jade Lemon - bright and fresh to diffuse, but...have you tried the Jade Lemon Vitality infused cake shared by Marcia Miller??? OH. MY. WORD. You're welcome! You'll be the hit of any gathering when you bring this!!!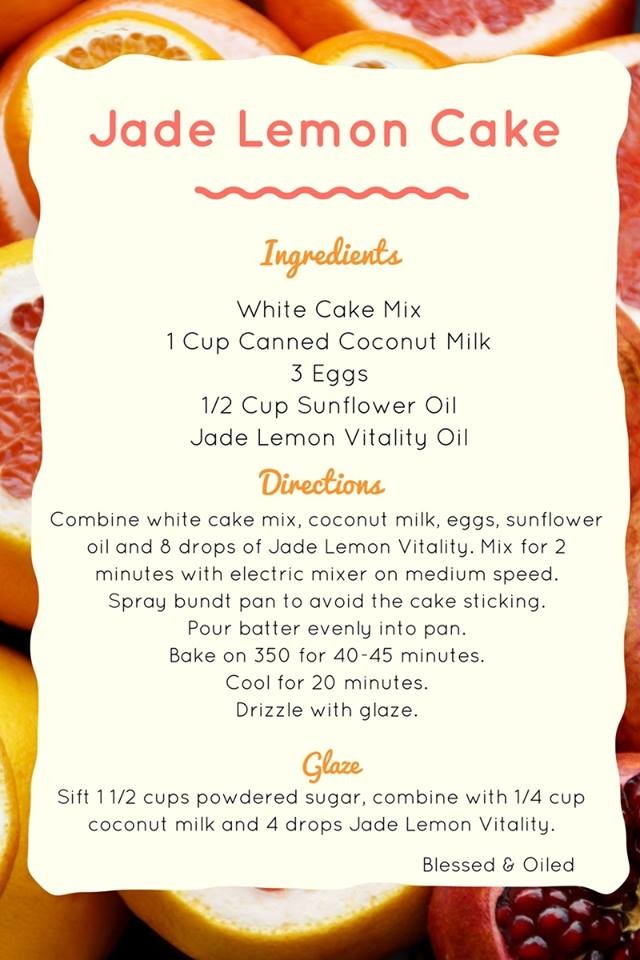 Goldenrod - A man's BEST FRIEND and aptly named. Lucy Libido touts its benefits and every man sings a "hallelujah" when it comes back in stock! Lucy says that this oil is applied topically on location and /or on the inner thighs. It's also GRAS for internal use, so he can choose to take 3 drops in a capsule if he'd like. #needIsaymore #stockup #dontmissout
RutaVaLa - Good night, sleep tight, my friends! This blend of Ruta, Valerian and Lavender is relaxing and calming and supports a restful night's sleep. Diffuse it or apply it to the bottoms of your feet at bedtime.
R.C. - This oil is a favorite for its upper respiratory support benefits. We like to diffuse it with Thieves and Purification during the winter and spring months, but we also love to apply it topically over the sinuses, bridge of the nose and just inside the nostrils. Keep your eyes closed for a moment during and after application to avoid any irritation. We also like to apply it to the chest, but be sure to use a carrier oil on that delicate skin. Are you a runner? Apply it before exercise to support easy breathing!
Purification
- I always say that this oil is an unsung hero. Good for so many things, its uses range from tackling all things stinky (laundry, garbage cans, cars, athletic bags & equipment, carpets, etc.) to also being fantastic for immune system support. I use it to clean the vents in airplanes, I definitely diffuse it with Thieves, and I'll often apply it to the outside of my throat or bottoms of my feet. It's a key component in my
immune support roller
that I like to apply nightly to my feet during the winter months.
See why everyone is so excited about this?!?!?! I just had to let you know! Be sure to jump on and place your order while you can!
HAPPY Oiling!!!