Dec 1, 2019 02:30 PM Central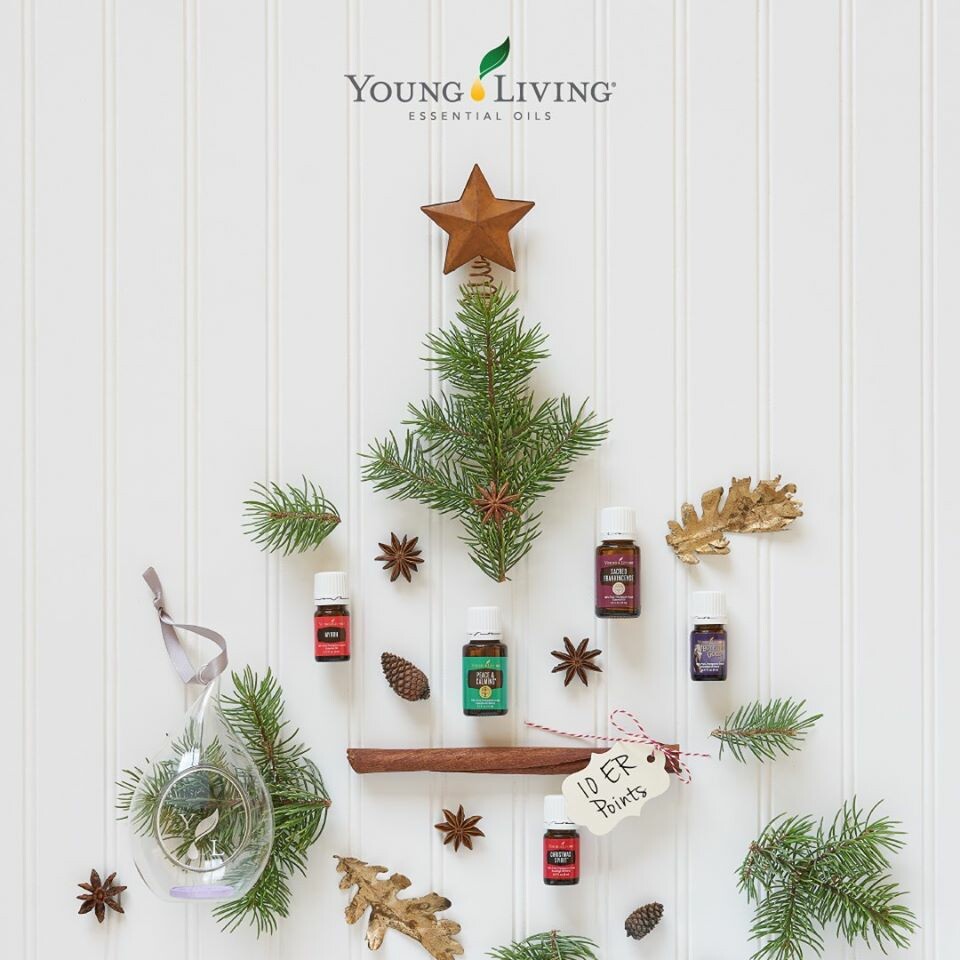 EXTRA! EXTRA! READ ALL ABOUT IT!!!!
Here's all the news
- first for
Cyber Monday
, then the
December promos
, then how you can earn a
FREE BOTTLE OF MELISSA!!!
This Cyber Monday is all about transforming your health and your home with 20% off select Thieves and NingXia Red products - INCLUDING RED SHOT, which can be purchased separately this year!!!
Whether you're stocking up for yourself or buying them as a gift for someone else because you know it will change their lives, you'll want to get those orders in
as quick as you can!
These go live tomorrow, December 2nd at 8 AM MT / 10 AM EST and ends at midnight MT / 2 AM EST!


U.S., APO, and NFR markets are invited to participate in this promotion.
(Red Shot is not available for APO shipping addresses.)
No ordering limits apply,
so this is the perfect time for you and your family & friends to stock up on Thieves and NingXia Red for the New Year.
Want shopping made simple? YL has created easy-to-purchase bundles that contain Thieves products and NingXia Red sets that include Red Shot and Ningxia wolfberries in addition to your choice of NingXia Red.
REMEMBER:
You can double and triple many of the Thieves products,

such as the hand soap, dish soap, and laundry detergent, making the product and your budget stretch even further.

Ningxia Wolfberries are an EXCELLENT addition to your Elderberry Syrup recipe, taking it to a whole new level of amazing immune system support!

20% Off Thieves Products: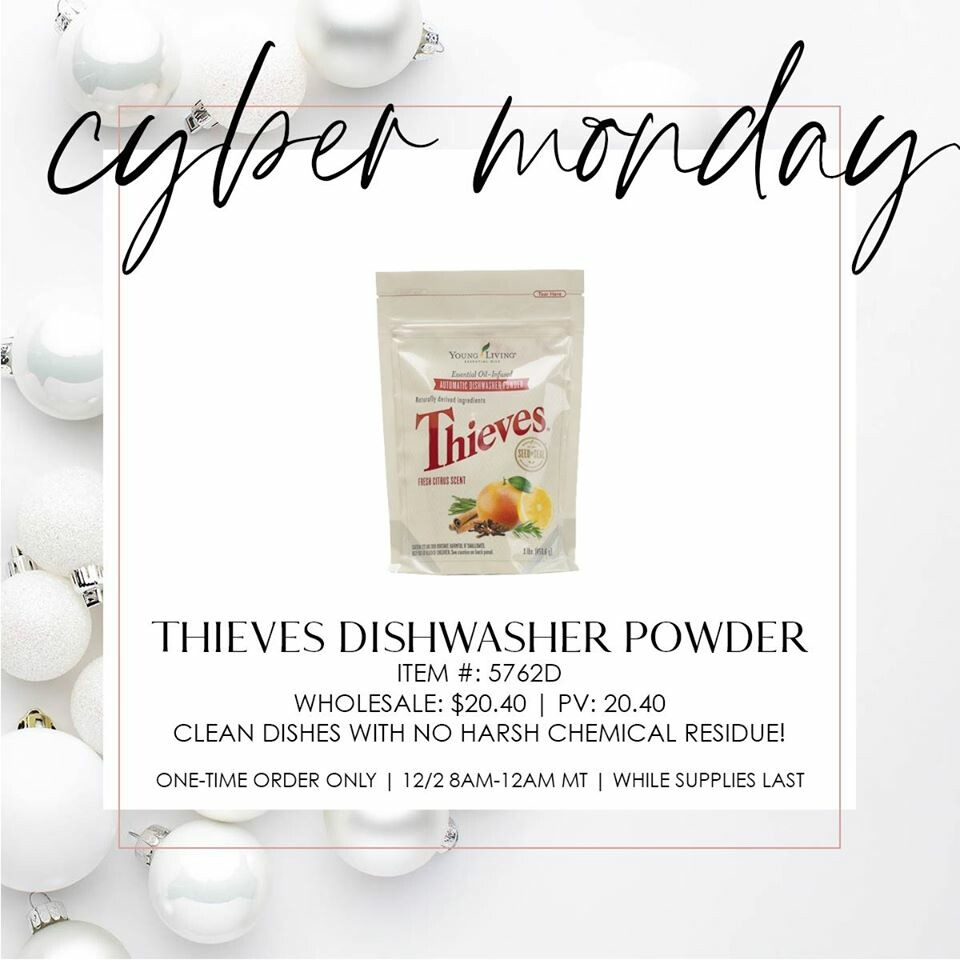 Thieves Automatic Dishwasher Powder
Item No. 5762D
Discounted wholesale price:

$20.40


PV: 20.40

Thieves Dental Floss
Item No. 4463122D
Discounted wholesale price:

$2.60


PV: 2.6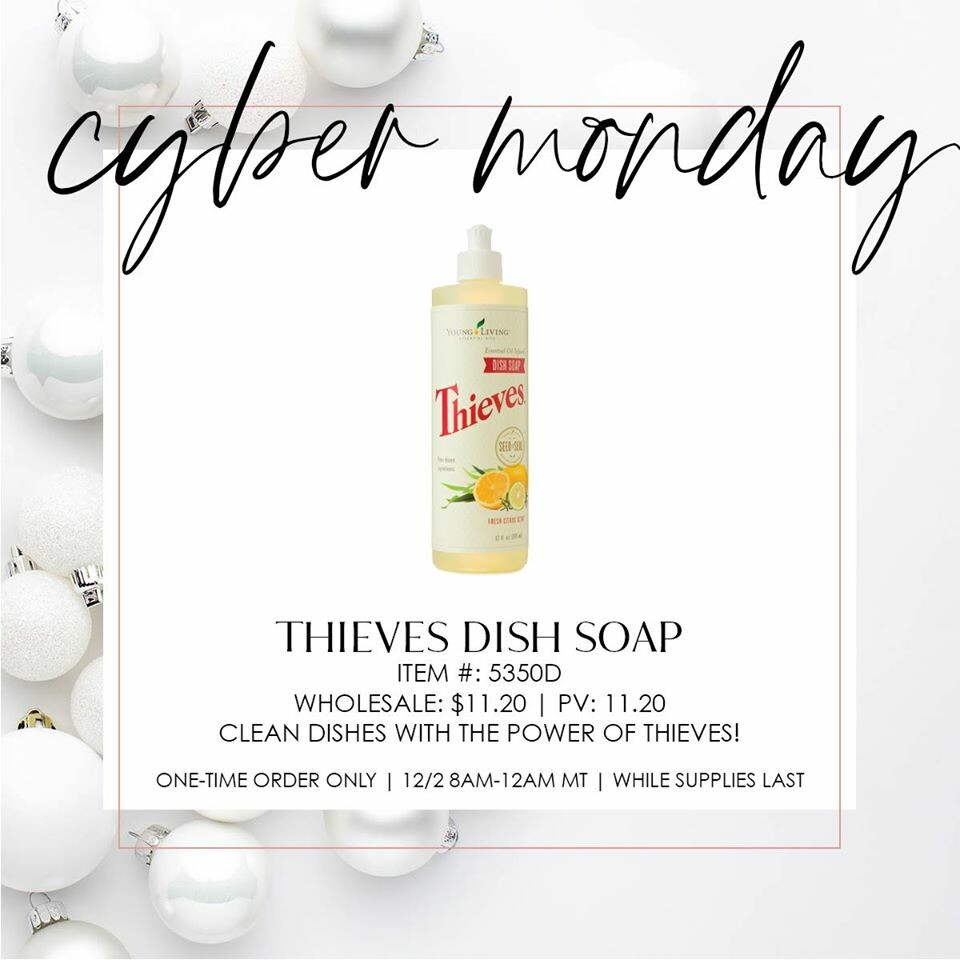 Thieves Dish Soap
Item No. 5350D
Discounted wholesale price:

$11.20


PV: 11.2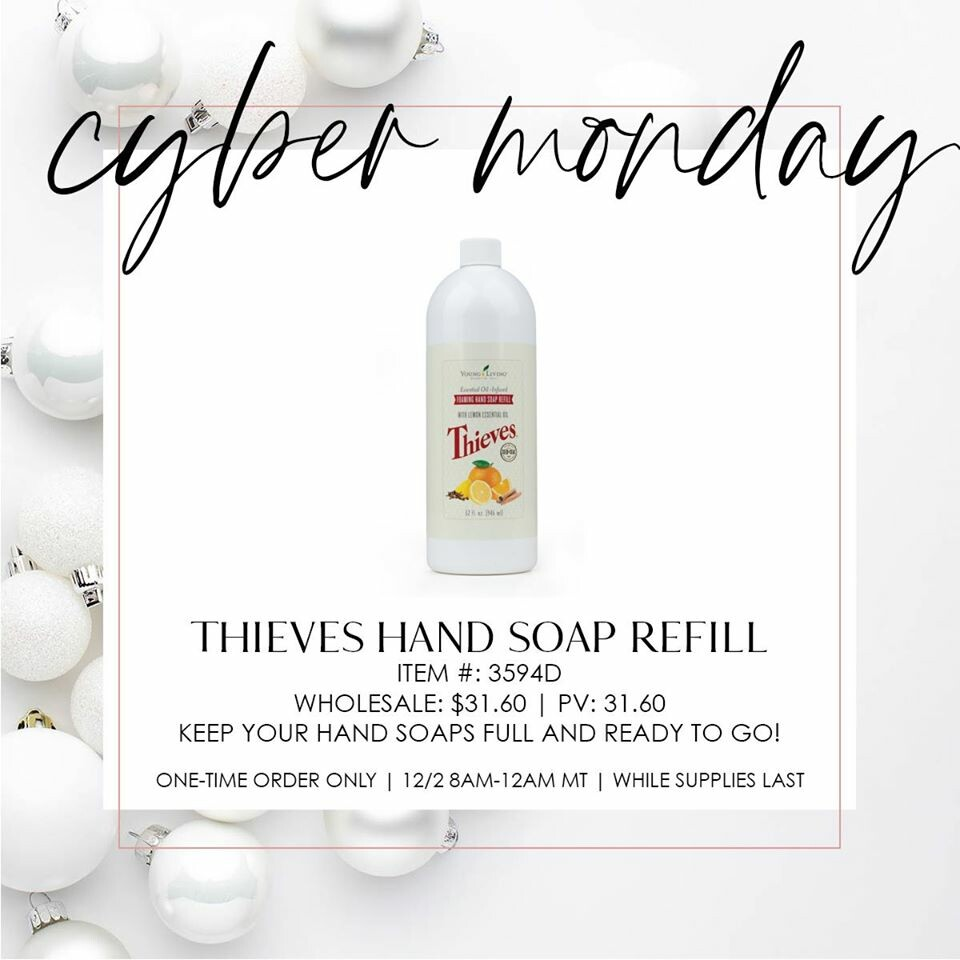 Thieves Foaming Hand Soap Refill
Item No. 3594D
Discounted wholesale price:

$31.60


PV: 31.6


Thieves Foaming Hand Soap
Item No. 3674D
Discounted wholesale price:

$10.60


PV: 10.6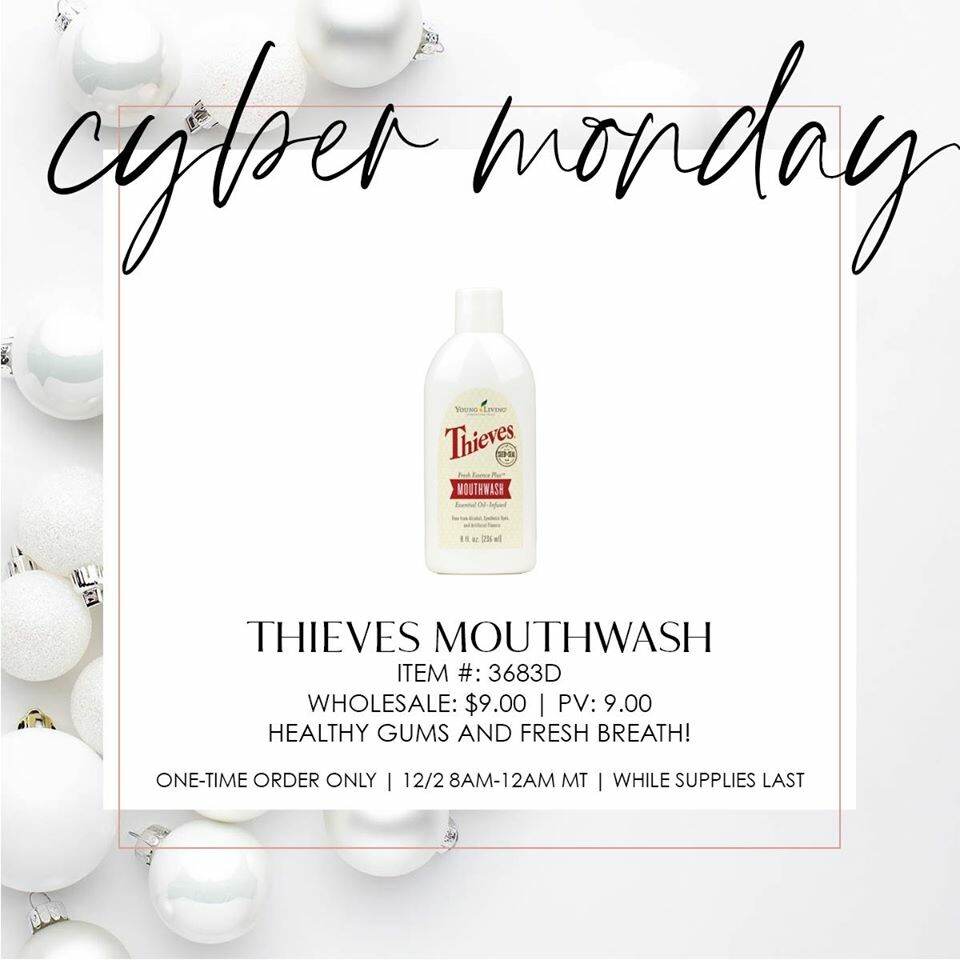 Thieves Fresh Essence Plus Mouthwash
Item No. 3683D
Discounted wholesale price:

$9


PV: 9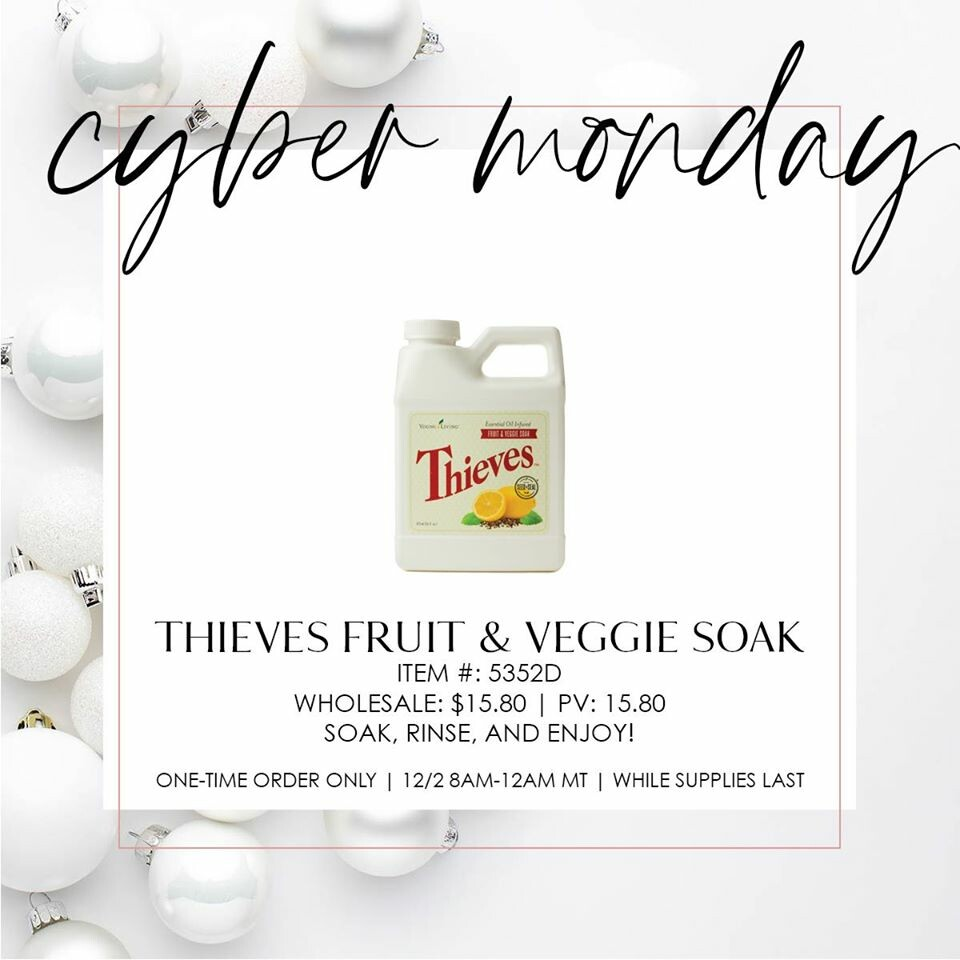 Thieves Fruit & Veggie Soak
Item No. 5352D
Discounted wholesale price:

$15.80


PV: 15.8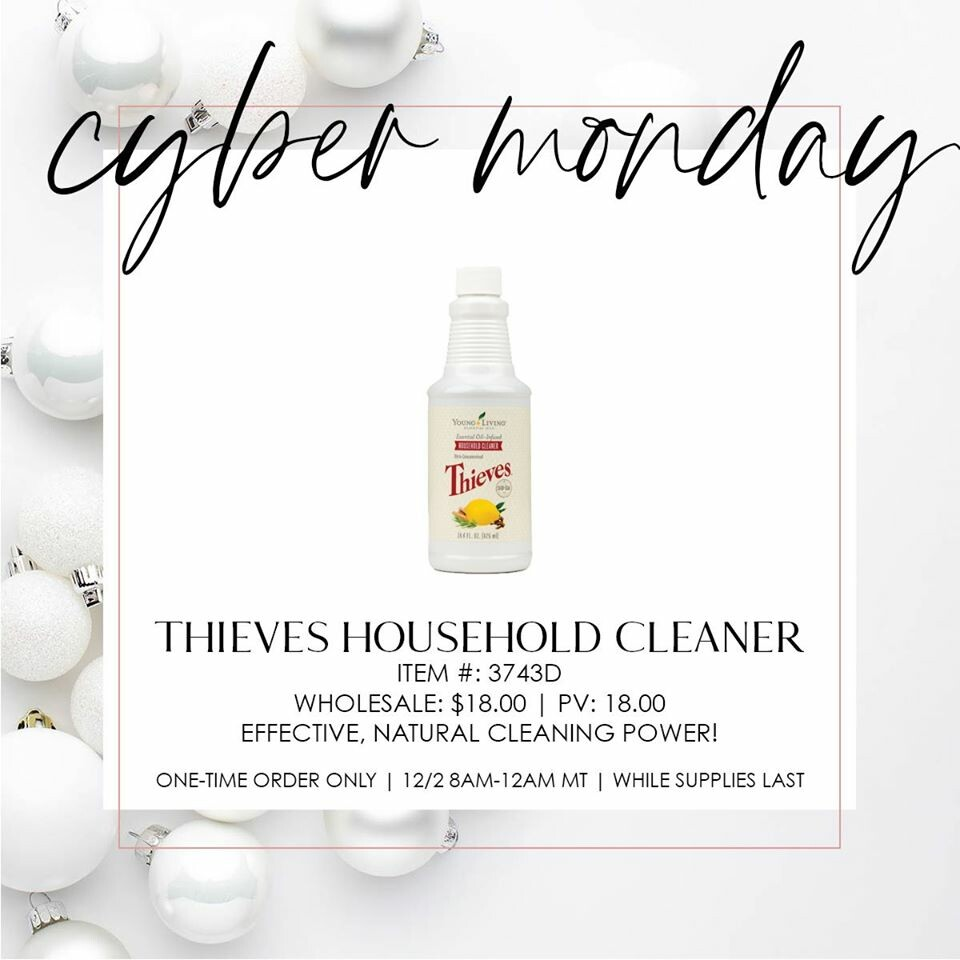 Thieves Household Cleaner
Item No. 3743D
Discounted wholesale price:

$18


PV: 18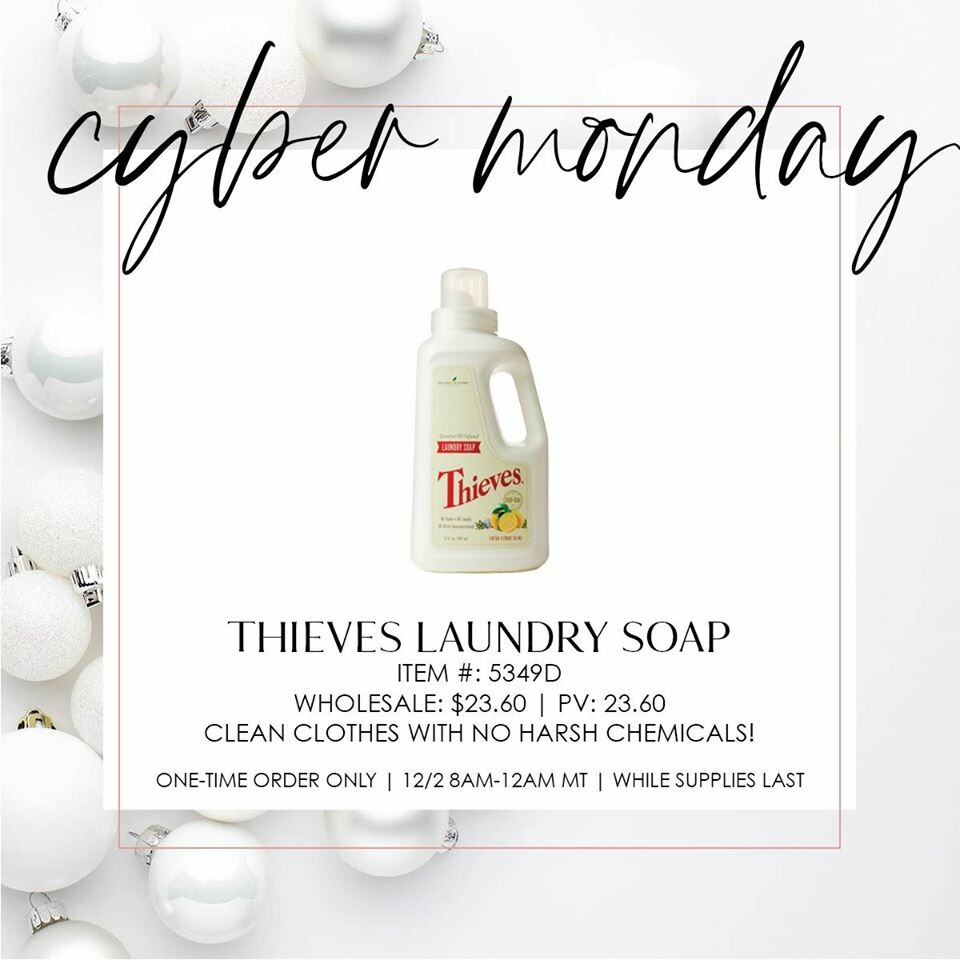 Thieves Laundry Soap
Item No. 5349D
Discounted wholesale price:

$23.60


PV: 23.6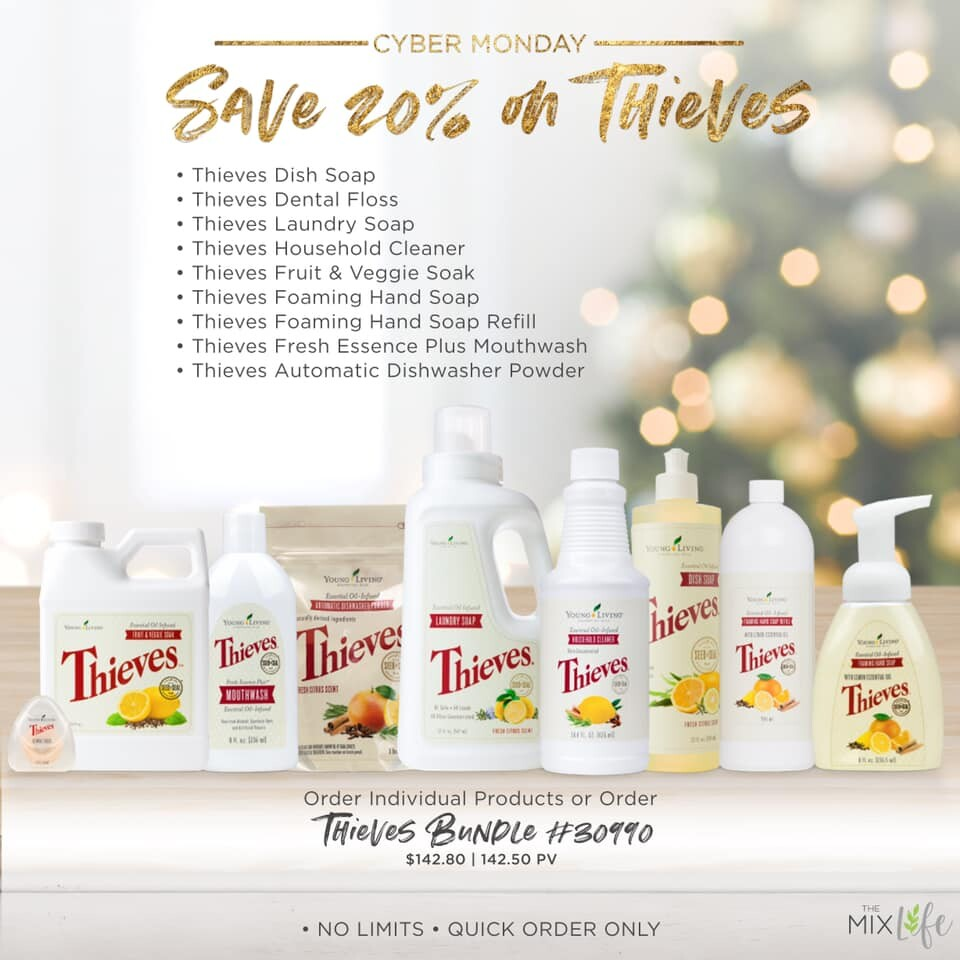 Thieves Bundle (includes all products listed above)
Item No. 30990
Discounted wholesale price:

$142.80


PV: 142.8



20% Off NingXia Red Products: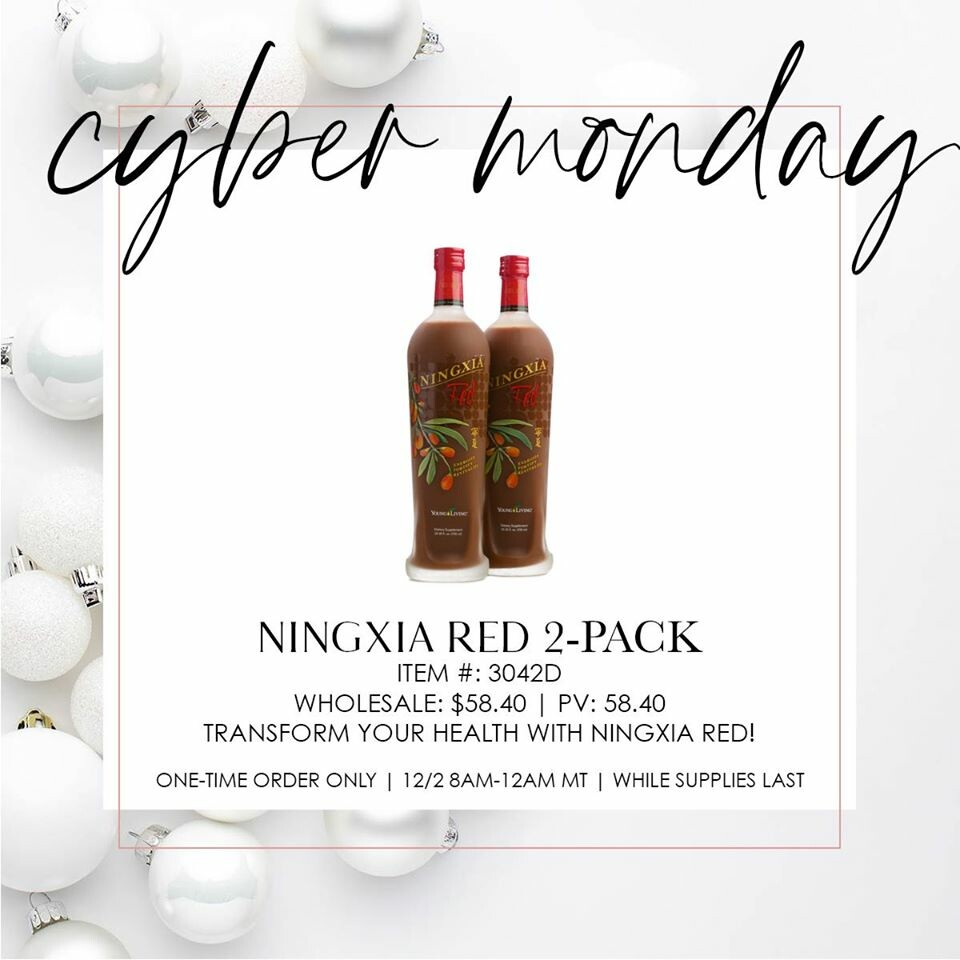 NingXia Red 2-pack
Item No. 3042D
Discounted wholesale price:

$58.40


PV: 58.4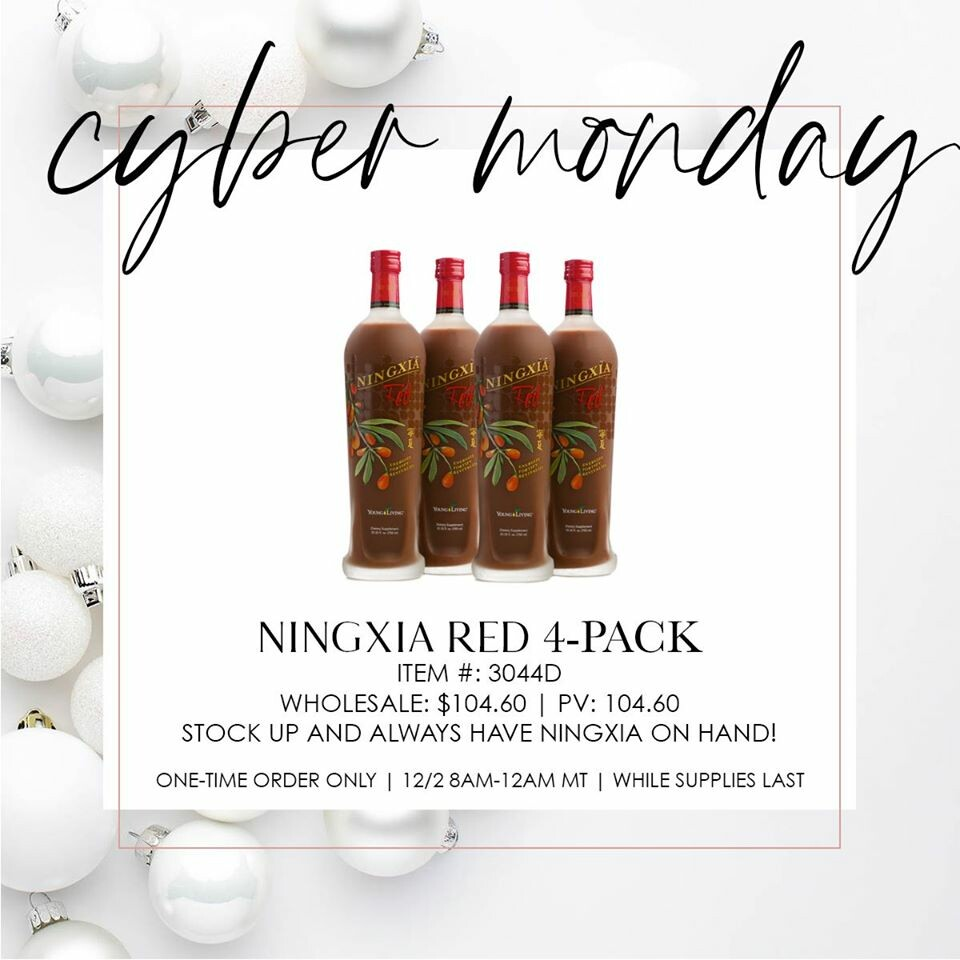 NingXia Red 4-pack
Item No. 3044D
Discounted wholesale price:

$104.60


PV: 104.6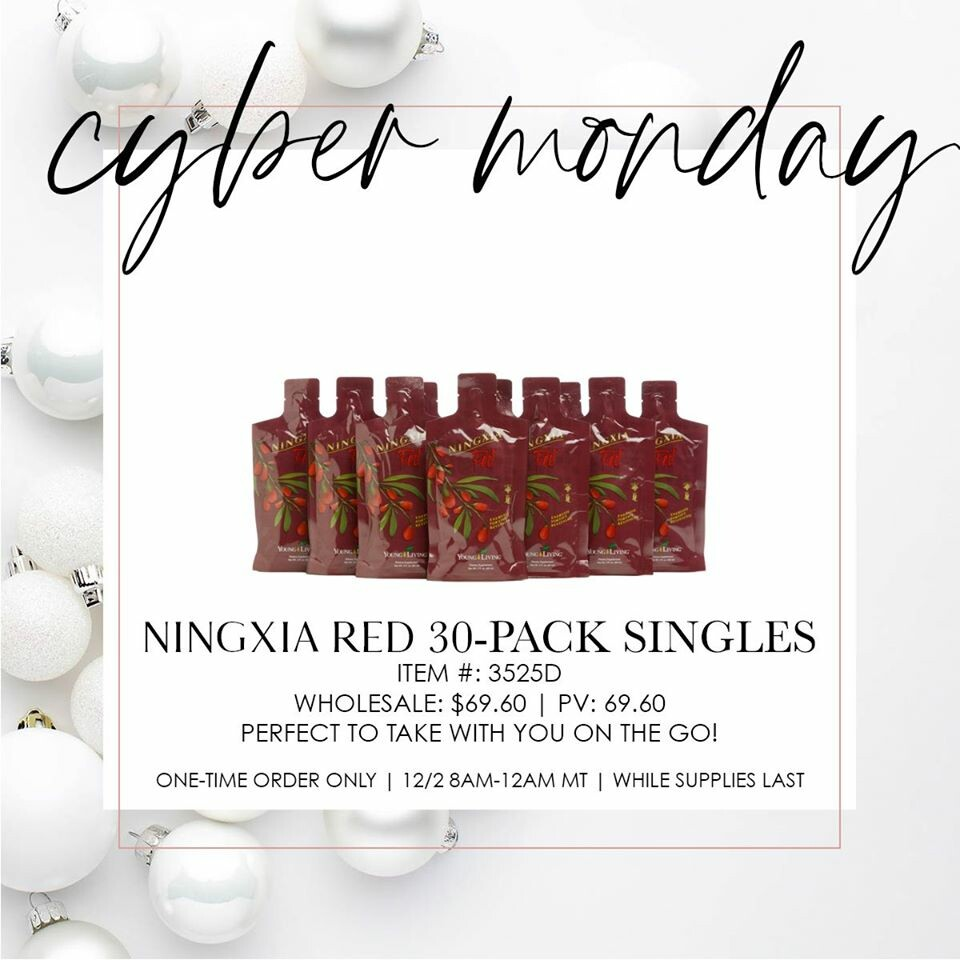 NingXia Red 30-pack singles
Item No.3525D
Discounted wholesale price:

$69.60


PV: 69.6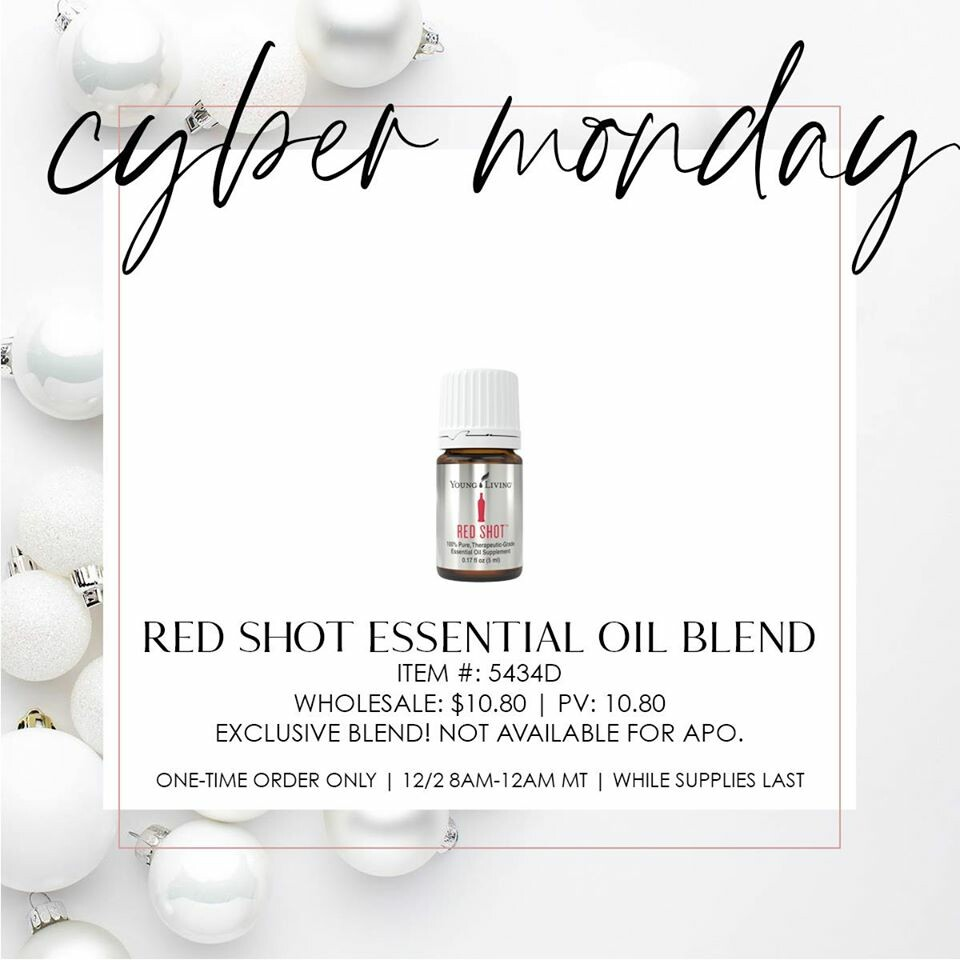 Red Shot essential oil blend (

blend of Tangerine, Mandarin, Lime and Grapefruit, Cassia and Spearmint Vitality oils;

limited-time offer/dangerous good designation)
Item No. 5434D
Discounted wholesale price:

$10.80


PV: 10.8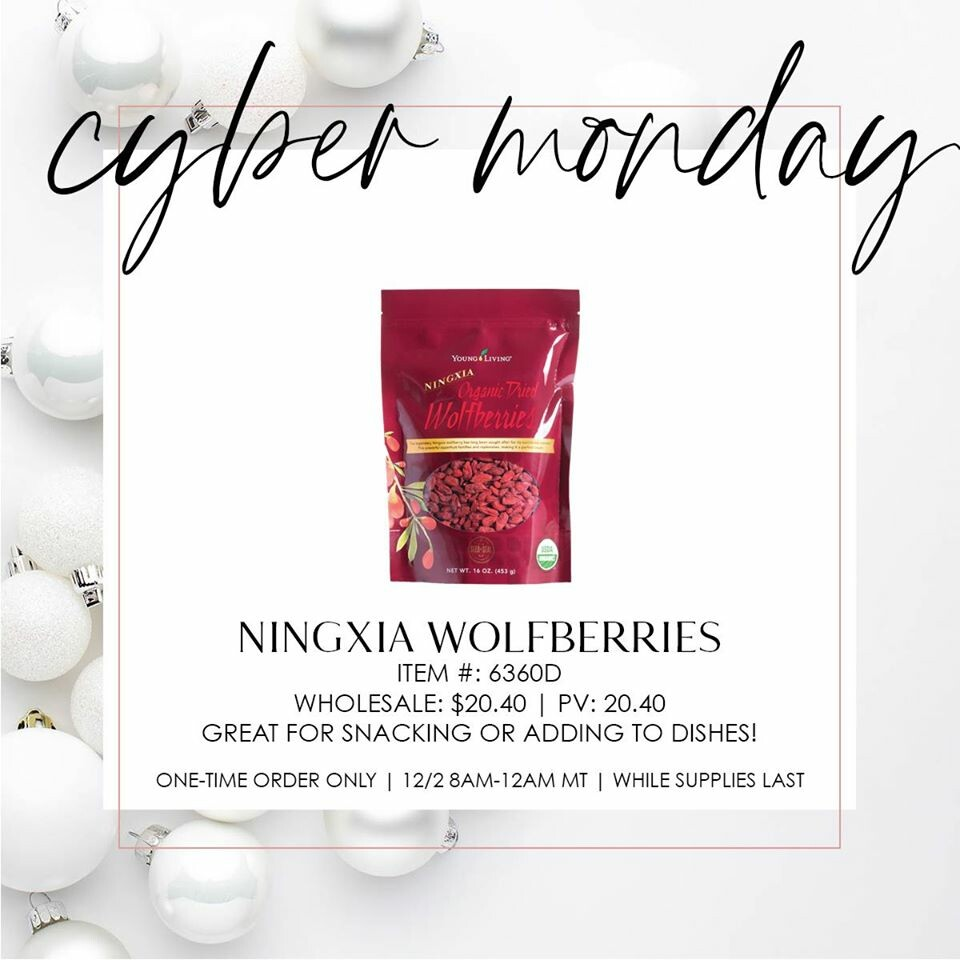 Ningxia Wolfberries
Item No. 6360D
Discounted wholesale price:

$20.40


PV: 20.4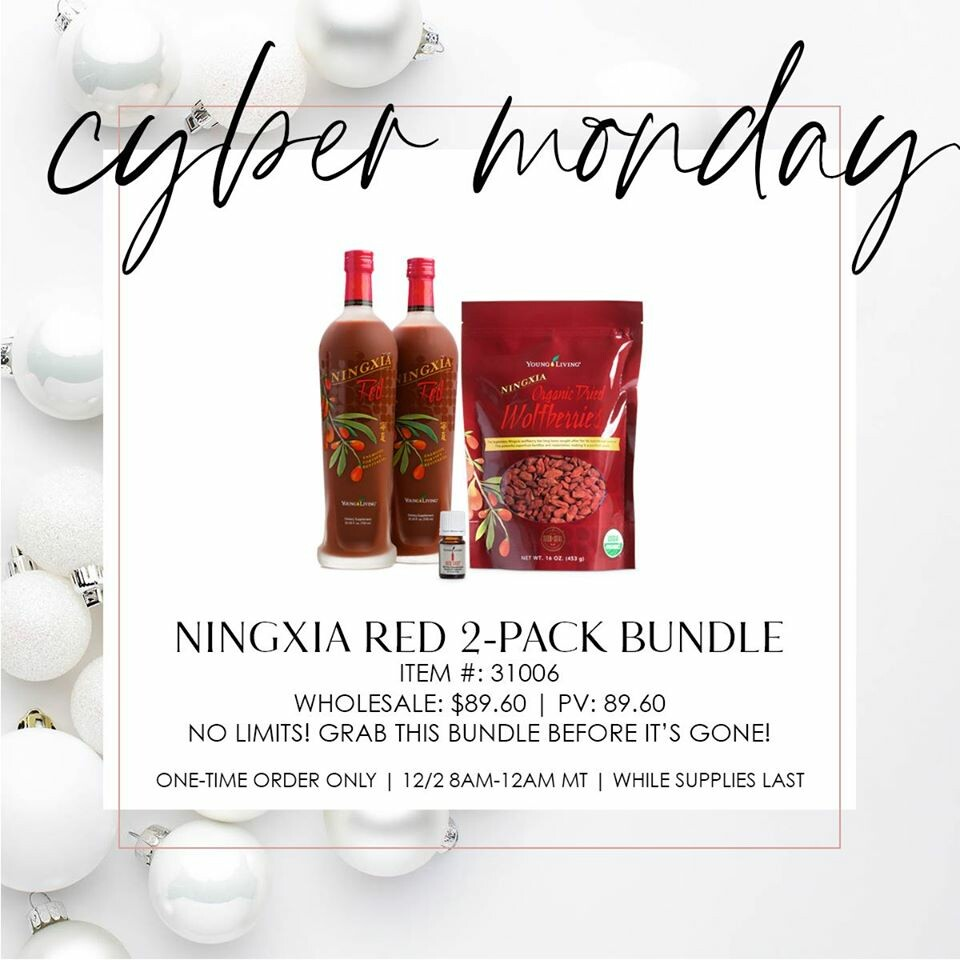 NingXia Red 2-pack bundle (includes NingXia Red 2-pack, Red Shot, and Ningxia wolfberries)
Item No. 31006
Discounted wholesale price:

$89.60


PV: 89.6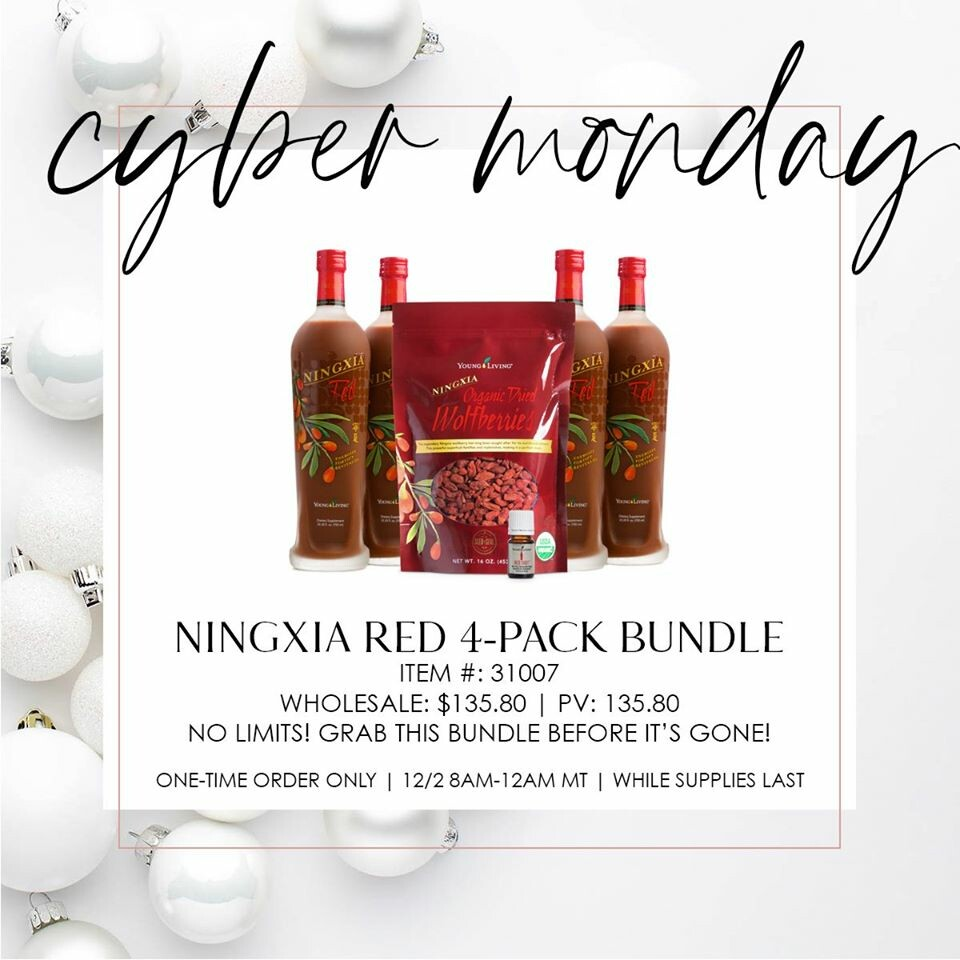 NingXia Red 4-pack bundle (includes NingXia Red 4 pack, Red Shot, and Ningxia wolfberries)
Item No. 31007
Discounted wholesale price:

$135.80


PV: 135.8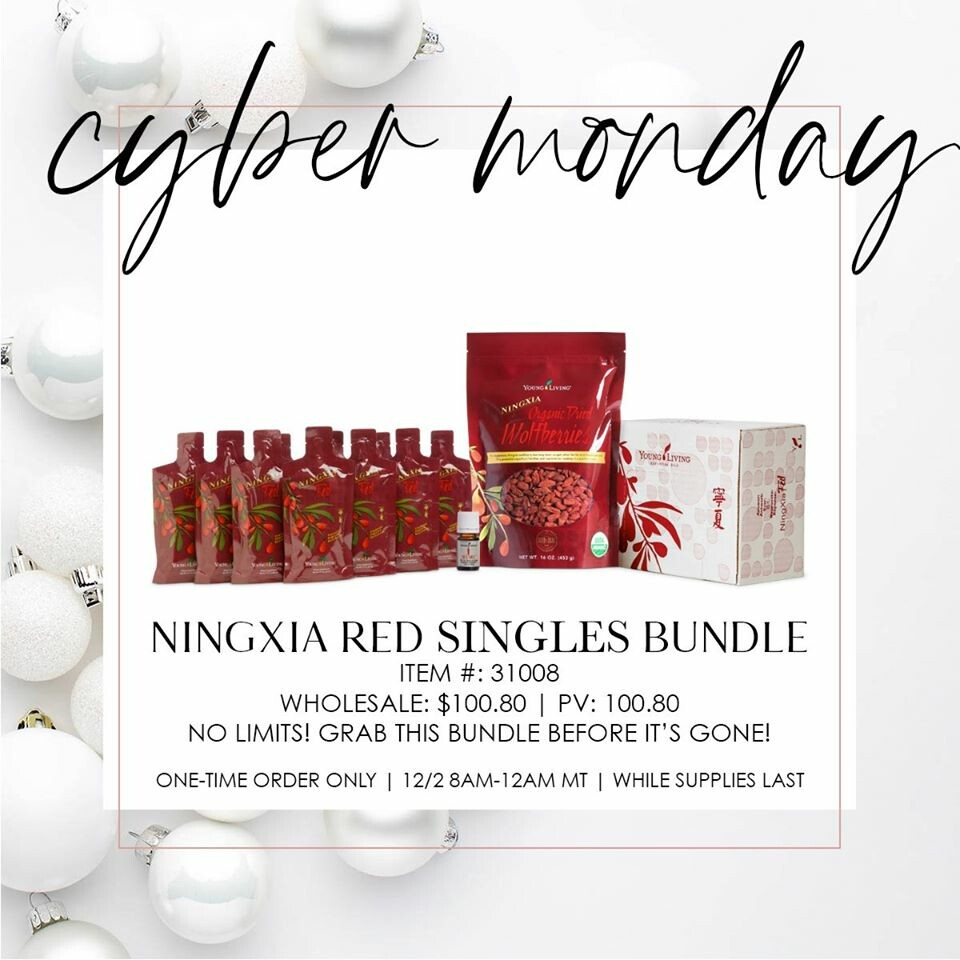 NingXia Red singles bundle (includes NingXia Red singles, Red Shot, and Ningxia wolfberries)
Item No. 31008
Discounted wholesale price:

$100.80


PV: 100.8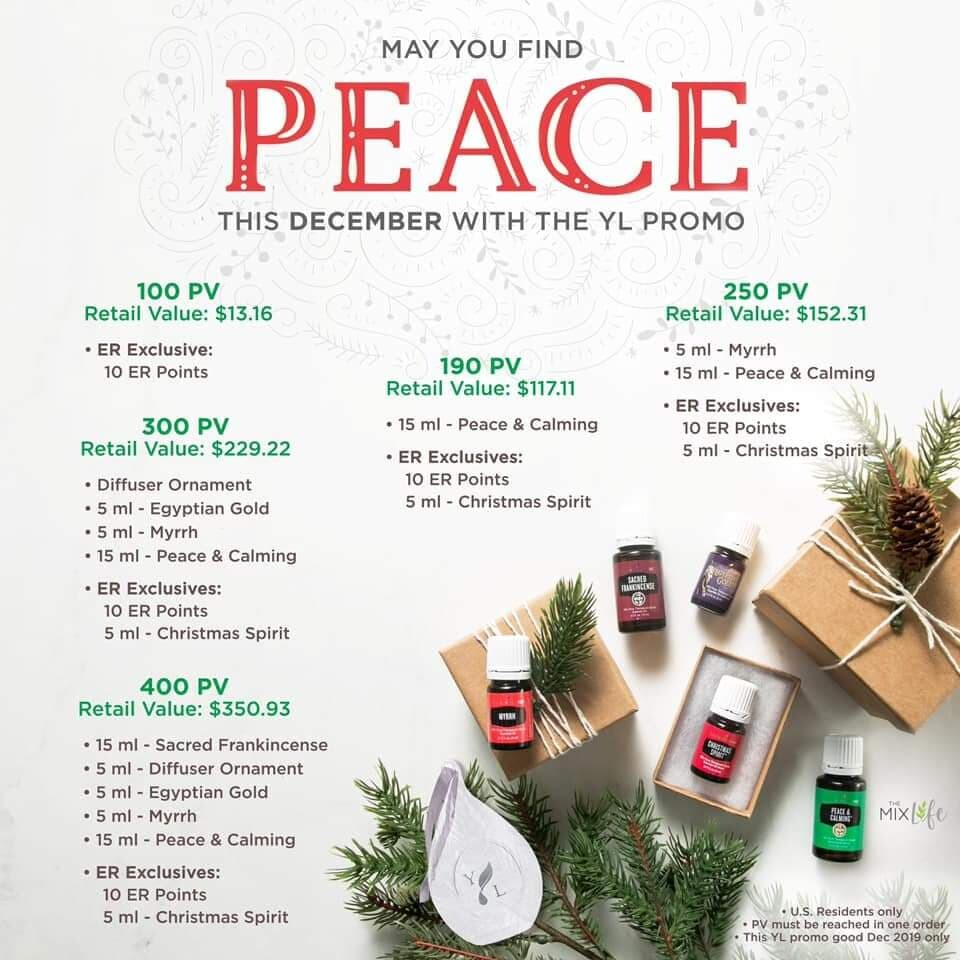 YL always pulls out all of the stops in December as they generously give back to their members.
This year is another gift to each of us!
Remember - you can earn these promos TWICE this month when you place two qualifying orders!
You can learn more about each of these INCREDIBLE promos on this
SWAY LINK.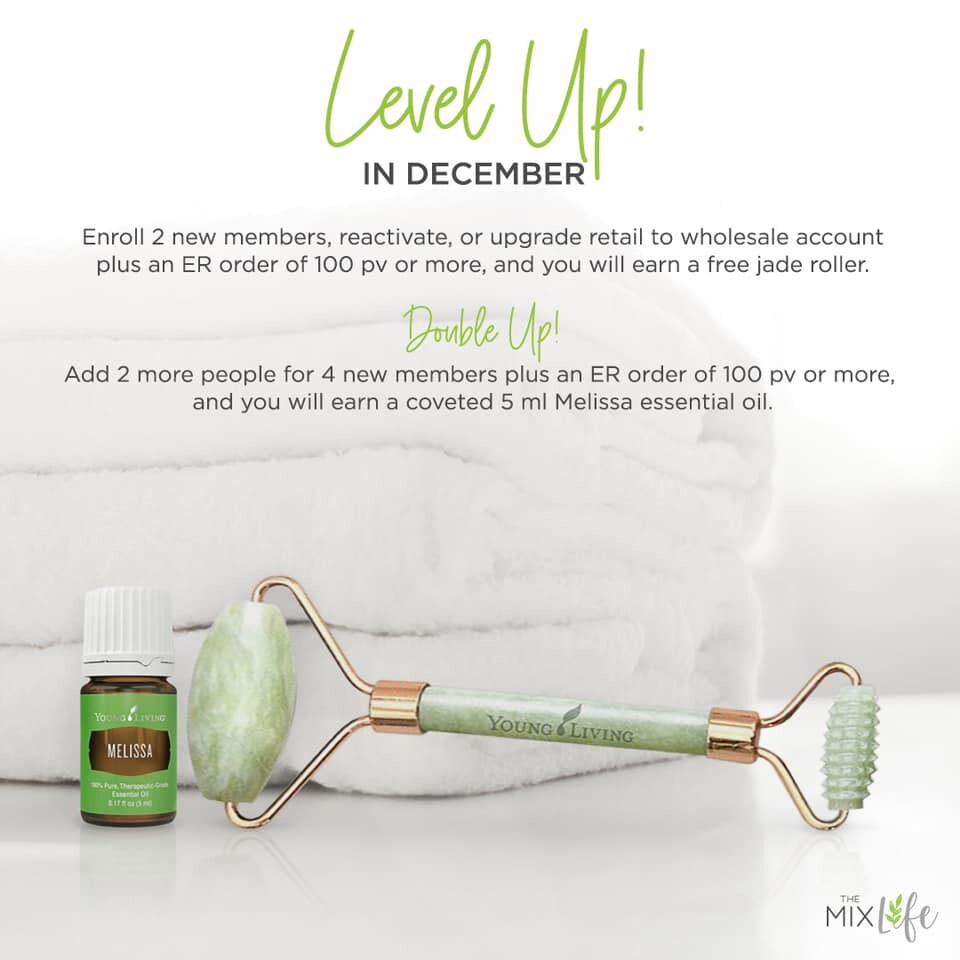 Remember I mentioned you could earn a FREE BOTTLE OF MELISSA this month??? Ummmm...this coveted oil has a retail value of $213.49 (!!!) and it's the oil that's gifted to those who qualify to attend YL's Gold Retreat. I've been on that retreat and walked the fields where Melissa is planted. Do you know that when it's harvested, it's not allowed to touch the ground? That's a story for another time, but know that it's an incredibly SPECIAL oil and worth doing some research on it.
How do you earn it? I'm SO glad you asked!

When you enroll 2 new members (Hello, Christmas presents!), or help a member reactivate their account or upgrade from retail to wholesale, and help them place an ER order of 100 PV or more, you'll earn a free Jade Roller.

If you can do that AGAIN, meaning sharing the YL LOVE with an additional two, making that 4 new members, reactivate or upgrade retail to wholesale, PLUS they place a qualifying 100 ER order, you'll receive the Jade Roller AND a 5ml bottle of Melissa!

I love that this promo incorporates sharing Essential Rewards with our new members. It's truly the best way to get started on this journey!
Got questions or need help? Please reach out!
Happy Oiling and Happy Shopping!
Dec 26, 2018 09:53 AM Central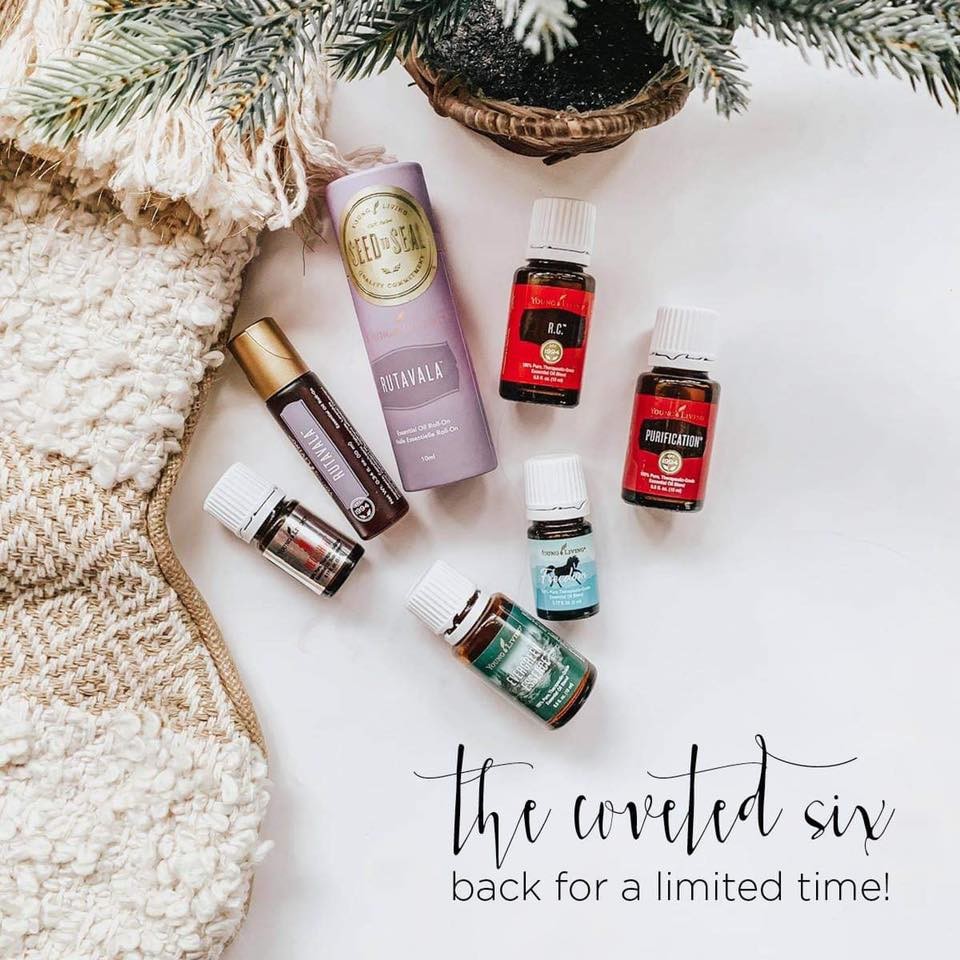 We didn't want you to miss out on this fantastic announcement!!! When we say, "RUN! Don't walk!" we totally mean it with this exclusive release! There are more details on each oil below, but here's an insider's tip...
Those big bottles of RC and Purification - yah....they AREN'T limited to one each!!! Go ahead and add them to your cart, then when you go into the cart itself, you can edit it to make it more than one!!! :)
Here are a couple other veteran thoughts...that Evergreen Essence??? In the 5 years I've been a member, I've never gotten it! It's only been available twice! Don't miss out on this amazing oil! RutaVaLa is a HUGE member favorite for restful sleep that has been out of stock for quite some time prior to it becoming available in the roll-on collection and that Freedom blend? It sold out SO quickly when it was released at Convention this year! Red Shot is only available at this time of year, so grab enough bottles to last you for months!
DO NOT WAIT on any of these!!! They're only WHILE SUPPLIES LAST!!!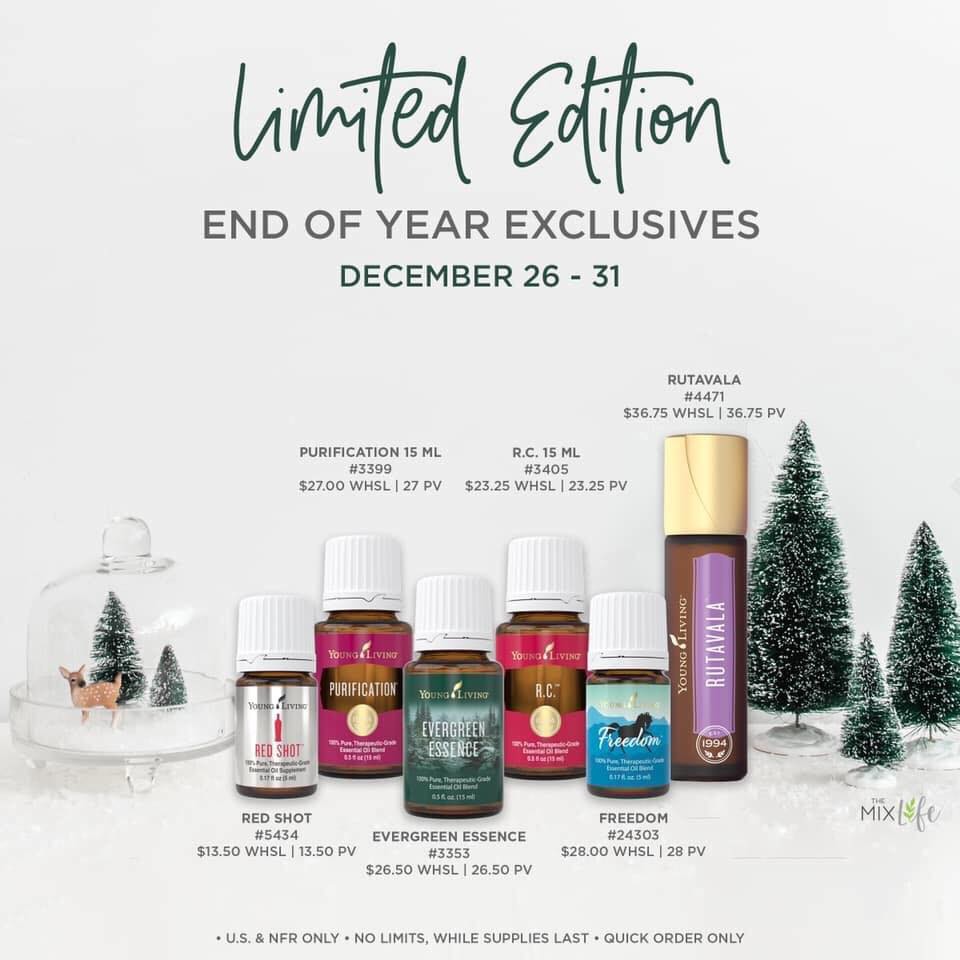 Here are the details on each of these amazing oils:
🌲Evergreen Essence, 15 ml
One of our seasonal favorite blends, Evergreen Essence, has been missing from our product offering until it could meet all the requirements for global sustainability. ...AND IT HASSSSS! But, there's a limited amount and it is while supplies last. SNATCH THIS UP QUICK AND BUY A FEW BOTTLES. It's a blend of a Spruce, pine, fir, and cedar. And it's the most delicious smelling oil for the winter and holidays!!
• Item No. 3353
• Wholesale $26.50
• PV 26.50
❤️R.C. 15ml
Have you ever had such an emotional reaction to something, your chest felt tight. Like something hurt your soul so badly, you couldn't breathe? Yes, me too. Our physical reactions stem from our emotions.

RC has such an uplifting smell. And oh my GOSH, do I LOVE TO BREATHE. Don't you? I love breathing. That's been particularly important to me over the last couple of weeks following exposure to some highly fragranced chemicals that my lungs did NOT appreciate. A drop of RC on the chest before a workout in the spring when everything is covered with yellow dust is also really nice. Add it to your Lemon/Lavender/Peppermint springtime roller too! It's a must have!

• Item No. 3405
• Wholesale $23.25
• PV 23.25
❤️Purification, 15 ml
Purification....Oh my word.... This stuff is amazing! I call it YL's unsung hero for it's rang of uses!
Here's how I've been using it over the years...👇👇
Add a few drops to the washing machine with smelly laundry. Stank be gone!✌️
Add a few drops of Purification + Thieves oil to baking soda and you've got your own chemical-free carpet sprinkles.
Rub some around your ear, but DO NOT put the oil in your ear. It's great for supporting overall health and the immune system, which is why I also apply it to the outside of my throat when extra comfort is needed.
When traveling, I ALWAYS put some on a cotton ball and clean the air vents above my head. I like CLEAN air blowing on me!
Put a few drops on a cotton ball. Put it under your trash bag to keep the smells at bay. Or, put the cotton balls with oils into stinky shoes and it seriously gets the funk out. (Or smelly diaper pails!)
• Item No. 3399
• Wholesale $27.00
• PV 27.00
🌲Red Shot 5 ml
Red Shot was formulated by Young Living Founder D. Gary Young, Red Shot essential oil blend was Gary's way to bring the spirit of Club Red to members around the world. When we think of Red Shot, we remember Gary behind the bar at Club Red serving NingXia Red with the excitement and warmth he put into everything he did. What's a Red Shot, you ask? It's tangerine, mandarin, lime, grapefruit, cassia, and spearmint and it's a party in my mouth 🤣 Makes your Ningxia even more delish AND pumps your body full of immune supporting-goodness and d-limonene. (You want it. Google it 👊🏻👊🏻) Oh, and you can't buy it individually. Like, ever. The only time you can get it is when it's part of a holiday special OR if you go to Convention and know to ask for it at the Red Shot Bar 😉😉 So it's elusive and delicious and we absolutely LOVE IT. SNAG IT! ;)
• Item No. 5434
• Wholesale $13.50
• PV 13.50
*Red Shot essential oil blend cannot be shipped to APO/DPO/FPO mailing addresses.
💫Freedom, 5 ml
-SLEEP MAGIC.
- Calms the mind during your nightly routine
- Promotes feelings of emotional freedom
- Inspires feelings of freedom from everyday troubles
- Grounding and relaxing
- Helps with occasional sleeplessness or restlessness
• Item No. 24303
• Wholesale $28.00
• PV 28.00
💤RutaVaLa Roll-On, 10 ml
Who likes sweet sleep??? YOU??? Oh....this oil is SO incredibly relaxing!!! Ruta, VALERIAN, and Lavender in a super convenient roll-on! Keep it in your bag when you need to chill and use it before bedtime, clearly, because these oils make you sleeeepy. Basically THE sleep oil of alllll the sleepy oils.
• Item No. 4471
• Wholesale $36.75
• PV 36.75
Final Details:
When: Available December 26 at 8 a.m., MT, through December 31 at 11:59 p.m., MT, while supplies last
Markets: U.S. and NFR
Limits: No limits, while supplies last
Quick Order Only - not ER point redemption eligible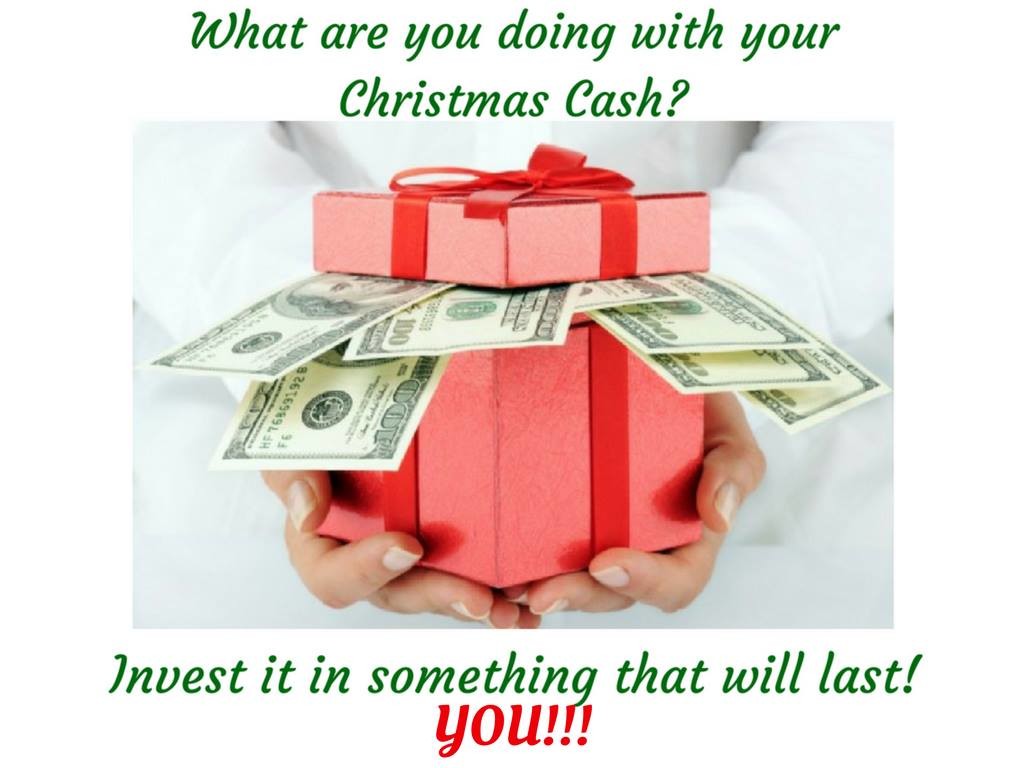 If you were gifted cash for Christmas, someone who loves you wants you to get something you KNOW you'll love. OILS are the perfect way to INVEST IN YOU and you can do it with these exclusive releases and others you've had on your wish list!
Have you been waiting for just the right time to get your Premium Starter Kit? NOW is the best time to invest in YOU! You're worth it!
Click HERE
to get started today! We can't wait to help you make the most out of every single bottle and support you in reaching your personal health and wellness goals in 2019! Let us know if you have questions as you order!