Dec 26, 2018 09:53 AM Central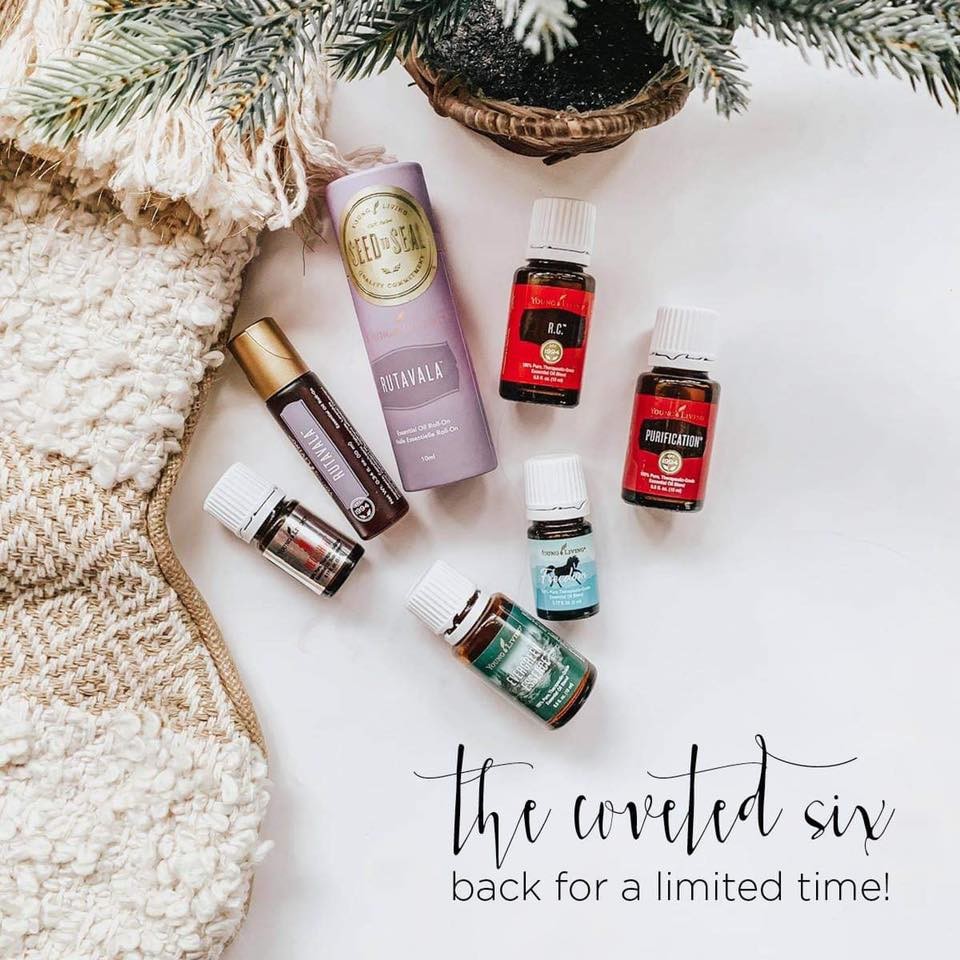 We didn't want you to miss out on this fantastic announcement!!! When we say, "RUN! Don't walk!" we totally mean it with this exclusive release! There are more details on each oil below, but here's an insider's tip...
Those big bottles of RC and Purification - yah....they AREN'T limited to one each!!! Go ahead and add them to your cart, then when you go into the cart itself, you can edit it to make it more than one!!! :)
Here are a couple other veteran thoughts...that Evergreen Essence??? In the 5 years I've been a member, I've never gotten it! It's only been available twice! Don't miss out on this amazing oil! RutaVaLa is a HUGE member favorite for restful sleep that has been out of stock for quite some time prior to it becoming available in the roll-on collection and that Freedom blend? It sold out SO quickly when it was released at Convention this year! Red Shot is only available at this time of year, so grab enough bottles to last you for months!
DO NOT WAIT on any of these!!! They're only WHILE SUPPLIES LAST!!!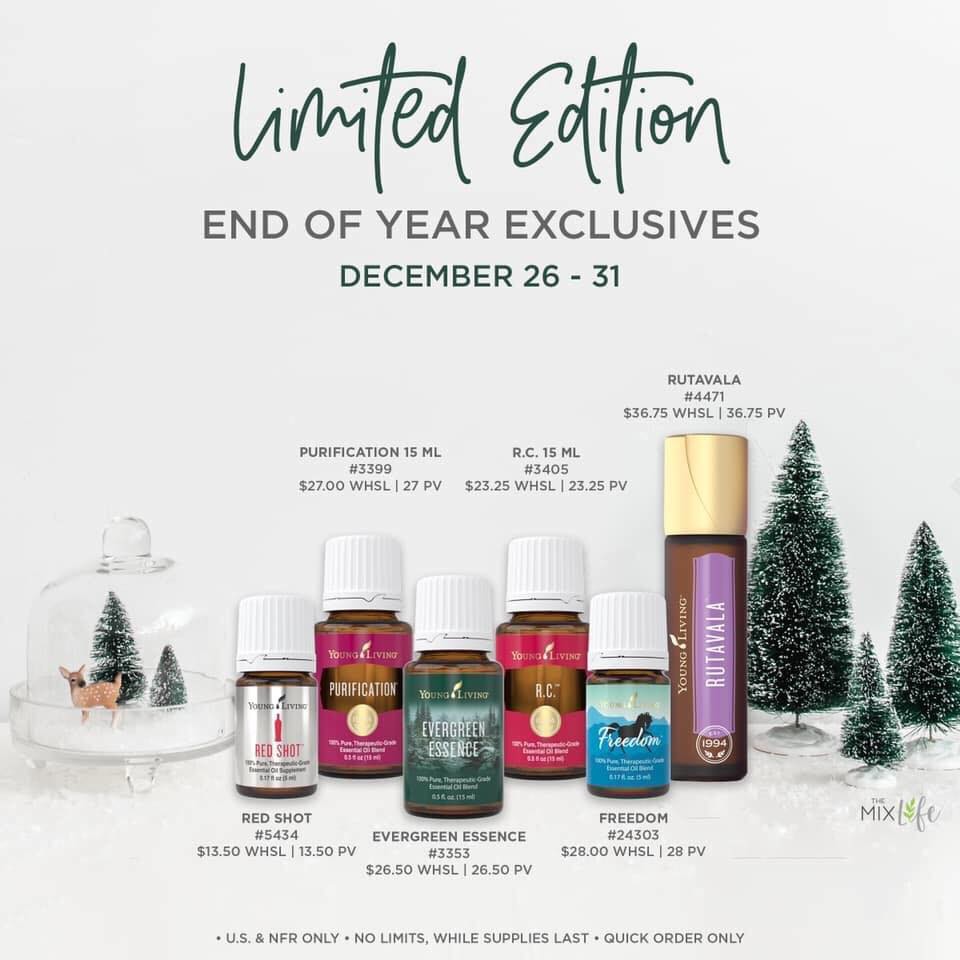 Here are the details on each of these amazing oils:
🌲Evergreen Essence, 15 ml
One of our seasonal favorite blends, Evergreen Essence, has been missing from our product offering until it could meet all the requirements for global sustainability. ...AND IT HASSSSS! But, there's a limited amount and it is while supplies last. SNATCH THIS UP QUICK AND BUY A FEW BOTTLES. It's a blend of a Spruce, pine, fir, and cedar. And it's the most delicious smelling oil for the winter and holidays!!
• Item No. 3353
• Wholesale $26.50
• PV 26.50
❤️R.C. 15ml
Have you ever had such an emotional reaction to something, your chest felt tight. Like something hurt your soul so badly, you couldn't breathe? Yes, me too. Our physical reactions stem from our emotions.

RC has such an uplifting smell. And oh my GOSH, do I LOVE TO BREATHE. Don't you? I love breathing. That's been particularly important to me over the last couple of weeks following exposure to some highly fragranced chemicals that my lungs did NOT appreciate. A drop of RC on the chest before a workout in the spring when everything is covered with yellow dust is also really nice. Add it to your Lemon/Lavender/Peppermint springtime roller too! It's a must have!

• Item No. 3405
• Wholesale $23.25
• PV 23.25
❤️Purification, 15 ml
Purification....Oh my word.... This stuff is amazing! I call it YL's unsung hero for it's rang of uses!
Here's how I've been using it over the years...👇👇
Add a few drops to the washing machine with smelly laundry. Stank be gone!✌️
Add a few drops of Purification + Thieves oil to baking soda and you've got your own chemical-free carpet sprinkles.
Rub some around your ear, but DO NOT put the oil in your ear. It's great for supporting overall health and the immune system, which is why I also apply it to the outside of my throat when extra comfort is needed.
When traveling, I ALWAYS put some on a cotton ball and clean the air vents above my head. I like CLEAN air blowing on me!
Put a few drops on a cotton ball. Put it under your trash bag to keep the smells at bay. Or, put the cotton balls with oils into stinky shoes and it seriously gets the funk out. (Or smelly diaper pails!)
• Item No. 3399
• Wholesale $27.00
• PV 27.00
🌲Red Shot 5 ml
Red Shot was formulated by Young Living Founder D. Gary Young, Red Shot essential oil blend was Gary's way to bring the spirit of Club Red to members around the world. When we think of Red Shot, we remember Gary behind the bar at Club Red serving NingXia Red with the excitement and warmth he put into everything he did. What's a Red Shot, you ask? It's tangerine, mandarin, lime, grapefruit, cassia, and spearmint and it's a party in my mouth 🤣 Makes your Ningxia even more delish AND pumps your body full of immune supporting-goodness and d-limonene. (You want it. Google it 👊🏻👊🏻) Oh, and you can't buy it individually. Like, ever. The only time you can get it is when it's part of a holiday special OR if you go to Convention and know to ask for it at the Red Shot Bar 😉😉 So it's elusive and delicious and we absolutely LOVE IT. SNAG IT! ;)
• Item No. 5434
• Wholesale $13.50
• PV 13.50
*Red Shot essential oil blend cannot be shipped to APO/DPO/FPO mailing addresses.
💫Freedom, 5 ml
-SLEEP MAGIC.
- Calms the mind during your nightly routine
- Promotes feelings of emotional freedom
- Inspires feelings of freedom from everyday troubles
- Grounding and relaxing
- Helps with occasional sleeplessness or restlessness
• Item No. 24303
• Wholesale $28.00
• PV 28.00
💤RutaVaLa Roll-On, 10 ml
Who likes sweet sleep??? YOU??? Oh....this oil is SO incredibly relaxing!!! Ruta, VALERIAN, and Lavender in a super convenient roll-on! Keep it in your bag when you need to chill and use it before bedtime, clearly, because these oils make you sleeeepy. Basically THE sleep oil of alllll the sleepy oils.
• Item No. 4471
• Wholesale $36.75
• PV 36.75
Final Details:
When: Available December 26 at 8 a.m., MT, through December 31 at 11:59 p.m., MT, while supplies last
Markets: U.S. and NFR
Limits: No limits, while supplies last
Quick Order Only - not ER point redemption eligible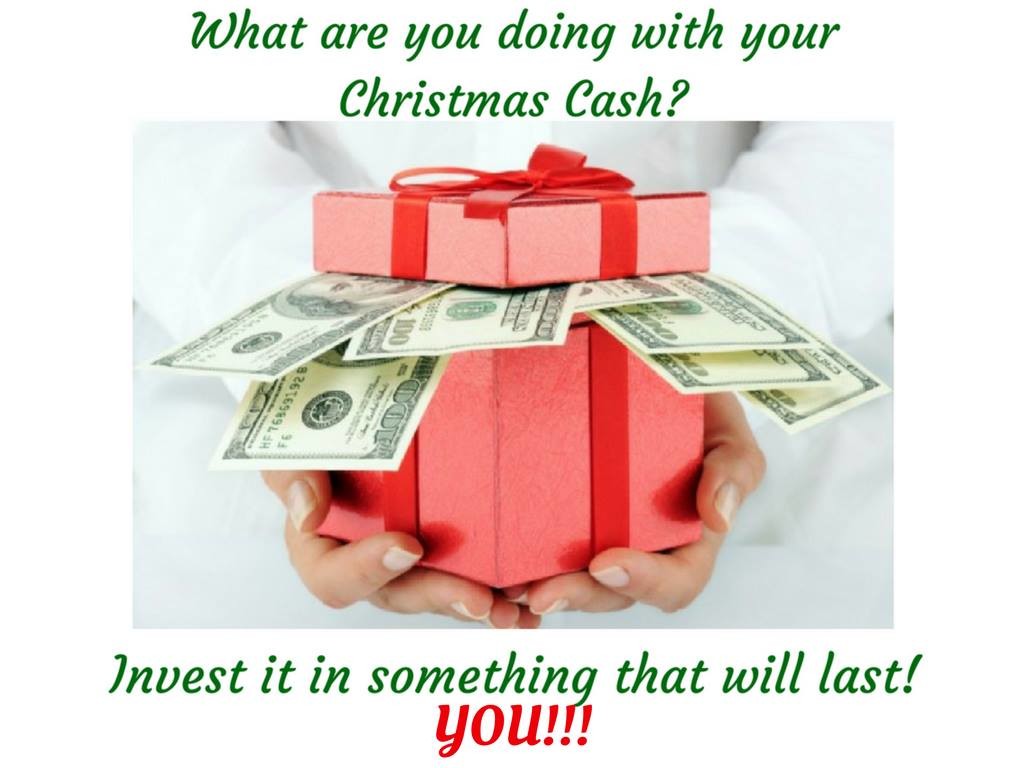 If you were gifted cash for Christmas, someone who loves you wants you to get something you KNOW you'll love. OILS are the perfect way to INVEST IN YOU and you can do it with these exclusive releases and others you've had on your wish list!
Have you been waiting for just the right time to get your Premium Starter Kit? NOW is the best time to invest in YOU! You're worth it!
Click HERE
to get started today! We can't wait to help you make the most out of every single bottle and support you in reaching your personal health and wellness goals in 2019! Let us know if you have questions as you order!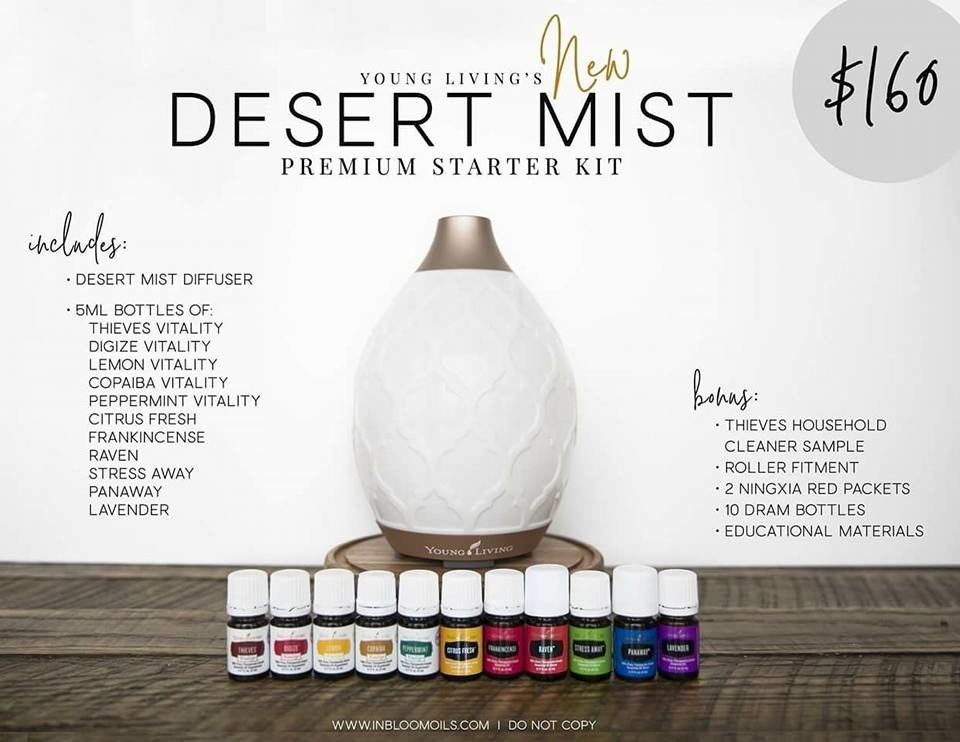 Dec 3, 2018 01:34 PM Central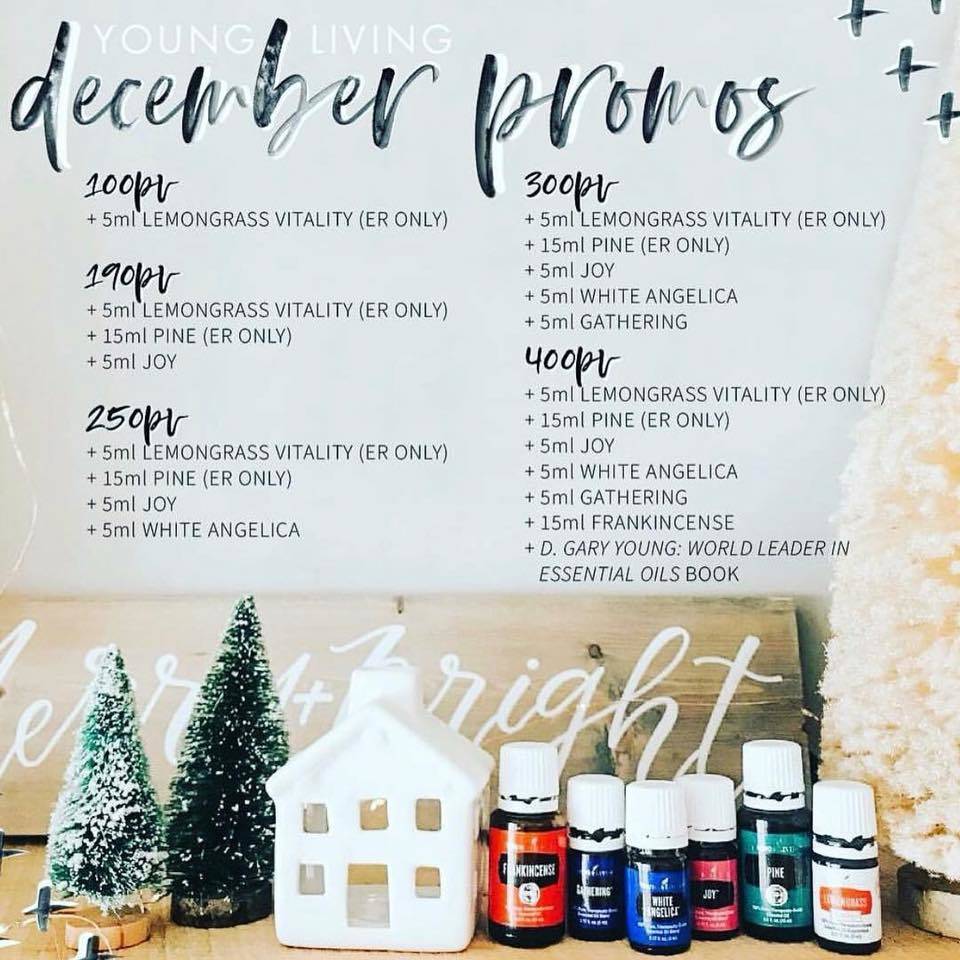 "It's the most wonderful time of the year...!!!"
It may be cold out, but you can still gather with the ones you love to enjoy the warmth of the season. Focus on togetherness and the joy of the holidays with a bounty of holiday goodies in this month's PV promo!

With your qualifying order, you'll receive a copy of the book "D. Gary Young: The World Leader in Essential Oils" and a 15 ml bottle of Frankincense essential oil. Fill your home with comforting scents so friends and family will stay near and dear this season—we'll help by also sending you a 5 ml bottle of Gathering™ and a 5 ml bottle of White Angelica™ to enjoy.

Along with these beautiful, grounding scents, your qualifying order also includes a 5 ml bottle of Joy™ and a 15 ml bottle of Pine, two nurturing aromas that make everyone feel welcome. Round out your joyous moments with Lemongrass Vitality™: a light, bright flavor to bring warmth and comfort.
Here are some reasons why we love each of these oils:
Lemongrass - bright and refreshing to diffuse, but also incredible for supporting your body's natural response to inflammation. This is always in my muscle rub / joint support creams and roller balls that I put together!
Pine - wonderful to diffuse all throughout the season, but did you know that it's also great for upper respiratory support, among other terrific uses?
Joy - Let's be honest. While this is supposed to be a season filled with Joy, sometimes it's not. Diffuse Joy or wear it like perfume.
"Take stock of your emotional life. Are you a person who is prone to negativity or fear? Anxiousness or sadness? Do your days feel a little bit like a roller coaster? Friend, you need White Angelica. STAT. White Angelica is a blend of ten single oils that are rockstars for emotional balance and support. The synergy of the oils gives them even greater impact than when they're used separately. It's an incredibly well-balanced blend chemically and this balance shows when used as an emotional support tool." Diffuse or wear topically.
Gathering - This oil helps bring people together on a physical, emotional, and spiritual level for greater focus and clarity. It helps one stay focused, grounded and clear in gathering motivation for self-improvement. Pretty amazing, huh? Diffuse or apply topically like perfume.
Frankincense - I always say there is a reason why this was given to Jesus at His birth. It's that valuable! Calming, supportive of the immune system, youthful skin, and brain health, plus so much more...it's a treasure indeed!!! Diffuse or apply topically.
D. Gary Young book - If you've never read this book about our founder, who is also the founder of the Modern Essential Oils movement, you will love it!!!
400 PV
Retail Value: $255.20
• 15 ml Frankincense
• D. Gary Young: The World Leader in Essential Oils book
• 5 ml Gathering
• 5 ml White Angelica
• 5 ml Joy
• Bonus Essential Rewards 15 ml Pine
• Bonus Essential Rewards 5 ml Lemongrass Vitality
300 PV
Retail Value: $130.91
• 5 ml Gathering
• 5 ml White Angelica
• 5 ml Joy
• Bonus Essential Rewards 15 ml Pine
• Bonus Essential Rewards 5 ml Lemongrass Vitality
250 PV
Retail Value: $90.78
• 5 ml White Angelica
• 5 ml Joy
• Bonus Essential Rewards 15 ml Pine
• Bonus Essential Rewards 5 ml Lemongrass Vitality
190 PV
Retail Value: $52.95
• 5 ml Joy
• Bonus Essential Rewards 15 ml Pine
• Bonus Essential Rewards 5 ml Lemongrass Vitality
100 PV
Retail Value: $8.22
• Bonus Essential Rewards 5 ml Lemongrass Vitality

Who will be snatching up the free Frank??? OH MY WORD!!! AND White Angelica???? AND the D. Gary Young book??? I told you it was the most wonderful time of the year!