Jul 1, 2020 06:43 PM Central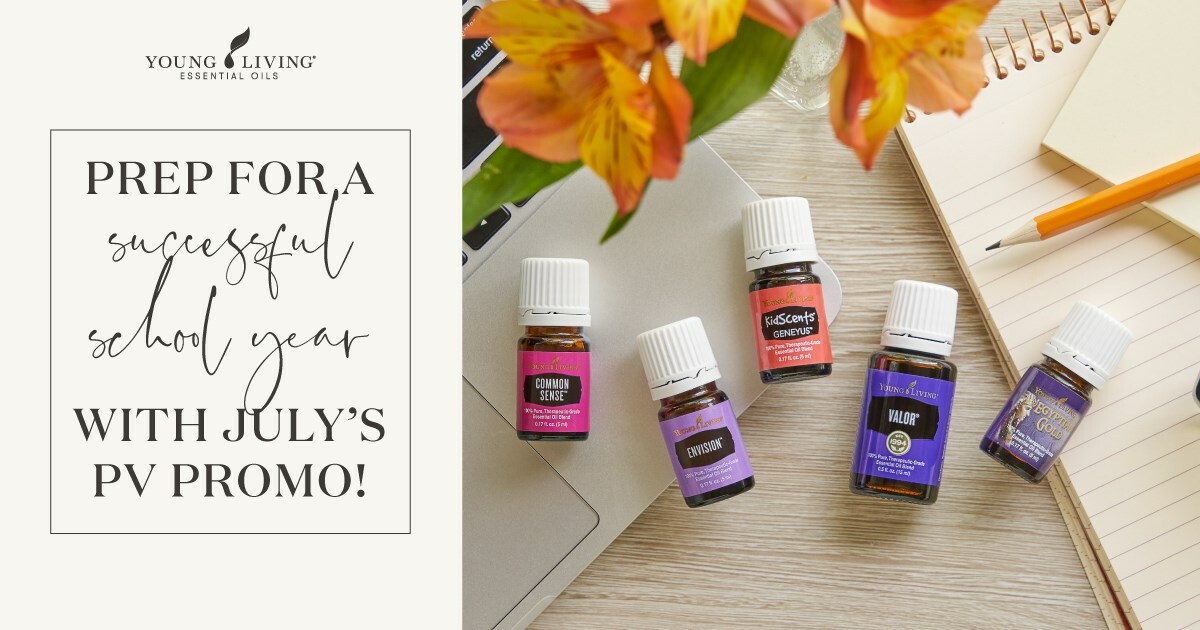 The July promos are here and not only do they have Back to School in mind...they'll also help us be in the best mindset to make the second half of this year amazing! Check out that last oil! (#myfave)
Here's a promo overview, along with details on each product. Plus,
keep scrolling for a list of all the new Convention releases - the permanent Convention products can now be added to your Essential Rewards orders!!!
(A few of them are out of stock or held back from ER until YL has enough stock available.
T
here's an asterisk on the products that will be available on ER once they're well-stocked.)
Some of the limited time offers are still available in the Shop section of your Virtual Office! Look in the "What's New" section and explore all the amazing new options!
Last, but not least,
three product favorites came back in stock today
! You can find those at the end.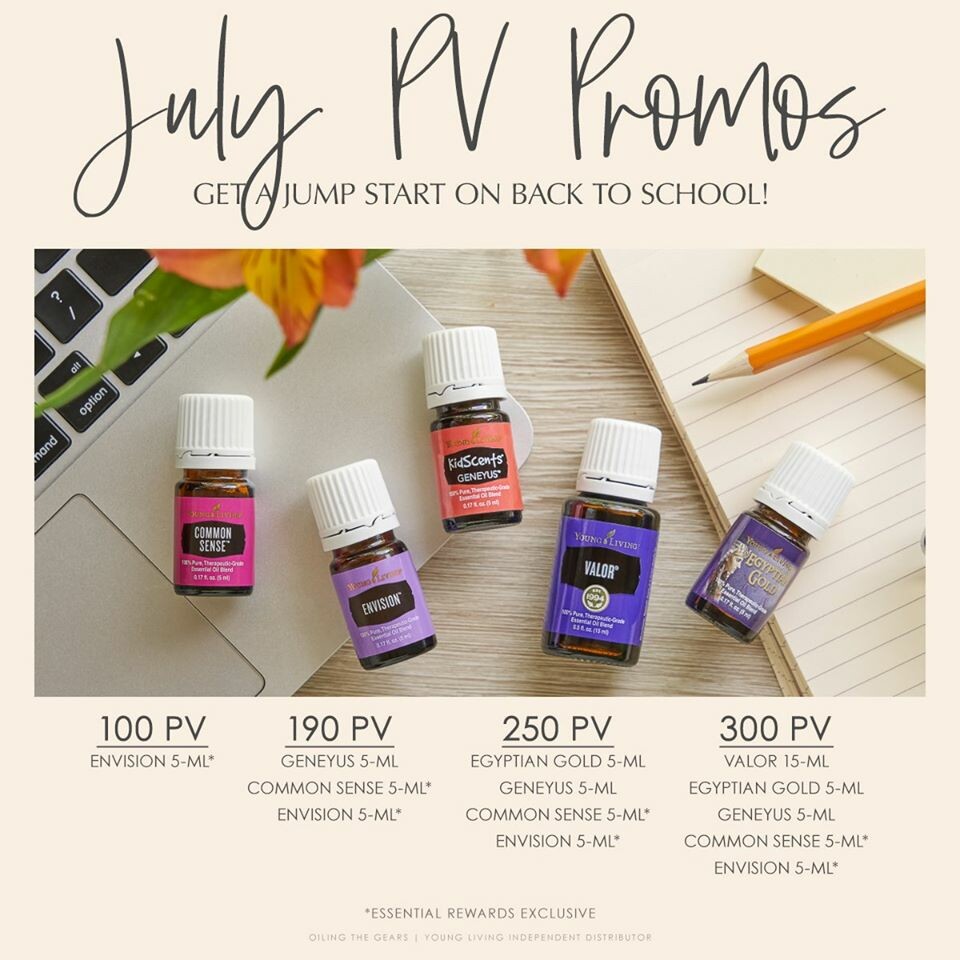 Envision, 5ml - 100PV Essential Rewards exclusive

This is such a valuable blend for getting your mindset in the perfect place to plan for the future. Diffuse it with Lavender or your favorite uplifting citrus oil for a pleasant, calming aroma and get out your planner and dream board. Make a plan for the rest of this year and know you can do whatever you set your mind to!
Common Sense, 5ml - 190PV Essential Rewards exclusive

No, this is not the cure for anyone who happens to lack common sense. Although, wouldn't that be nice? Instead, this is more of a deep focus blend. When you need to set aside the worries of the day and focus on what matters in the here and now, this is the blend you should diffuse or apply to your temples and wrists. You're going to fall in love with what this one does for you!
KidScents Geneyus, 5ml - 190PV

This is going to help you as much as it does the kids when it comes time for schooling and homework. Get a roller bottle and put some of this in it so your kids can apply it themselves (it's pre-diluted) when they go to study or need to focus on a project. Diffuse it so you can all get the benefits when you're trying to help with their studies or diffuse it for yourself when you're at work. (We won't tell!)
Egyptian Gold, 5ml - 250PV

This is an invaluable blend that isn't always available, so getting it in the promos is a nice surprise! Deeper spiritual connection, intense focus during meditation and prayer, and a feeling of harmony in your spirit and life is what this blend is all about. Diffuse it by itself or with a drop or two of extra Frankincense for a very personal spiritual experience.
Valor oil blend 15ml - 300PV

I'm sure that by now, you KNOW this is my FAVORITE oil and I don't need to sing the praises of Valor, but a 15ml bottle is absolutely amazing because it's not available for purchase!!!!!! Use Valor every day for confidence to face anything the days ahead have for you and use it to calm your mind and emotions. Try diffusing 4 drops of Valor, 3 drops of Orange, and 2 drops of Frankincense. You'll love it! You deserve to feel confident, calm, and happy. This will help you get there!
Get Even More for Free When You Help Others Start Their Wellness Journey!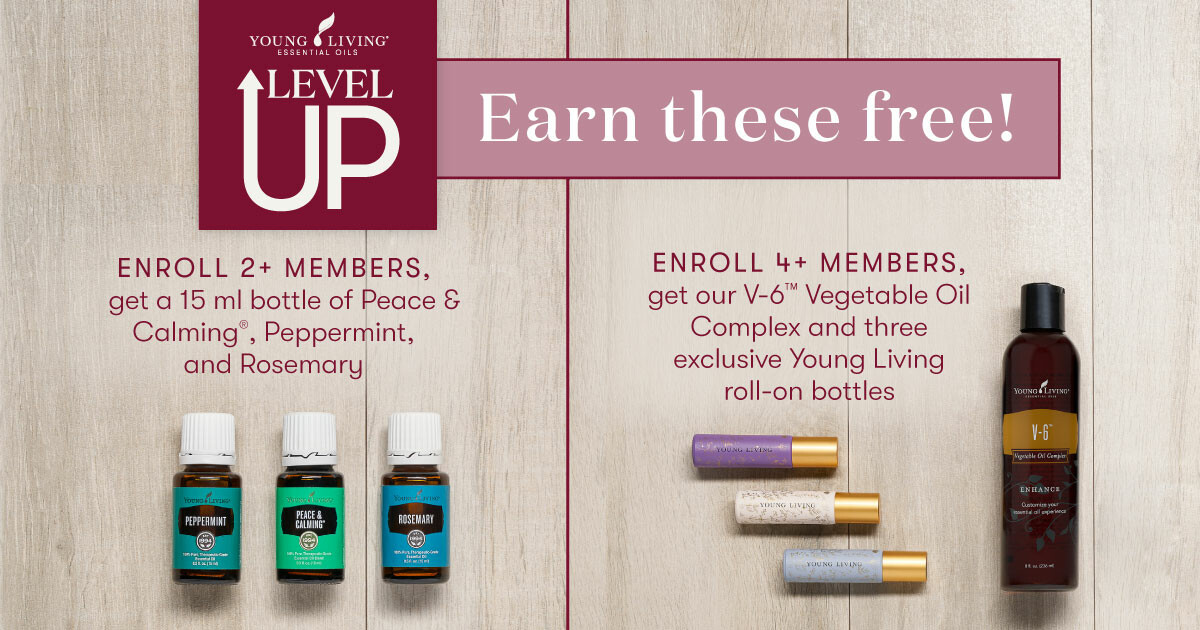 CONVENTION PRODUCT LIST
(The last column lets you know if it's available in ER starting this month.)
***I'm waiting for my foundation color matching tool to arrive, but it will be here SOON! Let me know if you'd like to color match!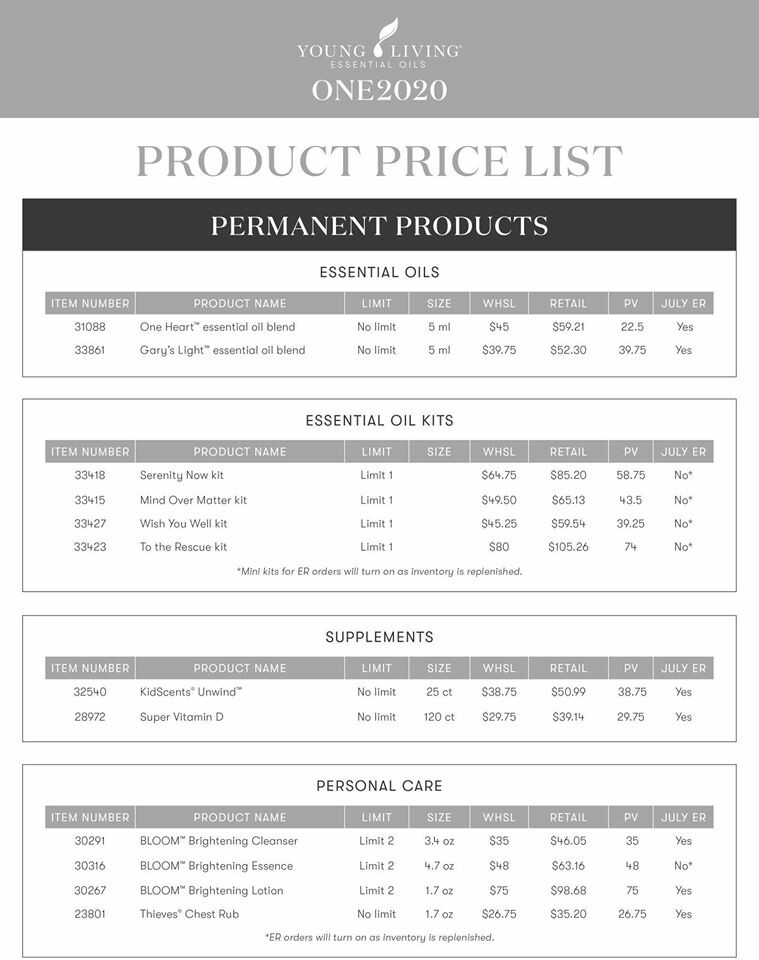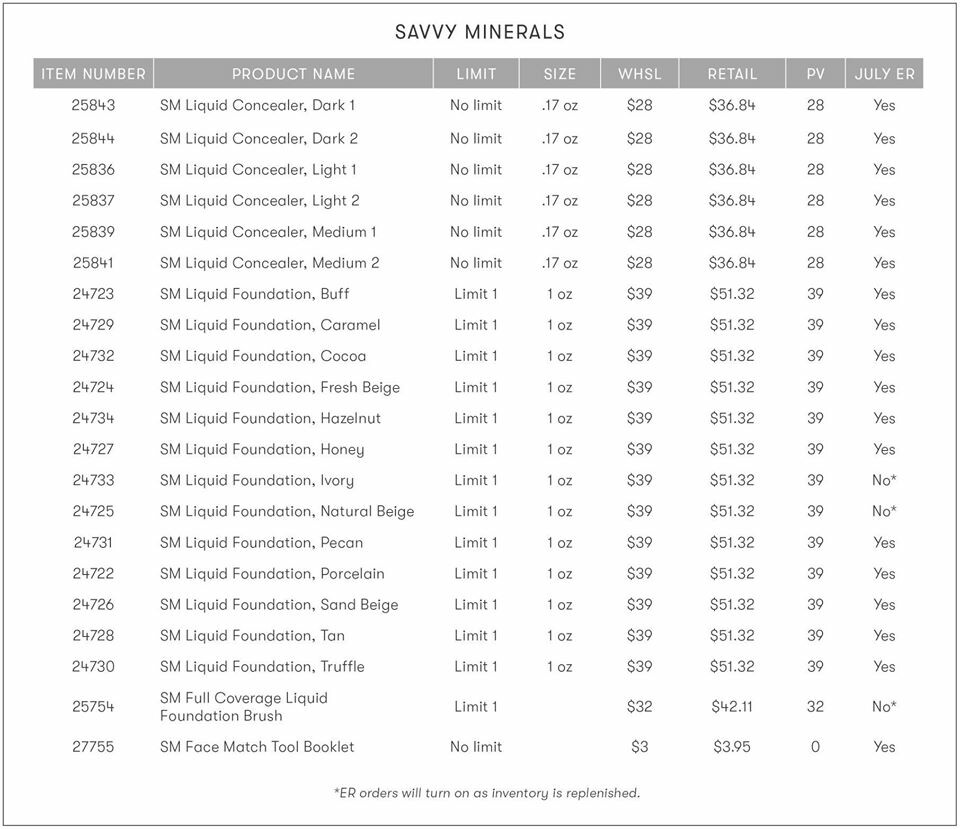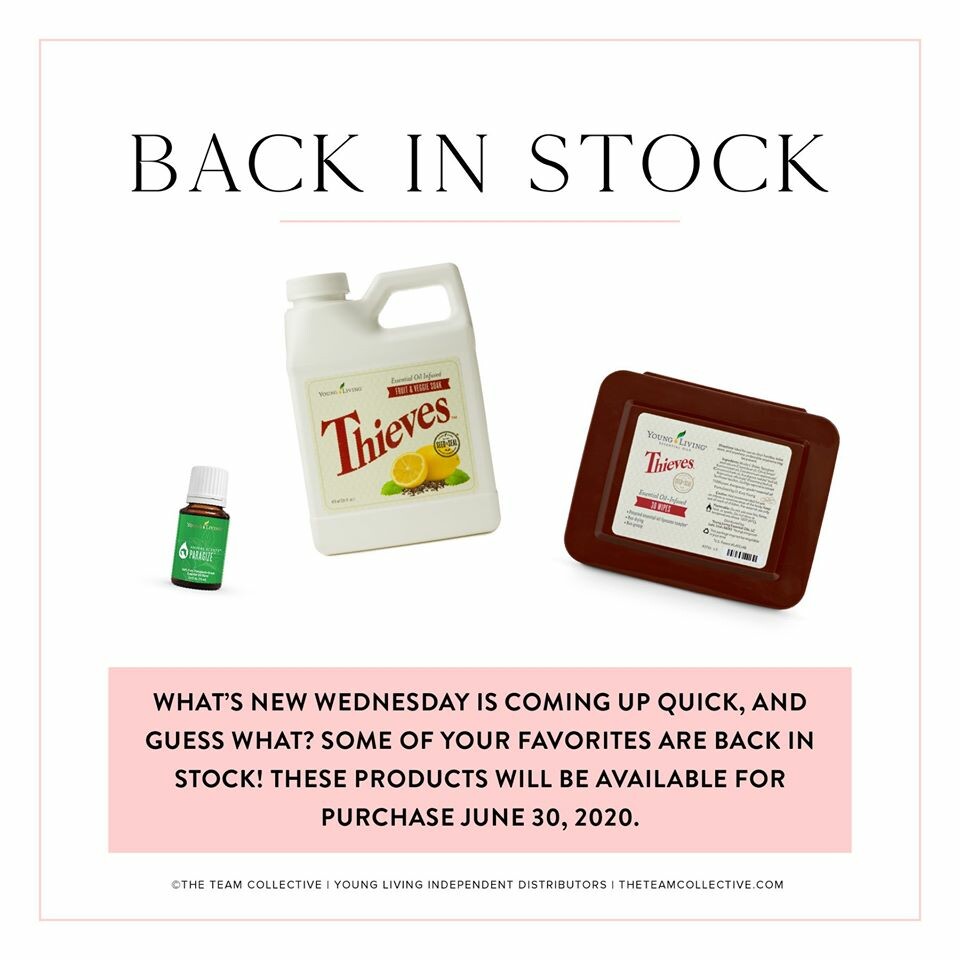 Animal Scents ParaGize, 15 ml
• Item No.: 5720
• Retail Price: $14.47
• Wholesale Price: $11
• PV: 8.25
• No limit; Shop and Essential Rewards
Thieves Fruit and Veggie Soak, 16 oz.
• Item No.: 5352
• Retail Price: $25.99
• Wholesale Price: $19.75
• PV: 19.75
• No limit; Shop only
• Item No.: 3756
• Retail Price: $17.76
• Wholesale Price: $13.50
• PV: 13.5
• No limit; Shop and Essential Rewards
If you have questions, need help or suggestions, or would like to color match for your foundation, please reach out. I'm here if you need me!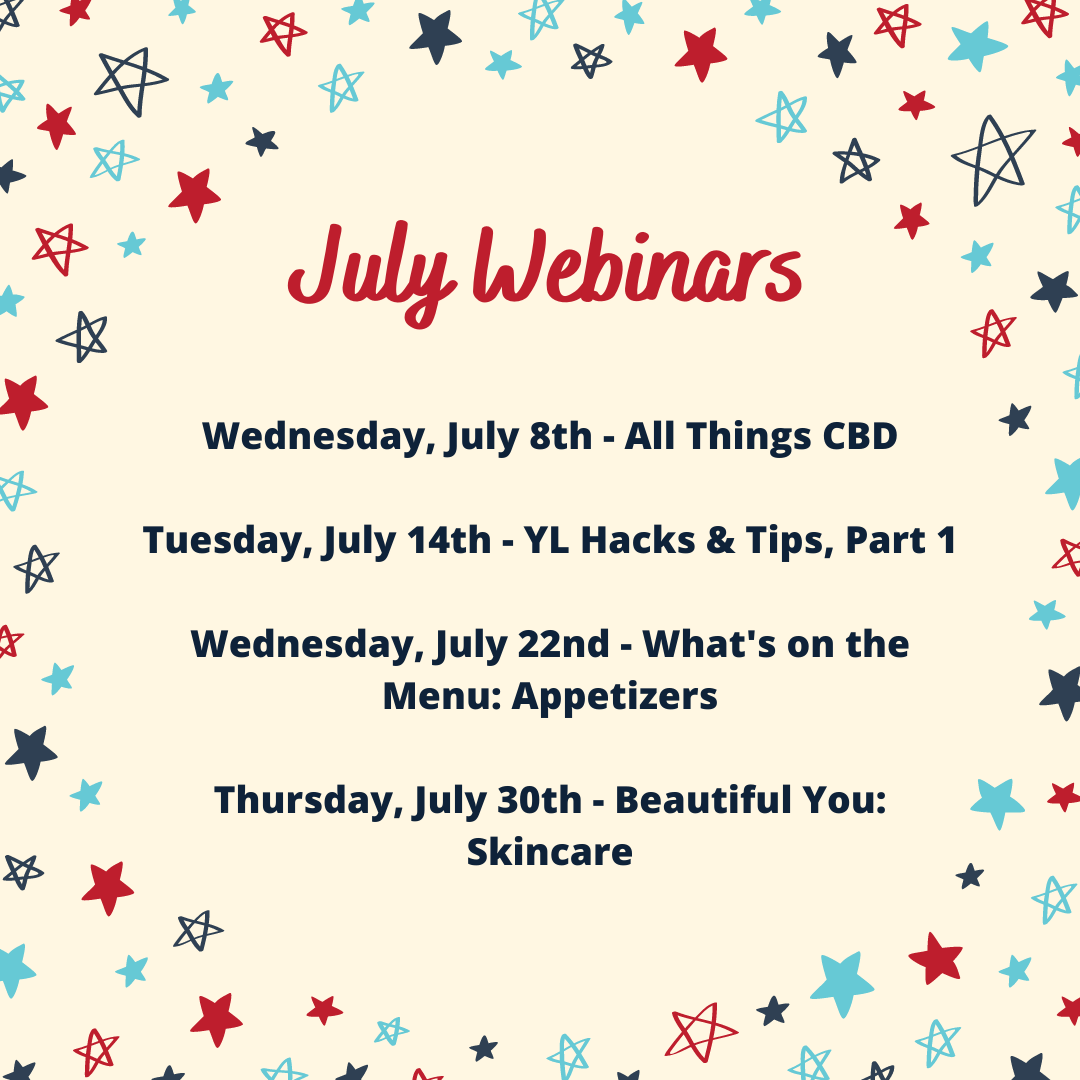 Jun 22, 2020 11:32 AM Central
These are notes I took based on the Happy, Beautiful Me: Savvy Minerals Convention 2020 Workshop by Wendy Ogden, Rita Morill, and Leslie Lewis. What a great session it was! Enjoy learning more about the new foundation and concealer!
These new Savvy Minerals products are clean, beautiful products that give you confidence about what you put on your skin. It's the new standard of clean beauty!
The skin-loving, clean ingredients are lightweight and are rich in pigment for buildable coverage. It provides medium to full coverage that's long-lasting without a heavy feel. It's the holy grail of foundations! This foundation has been YEARS in the making!!!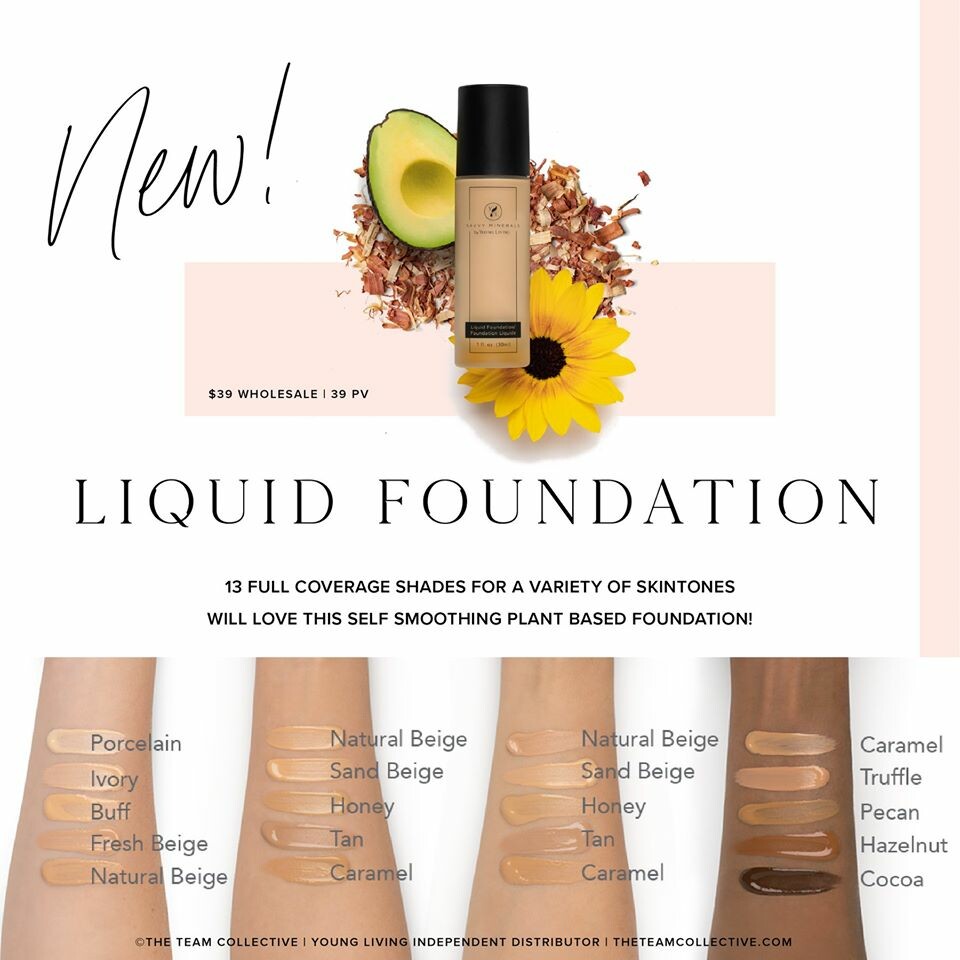 There are 13 gorgeous shades with a forgiving application that allows you to choose your shade with confidence. More shades will be offered in the future to represent a wider range. Look for it in early 2021!
Self-smoothing, plant-based polymers condition and build a mesh-like layer on your skin, which helps to maintain moisture and create a smooth finish. It evens out skin and creates a radiant finish. They're comprised of CLEAN INGREDIENTS that are authentic, including ethically mined mica and Royal Hawaiian Sandalwood, creating a product that's creamy and weightless, as well as being nourishing with avocado and sunflower seed oils.
The foundation is brightening and good for your skin, locking in moisture all day. It provides medium to full coverage and is vegan and cruelty-free. This formula uses ethically mined, mica crystals which instantly brighten skin without shine. It creates an optical illusion, bouncing light off your skin.
The foundations and concealers work on a variety of skin tones, plus you can mix colors to create your own, unique color blend.
You can wear 2-3 shades and blend to match your skin tone throughout the year.
They were created using the "Fitzpatrick Scale," which is a color matching tool that's based on skin-type and how your skin reacts to the sun. This scale has been used in the cosmetic industry for years. YL created shades for all 6 of the Fitzpatrick Scale skin tones.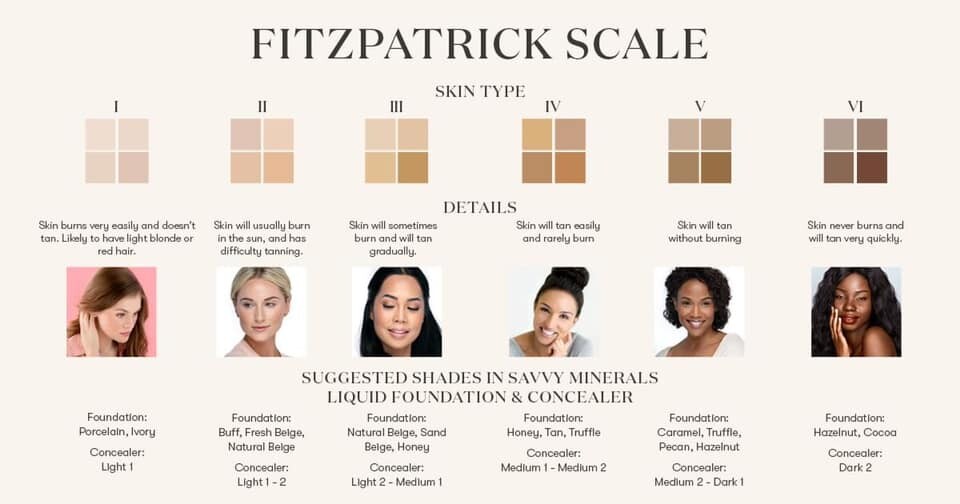 Type 1 – skin burns very easily and doesn't tan. Likely to have light blonde or red hair. (Porcelain, Ivory, Light 1 concealer)
Type 2 – Skill will usually burn in the sun, and has difficulty tanning (Buff, Fresh Beige, Natural Beige, Light 1 and 2 Concealer)
Type 3 – Skin will sometimes burn and will tan gradually (Natural beige, sand beige, honey, light 2, possibly medium 1 concealer)
Type 4 – Skin will tan easily and rarely burn (honey, tan, med. 1 or 2 concealer)
Type 5 – Skin will tan without burning (caramel, truffle, pecan, med 2 or dark 1 concealer)
Type 6 – Skin never burns and will tan very quickly (hazelnut, coconut, dark 2 concealer)

Match to your face, not your hand – your hand will be darker.
You can play around with the coverage and the shade, including for contouring. Customize it just for YOU! For light, sheer coverage, use less, and use the blending sponge to sheer out.
The blending sponge is only around for a LIMITED TIME!!!!
You can easily create an airbrushed look with this liquid foundation. Self-smoothing plant polymers are what create an airbrushed look with
instant, smooth appearance, along with even coverage, and helps hold the moisture on your skin. They also prevent evaporation and
provide a moisture barrier to keep your skin hydrated and dewy
.
The foundation
provides full coverage that is the same color of your skin tone and is long-lasting. It looks natural and also makes you look dewy.
You can condition skin while helping to create a smooth layer, all while delivering ingredients and EOs without a greasy or heavy feel.
You can also use your foundation powder as a setting powder over your liquid foundation and concealer for a wear that lasts all day.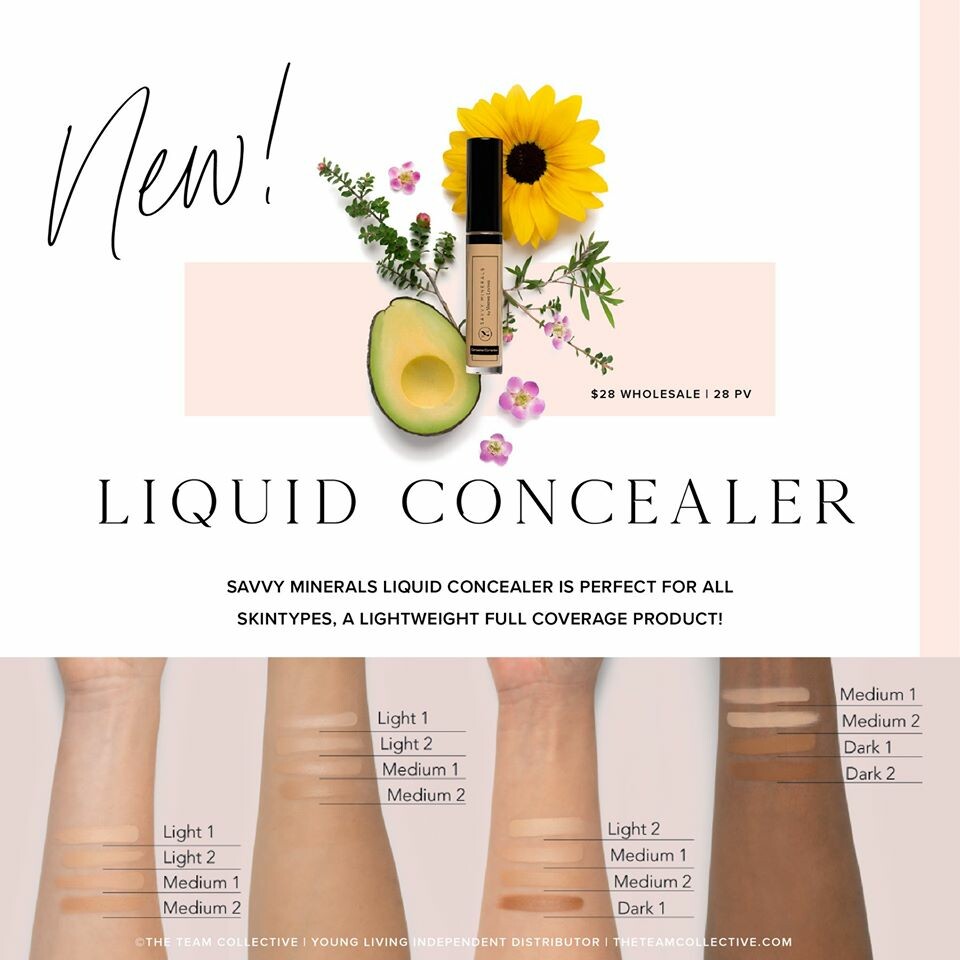 The concealer isn't heavy and is long-lasting, plus they have
tea tree and manuka oils, which can help reduce the appearance of blemishes.
There are 6 shades that cover really well and brighten and they don't cake or feel heavy. They conceal with a smooth finish that doesn't settle into lines. They have the same plant polymers so they also don't give a "crepe-y" look. You can apply them with YL's concealer brush if you'd like.
The 6 shades are: Light / Medium / Dark; 1 or 2 in each shade.
You can also mix these to create your own shade. Use one color to cover blemishes and a lighter color under the eye if you'd like.
These are the cleanest, best foundations and concealer on the market! SO excited!!!!
If you have questions or need help, please reach out!
Happy Oiling!
Andrea & Brian