Jul 6, 2020 03:20 PM Central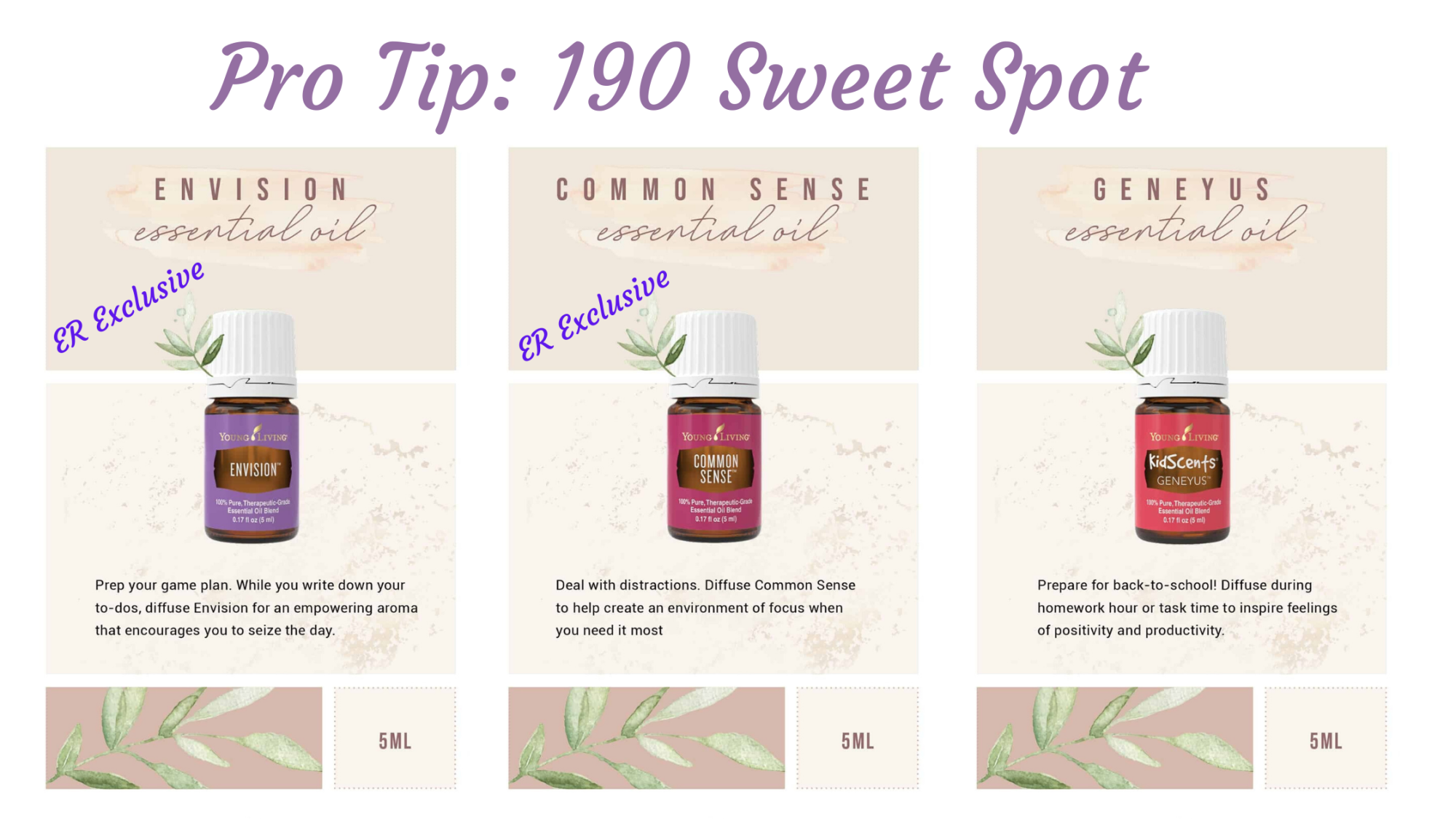 Let's chat for a minute because
I'm about to help stretch your money WAY further!
YL is an incredibly generous company. Gary's goal has always been to produce products for a purpose, not a profit, for a healthy home for each of us, a healthy world for all of us.
This is why YL always gives away SO MANY oils and products with qualifying orders each month.
I'm going to let you in on a secret -
the promo "sweet spot" is at 190 PV
. That's not to say that there aren't GREAT promos at 100, 250, and 300 (
HELLO, 15 ML VALOR!!!
), but if you're wanting to grow your stash for free, hitting the promos levels is exactly how I still do it as a Platinum leader seven years into my oil journey.
I always hit the highest promo level I can
, but
f
rom the beginning, my goal was to hit at least 190 PV
and it's what I encourage others to do, as well.
Being on ER is a no-brainer.
It BY FAR gives you the greatest bang for your buck and if you're in this as a healthy lifestyle and aren't on ER, you're solidly missing out and we need to chat!
At 100 PV, you get
Envision
with your ER order this month. That's a
$25.33 retail value
. Boom! You essentially just got a rebate.
Add the points you earn based on the earning level you're at (10, 20 or 25) and
you've effectively "spent" less than $50 on your order
when you consider the free oil you've gotten and points you can redeem for more free oils and products.
At 190, this month you also get
Common Sense & KidScents GeneYus
, along with your Envision oil.
That's a retail value of $131.25, plus you get either 19, 38, or 47.5 ER points back depending on your earning level.
So,
for your 190 PV order,
you're getting as much as $178.75 back in product and points
.
That's CRAZY GOOD and
it's the secret to growing your stash for free!
THIS is the way I've gotten to try so many new-to-me oils and products that I never would have purchased, but fell in love with when I got them for free!
Is 190 PV out of your budget?
Do what I did
- see who wants to add an oil or two, or a supplement, personal care, or Savvy Product (Foundation and mascara, anyone???) to your order. Boom! You hit 190 (or the higher promo levels) and you get to keep the points and free products as a thank you for helping others. SWEET!
IF YOU'RE NOT HITTING 100 PV WITH YOUR ER ORDER, YOU'RE MISSING OUT!!!!!
I know so many who hit just below that 100 PV mark. If they added one or two more things
THAT ARE ALREADY IN THEIR MONTHLY BUDGET,
they would be getting so much more for free!
Are you already purchasing makeup, laundry detergent, hand soap, toothpaste, bath gel, and cleaning products each month? Switch to YL products you know and trust and get products and points back with each ER order you place.
Does your current store give back to you like that?
AND....this month,
we're going to teach you how many of these products can be doubled and even tripled to stretch them even further
, making the cost even less for what you're purchasing!
You're welcome.
Friends help friends get the most for their money!!!
In case you missed it, here are all of July's promos!