Oct 1, 2020 04:18 PM Central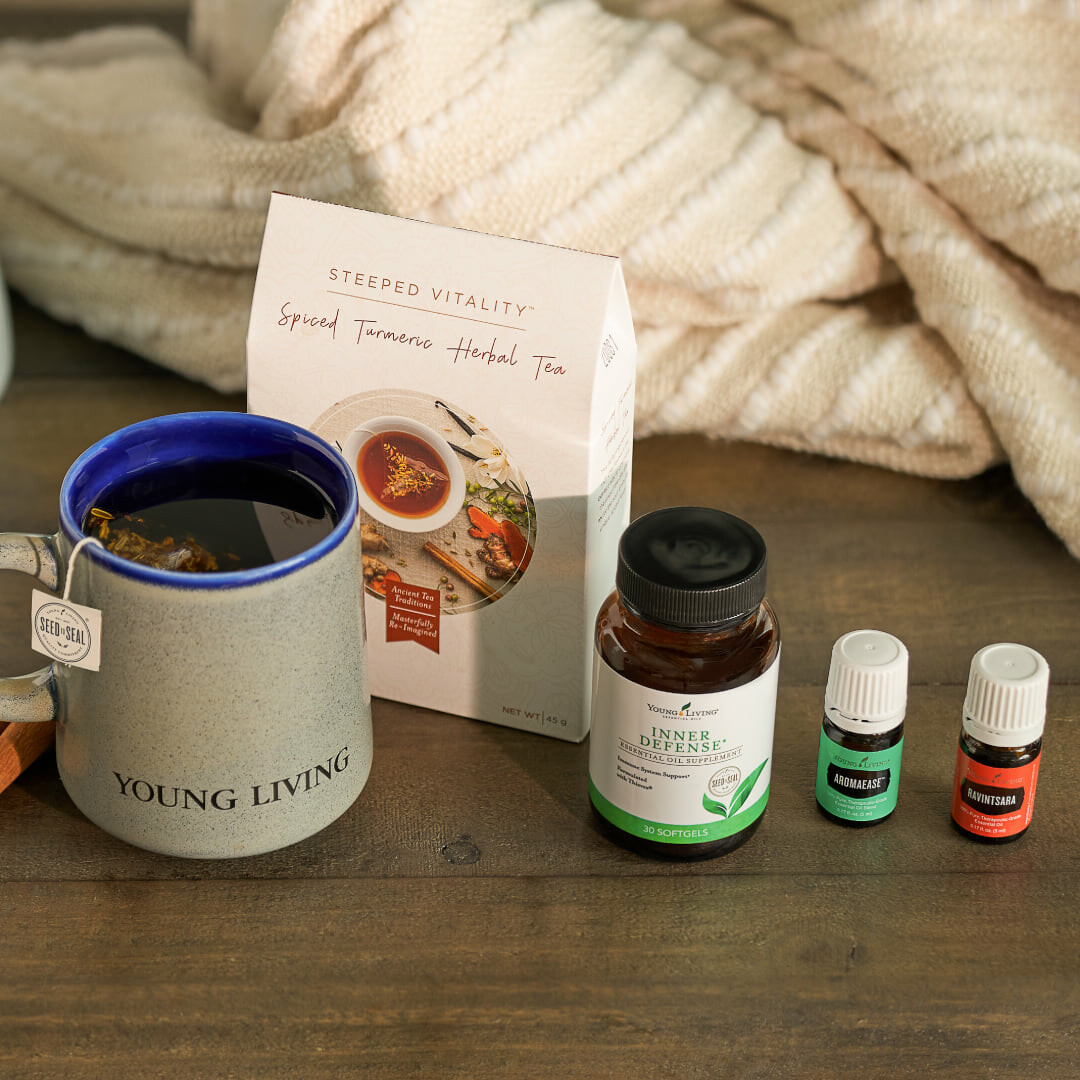 Promos and MORE promos, plus an October diffusing calendar,
and our fantastic, not-to-be-missed, weekly get together plans...
There's so much to fall in love with this October!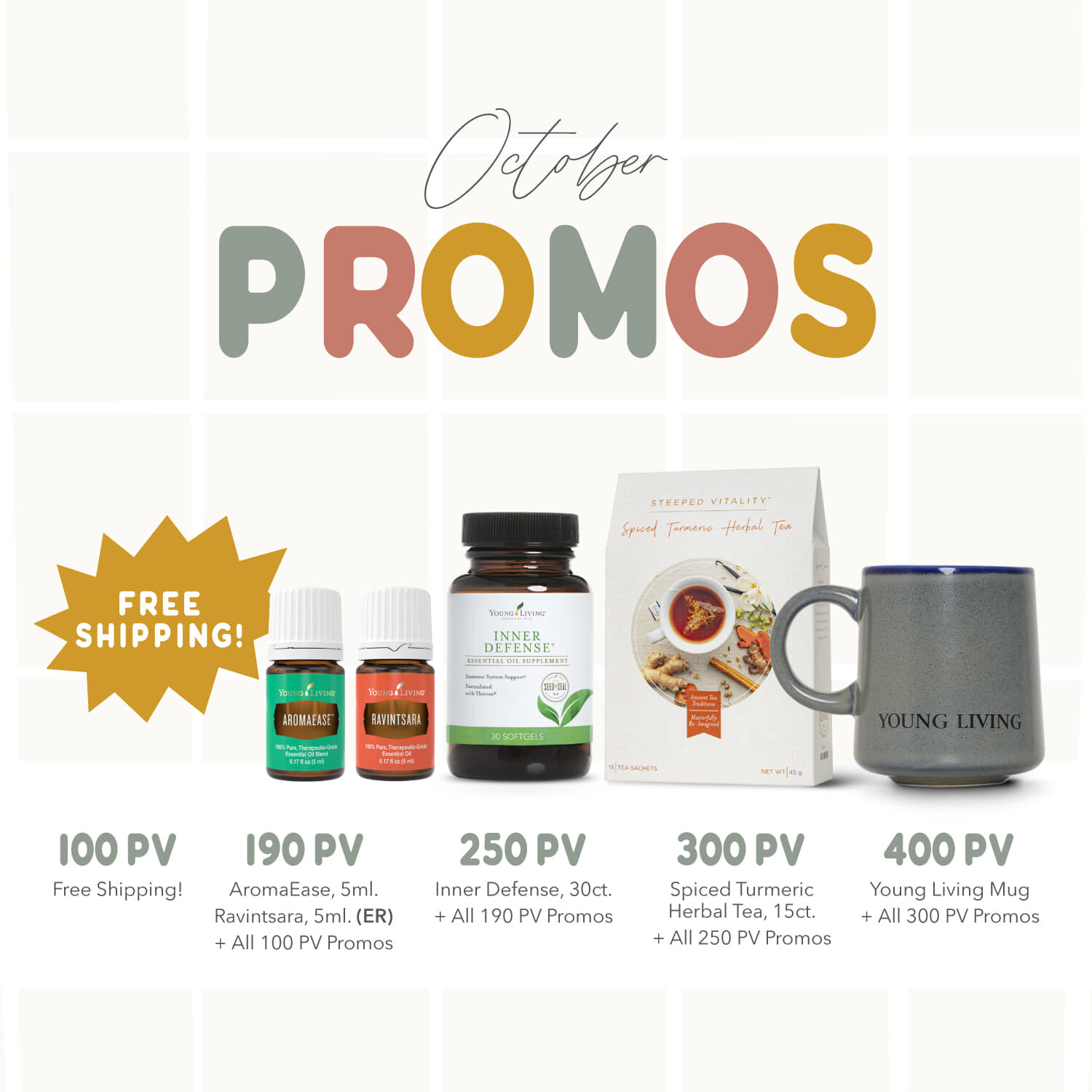 Oh, how I love the fall season! The leaves are slowly turning color, the air is cool in the early morning and evenings, and it's a beautiful reminder that change is coming again. Young Living has put together a great "Stay Well" fall package for us in the form of the October PV promos and you're going to love it!

Here's the full breakdown:

100 PV
Free Shipping

190 PV
AromaEase 5-ml
Ravintsara 5-ml*
Free Shipping

250 PV
Inner Defense
AromaEase 5-ml
Ravintsara 5-ml*
Free Shipping

300 PV
Spiced Turmeric Herbal Tea - 15 ct.
Inner Defense
AromaEase 5-ml
Ravintsara 5-ml*
Free Shipping

400 PV
YL Mug
Spiced Turmeric Herbal Tea - 15 ct.
Inner Defense
AromaEase 5-ml
Ravintsara 5-ml*
Free Shipping

*Remember, in order to get the Essential Rewards Exclusive Ravintsara 5-ml, you have to be enrolled in Essential Rewards (ER) and have an order that meets the 190 PV requirement for that item. The extra bonus of meeting all these PV amounts with your ER order is that you get even more ER points to spend later!

Here's a little bit more about each of the promos, starting with that 400 PV tier free gift!
Young Living Mug (400 PV tier)
A new mug for a new season for ALL the fall beverages. Tea, cider, pumpkin spice in your morning coffee - spice things up however you'd like and break out those Vitality oils to kick your warm-up beverages up a notch. Plus, this is another great collaboration with the Young Living Foundation! Check it out:
•Empower financial well-being. In collaboration with the Young Living Foundation, each mug is handcrafted from natural, locally mined clay by women artisans in Vietnam. Your order helps these artisans break the cycle of poverty, find financial stability, and provide for loved ones.
*The Young Living mug is available only while supplies last. If the mug goes out of stock, we will reward 30 ER points instead.

Spiced Turmeric Herbal Tea - 15 ct. (300 PV tier)
Need something delicious and healthy to put in your new Young Living Mug? The Spiced Turmeric Herbal Tea is the perfect choice. It's delicious with just the right amount of spice and helps you calm your mind and finally relax after a long day.

Inner Defense (250 PV tier)
The change of seasons, especially with the introduction of cooler weather, is always a sign that we need to beef up our wellness routine. Inner Defense is a powerhouse that helps keep us feeling great and able to enjoy the season. Plus, here's a tip from Young Living!
•Rake in the health benefits. Up your daily dose to 3–5 soft gels or combine the healthy immune-supporting power of Inner Defense with our probiotic powerhouse Life 9.

AromaEase 5-ml (190 PV tier)
Fall is about comfort. Whether that's at home or while on those drives to see the changing leaves, AromaEase can help keep you comfortable and at ease. When your tummy isn't travel-happy, rub a drop or two on your stomach or smell it from the bottle. While at home, diffuse it to help yourself loosen up a bit and be comfortable in your favorite setting.

Ravintsara 5-ml (Bonus Essential Rewards 190 PV tier)
Ravintsara has a cleansing, pleasant scent that helps support easy breathing, plus is helps clear your mind and the air around you. Combine it in the diffuser with Copaiba, Spearmint, and Peppermint (1-2 drops of each until you find the balance you like) for a fresh, inviting scent. You can also use a drop or two of Ravintsara as part of your facial cleansing routine (add it to your face wash or toner).

Free Shipping (100 PV tier)
Psst...Shop or Essential Rewards orders can qualify for free shipping when you hit 100 PV or above! Save a little money - fill your order and start your fall off right!
What are YOU most excited about?
As if that weren't enough, look at what else you can get for FREE this month!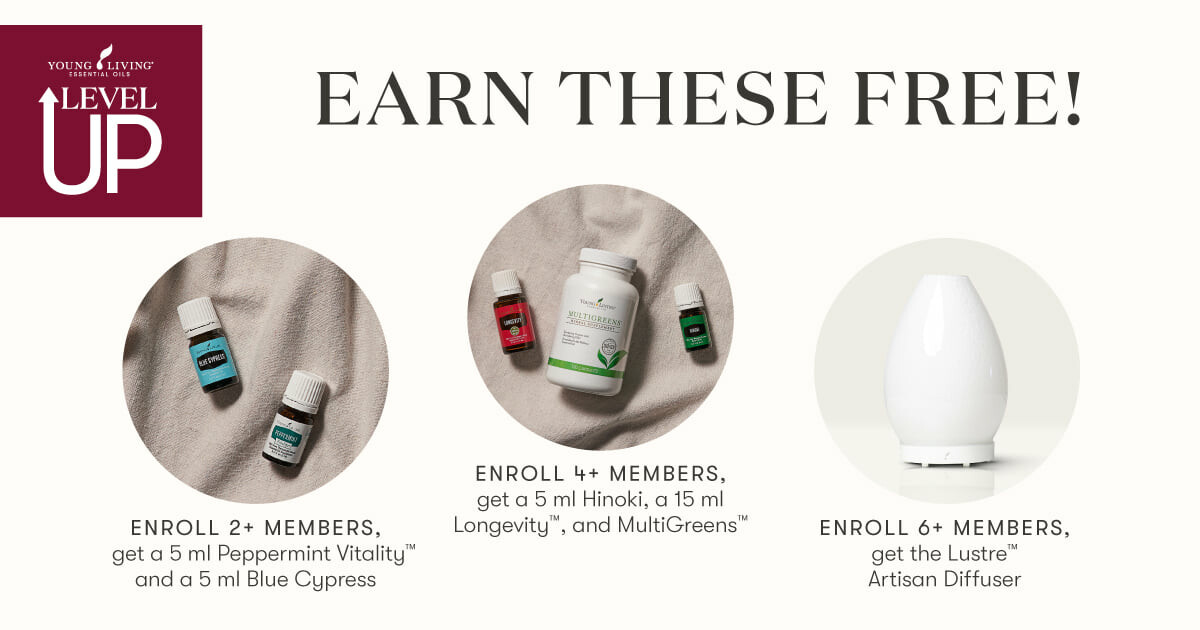 I don't know about you, but one of my goals this month is to earn that GORGEOUS DIFFUSER!!!! Challenge accepted!!!
We have some exciting news about October's Level Up: We've added a Triple Up! It's the first time we've offered a third level, making this one an incredible promotion.
Prep for cold-weather wellness by reaching October's Level Up. When you hit this month's level up goal, you'll earn a 5 ml bottle of Peppermint Vitality and a 5 ml bottle of Blue Cypress. Add a dash of Peppermint to a cup of cocoa and hydrate chilly hands with Blue Cypress after an evening in the pumpkin patch!
Your pumpkin spice season can be even sweeter if you qualify for Double Up! Along with Peppermint and Blue Cypress, you'll receive a 5 ml bottle of Hinoki, a 15 ml bottle of Longevity, and a bottle of MultiGreens. Before a day of hayrides and hot apple cider, remember your MultiGreens! When you return home, set an autumn mood with Hinoki's woodsy scent and moisturize dry skin with a few drops of Longevity in your favorite lotion.
Qualify for Triple Up (yes, we said Triple Up!) and you'll triple the fall fun with our handcrafted Lustre Artisan Diffuser. Surround yourself in its soft glow and your favorite snuggle-up diffuser blend as you settle in for the evening.
As a reminder, you level up when you help two people upgrade from retail, reactivate, or enroll with Young Living and sign them up on Essential Rewards with a 100 PV order or more. To double up, you'll need to do the same for four people. Add two more to the mix and you've tripled up!
Do you have questions about how to help someone enroll, reactivate, or upgrade from a retail to a wholesale account? Please reach out! Remember that Young Living sends you a $50 thank you check each time you help someone get started. It's a great way to pay for your monthly oils and YL products!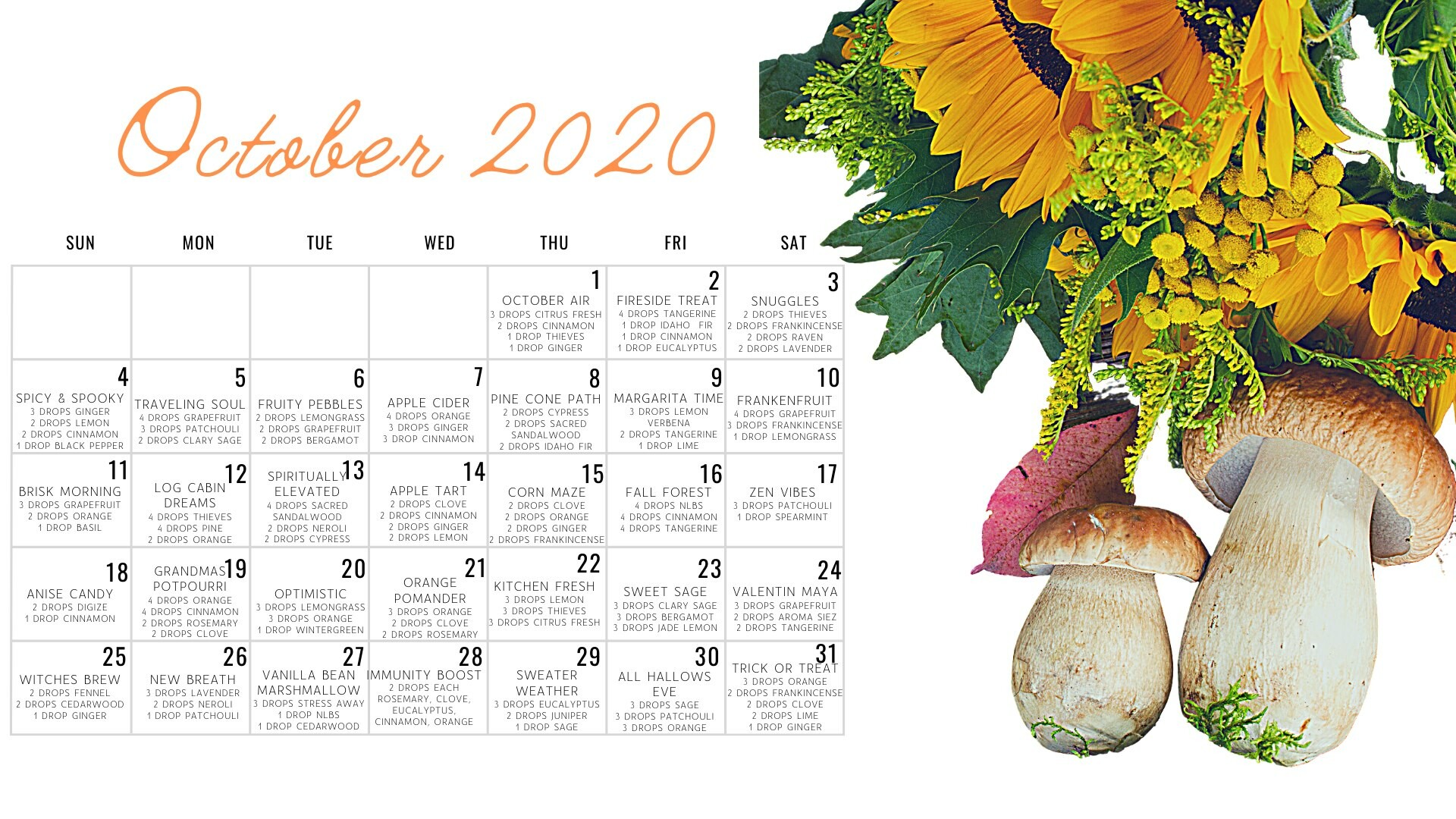 There's nothing quite as homey as October-themed diffusing blends! Download this picture and print it out, then hang it on your refrigerator and enjoy each day to it's fullest!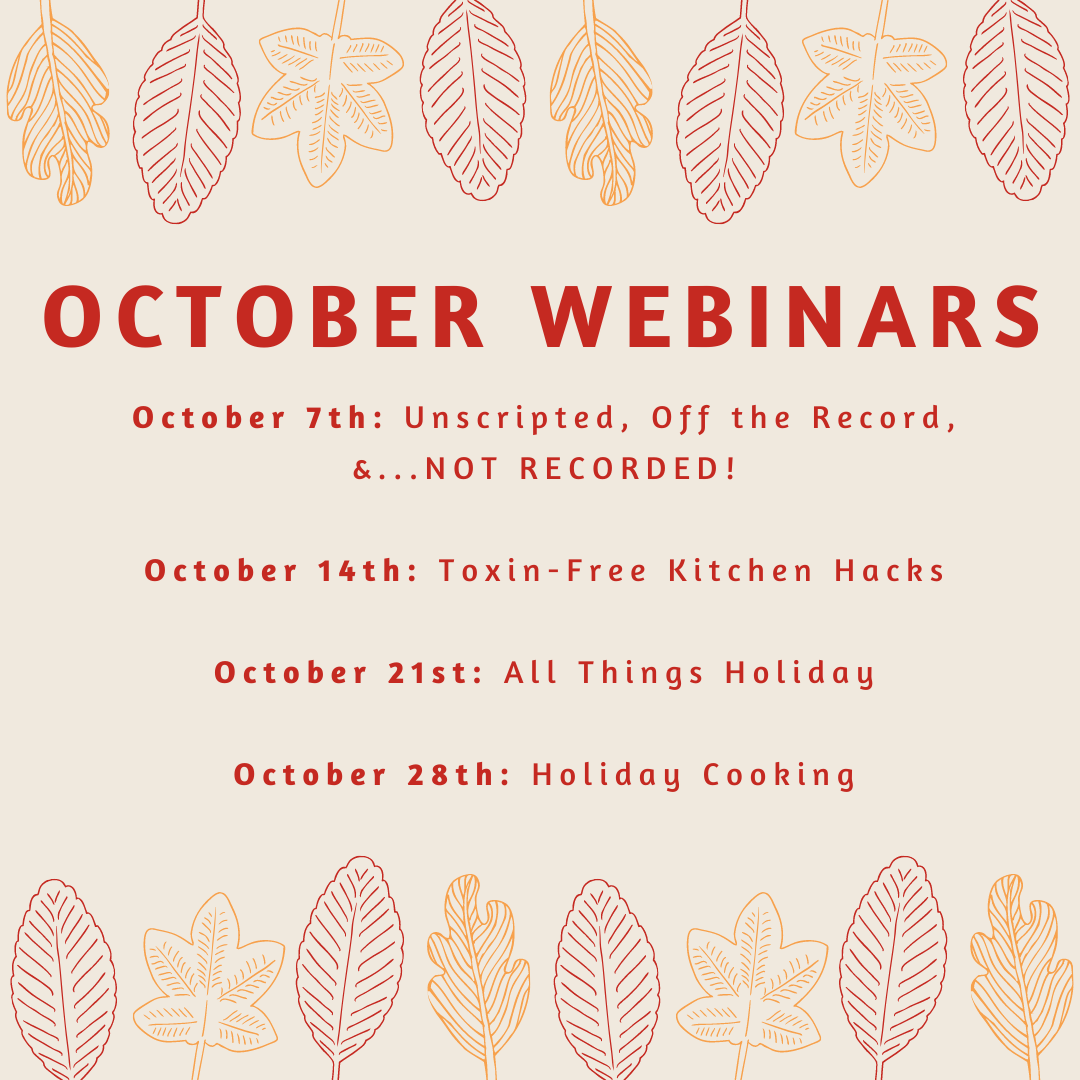 We have fun get-together plans this month and we'd love for YOU to join us!
We meet up online on Wednesdays at 8:00 p.m. EST. We ALWAYS learn something new and there are always some great laughs! Need a bright spot to your week? Please join us!
Remember that we won't be recording on October 7th and I'll be sharing a very relevant and timely testimony that you won't want to miss!
Use the links below to learn more about each event and to register. I'll be sure to send you not only the link to join us but also the correlating resource guides.
If you need help or suggestions, have a question, or would like to become a Young Living member, reactivate your account, or switch from retail to wholesale membership, please reach out. We'd love to help!
Happy Oiling!
Andrea & Brian
Jul 1, 2020 06:43 PM Central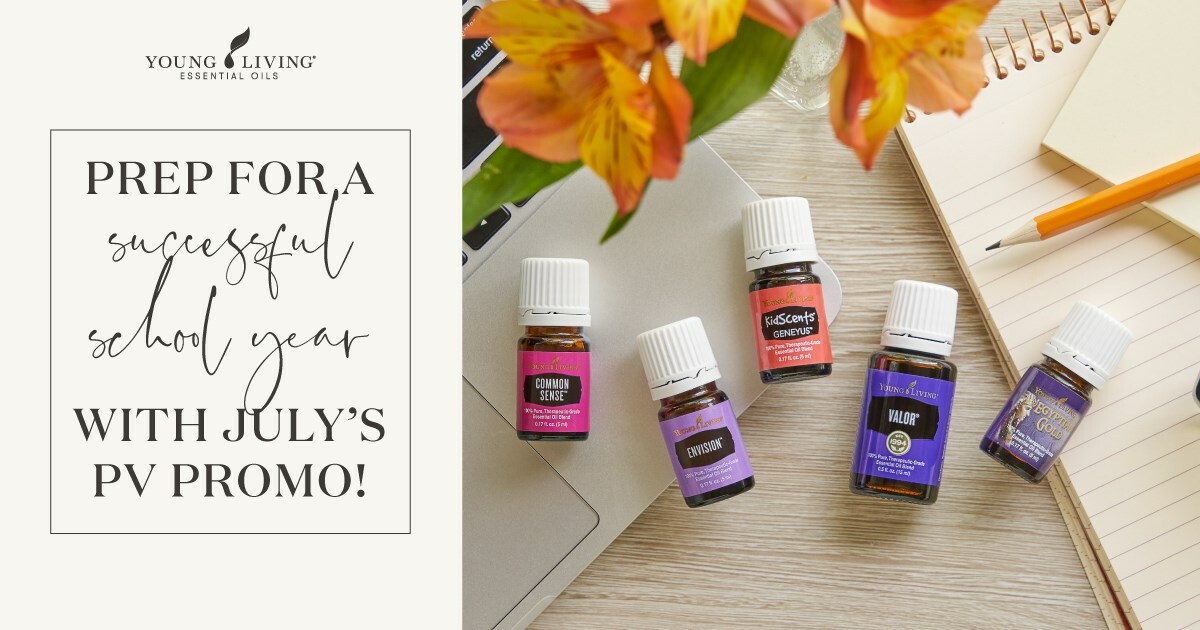 The July promos are here and not only do they have Back to School in mind...they'll also help us be in the best mindset to make the second half of this year amazing! Check out that last oil! (#myfave)
Here's a promo overview, along with details on each product. Plus,
keep scrolling for a list of all the new Convention releases - the permanent Convention products can now be added to your Essential Rewards orders!!!
(A few of them are out of stock or held back from ER until YL has enough stock available.
T
here's an asterisk on the products that will be available on ER once they're well-stocked.)
Some of the limited time offers are still available in the Shop section of your Virtual Office! Look in the "What's New" section and explore all the amazing new options!
Last, but not least,
three product favorites came back in stock today
! You can find those at the end.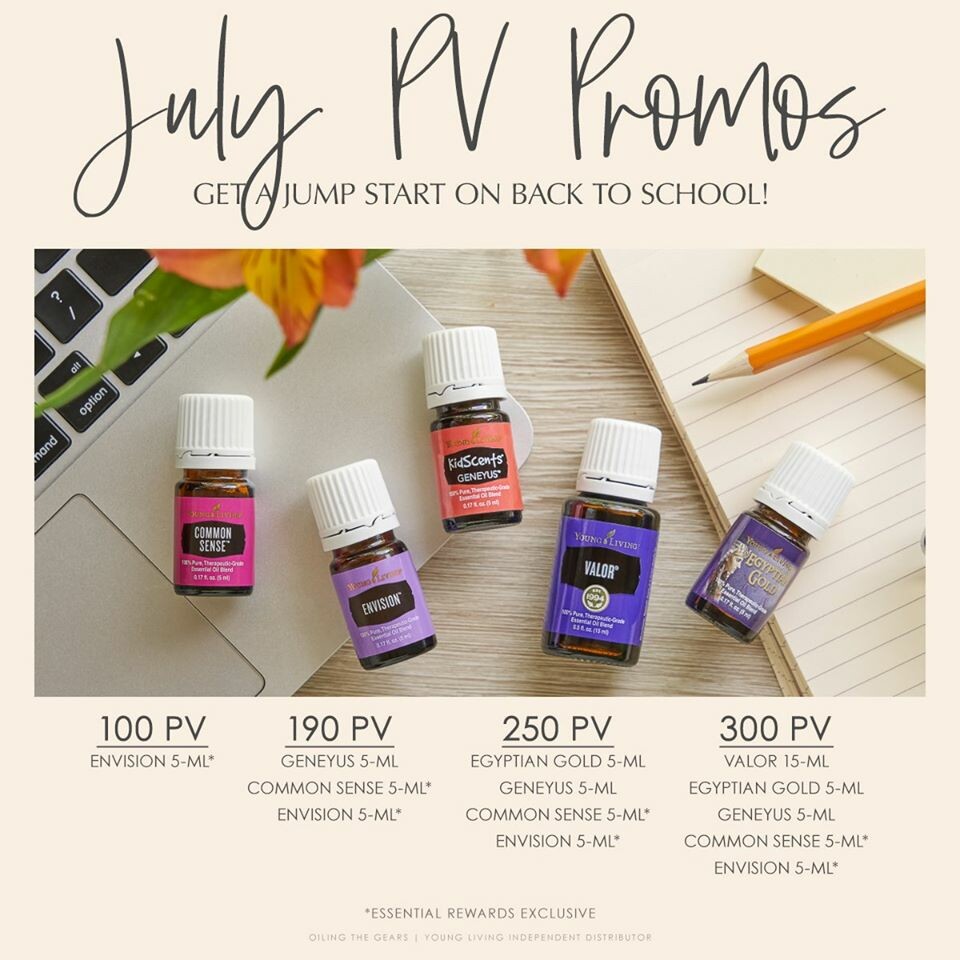 Envision, 5ml - 100PV Essential Rewards exclusive

This is such a valuable blend for getting your mindset in the perfect place to plan for the future. Diffuse it with Lavender or your favorite uplifting citrus oil for a pleasant, calming aroma and get out your planner and dream board. Make a plan for the rest of this year and know you can do whatever you set your mind to!
Common Sense, 5ml - 190PV Essential Rewards exclusive

No, this is not the cure for anyone who happens to lack common sense. Although, wouldn't that be nice? Instead, this is more of a deep focus blend. When you need to set aside the worries of the day and focus on what matters in the here and now, this is the blend you should diffuse or apply to your temples and wrists. You're going to fall in love with what this one does for you!
KidScents Geneyus, 5ml - 190PV

This is going to help you as much as it does the kids when it comes time for schooling and homework. Get a roller bottle and put some of this in it so your kids can apply it themselves (it's pre-diluted) when they go to study or need to focus on a project. Diffuse it so you can all get the benefits when you're trying to help with their studies or diffuse it for yourself when you're at work. (We won't tell!)
Egyptian Gold, 5ml - 250PV

This is an invaluable blend that isn't always available, so getting it in the promos is a nice surprise! Deeper spiritual connection, intense focus during meditation and prayer, and a feeling of harmony in your spirit and life is what this blend is all about. Diffuse it by itself or with a drop or two of extra Frankincense for a very personal spiritual experience.
Valor oil blend 15ml - 300PV

I'm sure that by now, you KNOW this is my FAVORITE oil and I don't need to sing the praises of Valor, but a 15ml bottle is absolutely amazing because it's not available for purchase!!!!!! Use Valor every day for confidence to face anything the days ahead have for you and use it to calm your mind and emotions. Try diffusing 4 drops of Valor, 3 drops of Orange, and 2 drops of Frankincense. You'll love it! You deserve to feel confident, calm, and happy. This will help you get there!
Get Even More for Free When You Help Others Start Their Wellness Journey!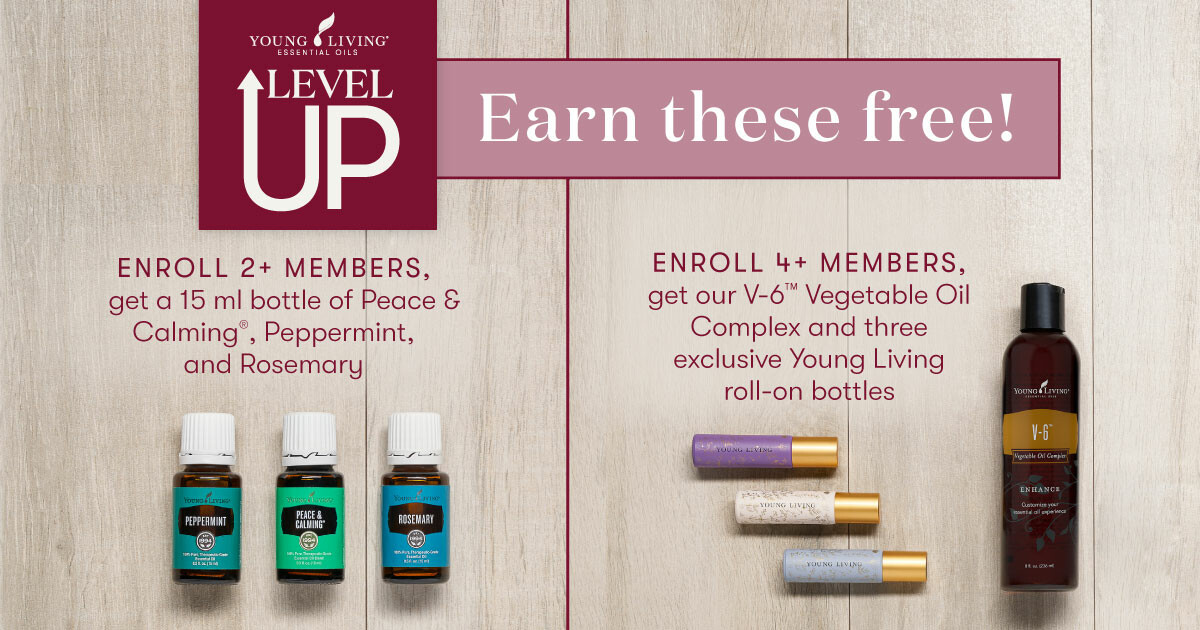 CONVENTION PRODUCT LIST
(The last column lets you know if it's available in ER starting this month.)
***I'm waiting for my foundation color matching tool to arrive, but it will be here SOON! Let me know if you'd like to color match!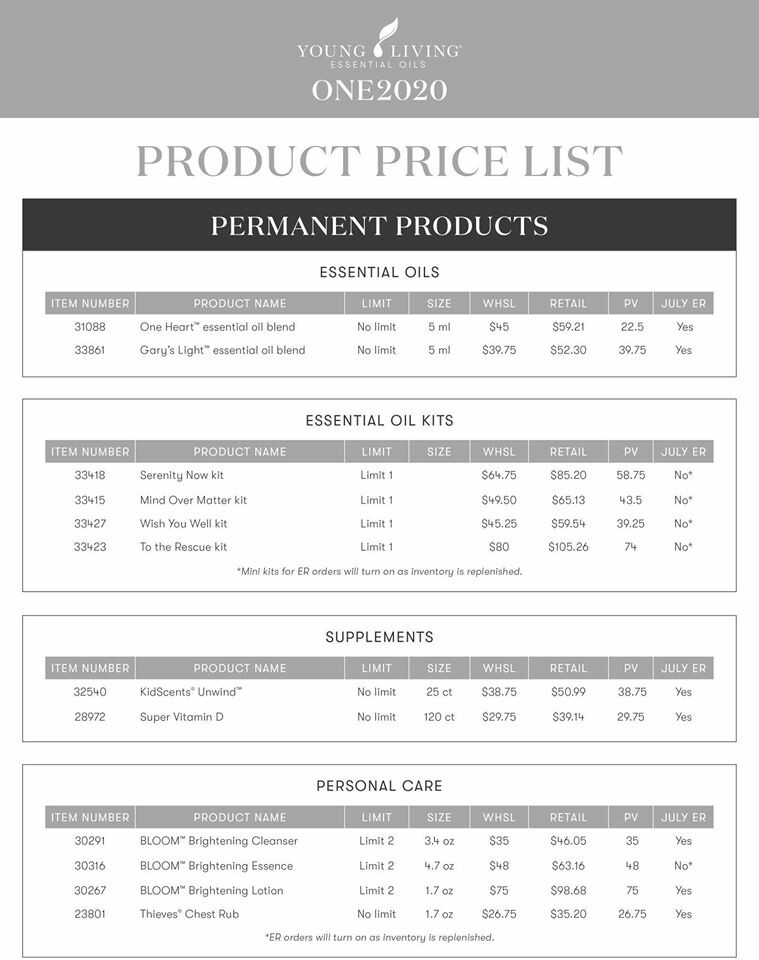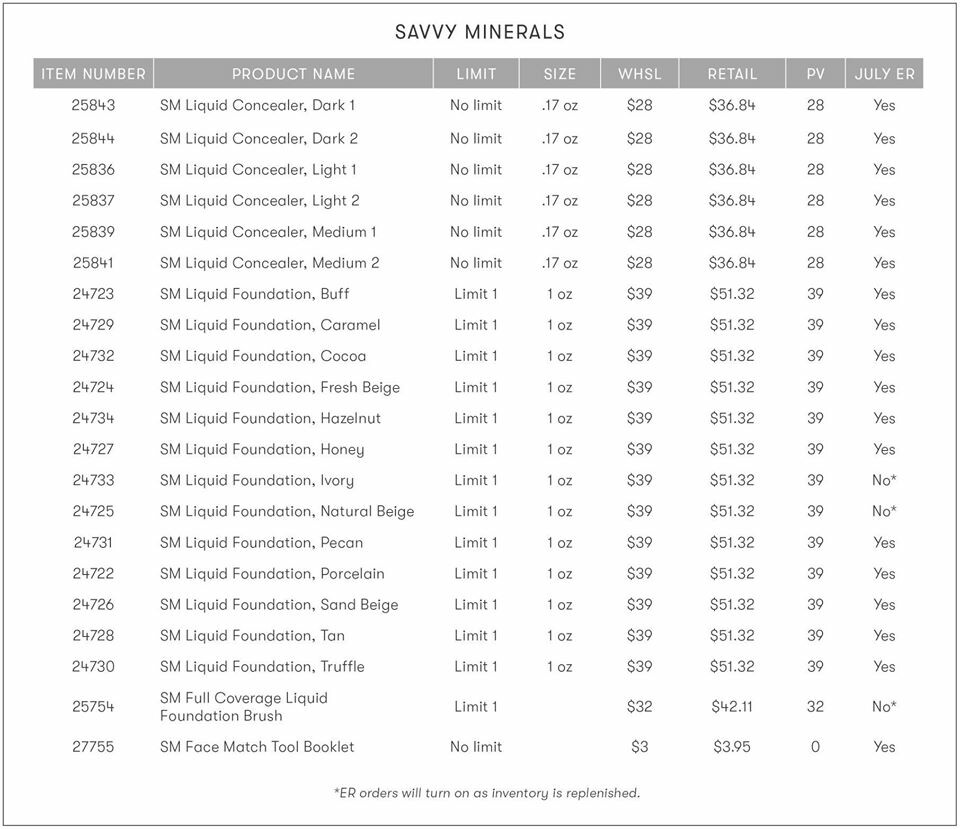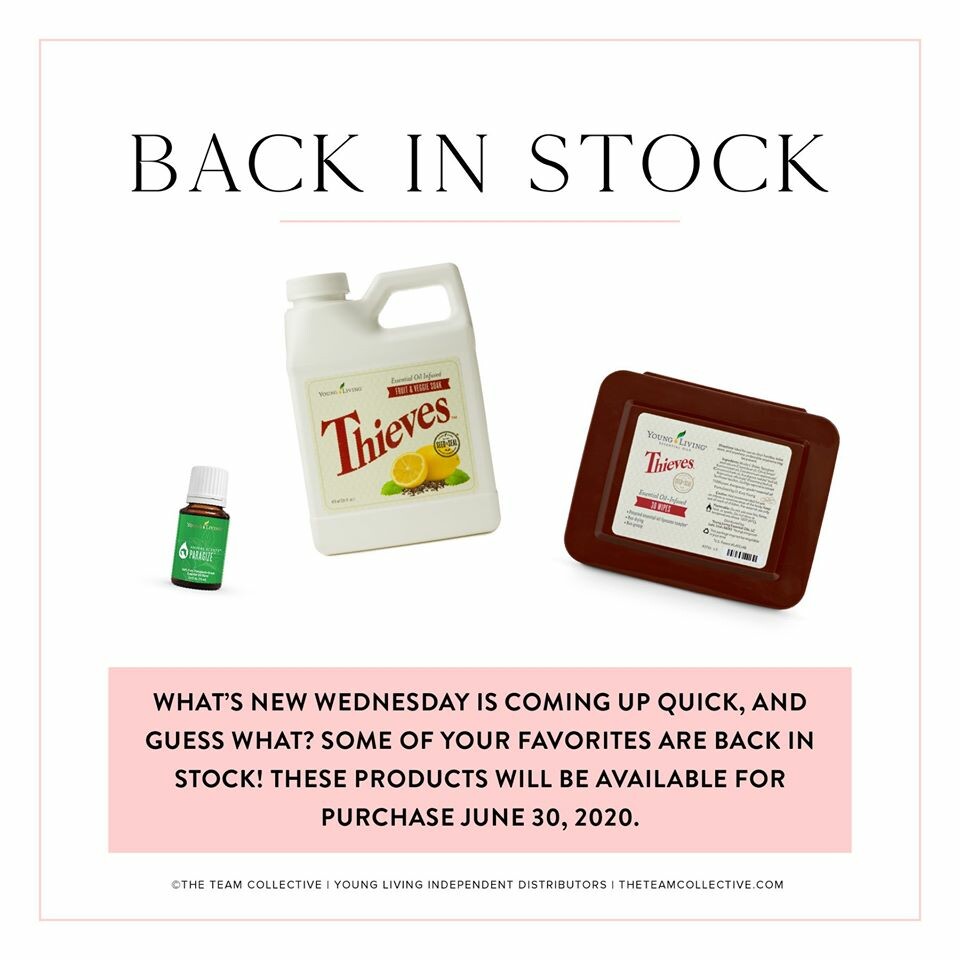 Animal Scents ParaGize, 15 ml
• Item No.: 5720
• Retail Price: $14.47
• Wholesale Price: $11
• PV: 8.25
• No limit; Shop and Essential Rewards
Thieves Fruit and Veggie Soak, 16 oz.
• Item No.: 5352
• Retail Price: $25.99
• Wholesale Price: $19.75
• PV: 19.75
• No limit; Shop only
• Item No.: 3756
• Retail Price: $17.76
• Wholesale Price: $13.50
• PV: 13.5
• No limit; Shop and Essential Rewards
If you have questions, need help or suggestions, or would like to color match for your foundation, please reach out. I'm here if you need me!